May, 22, 2013
5/22/13
7:00
PM ET
Quarterbacks come and go for a variety of reasons. Some simply aren't happy in a new state or in another part of the country. Others decide football isn't the sport for them. Many feel their talents are being wasted on the bench. It always seems like the grass is greener. Sometimes the move works out. Sometimes it doesn't.
Inspired by the move of
Wes Lunt
to leave Oklahoma State, the Pac-12 blog thought it would be fun to look back fondly at some of the quarterbacks who have left the conference following the 2008 season (a full four-year cycle). A special thanks to the league's sports information directors for helping compile this list and whatever information is available (which isn't the case with some players).
Here's the team-by-team breakdown of some of the recently departed signal callers no longer calling signals in the Pac-12.
Arizona
Tom Savage: Transferred to Pitt after the 2011 season. Eligible to play in 2013.
Cam Allerheiligen: Left after the 2011 season. Went on to play baseball at Weatherford College.
Arizona State
No QB transfers since 2008.
California
Beau Sweeney: Transferred after the 2010 season to Cornell. Appeared as a quarterback and TE/H-Back.
Allan Bridgford: Transferred after the 2012 season to Southern Miss.
Colorado
Matt Ballenger: Transferred after the 2008 season to College of Idaho and went on to be an all-conference basketball player.
Nick Hirschman: Transferred to Akron following the 2012 season.
Oregon
Chris Harper: Transferred to Kansas State after the 2008 season and became a wide receiver, leading the Wildcats in receptions, receiving yards and touchdowns in 2011.
Justin Roper: Transferred to Montana after the 2008 season, completed 61.5 percent of his throws with 19 touchdowns and 11 interceptions in 2010.
Jeremiah Masoli: Transferred to Mississippi after the 2009 season. Is now with the Hamilton Tiger-Cats of the Canadian Football League.
Brennan Doty: (Walk-on) transferred to Lamar to play basketball.
Bryan Bennett: Transferred to Southeastern Louisiana after the 2012 season.
Oregon State
Justin Engstrom: Transferred to Portland State after the 2008 season. Was a backup.
Brennan Sim: Transferred to South Alabama after the 2008 season.
Peter Lalich: Transferred to California University of Pennsylvania after the 2009 season.
Ryan Katz: Transferred to San Diego State before the 2012 season and was the starter until an injury knocked him out for the year.
Jack Lomax: Left the team prior to the 2012 season.
Stanford
L.D. Crow: Transferred to UCF after the 2008 season.
Nick Ruhl: (Walk-on) transferred to Menlo College after the 2008 season. Returned to Stanford and graduated with two degrees.
Adam Brzeczek: (Walk-on) transferred to Montana after the 2011 season. Did not attempt a pass in 2012, but appeared in two games and rushed for 33 yards on three carries with a touchdown.
Brett Nottingham: Transferred to Columbia after the 2012 season.
UCLA
Chris Forcier: Transferred to Furman after the 2008 season.
Nick Crissman: Graduated in 2012, but intended to transfer to play one more year
USC
Aaron Corp: Transferred to Richmond after the 2009 season.
Jesse Scroggins: Trasnferred to El Camino Junior College after the 2011 season and has since joined Arizona.
Utah
Corbin Louks: Transferred to Nevada after the 2008 season.
Griff Robles: Transferred after the 2011 season to Dixie State College. Utah had converted Robles to a linebacker, but he wanted to play quarterback. Appeared in 11 games last year, completing 50.9 percent of his throws with 16 touchdowns and 12 interceptions.
Tyler Shreve: Transferred to Riverside Community College after the 2011 season to play football and baseball.
Washington
Ronnie Fouch: Transferred to Indiana State after the 2009 season. Went on to start 22 games and posted 38 touchdowns to 15 interceptions with more than 4,300 passing yards in his career.
Nick Montana: Transferred to to Mt. San Antonio College after the 2011 season and is now at Tulane.
Washington State
J.T. Levenseller: Transferred to Eastern Washington after the 2008 season.
Cody Clements: Transferred to Cerritos College following the 2012 season.
March, 24, 2011
3/24/11
6:28
PM ET
How galling was Oregon State's first losing season since 2005 for coach Mike Riley? Well, Riley underwent surgical procedures to remove gallstones and then his gallbladder March 12 and 13, so apparently pretty galling.
Snare roll, cymbal crash! (But seriously, folks, I just flew in from Scottsdale and, boy, my arms sure are tired!).
While Riley is the sort who can remain good-natured through most things (even a horrific pun), losing is not really one of them. His seriousness about reversing the Beavers 2010 downturn was perhaps best manifested by a surprising staff change: the dispatch of long-time linebackers coach Greg Newhouse.
The Beavers head into spring practices, which begin Monday, with plenty of questions, but it stands to reason the veteran players are motivated by a disappointing 5-7 finish that was further aggravated by watching state rival Oregon play for the national championship.
[+] Enlarge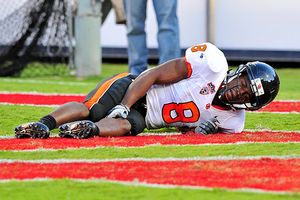 Chris Morrison/US PresswireJames Rodgers is still recovering from an injury to his knee.
"You certainly hope it does," Riley said. "You'd like to think it's made everybody take it up a notch."
The biggest questions surround the Rodgers brothers. How will Oregon State replace running back
Jacquizz Rodgers
and how healthy will receiver
James Rodgers
be after two knee surgeries?
The competition at running back includes senior
Ryan McCants
, junior
Jordan Jenkins
, sophomore
Jovan Stevenson
, redshirt freshman Malcolm Marabel and greyshirt freshman Terron Ward. Riley said he'd like to establish a pecking order as soon as possible and then figure out a rotation based on what skills each offer to the offense.
"It's probably very important to distinguish between No. 1 and No. 2 [this spring]," Riley said.
As for James Rodgers, things are fluid. He was granted a medical hardship year, but there have been complications with his recovery -- starting with the need for a second procedure -- and it's unclear if he'll be ready for preseason practices, or how long it will take him to get back to full-speed.
"We'll just have to see where that goes," Riley said.
Receiver is an interesting position for the Beavers. With Rodgers, it looks like a definite strength. Rodgers at flanker and junior
Markus Wheaton
at split end, with
Jordan Bishop
,
Geno Munoz
and
Darrell Catchings
providing depth, not to mention intriguing big target
Obum Gwacham
and H-back
Joe Halahuni
; that's a strong lineup of targets for QB
Ryan Katz
.
But Rodgers is a question, and the inconsistent Bishop is sitting out spring with a foot injury. Catchings and Gwacham aren't sure things, either.
And in terms of delivering the ball, Katz is coming back from a wrist injury, and Riley likely will be cautious with overworking him. That means more opportunities for
Cody Vaz
,
Sean Mannion
and
Jack Lomax
to compete for the backup job.
Some further notes:
Injuries and departures
: Rodgers, Bishop, DT Castro Masaniai (shoulder) are sitting out. Fullback
Will Darkins
opted not to return for his senior year.
Additions and changes
: Five greyshirts have been added to the roster. K Trevor Romaine, LB Will Storey, DT Fred Thompson, RB Terron Ward and LB D.J. Welch, as well as a true-freshmen in offensive lineman Darryl Jackson. Two JC transfer defensive ends will participate in spring practices: Rusty Fernando and Blake Harrah. Munoz has switched from split end to slot receiver. Tyler Anderson has moved from cornerback to fulback. Expected starting CB Jordan Poyer will practice football on Mondays and Wednesdays and play baseball on Fridays.
Coaching changes
: Brent Brennan is the new receivers coach and Chris Brasfield will coach running backs. With the departure of Newhouse, defensive coordinator Mark Banker will coach linebackers. Banker oversaw safeties last season. Keith Heyward is now in charge of the entire secondary.
Offensive line reshuffle
: The Beavers offensive line was a disappointment in 2010, so it's probably not a surprise that there are some changes, even with four starters returning. Sophomore Josh Andrews has been moved from center, where he was expected to replace Alex Linnenkohl, to left guard. Grant Johnson has moved from LG to C. Michael Philipp is the RT and Mike Remmers is the LT. Last fall, they were reversed. Remmers is a better pass blocker, which means he's better suited to protect Katz's blindside.
Filling in on
D
: The Beavers must replace six defensive starters, including a DE, a DT, two OLBs and a CB and a S. Poyer and Anthony Watkins are expected to fill the secondary voids, while Taylor Henry, Andrew Seumalo, John Braun and Fernando and Harrah are competing for the end spot opposite Dominic Glover. With Masaniai out, Kevin Frahm, Mana Tuivailala and Ben Motter are the top tackles, though Thompson is an intriguing talent. Cameron Collins and Michael Doctor are the top two candidates at OLB, though Riley is high on Shaydon Akuna and Michael Bibbee, a pair of redshirt freshmen.
Spread
? Katz is a good all-around athlete, so Riley said there will be some experiments with the spread-option this spring. "We are going to mess with the zone read like we did with the fly sweep," he said.
March, 5, 2010
3/05/10
8:57
AM ET
By
ESPN.com staff
| ESPN.com
The NCAA has denied Oregon State quarterback
Lyle Moevao
's long-shot bid for a
sixth year of eligibility
.
Moevao, the Beavers' starting quarterback in 2008, played only one down last season. First, he was slow to recover from shoulder surgery and then, once he returned to practice, he suffered a season-ending foot injury.
"We are all very disappointed in the outcome of Lyle's appeal for the sixth year," coach Mike Riley said in a statement. "We will of course miss him, both as a person and as a player on our team. He not only won a lot of games as our quarterback, including some of our biggest wins in history, but he also was the heart and soul personality in our program."
Moevao's appeal was denied, according to the school's statement, "due to him not demonstrating the loss of two seasons beyond his control, as defined by current NCAA legislation. Moevao redshirted in 2006 after transferring to OSU from El Camino Community College in California."
Moevao has already graduated with a degree in sociology. He will finish his career with an 11-4 record as a starter. He ranks seventh on the Beavers' all-time list for passing yards with 3,410.
Oregon State heads into spring practices, which start March 29, with four quarterbacks: sophomore
Ryan Katz
, junior
Peter Lalich
and redshirt freshmen
Jack Lomax
and
Cody Vaz
. Incoming freshman Sean Mannion will join the team in August.