February, 10, 2014
Feb 10
9:00
AM ET
Prior to
joining the Arizona State coaching staff
last week, Keith Patterson's credentials included stops at Tulsa, Pitt and West Virginia. He has coached in eight bowl games and, having previously worked with coach Todd Graham, has an intimate knowledge of Graham's schemes and philosophies.
Those are all great little factoids to include when pumping out a press release. But all you really need to know about Patterson is this: Graham trusts him.
That's saying a lot. Because when it comes to defense, Graham can be a bit of a, well, there's no right way sugar-coat it. He's a control freak. The defense is his baby. Defensive meetings wouldn't start until Graham got into the room. And when the defense falters -- and it did a few times last season -- he sits in front of that microphone and shoulders all of the blame.
But Patterson is a dear friend and Graham's former college roommate. There is a trust there that goes beyond hours and hours in a film room.
[+] Enlarge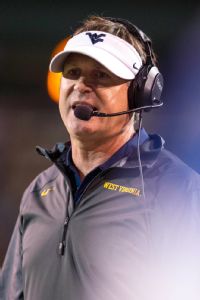 Jerome Miron/USA TODAY SportsArizona State's hire of Keith Patterson as defensive coordinator allows Todd Graham to branch out his responsibilities.
So the fact that Graham is relinquishing even a hummingbird's beak of control is an intriguing development, because it will allow him to take on more of a CEO role and oversee the entire team. And it allows him to put some focus on one area in particular -- special teams. But we'll get to that in a minute.
Graham will still be heavily involved in the defensive planning. Which is to say instead of being 100 percent involved like he was before, he'll be about 98.3 percent involved now. Just so we're clear, Graham is still going to call the defense. But he wants another set of trusted eyes coaching the linebackers and looking at the bigger picture.
When you look at the makeup of ASU's defensive staff, it's hard not to be impressed. Chris Ball will still serve as co-defensive coordinator along with Patterson and the ever-watchful eye of Graham. Paul Randolph, formerly co-defensive coordinator, will still work with the defensive ends. Jackie Shipp's contributions as defensive line coach have been invaluable. Patterson will work with the linebackers while Graham and Ball will work with the secondary.
That's three coordinators, a head coach and a longtime NFL player/Oklahoma assistant -- not too shabby.
It makes for a very intriguing defensive year for the Sun Devils, who will experience a massive talent drain on that side of the ball with nine of 11 starters having moved on. With youth and depth issues, it might take a season or two for this new defensive staff to show just how good it really is. Rather than judging progress strictly with Xs and Os in 2014, player development will likely take center stage.
Perhaps the most important element of this hire, however, is the re-shuffling of the special teams coaching staff. Aside from freshman kicker
Zane Gonzalez
, ASU's special teams were pretty abysmal in 2013. The Sun Devils were last in the league in punting and middling in the return game. This new coaching hierarchy addresses that, at least that's what Graham hopes.
Patterson will assume the role as defensive special teams coach while Chip Long will handle offensive special teams. Graham is also going to play a "major" role in special teams, which is something he wouldn't be able to do if he was running the defense all on his own. With the departure of special team's coordinator Joe Lorig, who moved to Utah State to be the linebackers coach, the Sun Devils have a chance to make major strides in the weakest aspect of their game last season.
Unprompted, Graham made a point to single out poor special teams play in his opening statement after the loss to Texas Tech in the Holiday Bowl.
"We have a lot of things to work on on special teams, that will be dealt with immediately and that will be something I take a personal interest in," Graham said. "That has killed our team. We've lost three ballgames this year because of that."
The Patterson hiring allows Graham to do just that -- if Graham is willing to relinquish the defense, even just a little bit.
November, 24, 2013
11/24/13
1:20
AM ET
PASADENA, Calif. -- There was a good chance history was going to repeat itself. You give UCLA quarterback
Brett Hundley
3 minutes and 21 seconds -- at home -- to move his team 65 yards and negate a five-point deficit and more often than not you'd probably take those odds.
Faced with a similar situation last year, the ASU defense played on its heels and watched Hundley march the Bruins 60 yards in the final 1:33 to set up
Ka'imi Fairbairn
's game winner as time expired, giving UCLA a 45-43 victory in Tempe.
But that's the thing about history. That's all it is. This time around, the Sun Devils were determined not to make the same mistakes. So when Hundley got the ball with 3:21 left and his team trailing 38-33, ASU coach Todd Graham made a declaration to his defense: We're going to bring it.
"We had some regrets last year down the stretch in that last minute of that game," Graham said. "We talked about it as a team. I talked to the seniors ... we had some regrets last year that we defended instead of attacked. We sent it every play that last drive. Even on the last play, because we came to win."
The end result was two sacks on Hundley, who could move his team only 11 yards on eight plays after penalties and the losses stalled the come-from-behind effort. The 38-33 margin held, and the Sun Devils celebrated as the Pac-12 South Division champs.
[+] Enlarge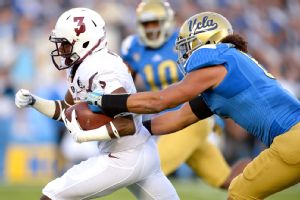 Robert Hanashiro/USA TODAY SportsArizona State built a large first-half lead and then hung on to win the Pac-12 South.
"Everything felt different this time around," ASU safety
Alden Darby
said. "We're a different team. The mindset was different. We know we have a championship defense. There was a different vibe this year on the sideline and on the field."
Those two sacks on the final drive were part of a nine-sack effort from the Sun Devils, who pressured Hundley and UCLA's young offensive line. Hundley rushed for 66 yards, but when you factor in the sacks, he netted only 5.
"The main concern was tackling Hundley," ASU defensive line coach Jackie Shipp said. "He's very good with the ball. He reminds me of Vince Young from when I was in the Big 12. The main thing was getting him down. We knew they were hurting on the offensive line. I knew we could get there. We just had to make sure we got him on the ground."
Through the first 30 minutes, a game-winning drive seemed like a long shot for the Bruins. Behind an efficient and calculated performance from ASU quarterback
Taylor Kelly
, the Sun Devils built a 35-13 halftime lead. Kelly was elusive on the ground, rushing for 99 yards and a touchdown, and accurate through the air, completing 20 of 27 passes for 225 yards and a touchdown. Rushing scores from
D.J. Foster
and
Michael Eubank
, along with a 19-yard touchdown from Kelly to
Jaelen Strong
and a pick-six from
Carl Bradford
gave the Sun Devils a 22-point advantage at the break.
But as UCLA tends to do, it exploded in the second half, outscoring the Sun Devils 20-3 behind a pair of touchdown runs from
Myles Jack
and
Paul Perkins
and a 27-yard touchdown strike from Hundley to
Shaq Evans
. That set the stage for some last-minute drama that ultimately ended with the Sun Devils' defense making the plays it failed to make last season.
"We got ourselves into a hole in the first half and were not able to recover," UCLA coach Jim Mora said. "They fought tooth and nail for that thing, and it was just a little too much to overcome. The loss is bitterly disappointing."
What Mora laments most was his team's inability to control Kelly on the ground. ASU's quarterback rushed for 84 yards in the first half alone.
"He kept plays alive, he frustrated us, we couldn't find the ball," Mora said. "We got caught out of position on some things. That's what was frustrating me -- not being able to handle the quarterback defensively."
ASU offensive coordinator Mike Norvell said getting Kelly involved in the running game was by design. They wanted to force the Bruins into making decisions on zone reads. From there, Kelly was making all the right calls.
"We were able to present some different looks to make sure he'd get a good pull-read and he made some great reads," Norvell said. "... When you've got the defending Pac-12 South champs the last two years, you're coming into their place, you knew it was going to be a battle. I was really proud of our guys and the way they played. That really showed the character of our team."
The Sun Devils will represent the South Division in the Pac-12 championship game against Stanford, which claimed the North by virtue of Arizona's win over Oregon. The only question is whether it's in Tempe or Palo Alto. If Arizona State tops rival Arizona next week, it will host the Cardinal. If the Wildcats win, the title game will be at Stanford for the second straight year.
May, 17, 2013
5/17/13
2:30
PM ET
February, 27, 2013
2/27/13
9:00
AM ET
A couple of new assistant coaching hires to fill you in on this morning.
First at Stanford, David Shaw promoted Morgan Turner to tight ends coach. He replaces Ron Crook, who
reportedly took the offensive line coaching job
at West Virginia.
Turner is in his third season with Stanford. Previously he worked as an offensive assistant and before that was a strength and conditioning intern.
"Morgan Turner has worked extremely hard here and has been invaluable to us with the offense," Shaw said in a statement. "He worked closely with (offensive coordinator) Mike Bloomgren in the run game the past two years. This is a great opportunity for a bright, young coach who our players know and respect. We're pleased that Morgan was able to pass up other opportunities to stay here with us at Stanford."
Crook coached the tackles and the tight ends -- shaping the likes of
Zach Ertz
,
David Yankey
and
Levine Toilolo
in 2012. This is noteworthy because Yankey -- last year's Morris Trophy winner and an All-American -- will likely move back to guard and the Cardinal have to replace Ertz and Toilolo, who both declared early for the NFL draft.
More than likely, Bloomgren will coach the whole offensive line -- rather than just the interior line while Turner focuses solely on the tight ends.
You can read the complete release
here
.
At Arizona State, former NFL linebacker and 22-year college coaching veteran Jackie Shipp has joined the Sun Devils as the new defensive line coach.
He fills Ron West's spot on the coaching staff -- though defensive coordinator Paul Randolph will take over coaching the linebackers.
"I could not have found a candidate who was a better fit for what we need at this time," said head coach Todd Graham in a statement. "Jackie is one of the best defensive line coaches in college football and our linemen will benefit from his leadership and mentoring. We just became a better football program with the appointment of Jackie Shipp. He's a top-flight recruiter with contacts in the states of Oklahoma, Texas and California. He will recruit all areas for us with special emphasis on the state of California."
He inherits a defensive line that is expected to be one of the best in the country -- headlined by the league's returning defensive player of the year,
Will Sutton
.
The former first-round draft pick of the Miami Dolphins played five seasons and played in the 1985 Super Bowl. He spent the last 14 years coaching the defensive line at Oklahoma.
You can read the full release
here
.