September, 1, 2013
9/01/13
10:00
AM ET
A look at what we learned about the Pac-12 in Week 1.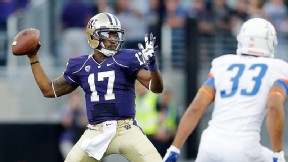 AP Photo/Ted S. WarrenWashington's Keith Price dazzled in his 2013 debut, throwing for 324 yards and two TDs.
Washington looks to be legit
: Per my co-blogger, Washington quarterback
Keith Price
was "lights out" in his performance against Boise State.
Bishop Sankey
picked up where he left off last season, and the defense kept the Broncos out of the end zone. For those nervous about letting their expectations get raised, go ahead and raise them. Oh yeah, and you get the best tight end in the country back next week.
Andy Phillips is now a household name
: In his first career game, the redshirt freshman kicker from Utah went 3-for-3, including a 45-yarder on his first career kick -- and executed a perfect onside kick to swing the momentum in the Utes' victory over in-state rival Utah State.
USC QB TBD
: Is it going to be
Cody Kessler
or
Max Wittek
at USC? What we learned is we didn't learn much. Neither looked particularly sharp as USC struggled offensively against Hawaii. Kessler was 10-of-19 for 95 yards with a touchdown and an interception. Wittek was 5-of-10 for 77 yards. Both seemed constrained by a conservative gameplan of short throws and swing passes.
Oregon likes to run (well, duh):
Three different Ducks eclipsed the 100-yard mark:
De'Anthony Thomas
,
Marcus Mariota
and
Byron Marshall
. In all, the Ducks rushed for 500 yards and a robust 11.1 yards per carry against Nicholls State. It marked the first time in school history three players went for 100 yards in the same game. Yes, it was Nicholls State, but you have to figure rushing records are getting harder and harder to break at Oregon.
DAT the featured back?
New Oregon coach Mark Helfrich had been fairly noncommittal when talking about how Thomas would be used. He looked the part of an every-down back Saturday night, carrying 18 times for 128 yards and two touchdowns. The 18 carries were a career high.
Utah's depth will be tested
: For the second season in a row, the Utes lost a big-name player for the year at the hands of Utah State. Wide receiver
Kenneth Scott
will miss the rest of the season after suffering a leg injury in the first quarter. Others will have to step up.
Sean Fitzgerald
looked pretty good in relief, catching five balls for 79 yards.
They're serious about this ejection thing
: The NCAA's new targeting rule, which went into effect this season, can lead to an ejection on the spot if the official deems it a head-to-head hit. The first big-name casualty was Oregon cornerback
Terrance Mitchell
, who makes up half of Oregon's outstanding cornerback tandem with
Ifo Ekpre-Olomu
. Miller was ejected late in the first quarter of Oregon's win over Nicholls State.
Really, Beavers?
Maybe more of the offseason focus should have been on the defense, and less about the quarterback competition.
Sean Mannion
played brilliantly. The defense, not so much, allowing Eastern Washington quarterback
Vernon Adams
to throw for 411 yards and run for 107. Not that it bears repeating, but this is the second time in three seasons the Beavers have opened the season with a loss to an FCS team.
We're not done yet
: One more game on the Week 1 docket with Colorado and Colorado State squaring off Sunday in Denver.
The Cougs looked better:
A gutty effort in SEC country from Washington State, which went toe-to-toe with Auburn before falling 31-24. Turnovers continue to be a curse and three interceptions from
Connor Halliday
, including one in the red zone in the fourth quarter, contributed to WSU's downfall.
Speaking of turnovers:
In its nine games (Colorado pending), the Pac-12 won the turnover battle, 15-11. When the Pac-12 tied in turnovers (Utah, Cal, Oregon State, Washington), it was 2-2. When it won the turnover battle (Arizona, Oregon, USC), it was 3-0, and when it lost the turnover battle (UCLA, Washington State), it was 1-1.
Special teams had special plays
: See Vincenzo D'Amato's pass to
Jackson Bouza
on the fake field goal (one of the more creative give-and-gos I've seen). See UCLA's punt block for a touchdown against Nevada. See Phillips' performance.
Speaking of special:
After posting the worst field-goal percentage in college football last year (67.9 percent) the Pac-12 kickers came out swinging in Week 1, converting on 14 of 17 attempts (82 percent).
August, 22, 2013
8/22/13
9:00
AM ET
Jared Goff
talks with the confidence of a fourth-year starter. But Cal's true freshman quarterback, who was named the starter last week, will have that confidence tested with three of his first four games against top 25 teams -- including No. 2 Ohio State and No. 3 Oregon. He took some time to chat with the Pac-12 blog about the job, his receivers and his expectations for 2013.
Jared Goff, starting quarterback. Has that sunk in yet?

Goff
Jared Goff
: Definitely. It's definitely set in. Probably Sunday or Monday. They made the decision on Friday, and Friday and Saturday were crazy with texts and calls every hour of the day. I think I handled it pretty well. Then we started preparing for Northwestern this week, and that's when it really sunk in.
Jared Goff, starting quarterback, who has to face Northwestern, Ohio State and Oregon in three of his first four career games. Has that sunk in yet?
JG
: Right now we're just focused on Northwestern. Obviously, I know we've got a tough schedule coming up this year. But we're focused on Northwestern. Ohio State and Oregon and all of those other great teams, those will come when the time comes. Right now we're focused on Northwestern. That's all we can do.
What was your confidence level like during the competition? Did you feel like this was your job to lose?
JG
: Not really. I had two great competitors right beside me. In my opinion, they are two of the best quarterbacks in the country. They are great competitors and great people, and they really supported me when the decision came out. I really respect them for that. They are going to continue to push me and support me and be ready should anything happen ... It was a lot of congratulations from them. They were really respectful and mature about it, and they handled it with a lot of class.
You've got some good, young wide receivers to throw to. What are your thoughts on that group?
JG
: They're incredible. We're extremely, extremely deep at wide receiver. We've got guys that could play anywhere else that might not get that much time this year because of how deep we are. Guys like
Bryce Treggs
,
Chris Harper
,
Kenny Lawler
,
Darius Powe
,
Richard Rodgers
,
Jackson Bouza
. All those guys are incredible. They run great routes and have great hands. We're really starting to mesh together. It's a good looking group.
Because it's a younger group, does that make it a little easier for you to get on the same page with them as a true freshman rather than trying to win over a bunch of 22- or 23-year-olds?
JG
: It definitely helps that they are all pretty much my age, 19 or 20. Jackson is almost 23. He's the oldest on the offense and he's the veteran. But most of them are pretty young, and it makes it a lot easier to mesh with them and get to know them.
You committed to Jeff Tedford, but stayed with Sonny Dykes. Was that because of your dad's ties to the school (he was an All-American catcher)? Did you consider switching after the coaching change?
JG
: With my decision, my dad going here didn't really have much to do with it. It was more of a bonus. It was a cool thing that my parents went here. But that didn't drive me to pick Cal. But as far as coach Tedford being let go and coach Dykes came in, I was definitely cautious at first and I wanted to see who they were going to hire. But the whole time I was going to stick with Cal. I knew I was. And when they hired coach Dykes, it made it that much easier. And with the new offense, it made it that much better.
Is this the kind of offense you wanted to be in? It's quite a contrast to the pro-style system coach Tedford was running. Or did the scheme not matter?
JG
: I just wanted to play. I think I can fit in many offenses. But this offense really suits me well. I ran something similar in high school, so it makes sense. It's a perfect fit for me.
How much do you think enrolling early made a difference in the competition?
JG
: It made all the difference. If I didn't do that I would not be in the situation I am right now. For sure.
In your eyes, what would make a successful first season?
JG
: Our goal right now is the Rose Bowl. That's what we're shooting for. That's what we're working for every day. That's what we're trying to do, and that's all we can expect right now.
March, 6, 2012
3/06/12
11:00
AM ET
Keenan Allen
is going to get a breather this spring. It will give some of the younger guys a chance to develop while allowing Cal's top receiver to come into the 2012 season with fresh legs. But what about after that? Will this year be his Cal swan song?
Coach Jeff Tedford has no idea. And judging from his comments during yesterday's conference call with the media, it's something he doesn't really want to worry about right now.
[+] Enlarge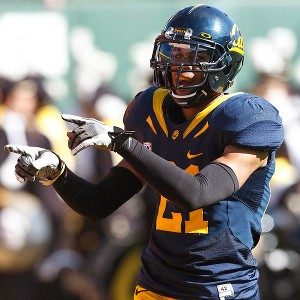 Jason O. Watson/US PresswireKeenan Allen led Cal in receptions, yards and touchdowns last season.
"I don't know," Tedford said, "we haven't talked about that. Obviously, he's played very well for us the first two years. He caught 98 balls last year and he's one of the top receivers in the country, but we haven't talked about it."
So there you have it ... or you don't.
The conference is going to be loaded at the position with five of the top six statistical receivers returning next season. Allen, who was first-team All-Pac-12, finished second in total catches for 1,343 yards, six touchdowns and an average of 103.3 receiving yards per game. With another strong season, his draft stock should be trending up. And consider, if
Zach Maynard
starts all of next year before Zach Kline presumably takes the job in 2013, you'd think Allen would be more inclined to come out early rather than come back for another season with a first-time starter throwing him the ball.
But Tedford said there is plenty of time to worry about that in the future.
"I think he's focused on what needs to happen now," Tedford said. "We haven't really gone into that topic. I'm sure we'll have that discussion sometime through the summer, just to make sure that I know what's on his mind and he's able to handle it properly, whatever it may be.
"I know that one of the things his family is really eager about is to have him graduate, so we'll just have to see how it plays out. But right now, he's doing great, happy and working hard. We'll see what happens."
Like many of the veteran players on Cal's roster, he'll be taking it easy when the Bears get their spring practices underway next week. Spring will be an opportunity for Tedford to hopefully develop some depth around Maynard so that his primary weapons don't have to completely shoulder the load -- specifically at tailback where
Isi Sofele
carried 252 times last season.
"It's going to be a big spring for
Brendan Bigelow
, it's going to be a big spring for
Daniel Lasco
,
Darren Ervin
," Tedford said. "You have those young guys there that really need lots of work. We're pretty sure what Isi can do. He's played a whole year; he's a 1,300-yard ruhser. Not that he can't improve, he can ... the young guys need to step up and get some turns. Bigelow, Lasco and Ervin are all guys there that need to do that."
Finding some depth at wide receiver is also a priority, Tedford said.
"We scholarshipped five guys this year that are freshman coming in and obviously they are not here yet," Tedford said. "But
Maurice Harris
is a big one [that needs to get reps this spring]. Some of our guys like [Ross] Bostock and [Jackson] Bouza,
Stephen Anderson
is a guy who I'm really anxious to see what he can do as well. Keenan will get very limited reps."