October, 28, 2013
Oct 28
5:00
PM ET
Arizona quarterback
B.J. Denker
has been named the Pac-12 offensive player of the week. Stanford's
Trent Murphy
was named defensive player of the week, and Washington's
Travis Coons
nabbed special teams player of the week honors.
Here's some more on the trio per the Pac-12's release:
Denker, a senior from Torrance, Calif., produced one of the most prolific offensive games in school history as Arizona defeated Colorado 44-20 in Boulder on Saturday. He collected 457 total yards, good for sixth-most in school single-game history, and established a new school record for quarterbacks with 192 rushing yards on 15 carries (12.8 yards per carry). He completed 21-of-32 passes for 265 yards with a touchdown and an interception while his rushing total was the fourth-highest this season for an FBS quarterback. Denker accounted for eight plays that gained 20 yards or more and paced an Arizona offense that gained 670 yards total, which ranks third most in program history.

Murphy, a senior from Mesa, Ariz., recorded 3.5 tackles for loss including 2.5 sacks among eight total tackles in Stanford's 20-12 win over No. 25 Oregon State in Corvallis on Saturday night. Murphy also defended one pass, blocked an extra point and logged two quarterback hurries as the Cardinal held the nation's leading passer and touchdown leader to 271 yards and one touchdown. Murphy is fourth in the nation in sacks per game (1.2) and tied for seventh in tackles for loss per game (1.7). This is his second defensive player of the week honor this season.

Coons, a senior from Alta Loma, Calif., handled all three phases for Washington as he was the punter, place-kicker and handled kickoff duties for the Huskies in their 41-17 win over California on Saturday night in Seattle. He punted eight times for a 37.8-yard average with three of the eight downed inside the 10-yard line. Coons also remained perfect on the season on field goals, going 2-of-2, including one from 42 yards and another from a career-long 46 yards. Coons also had three of eight kickoffs result in touchbacks.

Also nominated for offensive player of the week honors were running backs Byron Marshall of Oregon, Tyler Gaffney of Stanford and Bishop Sankey of Washington; and wide receivers Brandin Cooks of Oregon State and Nelson Agholor of USC. Also nominated for defensive player of the week honors were defensive ends Leonard Williams of USC and Trevor Reilly of Utah; defensive backs/cornerbacks Avery Patterson of Oregon, Rashaad Reynolds of Oregon State and Tre Watson of Washington; safety William Parks of Arizona; and linebacker Jordan Zumwalt of UCLA. Also nominated for special teams player of the week honors were kickers Jake Smith of Arizona, Trevor Romaine of Oregon State and Andre Heidari of USC; and linebacker Myles Jack of UCLA.
September, 9, 2013
Sep 9
5:00
PM ET
Oregon running back
De'Anthony Thomas
, Washington State cornerback
Damante Horton
and Arizona kicker
Jake Smith
have been named the Pac-12's players of the week.

Here are some more details on the trio, per the Pac-12's release:
Thomas, a junior from Los Angeles, Calif., had 11 carries for a game-high 124 yards rushing and three touchdowns in the Ducks' 59-10 road win over Virginia on Saturday. He had touchdown runs of 1, 40 and 8 yards and reeled in one catch for another 28 yards. Thomas is averaging 8.7 yards per carry and is tied for 20th in the nation in rushing yards per game (126.0 ypg).

Horton, a senior from Oakland, Calif., led a spirited defensive effort by Washington State in the Cougars 10-7 win over No.22/25 USC Trojans in the first conference game of season. The cornerback stepped in front of a USC pass and returned it 70 yards for a touchdown to even the score at 7-7 just before halftime. Horton collected his second interception with less than a minute remaining to seal the victory for Washington State, ending the game with two interceptions for 75 return yards and a career-best two tackles for a loss for 12 yards. He was also tasked with covering USC All-American receiver Marqise Lee, who was limited to 27 yards on seven catches.

Smith, a senior place-kicker Philadelphia, Pa., set a school record with 16 points by kicking to help lead Arizona past UNLV 58-13 on Saturday night in Las Vegas. The first-year kicker collected his first made field goal from 41 yards to put Arizona up 3-0 and went on to convert three of four on the night in addition to making all seven extra points he attempted. Smith also kicked off 11 times in the game with five touchbacks and a 63.3-yard average.

Also nominated for offensive player of the week honors were quarterbacks Travis Wilson of Utah, Taylor Kelly of Arizona State, Sean Mannion of Oregon State, and Jared Goff of Californa; running backs Ka'Deem Carey of Arizona, Tre Madden of USC and Tyler Gaffney of Stanford; and wide receiver Paul Richardson of Colorado. Also nominated for defensive player of the week honors were linebackers Jake Fischer of Arizona, Grandville Taylor of Arizona State, and Hardy Nickerson of California, safeties Jered Bell of Colorado, Ed Reynolds of Stanford and Dion Bailey of USC; defensive end Tony Washington of Oregon and defensive tackle Tenny Palepoi of Utah. Also nominated for special teams player of the week honors were kickers Vincenzo D'Amato of California and Andrew Furney of Washington State and Oregon State punter Keith Kostol.
September, 9, 2013
Sep 9
11:00
AM ET
Taking stock of Week 2 in the Pac-12.
Team of the week
: It was inevitable that Washington State's 10-7 win at USC was going to end up being an archly negative referendum on Trojans coach Lane Kiffin, rather than a celebration of the Cougars' advancement, but the Cougs still had to make the plays to win the game. And they did. Washington State hinted at Auburn in the opener that it would be a tougher out in Year 2 under Mike Leach. At USC, the Cougars showed they are capable of winning Pac-12 games.
Best game
: The Cougars' win at USC was devoid of offense, but it was the only game of the weekend that presented a lot of drama. Even California's closer-than-expected win over Portland State owned a note of inevitability once the Bears settled down on defense in the second half. In terms of good football, Oregon and Stanford certainly provided that in dominant victories.
Biggest play
: Washington State cornerback
Damante Horton
provided the Cougs with their only touchdown when he returned an interception of a
Cody Kessler
pass for a 70-yard TD with one minute left before halftime. That tied the score at 7-7 and seemed to irritate Trojans fans in the Coliseum. Go figure.
[+] Enlarge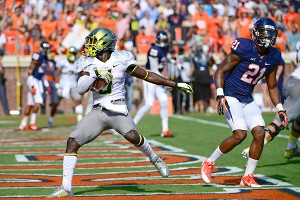 Bob Donnan/USA TODAY SportsOregon RB De'Anthony Thomas rushed for 124 yards and three TDs against Virginia.
Offensive standout
: There were a number of big performances against weak foes, but
De'Anthony Thomas
' work at Virginia stands out the most, in large part because it answered a question: Yes, Thomas can be a lead running back. His 124 yards on just 11 carries -- 11.3 yards per run -- and three touchdowns were not just flash. There were moments of physicality, too. Heck, he threw a couple of effective stiff arms against far larger defenders. He also caught a 28-yard pass, so he's still a weapon in the passing game when Mark Helfrich and Scott Frost want him to be.
Defensive standout
: Horton not only had his pick-six, he also intercepted USC's other QB,
Max Wittek
, on the Trojans' final possession. That would be enough for a tip of the cap, but he also had two tackles for a loss and four total tackles. It's worth noting that he helped limit the nation's best receiver,
Marqise Lee
, to seven catches for 27 yards, though some of that may fall on the guy calling plays for the Trojans.
Defensive standout II
: Stanford All-American safety
Ed Reynolds
had 12 tackles and an interception, leading the Cardinal's dominant defensive effort against
David Fales
and San Jose State. The Spartans had only 251 total yards in a 34-13 Stanford victory.
Trent Murphy
's two sacks also are worthy of note.
Special teams standout
: New Arizona kicker
Jake Smith
set a school record with 16 points via kicking in the Wildcats' 58-13 win over UNLV. Smith was 3-for-4 on field goals with a long of 41 yards and he was perfect on seven extra points. Those 16 points broke the previous single-game record for kickers of 15 held previously by three players. In addition, Smith kicked off 11 times, with five touchbacks and a 63.3-yard average. The Rebels mustered only 16.5 yards per return on six tries, and Smith registered one tackle to stop a potential long return.
Smiley face
: The Pac-12 took care of business and avoided upsets, going 8-0 in the Week 2 nonconference slate. There were some scares, most notably California and Colorado, but winning is the thing. The conference's top two teams, Oregon and Stanford, both posted dominant wins against respectable foes.
Frowny face
: Well, this isn't terribly difficult: USC. Not USC as a whole, because the Trojans turned in a sterling defensive performance against Washington State. New defensive coordinator Clancy Pendergast has done everything asked of him. Maybe more. But the Trojans' offensive ineptitude against the Cougars is inexcusable. You could make an argument that a purely random selection of play calls would have produced more points and yards than what the Trojans got Saturday as boos rained down in the Coliseum.
Thought of the week
: It's measuring stick week, time for the Pac-12 to announce to the country what many started theorizing in the preseason: The Pac-12 this fall is as strong as it has been in recent memory, top to bottom, and should be in the mix when debating the nation's best conference. There are games against three ranked teams: California vs. No. 4 Ohio State, UCLA at No. 23 Nebraska and Arizona State vs. No. 20 Wisconsin. Further, Washington visits Illinois, Colorado plays host to Fresno State, Boston College visits USC and Tennessee is at Oregon. The Pac-12 blog -- and others on the West Coast -- have talked the talk. Now the teams must walk the walk.
Questions for the week
: Was Washington State Kiffin's Waterloo? It's not difficult to ascertain what fans at the Coliseum were thinking after the 10-7 loss to Washington State. After booing throughout the game, they chanted "Fire Kiffin" in the fourth quarter. The Pac-12 blog gets no joy from hot seat talk. Being gleefully snarky about a guy struggling at his life's work is pretty lame. But Kiffin is a big boy. Big-time college football is a bottom-line profession -- winning is the thing. And that's even more true at a place such as USC. Things will have to turn around quickly and dramatically, particularly on offense, for Kiffin to retain his job.
August, 2, 2012
8/02/12
11:00
AM ET
Arizona might go to a bowl game.
Or
the Wildcats might not.
Or
they might win two games.
Or
more.
Or
less.
Or
,
or
,
or
.
Arizona's latest depth chart has 24"ors" on it.
Dan Buckner
at wide receiver, or
David Richards
.
Derrick Rainey
at cornerback, or
Jonathan McKnight
.
John Bonano
place-kicking, or
Jake Smith
.
Or ...
"I didn't help you with a lot of the 'ors,'" head coach Rich Rodriguez said in a news conference Wednesday. "It wasn't just a coach kind of deal, we really don't know for sure in a lot of positions. I think 15 practices in spring told us a little bit ... really, I think we'll get a better idea at the end of camp and at the end of the next 30 days. But I really won't know until we play a couple of games. There are a lot of 'ors.' I want our guys to compete for their jobs. If they've played in the past, that's good and that experience should help them. But we're starting all over again. A clean slate. Everyone has to earn their spots."
[+] Enlarge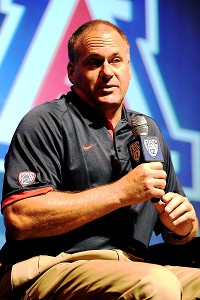 Jayne Kamin-Oncea/US Presswire"Everyone has to earn their spots," coach Rich Rodriguez said in explaining Arizona's uncertain depth chart.
Wildcats players reported Wednesday and will start practice today. And if the depth chart is any indication, Rodriguez has a lot of decisions to make over the next month.
Here are some more highlights from his news conference:
On the linebacking corps: "For us, that's certainly our thinnest position and it's an area of concern. There are probably some guys we're going to have to push to get ready [sooner] than they may be ready for or we may be ready for. In particular some freshmen. It's wide open. Jake Fischer is the only guy right now that we know has a lot of experience and we feel pretty comfortable with him at linebacker. Outside of Jake, it's kind of a wide-open deal. We have concerns, but what we have is what we have. Hopefully these freshmen will grow up in a hurry and coach [Jeff] Casteel will get them ready to play."

Rodriguez said staying healthy in camp is going to be crucial because the Wildcats aren't a particularly deep team yet. That's going to affect how they practice: "Where we're at right now with our depth -- or lack of it in some spots -- it's going to be critical. We've talked as coaches, you have to practice physically sometimes. You have to hit at times. We need to get tougher and more physical. Yet we don't want to beat ourselves up and have a lesser team come Sept. 1. How do you balance that? We will have some physical times and physical practices. But they won't be all day, every day. The message to our team will be when we have those moments when we go live, we need to really get after that and develop the mentality we want from a toughness standpoint. Because they will be few and far between. When we do it's got to be really, really intense and we have to make the most of it ... it's concerning and it limits you a little bit."

Offensive lineman Jack Baucus might have to retire because of injury.

Rodriguez said some of his coaching staff knew some players on Penn State's roster and that "a handful" reached out and talked with Arizona, but he said they are not actively pursuing anyone.

On how receptive his players have been to changing in coaching staffs: "I think they've been really receptive. I think our guys are hungry. At least I hope. When you're not going to a bowl game and you're sitting there at the bottom of the league, I think our guys were a little bit embarrassed and certainly they weren't happy because I met with all the guys in December. But how upset were they and how angry were they? I hope they are very angry and you use that anger and channel that in a positive [direction] with a chip on their shoulder to prove themselves ... I want them to be really mad. There was some of that and I think our players have a lot of pride. But we should be more upset and channel that in the right way."

Rodriguez called some of the NCAA's non-contact rules "silly," saying that two hours a week in the month of June would be beneficial -- especially for a new coaching staff trying to learn about their players: " It's really silly. It makes no sense. I think our guys -- college athletes in particular -- are better off with more guidance and more eyes."

The players will undergo a physical evaluation after the first practice. You'll recall that back in March, Rodriguez said his team was "weak, really weak." He'll see how much the summer conditioning has paid off: "The first practice will tell me a lot. Guys that struggle tells us they didn't do a whole lot this summer. We'll have a conditioning test at the end of the first practice. Those that worked out and are in shape shouldn't have any problems passing it. Those who didn't will have a big problem."
PAC-12 SCOREBOARD
Saturday, 12/21
Monday, 12/23
Tuesday, 12/24
Thursday, 12/26
Friday, 12/27
Saturday, 12/28
Monday, 12/30
Tuesday, 12/31
Wednesday, 1/1
Thursday, 1/2
Friday, 1/3
Saturday, 1/4
Sunday, 1/5
Monday, 1/6
Tweets from @ESPNCFB/pac-12