September, 17, 2014
9/17/14
2:00
PM ET
BERKELEY, Calif. -- When it came time to pick a senior quote in high school, Cal quarterback
Jared Goff
settled on a famous one from legendary UCLA basketball coach John Wooden.
"You can't let praise or criticism get to you. It's a weakness to get caught up in either one."
[+] Enlarge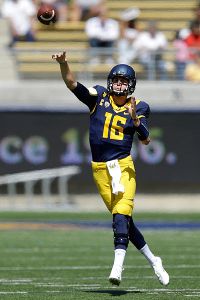 Ben Margot/AP PhotoJared Goff and the California Bears take on the Arizona Wildcats on Saturday in a game of unbeatens.
How's that for foreshadowing?
Barely into the second season of his college career, Goff has already lived both sides.
"Last year was terrible, there was people saying everything about us," Goff said. "You try not to read it, but it comes across your [Facebook] news feed every once in awhile, and then this year it's almost the opposite."
With wins against Northwestern and Sacramento State, the Bears' 2-0 start has brought about a renewed sense of enthusiasm to a fan base that grew apathetic during a disastrous 2013 season. Goff said he's already noticed more students wearing Cal gear and he can't stray too far from his apartment near Memorial Stadium before noticing the changes winning has bred.
"Every single day there's a traffic sign near my place and it says 'Go Bears,'" Goff said. "That wouldn't have happened last year."
Goff admits he "loves seeing all that," but as Wooden taught him and coach Sonny Dykes has reinforced, there's an important caveat that comes with the positive vibes.
"[They] literally mean nothing," Goff said.
To better avoid the outside noise, Goff took a page out of former Cal quarterback Aaron Rodgers' book when he pledged to
stay away from Twitter
during the season.
It's an approach Dykes can appreciate because as immeasurably frustrating as the Bears' 1-11 record was in his debut season, he never lost faith in the process. And the ability to block out any unnecessary distractions plays a big role in that.
"[Last year] everybody on campus, media stuff, everything was remarkably negative -- and justifiably so -- but [the players] didn't need to listen to that," Dykes said. "When we get the thing rolling, they don't need to listen to everybody telling them how great they are, either, because nothing has changed.
"People's ability to ignore stuff that doesn't matter and focus on what does matter, I think, makes a huge difference with how successful somebody is. It's nice for people to tell you you're not stupid and you're not a bad player, all that stuff, but at the end of the day it doesn't really matter."
It's also important to keep things in perspective. Wins against Northwestern, which lost to Northern Illinois the following week, and FCS Sacramento State, which prepared for Cal with a win against Incarnate Word, don't exactly combine to form an enviable resume. The important byproducts of those wins are a small sense of validation and improved confidence, but beyond that Cal still has a long way to go.
And until the Bears prove they can consistently compete with Pac-12 teams -- beginning Saturday at Arizona -- a healthy level of skepticism is appropriate.
"We're not by any means hanging on to the Northwestern win or the Sac State win, but it's good to see us working hard in the offseason, doing everything right, going to class, and then seeing it pay off with the wins," said Goff, who ranks ninth in the country with a QBR rating of 90.1. "I think it makes the whole team's morale go higher, just seeing everything work the way it's supposed to work."
Offense was never going to be a major issue. When Dykes left Louisiana Tech for Berkeley, he and offensive coordinator Tony Franklin had just engineered the highest scoring offense in the country. Given time, there was no reason to believe it wouldn't pick up steam at Cal.
Defense was a different story. It was a question mark when Dykes was hired, but reality (45.9 points allowed per game) redefined any worst-cast scenarios floating about. Defensive coordinator Andy Buh had to go, and Dykes was led to Art Kaufman, whose history of quickly turning around porous defenses presented at least some reason for optimism.
For linebacker
Jalen Jefferson
, it was apparent early on in spring practice that things could be better when he noticed something strange.
"We were
actually
stopping the offense," he said. "And that's hard to do with the style they have and what they do."
Jefferson credits Kaufman's basic approach for allowing the defense to play faster.
"We still run a 4-3, but there aren't many adjustments," said Jefferson, who leads the Bears with 17 tackles. "We line up, play our gap and fly to the ball. That's what we needed. [Kaufman's] a great guy ... mellow. He gets on us when needs to and he trusts us, so we trust him."
Again, the competition level and small sample size need to be taken into account, but the early defensive returns are positive. Cal ranks third in the Pac-12 in total defense (328 yards per game), third in scoring defense (19.0 ppg) and is tied for the best turnover margin (plus-5).
Arizona (3-0) will provide an otherworldly kind of challenge. The Wildcats have averaged a conference-best 582.7 yards per game over their first three games, including a school-record 787 yards of offense in Week 1 against UNLV. True freshman running back
Nick Wilson
is fourth in the country with 449 yards rushing and quarterback
Anu Solomon
has thrown for 934 yards over his first three career starts.
"We're pretty anxious to see what we're capable of," Jefferson said.
He's not the only one.
August, 31, 2014
8/31/14
8:00
AM ET
Football is back. That means helmet stickers are back! Here's who gets one of college football's most coveted honors for Week 1.
Kaelin Clay, KR, Utah
: The Pac-12 blog is always hesitant to dole out too much praise for victories in FCS games. But Clay went above and beyond in Utah's
56-14 win
over Idaho State. He returned a punt 46 yards for a touchdown in the second quarter and a kickoff 100 yards for a touchdown.

Anu Solomon, QB, Arizona
: Not a bad night for the new guy. He threw for 425 yards and four touchdowns in his first career start (also adding 50 yards on the ground) as the Wildcats totaled a school record 787 total yards in their
58-13 win
over UNLV.
Connor Halliday, QB, Washington State
: This is getting to be a troubling trend. Halliday has a monster game, but the Cougs lose in the fourth quarter. Sort of how we ended last year. Still, he threw for 532 yards and five touchdowns against a Big Ten team, a
41-38 loss
to Rutgers. That has to count for something.
UCLA's defense:
While the offense significantly underwhelmed, the defense kept the Bruins alive with three defensive touchdowns in the second quarter, which was ultimately the difference in their
28-20 win
at Virginia. Interception returns by
Ishmael Adams
and
Eric Kendricks
, with a
Randall Goforth
fumble return in between, gave the Bruins a big enough lead.
Jalen Jefferson, LB, Cal:
Been a while since we tapped a Cal defensive player for a helmet sticker. Feels weird. Feels good. Jefferson led all players with 16 tackles, including 1.5 for a loss and a critical 11-yard sack on Northwestern's penultimate offensive play of the game. On the final play, it was Jefferson who snagged an interception, sealing a
31-24 win
. He was Eh-vre-where.
Cody Kessler, QB, USC:
I know, I know. We could do three or four quarterbacks every week. And just an FYI, we probably will, because they're that good this year. Kessler picked up where he left off against Fresno State last year and posted a career high 394 yards on 25-of-37 passing with four touchdowns and no interceptions in the
52-13 win
over the Bulldogs.
July, 9, 2014
7/09/14
12:00
PM ET
We're continuing our preseason position reviews. Please, hold your applause until we are finished.
Here's how we do this. We provide three evaluative categories: "Great shape," "Good shape" and "We'll see."
Hint: You'd prefer your team to be in "Great shape."
"We'll see" doesn't mean you're going to stink at said position. It means just what it says -- we'll see, because there's no way at present to know.
You can review last year's rankings here
.
Up next: Linebacker. Teams in each category are listed in alphabetical order.
GREAT SHAPE
Oregon
: The Ducks are in great shape with inside linebackers
Derrick Malone
and
Rodney Hardrick
returning next to outside linebacker
Tony Washington
. The only departure they'll have to account for is Boseko Lokombo, and that spot appears destined for
Tyson Coleman
once he's completely healthy following a knee injury that sidelined him for the Alamo Bowl. Sophomore
Torrodney Prevot
is one of several talented young players to keep an eye on when the Ducks empty their bench during blowouts.
Oregon State:
The Beavers are deep at linebacker with
D.J. Alexander
,
Jabral Johnson
and
Michael Doctor
projected to start in their 4-3 scheme.
Rommel Mageo
was a starter down the stretch last season and should see plenty of playing time, as will
Caleb Saulo
and
Darrell Songy
.
USC:
Only outside linebacker Devon Kennard is gone from a a solid group that should have a rather seamless transition playing in new defensive coordinator Justin Wilcox's 3-4 defense.
Hayes Pullard
and
Anthony Sarao
figure to start inside, with
Jabari Ruffin
or
Quinton Powell
playing outside opposite
J.R. Tavai
.
Washington:
The Huskies weren't fully stocked during the spring, but figure to have one of the best groups in the conference with
John Timu
playing between
Shaq Thompson
and
Travis Feeney
.
Cory Littleton
can be listed at defensive end or outside linebacker -- UW calls him a rush end -- and is coming off a productive sophomore season.
GOOD SHAPE
Colorado:
Addison Gillam
led the Pac-12 in tackles per game last year (8.9) and will likely start between sophomore
Kenneth Olugbode
and senior
Woodson Greer
. The Buffaloes have depth, too, with
Brady Daigh
, a reliable backup for Gillam, and outside linebacker
Deaysean Rippy
, who sat out last season after transferring from Pittsburgh. Rippy was listed as an alternative starter to Greer on Colorado's post spring depth chart.
Stanford:
There might not be a more difficult task in the conference than replacing outside linebacker Trent Murphy and inside linebacker Shayne Skov, both of whom drew All-American accolades in multiple season. Inside linebacker
A.J. Tarpley
, already a three-year starter, is one of the conference's unheralded players and outside linebacker
James Vaughters
is poised for a breakout senior season. Kevin Andersen has seen a lot of playing time over the past two years at outside linebacker, but the other inside spot needs to be ironed out.
UCLA:
Like Stanford, the Bruins have a tough task in replacing Anthony Barr and Jordan Zumwalt, but have two talented returners in
Eric Kendricks
and
Myles Jack
. UCLA could very well end up one of the best groups in the conference pending the development of
Kenny Orjioke
,
Deon Hollins
,
Isaako Savaiinaea
and
Zach Whitley
.
Utah:
Junior
Jason Whittingham
is a potential first-team all-conference type player and the Utes are high on
Jared Norris
, who started seven games last year. The group looked even better when Miami-transfer
Gionni Paul
was projected to contribute, but the start to his season is expected to be delayed by a broken bone in his foot.
Uaea Masina
, after contributing on special teams last year, will likely see a lot of playing time.

Washington State:
Darryl Monroe
and
Cyrus Coen
return as starters and
Tana Pritchard
, who saw his role grow as the season went along, will be leaned on heavily. The final spot up for grabs is the 'buck,' which looks like it will come down to
Kache Palacio
, a slight favorite who started at the end of the season, and
Ivan McLennan
.
Chester Su'a
could also make some noise after missing last season with an injury.
WE'LL SEE
Arizona:
The Wildcats need to replace three-year starter Marquis Flowers and two-year starter Jake Fischer.
Scooby Wright
started 12 games as a true freshman last season and gives the Wildcats a good piece to start with, but we'll take a wait-and-see approach once the other pieces are in place. The good news is that Arizona has recruited well at linebacker.
Arizona State:
Salamo Fiso
returns, but having to replace three of the four starters from a year ago leaves more questions than answers. Early-enrollee
D.J. Calhoun
drew rave reviews during spring practice, but will have to beat out redshirt junior
Antonio Longino
for a starting job.
Eriquel Florence
(devil), and
Laiu Moeakiola
/
Marcus Washington
(spur) were also listed as starters at the end of spring practice.
Cal:
Jalen Jefferson
,
Michael Barton
and
Hardy Nickerson
are all back, but after last season's defensive woes it's hard to go in with much optimism. The situation at linebacker is clearly better than it was last year, but that's not inspiring enough not to erase speculation.
OTHER POSITION REVIEWS:
March, 27, 2014
3/27/14
5:30
PM ET
You remember the three-headed monster, right? It's about returning production that will scare -- terrify! --opponents. Or not.
On offense, it's elite combinations at quarterback, running back and receiver.
On defense, it's elite combinations of a leading tackler, a leader in sacks and leader in interceptions.
This year, we're breaking things down by division. We've already done offense for the
South
and
North
divisions. Wednesday we looked at defenses in the
South
.
Next up: North Division defensive three-headed monsters.
1. Stanford
LB
A.J. Tarpley
, DE
Henry Anderson
, S
Jordan Richards
The skinny
: The Cardinal lose their top tackler (
Shayne Skov
) and top sack guy (
Trent Murphy
). But there are others ready to take control. Tarpley has long been one of the league's most underappreciated linebackers (93 tackles last season) and Anderson's return boosts a front seven that should continue to party in the backfield. Richards is solid at one safety spot, though there are some questions about who will play opposite him. The Cardinal still boast the top defense in the league until proven otherwise.

2. Washington
LB
Shaq Thompson
, DE
Hau'oli Kikaha
, DB
Marcus Peters
The skinny:
The Huskies have some losses, like everyone else in the country, but there is plenty of talent coming back for the new coaching staff to work with. That returning production is enough to slot them No. 2. Thompson continues to get better with each season and appears on the verge of a breakout year. Kikaha has not-so-quietly turned into one of the Pac-12's most feared rushers (13 sacks last season) and Peters is back after making five interceptions last season. They lose some leadership with the departure of
Sean Parker
and there's some question marks in the secondary. But this should be a salty group in 2014.
3. Oregon
LB
Derrick Malone
, DE/OLB
Tony Washington
, CB
Ifo Ekpre-Olomu
.
The skinny
: Despite losing
Avery Patterson
,
Brian Jackson
and
Terrance Mitchell
, the secondary still boasts one of the top defensive backs in the country in Ekpre-Olomu. Mitchell led the team with five picks in 2013, but a lot of teams opted not to test Ekpre-Olomu. Malone is back after making 105 tackles, and
Rodney Hardrick
should be on his heels as top tackler. The linebackers should be a strength. Washington returns after recording 7.5 sacks to go with 12 tackles for a loss. Now, if they could just get off the dang field on third down ...

4. Oregon State
S
Tyrequek Zimmerman
, DE
Dylan Wynn
, CB
Steven Nelson
The skinny:
Zimmerman brings his 104 tackles back from last season and the return of OLB
Michael Doctor
, the team's leading tackler in 2012, should be a nice boost. Replacing the production of
Scott Crichton
and his 7.5 sacks will be difficult. Linebacker
D.J. Alexander
and Wynn should see their share of time in the backfield. Nelson, a former junior college transfer, had a spectacular first season with the Beavers with a team-high six interceptions (tied with
Rashaad Reynolds
) and eight breakups.

5. Washington State
LB
Darryl Monroe
, DT
Xavier Cooper
, ?
The skinny:
Do-all safety
Deone Bucannon
is gone after leading the team in tackles (114) and interceptions (6). He was an All-American for a reason. Monroe is an obvious choice for tackles, and Cooper is the obvious choice for sacks. But the secondary is wide open. Mike Leach has essentially said all four spots in the secondary are up for grabs. Clouding the issues is the future of cornerback
Daquawn Brown
, who has legitimate experience but also some legal hurdles to overcome.

6. California
S
Michael Lowe
, LB
Jalen Jefferson
, S
Avery Sebastian
?
The skinny:
We all know about the defensive injury issues the Bears had last season, which is why Lowe returns as the leading tackler and tied for the lead in interceptions with one (the Bears only had five all last season). Jefferson returns with the most sacks, and
Kyle Kragen
appears to be a good fit for the scheme. (Remember when
Kameron Jackson
had three in one game!) We'll see how oft-injured but talented
Stefan McClure
fares at safety. Getting Sebastian back from injury will help in the secondary. The pass rush should be improved with
Brennan Scarlett
's return.
October, 15, 2013
10/15/13
10:00
AM ET
Cal marched 82 yards in 10 plays on its first drive of the season and scored on a fake field goal against then-No. 22 Northwestern. The Sonny Dykes era started in style.
Since then, it's been all downhill.

In many ways, Dykes' arrived to a stacked deck in his first year in Berkeley. He inherited the youngest team in the conference to play one of the nation's toughest schedules. If that wasn't enough, the Bears have been decimated by injuries to several of their most experienced players and one of their top defensive players, junior linebacker
Chris McCain
, was dismissed from the team due to "conduct detrimental to the team."
Andy Buh was brought over from Wisconsin to run the defense, but the results have been dismal. Cal (1-5, 0-3 in the Pac-12) ranks last among BCS conference teams and No. 121 nationally allowing 518 yards per game.
Despite the bleak outlook this year, the old adage, "If you're going to lose, at least make it exciting," certainly applies. The Bear Raid offense has Cal averaging 483 yards per game and true freshman quarterback
Jared Goff
qualifies as the light at the end of the tunnel.
If the Bears hope to avoid a winless season against FBS competition, the best bet appears to be at Colorado on Nov. 16. It'll also serve as a chance for Dykes to avenge his loss to Colorado coach Mike MacIntyre, who led San Jose State to a win against Louisiana Tech in Dykes' final game at the school last season.
Offensive MVP:
Goff. After beating out prized recruit
Zach Kline
in Fall camp, Goff dazzled to open his career. The true freshman threw for at least 450 yards in his first two games and set a school record with 504 yards against Washington State on Oct. 5. His 2,036 yards passing ranks fourth nationally and is tops among freshmen.
Defensive MVP:
LB
Jalen Jefferson
. Jefferson has been the most consistent player on a defense searching for answers. He made 24 tackles over the first five games, but missed Cal's loss to UCLA with a head injury.
March, 25, 2013
3/25/13
11:00
AM ET
Catching you up on some of the late Friday and weekend scrimmages and practice notes.
Arizona Wildcats

The Wildcats spent the majority of Saturday's 90-minute practice simulating game-like scenarios. The session was scripted, so no stats were kept.
Head coach Rich Rodriguez said things weren't as crisp as he'd like. But they are much more efficient than they were during his first spring when he was still installing the offense.
"We were a little ragged at times," Rodriguez said. "We had some good moments and [quarterback] B.J. [Denker] executed well but defensively we didn't play as well as we had been in other practices. There was some good and some bad but I'll have to watch the film and get a better evaluation. As much fundamental work as we need, sometimes you have to just let them play, which is what we did today.
"It's not flowing as fast as I'd like but some of it is injury-related. It's flowing better than it was this time last year but we don't have Matt (Scott) this year. We got spoiled with Matt but B.J. played very well today as well as some of the other quarterbacks."
California Golden Bears

The defense bested the offense in Cal's 2013 spring game, which was played in front of more than 5,800 fans at Memorial Stadium.
Zach Kline
and Jared Goff took the most throws at quarterback. Kline completed 7 of 14 tosses for 124 yards and a touchdown while Goff went 7-of-15 for 66 yards with a touchdown.
Austin Hinder
was 5-of-9 for 87 yards with a touchdown. None of the three threw an interception.
Head coach Sonny Dykes characterized it as "surgery with a chainsaw," but overall was pleased with some of the performances.
"There were some good positives," Dykes said. "We made our quarterbacks live and I thought they responded pretty well to that. ... The good thing was they all got hit and survived and weren't fearful of it. That's what you want to see -- especially when you have quarterbacks that haven't taken any college snaps before. I liked what I saw from that bunch."
However, the competition will rage on because Dykes hasn't seen one of the three separate himself from the pack.
"I didn't really see anything today that would say that anybody stepped ahead," Dykes said. "But I saw positives from all of them. The good thing is we feel like we've got three guys that give us an opportunity to win and we'll see how it develops over the next several months."
Linebackers
Jalen Jefferson
and
Hardy Nickerson
led the way with six tackles each. Jefferson also notched a sack and Nickerson had a tackle for loss and half a sack.
The highlight was an appearance from former Bear and current Seattle Seahawks running back Marshawn Lynch, who scored on a 22-yard run (untouched, for obvious reasons).
"He wasn't bad," Dykes joked. "Heck, maybe we should try this guy out."
Colorado Buffaloes

With the Buffs breaking for spring break, head coach Mike MacIntyre and his staff were going to spend the weekend putting together a "pencil depth chart,"
writes Kyle Ringo
.
Quarterback
Jordan Webb
reinjured his thumb last week, putting a wrinkle in MacIntyre's plan to hopefully have three quarterbacks emerge from spring who can carry the competition over into the fall.
"He wasn't able to have this scrimmage [Friday] or the other day's practice so it really hurt him two days so we have to look at and evaluate at that too because we have to give the young man a fair chance," MacIntyre said. "We'll discuss that hard ... hopefully when he comes back from spring break he'll be able to go again."
Though a depth chart might emerge this week, it will serve more as a framework for reps than an inflexible document.
"We'll pencil that in, but it can change in the middle of practice," MacIntyre said. "But we need to have a sequence to be able to do a little more repetitions."