April, 26, 2012
4/26/12
2:30
PM ET
There he goes. One of God's own prototypes. Some kind of high-powered mutant never even considered for mass production. Too weird to live, and too rare to die.
February, 28, 2012
2/28/12
9:34
AM ET
Maybe California's
Mychal Kendricks
really is a better inside linebacker than Arizona State's
Vontaze Burfict
, even when you don't consider Burfict's baggage.
[+] Enlarge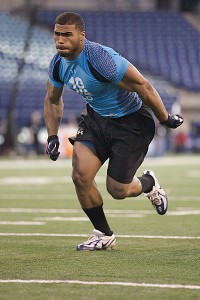 AP Photo/Michael ConroyCalifornia linebacker Mychal Kendricks had a strong workout at the combine.
Kendricks, the Pac-12 Defensive Player of the Year, was the top inside linebacker at the NFL combine on Monday in the 40-yard dash (4.47), vertical jump (39.5) and broad jump (10-7). He tied for fifth overall at the combine in both the vertical and broad jump. He also had a time of 4.19 in the 20-yard shuttle, the fifth fastest for linebackers.
And
there's this from Scouts Inc
.:
The surprise of the inside linebacker group was California's Mychal Kendricks (5-11 1/8, 239), who absolutely crushed his workout. Kendricks had the top 40 (4.47), vertical (39 1/4) and broad jump (10-7) in the group, and was in the top five in the short shuttle (4.19). He was also above-average on the bench with 24 reps.
Kendricks' explosiveness showed up during drills, when he stayed low to the ground, showed quick feet and was effective shaving the edge as a pass-rusher. He was under control at all times, and this performance combined with good things seen recently on film give him a realistic shot to come off the board late on Day 2.
Things went much worse for Arizona State ILB Vontaze Burfict (6-1 3/8, 248), whose 40 time (5.09) and broad jump (8-7) were well below the four-year averages. Burfict's 2011 film says he's a third-rounder, and when you add in those results along with character baggage and poor interviews his stock is beginning to plummet.
USC linebacker
Chris Galippo
also
struggled a bit
:
USC MLB Chris Galippo didn't do enough to show teams he's more than just a two-down linebacker who will come to the sideline on passing downs. Galippo almost lost his balance when asked to backpedal between bags, and he didn't show great burst out of breaks in coverage.
Another Pac-12 defensive standout was former USC end
Nick Perry
, who ran a blistering 4.64 40. That said, ESPN's Todd McShay is a bigger fan of Clemson's
Andre Branch
.
Clemson's Andre Branch (6-4 1/4, 259) and USC's Nick Perry (6-2 3/4, 271) are similar conversion/hybrid players and both rank on the edge of the first round. Perry has better workout numbers but Branch is more athletic and shows better bend as an edge rusher. Perry has more straight-line explosiveness, but Branch blows him out of the water in terms of change-of-direction skills and lateral quickness in space.
Another take on Perry:
USC DE Nick Perry had a strong day. There is some tightness in his hips, and it showed when he was asked to open up in space. But Perry moved well enough to give base 3-4 defenses something to think about as a possible outside linebacker. The 271-pounder is quick and gets to depth, and he showed that he can pluck the ball out of the air. His most natural fit is at defensive end, though. Perry showed above-average lateral mobility and quick hands during bag work.
There were a few Pac-12 defenders that didn't burn up the 40, though. Washington defensive tackle
Alameda Ta'amu
ran one of the slowest 40s at 5.37, but he injured his hamstring while doing so. For the defensive ends, Cal's
Trevor Guyton
(5.07) and Arizona State's
Jamaar Jarrett
(5,02) were among the slowest in their position group.
July, 13, 2011
7/13/11
5:27
PM ET
Arizona State is no longer in great shape at defensive end,
as we rated the Sun Devils just 24 hours ago
.
James Brooks, a senior two-year starter at defensive end, has left the team for personal reasons, according to a school spokesperson.
Brooks was a talented player who had an up-and-down career. Most notably, he blocked two extra points in the Sun Devils' double-overtime win over Arizona. On the downside, he struggled with academic issues and staying out of coach Dennis Erickson's doghouse.
Last year, he had 25 tackles, 7.5 tackles for loss and four sacks.
"James has done a lot of great things for our football program," Erickson said in a statement released by the school. "We will continue to help him in any way we can."
The loss of Brooks means sophomore Junior Onyeali and senior Jamaar Jarrett likely will be the Sun Devils' starting ends. They combined for 22 tackles for loss and 11 sacks in 2010. Greg Smith also is an option, and JC transfer Gannon Conway also looks the part, though he's not played a down of Pac-12 football.
Doug Haller offers some additional
perspective here
.
October, 28, 2010
10/28/10
2:30
PM ET
One of the peculiar imbecilities of our time is the grid of morality we have placed on human behavior: so that every act of man must be measured against an arbitrary latitude of right and longitude of wrong -- in exact minutes, seconds, and degrees!
October, 11, 2010
10/11/10
2:56
PM ET
A look back on the week that was.
Team of the week
: Oregon State announced its return to relevancy with a win at No. 9 Arizona. The biggest revelation: Sophomore QB
Ryan Katz
is ready for primetime.
Best game
: You can't beat a game with two game-winning drives, unless your team is the one that produced the penultimate game-winning drive, which was the case of USC in its 37-35 loss at Stanford. For the second consecutive weekend, the Trojans lost on a last-second field goal. Still, a game billed as a potential blowout showed USC has plenty of fight left, at least on offense. (Wow. Are we now citing "moral" victories for the Trojans?)
Biggest play
: There were so many big plays in Oregon State's 29-27 win over Arizona that it's hard to pick just one. But if you had to, it might just be Katz's 43-yard completion to H-back
Joe Halahuni
on a second and 13 play from the Beavers 33-yard line. With
James Rodgers
out with a knee injury, Katz's top passing options were limited, and if he'd missed the throw over the middle, it's possible the Beavers wouldn't have been too aggressive on a third-and-long call from their own territory. The Beavers got a first down on the Wildcats 24 and were able to run a lot of clock -- six of the next seven plays were runs -- before scoring a TD that gave them a a 29-20 lead, which made it a two-possession game.
[+] Enlarge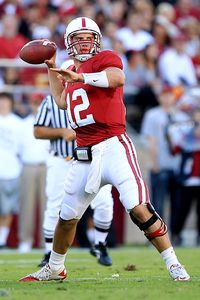 Ezra Shaw/Getty ImagesAndrew Luck passed for 285 yards with three touchdowns against USC on Saturday.
Offensive standout
: As usual, so many to choose from: Katz, Oregon's
LaMichael James
, California's
Shane Vereen
, USC's
Matt Barkley
, USC's
Robert Woods
, etc. But
Andrew Luck
was masterful against USC, completing 20 of 24 passes for 285 yards with three TDs and no interceptions. What's more: He led a seven-play, 62-yard drive in 1:08 to set up the game-winning field goal. And did you see his hit on Trojans CB Shareece Wright after a fumble? Smack goes the QB!
Defensive standout
: Cal cornerback Darian Hagan had a bad year last season. Not this year. He had two sacks, an interception and five tackles while leading the Bears stellar defensive effort against UCLA. Honorable mentions include Arizona State's Jamaar Jarrett, who had two sacks at Washington, and Oregon's Brandon Bair, who had 3.5 tackles for a loss at Washington State.
Special teams standout
: Oregon's Cliff Harris returned a punt 67 yards for a TD at Washington. He has done that three times this year, which is the most in FBS football. Oh, and he returned an interception for a TD at Tennessee.
Smiley face
: Cal suffered two tough losses in September: It got embarrassed at Nevada and lost a heartbreaker at Arizona. It could have yielded. Instead, it whipped a hot UCLA team 35-7 and showed it can stop a pistol offense by holding the Bruins to just 144 yards.
Frowny face
: Washington had injury issues and QB
Jake Locker
was trying to play through a flu-like illness, but that doesn't change the fact that it couldn't maintain the momentum it built after a win at USC. Arizona State had plenty of issues, too, but it found a way to win on the road in a rainstorm, weather one would think would benefit the Huskies far more than the Sun Devils.
Thought of the week
: Oregon fans: How different did it feel when QB
Darron Thomas
injured his throwing shoulder knowing you had senior
Nate Costa
on the bench ready to step in? While Thomas may be back as soon as the UCLA game on Oct. 21, the Ducks would still feel like the Rose Bowl favorites with Costa as the starter. Recall in 2007 that when Dennis Dixon was lost for the year with a knee injury, almost everyone immediately realized the Ducks were in big trouble.
Questions for the week
: Does the cannibalism begin now? Or do a couple of teams emerge at the top of the conference? Arizona's loss to Oregon State -- which left only Oregon undefeated -- hinted that stringing together wins is going to be extremely difficult due to the depth of the conference. So does that mean we end up with a muddle of two, three and four-loss teams? Or will Oregon ride home unscathed with an escort in the top-10?
August, 28, 2009
8/28/09
4:20
PM ET
Posted by ESPN.com's Ted Miller

Only Oregon State and USC are replacing both defensive ends. Both, however, have strong traditions at the position, and the Trojans Everson Griffen has started five games and has recorded 11.5 career sacks. California, Arizona and Washington have both starters back. UCLA also does, but Reginald Stokes is out with a knee injury; he may have lost his starting job in any event.

Lots of good players and NFL draft picks here. The competition for first-team All-Pac-10 honors will be intense this fall.

California: The Bears welcome back both starters from their 3-4 defense, Tyson Alualu and Cameron Jordan, and both have All-Pac-10 potential.
Arizona: Juniors Brooks Reed and Ricky Elmore combined for 15 sacks last year and both backups, D'Aundre Reed -- who started four games and had 2.5 sacks in 2008 -- and Apaiata Tuihalamaka are back.
USC: Yeah, yeah, the Trojans must replace both starting ends. Yeah, yeah, Armond Armstead got hurt. But the ends have been outstanding in practices, with Griffen looking poised for a breakout and Wes Horton, Malik Jackson and Nick Perry also ready for star turns.
UCLA: Senior Korey Bosworth had 7.5 sacks and 11 tackles for loss in 2008, while sophomore Datone Jones looks like a budding star.
Stanford: Tom Keiser had six sacks last year and earned freshman All-American honors while Erik Lorig has started 20 career games. Tom McAndrew provides experienced depth.
Oregon: Will Tukuafu had 7.5 sacks and 17.5 tackles for loss last year. Kenny Rowe has looked good in camp
Arizona State: Dexter Davis had 11 sacks and 15 tackles for loss last season. This ranking takes into account that James Brooks has been suspended for three games. Dean DeLeone, a junior college transfer, and sophomore Jamaar Jarrett will step in for Brooks.
Oregon State: Ben Terry and Kevin Frahm have looked good in practice and past performances by unproven Beaver ends through the years are reasons for optimism, but the lack of experience forces an observer to take a wait-and-see attitude.
Washington: Daniel Te'o Nesheim was second-team All-Pac-10 in 2008 after posting eight of the defense's 16 sacks in 2008. Senior Darrion Jones returns at the other end and youngsters Kalani Aldrich and Everrette Thompson have potential.
Washington State: The Cougars only had 16 sacks in 13 games last year. Kevin Kooyman had a good off-season in the weight room, but youngsters and newcomers, such as Travis Long and Casey Hamlett, will need to step up.
March, 10, 2009
3/10/09
3:39
PM ET
Posted by ESPN.com's Ted Miller
The Pac-10 spring position reviews conclude with the defensive ends, the guys who get after the quarterback. Or are supposed to.
Even with four of the top five conference leaders in sacks gone, this is a fairly solid position across the board. The only team that raises a rebuilding red flag is Oregon State, which lost twin sackmasters Victor Butler and Slade Norris.
Of course, Washington and Washington State both produced only 16 sacks in 2008, tied for worst in the conference and among the fewest in the nation.
Great shape
California: Cal welcomes back underrated end Tyson Alualu, second-team All-Pac-10 in 2008, and rising star Cameron Jordan, a junior. They combined for 22 tackles for loss last year in the Bears' 3-4 defense. There's also solid, young depth behind them in sophomore Trevor Guyton and junior Keith Browner.
Arizona: Juniors Brooks Reed and Ricky Elmore combined for 15 sacks last year and both backups, D'Aundre Reed -- who started four games and had 2.5 sacks in 2008 -- and Apaiata Tuihalamaka are back.
Good shape
Arizona State: Dexter Davis had 11 sacks and 15 tackles for loss last season. James Brooks, Jamaar Jarrett, Jamarr Robinson and 25-year-old newcomer Dean DeLeone will battle it out to replace Luis Vasquez and provide depth.
Stanford: Tom Keiser had six sacks last year and earned freshman All-American honors while Erik Lorig has started 20 career games. Tom McAndrew provides experienced depth.
UCLA: Senior Korey Bosworth had 7.5 sacks and 11 tackles for loss in 2008, while junior Reginald Stokes started five of the final seven games last year. He will be challenged by sophomore Datone Jones.
Oregon: Sackmaster Nick Reed is gone, but that at least means Will Tukuafu might finally get some credit. He had 7.5 sacks and 17.5 tackles for loss last year. Competition will be hot to replace Reed, with juniors Brandon Bair, Zac Clark and Kenny Rowe in the running.
USC: Sure, both Kyle Moore and Clay Matthews are gone, but how many teams in the nation do you think would trade defensive ends with the Trojans? Everson Griffen, who had 4.5 sacks last year, is a true talent as a pass rusher, but he needs to be more consistent. Sophomore Malik Jackson and freshmen Wes Horton and Nick Perry each have huge upside.
Washington: The Huskies sneak in here mostly because of second-team All-Pac-10 end Daniel Te'o-Nesheim, a high-motor senior who had eight of the team's 16 sacks in 2008. Senior Darrion Jones returns at the other end and youngsters like Kalani Aldrich and Everrette Thompson showed flashes of promise.
We'll see
Oregon State: The Beavers also had to replace both starting defensive ends last season, but this year the backups don't arrive with 19.5 sacks split between them like Victor Butler and Slade Norris did. Sophomore Kevin Frahm and senior Ben Terry split two sacks between themselves in 2008.
Washington State: Matt Mullennix is gone, but Kevin Kooyman is back as is Andy Mattingly, but he might end up as an outside linebacker. But, really, the Cougars only had 16 sacks last year (in 13 games). Youngsters and newcomers will need to step up.
February, 23, 2009
2/23/09
4:43
PM ET
Posted by ESPN.com's Ted Miller
There's this Guy who doesn't think much of Arizona State's Freshman All-American defensive tackle.
That would be the man-child himself, Lawrence Guy, who recorded 44 tackles and 10 tackles for loss with two sacks in his debut season for the Sun Devils.
| | |
| --- | --- |
| | |
| | Liam Foley/Icon SMI |
| | Lawrence Guy has already bulked up 15 pounds this offseason. |
"I was hoping to get more than I did," Guy said. "I thought I did bad this year. I could have done way better."
The Las Vegas product might just do that in 2009. The 276 pounds he carried on his 6-foot-5 frame in 2008 made him look almost skinny at times, but he's added 15 pounds this offseason and expects to play at around 295 in the fall.
"I'm just trying to go from a D-end's weight to a D-tackles weight," he said. "I feel like I'm going to be harder to move with the extra weight on. And I'll have even more strength. I was at a disadvantage at the lower weight."
While last year was supremely disappointing for the Sun Devils -- they went from a preseason ranking to a losing season -- Guy will be one of the cornerstones of a talented defense that returns seven starters from a unit that ranked fourth in the Pac-10 in scoring (22.7 points per game).
Toss in two of the nation's top incoming freshmen defenders -- linebacker Vontaze Burfict and defensive tackle Corey Adams, ranked Nos. 16 and 53 on the ESPNU 150 -- and third-year coach Dennis Erickson appears on his way to building a defense that annually joins USC among the nation's elite.
Guy met Adams during his visit, and he knows that another big body up front means less attention for him and pass-rush specialist Dexter Davis, who's rolled up 27.5 sacks over the past three seasons.
"He's going to be a big help in there," Guy said.
While Guy and Davis are settled up front, there should be plenty of competition for vacancies at tackle and end created with the departures of David Smith and Luis Vasquez.
Saia Falahola and Jonathan English will bring experience inside, while James Brooks, Jamaar Jarrett and Jamarr Robinson will battle it out with 25-year-old newcomer -- and workout warrior -- Dean DeLeone at end.
"We're going to have a good defensive line next year," Guy said. "I think we'll be one of the best defenses in the Pac-10 and, hopefully, in the nation. We play with passion."
PAC-12 SCOREBOARD
Saturday, 12/21
Monday, 12/23
Tuesday, 12/24
Thursday, 12/26
Friday, 12/27
Saturday, 12/28
Monday, 12/30
Tuesday, 12/31
Wednesday, 1/1
Thursday, 1/2
Friday, 1/3
Saturday, 1/4
Sunday, 1/5
Monday, 1/6
Tweets from @ESPNCFB/pac-12