February, 13, 2015
Feb 13
6:15
PM ET
Happy Friday. This is the mailbag. Or is it?
Follow me on Twitter
.
To the notes!
Caruso from Stamford, Conn., writes:
I'm dumbfounded by the FCS coaches response to Vernon Adams transferring. The immediate "
we don't want to be a farm league for the FBS
" statements, are completely unwarranted.
Ted Miller
: This is a controversy that isn't even a controversy. Actually, FCS folks acting like it's controversial are the ones behaving poorly.
Rob Ash of Montana State grouses FCS programs "cannot be perceived as a farm system or Triple-A ball club." Eastern Washington coach Beau Baldwin whines, "It's not what the rule is intended for."
[+] Enlarge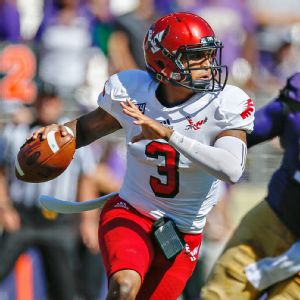 Otto Greule Jr/Getty ImagesVernon Adams is seeking brighter opportunities after obtaining his undergraduate degree from Eastern Washington? The nerve!
Yeah it is. It's EXACTLY what the rule was intended for. It's about giving student-athletes -- WHO HAVE ALREADY OBTAINED AN UNDERGRADUATE DEGREE -- a chance to pursue better opportunities.
Instead of playing it safe as a fifth-year senior at Eastern Washington, Vernon Adams is taking a chance -- betting on himself, in fact -- that he can play with the big boys. He's chasing his dream, making a high-risk, high-reward move that might just propel him into the NFL.
Dude ... can I get a cheer for 'Merica! 'Cause, this is what it's all about. The freedom to bet on yourself.
Know what Ash and Baldwin are concerned about? Their self-interest. They are, counterproductively I think, saying their FCS program should be protected from a player having the freedom -- AFTER HE HAS GRADUATED -- to make a choice for himself. They want their players to face more restrictions and regulations. Why? Because restrictions on players makes their lives easier.
Baldwin and Eastern Washington officials blew it by playing the sour grapes card. Just imagine if Baldwin had gone this route:
Reporter: Coach, what do you think about Vernon Adams transferring to Oregon?

Baldwin: How could I not be anything but happy for this young man who has done so much for this program? I'll be rooting for him like crazy. I take a lot of pride in the fact that a guy who was overlooked by the Pac-12 is now coveted by he Pac-12's best team. I think that speaks well not only of Adams but of our program, our a ability to find and develop talent. Not only that, we also helped him earn his college degree. Know what? When I go out recruiting this spring, Adams will be Exhibit A for what we've built here at Eastern Washington.
Adams is practically an advertisement for Eastern Washington football, folks.
The idea this resembles free agency is silly. FCS teams becoming minor leagues? How many FCS players: 1. Are good enough to be offered an FBS scholarship for one year of service; 2. AND have earned an undergraduate degree with a year of eligibility remaining?
And, if FCS programs start producing those sorts of players on a regular basis, then they are fulfilling their mission as a university, creating true student-athletes who go off into the world to seek out better opportunities.
Nate from Salt Lake City writes:
Utah is coming off of what was by far their best season since joining the Pac-12, with key playmakers such as Booker, Wilson, Thompson, Scott, and Dimick coming back. Should fans expect a step forward, a step back, or a fifth place finish in the South Division for a fourth straight season?
Ted Miller:
When you look at what Utah has coming back -- 16 starters and the nation's best combo of specialists -- from a team that went 9-4 and was in the thick of the South Division race in 2014, it's not difficult to project a step forward, no matter that the South should again be brutally deep.
Yet the behind-the-scenes soap opera with coach Kyle Whittingham and AD Chris Hill is troubling, as it seemed to be a contributing factor to considerable staff turnover -- the loss of defensive coordinator Kalani Sitake being a particularly tough blow -- which was addressed mostly by internal promotions that
seemed like temporary moves
.
[+] Enlarge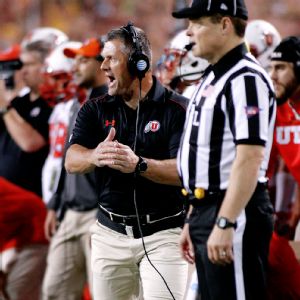 Ralph Freso/Getty ImagesBehind-the-scenes drama between Utah coach Kyle Whittingham and athletic director Chris Hill could undermine a promising returning lineup.
The Utes could be headed for fifth place in the South again, particularly if they don't -- broken record alert -- get better production at QB. Of course, fifth place could again mean nine wins and a final national ranking. They also could win the division. Or slip a bit if the coach-AD conflict and/or coaching turnover prove a distraction.
The good news? Utah is probably going to be an interesting team, no matter how things go.
Bryce from San Francisco writes:
I know you guys will agree with me on this, but can you please attempt to explain why every NFL team is apparently terrified to pick a talented, accurate QB with character and leadership like
Marcus Mariota
? Instead, they want to go with the guy with accuracy issues and character issues, because ...? I mean, I kind of understand their thought process since last season the character guy with accuracy in college (Bridgewater) got outplayed by players with less accuracy and more controversy (Bortles & Manziel), so NFL scouts clearly know what they're doing. I'm obviously cool with Mariota going to the Eagles, but the teams ahead of them in the draft have to be insane to let that happen, right?!
Ted Miller
: Thing with the NFL draft is you really don't know what everyone is thinking, and the folks who are talking are often ill-informed or interested in misdirection. Keep in mind there is little benefit for a scout or GM to show his cards to the media or otherwise. So when you here "whispers" about Mariota being a system QB, it may just be a predictable regurgitating of an obvious potential criticism.
[+] Enlarge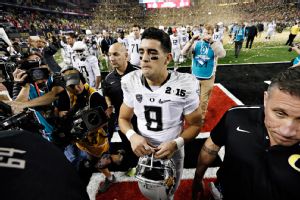 AP Photo/Brandon WadeIf Marcus Mariota takes care of business at his pro day, the "whispers" from so-called experts about him being a system quarterback will die down.
Know what? If Mariota turns in an impeccable pro day, making all the throws, showcase a strong and accurate arm, some of this "system" talk will simmer down.
Now, to be honest, if a fortune teller could promise me that Florida State's
Jameis Winston
will never again get into any type of off-field trouble, I'm not sure I wouldn't pick him over Mariota. Winston is a great talent, a guy who's repeatedly demonstrated grace under pressure (in a game), and seems to have no holes in his resume on the football talent side of things.
But I don't have that fortune teller, so I'd take Mariota.
My guess is more than a few GMs agree with me.
Raj from Bear Territory writes:
What are your thoughts on Ulbrich leaving UCLA, (especially the timing)? Seems pretty shady to wait until LOI's are faxed in to depart. If anything, this just points out another flaw in how few restrictions are put on coaches going between programs while players have a multitude of restrictions. Feels only fair that players should be released from LOI/can transfer if coaches leave.
Robert from New York writes:
With the
Roquan Smith
/Jeff Ulbrich situation, I'm curious to hear your take on the ethics of recruits signing binding NLIs, and coaches recruiting players and then taking other jobs. I can't blame Ulbrich for taking another job. He never seemed comfortable as a DC and probably wanted to get back to the NFL. Also, recruits shouldn't be so naive as to think that coaching changes couldn't happen. What's the balance that needs to be found, and do you think anyone did anything wrong here?
Ted Miller
: What we really need are more rules. And outrage! Yes, I am outraged! The deception! The horror!
My thoughts, to begin, are good for Jeff Ulbrich. If he thinks his new job is better than his old job then how can you begrudge him?
As has been said many times before, a young man should commit to a school, not a position coach. He needs to be a big boy and understand this is a business and everyone is climbing. Or trying to.
Was UCLA trying to hide Ulbrich's imminent departure? Did Smith feel deceived? Maybe to the first and apparently to the second. None of that bothers me because I've covered college football a long time and I'd go insane if I took too much issue with every case of conniving and angle-working that goes on. That is how it goes. If Georgia fans -- or other Pac-12 fans for that matter -- are seeking some high ethical ground here ... well ... come on. Your coach would trip his mother from behind to score a top recruit.
Not saying it's right. But on the list of recruiting stories that make me want to take a long, hot shower, a simple hand wash will do here.
And, just as I'm not fan of acting like big-time recruits are a bunch of wan, innocent of the wide-world, Oliver Twist types being manipulated by dastardly coaches, I also think Smith's ultimate decision to sign scholarship papers instead of a letter of intent is smart.
If you are a big-time prospect, that's the way to go. It leaves your options open and doesn't tie you down --
read Mitch Sherman here for more.
That option isn't available for a more middle-of-the-road guy who's thrilled when he gets his first Pac-12 or SEC or whatever offer. The NLI protects that sort of young man, just as it makes life easier for the football program.