December, 2, 2010
12/02/10
1:05
PM ET
On the one hand, it's pretty cool for Oregon State that ESPN's "College GameDay" is going to be in Corvallis for the first time on Saturday. On the other, Chris, Kirk, Lee and Desmond figure to be hanging out with the Duck, not the Beaver, during the show.
That's because, however you want to spin it, the Ducks are the show, the only reason "GameDay" will set up outside Reser Stadium. They are No. 2 in the BCS standings. They are a Civil War victory away from playing for the national title. They are undefeated and fancy-pants cool with the point-a-minute offense and funky uniforms.
Oregon State? It's supposed to play the Washington Generals to Meadowlark Kelly and the Eugene Globetrotters.
[+] Enlarge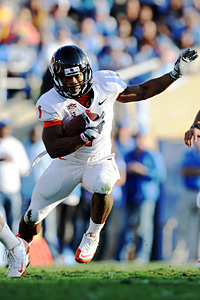 Harry How/Getty ImagesOregon State will need a big game from Jacquizz Rodgers if it hopes to spring an upset on Saturday.
The Beavers get it. So what if Oregon cornerback Cliff Harris called them "
little brother
" this week? When one team is 11-0 and the other is 5-6, that's sort of the way things go.
"It's easy to talk when you're the No. 1 team in the country," cornerback James Dockery said.
Surely, though, it must be difficult for the Beavers and their fans to hear all the crowing coming out of Eugene. Isn't there just a bit of jealousy?
"It doesn't make me jealous," running back
Jacquizz Rodgers
said. "They are doing what is right. Any time a team is undefeated and No. 1 in the nation, you've got to give them their respect. They earned it. Playing this game is hard. To have a perfect season like that -- week in and week out -- they did their job. There's no hatred for me."
Oh, but fans are a different story. Beavers fans are not terribly happy about things in general, both with their team's fortunes in 2010 and Oregon's rise under Chip Kelly.
The Ducks won the past two Civil Wars, each time knocking the Beavers out of the Rose Bowl. In 2008, the Ducks delivered a shocking 65-38 beatdown in Corvallis that turned celebratory roses into trash scattered all over the stadium and the parking lot. Last year, the Beavers nearly notched the upset in the "Civil War for the Roses," but the typically uptempo Ducks were able to burn the final six minutes off the clock in a 37-33 win.
So, yeah, delivering a little bit of heartbreak to the Ducks would be great fun for the Beavers.
"It would be nice to knock them out of that [national championship] game," Dockery said. "Of course."
The Beavers know their chief concern -- an upset win would earn them bowl eligibility -- isn't front and center nationally. But that's their primary motivation. They are perfectly aware that few give them a chance. And more than a few confess to being baffled why they've been, to use coach Mike Riley's phrase, "horribly inconsistent" this season. They've won at Arizona and stomped California. Impressive. Yet they got shocked by UCLA and lost at home to Washington State. Embarrassing. They showed pride while blowing out USC. Impressive. And a lack of it while getting blanked 38-0 at Stanford a week ago. Embarrassing.
"It's been quite a roller coaster for the Beavers," Riley said. "We've had some really good wins and we've had some clunkers."
The Beavers, who will be playing their fifth top-10 opponent this season on Saturday, have struggled on both lines, and the offense lost All-American receiver
James Rodgers
on Oct. 9 to a season-ending knee injury. The running game has never been consistent. The defense ranks ninth in the Pac-10 in passing efficiency.
"At times, we're really good. At times, we're really bad," Jacquizz Rodgers said. "It seems like on every play, somebody makes a mistake."
If the Beavers are to have any chance, their two biggest stars must produce special performances. That's Rodgers and defensive tackle Stephen Paea. And, of course, when major upsets happen, there's usually somebody you don't see coming -- perhaps quarterback
Ryan Katz
will duplicate his 393-yard and two touchdowns performance at Arizona?
Oregon is the big show. It's why "GameDay" is on hand. But the Beavers will lead "SportsCenter" if they pull the upset. And "little brother" is clearly aware of that.
"Obviously, we know about the extravagant nature of Oregon and their university and everything they have to offer," Dockery said. "Until someone can beat them and make them stop talking, they can keep on talking."
September, 29, 2010
9/29/10
8:10
PM ET
There are cold hard facts. And grounds for optimism. There's frustration. And there's a silver lining that suggests hope and possibility.
Best of all: There are still many games ahead in which Oregon State and/or Arizona State can rewrite the season's script.
Still, the cold hard facts are the records: 2-2 for the Sun Devils and 1-2 for the Beavers. No matter that all four defeats came in competitive performances against teams ranked in the nation's top-11. The end-result is what-could-have-been-but-wasn't.
[+] Enlarge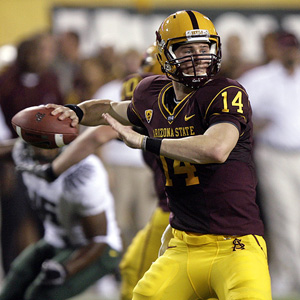 AP Photo/Paul ConnorsSteven Threet's four interceptions were part of a seven-turnover night for Arizona State against Oregon.
"I think it's frustrating and exiting," ASU QB
Steven Threet
said. "[It's frustrating] in terms of driving the field and not finishing off drives and getting points when we should. It is exciting, though, because we are very close. If we correct these mistakes then we are right there."
And the team that doesn't? It isn't right there. Though bowl requirements
might be eased out of necessity by the NCAA
, the Sun Devils, because only one of their two wins over FCS foes can count toward bowl eligibility, need to win five of their final eight games. Five of their final seven might be too much to expect.
So Saturday's game at Oregon State is a must-win for ASU.
As for Oregon State, it's built its reputation on an uncanny ability to overcome slow starts: They started 2-3 three straight seasons from 2006-2008 until starting 2-2 last year, but ended up winning 36 games over those four seasons. Still, past performance doesn't guarantee future results.
"You know from experience and your knowledge of the past, it can be done, but it's certainly not given to you by right of passage," coach Mike Riley said. "You have to earn it. Those teams improved. That's my message -- those teams persevered. They recognized where they needed to go, what they need to do better."
Arizona State has been pretty productive on both sides of the ball, but turnovers and penalties are killing the Sun Devils. They also haven't been very good in the red zone, which is partly due to turnovers. They had seven against Oregon.
"We can't turn it over seven times in the football game and expect to win," Sun Devils coach Dennis Erickson said. "People can ask you anything about that football game but that's it right there. We were down in the red zone nine times. We turned it over three times down there. We fumbled and had two picks down there."
Oregon State's chief problem might be playing two top-five teams, but if you ignore the competition level, there are a lot of worrisome issues. For one, the Beavers can't stay on or get off the field -- they are bad on third down on both sides of the ball -- and they are struggling to get pressure on the opposing quarterback. The offense has been mostly anemic, averaging 270 yards per game game, which ranks last in the Pac-10.
There also are personnel issues: All-American receiver
James Rodgers
suffered a concussion against Boise State and is questionable for Saturday, while linebacker and leading tackler Dwight Roberson is out with a sprained knee.
Still, cornerback James Dockery said he and his teammates aren't worried and haven't lost confidence.
"I feel that everyone outside of the building is a lot more worried about the Beavers right now," he said. "That is kind of tough to say because we have to have wins, so we can be perceived more positively. Inside of the locker room, we still have a high level of confidence. We know that the schedule we had was going to be a challenge coming into this season."
Both teams have been hardened by tough games. Neither will be shocked by the competition level. The Beavers were projected to finish third in the preseason media poll. Both believe they are bowl teams.
In other words, these are two pretty good teams with mediocre records that are wounded and hungry. And they really need a win.
One victory might be enough to start a momentum swing toward hope and optimism.
"We have to find a way to win the football game; that's the bottom line," Erickson said. "Once you start winning games, it becomes contagious."
September, 23, 2010
9/23/10
2:02
PM ET
The blue turf is always a story. It's, er, different. But how much would anyone care if Boise State hadn't won 56 consecutive regular-season games on it? "College GameDay" wouldn't be setting up shop in front of Bronco Stadium on Saturday unless the team that plays on so-called Smurf Turf was really, really good. As in "No. 3 in the nation and might play for the national title" good.
A home-field advantage? Absolutely. Bronco Stadium ain't big -- capacity is officially 33,500 -- but it's darn loud. Still, Boise State beat Oklahoma in the 2007 Fiesta Bowl on green turf, and it beat TCU in the Fiesta Bowl in January on green turf, and the Broncos got the same positive result a few weeks back against Virginia Tech on green turf. Those last two victories were part of a 16-game winning streak, nine of which came on boring, ol' green grass.
The turf is blue, but the
team
is what leaves nearly every opponent green with envy. Or is it seeing red?
[+] Enlarge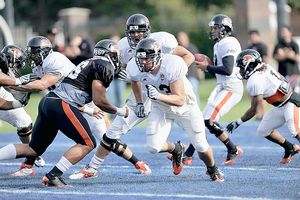 AP Photo/Corvallis Gazette-Times/Scobel WigginsThe Beavers practiced on a blue field to prepare for playing at Bronco Stadium.
"They're darn good," said Oregon State coach Mike Riley, whose 24th-ranked squad will try to end the Broncos' home winning streak on Saturday. "They've got good players and they are extremely well coached. That's the biggest factor."
Nonetheless, Oregon State this week went to great lengths to give its players a feel for seeing blue underfoot. The school painted a practice field "reflex" blue and then dressed its scout team in the same color.
Riley said the decision was based as much on "fun" as strategy. And the Beavers' players don't seem to be too taken by the notion of a blue-turf mystique.
"The turf is blue and their jerseys are blue, but there's 11 guys over there," linebacker Dwight Roberson said. "I don't feel like the blue turf has to do with anything. It's a field; you play football on it. For me, it's nothing different than playing any other football game."
More than a few coaches whose teams have struggled inside Bronco Stadium, however, have observed that the blue-on-blue effect does provide a competitive advantage, a notion Riley shares. His team was a victim during the winning streak, falling 42-14 in 2006 after jumping to an early 14-0 lead.
"I think it is an advantage for sure," he said. "Even watching them on film, it's hard to get numbers. It all blends together."
Boise State, a veteran group that welcomed back 22 of 24 starters from last year's unbeaten team, plays with such precision opponents can't afford to lose track of players morphing into the playing surface. So there's method to the madness of a blue practice field.
But the bigger issue is slowing down junior quarterback
Kellen Moore
, whose extraordinary efficiency has transformed him from lightly regarded recruit ignored by the Pac-10 into a leading Heisman Trophy candidate. His offensive line has yielded just one sack, and the Beavers' pass rush has been limp in the early going, recording just two sacks in two games.
Moore has shown little inclination to get rattled by pressure. The three-year starter has thrown just 14 interceptions in three seasons, 10 of which came as a freshman.
"This guy is the best at extending the play a little bit by moving in the pocket," Riley said. "He doesn't get sacked. It's beautiful quarterbacking."
Said cornerback James Dockery, "He just seems to make all the right decisions. He knows how to manage the game and win. He's a winner."
[+] Enlarge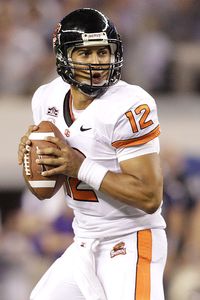 Tim Heitman/US PresswireOSU quarterback Ryan Katz will be making his first true road start against the Broncos.
The Beavers will counter with sophomore
Ryan Katz
, who will be making his first "true" road start, considering the TCU game in Cowboys Stadium was considered a neutral field -- and, to be honest, was half-full and not terribly loud.
Katz has mostly avoided major mistakes (see four touchdown passes, no interceptions) but he's completing under 50 percent of his throws and is averaging just 151 yards passing per game. Yet Broncos coach Chris Petersen, who's 26-0 at home since taking over for Dan Hawkins in 2006, said he's been impressed with Katz on film.
"He's got some tremendous physical tools," he said. "He's going to be really, really good."
Katz's main assignment: Get the ball to the Rodgers brothers, running back Jacquizz and receiver James, and hope they find space in which to maneuver.
Boise State's defense held Virginia Tech to just 314 yards in its 33-30 victory. Meanwhile, its offense is averaging 516 per game, though much of that came in Game 2 against hapless Wyoming.
The Broncos are proficient and experienced on both sides of the ball. While some might dismiss them as a well-coached "system" team that thrives in a weak conference, Riley said he sees plenty of talent on game tape.
"Maybe they weren't five-star guys going in, but they're five-star guys going out," Riley said of Boise State's recruiting and development.
A college football nation will be divided on this one. Haters of the BCS system and fans of non-automatic qualifying programs -- though probably not TCU or Utah -- will be rooting hard for the Broncos. Fans from AQ conferences who want one fewer obstacle to the national title game or even a BCS bowl game will be rooting hard for the Beavers.
The Beavers absorbed the blue all week. To a man, they seem to think that the least of their worries is the color of the turf.
Said safety Lance Mitchell: "I think that's more for 'GameDay' and the fans. We will practice on it, so if it helps us get prepared for it, that's all good."
August, 8, 2010
8/08/10
10:00
AM ET
By
ESPN.com staff
| ESPN.com
Oregon State opens preseason camp today. Here's a quick look.
Who's back
: Eight starters on offense, seven on defense and both specialists.
Big names
: RB
Jacquizz Rodgers
, WR
James Rodgers
, DT Stephen Paea, K Justin Kahut
What's new
: The Beavers coaching staff returns intact under coach Mike Riley. The Beavers will be breaking in a new QB in sophomore
Ryan Katz
.
Key competition
: Tony Wilson leads the competition at middle linebacker with Rueben Robinson and Kevin Unga. Burke Ellis leads a competition to fill the right guard spot, the lone void on the offensive line. The depth is uncertain at running back. Who's the No. 1 alternative at WR to Rodgers?
Darrell Catchings
,
Markus Wheaton
or
Jordan Bishop
.
Breaking out
: DE Gabe Miller flashed signs over the spring that he can be a threat as a pass rusher. Unheralded CB James Dockery might become more heralded this year. H-back
Joe Halahuni
might be ready to be known for more than his amusing tweets. OT Michael Philipp figures to be better after going from touted recruit to wide-eyed true freshman starter in 2009. The big-armed Katz has tremendous upside.
Quote
: Riley on Katz: "Ability-wise, he has a wonderful arm. He can throw all the passes. He is pretty much unflappable, so I don't think he'll be intimidated by anything. He has two years of experience in the program. The transition always provides a mystery. Jacquizz (Rodgers) and the guys are going to have to give Ryan a lot of support, but he's going to be good."
Notes
: Two returning defensive starters quit the team, middle linebacker David Pa'aluhi and defensive end Matt LaGrone... Outside linebacker Keith Pankey ruptured an Achilles tendon in February but is apparently ready to return to full-speed action in fall camp... JC transfer Dominic Glover, a former Oregon Duck, is expected to bolster the depth at defensive end...
Peter Lalich
, a Virginia transfer and the the likely backup QB, was dismissed in May after being arrested for a boating DUI... The Beavers were picked third in the preseason Pac-10 media poll and were ranked 22nd in the coaches poll.
August, 5, 2010
8/05/10
2:09
PM ET
By
ESPN.com staff
| ESPN.com
The good news for all those big-name Pac-10 quarterbacks? Every conference team has questions at cornerback.
And, for the first time in Pac-10 blog history, no one earns a "Great shape" tag.
Only one cornerback who earned All-Pac-honors is back: Arizona's second-teamer Trevin Wade. Only one other returning corner, Washington's Desmond Trufant, even earned honorable mention.
Three teams welcome back both starting corners from 2009: Oregon, Stanford and Washington. But the Ducks have moved Javes Lewis to rover, and a pair of true freshmen -- Terrance Mitchell and Avery Patterson -- are battling for the starting job opposite Talmadge Jackson. Stanford and Washington? They ranked eighth and ninth in the conference in pass efficiency defense last season.
USC and Arizona State are replacing both starting cornerbacks, but both actually look fairly strong at the position with plenty of returning experience and athleticism.
A number of teams might end up pretty good at the position. But no one looks like a sure-thing during the preseason. (Heck, we thought California was
a sure thing in 2009
and things
didn't exactly go according to plan
).
So how do things stack up?
Great shape
Good shape
Arizona: Wade is an All-American candidate, and Marcus Benjamin showed he can play with a good performance against USC in 2009. And Mike Stoops always has good cornerbacks, so we won't dwell on the questionable depth.
Oregon: Probably not a lot of worry here for the Ducks. Injuries in 2009 earned young players experience, and Oregon did rank third in the Pac-10 in pass efficiency defense. Still, it remains uncertain who will start opposite Jackson, with the freshmen outplaying the more experienced Cliff Harris and Anthony Gildon during the spring.
Arizona State: On the one hand, both starters are gone from a unit that ranked second in the conference in pass efficiency defense. On the other, Omar Bolden would have been a starter if he didn't get hurt, and Deveron Carr, Osahon Irabor and LeQuan Lewis give the Sun Devils a nice mix of talent and experience.
USC: Shareece Wright was academically ineligible last season, but he might end up first-team All-Pac-10. He might, in fact, be the conference's best cover cornerback. Torin Harris and T.J. Bryant are battling for the other spot in a secondary replacing all four 2009 starters.
Washington: Trufant is an up-and-comer, Quinton Richardson is experienced, and backups Vonzell McDowell and Adam Long have starting experience, so the Huskies should be much improved here in 2010. The operative word, though, is "should."
UCLA: It isn't easy to replace an Alterraun Verner. Sheldon Price returns at left cornerback after a good freshman season as a starter, and Aaron Hester has potential on the opposite side. Undersized junior Courtney Viney is an experienced third option.
Oregon State: James Dockery is solid and new starter Brandon Hardin is big -- 6-2, 215 pounds. There's respectable depth. But the Beavers gave up 23 touchdown passes in 2009, tied for the most in the conference. Of course, the Beavers cornerbacks suffered last season because of an anemic pass rush. That might change in 2010.
We'll see
Stanford: If the Cardinal is going to take another step forward, it must get better in pass coverage. Three players who started last seaon are back: Richard Sherman (who's a sure-thing at left corner), Corey Gatewood and Johnson Bademosi. But opponents completed 63 percent of their passes with 23 touchdowns against those guys. Might redshirt freshman Terrence Brown make a move?
California: Syd'Quan Thompson is gone; is Darian Hagan back? As in the 2008 version, not the one who lost his job and got buried on the depth chart in 2009. After being touted as one of the best secondaries in the country, the Bears finished 111th in the nation in pass defense in 2009. Bryant Nnabufie, who started four games in 2009, is listed No. 1 opposite Hagan, but Josh Hill (a five-game starter) and Marc Anthony and redshirt freshman Steve Williams are in the mix.
Washington State: The Cougars feel pretty good about junior Aire Justin and sophomore Daniel Simmons, who was the defense's best cover corner before he got hurt midway through last season. But it's hard to ignore that the Cougars ranked 112th in the nation in pass efficiency defense with opponents completing nearly 67 percent -- 67 percent! -- of their passes.
June, 2, 2010
6/02/10
5:40
PM ET
By
ESPN.com staff
| ESPN.com
At what position is the Pac-10 deep? At what position in the Pac-10 thin? Here's the second of three parts taking a look at just that.
(By the way, some of you wondered about QB. The Pac-10 is, without question, the nation's deepest conference in terms of quarterbacks -- and it would have been deeper if not for
a certain Duck
making a very, very poor decision. But that's so obvious and been
written about so much
that we're not including it in this three-part package).
Deep: Running back
[+] Enlarge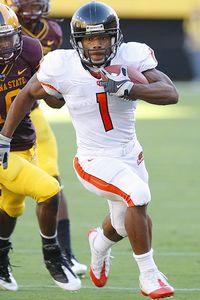 Rick Scuteri/US PresswireJacquizz Rodgers is one of several talented running backs returning to the Pac-10 this season.
Why is it deep
? Six of the top-10 running backs from 2009 are back, and four of them rushed for more than 950 yards. Eight teams welcome back a player who qualifies as a starter or at least an experienced veteran. Only Arizona State and Stanford, which is replacing Heisman Trophy runnerup Toby Gerhart, are uncertain at the position. But it's not just about starters. There's depth. Most teams can point to one or more solid backups, not to mention there are a number of elite incoming freshmen recruits expected to immediately contribute.
The big names
: Start with Oregon State's
Jacquizz Rodgers
, the conference's top Heisman Trophy candidate, and Oregon's
LaMichael James
, who has All-American potential. They combined for just under 3,000 yards and 35 TDs in 2009. Then there's Washington's
Chris Polk
(1,113 yards rushing), California's
Shane Vereen
(952 yards, 12 TDs) and Arizona's
Nic Grigsby
, who rushed for 1,153 yards in 2008. The Wildcats, in fact, have their top four rushers back, including
Keola Antolin
, who's rushed for over 1,100 yards and 14 TDs over the past two seasons. USC and UCLA are both experienced in the backfield and have highly rated freshmen recruits who figure to be in the mix, particularly USC's
Dillon Baxter
, who was spectacular this spring. Washington State has three of its top four rushers back.
Thin: Cornerback
Why is it thin?
Three of the four All-Pac-10 cornerbacks are gone: UCLA's Alterraun Verner, California's Syd'Quan Thompson and USC's Kevin Thomas. Each of them were NFL draft picks. Only second-teamer Trevin Wade of Arizona returns. In fact, only one returning CB even earned honorable mention all-conference recognition (Washington's Desmond Trufant). Only Oregon, Stanford and Washington welcome back both starting CBs from 2009, and each of them is hardly settled at the position after spring practices. Arizona State and USC are replacing both corners, though the return of Omar Bolden from injury and Shareece Wright from academic ineligibility should bolster the Sun Devils and Trojans, respectively.
Fill the void
? Wright might turn out to be the conference's best cover corner and a top NFL draft pick. Wade had five interceptions last year and could earn national attention. Bolden had a great spring after missing last season with an injury and suffering through a disappointing sophomore year. Trufant, UCLA's Sheldon Price, USC's Torin Harris and Oregon's Cliff Harris are youngsters who might break through. Oregon's Talmadge Jackson and Oregon State's James Dockery are veterans who could take the next step.
May, 7, 2010
5/07/10
8:30
AM ET
By
ESPN.com staff
| ESPN.com

OREGON STATE
2009 overall record
: 8-5
2009 conference record
: 6-3 (tied for second)
Returning starters
Offense: 8, Defense: 7, punter/kicker: 2
Top returners
: RB
Jacquizz Rodgers
, WR
James Rodgers
, C Alex Linnenkohl, DT Stephen Paea, DE Gabe Miller, LB Dwight Roberson, CB James Dockery
Key losses
: QB Sean Canfield, LB Keaton Kristick, LB David Pa'aluhi, DE Matt LaGrone
2009 statistical leaders (*returning starter)
Rushing
: Jacquizz Rodgers* (1,440)
Passing
: Sean Canfield (3,271)
Receiving
: James Rodgers* (1,034)
Tackles
: Keaton Kristick (95)
Sacks
: Stephen Paea*, Gabe Miller* (3)
Interceptions
: Lance Mitchell* (3)
Spring Answers
1.
Cool Katz
: Sophomore
Ryan Katz
entered the spring as the favorite to win the quarterback job and he didn't disappoint. He has a big arm and good mobility. All he is missing is experience. He'll enter fall camp as the clear leader, while
Peter Lalich
and
Cody Vaz
compete for the backup job.
2.
There are plenty of offensive weapons
: Everything starts with the Rodgers brothers, running back Jacquizz and receiver James, but it doesn't end there. Receivers
Markus Wheaton
and
Jordan Bishop
and tight end/H-Back
Joe Halahuni
will give Katz plenty of options when he distributes the football.
3.
Solid in the secondary
: The Beavers will be experienced -- not to mention big -- in the secondary, with three starters back from 2009 and all four first-teamers measuring over 6-feet. James Dockery and 6-foot-2, 219-pound Brandon Hardin are the corners, while Lance Mitchell, 230-pound Cameron Collins and Suaesi Tuimaunei have combined for 29 starts at safety.
Fall questions
1.
Front seven issues
: Taylor Henry stepped up at defensive end after Matt LaGrone quit the team, but what's unclear is if he can hold off touted JC transfer Dominic Glover as the starter. Things also are fluid at linebacker. Will Keith Pankey be 100 percent by fall camp after missing spring with a torn Achilles tendon? Will Tony Wilson or Rueben Robinson step in at middle linebacker?
2.
How will the offensive line shake out
? Starters Grant Johnson and Michael Philipp missed spring with injuries, which forced line coach Mike Cavanaugh to do some mixing and matching. The good news was the re-emergence of tackle Wilder McAndrews, who almost quit due to persistent wrist problem. It's possible that McAndrews could take over at left tackle and Philipp could move inside to guard. Then Johnson and Burke Ellis could compete at the other guard.
3.
Who is Katz's backup
? The story of spring might have been Katz's impressive effort, but Vaz also deserves note. His rise is more about how well he played than Lalich not producing. Considering how often a backup quarterback is needed, this will be an interesting competition to follow during fall camp.
April, 7, 2010
4/07/10
10:10
PM ET
By
ESPN.com staff
| ESPN.com
CORVALLIS, Ore. -- Watched Oregon State's practice Wednesday so here are some quick observations.
While the big story is the quarterback competition between Ryan Katz and Peter Lalich -- Katz is clearly ahead -- what I came away with was the feeling the Beavers are well-stocked at quarterback. Both Katz and Lalich look the part and can make plays. Redshirt freshman Cody Vaz also was impressive.
Vaz hooked up with split end Darrell Catchings on what might have been the play of the afternoon. Catchings hauled in a deep toss from Vaz under tight coverage by trapping it against his helmet as he fell out of bounds. "Good coverage, good catch," said coach Mike Riley.
Defensive tackle Stephen Paea is one thick dude. He played at around 285 last year and said he's around 310 now -- and it looks like all the new weight is muscle. It's well-distributed on his 6-foot-1 frame and he's far from top-heavy. His lower body is as impressive as his upper.
Receiver James Rodgers and cornerback James Dockery had a couple of nice one-on-one battles, with the 6-foot-1 Dockery holding his own vs. the powerful, super-quick, 5-foot-7 Rodgers.
Brandon Hardin has to be the biggest starting cornerback in the Pac-10. He's a linebacker-like 6-foot-2, 219 pounds. In fact, he and No. 1 safety Cameron Collins, who is 6-foot-2, 230 pounds, have to be the biggest secondary pair in the conference.
The move of Kevin Frahm from defensive end to tackle seems like a good call. While he's undersized at 267 pounds, he'll be more effective as a quick tackle in the Beavers gap-cancellation scheme than as an end who struggled to disengage blockers against the run and was perhaps a step slow on the perimeter.
The loss of middle linebacker David Pa'aluhi and end Matt LaGrone -- both quit for personal reasons -- were substantial blows to the defense, but LaGrone's departure might hurt worse. Sophomore Tony Wilson is a capable replacement at linebacker, but it remains to be seen whether sophomore pass-rushing specialist Taylor Henry can be an every-down end. The coaches are crossing their fingers that junior college transfer Dominic Glover -- a former Oregon player -- will be able to step in and help immediately.
On the plus side, everybody seems to feel that DE Gabe Miller is headed toward a potential All-Conference sort of season.
It's obvious who is the leader of the offensive line: center Alex Linnenkohl. The three-year starter seems to spend almost all of his downtime during drills giving tips to younger players.
Incoming freshman quarterback Sean Mannion watched practice with his dad, John, who has been hired as Silverton (Ore.) High School's new head football coach.
March, 17, 2010
3/17/10
12:21
PM ET
By
ESPN.com staff
| ESPN.com
Oregon State coach Mike Riley met with his beat writers Tuesday, and lots of interesting stuff came up.
Riley and his coaches have
moved some guys around
on the Beavers'
depth chart
. And the quarterback battle between
Ryan Katz
and
Peter Lalich
is a
competition
, not a coronation for Katz, Riley said.
Of note:
Kevin Frahm will move inside from defensive end to tackle. Frahm is more a powerful, high-energy guy than an edge rusher, so the move makes sense. Of course, Frahm, a 6-foot-2, 267-pound junior, will be undersized. But, playing next to Stephen Paea, he can expect some one-on-one battles that he can win with quickness. Frahm starts off behind Brennan Olander.
The best news coming from Riley was optimism that linebacker Keith Pankey, who will sit out spring after surgery on his Achilles' tendon, will be recovered in time to play next fall.
The battle at middle linebacker to replace David Pa'aluhi, who left the team for personal reasons, will feature Tony Wilson, Rueben Robinson, Kevin Unga and Walker Vave.
Jordan Poyer has moved from safety to cornerback, where he's listed behind James Dockery.
Sophomore Markus Wheaton and Darrell Catchings are competing for the starting job at split end. Looking at the receiver depth chart, the Beavers look strong at the position, with plenty of experience and talent, topped, of course, by James Rodgers.
The Beavers need to replace Gregg Peat at right guard. The depth chart features Burke Ellis, Colin Kelly and Colin Lyons.
A couple of guys to watch on the O-line are Timi Oshinowo and Wilder McAndrews, who are No. 2 and 3 at left tackle behind true sophomore Michael Philip. Both likely would have been starters last year, if healthy. Oshinowo is coming back from a knee injury, while McAndrews' status is decidedly iffy due a wrist problem that has limited him to three games over the past two seasons.
In addition to Pankey, five players will sit out spring while recovering from injuries, including starting guard Grant Johnson (shoulder). The others are: cornerback Sean Martin and defensive end Mana Rosa (both shoulder) and defensive lineman Mitchel Hunt and offensive lineman Rory Ross (both knees).
August, 31, 2009
8/31/09
2:30
PM ET
By
ESPN.com staff
| ESPN.com

Posted by ESPN.com's Ted Miller
As a UCLA observer wryly noted, ESPN.com has Bruins cornerback Alterraun Verner as a first-team
All-American
, while the Pac-10 blog had California's Syd'Quan Thompson and Oregon's Walter Thurmond III as the first-team
All-Pac-10
corners.
Yes, there were coin flips involved. There are a lot of good cornerbacks in this conference.
Fact is, the guy who deserves to gripe the most is Arizona's underrated Devin Ross, who was second-team All-Pac-10 a year ago yet seems to be operating in the shadows.
California: Might be the best pair in the nation. Two accomplished, full-time starting cornerbacks from 2008 -- senior Thompson (first-team All-Pac-10) and junior Darian Hagan -- return from a statistically impressive pass defense (24 Ints vs. 12 TD passes).
USC: There are questions here -- is Shareece Wright going to be: 1. healthy; 2. eligible -- but even if Josh Pinkard has to move from safety back to corner, the Trojans are strong here based on pure athleticism.
Arizona: We've mentioned Ross, but Trevin Wade, who steps in for the departed Marquis Hundley, tied Hundley for the team lead with four interceptions in 2008.
UCLA: Verner is as good as anybody in the country, and expectations are high for redshirt freshman Aaron Hester.
Oregon: Coach Chip Kelly tells anyone who will listen that Thurmond is the Ducks best player. Talmadge Jackson and Willie Glasper are 1A and 1B veterans on the opposite side.
Arizona State: Omar Bolden expects to bounce back after a sub-par 2008 season. A troublesome back has returning starter Terell Carr now listed as second-team, with former walk-on Pierre Singfield now No. 1. Safety Clint Floyd might even see action at corner.
Oregon State: The Beavers are replacing both cornerbacks but a strong preseason from Tim Clark and James Dockery ended a lot of hand-wringing over the issue. There's also solid depth.
Washington State: The Cougars pass defense wasn't that bad last year, but that might have been because the run defense was horrible. Things are not completely set here. Brandon Jones will start if his ankle is OK, while Aire Justin is the frontrunner opposite him.
Stanford: Richard Sherman and Corey Gatewood should upgrade the Cardinal's pass defense, but Sherman was a receiver in 2008 and Gatewood was injured. And Stanford was terrible against the pass last year.
Washington: Speaking of terrible against the pass... the Huskies allowed opponents to complete 67 percent of their passes and surrendered 24 TD passes with just seven interceptions in 2008. Quinton Richardson will man one side while the uncertain health of redshirt freshman Justin Glenn means true freshman Desmond Trufant or junior Vonzell McDowell will start on the other side.
August, 11, 2009
8/11/09
6:40
PM ET
By
ESPN.com staff
| ESPN.com
Posted by ESPN.com's Ted Miller
Getting five players drafted last spring sort of hurt the image of Mark Banker's defense at Oregon State.
These Beavers aren't scrappy overachievers any longer. They're getting paid.
Fact is, Banker's defense has been one of the most consistently good units in the Pac-10 since he became coordinator in 2003.
| | |
| --- | --- |
| | |
| | Randy Litzinger/Icon SMI |
| | Oregon State defensive coordinator Mark Banker's unit returns just three starters. |
The attacking style of his "gap cancellation" scheme also is a lot of fun to watch.
But the Beavers welcome back just three starters and have to replace their entire secondary.
Of course, as Oregon State fans are quick to note, last year the Beavers also welcomed back just three starters, and none from their front-seven.
Still, the last time the Beavers defense struggled was 2005 when a pair of freshmen corners got eaten alive.
Those culprits, Keenan Lewis and Brandon Hughes, by the way, were two of those five drafted players.
So, just as camp gets started, we figured we'd check in and see what's up with Banker and his crew of "Gap Cancellers."
I'm sure I'm going to refer to your "gap cancellation scheme" about 50 times this season. Please, explain the basics of your defense?
Mark Banker: Most defenses are either contain defenses or they are spill defenses. We are a spill defense, meaning what we would prefer to do take away the middle the field -- both in the pass game and run game -- and we want teams to work outside on the perimeter. One reasons is we are able to use our speed to run things down as the opponent runs out of room to the outside. A lot of that starts up front. We teach our defensive line an attacking style of play. We're getting vertical off the ball and the most important thing they can do is look at the inside portion of their gap -- usually referred to a hip -- and if that hip disappears inside, they close to it to make sure there's no daylight inside so the ball bounces to the outside. It allows our linebackers to be, rather than just downhill inside, where they give away 100 pounds per man, it gives our guys a chance to go where that thing gets spilled. We create basically an alley by our secondary showing up and leveraging the ball and the linebackers are able to run through that alley to make the play.
You guys put a lot of pressure on you cornerbacks to be able to cover man-on-man: How is that going to work with a pair of new starters?
MB: Athletically we like how the (less experienced) players in our secondary have developed. (Senior cornerback) Tim Clark has played in game situations since as early as his sophomore year. In fact, during Timmy's sophomore year, (former starting cornerback) Keenan Lewis got hurt and he had to come in against Cal, and they had a guy named DeSean Jackson. I think (Jackson) had seven yards on the day [actually one reception for eight yards]. One big expectations is Timmy can become an every-down type of player and we only have to deal with the other side when it comes to starting. But you know James Dockery, who we lost last year (to injury) and we got back for the spring, continues to grow. He's very much a competitor. Brandon Hardin is another -- a big kid who has good size and strength and has every capability to be that guy as well. His big thing, just like any of the corners, is an understanding of how to play specific techniques by down-and-distance and field position. That has eluded him at times. But has shown great promise. Those are two guys who came to mind. Patrick Henderson is a senior and sort of a journeyman. He saw some time last year in some bit roles. Unlike 2005, this season we have some players, with some depth who might lack the game experience but at least they've been in the program and know what is expected.
You lost eight guys from last year's unit: Who's going to be the toughest to replace?
MB: That's a loaded question because out of the seven players who were drafted, (five) were starters on defense. The corners were valuable because of their experience. A guy like (safety) Al Afalava, his heart and soul and leadership ability, that's hard to replace. The two ends, Slade (Norris) and Victor (Butler). Each one of them, in their own right, were special. It was a tough group that played well together. We're not replacing chopped liver. The guys who are stepping in got a lot to live up to. The immediate concern is in the secondary, no doubt in my mind. Because you can play good for 75 plays, but if the game is 76 plays long, all it takes is one shot down the field, and things get evened up. We've got to be smart in the way we play in the secondary and rely on the front to create pressure in the passing game. I think there are guys stepping into different spots -- we've got four ends and possibly a fifth that we feel really good about.
Who are your best pass rushers going to be?
MB: The two who come to mind are (end) Ben Terry, who will be a starter. I think he will be able to rush the passer with great effectiveness. Another guy, who right now is not a starter and was a tight end at this time last year, is Gabe Miller. I think he's going to be a good pass rusher. And then a guy coming off the bench in third down situations, Taylor Henry, a redshirt freshman this year, has got that ability. At the same time, (end) Kevin Frahm, who will be a starter for us, has changed his body a lot. He is very much like (former end) Jeff Van Orsow from the standpoint of his intellect and his work ethic. He's probably a step faster than Jeff and Jeff was old reliable. And we've got an X-factor in this guy, Matt LaGrone, a transfer from (Nevada), who was a basketball player and has been with us who had to sit out. He's 6-foot-6 and he's got some stuff to him. But those three guys I mentioned -- Ben Terry, Gabe Miller and Taylor Henry -- from a standpoint of being edge rushers, those three guys would probably be the ones to watch.
It seemed like tackle Stephen Paea, even when he was banged up, really asserted himself at the end of last season. How good can he be?
MB: You know he hasn't really played a lot of football [Paea starting playing football as a high school senior], so he's still learning the game, which is kind of scary. He is so explosive off his first two steps and then he's just so physically strong. And he's fast. I think his upside, as long as he stays healthy, is way out there because he's still learning the game itself and the intricacies to it. But he sure is a powerful, powerful guy who is very, very dominant. I think he is among the elite defensive tackles in this conference, no doubt about it.
Linebacker Keaton Kristick looks like a regular, if slightly larger, college student: Why is he so productive?
MB: He's a typical linebacker that we try to have in this defense. He was a tailback in high school, so he was his high school's best athlete. His background helps him out from a standpoint of his football intellect. He's extremely competitive. He has that desire to succeed. Football means a lot to him. And [linebackers coach] Greg Newhouse does
a tremendous job communicating to him. He has his attention and Keaton loves it. He listens and sucks up all the information like a sponge. He takes action upon his goals and things he wants to accomplish.
You've built a strong defensive foundation at Oregon State. Does your eye ever wander? Do you see yourself somewhere else in the future?
MB: Absolutely. In this business it's important to progress. I have aspirations within the profession, but one drive I have that is stronger than anything is quality of life. The next job I take has to be something that is, No. 1, that is better than the one I have. And, as you said, we've got some things established here. This is going on my 13th or 14th season coaching with (Mike Riley). I enjoy the atmosphere he sets. I enjoy the people I am around, day-in and day-out. I truly appreciate that my family is involved in the program. Money is important. Some day being able to have my own program is important. But some of those other things I just mentioned are equally, if not more important, to me. Life is too short and I've seen too many people who don't enjoy life. This is a great place to be coaching football.
February, 26, 2009
2/26/09
4:00
PM ET
By
ESPN.com staff
| ESPN.com
Posted by ESPN.com's Ted Miller
If we are to believe the Pac-10 will continue to be a high-flying passing conference -- last year's downturn was clearly just an anomaly, right? -- teams will continue to need outstanding cornerbacks to slow down the track meet.
So where do things stand as we enter spring practices?
Great shape
California: The Bears are the only Pac-10 team that has two accomplished, full-time starting cornerbacks from 2008 -- senior Syd'Quan Thompson (first-team All-Pac-10) and junior Darian Hagan -- returning from a statistically impressive pass defense (24 Ints vs. 12 TD passes).
USC: While the Trojans defense lost starting cornerback Cary Harris, three players with starting experience at the position return, including, Shareece Wright, who was the best of the lot before he got hurt and sat out the season. Oh, and the Trojans had the best pass defense in the nation in 2008, see just six TD passes surrendered. [Ed. note: As folks pointed out below, I screwed up and forgot that Josh Pinkard was granted a sixth year of eligibility by the NCAA. My bad.]
Arizona State: The Sun Devils just make the cut here. They not only welcome back three corners with starting experience, they get all six players back from their season-ending three-deep depth chart. And ASU ranked fourth in the Pac-10 in pass efficiency defense. That said, Omar Bolden didn't play up to expectations last year, and this figures to be a competitive spot during spring.
Good shape
Arizona: The Wildcats are nearly in "great shape." They lose starter Marquis Hundley -- recall his endzone INT that iced the Las Vegas Bowl win over BYU -- but sophomore Robert Golden is a star talent who should start opposite Devin Ross, who was second-team All-Pac-10. The Wildcats ranked third in the conference in pass efficiency defense in 2008.
UCLA: Second-team All-Pac-10 cornerback Alterraun Verner is back, but Michael Norris is gone. Redshirt freshman Aaron Hester is the favorite to start, but the competition for the vacancy figures to endure into the fall when a number of touted athletes arrive.
Oregon: Jairus Byrd, first-team All-Pac-10, opted to enter the NFL draft a year early, but Walter Thurmond III is back and backups Willie Glasper, a senior, and junior Talmadge Jackson III saw significant action in 2008. A curiosity: The Ducks had a lot of talent in the secondary last year but gave up 270 yards passing per game and 25 total TD passes, both numbers being worst in the conference.
Washington State: This may seem charitable because the Cougars ranked ninth in the conference in pass efficiency defense last year, but both starters -- junior Romeo Pellum and sophomore Tyrone Justin -- are back, and California transfer Brandon Jones should challenge one or the other for a starting spot.
We'll see
Oregon State: The Beavers lose both starters, Brandon Hughes (second-team All-Pac-10) and Keenan Lewis (honorable mention), but they aren't desperate. Senior Tim Clark has started six games in his career, and junior James Dockery, who missed last season with a knee injury, figure to step in, though some young players, such as redshirt freshman Keynan Parker, might make a move.
Stanford: Wopamo Osaisai is gone, while Kris Evans returns, but competition is wide open, with Michael Thomas, Mark Mueller, Corey Gatewood and Quinn Evans each trying to earn a starting spot. The Cardinal needs to get more athletic in the back-half after intercepting just seven passes a year ago.
Washington: Both starters are back, but Washington ranked 115th in the nation in pass efficiency defense in 2008. Opponents completed 67 percent of their passes and threw 24 touchdown passes. The Huskies only grabbed seven interceptions. Of course, with little pass rush up front, corners Matt Mosely and Quinton Richardson often found themselves in coverage a long, long time.
August, 21, 2008
8/21/08
10:46
AM ET
By
ESPN.com staff
| ESPN.com
Posted by ESPN.com's Ted Miller
These links are fighting through camp legs and are ready to hit someone other than a teammate.