September, 3, 2011
9/03/11
8:45
PM ET
ARLINGTON, Texas -- Both teams have taken advantage of good field position, and now the Ducks and Tigers are tied at
3-3
.
Clearly, both teams are feeling each other out. You can see that the LSU defense is well-schooled on some of the things the Ducks like to do on offense. And you can tell LSU isn't eager to ask too much of
Jarrett Lee
.
But after the first few possessions, the counter-punching starts.
Speaking of which: Clearly some edge out there. A couple of times players resorted to pushing and shoving.
Hopefully the sloppiness is over and it will just be about football.
September, 3, 2011
9/03/11
8:30
PM ET
ARLINGTON, Texas -- The weeks of hype -- and controversy -- are almost over. In 90 minutes, No. 3 Oregon and No. 4 LSU will start butting heads and we'll get some football answers instead of speculation.


Oregon's high-tempo, spread option offense will get another shot at a big-fast-mean "SEC defense." The Ducks will get an opportunity to end a pattern of struggling to move the ball against A-list defenses that get extra time to prepare.
What tweaks might have Chip Kelly come up with during his extra time to prepare? Are the Ducks going to be pass-first, as they were forced to be against Auburn. Or will the running game get going with
LaMichael James
, Kenyon Barner and true freshman
De'Anthony Thomas
?
Suspensions anyone? We'll see what LSU looks like without starting quarterback
Jordan Jefferson
and
Russell Shepard
, its best receiver. We'll see what the Oregon defense looks like without CB Cliff Harris, and -- most likely -- MLB Kiko Alonso.
Is LSU going to be conservative and rely on its defense and 223-pound running back
Spencer Ware
? Or will it let
Jarrett Lee
throw the ball around, thinking a Harris-less secondary isn't as worrisome?
What nutty things do the coaches have planned?
Just like Kelly isn't afraid to go for it on any fourth down or do an on-side kick to open a second half, Les Miles has never been one to shy away from trickeration. Miles, who's 23-0 in regular-season nonconference games, even succeeds when he makes major gaffes.
Miles, however, won't eat the grass at Cowboys Stadium. It's artificial. That would be gross.
While the superficial position is to compare the LSU and Auburn defenses, but that's not really accurate. LSU's is better and more talented at all three levels. Only it has two new starting DTs, not Nick Fairley disrupting things in the middle.
Still, the Tigers secondary is vastly superior to Auburn's. If the Ducks have no running game, it will be tougher going throwing it. And much more risky.
Further, the Ducks are breaking in two new offensive linemen, one of whom -- OG Ramsen Golpashin -- is a 275-pound former walk-on.
Oregon also is breaking in five new starters on its front-7 on defense, though the new guys have plenty of experience. The Ducks defense held up well versus its offense this spring and preseason. Most in green believe the defense will do fine.
After all, no SEC defense did a better job against Cam Newton and Auburn last year.
The stakes are simple: The winner immediately becomes a national title contender. The winner, in fact, might -- should -- move up to No. 1 in the major polls, which means it will have poll position in the title chase.
Things are quiet here at present. But that won't last 80,000 fans are going to pack this place -- a significant majority of them in LSU purple -- and the talk will end and the best season-opener in decades will start to provide some answers.
September, 2, 2011
9/02/11
12:30
PM ET
By
ESPN.com staff
| ESPN.com
Some quick notes to get you through the hours until Saturday. Many thanks to ESPN Stats & Information.
While some have said that LSU losing QB Jordan Jefferson to suspension isn't a huge deal, that's not completely true. For one, there's mobility. Jefferson ran for 32 first downs last season, 14 of which came after he improvised from the original play. LSU will not have this element to its offense against Oregon, as Jarrett Lee's career-high in rushing is one yard.
Lee also has struggled to throw the ball downfield over the past two seasons, completing just 5 of 26 throws of 15+ yards.
Oregon ran for only 75 yards in the BCS Championship Game. It was only the second time in the past two seasons the Ducks were held under 100 yards rushing. The other was in the Ducks' season opening loss to Boise State in 2009.
Since 2009, Ducks running back LaMichael James has 36 runs of 20-plus yards, tops in the FBS.
LSU's defense is talented, but it hasn't been infallible stopping a spread rushing attack. Auburn racked up 440 rushing yards on LSU last year.
Oregon led FBS in 2010 with 45 touchdown drives that lasted two minutes or less. The Ducks also led FBS with 23 touchdown drives of three plays or fewer.
Oregon scored 27 offensive touchdowns from 25 yards or longer last season, which tied Auburn for the most in the nation. The Ducks scored at least two or more of these touchdowns in nine games last season, also tied for the most in FBS.
Washington and Eastern Washington and Washington State and Idaho State are meeting for the first time.
USC is 72-27-3 (.721) all-time versus the Big Ten. It has won 11 in a row against the conference and 32 out of 40.
70 players on USC's 112-man roster have never taken a snap for the Trojans.
UCLA has won five of six season openers. It's 3-2 all-time against Houston, including last year's 31-13 victory.
This is Oregon State and Sacramento State's second meeting. The Beavers won 40-7 in 2003.
Stanford is 49-14-1 against San Jose State, including a 42-17 win in 2009.
Fresno State leads its series with California 2-0, including a 17-3 victory in 2000.
Washington hasn't won a season opener since 2007 -- Jake Locker's debut at Syracuse. Eastern Washington is the defending FCS champion and is preseason No. 1 in FCS.
Washington State hasn't been 1-0 since 2005.
September, 1, 2011
9/01/11
3:30
PM ET
Well, Chris, we meet again. The SEC and Pac-12 can't seem to quit each other, eh?
You actually were a good sport about not gloating too hard over your correct prediction that Auburn would outlast Oregon and win the SEC's fifth consecutive national championship. My prediction? I can't recall, but I'll admit a vague recollection of wrongness.


But here we go again: No. 3 Oregon versus No. 4 LSU in Cowboys Stadium. As good a season-opening matchup as we've had in decades. Kudos to both programs for having the courage to give college football fans something to look forward to during this dreary, controversy-laden offseason, from which these teams are not exempt by any means. Lots of intrigue in this one -- on and off the field.
But let's start with the football part of football. Tell me about LSU: What are the Tigers' strengths and what are their question marks?
Chris Low
: Honestly, Ted, the SEC has won so many national championships in a row now that it's not as much fun to talk smack. I guess we're sort of used to it here in SEC land. We do rings and NCAA investigations in these parts.
As for the game Saturday night in Arlington, Texas, I can't wait to see the collection of talent and speed on that field. This LSU defense should be the fastest John Chavis has had, and he's always put a premium on speed dating back to his days as Tennessee's defensive coordinator. Not only are the Tigers fast on defense, but they're deep. They have defensive ends, Barkevious Mingo and Sam Montgomery, who run like safeties, and Chavis loves to use multiple defensive backs. Just about everybody in LSU's secondary is a former cornerback. The best of the bunch is Morris Claiborne, who can fly. The Tigers are going to play Tyrann Mathieu at nickel and let him roam, which is what he does best. They'll bring him on the blitz one play and drop him into coverage on the next. He had 8.5 tackles for loss as a freshman and forced five turnovers.
[+] Enlarge
Tim Heitman/US PresswireThe Tigers are expected to lean heavily on Spencer Ware and the running game.
While defense will clearly be LSU's strength, the Tigers still have their share of guys on offense capable of making big plays even with quarterback
Jordan Jefferson
and receiver
Russell Shepard
sitting this one out. Sophomore running back
Spencer Ware
is poised to be one of the SEC's top breakout players this season. A former quarterback in high school, he weighs 225 pounds, has great moves and accelerates with the best of them. Senior guard Josh Dworaczyk will miss this game with a knee injury, and that's a blow. He's one of LSU's top offensive linemen. The one thing you don't know about this team is how equipped it would be to have to play from behind.
Jarrett Lee
is a senior and threw the ball well when he was called upon last season, but it's his show now with Jefferson sidelined. Lee's going to have to be more than just a situational player. I think you'll also see junior college newcomer
Zach Mettenberger
in this game. He has one of the strongest arms in the SEC, but he hasn't played at this level in a game. The Tigers will certainly have to throw it some to win this game. What I don't think they want to happen is to be in a position where they're having to throw it.
Ted Miller
: Everyone is pretty focused on the matchup of the LSU defense and the Oregon offense, which makes sense. Most everyone knows the SEC plays defense at a different level than the rest of the country, though some snarky sorts out West wonder if that's because those defenses play against SEC offenses. We'll get to that. I'm just as curious about the Ducks' defense against the LSU offense, even more so with Jefferson out. The Ducks' defense was underrated last year. While it ranked only 34th in the nation in total defense, it gave up just 4.67 yards per play and ranked 20th in third-down defense. For comparison, LSU yielded 4.86 yards per play and ranked 16th in third-down defense.
But that is last year. Oregon is replacing five starters from its front seven. While the defense has been stout during preseason camp -- the feeling is it's less experienced but bigger and more physically talented than last year -- we really don't know what it will do against Ware and a run-first attack. As for defending the pass, the Ducks felt like they'd have one of the best secondaries in the country -- not unlike LSU -- heading into the season, but that included All-America cornerback Cliff Harris. Harris, you might have heard, is suspended because he was in a 118 mph hurry to get back to Eugene one offseason night.
But back to that Ducks offense versus LSU's defense matchup. The Ducks' up-tempo, spread-option has been stymied in big games of late when opposing defenses had extra time to prepare and loads of NFL talent in their front seven.
What have you heard about the Tigers' preparation and how does their front-seven personnel compare to Auburn's in 2010?
Chris Low
: The best news for the Ducks is that Nick Fairley won't be suiting up for LSU on Saturday. He was the difference out in Glendale, Ariz., back in January, and my contention is that interior line play defensively has been what's set the SEC apart from everybody else the past several years. LSU is extremely talented up front with terrific athletes at the end positions and some promising young talent at tackle. They call true freshman tackle Anthony Johnson "Freak" for a reason. He's big, bad and usually bearing down on whoever has the ball. LSU doesn't have a proven difference-maker up front the caliber of Fairley, but LSU is deeper in the defensive line than Auburn was last season. At linebacker, Ryan Brown is an All-SEC caliber player on the weak side, but the Tigers will sorely miss Kelvin Sheppard in the middle. It looks like converted safety Karnell Hatcher is going to play a bunch in the middle.
Not to take anything away from Auburn's performance last season in the BCS National Championship Game, but LSU is a more talented defense across the board, particularly in the secondary, than the Auburn defense Oregon faced last season.
This also isn't John Chavis' first rodeo. His defenses were the backbone of some of Tennessee's best teams in the late 1990s, and with this being his third season in Baton Rouge, look for the Tigers to play even faster and more instinctively in that system this season. They've been working overtime to make sure they're getting the calls in quick enough, but I'd say you're going to see at least five defensive backs on the field for much of the game.
[+] Enlarge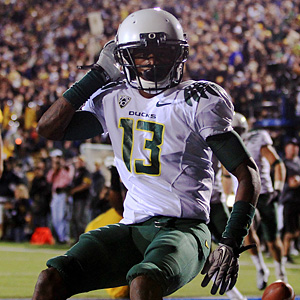 Ezra Shaw/Getty ImagesThe Ducks will be without standout corner/returner Cliff Harris, who's suspended from the team indefinitely.
Ted Miller
: All right, so we've talked about who will be there. The elephant in the room is who won't be. The Ducks have two suspended players in cornerback Cliff Harris and middle linebacker Kiko Alonso. (We're guessing with Alonso; Chip Kelly won't say for sure.) More than a few folks saw the suspension of Shepard making the loss of Harris a push -- two all-conference types who also are special-teams stars. Alonso is the Ducks' most physical linebacker, so his loss is significant. Dewitt Stuckey has seen action, but his backup is a walk-on. The Ducks seem fairly healthy heading into the game, though there are questions about receiver
Josh Huff
, who had been walking around in a boot until recently.
Still, all of this seems less important than the loss of Jordan Jefferson. First, what does losing Jefferson mean to LSU, both as a player and leader? Second, tell us a bit about Lee.
Chris Low
: The Tigers will miss Jefferson's ability to scramble and extend the play. He didn't throw it very well last season, but he made several big plays with his legs. In Lee, you get a pure pocket passer who's not going to move around much and look to run.
Lee's story is a good one. He had a brutal redshirt freshman season in which he threw 16 interceptions, including seven that were returned for touchdowns. But he persevered and hung around, and here he is with a chance to lead LSU to a special season as a senior. Lee came off the bench several times last season to save the Tigers, and I don't think there's any question that there's a renewed sense of confidence in him among his teammates.
Shepard is another playmaker you take out of the equation for LSU and a guy who can turn missed tackles into touchdowns, and the other key piece on offense the Tigers will be missing is senior guard Josh Dworaczyk, who's out with an injured knee. He was one of the anchors of that offensive line, so that's three key players missing on offense.
If the Tigers are going to win this one, they have to keep the Ducks from dialing up a bunch of big plays.
Enough talking, though. Let's play. How do you see this one shaking out, Ted?
Ted Miller
: Chris, after watching Oregon lose games like this to Boise State, Ohio State and Auburn, I've got to admit I see a pattern. Further, I think LSU's front seven is at least as good as Auburn's was
and
the LSU secondary is much better. I think the Ducks' defense will hold down the LSU offense fairly well, but I also think it will feel like a road game for Oregon because of a two-to-one Tigers advantage in the stands. I see a good game, but one in which the Tigers prevail 24-21.
Chris Low
: I'm picking the Tigers, too. Imagine that. I tried to convince you to pick Auburn out in Arizona back in January, but you were blinded by those Oregon uniforms. The Ducks play fast, but so does the LSU defense. I also think the Tigers will be able to run the ball well enough to keep that Oregon offense off the field. Get ready for Spencer Ware to formally introduce himself to the college football world in a 28-24 LSU win that soothes a few wounds on the Bayou.
September, 1, 2011
9/01/11
10:15
AM ET
Ten issues to consider heading into the third week of games.
1.
Oregon's biggest issue might not be LSU's D-front
: In Phil Steele's unit rankings, he rated LSU's D-line 10th in the nation and its LBs 15th. There's no individual player as disruptive as Auburn's Nick Fairley, but LSU's Tigers are better across the entire front-7 than those Tigers. The Ducks could again struggle to run the ball. But the big problem is the LSU secondary, which Steele rates the nation's No. 4 unit. Auburn's secondary was weak all through 2010, and Ducks QB
Darron Thomas
picked it apart for 363 yards. But even though LSU lost first-round draft pick CB Patrick Peterson, their defensive backfield is deep and talented. Thomas won't find throwing into it as easy in any event, but particularly without his top-two receivers from a year ago.
[+] Enlarge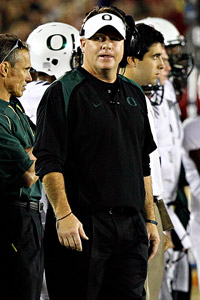 Ric Tapia/Icon SMIOregon coach Chip Kelly will need to scheme around a tough LSU run defense and an even tougher pass defense.
2.
Will UCLA catch a Case of Keenum
? UCLA was dominating Houston last year when it knocked QB
Case Keenum
out of the game in the second quarter, but Keenum remains a guy who is good enough to win a game on his own. Still, the Bruins should be able to win the battle on both lines of scrimmage, and that should make things easier for QBs
Kevin Prince
and
Richard Brehaut
, who both will play. Prince will be on the field to start the game. But will he be on the field to finish?
3.
A Gray day for the USC defense
: USC shouldn't have too many problems with Minnesota, but the biggest question is will the Trojans again show flashes of playing good defense. Golden Gophers QB
MarQueis Gray
is a bit of a mystery. He's being billed as a dual threat -- the sort who has given USC trouble in the past -- but he seems more like a 6-foot-4, 240-pound athlete who can run some option and scramble. His passing is decidedly questionable. The Trojans figure to crowd the line and dare Gray to throw. That means a secondary in man-coverage. Recall that the secondary got beaten a bunch in 2010.
4.
Maynard debut
: You look at California's depth chart and you think, "If these guys are any good at QB, they might be pretty tough." That's the pressure on
Zach Maynard
in his debut against a solid Fresno State team. If Maynard puts up good numbers, the Bears no longer will be so easy to write off in the Pac-12 North.
5.
Buffs
,
hit Moniz
: Hawaii QB
Bryant Moniz
put up huge numbers in 2010: 5,040 yards passing with 39 touchdowns. The Buffs secondary is suspect. Not a great combination. But a good way to protect a suspect secondary is with a good pass rush. While Moniz is a good athlete who can run, the best way for Colorado to end its 18-game road losing streak is to pound on Moniz and not give him time to throw. The good news on that: The Warriors have just three starters back on offense, one of whom is an offensive lineman.
6.
The Price of confidence
: Washington QB
Keith Price
makes his debut as Jake Locker's replacement against Eastern Washington, which is hardly a patsy. Sure, the Eagles are an FCS team. But they also are the defending FCS national champions and they are the preseason No. 1 team in FCS football. Warning! Warning! The key thing here is for the Huskies to show up focused and take care of business. For Price, he wants to play within himself, get comfortable and build his confidence because the competition will ramp up quickly.
7.
Cougars grinning
: Washington State is going to beat Idaho State. Not a big deal. What's a big deal is being 1-0 for the first time since 2005. What is a big deal is a team getting some early momentum, which it hasn't had in in coach Paul Wulff's first three seasons. The Cougs need to go out and pound on Idaho State. They need to walk away feeling good about themselves.
8.
Luck and Shaw
: Stanford is going to pound San Jose State. But the key thing for Cardinal interests is getting Luck some numbers and then sitting him, and letting Shaw get comfortable with his new job fronting the program.
9.
Utah, Arizona State and Oregon State -- just win
: The Utes, Sun Devils and Beavers each face weak, FCS foes. Each is going to win. And each faces a far more formidable foe the next week. The key is taking care of business, staying healthy and getting refocused. Starters eating orange slices in the third quarter is good, too.
10.
Defense wins championships
: OK, so what if LSU's defense thwarts Oregon's offense? The Tigers offense, particularly with
Jarrett Lee
at QB, is hardly scary. One of the often forgotten elements of the 2010 national title game against Auburn is the Ducks did about as good a job as anyone of slowing down QB Cam Newton. Lee is no Cam Newton. There is no law saying Oregon can't win a game 17-13. The LSU defense might stop the Ducks offense, but what if the Ducks defense is even more in control against perhaps the worst offense they will face all season?
August, 31, 2011
8/31/11
8:30
PM ET
By
ESPN.com staff
| ESPN.com
The final entry in a series looking at potential dream and nightmare scenarios for all Pac-12 teams.
Understand: These are not predictions. They are extreme scenarios and pieces of fiction. You can read
last season's versions here
.
We're going in reverse order of my
post-spring power rankings
(which might not be identical to my preseason power rankings).

Up next
: Oregon
Best case
The moderator walks into the interview room at Cowboys Stadium: "We have LSU coach Les Miles here. Any comments coach before we take questions?"
"Yes," Miles says, letting out a breath. "Wow."
Four hours before, a pre-game brawl between the Ducks and Tigers was barely averted as the teams stood face-mask-to-face-mask at midfield. Later, the exact cause -- and instigators -- would become a subject of intense speculation and rumor. But both teams went back to their locker rooms before kickoff unhappy with the other.
Pregame: Ducks coach Chip Kelly, splatters of blood spider-webbing down his white shirt, stands amid his players.
"We have practiced better than any team in the nation," he begins. "We have come together for this moment. I'm all about judging ourselves only by the perfection of our effort every day, not by anything outside our program. That's win the day. That's what we are about. But if anger motivates you, then feel free to be angry. It's clear that team doesn't respect you. I will guarantee you this, though. That is going to change."
Oregon outgains LSU 476-220 in a 42-10 victory. Running back
LaMichael James
rushes for 185 yards and two scores, doing most of his damage between the tackles. The Ducks sack LSU QB
Jarrett Lee
five times.
"Wow, that's a good football team," Miles says. "They are fast and physical. They will get my vote for No. 1 this week."
The Ducks are voted No. 1 in both polls.
After pounding Nevada and Missouri State, the Ducks visit Arizona. The game is tied 17-17 at halftime. Five minutes into the fourth quarter, the score is 44-17.
"No team explodes like the Ducks," ESPN's Chris Fowler. "They are sort of like my favorite superhero, another green beast, the Incredible Hulk."
"Oh, good one," replies Kirk Herbstreit. "I can just see Chip Kelly, 'Don't make me angry. You wouldn't like me when I'm angry.'"
The Ducks roll over California, Arizona State, Colorado and Washington State. James is neck-and-neck with Stanford QB
Andrew Luck
in most Heisman Trophy polls.
"I don't care about individual awards," James says. "I care about my teammates and winning -- in that order."
The Ducks head to overflowing Husky Stadium to take on 10th-ranked Washington, which has only lost at Stanford.
An enterprising Huskies fans sells 50,000 purple T-shirts with a cartoon of Kelly passing money to alleged street agent Willie Lyles, and College GameDay runs a story on the bad feelings over the shirts.
"Did Chip Kelly run up the score?" a reporter asks Washington coach Steve Sarkisian after the Ducks whip the Huskies 60-14, their eighth victory in a row in the rivalry, each by at least 20 points.
Sarkisian pauses, "Well, it's our job to stop them. And I guess he thought getting
LaMichael James
rushing for 300 yards would help his Heisman Trophy chances."
That sets up the biggest conference game in decades: No. 1 Oregon versus No. 3 Stanford.
"One of the biggest regular-season games we've had in a while," Herbstreit says. "Not only will the winner earn poll position in the race for the national title game, you'd have to think either Luck or James wins the Heisman tonight."
Not unlike the 2010 game, Luck and Stanford start quickly and lead at halftime. And not unlike the 2010 game, the Ducks roll in the second half, winning 48-31.
Oregon improves to 11-0 with a 45-17 win over USC. Next up: The Civil War, against 17th-ranked Oregon State.
"Chip, a lot of folks are saying this is the best team of all time," Fowler says from the GameDay set in front of Autzen Stadium. "What do you think?"
"Maybe," Kelly replies.
"What are your feelings on the NCAA clearing you and the program of all wrong-doing in the Willie Lyles investigation?" Fowler asks.
"Who?" Kelly replies. "Oh, you mean, Will. My feelings are ... good."
Oregon whips the Beavers 55-10.
After stomping Arizona State 43-16 in the Pac-12 title game, the Ducks earn a berth in their second-consecutive BCS national championship game. The opponent? Unbeaten and second-ranked Alabama.
James wins the Heisman Trophy.
"The lead story for the national championship game, obviously, is the Ducks top-ranked offense against the Crimson Tide's top-ranked defense," Fowler says. "But SEC fans might be a little surprised that this Pac-12 team can play some D -- see 15.2 points per game. Oh, and by the way, this SEC team can play some offense -- see 41 points per game."
"And, of course, everybody is asking what would it mean for college football if the SEC wins a sixth consecutive national title and adds Texas A&M, Oklahoma, Virginia Tech and North Carolina," Herbstreit replies. "Fair to say much of the college football nation is rooting for the Ducks to bring the SEC back down to earth."
"Other than Washington fans," Fowler quips.
"True that," says Herbstreit.
The Ducks gather inside the Louisiana Superdome.
"Great moments, are born from great opportunity," Kelly says."Forever is about to happen, gentlemen. That is your opportunity: To complete a perfect season and have your name written down on a list of champions where it will never be stricken. Look around this room. Look around! My heart is full of love for you guys. Our bond from this season will never be broken. And that is why we have to live in this moment together. We love this game. Play it with absolute joy tonight. Don't let any play, any moment of this game pass without your absolute focus, your absolute intensity. That is what we owe each other. Forever is about to happen, gentlemen. Lay it on the line. Four quarters for forever."
Oregon trails 24-19 with 12 seconds left. It faces a fourth-and-goal on the Crimson Tide 1-yard line.
"Darron," Kelly says to QB
Darron Thomas
. "We're going right at them. Tell LaMichael to jump. High."
James is immediately met short of the goal line by Alabama linebacker Courtney Upshaw. He lands, twists. Ducks tackle Mark Asper rams Upshaw. Three more Crimson Tide players surge into Upshaw, James and Asper, and three Ducks join the fracas. What develops is a scrum of 22 bodies moving sideways along the line of scrimmage. With no whistle.
Then everything collapses. It takes two minutes to clear the bodies.
It starts slowly. A hum, an inhale of recognition, then an explosion of joy followed by complete, prolonged pandemonium.
Touchdown, Oregon. The Ducks are national champions.
"It was a great football game," says Alabama coach Nick Saban afterward, "No shame in losing to a great team."
Kelly signs a lifetime contract. He could leave for another job, but he's agreed that he can only do so if he cuts off all of his limbs and leaves them behind. Most think that condition will keep him in Eugene.
Oregon announces it's expanding Autzen Stadium to 100,000 seats and that Nike has figured out a way to get the work done in advance of the 2012 season.
The Ducks sign the nation's No. 1 recruiting class.
The renovation of Husky Stadium uncovers a massive lake of quicksand, into which the entire stadium sinks in just minutes.
The Pac-12 blog's postseason list of the conference's top-25 players is entirely made up of Ducks. Oregon fans complain that the list should number 30.
Worst case
The moderator walks into the interview room at Cowboys Stadium: "We have LSU coach Les Miles here. Any comments coach before we take questions?"
"Yes," Miles says, letting out a breath. "Wow."
He continues, "Did we beat their butts or what?"
The Ducks offense is again stymied by a big, fast defense with extra time to prepare as the Tigers prevail 28-12.
But the Ducks bounce back with seven consecutive impressive victories, rising again to No. 5 in the polls.
"They are still in the national title hunt," notes ESPN's Chris Fowler.
The Ducks head to Husky Stadium to take on unbeaten, fourth-ranked Washington, which handed Stanford its only loss two weeks before.
Oregon leads 28-24 with nine minutes left. A Jackson Rice punt rolls out of bounds on the Huskies 1-yard line.
On first down, Huskies running back
Chris Polk
rushes for 3 yards. On second down, Polk rushes for 8 yards. On first down, Polk rushes for 4 yards. After 16 plays, Washington has a first down on Oregon's 8-yard line with 40 seconds left.
Polk rushes for 3 yards. Polk rushes for 2 yards. Polk rushes for 2 yards. Polk scores the winning touchdown as time expires.
"Wow, Chris Polk just ripped the hearts out of Oregon fans everywhere!" says Oregon play-by-play man Jerry Allen. "You can see why he's neck-and-neck with Andrew Luck in the Heisman Trophy race. The Huskies clearly are in the national title hunt."
Up next: No. 8 Stanford.
"This looked like the Pac-12 game of the year in the preseason, but right now everyone is chasing the Huskies," observes Fowler.
Luck throws four touchdown passes in a 42-28 win.
The Ducks bounce back with a win over USC.
"If we win the Civil War, we can still go to a quality bowl game," Ducks coach Chip Kelly says."I was reading the paper the other day, and it said we can still get to the Alamo Bowl."
Beavers receiver
James Rodgers
hauls in a game-winning 2-point conversion in triple-overtime. The Beavers rush the Autzen Stadium field, and chant together, "@%$@! Oregon!"
The Ducks lose to Clemson in the Sun Bowl to finish 8-5.
Washington beats Oklahoma for the national title.
Kelly becomes Georgia's new head coach. The Ducks hire Jim Lambright to replace him. "Now I can be happy about watching Kenny Wheaton return that interception!" Lambright says at his introductory press conference.
On July 20, the NCAA docks Oregon 15 scholarships and gives it a one-year postseason ban.
Nike files for bankruptcy. Phil Knight moves to Tibet, becomes a monk.
August, 30, 2011
8/30/11
12:30
PM ET
By
ESPN.com staff
| ESPN.com
You'll probably read plenty of good LSU-Oregon analysis this week. And some not so good, too.
Here are some interesting tidbits.


Brian Fremeau of Football Outsiders doesn't think the Tigers losing quarterback
Jordan Jefferson
to suspension
is necessarily that big of a deal
.
The LSU offense isn't expected to fire on all cylinders after undergoing a change at starting QB so close to the season, but the numbers show us that may not matter. The reason? If the Tigers can produce as many big plays on defense and special teams as they did last season, the loss of Jefferson could be negligible -- and they'll still have a good shot at knocking off the Ducks Saturday night.
Want to know why? Well, LSU is more about defense and special teams -- and being opportunistic -- than a high-powered offense.
For the season, LSU defensive and special-teams units created more short-field opportunities than any other units in college football last season. The Tigers started 24 percent of their drives in opponent territory in 2010, and only 11 percent of its drives from inside its 20-yard line. Those were the best marks in the country and the main reason why LSU was able to win 11 games last season with a less-than-stellar offense.

LSU outscored its FBS competition by a total of 127 points in 2010. According to our value distribution methodology, the Tigers' offense only contributed 15 points of that total season scoring margin. The defense (60 points) and special teams (52 points) chipped in the rest. Of the teams that contributed the most total non-offensive value last year, none relied on non-offensive scores as heavily as LSU.
And for LSU, slowing down Oregon means preventing explosion plays, for which the Ducks have become famous.
According to cfbstats.com, Oregon ranked among the top 10 teams nationally in almost every category of long plays from scrimmage. Twenty-two percent of the Ducks' offensive possessions averaged at least 10 yards per play, the eighth-best rate in the country. Eight percent of Oregon's plays went for at least 20 yards, the 10th-best rate nationally.
And if you want to know a little bit about LSU's new QB
Jarrett Lee
, here's
a profile
.
LSU players talk a little bit about
focusing on Oregon here
, and the Tigers will also be without a starting offensive guard.