September, 12, 2013
9/12/13
10:15
AM ET
A few storylines to keep an eye on in Week 3.
[+] Enlarge

Gary A. Vasquez/US PRESSWIREUCLA's Brett Hundley threw for four TDs and the Bruins celebrated a win over Nebraska last year. Can they do it again this season?

B1G tests: The Pac-12 faces the Big Ten four times this week. The league went 4-1 last season against its Rose Bowl partners, including Stanford's win over Wisconsin in the Grand Daddy. This week, UCLA travels to Nebraska, Arizona State hosts Wisconsin, Ohio State travels to Cal and Washington takes on Illinois in Chicago. The Big Ten is already up 1-0 this year after Northwestern beat Cal in Week 1. Over the past five seasons, the leagues are nearly even, with the Pac-12 going 11-10 (including 2013).

Getting defensive: Last week the Pac-12 had five interceptions returned for touchdowns -- including two by Colorado, two by Arizona and one by Washington State. Utah also returned a fumble for a touchdown.

Speaking of defensive: Stanford has the longest streak in the nation with 25 consecutive games with a takeaway. Safety Ed Reynolds kept it alive last week with an interception. Oregon has 40 takeaways since the start of the 2012 season, the most of any team in the country. The Ducks already have six this year (three interceptions, three fumbles).

Rematches: Three of the nonconference games this week are rematches from last season. In 2012, the Bruins topped Nebraska in Pasadena, Cal hung tough against the Buckeyes but ultimately lost and Colorado was blown out by Fresno State on the road.

Heavy hearts: The Bruins travel to Lincoln this week with the memory of wide receiver Nick Pasquale still very much on their minds. The Bruins will wear Pasquale's "36" on their uniforms. In a very classy act, the Huskers will do the same with a "36" decal on their helmets, along with a moment of silence before kickoff.

Off and running: Through two games, Oregon has already produced five 100-yard rushing performances: two from De'Anthony Thomas, two from Marcus Mariota and one from Byron Marshall. Of their 17 touchdown drives, 15 of them have come in less than two minutes.

League play continues: For the first time this season, all 12 teams will be in action in the same week -- all on the same day, for that matter, with no Thursday or Friday night games. One week after USC and Washington State kicked off conference play, Oregon State (1-1) and Utah (2-0) open their league play with the Beavers heading to Rice-Eccles. Not to put too much into one game, but this one could be huge for the trajectory of each team. The Utes face BYU next week and then have back-to-back home games against UCLA and Stanford. Four of their final six are on the road, so the Utes are looking to take advantage of a schedule that is front-loaded with home games.

Are you for real? If last week was the Pac-12's cupcake week, this week is all about measuring sticks. All four of the Pac-12/Big Ten showdowns feature at least one ranked team (No. 4 Ohio State; No. 16 UCLA and No. 23 Nebraska; No. 19 Washington; No. 20 Wisconsin). Eight of the nonconference opponents are 2-0. Fresno State might be the best non-AQ team in college football. Teams such as ASU and UCLA can certainly make a splash on the national stage. And a team like Colorado can take a huge step forward in terms of its perception. Cal beating the No. 4 team in the country couldn't hurt, either.

North vs. South: For those keeping track at home, the Pac-12 North features three of the league's four ranked teams. But through the first two weeks, the North Division is a combined 7-3 while the South is 9-1 with five of its six teams undefeated. The North is 2-1 against ranked teams (including a win over then-No. 25 USC), while the South has yet to play a ranked opponent. That of course changes this week with ASU and UCLA. Not making any statements, just an observation.

QBs on the move: Last season, four Pac-12 quarterbacks accounted for 10 rushes of at least 30 yards each, with half of those coming from Mariota. Through two weeks this season, five Pac-12 quarterbacks have accounted for eight rushes of at least 30 yards. Among them are Arizona's B.J. Denker (30, 35) and Javelle Allen (61); Mariota (46, 71); UCLA's Brett Hundley (37); and Utah's Travis Wilson (38, 51). Each of the eight rushes resulted in a touchdown.
August, 31, 2013
8/31/13
2:00
AM ET
While Arizona's offense didn't resemble the explosive machine that it did last year in its season opener, the Wildcats did more than enough to get their first win against an overmatched Northern Arizona squad.


Taking advantage of a couple of big plays on offense and three interceptions from the defense,
the Wildcats downed the Lumberjacks 35-0
Friday night in Tucscon.
Playing without All-American running back
Ka'Deem Carey
, the nation's leading rusher from last season who was serving a one-game suspension stemming from his offseason issues, the Wildcats offense was hit-and-miss with
B.J. Denker
taking over for Matt Scott. At times, Denker looked sharp on his reads. Other times, the entire offense looked like a work in progress.
After marching 75 yards on 10 plays on its opening drive, capping it with a beautifully designed 11-yard touchdown pass from Denker to
Daniel Jenkins
, the Arizona offense stalled for the majority of the first half. A string of three straight punts, including back-to-back three-and-outs, was snapped when Jenkins broke loose on a 91-yard touchdown run -- the third-longest run from scrimmage in Arizona history. He finished with 139 yards and a score on 12 carries.
Denker added a 30-yard touchdown run in the third quarter and safety
Tra'Mayne Bondurant
returned the first of his two interceptions 23 yards for a touchdown early in the second half.
The Wildcats, who were second in the Pac-12 last year in total offense with 526.2 yards per game, totaled 393 yards, with 306 of them coming on the ground. Denker was an efficient 9 of 13 for 87 yards and a touchdown, but missed on a few deep opportunities. It's worth noting that the Arizona offense turned in a turnover-free performance.
Javelle Allen
spelled Denker late in the game and rushed for a 61-yard touchdown on his third play.
Defensively, the Wildcats pitched the shutout by intercepting NAU's
Kyren Poe
three times -- two by Bondurant and another from freshman
Devin Holiday
. NAU's
Andy Wilder
also missed a pair of field goals.
"I thought defensively we played pretty well for the most part," Arizona coach Rich Rodriguez told the Pac-12 Network after the game. "We missed a few tackles. They did a good job of shortening the game. We've got a lot of things to fix, certainly some execution issues on offense ... From the first game, you can learn a lot. We're going to learn a lot from this game."
August, 27, 2013
8/27/13
7:00
PM ET
It all seemed so simple before Week 1 of last year. Six quarterback competitions, six resolutions before the first game of the year.
Taylor Kelly
had won the gig at ASU.
Jordan Webb
set foot on campus and was almost instantly Colorado's starter.
Marcus Mariota
outdistanced
Bryan Bennett
. Josh Nunes was Andrew Luck's successor.
Brett Hundley
was an exciting unknown, and Jeff Tuel was the guy to lead WSU's Air Raid.
Of course, simplicity doesn't always last. Be it injury or performance, Webb and Nunes weren't the starters at the end of the season and Tuel went back-and-forth with
Connor Halliday
. Mariota, Kelly and Hundley, however, went on to be three of the four most efficient quarterbacks in the league.
[+] Enlarge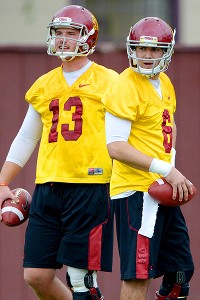 Kirby Lee/USA TODAY SportsMax Wittek (13) and Cody Kessler (6) will both see time at QB for the Trojans.
The moral of the story: Don't fear the unknown. But don't be too comfortable with it, either.
Which leads us to this year's crop of quarterback competitions. It's not as cut-and-dried as it was a year ago. At least two of them are ongoing and will probably stretch into the first weeks of the season.
The No. 24 Trojans open against Hawaii with
Cody Kessler
and
Max Wittek
still in the hunt for the right to replace Matt Barkley. Coach Lane Kiffin, however, said he has zero concerns that the competition hasn't been resolved.
"I see it as completely opposite," Kiffin said during Tuesday's Pac-12 conference call. "I think they have both performed so well. We feel great about both of them running our offense. I see it as a positive. I think they've really worked on their weaknesses … that way we don't have to call the game any different based on who is in. We can do all of our stuff."
Arizona coach Rich Rodriguez hasn't picked his guy yet, either. Though he did say he has seen some recent progress from
B.J. Denker
,
Javelle Allen
and
Jesse Scroggins
. A week ago, it was thought that as many as four or five guys could still be in the mix.
"I'd be more concerned if none of them made progress," Rodriguez said. "In the last week and a half, they have all made some pretty good progress. B.J. Denker and Javelle Allen, the guys that have been in the program, have made pretty good progress. And Jesse Scroggins has gotten better as well. I feel good about that. There's no question there is always more concern when you don't have experience there. B.J. has been in the system for a year and Javelle has been in the system for a year. We feel pretty confident they can run the whole entire offense and with Jesse it's just a matter of time."
And time is on Arizona's side. The Wildcats don't exactly have a pressing first month of the season. They host Northern Arizona this weekend, followed by a trip to UNLV before hosting UTSA on Sept. 14. Then it's a bye week before opening league play at Washington.
One report
last week had Oregon State playing the quarterback shuffle heading into Week 1. But Mike Riley put that to rest yesterday when he named
Sean Mannion
his starter.
"I had told some stories in the past of experience with two quarterbacks playing, but never intended to start a rotation situation here at all," Riley said. "We intended to name a starter and then have kind of left it up in the air … Sean is the starter and we'll go into the game like that."
Connor Wood
won the job at Colorado -- ending a QB competition that started with six but dwindled after injuries and transfers.
"He's big, he's athletic, he's got a strong arm, and he's a talented athlete," said coach Mike MacIntyre, who noted he was also very pleased with the progress of freshman
Sefo Liufau
. "He really started capturing the essence of our offense and understanding where to go with the ball and where to go with our run game. He kept improving."
Cal coach Sonny Dykes took a different approach, naming
Jared Goff
his starter as soon as he could.
"Anytime you have a starting quarterback, I think everyone is more comfortable," Dykes said. "The quarterback is more comfortable. The skill-position players can start to get on the same page. You develop a relationship with the center and quarterback and their ability to communicate with each other and the sense of timing that needs to exist there. I think what it does is settle everybody down."
August, 21, 2013
8/21/13
10:30
AM ET
We conclude our day-by-day snapshots of each Pac-12 team heading into the 2013 season in reverse alphabetical order with the
Arizona Wildcats
.
Arizona
Coach
: Rich Rodriguez (83-53, 8-5 at Arizona)
[+] Enlarge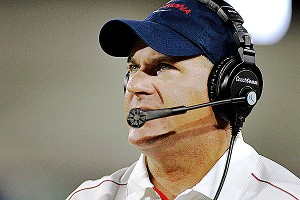 AP Photo/John MillerLast season Rich Rodriguez's offense scored 38 points per game, but his defense gave up 35.
2012 record
: 8-5 (4-5 Pac-12 South)
Key losses
: QB Matt Scott, WR Dan Buckner, C Kyle Quinn, DL Dominique Austin, OL Trace Biskin.
Key returnees
: RB
Ka'Deem Carey
, RB
Daniel Jenkins
, LB
Jake Fischer
, LB
Marquis Flowers
, WR
Terrence Miller
, OL
Fabbians Ebbele
, OL
Mickey Baucus
, OL
Chris Putton
.
Newcomer to watch
: The Wildcats have put an emphasis on building defensive depth, so look for linebacker Scooby Wright to contribute immediately. The all-state performer out of Cardinal Newman (Windsor, Calif.) has impressed so far in camp.
Biggest games in 2013
: With UCLA, USC and ASU getting the bulk of the hype in the Pac-12 South, the Wildcats will have to pull off some upsets if they want to be in contention. That makes all three (at USC Oct. 10, vs. UCLA Nov. 9, at ASU Nov. 30) critical. Of course, the ASU game is the biggest of all.
Biggest question mark
: Next week is game week, and the Wildcats are still in quarterback limbo. It was thought that
B.J. Denker
and
Jesse Scroggins
would be the front-runners, but neither has pulled away and
Javelle Allen
, Anu Solomon and
Nick Isham
have all kept pace. They've all shared close to equal reps in camp, so at least there is continuity with the receivers seeing all of the QBs (Denker is the only lefty). The fact that the Wildcats have a fairly easy nonconference schedule bodes well. Rodriguez has already said it's possible he could start three different quarterbacks the first three weeks before Arizona opens league play on the road at Washington on Sept. 28. There are a few more practices coming up before the Wildcats get into "game week" mode, so every rep will count.
Forecast
: It hasn't been the greatest offseason for the Wildcats. The opening of
the new facility
and a couple of awesome! videos (
Part I
and
Part II
) were overshadowed by Carey's
off-field indiscretions
, the loss of wide receiver
Austin Hill
to
injury
and the
departure
of receiver Tyler Slavin. Once thought to be their strongest position group, the Wildcats now find themselves struggling with some wide receiver depth.
Terrence Miller
,
Garic Wharton
and
Johnny Jackson
make up a solid starting three, and
David Richards
, though hampered by injuries, is a solid 3B. And Jenkins can be a do-it-all guy, but it's still an area of concern.
Matt Scott was obviously a huge part of the offense. And he and Carey complemented each other nicely. It will be interesting to see if Carey continues his outstanding pace with a new quarterback. The belief is that there will be just as much passing as last season, and given Arizona's scheme, it's unlikely Carey will be seeing many eight- and nine-man boxes.
The offensive line should also be solid. Quinn was an underappreciated center and he'll be missed, but Ebbele, Baucus and Putton (who will be plugged in as needed) make up a strong troika.
Defensively, the question is if this group, which returns virtually every starter from last year, got better. Fischer and Flowers are legit playmakers, and you'd think a second year in the 3-3-5 will help. As explosive as the Wildcats were offensively, the defense gave up more than 35 points a game -- ranking 102nd nationally. Fortunately, the offense averaged better than 38 points per game.
Arizona is an extremely intriguing team. If Rodriguez can make the quarterback spot plug-and-play, and Scott's production can be mostly replicated, that will take a lot of pressure off Carey, who could be in for another big season. And, if the defense is improved, the offense won't have to feel like it has to win every game.
But those are two big ifs.
July, 30, 2013
7/30/13
10:45
AM ET
Arizona's quarterback competition is really heating up. But it's the 2014 edition -- not the 2013 competition -- that we're talking about.
With the news that former Texas quarterback
Connor Brewer
is
transferring to Tucson
, head coach Rich Rodriguez now finds himself with an abundance of quarterbacks for 2014.
Brewer, who is from Scottsdale, led Chaparral High to three state championships and was the No. 7-rated quarterback in the 2012 class by ESPN. At the time, he had received Pac-12 offers from Arizona, ASU, Stanford, UCLA, USC and Washington. He was also offered by Alabama, Notre Dame and Michigan, among others.
Per NCAA transfer rules, he'll have to sit out 2013, but he'll join a quarterback class in 2014 that includes Anu Solomon, former USC quarterback
Jesse Scroggins
,
Javelle Allen
and possibly
Brandon Dawkins
, who committed to the Wildcats last week out of Westlake Village (Calif.) Oaks Christian.
Brewer tweeted his decision last night that he was headed back to his home state. He'll be reunited with former Chaparral teammate
Davonte Neal
, a wide receiver transfer from Notre Dame whose
eligibility for 2013
is still up in the air.
Per Anthony Gimino of the
Tucson Citizen
:
Brewer's commitment gives Arizona four of the top 10 in-state players from the 2012 class , as ranked by Rivals.com.

If Neal and Brewer -- who have been friends since the eighth grade — had signed with Arizona in February of 2012, excitement would have been off the charts. Neal was No. 3 in the state, Brewer No. 5, offensive lineman Zach Hemmila was No. 6 and defensive lineman Dwight Melvin was No. 10.
April, 8, 2013
4/08/13
11:00
AM ET
Catching you up on some of the news and notes from practices Friday and over the weekend.

Arizona
Wildcats' co-offensive coordinator Rod Smith offered up some thoughts on Arizona's quarterback competition.
Here's what he had to say about three of the candidates:
On
B.J. Denker
: "B.J. Denker has had a very productive spring. I think he's been pretty sharp lately. He still has some things we need to continue to get better at and work on. I've been pleased with his progress. He probably has the greatest grasp of what we're doing offensively. He understands where the ball needs to go and what it needs to do at certain times."
On redshirt freshman
Javelle Allen
: "I think Javelle Allen has really come along lately. He's getting better but he has a long way to go. He's not where he was when he started this spring and that's positive. He's done some good things."
On redshirt freshman
Jack Nykaza
: "Jack Nykaza is taking some reps this week because we have
Nick Isham
and some other guys banged up. Jack's learning and it's his first time going through it all. He's got a pretty strong arm and he's eager to learn. I've been pleased with his progress and he needs to keep coming."

Arizona State
Not a ton of news coming out of ASU this weekend, but Doug Haller has
an interesting report
that the Sun Devils' home game against Notre Dame in 2014 might be in doubt. ASU offered this statement.
"As far as Arizona State University is concerned we still have a valid contract with the University of Notre Dame to play football in 2014. We look forward to hosting them at Sun Devil Stadium."
And in case anyone forgot what the Sun Devils have behind
Taylor Kelly
, House of Sparky
offered a reminder
.

Colorado
How do you view the glass? If it's half-full, the Colorado offense is on fire and the passing attack looks fierce. If it's half-empty, you have to worry about the secondary getting scorched during the Buffs third scrimmage of the spring session.
Per Kyle Ringo
, the secondary gave up nine touchdown passes and did not make an interception against
Nick Hirschman
,
Connor Wood
and
Shane Dillon
. Hirschman went 10-of-12 for 171 yards and four touchdowns. Wood was 18-of-22 for 269 yards and three touchdowns.
"We had the highest percentage passing offense in the country last year [at San Jose State]," said head coach Mike MacIntyre. "And we had a bunch, bunch, bunch of deep plays. We're going to be able to throw the ball deep and to do that you have to be able to throw the ball underneath."

Oregon
Mark Helfrich wrapped his first week of spring practices as head coach by throwing together an impromptu live session to "jump start" practice,
per Rob Moseley
.
The move was well-received by some of the players.
"It was exciting, kind of got the morale up," tight end Colt Lyerla said. "We've been waiting longer than four days (to hit at full speed), we've been waiting since Jan. 3, so yeah, it was exciting."

Stanford
The Bootleg's David Lombardi has
a nice breakdown of Saturday's open practice
-- which ended, ironically, much like last year's Notre Dame game.
On the stat front,
Kevin Hogan
completed five passes for 130 yards while
Evan Crower
-- who has been making a big push this spring -- was 12-of-15 for 85 yards.
Lombardi notes that
Anthony Wilkerson
has maybe separated himself from the pack in the running back competition.

USC
With
Marqise Lee
back at full strength, the passing attack flourished during a scrimmage Saturday at the Coliseum. It was the stat line you've come to expect from the defending Biletnikoff winner -- 10 catches for 191 yards and a pair of touchdowns.
"The story of the day was the passing game and the offense in general," USC coach Lane Kiffin told Garry Paskwietz of WeAreSC. "All three quarterbacks played great and it was obviously great to have Marqise back."
This has
also been making the rounds
as well from last week. Thanks to Ben in Los Angeles for sending it to my mailbag.
Nelson Agholor
made a ridiculous one-handed touchdown catch. And the reaction from
Hayes Pullard
-- who just collapses -- is great.
March, 26, 2013
3/26/13
9:00
AM ET
Starters in, starters out. That's college football. Players' eligibility expires, and they leave for the rest of their lives, whether that includes the NFL or not.
And they leave behind shoes of various sizes that need to be filled.
Our concern with this series? The biggest shoes -- in some cases Shaq-like size 23s.

Biggest shoes
: QB
Matt Scott
Without question, it's the quarterback who guided the Wildcats to an 8-5 mark in their first season under Rich Rodriguez and was second-team all-conference who leaves the biggest shoes to fill. Scott led the Pac-12 and finished sixth nationally in total offense, accounting for almost 344 yards per game. He completed 60.3 percent of his throws with 27 touchdowns to 14 interceptions. He also rushed for six touchdowns. He was tailor-made for the RichRod offense, and in just one season helped elevate the profile of the program -- so much so that the Wildcats are being discussed as a team in play for the South title in 2013. The question is, how much of a drop-off will there be in his absence?
Stepping in
: To be determined ...
Everyone loves a quarterback competition -- except for coaches, who would much rather have their starter already in place when spring starts. But the Arizona quarterback-to-be has some great weapons to work with -- like the nation's leading rusher last year in
Ka'Deem Carey
and a potential Biletnikoff Award finalist in
Austin Hill
. Worth noting, too, that whoever wins the job will also be working with a new center with
Chris Putton
and
Beau Boyster
in the mix to replace
Kyle Quinn
.
B.J. Denker
, Jesse Scroggins,
Javelle Allen
, and incoming freshman Anu Solomon will all get a chance -- though Denker has been getting a lot of the reps this spring with Scroggins recovering from foot surgery. Denker had a little bit of work last season -- though Solomon could be the X factor as one of the higher-rated dual-threat quarterbacks.
March, 4, 2013
3/04/13
12:00
PM ET
Catching you up on the weekend practices. Arizona, Cal and Stanford are the only three teams that have kicked off spring ball. Cal had the weekend off and resumes practice today.
The Wildcats opened the spring session on Saturday with a helmets-and-shorts workout that lasted about two hours.
"I think it was a pretty good start," said Arizona head coach Rich Rodriguez. "I like the enthusiasm. We had great weather and our guys were anxious to get out there. There was pretty good retention from what we ended the season with so I thought it was a pretty good day ...
"I think we are always coaching effort and certainly, fundamentals. We're really so simple in the spring we shouldn't have a lot of mental mistakes. Fundamentally, I want to see them doing the right things and effort, are they doing it on every snap"
The Wildcats will have one of the higher-profile quarterback competitions in the offseason with several players looking to replace the departed
Matt Scott
.
B.J. Denker
is one of those guys.
"Like all of our returning players, we're expecting B.J. to have a better understanding of what we are doing. We want him to be sharp mentally and physically, have a sense of urgency. I think he had a pretty good day. I thought
Nick Isham
had a good day and
Javelle Allen
is learning. We're going to put a lot of pressure on those guys, as much as you can in the spring, and try to simulate the pressure you face in the game."
Stanford highlights
The defending Pac-12/Rose Bowl champs had an open practice on Saturday that was highlighted by big plays on both sides of the ball. Linebacker
James Vaughters
, who is moving from inside to outside linebacker this spring to replace
Chase Thomas
, tallied two sacks in a five-play stretch. Paired with
Trent Murphy
on the opposite side, the Cardinal should again have the top OLB duo in the league.
"I thought the star of the day was unquestionably [James] Vaughters and his explosiveness … his ability to get in the backfield," said Stanford head coach David Shaw.
On the offensive side, running back
Barry Sanders
is trying to stake his claim for the top running back spot. The Cardinal are looking to replace
Stepfan Taylor
, a three-time 1,000-yard rusher, and there are plenty of options. Tyler Gaffney will get added to the mix when he joins the team on April 1. But for now, Sanders showed off his skills with 20-yard touchdown run.
"Barry Sanders' run for a touchdown was phenomenal -- he made three guys miss and got to the end zone," said Shaw. "I'm also excited about the progression of our wide receivers. Ty [Montgomery] and
Michael Rector
both had really good days and
Devon Cajuste
showed some really good signs also."
February, 28, 2013
2/28/13
7:00
PM ET
Last week Ted and I gave you our thoughts on the spring quarterback competitions
that we thought were the most interesting
. I went with the Oregon State competition of
Cody Vaz
and
Sean Mannion
. Ted opted for the competition at Arizona.

Arizona, California, Colorado, Oregon State and USC seem to have the most heated competitions -- though I don't think anyone would be shocked if things open up at Washington State or
Keith Price
feels some pressure at Washington. But for your Thursday poll question, we'll go with those first five. Which Pac-12 quarterback competition is the most interesting? (Cue up the "I voted Oregon" jokes).
Your options:
Arizona
: The Wildcats have to replace
Matt Scott
-- a second-team all-conference performer who was sixth nationally in total yards.
B.J. Denker
got some work last year, and Jesse Scroggins,
Javelle Allen
and incoming freshman Anu Solomon are all in the mix.
California
: Five men enter --
Allan Bridgford
,
Zach Kline
,
Austin Hinder
,
Kyle Boehm
and Jared Goff. Which one wins over new head coach Sonny Dykes and takes over the up-tempo offense remains to be seen.
Colorado
:
Jordan Webb
,
Connor Wood
and
Nick Hirschman
-- who all saw playing time last year -- are back. But touted prospect
Shane Dillon
or highly-recruited Sefo Liufau, who arrives in the fall, could be the best options to run Colorado's new pistol offense.
Oregon State
: Both Mannion and Vaz have displayed the tools and talents to win big games. Both also have had their share of tough outings. This is the only competition that features two veterans (both with winning records as starters last year, mind you) squaring off.
USC
: Anytime the Trojans have a quarterback competition, it's going to be national news. And the fact that they are replacing
Matt Barkley
- - the league's all-time leader in touchdown passes -- makes it bigger news.
Max Wittek
got some work last year, but
Cody Kessler
and spring enrollee Max Browne won't be far behind.
February, 22, 2013
2/22/13
1:00
PM ET
The
Pac-12 likes quarterback talk
. After all, it's the conference of quarterbacks.
Arizona State, Oregon, Stanford and UCLA each have A-list signal-callers returning in 2013, but there's at least some degree of quarterback intrigue at the other eight schools. Arizona, California, Colorado and USC have wide-open competitions with no clear front-runner, while Oregon State, Utah, Washington and Washington State have varying degrees of uncertainty behind center.
So which situation is most interesting?
Kevin Gemmell
: What makes the Oregon State quarterback competition so interesting is the fact that you have two players who are already proven.
Sean Mannion
could probably start for most pro-style teams in the country. And so could
Cody Vaz
.
[+] Enlarge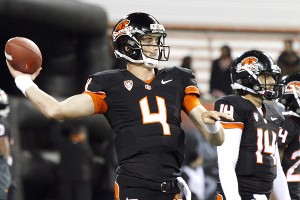 AP Photo/Don RyanThe Beavers are not in a rush to pick a starter between Sean Mannion (4) and Cody Vaz (14).
There is no single element in football more important than quarterback play. You could have the greatest defense in the world. But if the offense can't score points, it's a wasted effort. You could have an outstanding wide receiver -- but if no one can get him the ball, what's the point? A great running back is nice, but when teams load the box, you have to be able to pass.
No team enjoyed the spoils -- or spoilers -- of quarterback play more last season than the
Oregon State Beavers
, which seemed to have a love/hate relationship with its signal-callers all year long. Had it not been for outstanding quarterback play, there's a good chance Oregon State doesn't beat UCLA or Arizona (courtesy of Mannion). And had it not been for outstanding quarterback play, there's a good chance Oregon State doesn't beat BYU (courtesy of Vaz). Then again, if it hadn't been for shaky quarterback play, maybe the Beavers beat Washington (courtesy of Mannion) or Stanford (courtesy of Vaz).
At times, both quarterbacks were life preservers for their teams -- bailing them out in tough situations. Other times, they did the Santa thing, handing out free footballs. Both quarterbacks have outstanding potential and could certainly make waves for all-conference honors -- if they can square up their consistency. And if Mike Riley can decide on one.
It's a great problem to have. I promise you that Sonny Dykes, Mike MacIntyre, Rich Rodriguez and Lane Kiffin -- four coaches breaking in new quarterbacks this spring -- would love to have two quarterbacks with multiple starts competing for the gig. And not just starts -- but quality starts in big games at home, on the road, against ranked teams. Both guys know what it's like to win -- and lose -- a big game.
It's unlikely we're going to get an answer about the starter this spring. In fact, I wouldn't be shocked if it's not until a week and a half before the Beavers kick off the season at home against Eastern Washington (we're not expecting any Week 1 hurricanes in Corvallis), before Riley picks his guy. And with a rejuvenated running game and a rising star in
Brandin Cooks
catching balls -- whoever wins the job will have a nice well of experience from which to draw from. And whoever carries the clipboard will be the most experienced backup quarterback in the league. That's what makes this competition so intriguing.
Ted Miller
: This is a hard one for me. I think there are a lot of interesting quarterback situations in the Pac-12 this spring.
When USC has a quarterback competition, it's always national news. Just because it's USC.
I'm curious about how quickly new Colorado coach Mike MacIntyre can teach his quarterbacks the pistol offense -- and then pick one to lead his team. It seems as though new California coach Sonny Dykes and former elite recruit
Zach Kline
are a perfect match, but Berkeley has done funny things to promising quarterbacks the past few years. And do Utah (
Travis Wilson
), Washington (
Keith Price
) and Washington State (
Connor Halliday
) have decided front-runners to lead their offenses next fall? Probably, but you'd think at least one might surprise us.
Yet no team's trajectory seems so tied to what it can do at quarterback in 2013 as Arizona.
The Wildcats have 11 starters back on defense. Yes, it was a rotten defense in 2012, but that returning experience -- really the entire two-deep -- strongly suggests it should improve next fall. They also have six starters back on offense, including All-America running back
Ka'Deem Carey
, second-team All-Pac-12 receiver
Austin Hill
and three starters on the offensive line, including both tackles protecting the new quarterback.
Yet Rich Rodriguez's spread system demands a lot of a quarterback. Further, the next Wildcats quarterback will have huge shoes to fill, as you guys well know the Pac-12 blog
thinks very highly
of the departed
Matt Scott
, who was second-team All-Pac-12 and ranked sixth in the nation in total yards.
The question is whether
B.J. Denker
, Jesse Scroggins,
Javelle Allen
or incoming freshman Anu Solomon, who doesn't report until the fall, can approach the numbers and leadership Scott offered last year.
The Pac-12 blog, alas, is skeptical, and is therefore worried many, many Arizona fans will come to his Scottsdale home in December -- hat in hands -- and say, "You were right. Matt Scott was really that good. Sorry we participated in the bludgeoning of you in the comments section. Here's a chilled bottle of Grey Goose. And some fresh belon oysters. And $10,000."
Denker played pretty well in relief of an injured Scott against Colorado, but, well, that was Colorado, and Carey
was going nuts
against the hapless Buffs. Scroggins was good enough to be a USC backup, but he washed out academically and fell out of favor before going to a junior college. Allen is a redshirt freshman. Solomon a true freshman.
In other words, the position is a complete mystery. The Pac-12 blog loves mysteries. Fans, not so much.
If the Wildcats can get solid quarterback play in 2013, they will be a factor in the South Division. But if the position is shaky, they could stumble below .500.
The question is whether Arizona's quarterback mystery is like something
Hercule Poirot
will tie a nice bow around, producing satisfying clarity at the end, or if it will end up looking like something from
Dennis Lehane
-- dark, messy and fraught with human fallibility.
February, 1, 2013
2/01/13
9:00
AM ET
If you missed my Thursday chat -- and that's a silly question because of course you did not -- you can relive all the
plot twists and turns here
.
Otherwise, here's what we like to call the "chat wrap."
Greg (Tucson) There's been a lot of talk of [Jesse] Scroggins, [Anu] Solomon, or [B.J.] Denker as the next Arizona QB. But no one is talking about one of the most obvious choices -- redshirt freshman dual-threat QB Javelle Allen from RR's first recruiting class. What are the odds he steals the job?
Ted Miller (3:01 PM)
He certainly will be in the mix. I don't know much about him because I've never seen him play. Denker has the advantage of game experience and preparing like a backup. The competition is wide-open, which is why there's so much intrigue. That and replacing one of the best QBs in the nation.
Donald (Eugene) With the hire of [Matt] Lubick as receiver coach and the recent commits at WR, do you think [new Oregon coach Mark] Helfrich is going to put greater emphasis on the passing game? Maybe develop a deep threat?
Ted Miller (3:03 PM)
It would make sense for Oregon to pass more because: 1. It's got a QB with a good arm and experience: 2. All the top WRs from 2012 are back; 3. Helfrich & [new Ducks offensive coordinator] Scott Frost are both former QBs, and Helfrich in particular has worked with pass-first schemes.
Edward (Fort Campbell, KY) Oregon State was the surprise team in 2012. Who do you think will be in 2013?
Ted Miller (3:09 PM)
I think Washington is going to be a top-25, perhaps top-15 team.
Sonny DeeLite (Oakland) What are the chances Cal becomes the big surprise in the Pac for 2013...similar to the success of UCLA, ASU in 2012? Sonny [Dykes] is inheriting quite a bit of talent and if [Zach] Kline is as good as advertised and is the next A.Rodgers...
Ted Miller (3:13 PM)
Maybe if Kline gives the Bears good QB play, but I doubt it against that schedule. It will be an achievement to get to 6 wins and get back to a bowl game.
Jacob (Augusta, GA) Which Pac-12 team is surprising you the most on the recruiting trail this year?
Ted Miller (3:17 PM)
UCLA has a chance to finish No. 1 in the conference. That would be a big move for [coach Jim] Mora and the Bruins.
Brett (Pullman,WA) will the cougs be bowl-eligible next year? and BTW WAZZU is the best party school
Ted Miller (3:19 PM)
WSU would definitely be in that picture. ... Have spent some time at Ricos and the Coug. I think WSU has a good shot to get six wins. The key is [coach Mike] Leach getting the QB play he wants. And better O-line play.
Trojan1981(Not Michael) [via mobile] Bigger surprise take 2...kiffen is fired after a bad 7-5 year losing to Stanford ucla and ND or Stanford can't replace the pieces on offense and barely wins 8 games.
Ted Miller (3:22 PM)
Stanford not winning 8 games. Or "barely" winning 8 games ... what that heck does mean? Did you counter your UCLA friends this year by saying, "Hey, you barely beat us this year. We beat you 50-zip last year!"
JessieWildcat (Miami,FL) How much of an improvement will Arizona have on defense with its new recruiting class?
Ted Miller (3:23 PM)
With everyone back on the entire two-deep, it seems like the Wildcats will be better on defense. But they still are weak on the D-line. They need someone to rush the passer. Will an incoming player provide that? Maybe. I don't know.
BawlmerBeav (Steady State) You're a high school QB --- does recent OSU history give pause or seem like an opportunity?
Ted Miller (3:25 PM)
If you've got the right mindset, you go, "Well, I'll just play great and remove all doubt."
Nick (LA) Do you think USC locker-room issues will become less prevalent with the departure of the [Pete] Carroll holdover guys? There weren't a lot but it certainly could have played a part, OG vs new school.
Ted Miller (3:33 PM)
I think you cure locker-room issues by winning. But I also think [coach Lane] Kiffin and his staff need to make sure they are not abstracted from the locker-room culture. Kiffin might think about getting together a leadership crew -- a couple of players from each class who meet with him and talk about how things are going among the players.
DuckDude (David Shaw's Nitemares) Which newly promoted offensive coordinator has will have more impact in their first year, Mike Bloomgren at Stanford or Scott Frost at Oregon?
Ted Miller (3:35 PM)
Interesting question. Both were promoted by head coaches who are former offensive coordinators at their present school. I also think both will mostly try to stay the course with present schemes. I think Frost might change the most, as noted early, because I think Oregon passes more next fall. Of course,
[Kevin] Hogan
with a year of maturity could throw more next fall, too.
displacedSunDevil (Seattle) Any word on Pac12 Network/Direct TV talks? Football season ends and I havent heard a word...
Ted Miller (3:42 PM)
No ... and you likely won't anything until the pressure heats up this summer as the football season approaches. It's a massive frustration in the Pac-12 offices that DirecTV has handled negotiations the way it has. You need to understand that DirecTV doesn't believe Pac-12 fans have enough say in the market. The only way to get DirecTV on board is to drop it in favor of cable.
Manny (Indio) Is Nick's last name really Satan??
Ted Miller (3:46 PM)
Only because he's devilishly good at winning national titles.
Shaq Thompson (Dawgtown) What position will I play next year?
Ted Miller (3:48 PM)
You seem best used as a hybrid guy... an LB/Safety... I also wonder if you might be a guy who could rush the passer...
BloodlessGecko (CB's Dutch Oven) Better snack for Super Bowl: peanuts, or mondo bean burrito?
Ted Miller (3:55 PM)
I'm making spicy short rib tacos. Know that they will be righteous.
Rich Rod (Tucson) Should I, better yet, can I do do anything to get Carey to focus on football rather than being a superstar?
Ted Miller (3:58 PM)
You need to sit down with Ka'Deem and have a road to Damascus conversation with him. Now.
February, 15, 2012
2/15/12
12:00
PM ET
Recruiting season ain't over until the last hat has been pulled from a grubby high school backpack. And there is hope in Tucson that the final name hasn't been inked on Rich Rodriguez's first recruiting class with Arizona. Specifically, hope that the Wildcats' new coach still has a shot at landing five-star athlete
Davonte Neal
.
Neal, from Chaparral High in Scottsdale, is the last player remaining on the 2012
ESPNU 150
list not to have committed to a team. He's reportedly going to make a decision next week. Among
the schools still in the hunt for his services
are Notre Dame, Arkansas, North Carolina and Arizona.
[+] Enlarge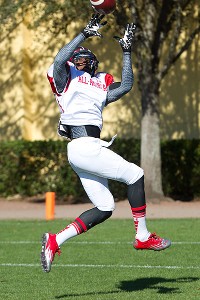 Davide De Pas for ESPN.comArizona athlete Davonte Neal is the last member of the ESPNU 150 to announce his college choice.
This could be a huge get for Rodriguez. Aside from
the obvious on-field contributions
that a wide receiver with 4.4 speed brings to a pass-happy offense, or a potential lock-down corner, it would go a long way in Rodriguez setting up stakes in his new home state.
New coaches love to come in and make promises -- that they are going to put up fences to keep top-flight athletes in and out-of-town poachers away. It's a cliche I hear all too often in Southern California, where it seems like you can pick up a four-star player next to the cereal aisle at Vons.
But nabbing a top-10 prospect like Neal would go a long way in winning the hearts and minds of a fanbase still sour after a 4-8 season.
Consider the signing of
D.J. Foster
at Arizona State. No new coach in the country entered his new digs with as much animosity in his wake as Todd Graham. But just a few weeks later, when one of the top prospects in the state spurns 15 other schools -- nine of them from within the conference -- and opts to stay at home, it's a big deal. Suddenly people start singing a different Graham tune. Graham promised to hit Phoenix and the surrounding areas hard. And he did. He goes from oath-breaker to promise-keeper. Now Graham looks like a guy that can get the job done.
The same can happen for Rodriguez. He's hired former Chaparral coach Charlie Ragle to be his in-state recruiting liaison and he's locked up a pair of Chaparral recruits already. If the Wildcats don't land Neal -- who some think
is headed to Arkansas or Notre Dame
-- it won't be the end of the world. The fact that Rodriguez is still in the hunt for the last remaining five-star is promising.
And he's already signed a pretty respectable class -- given the time crunch-- headlined by quarterback
Javelle Allen
. But if Rodriguez can reel in the 5-foot-10, broad-shouldered fish, it will alleviate concerns that his Big East/Big Ten ties are tough to overcome and that despite a shortened recruiting season, he can be a major player in Arizona recruiting.
February, 2, 2012
2/02/12
10:30
AM ET
Every team had needs going into 2012 national signing day. Last week, Ted Miller looked at the needs of each team in the
North Division
and
South Division
. Here's a look at
whether those needs were met
.

Arizona
: Either
Javelle Allen
or
Josh Kern
-- both Texans -- could be the long-term answer at quarterback. Noticeably missing is the lack of an impact linebacker. But there is some good depth to the offensive line.
Arizona State
: Nice pickup with running back
D.J. Foster
.
Richard Smith
and
Josiah Blandin
boost the wide receiving corps. Nine JC signees? We'll see.
Cal
: QB
Zach Kline
(No. 2 QB) is the jewel of the class, and receiver
Darius Powe
could be an immediate impact player. Cal wins the award for bipolar recruiting season, but this is still a solid class.
Colorado
: If
Yuri Wright
can keep his thumbs in check, he's a huge addition. He and
Kenny Crawley
boost a secondary sorely in need of playmakers.
Oregon
:
Arik Armstead
headlines a diverse class that, as expected, is heavy on speed and addresses depth across the board. Next to duct tape, few things are quick fixes than a juco kicker.
Oregon State
: No. 1 offensive guard
Isaac Seumalo
and tackle
Garrett Weinreich
fill immediate needs on the line. A lot of unproven commits on a defense that still needs help.
Stanford
: Business should be booming in the Stanford cafeteria with seven new offensive linemen. And they get to grow with and block for
Barry Sanders
.
Noor Davis
and
Alex Carter
are elite defensive playmakers.
UCLA
: Four ESPNU 150 players, headlined by athlete
Devin Fuller
. Who said Jim Mora wasn't cut out for college? Keeping
Ellis McCarthy
in Southern California -- and out of red and gold -- is big time.
USC
: Don't cry for this tiny class. It features seven ESPNU 150 players and adds speed on defense with
Jabari Ruffin
, size on the offensive line with
Max Turek
and
Jordan Simmons
and athleticism with wide receiver
Nelson Agholor
. Another great haul for Troy.
Utah
: A quarterback of the future is needed, and
Travis Wilson
(No. 39 QB) and
Chase Hansen
(No. 43 QB) should have a heck of a competition in the coming years. Lots of help and depth added to the offensive line.
Washington
: A shaky recruiting season was saved at the last minute by the commitment of
Shaq Thompson
and the ability to hold quarterback
Cyler Miles
.
Brandon Beaver
helps a secondary that was one of the worst in the conference.
Washington State
: Running back
Robert Lewis
and receiver
Alex Jackson
could prove to be money in the Mike Leach offensive overhaul. A few juco transfers should be stopgaps until depth develops and Leach's plan comes together.