February, 27, 2013
2/27/13
12:00
PM ET
If Washington defensive back
Desmond Trufant
was on the first-round fence prior to the NFL scouting combine, he might have swung the other leg over. After posting impressive measurables, Trufant has climbed from first-round possibility to legitimate contender.
Writes Bucky Brooks of NFL.com
:
Trufant had been considered a fringe first-round prospect following the Senior Bowl, but a strong showing in Indianapolis now has him firmly entrenched in the conversation. He blazed a 4.38 40, displaying exceptional speed and acceleration. Additionally, Trufant popped impressive measurements in the vertical (37.5 inches) and broad jump (10-foot-5). Scouts were already convinced Trufant possesses the requisite cover skills to be a solid starter as a pro; the rest of the workout confirmed his movement skills as a borderline blue-chip talent.
Unfortunate headliner
ESPN's John Clayton recapped the top five stories of the combine. And
Star Lotulelei
made the list for
unfortunate reasons
.
[+] Enlarge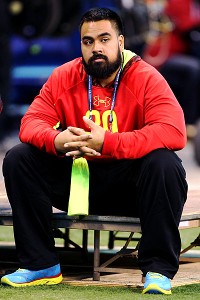 Brian Spurlock/USA TODAY SportsUtah's Star Lotulelei wasn't allowed to work out at the NFL combine after doctors discovered an issue with his heart.
Writes Clayton:
The second-biggest story was Star Lotulelei. The Utah defensive tackle came to the combine as a star. Mel Kiper had him in the top five. He was considered the best defensive tackle in the draft. But an echocardiogram determined that his left ventricle was pumping only at 44 percent, so doctors wouldn't let him work out. He is trying to find out if this is a serious heart problem or just the byproduct of losing about 10 pounds in three days. Still, his uncertainty caused a panic toward the top of the draft. The hope is that he can get a clean bill of health and then work out for teams at Utah next month. The good news is that doctors found a problem that he wouldn't have known about had he not been tested at the combine. College football teams don't provide echocardiograms because of the cost. NFL teams spare no expense to check out prospects.
In No. 5 at that link, Clayton notes that Oregon's
Dion Jordan
has also bumped his already-high draft stock. Speaking of Jordan, some of you might be shocked to see an Oregon player
leading a poll
. I know, doesn't happen often. Say this for Ducks fans, they know how to get out the vote.
RBs unimpressive
Football Outsiders uses a formula to calculate "Speed Scores," which are a player's time on the 40-yard dash based on his weight. And it wasn't an impressive crop of running backs,
writes Danny Tuccitto
.
Turning to more heralded running backs in this draft class, consensus No. 1 back Eddie Lacy (Alabama) did not participate because of a hamstring injury, and Speed Scores shouldn't affect the rankings much for those who did participate. Michigan State's Le'Veon Bell (102.7) and UCLA's Johnathan Franklin (100.9) were the only ones to break 100, albeit barely, and the worst result among potential Day 1 or Day 2 selections was the 83.4 Speed Score posted by Stanford's Stepfan Taylor. Otherwise, backs such as Mike Gillislee (Florida), Giovani Bernard (North Carolina), Kenjon Barner (Oregon), Montee Ball (Wisconsin), Joseph Randle (Oklahoma State) and Andre Ellington (Clemson) all finished in a group one would classify as "slightly below average."
Measurables from the secondary
40-yard dash
Desmond Trufant, DB, Washington: 4.38 (seconds)
Steve Williams
, DB, Cal: 4.42
Nickell Robey
, DB, USC: 4.53
Jordan Poyer
, DB, Oregon State: 4.54
Keelan Johnson
, S, ASU: 4.54
T.J. McDonald
, S, USC: 4.59
Aaron Hester
, DB, UCLA: 4.62
Marc Anthony
, DB, Cal: 4.63
Jawanza Starling
, S, USC: 4.64
Bench press
John Boyett
, S, Oregon: 27 reps
T.J. McDonald, S, USC: 19 reps
Jawanza Starling, S, USC: 17 reps
Desmond Trufant, DB, Washington: 17 reps
Marc Anthony, DB, Cal: 12 reps
Steve Williams, DB, Cal: 12 reps
Keelan Johnson, S, ASU: 12 reps
Nickell Robey, DB, USC: 10 reps
Jordan Poyer, DB, Oregon State: 8 reps
Vertical jump
Steve Williams, DB, Cal: 40.5 (inches)
T.J. McDonald, S, USC: 40
Nickell Robey, DB, USC: 37.5
Desmond Trufant, DB, Washington: 37.5
Keelan Johnson, S, ASU: 36.5
Jawanza Starling, S, USC: 36
Marc Anthony, DB, Cal: 35
Jordan Poyer, DB, Oregon State: 30.5
Aaron Hester, DB, UCLA: 29
Broad jump
T.J. McDonald, S, USC: 131 (inches)
Steve Williams, DB, Cal: 128
Nickell Robey, DB, USC: 127
Keelan Johnson, S, ASU: 125
Desmond Trufant, DB, Washington: 125
Jawanza Starling, S, USC: 122
Jordan Poyer, DB, Oregon State: 118
Marc Anthony, DB, Cal: 118
Aaron Hester, DB, UCLA: 112
3-cone drill
Jawanza Starling, S, USC: 6.68 (seconds)
Marc Anthony, DB, Cal: 6.74
Nickell Robey, DB, USC: 6.74
Keelan Johnson, S, ASU: 6.77
Jordan Poyer, DB, Oregon State: 6.87
T.J. McDonald, S, USC: 6.89
Steve Williams, DB, Cal: 6.89
Aaron Hester, DB, UCLA: 7.26
20-yard shuttle
Desmond Trufant, DB, Washington: 3.85 (seconds)
Marc Anthony, DB, Cal: 4.07
Keelan Johnson, S, ASU: 4.07
Nickell Robey, DB, USC: 4.09
Steve Williams, DB, Cal: 4.10
Jordan Poyer, DB, Oregon State: 4.18
T.J. McDonald, S, USC: 4.20
Aaron Hester, DB, UCLA: 4.33
Jawanza Starling, S, USC: 4.34
60-yard shuttle
Jordan Poyer, DB, Oregon State: 11.51 (seconds)
Keelan Johnson, S, ASU: 11.53
Jawanza Starling, S, USC: 11.62
February, 8, 2013
2/08/13
10:00
AM ET
The official list of college players invited to the NFL combine is out and 38 from the Pac-12 made the cut. At least one player from every team in the conference was invited. A total of 333 players were invited and workouts begin Feb. 23. You can see
the complete list here
.
February, 5, 2013
2/05/13
2:30
PM ET
I met a girl who sang the blues, and I asked her for some happy news, she just smiled and turned away;
I went down to the sacred store where I'd heard the music years before, but the man there said the music wouldn't play.
October, 24, 2011
10/24/11
1:15
PM ET
Taking stock of the eighth week of games in the Pac-12.
Team of the week
: Arizona. The Wildcats ended a 10-game losing streak to FBS foes with a bang, thumping UCLA 48-12 on ESPN last Thursday. Little has gone right for the Wildcats this season, including the termination of coach Mike Stoops, but an outstanding performance on both sides of the ball in interim coach Tim Kish's debut merits a tip of the cap.
Best game
: No game was closer than two touchdowns, but USC's 31-17 whipping of Notre Dame speaks well for the conference. The Trojans dominated the action on both sides of the ball, and perhaps sent a message to Stanford and Oregon that both have more than a one-game season ahead.
[+] Enlarge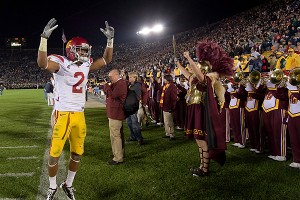 Matt Cashore/US PresswireReceiver Robert Woods and USC had much to celebrate after beating Notre Dame.
Biggest play
: No question here. Trailing just 17-10, Notre Dame faced a third-and-goal on the USC 1-yard line, with the home fans certain a tie game was at hand. But Irish quarterback
Dayne Crist
-- who was in because starter
Tommy Rees
hurt his knee -- fumbled the snap. Trojans safety Jawanza Starling scooped up the rolling ball and went 80 yards for a touchdown the other way. That, my friends, is a game-changing moment.
Offensive standout
: Forget the skill guys this week -- Stanford's offensive line takes this one. The Cardinal dominated the line of scrimmage against Washington, opening holes for a school-record 446 yards rushing and yielding no sacks. The Cardinal have surrendered just two sacks this season -- fewest in the nation -- and rank 17th in rushing offense with 219 yards per game.
Defensive standout
: Oregon linebacker Josh Kaddu had 10 tackles -- all solo -- three for a loss, and two sacks in the 45-2 win at Colorado. He was the best player on a defense that pitched a shutout.
Special-teams standout
: Darragh O'Neill. Colorado's punter was the lone bright spot for the Buffaloes in the loss to Oregon. He punted 12 times for a 43.2 average, with a net of 40.3. He set school records with six punts downed inside the 20 and four inside the 10 (two of those inside the 5), as Oregon's average starting field position after his kicks was its own 23. Four of the kicks traveled 50-plus yards.
Smiley face
: USC's and Stanford's impressive wins against quality foes sets up a marquee national game on Saturday in the Coliseum with ESPN's "College GameDay" on hand. After a slow start to the season, the Pac-12 is now on the national map, with the Cardinal solidly in the national championship hunt and the conference potentially in position to land two BCS bowl berths.
Frowny face
: Utah and Colorado are now 0-8 in Pac-12 play. They combined for 409 yards and 12 points in blowout losses Saturday. Recall how, in the past, the Pac-10 had to defend its defensive performances by pointing out its defenses had to play Pac-10 offenses? Well, here you go. The old Pac-10 can play defense. It just needed some new blood -- teams lacking offensive playmakers -- to prove it.
Thought of the week
: The Pac-12's bottom and muddled middle need to rally -- big -- if the conference is going to fill its bowl slots, particularly if the conference produces two BCS bowl teams. USC is ineligible and Colorado already is guaranteed a losing season. That leaves 10 teams. The conference has bowl contracts with seven games, which would increase to eight spots with two BCS bowl teams. While four teams -- Stanford, Oregon, Washington and Arizona State -- are already bowl-eligible or are nearly certain to get there, six teams have between two and four wins. How many teams get off the carpet? Or does the conference have five to seven losing teams?
Questions for the week
: Will there be a monumental upset this season? While it's possible to reduce the season to a small handful of games centered around Oregon's visit to Stanford on Nov. 12, most years one of the conference's topflight teams falls to a mediocre one -- recall how USC used to do that. It didn't happen last season, as Oregon and Stanford rolled, with just the Ducks' win against the Cardinal in Autzen Stadium between them. Will that be the case again? Or will the Cardinal or Ducks -- or Sun Devils -- get clipped by a team they don't see coming?
October, 23, 2011
10/23/11
1:25
AM ET
SOUTH BEND, Ind. — They tailgated all day and they waved blue towels and they bounced up and down to seemingly every possible sports pump-up song imaginable. They enjoyed the bright lights and marveled at the shiny new helmets and saw Saturday's matchup build into more than just another game on their schedule.
And though it wasn't exactly clear what Notre Dame fans could have expected when looking back at a USC squad that ran through the home team and slowed its ground game to a halt, it was certainly more than this:
A
31-17 loss
to the arch-rival, its ninth defeat in the past 10 meetings. A turnover-plagued performance that brought to mind the adventures of the season's first two weeks. And, most of all, the harsh reality that the BCS-bowl dreams that began before the season are all but officially over just seven games into 2011.
"I think from a player's standpoint, maybe we didn't stay true to who we were," fifth-year safety and captain Harrison Smith said. "Maybe we did buy into the hype, and we can't do that again. We didn't play with poise and there were penalties that you just can't have if you wanna win."
The five penalties will sting but not as much as the three turnovers, particularly after consecutive games without any. An early and surprising 17-0 deficit gave the Irish no margin for error in attemping their comeback, one made easier by — who would have thunk it? — special teams.
George Atkinson's 96-yard kick return for a touchdown brought the Irish to life in the second quarter, and they managed to tack on a field goal before the break to somehow make a seven-point game out of a half that saw them outgained by nearly a 2-to-1 margin.
[+] Enlarge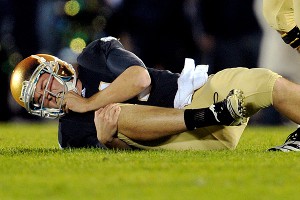 Matt Cashore/US PRESSWIRETommy Rees hyperextended his knee during a painful evening for the Irish.
Tommy Rees
went down with a hyperextended right knee midway through the third quarter and
Dayne Crist
stepped in — and this looked like redemption for the California kid against USC, first hitting
Cierre Wood
for 4 yards, then hitting
Tyler Eifert
two plays later on a crucial fourth down, the ball moving and Notre Dame closing in on the Trojans after being outplayed for a majority of the game before that point.
Three plays later, third-and-goal at the 1, Crist fumbled the snap. Eighty yards later and Jawanza Starling was in the end zone with the ball and a 14-point Trojans lead, one that looked so big yet so familiar given Crist's last third-and-goal-from-the-1 play this season, even if he wasn't to blame for the opening-drive gaffe against South Florida in Week 1.
"Losing stinks. For me, it's hard for me to put a stink-meter on losing. They all stink," coach Brian Kelly said. "You know what I'm disappointed in? This is the first time that I've leaned on my guys pretty hard in the locker room. I was not happy. Because we're better than that. We're better than that. And, to turn the ball over in the ridiculous fashion that we have, I just, just makes me crazy. In terms of, I just don't understand how something so easy can come out the way it does.
"So I told our guys, 'Listen, every time we try to take a step forward, we seem to wanna take one step back.' I'm not gonna tolerate it. It's not gonna be pretty this week in practice. If we gotta go back and tackle every day, we'll tackle every day, because they know how I feel about the way we played."
The hypothetical playoffs that Notre Dame talked about so much have come to an unceremonious end, and now comes the more challenging part, re-focusing on the next-best-thing with plenty of season remaining, five games to prove to all that this is not a lost cause after its record fell to 4-3 with a return of similar frustration.
Perhaps the normal 3:30 p.m. start next week against Navy will spark what had become a familiarity with this team in its previous four games, moving the ball efficiently while eliminating the bad mistakes.
For now, rebounding from this letdown and controlling emotions is the next step, one Notre Dame received a hard lesson in Saturday night from its rival out West.
"You're trying to get at something that I think is real, and we talked about this," Kelly said when asked if his players could have been too excited going into Saturday. "We had some guys that didn't play with poise that need to play with poise. Championship football teams play with competitive greatness, which means when the stakes are high and the stage is great, they raise their game.
"Today, in that same situation, some of our players didn't raise their level of play. That to me is poise, and we're still building that. That's a hard thing to dig at. But we're still building that."
October, 22, 2011
10/22/11
10:19
PM ET
SOUTH BEND, Ind. — Just when it looked like things were going Notre Dame's way, an injury and a return case of the yips proved devastating for the Irish.
Seven plays after
Tommy Rees
went down with an apparent right leg injury,
Dayne Crist
fumbled a snap at the USC 1-yard line, resulting in an 80-yard touchdown the other way courtesy of Jawanza Starling.


In the blink of an eye, a potentially tied game swung to 24-10 USC, and the Irish now find themselves in an uphill battle as the fourth quarter gets underway.
The good news? What looked at first like a potentially bad injury to Rees proved to be nothing, as the sophomore was back in on the Irish's next drive. Still, the end of that drive has to be heartbreaking for Crist, who completed 4 of 5 passes before his fumble and had Notre Dame moving.
Right now, 15 minutes stand between the Irish and any hope of a BCS bowl bid being crushed.
August, 10, 2010
8/10/10
1:41
PM ET
By
ESPN.com staff
| ESPN.com
Safety in the Pac-10 this year? Solid for the most part.
Only UCLA, Oregon State and Washington "officially" welcome back both of their starting safeties, with the Bruins boasting perhaps the best in free safety in the nation: Rahim Moore. Only Arizona State and USC must find two new safeties.
So how do things stack up?
Great shape
UCLA: Moore, a true junior and 25-game starter, led the nation with 10 interceptions in 2009 and is a consensus All-American. Tony Dye ranked fourth on the Bruins with 73 tackles.
Oregon: Sure, the Ducks lost hard-hitting T.J. Ward to the NFL, but Ward was hurt much of last season, so John Boyett, the first freshman to lead the Ducks in tackles, and Javes Lewis, who played both free safety and rover, are returning starters, as is Eddie Pleasant, a linebacker starter in 2009 who's moved to rover.
Oregon State: Lance Mitchell and Cameron Collins give the Beavers a solid, experienced combination and Suaesi Tuimaunei also has starting experience.
Good shape
Washington: Nathan Felner and Nate Williams are both returning starters, but the competition is ongoing among players with experience, not to mention touted incoming freshman Sean Parker.
Arizona: The Wildcats lost Cam Nelson, and Robert Golden might move back to cornerback after playing strong safety last year. Still, there's talent here. Adam Hall, a touted, 6-foot-4, 212-pound 2009 recruit, might make a move.
Arizona State: Both starters, Jarrell Holman and Ryan McFoy, are gone, but Clint Floyd and Keelan Johnson have started games and junior Eddie Elder has been surging since the spring.
California: While the Cal secondary didn't play well in 2009, Sean Cattouse is solid. Senior Chris Conte has converted to safety from cornerback, but he could be challenged in camp for the starting job.
Stanford: Strong safety Delano Howell should blossom as a junior, and Michael Thomas has potential at free safety. Still, the Cardinal secondary got burned in 2009 and is probably the team's biggest question mark.
We'll see
USC: The Trojans are replacing all four starters in their secondary, and the days of giving them a free pass based on recruiting rankings are over. Still, Jawanza Starling, T.J. McDonald and Drew McAllister (if he's healthy) are a talented trio.
Washington State: WSU lost free safety Xavier Hicks, but LeAndre Daniels, Chima Nwachukwu, Tyree Toomer, Casey Locker and Jamal Atofau give the Cougars hope at the position.
May, 4, 2010
5/04/10
3:47
PM ET
By
ESPN.com staff
| ESPN.com
Every spring, a handful of players make names for themselves. Here are pairs for each Pac-10 team -- one on offense and one on defense -- who should make names for themselves into the fall.
Arizona
FB Taimi Tutogi
: The sophomore can play fullback, tailback or tight end. At 6-foot-2, 258 pounds, he packs a punch.
DT Sione Tuihalamaka
: The redshirt freshman appears to be a potential starter inside, replacing Earl Mitchell.
Arizona State
OT Evan Finkenberg
: The redshirt freshman is likely to start at one tackle spot for the Sun Devils.
DE Greg Smith
: The true sophomore backed up Dexter Davis last fall. Word is he's a high-motor guy.
California
RB Isi Sofele
: The sophomore isn't big but he's got the quickness to be a playmaker and counterpoint to starter
Shane Vereen
.
NT Kendrick Payne
: The sophomore had a great spring and may unseat Derrick Hill as the starter.
Oregon
WR Justin Hoffman
: The sophomore not only caught everything thrown his way, he also is a tenacious blocker on the outside.
DE Dion Jordan
: The sophomore switched sides of the ball from tight end and looks like a potential star.
Oregon State
RB Jordan Jenkins
: The versatile sophomore could push
Ryan McCants
-- who also had a good spring -- for touches behind
Jacquizz Rodgers
this fall
DE Taylor Henry
: The Beavers needed the sophomore to step up after Matt LaGrone quit the team. He did. Looks like a potentially dangerous pass rusher.
Stanford
TE Levine Toilolo
: The 6-foot-8, 244-pound redshirt freshman has an imposing frame as well as good speed. Made a lot of plays this spring.
LB Shayne Skov
: The sophomore became a starter last year when Clinton Snyder blew out his knee. Don't be surprised if he earns All-Conference honors.
UCLA
WR Randall Carroll
: The true sophomore looked more like a receiver with great speed than a speed guy playing receiver this spring.
DT Nate Chandler
: The junior moved from tight and immediately earned a spot in the starting lineup.
USC
RB Dillon Baxter
: The early-entry true freshman made more spectacular plays this spring than any other USC player.
SS Jawanza Starling
: The sophomore was a standout in the rebuilding secondary, though he'll face a challenge from Drew McAllister in the fall.
Washington
RB Deontae Cooper
: Cooper and fellow true freshman Jesse Callier made the most of their early entries, playing well enough to look like contributors next fall
FS Will Shamburger
: The redshirt freshman was a standout from start to finish, and finished spring practices as the starter ahead of sophomore Nate Felner.
Washington State
OT Wade Jacobson
: The 6-foot-6, 307-pound JC transfer was a standout this spring and figures to start at one of the tackle spots.
DT Brandon Rankin
: The touted JC transfer needs to gain a few pound in order to play inside but he looked like a dynamic presence much of spring.
April, 15, 2010
4/15/10
11:45
PM ET
By
ESPN.com staff
| ESPN.com
LOS ANGELES -- Watched USC practice Thursday, so here are some quick observations.
Lots has been written about how much better a slimmed-down Matt Barkley is moving. It was just one practice, but that also was my impression. Barkley seemed comfortable rolling out of the pocket and throwing downfield, which was not a big part of his game last fall.
USC will have the best defensive line in the Pac-10. That's an opinion that feels pretty close to a fact you can write down in ink. Why? Lots of talent and the return of Ed Orgeron, who will provide a huge coaching upgrade. There's simply no way for players to slack off around his mega-intensity. Ends Armond Armstead, Nick Perry, Wes Horton and Malik Jackson and tackles Jurrell Casey, Christian Tupou, DaJohn Harris, Hebron Fangupo and Derek Simmons give the Trojans a deep, big and athletic group of nine guys.
Hard to believe the Trojans won't be better on special teams this year. For one, John Baxter is widely considered one of the nation's best special teams coaches. Second, the first 20-30 minutes of practice are dedicated to special teams, which often includes some quirky drills Baxter brought from Fresno State.
Easy to see why folks are excited about Devon Kennard's move to middle linebacker, where he might displace Chris Galippo as the starter. He's got size and speed and apparently good instincts. A couple of his hits, including one in the backfield on running back Marc Tyler, inspired hoots of appreciation from his teammates.
Coach Lane Kiffin said Ronald Johnson is playing faster than any previous Trojans receiver, at least in recent memory.
What's not helping the offense: Only six offensive linemen are healthy.
Kiffin said there's no pecking order at running back, and he's not a fan of using the three-plus-man committee the Trojans used in the past. He wants one or two guys, but said he hasn't decided who's in and who's out. Here's a guess that one of the guys will be Allen Bradford, and fancy true freshman Dillon Baxter seems almost certain to get touches.
Quarterback competition with Barkley and Mitch Mustain? Not really. Barkley will be the starter. "Matt is playing really, really well," Kiffin said. "Mitch is playing good."
Two spots in the secondary appear set: Shareece Wright is by far the best cover cornerback, and coaches are raving about Jawanza Starling at safety.
There are still a lot of people watching practice, but the difference from the completely open practices of the Pete Carroll era is that USC officials know everybody who is on hand.
Among those at practice: Former USC coach John Robinson.
February, 5, 2009
2/05/09
4:04
PM ET
By
ESPN.com staff
| ESPN.com
Posted by ESPN.com's Ted Miller
After a day's delay, defensive back Jawanza Starling from Tallahassee, Fla., signed with USC and became the 18th member of the Trojans' class, which ranks fourth in the nation.
Starling picked USC over Notre Dame, Florida, Georgia and Stanford.