January, 14, 2015
Jan 14
12:19
PM ET
The media narrative was perfectly reasonable before Oregon squared off with Ohio State on Monday. This was Oregon's last chance with
Marcus Mariota
lining up behind center to win the school's first football national title. The Ducks had the best player in the nation, the best player in school history, one of the best of all-time leading them. They didn't want to waste such an alignment of the planets, such a special -- perhaps unique -- opportunity.
Alas, it wasn't to be. Mariota played fairly well, but the Buckeyes owned the line of scrimmage on both sides of the ball and that was enough to overcome Mariota. The Buckeyes rolled to a 42-20 victory, and the overwhelming expectation is that Mariota, who has already graduated, is off to the NFL draft this spring.
The thing about media narratives -- reasonable or otherwise -- is they can become a burden when their unhappy potentiality is realized. In this case, there's some recycling of the hackneyed "Oregon can't beat a physical team," but the more reasonable extension of that previously perfectly reasonable media narrative is that the Ducks look like they might fall into a rebuilding mode in 2015 with Mariota gone. He, of course, leaves behind a massive void that far eclipses past transitions behind center, though it is comforting for the Ducks that their rise to the nation's elite over the past six years preceded Mariota by two QBs.
[+] Enlarge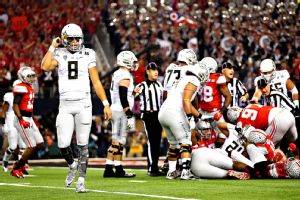 Ronald Martinez/Getty ImagesIf Marcus Mariota leaves for the NFL, he wouldn't be the only big loss the Ducks could feel in 2015.
This is not to say the Ducks will fall off the college football map. Heck, ESPN.com's Mark Schlabach dumped them all the way down to, well, No. 5 in his
Way-Too-Early Top 25
. But Oregon won't be mentioned as a top national title contender along with the Buckeyes and TCU in the preseason, and some might even become more fascinated with the talent returning in the Pac-12's South Division, most notably for USC and UCLA.
The Ducks are, not surprisingly, yielding nothing. Coach Mark Helfrich said he is "extremely confident" that his program can get back to the national title game again.
"It's really hard, but Oregon is a place that obviously that can happen and has happened," he said in the post-College Football Playoff final news conference. "Everything is in place from a support standpoint and facilities standpoint and infrastructure standpoint, talent; our coaching staff is outstanding and the leadership is outstanding. That's kind of all the ingredients."
If Mariota decides to go pro (he has until Thursday to declare), replacing him will be the Ducks' chief challenge. As ingredients go, that's a pretty choice protein.
Therefore, the quarterback depth chart will become the big story of spring and preseason practices. While
Jeff Lockie
, who will be a junior in 2015, is the favorite based on seniority and being Mariota's backup for two years, there obviously will be a heated competition. Recall that Mariota came from almost nowhere -- to folks outside the Ducks' closed practices, at least -- to beat out
Bryan Bennett
, Darron Thomas' backup, before the 2012 season.
Other possibilities are redshirt freshman Morgan Mahalak, Georgia Tech transfer Ty Griffin and incoming freshman Travis Waller. Ducks coach Mark Helfrich also might take the call if one of Ohio State's three QBs wants to transfer to Eugene -- hint, hint, Braxton Miller!
Whoever wins the job will have a pretty darn good supporting cast on offense, particularly at the skill positions, where just about everyone comes back, including standout injured players such as wide receiver
Bralon Addison
and tight end
Pharaoh Brown
. The Ducks will be deep and experienced at receiver, running back and tight end with All-Pac-12-type players. The offensive line, despite losing three starters, still will welcome back three "starters," including tackle
Tyler Johnstone
, who missed the season with a knee injury, as well as four other players with starting experience.
While the Oregon quarterback is rarely viewed as a game manager, he'll certainly be in a comfortable spot to distribute the ball to playmakers and stay out of the way, if necessary.
The defense is perhaps a bigger question, particularly after junior end
Arik Armstead
opted to enter the draft, and fellow end
DeForest Buckner
's decision is still pending. Gone for sure are All-American cornerback
Ifo Ekpre-Olomu
, outside linebacker
Tony Washington
, safety
Erick Dargan
and corner
Troy Hill
. They are all established players who have been productive for multiple years.
Further, the schedule upgrades next fall. The Ducks will visit Michigan State and they add USC and Arizona State to the conference slate. Though the Ducks have seven home games, conference road games include trips to Washington, Arizona State and Stanford.
Oregon still looks like the preseason pick in the North Division, but that's in large part due to the North flagging as the South rises. Stanford, Washington and Washington State have plenty of questions, and Oregon State will be breaking in a new coach. California appears to be on the cusp of moving up, but the only other North team that has a chance to join the five from the South in the preseason national rankings is Stanford.
While Helfrich stepped fully out of Chip Kelly's shadow by leading the Ducks to the Pac-12 title, beating Florida State in the Rose Bowl and earning a berth in the national title game, what happens next season -- post-Mariota -- figures to commence his long-term measure. Security is a rare thing for college coaches, and the margin for error at Oregon is small with demanding Ducks fans. Helfrich was questioned after an 11-2 finish in 2013, his first season after being promoted from offensive coordinator. Failing to win the conference in 2015 likely would reignite the grumbling skeptics.
As of this week, Oregon football (probably) has moved into A.M. time -- After Mariota -- and more than a few media folks will linger like vultures next fall, hoping to pounce on a narrative of program decline. It's up to the Ducks to disappoint them.
June, 18, 2014
6/18/14
5:30
PM ET
Over the past few weeks we examined the Ducks, position-by-position, evaluating the talent. But since I was in Eugene last week for the NCAA Track & Field Championships, I figured I'd stop by the football offices to check in with one of the guys who knows that information best, offensive coordinator Scott Frost. Today, we'll go through quarterback and running back highlights. Tomorrow, we'll get to wide receiver, tight end and the offensive line.
QUARTERBACK
They're certainly not shying away from any Heisman hype at this point in the year. On quarterback Marcus Mariota, Frost said, "We certainly think we have the best one in the country" and that "he throws better than anyone in the country." Well Jameis Winston, there you have it.
I was curious about Mariota's injury situation -- a lot of times when guys come back there might be some hesitation or some ounce of doubt still in their minds about their knee, or ankle or whatever. Frost isn't worried about it. He said that even a few weeks after the injury Mariota wanted to get the knee brace off. Frost also said that Mariota would've run for 200 yards in the bowl game (he rushed for 133 yards) but he was out of shape from the injury.
As far as the quarterback-not-named-Mariota situation, redshirt sophomore Jeff Lockie is the No. 2 guy this season ("without question," Frost said.). Frost doesn't seem concerned that the only backups on the roster at this point are Lockie and redshirt freshman Taylor Alie. Lockie was 8-of-13 last season for 57 yards and one interception. Alie is a local walk-on, but Frost did note how impressed he was with Alie's spring.
Alie will likely be the holder for field goals this season.
Regarding last season's backup, Frost said that they felt comfortable with both Lockie and Jake Rodrigues, who has transferred to San Diego State, but if they would've had to name a backup, it would've been Lockie. But that the coaching really didn't want to "finalize the outcome of that competition until a point in time when we [needed] to."
On whether the flip side of having such a great QB like Mariota is the fact that you do get attrition with other guys: "Quarterbacks are a unique breed. … They're the leaders. They're used to being the guy. It's tough for guys to come in and not play. We've had a great one, which is a good problem to have. But a lot of the guys behind him hadn't had the chance to play as much as they'd like."
Fun note: Frost lauded Mariota for being good at many different things, but apparently golf is not one of those things.
RUNNING BACK
On the Thomas Tyner vs. Byron Marshall debate -- Frost said there's a lot of confidence in both players. He said that it took Tyner a while to really get up to speed, but that he's there now and that Frost likes the competition between these two. Seems like even if there is a lead back and a No. 2 back, there really might not be a ton of separation in reps or carries.
Both have really good hands, but Frost said both "need to work on running routes a little bit and making sure they know more than one spot."
The first non-Tyner-Marshall player that Frost brought up was incoming freshman Tony James. James is the No. 14 RB in the 2014 class and chose the Ducks over offers from Auburn, Florida State and Ohio State.
On how the Bralon Addison injury affects the running backs: "We'd be silly if we just leave one running back on the field and most of these guys off the field. I can see us playing with more than one, using them in some other roles.
Frost cited the 2011 season when the Ducks used LaMichael James, De'Anthony Thomas and Kenjon Barner together a lot, saying that might be something we see this season. That season James rushed for 1,805 yards, Thomas rushed for 595 and Barner rushed for 939. I don't think Frost is saying that 2014 will necessarily be another 4,000-rushing yard season, but, this idea of multiple-back situations keeps coming up a lot.
Apparently, Chip Kelly used to use, what he called, the "taser" position -- a guy that can play tailback, flanker and slot. This is something they're looking at using more of next season with Tyner or Marshall, it sounds like. Even if Addison weren't injured, this would've been something they would've considered doing more of this year.
In closing, Frost put it best: "We want our best five on the field for the situation all times. There have been times that's four running backs. There have been times that's two tight ends. And there's times that's four receivers. So, we'll just have to get through camp, figure out who our best guys are and go from there."
May, 13, 2014
5/13/14
5:30
PM ET
When the Class of 2012 was finalized, it appeared the Pac-12 had secured a solid crop of quarterbacks.
Four of the nation's top 12 and six of the top 26 were headed to -- or staying on -- the West Coast. There was a good mix of dual-threat guys and pocket passers -- enough to instill high expectations moving forward. For comparison, the SEC and Big 12 both signed one player from the top 15.
Just over two years later, it's clear the class will never live up to those expectations.
Of the 14 players listed as quarterbacks by ESPN that signed with Pac-12 schools that year, only four are currently on the roster at the school they signed with, listed at quarterback and in good standing with the program. With Monday's news that
Oregon's
Jake Rodrigues
would transfer
, the transfer count is up to six. The other four situations are composed of a suspension, a position change, a dismissal and an LDS Church mission.
Here is a look at the Pac-12's quarterbacks from the Class of 2012 and an update on how their careers have progressed:
[+] Enlarge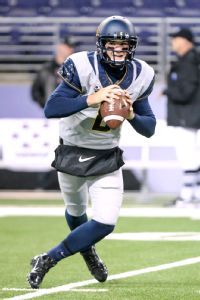 Joshua Weisberg/Icon SMIZach Kline lost out on the starting job at Cal in 2013 to a true freshman and transferred at season's end.
Zach Kline
Ranking:
No. 2
School:
Cal
Status:
Transferred (Butte College)
Comment:
Kline redshirted in coach Jeff Tedford's final season behind starter Zach Maynard then lost the competition to replace him to true freshman
Jared Goff
last year. He appeared in seven of 12 games but made the decision to transfer following the season. Originally it was reported that Kline would attend Oregon State, but instead he announced last month
he would attend Butte College
-- the same school Aaron Rodgers attended
before
he went to Cal.
T.J. Millweard
Ranking:
No. 5
School:
UCLA
Status:
Transferred (Kansas)
Comment:
After landing at UCLA the year after
Brett Hundley
, Millweard left Westwood
after one redshirt season
to head to Kansas. He sat out last season due to NCAA transfer rules but
does not appear to be in line for playing time
with the Jayhawks. Sophomore
Montell Cozart
was named the starter following spring practice.
Cyler Miles
Ranking:
No. 10
School:
Washington
Status:
Suspended
Comment:
The heir apparent to Keith Price during the 2013 season, it appeared Miles had the potential to become the prize of this class. That still might be the case, but his career remains in a state of flux due to an indefinite suspension following his connection to a post-Super Bowl assault. Coach Chris Petersen
told 710 ESPN Seattle
a decision won't be made public on Miles' future until August.
Jake Rodrigues
Ranking:
No. 12
School:
Oregon
Status:
Transferring
Comment:
Rodrigues' decision on Monday seemingly came out of nowhere after a spring in which multiple reports cast him as a strong candidate to replace
Marcus Mariota
following next year. But after meeting with coach Mark Helfrich on Monday,
as reported by Comcast SportsNet Northwest
, he made the decision to move on. It's a safe bet Helfrich didn't say, "Jake, we see you as Marcus' primary backup and expect you to be the starter in 2015," in that meeting. Too early to say where he'll end up.
Jeff Lindquist
Ranking:
No. 17
School:
Washington
Status:
Potential starter
Comment:
With Miles' status uncertain, Lindquist moved to the top of the depth chart by default during spring practice. Lindquist and
Troy Williams
competed as the
only two quarterbacks through the spring
. He hasn't attempted a pass for the Huskies, but had two carries for 10 yards in 2013.
Javelle Allen
Ranking:
No. 26
School:
Arizona
Status:
Dismissed from team
Comment:
Allen served as
B.J. Denker
's primary backup in 2013, but he was dimissed from the team before the Wildcats played in the AdvoCare V100 Bowl for
violating team policies
. He appeared in five games but attempted just one pass. It's unclear where his career will go from here.
[+] Enlarge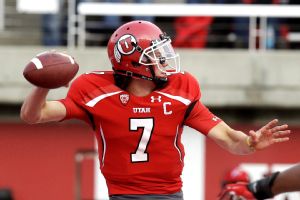 AP Photo/Rick BowmerTravis Wilson so far has been the best Pac-12 QB from the 2012 signing class.
Travis Wilson
Ranking:
No. 39
School:
Utah
Status:
Starter
Comment:
The unquestioned success story (so far) from this class, Wilson is the only starter among the group. He started seven games as a true freshman and the Utes' first nines games in 2013 before a scary head injury cost him the rest of the season. The injury was serious enough that his career was in jeopardy, but it was announced in February that
he would return
. Wilson has thrown for 3,138 yards and 23 touchdowns.
Chase Hansen
Ranking:
No. 43
School:
Utah
Status:
LDS mission
Comment:
Hansen spent the 2012 season with the Utes, but he put his college football career on hold to depart on his LDS Church mission. He is expected to return to the team for the 2015 season.
Josh Kern
Ranking:
No. 44
School:
Arizona
Status:
Converted to tight end
Comment:
After redshirting in 2012, he converted to tight end and played in nine games last season -- mostly on special teams -- without recording a catch.
Shane Dillon
Ranking:
No. 51
School:
Colorado
Status:
Transferred to play basketball (Cuyamaca JC)
Comment:
Dillon left the school in July 2013 to pursue college basketball. He initially announced on Twitter he would play basketball at San Diego in the WCC, but that fell through and he landed at Cuyamaca Junior College in San Diego.
In 27 games in the 2013-14 season
, he averaged 11.9 points and 6.1 rebounds per game.
Wayne Capers
Ranking:
No. 78
School:
Arizona
Status:
Transferred (Western Pennsylvania)
Comment:
Although listed as a quarterback during the recruiting process by ESPN, Capers played defensive back for the Wildcats. He appeared in 11 games as a true freshman, but injuries limited him in 2013 before he
left the program in November
.
Jeff Lockie
Ranking:
No. 105

School:
Oregon
Status:
No. 2 on depth chart
Comment:
With Rodrigues' transfer, Lockie is in position to serve as Mariota's backup in 2014 -- which should allow for plenty of playing time -- and give him a leg up on becoming the starter in 2015. He completed 8 of 13 passes for 57 yards last year without a touchdown and one interception. At Monte Vista High in Danville, Calif., Lockie was crosstown rivals with Kline (San Ramon Valley High).
Austin Apodaca
Ranking:
No. 111
School:
Washington State
Status:
Transferred (Mesa CC)
Comment:
The writing was on the wall for Apodaca even though he was the Cougars' No. 2 quarterback in 2013. He didn't project to ever become the starter in Pullman and decided to transfer in February.
Brent VanderVeen
Ranking:
No. 144
School:
Oregon State
Status:
Competing for backup job
Comment:
VanderVeen redshirted in 2012, and sat at No. 3 on the depth chart in 2013 without throwing a pass. He's currently competing for the backup job with
Kyle Kempt
and Alabama transfer
Luke Del Rio
.
Note:
Arizona State, Stanford and USC did not sign quarterbacks that year.
May, 12, 2014
5/12/14
3:30
PM ET
Oregon's backup quarterback race -- which was a talking point all spring for the Ducks -- seems to be a bit more defined now considering one player has taken himself out of the discussion.
Despite the fact quarterback
Jake Rodrigues
came out of Oregon's spring practices looking like the backup and heir apparent to
Marcus Mariota
, the redshirt sophomore
has decided to transfer
. That leaves
Jeff Lockie
, the other redshirt sophomore quarterback on the roster, as the backup by default.
[+] Enlarge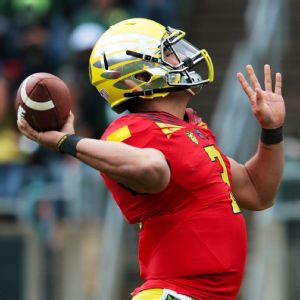 Scott Olmos/USA TODAY SportsJake Rodrigues decided to transfer after appearing to win the backup job to Marcus Mariota in the spring.
Coach Mark Helfrich was hesitant to name a definitive backup all through the spring season. Even after Rodrigues looked like the more complete signal-caller in the spring game, Helfrich still didn't specify what he'd do if the Ducks were to find themselves in need of a QB if Mariota weren't able to play.
Since Helfrich brought in two quarterbacks in the 2012 class, Lockie has been in a position where he has been fighting a classmate for the backup role behind Mariota. It'll be interesting to see how he fares now that he is the guy behind the guy. If he doesn't step up, Helfrich certainly has other options -- two redshirt freshmen,
Taylor Alie
and
Damion Hobbs
, as well as 2014 signee
Morgan Mahalak
.
With Mariota at the helm for another season, the Ducks should be fine, but the really interesting part of this seems to be the timing of Rodrigues' decision. Rodrigues told CSNNW that his decision was completely based on football.
However, had Rodrigues decided after last season that Oregon football wasn't working for him, he could've transferred during the winter. Though he would've still been ineligible to play in 2014, he could've been at a school for spring practice. This would've given him a chance to become acquainted with a new system, coaching staff and teammates. But since he didn't make the decision until after the spring -- a spring in which he appeared by most accounts to be the go-to backup -- he now puts himself a bit behind the 8-ball in terms of transfer options.
So it appears as though Oregon quarterbacks -- those still on the roster, and those looking for another roster -- will continue to be an interesting issue this summer.
April, 21, 2014
4/21/14
12:00
PM ET
EUGENE, Ore. -- The backup quarterback position is likely the best and worst position in football all at once.
They are the default answer that's found whenever the starting quarterback struggles or misses an open receiver or an "obvious" read. The fans will say that the backup would've made that pass or play if he were in the game. But at the same time, especially when he's behind a player such as
Marcus Mariota
, the chances that the backup will ever get into the game when it is in doubt are few and far between and likely will only happen upon an injury, which no one wants to see. In Oregon's case last season, that wasn't even enough to get the backups in.
"The backup quarterback is always the kind of hero who never has to prove himself," Oregon coach Mark Helfrich said.
[+] Enlarge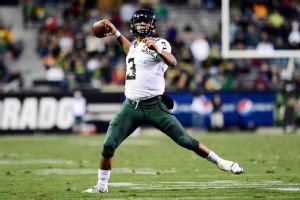 Ron Chenoy/USA TODAY SportsJake Rodrigues is trying to beat out fellow sophomore Jeff Lockie for Oregon's backup QB job.
For the
Oregon Ducks
, redshirt sophomores
Jeff Lockie
and
Jake Rodrigues
currently occupy that best/worst position. But what makes it even more difficult is that they are completely different players.
Nearly three quarters of the way through the spring season, there's still no clear separation between the two signal-callers.
"I think ideally that plays itself out; there's separation," Helfrich said. "But sometimes it doesn't happen. And you can't fake that. That's not something you want to try to create or have it happen in an artificial way ... That's not the end of the world, either."
This spring's no-clear-backup situation isn't new for Oregon -- last season was the same for Lockie and Rodrigues. Both saw the field in 2013, combining for 124 yards on 11 of 19 passing, two interceptions and one touchdown (thrown by Rodrigues).
But none of those statistics came in the pivotal game of 2013, when the Ducks lost to Stanford 26-20 with Mariota, and his sprained MCL, running the offense. Helfrich said on Friday that if that were to occur again, he'd be confident putting either Lockie or Rodrigues in the game. Helfrich said that people misunderstood that situation last season, as it wasn't a case of him not having confidence in either backup.
"Both of those guys want to be that [backup] guy, but there was never enough separation to have that happen last year," Helfrich said. "I think, again, in some ways it's a good thing because they were both kind of banged up at different times last year. ... At the same time, we didn't just throw someone down to the scout team and keep someone up and force the issue."
With Lockie and Rodrigues occupying the No. 2 spot behind Mariota, the No. 3 or No. 4 spots (or No. 4 and No. 5 spots) are filled by the other two QBs on the Ducks roster, redshirt freshmen
Taylor Alie
and
Damion Hobbs
. Four-star signal caller
Morgan Mahalak
signed with the Ducks in February but won't enroll until this fall.
Helfrich said that the current quarterbacks "have a ton of reps on him, but you recruit guys for a reason." So, there's no reason to rule Mahalak out of any kind of position race, though it seems far more likely for his battle to come against Alie and Hobbs on the scout team.
An abundance of options is one "problem" that coaches want to have. At some point, Helfrich might need to make the decision of which player will be the definitive No. 2 behind Mariota. In the perfect world, it'll be because the Ducks have a big lead and not a Mariota injury. But even then, Helfrich will have to make that decision and give one of his unproven heroes the chance to finally prove himself.
February, 24, 2014
2/24/14
7:00
PM ET
Spring has sprung in the Pac-12
, with Stanford starting spring practices this week and several schools following suit next week.
Ergo, we break down where teams stand with each position group, starting with quarterbacks.

Arizona
: The Wildcats probably have the most wide-open QB competition, with four guys having a legitimate chance to replace the departed
B.J. Denker
. Three are transfers from big-time programs: senior
Jesse Scroggins
(USC), sophomore
Connor Brewer
(Texas) and junior
Jerrard Randall
(LSU). The fourth, redshirt freshman
Anu Solomon
, was one of the biggest stars in the 2013 recruiting class. Don't expect much to be settled by the end of spring, though coach Rich Rodriguez might at least allude to some sort of pecking order. Or a top three.

Arizona State
: The Sun Devils are strong at QB with senior
Taylor Kelly
, a third-year starter who has put up big numbers the past two seasons, and junior
Mike Bercovici
, a big-armed backup -- perhaps, in fact, the best backup in the Pac-12. That's why
Michael Eubank
opted to transfer to Samford in Birmingham, Ala. It will be interesting to see which of the youngsters on the roster emerge as a No.3, a guy who might challenge Bercovici in 2015.

California
: It seems unlikely that sophomore
Jared Goff
will be unseated, particularly after
Zach Kline
opted to transfer. Goff was uneven last season -- his entire team was -- but flashed plenty of potential. He and a talented crew of receivers should get better this spring. The big question might be whether anyone challenges senior
Austin Hinder
for the backup job.

Colorado
: Sophomore
Sefo Liufau
is solid as the returning starter. He took some lumps last season but also flashed plenty of promise -- as both a player and leader. After him, there's junior college transfer
Jordan Gehrke
, a redshirt sophomore, the likely backup. Depth is a problem, at least this spring. As the
Boulder Daily Camera noted
, "Five quarterbacks have left the CU program either to transfer to other schools or give up the sport entirely since the start of spring football last year. A sixth completed his eligibility last season." That's why the Buffs added walk-on Trent Sessions to the roster. He worked with the equipment staff last year.

Oregon
: The Ducks probably feel pretty good about their third-year starter, junior
Marcus Mariota
, a leading 2014 Heisman Trophy candidate who would have been a first-round pick if he'd entered the 2014 NFL draft. The competition for the backup spot, however, will be interesting because Mariota is almost certain to enter the NFL draft after the season. Sophomores
Jeff Lockie
and
Jake Rodrigues
are 2A and 2B, with Lockie first off the bench as the backup in 2013, but Rodrigues the more physically talented player as a runner and passer.

Oregon State
: Like their friends to the south, Oregon State is fortunate its 2013 starter,
Sean Mannion
, decided to return instead of entering the NFL draft. Mannion's chief focus will be finding some receivers to replace the production of the departed
Brandin Cooks
. The battle for the backup job also will be interesting between sophomore
Brent VanderVeen
and redshirt freshman
Kyle Kempt
. Of course, their battle might not resolve things much for 2015, with incoming Alabama transfer
Luke Del Rio
joining the fray after sitting out a season.

Stanford
: It seems unlikely that two-year starter
Kevin Hogan
will be challenged for the starting job this spring, even though he had some ups and downs in 2013, but there is no lack of talent battling for the backup job. Junior
Evan Crower
was the backup in 2013, but redshirt freshman
Ryan Burns
is a big-time talent. As is incoming freshman
Keller Chryst
, who officially will arrive in the fall but, as a Palo Alto resident, figures to hang around spring practices.

UCLA
: Heading into his third season running the offense,
Brett Hundley
gives the Bruins one of the best starting quarterbacks in the nation. He's a proven dual threat and leader who will be refining his game this spring and building chemistry with his receivers. After him, however, things are a bit iffy, in large part because of the 2013 preseason transfer of
T.J. Millweard
to Kansas. The chief competitors for the backup job are
Jerry Neuheisel
, the 2013 backup, and redshirt freshman
Asiantii Woulard
, with Woulard being the guy with the most future upside. Of course,
there is another QB out there
some UCLA fans might be thinking about.

USC
: The returning starter facing the most formidable challenge to his starting job this spring is probably
Cody Kessler
, even though Kessler played well in the second half of the 2013 season. With the transfer of
Max Wittek
, touted redshirt freshman
Max Browne
, at the very least, sets up to be a high-quality backup next season. But plenty of folks think Browne has a legitimate shot to unseat Kessler, particularly with new coach Steve Sarkisian taking over.

Utah
: There's still no final word on the long-term health issue that might end QB
Travis Wilson
's career, and anything decisive might not come for weeks. If Wilson gets cleared, the good bet is on him returning to the starting job. If not, a spring competition will begin between
Adam Schulz
, who stepped in when Wilson went down, and redshirt freshmen
Conner Manning
and
Brandon Cox
. In the fall, dual-threat QB
Donovan Isom
arrives.

Washington
:
Keith Price
, a three-year starter, is gone, but the Huskies seemed fairly set at QB with sophomore backup
Cyler Miles
appearing plenty capable of stepping into the cockpit this spring. In limited action last season, Miles completed 61 percent of his throws for 418 yards with four TDs and two picks, and he also showed good mobility, rushing for 200 yards. The pecking order at least seemed set, that is, until Miles got into some
off-field trouble that threatens his status for spring practice
and perhaps beyond. If Miles is still suspended, that means opportunity comes knocking for sophomore
Jeff Lindquist
or redshirt freshman
Troy Williams
to make an impression.

Washington State
:
Connor Halliday
will be a senior, three-year starter and the Cougars' top leader in the third season running Mike Leach's "Air Raid" offense. He figures to put up huge numbers this fall with a strong crew of receivers. His 2013 backup, sophomore
Austin Apodaca
, opted to transfer, perhaps believing that redshirt freshman
Tyler Bruggman
had the inside track to the starting job in 2015. Depth is a bit of a question, with the No. 3 this fall likely being true freshman
Peyton Bender
.
July, 14, 2011
7/14/11
4:31
PM ET
By
ESPN.com staff
| ESPN.com
Quarterback
Jeff Lockie
of Monte Vista High School (Danville, Calif.) has committed to Oregon.
Lockie (6-foot-2, 185 pounds) was also offered by San Diego State. He passed for 2,449 yards and 26 touchdowns as a junior, and rushed for another six scores.
"I've always liked Oregon and I camped with them last month and had a really good time. I like the offense a lot and feel it's a good fit for me. I'm a dual-threat guy but feel that I'm a guy that can throw the ball and make plays with my arm as well as my legs when needed," he told ESPN's Greg Biggins.
Lockie is the Ducks' second commitment from a quarterback. ESPNU 150 member
Jake Rodrigues
of Whitney High School (Rocklin, Calif.) also has pledged the Ducks.
Oregon has
eight commitments
.