July, 11, 2011
7/11/11
4:13
PM ET
By
ESPN.com staff
| ESPN.com
Pac-12 media day is July 26 in Los Angeles, and in advance of that event the conference has published its media guide.
You can
check it out here
.
One thing the media guide does is make "official" the returning starters for each team, though obviously injuries are still at issue.
[+] Enlarge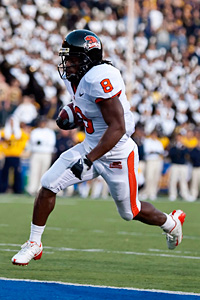 Jason O. Watson/US PresswireReceiver James Rodgers isn't listed as a returning starter for Oregon State, but he was one of the Beavers' best players in 2009.
Here's the list:
Arizona State 19 (10 offense, 9 defense, 0 PK/P)
Colorado 18 (9 offense, 8 defense, 1 PK/P)
Washington 17 (7 offense, 8 defense 2 PK/P)
Washington State 17 (9 offense, 8 defense, 0 PK/P)
UCLA 16 (7 offense, 8 defense, 1 PK/P)
California 15 (7 offense, 6 defense 2 PK/P)
Oregon 15 (7 offense, 6 defense, 2 PK/P)
Arizona 13 (5 offense, 7 defense, 1 PK/P)
Utah 13 (7 offense, 5 defense, 1 PK/P)
USC 13 (6 offense, 7 defense 0 PK/P)
Stanford 12 (5 offense, 6 defense, 1 PK/P)
Oregon State 12 (7 offense, 4 defense, 1 PK/P)
Of course these numbers sometimes are a bit fudged. Arizona State, for example, doesn't include
Kerry Taylor
as a departed starter. He led the Sun Devils in receptions and receiving yards last season. And offseason injuries are not accounted for: Safety Adam Hall and linebacker Jake Fischer are included as returning starters for Arizona, but it's unclear how much they will play this fall after suffering knee injuries this spring.
For Cal, defensive end Ernest Owusu is considered a returning starter because he started nine games, while Trevor Guyton is not after starting just four (five is the threshold for a "returning starter"). But Guyton had 29 tackles with 8.5 coming for a loss and Owusu had 14 with 2.5 coming for a loss. For Colorado, center Mike Iltis is included, but he retired this offseason. Oregon -- fairly -- gives Darrion Weems credit for being a starter, even though that means the Ducks officially had six starting offensive linemen in 2010. Receiver
James Rodgers
is not listed as a returning starter for Oregon State, nor is UCLA center Kai Maiava or Stanford receiver
Chris Owusu
. All three were starters in 2009. Receiver is always a difficult position to rate a starter and nonstarter. Utah lists two returning starters at the position (
Luke Matthews
and
DeVonte Christopher
) as well as two departed starters (
Jereme Brooks
and
Shaky Smithson
).
As it is, the conference welcomes back 180 starters of a possible 288, and the per-team average of 15.0 is slightly above the 14.9 average over the past decade. The offensive numbers are better: An average of 7.2 offensive starters are back compared to 6.8 on defense. Most notable: Nine of 12 starting quarterbacks are back.
Eight punters are back, but just four kickers.
Of the 180 returning starters, 10 were first-team All-Pac-10 in 2010 and 12 were second team, including a pair of Heisman Trophy finalists: Stanford quarterback
Andrew Luck
and Oregon running back
LaMichael James
.
April, 27, 2011
4/27/11
10:30
AM ET
It's good to receive, but it's really cool when your team welcomes back a 1,000-yard receiver.
After previously looking at top returning
passers
,
rushers
and
tacklers
, we move on to receivers.
Three teams welcome back receivers who eclipsed the 1,000-yard mark.
1.
Juron Criner, Arizona (1,233 yards):
Even with an outstanding supporting cast -- including Texas transfer
Dan Buckner
-- Criner will be the go-to guy and almost assuredly a 1,000-yard receiver again in 2011.
[+] Enlarge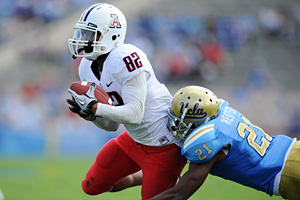 Kelvin Kuo/US PresswireJuron Criner already topped 1,000 yards last season and will likely do so again as the top receiver in Arizona.
2.
Marquess Wilson, Washington State (1,006
): Wilson's situation is not unlike Criner's with a good quarterback plus good supporting crew of receivers likely meaning a big season.
3.
Jermaine Kearse, Washington (1,005):
Much like Criner and Wilson, Kearse has a good supporting cast. Unlike Criner and Wilson, Kearse won't have a proven quarterback throwing his way. Plus, with running back
Chris Polk
returning, the Huskies likely will be run-first.
Five other teams welcome back their leading receiver. A couple of these could reach the 1,000-yard benchmark under the right circumstances.
Robert Woods, USC (786 yards):
If Woods stays healthy, the chances of him not eclipsing 1,000 yards receiving are close to zero.
Marvin Jones, California (765):
Jones will have to share the ball with rising star
Keenan Allen
. And who the heck is going to throw to him? (And if Zach Maynard wins the quarterback job, he's Allen's half-brother).
Markus Wheaton, Oregon State (675):
If
James Rodgers
returns, Wheaton is the Beavers No. 2 receiver. If Rodgers doesn't return -- at least not early in the season -- Wheaton could become a breakout player in the conference.
DeVonte Christopher, Utah (660):
Jereme Brooks
caught more passes but Christopher was the big-play guy, with six touchdowns and a 16.9 yards average per reception. If
Jordan Wynn
comes back healthy, Christopher will be his top target. Of course, new offensive coordinator Norm Chow is a run-first guy.
Taylor Embree, UCLA (409):
It's unlikely the Bruins passing game will improve so much it produces a 1,000-yard receiver. And if it did, that likely would be
Nelson Rosario
.
And here are four candidates from the remaining conference teams.
Gerell Robinson, Arizona State (387 yards):
The Sun Devils spread the ball around. Eight players caught at least 21 passes last year; six of them were between 21 and 29 receptions. Robinson or
Mike Willie
are the top candidates to reach 1,000 yards.
Paul Richardson, Colorado (514):
Richardson is poised for a breakout season as a true sophomore. While quarterback
Tyler Hansen
has never put up big numbers, he's a senior running a pro-style offense as opposed to the spread of previous years.
Josh Huff, Oregon (303):
The Ducks lost their top two receivers, including 1,000-yard receiver
Jeff Maehl
.
Lavasier Tuinei
was the third-leading receiver in terms of receptions in 2010, but he's more of a tall, possession-type guy (see a scant 11 yards per reception). Hard to say who will lead the Ducks receivers in 2011. Tight end
David Paulson
is even a possibility.
Chris Owusu, Stanford
: If Owusu stays healthy, he's one of the conference's best threats downfield and therefore a candidate to reach the 1,000-yard mark. His quarterback is pretty good, too. The question is will Stanford still be as potent running the football. If so, the Cardinal will prioritize balance, which means run to set up the pass.