September, 20, 2010
9/20/10
2:15
PM ET
The aftermath of "Measuring Stick Saturday."
Team of the week
: Arizona looked like it might blow out Iowa when it led 27-7 in the third quarter, but it actually might be more meaningful that the Wildcats held on to win 34-27 after major adversity struck. The Wildcats showed heart. And poise. Moreover, by giving up their own pick-six and a horrible special-teams miscue, the Wildcats' victory can't be written off with the, "Well, Iowa played a sloppy game" excuse.
Best game
: Arizona State-'s 20-19 loss at Wisconsin was a back-and-forth affair that was far more entertaining than most thought it would be going in. And, even though it was a dispiriting defeat, the Sun Devils seemed to announce that they will be a factor instead of an afterthought in the Pac-10 this season.
[+] Enlarge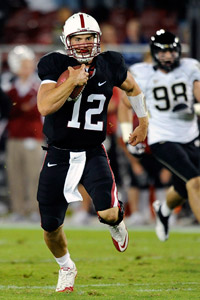 Bob Stanton/Icon SMIIn addition to throwing four touchdown passes, Andrew Luck also rushed for a score in Saturday's win.
Biggest play
: Just after Iowa tied Arizona 27-27, and all the momentum going the Hawkeyes' way, quarterback
Nick Foles
hit
David Roberts
for 38 yards on first down to the Iowa 34. Eight plays later, the Wildcats scored the winning points. After the game, offensive tackle Adam Grant said he knew Arizona would win after that completion.
Offensive standout(s)
: Foles and Stanford's
Andrew Luck
share the honor. Foles completed 28 of 39 passes for 303 yards with two TDs and an interception. For the season, the nation's 14th-rated QB has completed 79 percent of his passes. Luck completed 17-of-23 for 207 yards with four TDs. He also rushed three times for 69 yards, with a 52-yard TD run. For the season, the nation's third-rated passer has 10 TD passes and no interceptions.
Defensive standout(s)
: Lots of possibilities from Arizona, but in the interest of diversity: Arizona State LB Vontaze Burfict and UCLA linebacker Patrick Larimore. Burfict looked like the best defensive player on the field at Wisconsin, rolling up 10 tackles, two for a loss, with two pass breakups. Larimore had 11 tackles, three for a loss, a forced fumble and two pass breakups against Houston.
Special teams star (s)
: This is a hard one because the conference produced a bunch of big plays on special teams. Arizona's
Travis Cobb
went 100 yards for a TD on a kickoff return against Iowa. Arizona State's Omar Bolden went 97 yards for a TD on a kickoff return versus Wisconsin. USC's
Robert Woods
went 97 yards for a TD on a kickoff return at Minnesota. We may have left someone out.
Smiley face
: After two bad losses that had UCLA fans turning away in disgust, the Bruins got off the canvas and whipped No. 23 Houston 31-13. It was a good effort on both sides of the ball, and it indicated that the Bruins can't be counted out in the conference.
Frowny face
:
Jake Locker
and Washington wilted on a big stage against Nebraska. They were overmatched on both sides of the ball, and the Nebraska coaches clearly had a better plan and had their team better prepared.
Thought of the week
: Notre Dame, at 1-2, isn't an elite team, but both of the Fighting Irish's losses came against now-ranked Big Ten teams in tight games. If Stanford goes into Notre Dame and delivers a whipping, the Cardinal will be taken seriously by the rest of the nation.
Thought of the week II
: The eyes of the college football nation will be on Boise State-Oregon State on Saturday, and many AQ conference fans without a horse in the race will be rooting for the Beavers to knock the Broncos out of BCS bowl -- and national championship game -- contention. Conversely, all of the non-AQ fans (other than TCU and Utah), will be rooting on the Broncos. Oh, and all the BCS haters will be rooting against the Beavers, too, because they favor chaos in the system.
Quote of the week
: "You know what's funny? Nobody gave us a chance. They said the defense couldn't make plays. They were giving us all kinds of letter grades that were bad, and we took it personal."
-- UCLA safety Rahim Moore
Quote of the week II
: "I know they lost their running back, Toby Gerhart, but that's a more veteran team than we saw last year. That's a veteran offensive line and they are impressive."
-- Wake Forest coach Jim Grobe after losing at Stanford 68-24
Quote of the week III
: "I didn't really hook up with anybody." --
Locker after he completed 4 of 20 passes with two interceptions against Nebraska
Big games this weekend
: While Stanford is at Notre Dame and Oregon State is at No. 3 Boise State, the rest of the Pac-10 gets started with the conference schedule (though Washington has a bye). The two red-letter games: California at Arizona and Oregon at Arizona State. Will the Bears bounce back against a Wildcats team still drunk on its win over Iowa? And can a clearly improved Sun Devils squad keep up with the high-powered Ducks.
September, 9, 2009
9/09/09
4:25
PM ET
By
ESPN.com staff
| ESPN.com

Posted by ESPN.com's Ted Miller
There was a lot to like about Stanford's win at Washington State to open the season.
But, really, the Cardinal are exactly where they were last year, only they opened with a victory over Oregon State in 2008.
And then promptly lost their next two on the road.
So if the program is going to make the next step, it needs to make a statement -- no offense to the Cougars -- against a quality team on the road.
Stanford went 1-6 on the road last year, the lone victory coming at winless Washington. Seeing that their final record of 5-7 left them one game short of bowl eligibility, an ability to win on the road could mean a lot for this season's prospects -- particularly when they also have the benefit of seven home games.
Enter Wake Forest, which is playing host the Cardinal on Saturday.
The Demon Deacons have become an unlikely ACC power under Jim Grobe, but they look vulnerable after losing their opener to Baylor.
It's a big road weekend in the Pac-10, with USC at Ohio State and UCLA at Tennessee, so the Pac-10 could make a strong statement on where it stands in the BCS conference pecking order. But teams have to learn to win on the road, which didn't happen much last year.
Stanford coach Jim Harbaugh didn't seem terribly excited with his game's noon kickoff, which translates to 9 a.m. PDT.
"Seems like that's the new trend in college football: If you're playing a team from the opposite coast, let's see if we can screw them on the time of kickoff," he said. "If it's a West Coast team playing on the East Coast, you play as early as possible and if it's an East Coast team playing on the West Coast, you play as late as possible."
There could be some points scored in this one. Wake Forest is rebuilding its defense after losing its top-five tacklers, including a pair of high NFL draft choices -- linebacker Aaron Curry and cornerback Alphonso Smith -- but the offense welcomes back nine starters, including senior quarterback
Riley Skinner
.
And Grobe's offense can stress a defense with its misdirection and fast-paced tempo. "[They are] really creative with what they do offensively -- and they do it quickly," Harbaugh said.
As for his offense, Harbaugh appears to have found the explosive player at receiver --
Chris Owusu
-- who can make it dangerous for a defense to key too much on running back
Toby Gerhart
. Owusu had a 63-yard TD reception and 85-yard kickoff return against the Cougars.
"Chris is very explosive," Harbaugh said. "We've seen it coming. He's playing tougher, more physical. We saw that in the spring. He caught a lot of balls -- almost 10,000 balls this summer on his own -- and he's really improved his catching ability."
Harbaugh also was happy with redshirt freshman quarterback
Andrew Luck
's debut. Luck completed 11 of 23 for 193 yards with a touchdown and no interceptions.
"Andrew played very well," Harbaugh said. "He did a great job running the offense. He did a great job with the audible package. Really good in the huddle, enunciating plays. He's got a megaphone at the line of scrimmage. Throwing the ball, the receivers didn't have to go searching for the ball. For the most part, he was very accurate."
If there is a concern for the Cardinal, the defense gave up 351 yards to the Cougars, who ran the ball well at times.
Grobe's offense will be a significant step up in competition.
If the Cardinal manages to win, it should be favored to prevail in each of its next three games, which are all at home: San Jose State, Washington and UCLA.
That means they could be on the cusp of bowl eligibility by the second weekend of October, which would be quite an accomplishment for a team that hasn't played in one since 2001.
May, 22, 2009
5/22/09
7:37
PM ET
By
ESPN.com staff
| ESPN.com
Posted by ESPN.com's Ted Miller
UCLA coach Rick Neuheisel will participate in the 2009 Armed Forces Entertainment college football "Coaches Tour" beginning late next week, an effort to help rally U.S. servicemen and women in the Middle East and Europe and show appreciation for their efforts.
"I am honored to be participating in this tour," Neuheisel said in a statement. "Our men and women overseas put their lives on the line every day, and I'm thrilled to be able to personally thank them for all they do. They are a long way from home, and if we can bring a little bit of home to them, then we have accomplished the goal of the tour."
Other coaches on the tour include former Auburn coach Tommy Tuberville, Mack Brown (Texas), Troy Calhoun (Air Force), Jim Tressel (Ohio State), Jim Grobe (Wake Forest), and Houston Nutt (Mississippi).
The tour will depart from McConnell Air Force Base, near Wichita, Kan., on May 27. The coaches will visit troops stationed at U.S. military installations in Germany, Turkey, Spain, Iraq and Djbouti (Africa) and will return to the U.S. on June 4.
On the tour, the coaches will personally interact with the troops, hold formal college football symposiums where troops will have an open microphone to ask questions, and at some locations, will host flag football games for the military members and serve as honorary coaches.