April, 18, 2013
4/18/13
9:00
AM ET
Colorado defensive end
Chidera Uzo-Diribe
doesn't want to be like Felix Hernandez or Brandon Jennings. Or Barry Sanders or Dick Butkus. He doesn't want to be a good player on a bad team. He doesn't want folks to feel sorry for him. He'd just like to win a few games before his career in Boulder is over.
Uzo-Diribe, cousin of former New York Giants star and new Atlanta Falcon Osi Umenyiora, probably has an NFL future, but you may know little about him because he played on the nation's worst defense in 2012. That defense was attached to probably the worst AQ conference program.
He labored in anonymity, recording seven of his team's 19 sacks and 10 tackles for a loss, for a defense that yielded 5.9 yards per rush, the worst run defense in program history. He will be a three-year starter for a team that won nine games during that span, including just one last year.
[+] Enlarge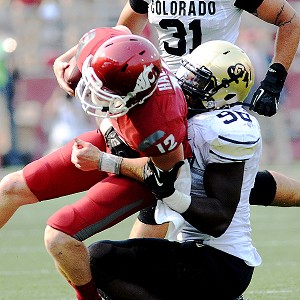 James Snook/USA TODAY SportsColorado's Chidera Uzo-Diribe has used his athleticism effectively to make up for a lack of overall football experience.
A good player getting lost in that miserable shuffle, which included the firing of coach Jon Embree after just two seasons? Yep. But a competitor can't think that way.
"I definitely felt that, but I've never had it affect my game," the 6-foot-3, 254 pounder said. "I always came out and did my best regardless of what the outcome was. My film is my résumé and I want to put my best things on film."
Of course, there's new hope in town for Uzo-Diribe's final season. Coach Mike MacIntyre came to town bubbling with enthusiasm with a message that he can transform a flagging program that not too long ago was in the national championship mix, at least if you don't consider "Home Alone," "Dances with Wolves" and Madonna ancient cultural artifacts.
"These guys bring a whole lot more energy than the last staff," Uzo-Diribe said. "That's been the big difference this spring."
The Buffaloes are now eyeballing the offseason after the spring game on Saturday and a final practice Tuesday. Without question, they have a long way to go, but after 15 practices there were whiffs of hope that the program could trend up this fall.
Uzo-Diribe is a rare bird on one of the nation's youngest teams: He's a respected and productive veteran. While looking back over the rotten entrails of the previous three seasons isn't very pleasant, it also might help because whatever the Buffaloes did during that slog, they should be advised that the opposite course is likely better.
"I can't pinpoint one thing that did it," Uzo-Diribe said. "I feel like the biggest thing with a new coaching staff is getting everyone to buy in. I think we didn't have a buy-in with the last staff. That's a big thing we have to do with Coach MacIntyre. We have to buy in with what they need us to do."
Talking about enthusiasm and "buying in" are canned responses that every team tends to give when there's a new coach. The Buffs did it when Embree was hired. But there is one specific attribute MacIntyre's staff can point to that distinguishes it from Embree and his staff, or even Embree's predecessor, Dan Hawkins.
MacIntyre knows how to lead a program out of the muck.
"Seeing what they did at San Jose State, we feel like they can do the same thing here," Uzo-Diribe said. "That right there helps me get ready to play next season."
Uzo-Diribe, a son of Nigerian immigrants, is new to football. He didn't start playing until his junior year of high school. He's still learning the nuances of the game, and that still shows up on film, most often against the run. But he's an outstanding athlete with great quickness and ability to change direction for a 250-pounder. That alone will get him drafted in 2014.
It should help him this fall that his position coach, Jim Jeffcoat, knows more about getting to the quarterback than probably any college coach. The 15-year NFL veteran recorded 102.5 sacks in his career, which ranks 26th in NFL history.
Uzo-Diribe knows NFL teams will judge him, not his teammates. But a great defensive player makes guys around him better. If the Buffaloes defense improves dramatically next fall, that would put a check mark in another box for him. And if the defense improves dramatically, the Buffs have a shot to win a few more games and surprise some folks.
That no one expects that to happen is something that Uzo-Diribe and his teammates are well aware of.
"We have to use that as fuel," he said. "We know where we were last year and we definitely want to improve. We need that to help fuel us, to motivate us, to better ourselves each and every practice."
January, 3, 2013
1/03/13
1:30
PM ET
New Colorado coach Mike MacIntyre is bringing most of his staff with him from San Jose State. MacIntyre has hired six former assistants from the Spartans,
according to a report from the Daily Camera
, including both coordinator positions.

Writes Kyle Ringo:
MacIntyre has hired Brian Lindgren as offensive coordinator and Kent Baer as defensive coordinator. Klayton Adams, Gary Bernardi, Charles Clark and Jim Jeffcoat also have been hired. What positions those four will be assigned to coach and what titles and responsibilities each will hold were still being refined.
This is a solid first step by MacIntyre. Because while he gets a lot of the credit for turning San Jose State around, he clearly didn't do it all on his own. He did it with his guys.
And as coaches move up the ladder, sometimes loyalty gets lost along the way. With a bigger spending pool for assistants, sometimes there is the desire to go out and get "bigger-name" coordinators. But MacIntyre clearly believes in his staff and the job they did turning the Spartans into an 11-win team.
After it became clear San Jose State wouldn't hire its new head coach from within -- going instead with San Diego's Ron Caragher -- it would make sense that MacIntyre's guys would go with him. Baer, who coached the Spartans to a 29-20 win over Bowling Green in the Military Bowl,
reportedly wanted the job
but was passed over for Caragher. Baer is no stranger to the Pac-12, having served various roles throughout his career at Cal, Stanford, Washington and Arizona State.
Nice to see MacIntyre repaying the loyalty to the coaches who helped him get to where he is.
PAC-12 SCOREBOARD
Saturday, 12/20
Monday, 12/22
Tuesday, 12/23
Wednesday, 12/24
Friday, 12/26
Saturday, 12/27
Monday, 12/29
Tuesday, 12/30
Wednesday, 12/31
Thursday, 1/1
Friday, 1/2
Saturday, 1/3
Sunday, 1/4
Saturday, 1/10
Monday, 1/12
Tweets from https://twitter.com/ESPNCFB/lists/pac12