December, 10, 2013
12/10/13
9:00
AM ET
Today we begin a look at each of the Pac-12's opponents during the bowl season. We start with the Gildan New Mexico Bowl and will do one a day through next Friday.
Gildan New Mexico Bowl
Albuquerque, N.M., Dec. 21, 11 a.m. PT, ESPN
Washington State (6-6) vs. Colorado State (7-6)

Colorado State Rams
Coach
: Jim McElwain (second year)
Record
: 7-6, 5-3 Mountain West
Combined opponents' record
: 62-95 (.394)
Common opponents
: None, though Colorado State did lose to Colorado in the season opener.
Leading passer:
Garrett Grayson
, 266-428 (62.2) for 3,327 yards with 21 touchdowns and 10 interceptions.
Leading rusher
:
Kapri Bibbs
, 254-1,572 (6.2 yards per carry), 28 touchdowns.
Leading receiver
:
Rashard Higgins
, 64-795, six touchdowns.
Leading tackler
:
Max Morgan
, 129. Though it's worth noting
Shaquil Barrett
has 20.5 tackles for a loss and 12 sacks.
What to know:
Colorado State is bowl eligible for the first time since 2008. The Rams were worried they might be the odd men out of the Mountain West, which had seven bowl-eligible teams and six contracted agreements. In a six degrees of Kevin Bacon turn of events, it was the
San Jose State Spartans
who were left out. That's Mike MacIntyre's former team, and he picked up his first win as Colorado's coach by beating the Rams in the season opener. So it all comes full circle.
Once regulars in the postseason under Sonny Lubick -- when they went to nine bowl games in a 12-season stretch -- the Rams hit a postseason dry spell.
Their resume isn't particularly sparkling, but it's hard to ignore Bibbs' numbers. They only played one ranked team this season and it was No. 1 Alabama. And they lost 31-6. Their marquee win is probably a 38-17 win at home over Nevada. And they should be plenty familiar with Albuquerque, having won there on Nov. 16 when they topped New Mexico 66-42.
Key matchup
: Stopping Bibbs has to be the top priority. The last time he was in New Mexico he rushed for 291 yards and six touchdowns. He leads the nation in rushing touchdowns and is top 10 in rushing yards and top 15 in carries. That puts the pressure on the Washington State front seven, which has yielded 22 rushing touchdowns and allows 184 rushing yards per game. But playing in the Pac-12, the Cougars are no strangers to elite backs. They gave up 132 yards and a touchdown to Arizona's
Ka'Deem Carey
and 200 yards and a score to Washington's
Bishop Sankey
. Both are Doak Walker finalists.
July, 11, 2013
7/11/13
7:00
PM ET
Yesterday we polled
the most intriguing nonconference game
in the Pac-12 North. As promised, today we poll the South Division. Here's the full
nonconference primer series
so you can review the games.
Not surprised to see Stanford versus Notre Dame and Washington versus Boise State as the two games people view as most intriguing. Though I thought it would have been a little closer. I voted Washington -- and I think I've pretty sufficiently hammered home my thoughts on how important that game is over the last few weeks.

On to the South, with another round of excellent matchups. Arizona State has two of them, but in the interest of getting more teams into the poll I had to make a Solomon-like choice between the Wisconsin and Notre Dame games. Some of you might agree, some won't.
So, on to the poll. What's the most intriguing nonconference game in the South Division? Your options (determined by chronological order):
Sept. 1, Colorado versus Colorado State (in Denver)
: One of Colorado's oldest rivals, Colorado State could provide a tone-setter for Mike MacIntyre's first season as the Buffs' coach. Last year's game was a close one, and a lot of people are eager to see what the Buffs will look like once shaped in Mac's image. Colorado gave Jim McElwain his first win as CSU's coach. We'll see if the Rams can return the favor.
Sept. 14, ASU versus Wisconsin
: As noted, I was on the fence between this one and Notre Dame. But I picked this one because it's the first game of that four-game stretch that also includes Stanford, USC and then Notre Dame. If the Sun Devils don't win this one, it could be bad vibes going into those next three games. Win it, and they've got the Big Mo moving forward.
Sept. 14, UCLA at Nebraska
: The return trip from last year's game at the Rose Bowl should be a great one. Two athletic quarterbacks -- two teams that will likely start in the top 25 and a fantastic showcase game for the Pac-12 and Big Ten.
Sept. 21, Utah at BYU
: I think the season opener against Utah State is also critical for the Utes. But this one is the Holiest of Holies. And while discussions are in the works to keep the series going, there is still going to be a two-year gap where bragging rights will mean everything.
Oct. 19, USC at Notre Dame
: A classic rivalry that always garners plenty of national attention, this year's contest has plenty of intrigue. What will USC's quarterback situation look like in mid-October? Will the Irish still have their regular-season win streak? Last year's game in LA was a microcosm of everything that went wrong for the Trojans in 2012 and they'll be eager to make amends on the road.
June, 21, 2013
6/21/13
4:00
PM ET
We continue our series taking a closer look at each Pac-12 team's nonconference schedule.
Colorado
Colorado State, Sept. 1 (in Denver)
Coach: Jim McElwain (4-8), second year
2012 record: 4-8, 3-5 Mountain West
Returning starters: nine offense, six defense
Offensive headliner(s): The Rams have a deep running back corps with Chris Nwoke (who led the team in rushing in 2011) and Donnell Alexander (who led the team in 2012) both coming back.
Defensive headliner: Cornerback Shaq Bell is the leader of a young secondary. He was all-league honorable mention last year after posting 66 tackles, a sack, a pick and he recovered three fumbles.
The skinny: The Rams went through a quarterback carousel last year (which should sound familiar to Colorado fans) but appear to be settling on Garrett Grayson, last year's original starter. Last season, McElwain became the first Rams coach to win his debut in 42 years. And it came against the Buffs after they failed to hold a 17-16 fourth-quarter lead in the season opener.
Central Arkansas, Sept. 7
Coach: Clint Conque (98-54), 14th year
2012 record: 9-3, 6-1 Southland
Returning starters: eight offense, nine defense
Offensive headliner: Quarterback Wynrick Smothers put up fantastic numbers last year, earning the league's Offensive Player of the Year honors while completing 64.9 percent of his throws for 3,103 yards with 31 touchdowns to nine interceptions. He also rushed for 449 yards and three touchdowns.
Defensive headliner: Sophomore defensive end Jonathan Woodard earned the league's Freshman of the Year honors last season after posting 11 tackles for a loss and seven sacks in 2012.
The skinny: Conque is the winningest coach in school history. They hung with Ole Miss last year and took Louisiana Tech to overtime the year before that, so they won't be intimidated at the mere thought of playing an FBS team. And the Buffs, though I don't think anyone needs reminding, fell at home to FCS opponent Sacramento State last year.
Fresno State, Sept. 14
Coach: Tim DeRuyter (9-4), second year
2012 record: 9-4, 7-1 Mountain West
Returning starters: seven offense, eight defense
Offensive headliner: Senior quarterback Derek Carr was the 2012 MWC Offensive Player of the Year, setting a new league record with 4,104 passing yards. His 37 touchdowns last year were second all-time in league history and he has the second-highest career touchdown-to-interception ratio (63-16) of all returning FBS quarterbacks with at least 300 completions.
Defensive headliner: Nose guard Tyeler Davison -- a first-team all-league selection last year -- posted 43 stops last year, tops among the Bulldogs D-linemen. He also had seven tackles for a loss with three sacks and he was the only Fresno State defensive lineman to start every game last year.
The skinny: After taking a slice of the MWC title last year, the Bulldogs should be tough again -- though they are moving on without running back Robbie Rouse -- the school's all-time leading rusher. Interestingly enough, Rouse set the school record on a 94-yard touchdown run (his fourth touchdown of the first quarter) in a 69-14 win over Colorado last year.
Thoughts
: Colorado lost two close games to open 2012 -- the first to Colorado State and the next week to Sacramento State -- and that essentially opened the flood gates for a horrific season (save the Washington State shocker). The Rams are one of CU's oldest rivals and just as the Buffs gave McElwain his first career win, Mike MacIntyre getting his first career win against CSU would add nice symmetry to the rivalry. As noted, Central Arkansas is no pushover. But both of those games should fall under the winnable category. They get Fresno State at home and should -- at least -- have a better showing than they did last year. I don't think asking for a 2-1 start is out of the question. But another 0-3 opening would kill any momentum Colorado has heading into the year with its new coaching staff.
You can see the rest of the series
here
.
September, 4, 2012
9/04/12
1:00
PM ET
It was not an impressive first weekend for the Pac-12.
Sure, USC and Oregon fans are sitting pretty, satiated on the wide range of talents their teams put on display Saturday. And eight of the 11 teams that played the opening weekend won. A win is a win.
Though, of course, we know that not completely to be true.
Arizona State fans feel much better about their victory over an overmatched foe than Stanford fans do with theirs. Washington fans are probably less confident of the Huskies' upset hopes at LSU on Saturday after watching their team get statistically matched by San Diego State.
But Stanford and Washington fans certainly feel better than those of Washington State, California and Colorado. Those are the three that tanked. They entered the first weekend of the season with high hopes but then they face-planted.

Washington State, it must be remembered, was nearly a two touchdown underdog at BYU. And the Cougars of Provo looked like a Top-25 team. Still, WSU fans were hopeful that the positive momentum of the Mike Leach hiring would propel them to an upset. Or, at least, a respectable performance. Didn't happen. And the Cougars of Provo covered big in a 30-6 victory.
The numbers were bad: No touchdowns, for one. BYU outgained WSU 426 yards to 224 yards. The Cougs rushed for minus-5 yards; 224 yards used to be an average half for Leach's passing offense at Texas Tech.
And, perhaps most concerning,
was the feeling-sorry-for-ourselves looks
the WSU players had on the sideline, as noted by Leach.
Still, it's possible that Cal and Colorado fans feel worse. They both lost as favorites. Cal was opening up its fancy remodeled stadium. Colorado was trying to keep in check a sorta-rival that has generated offseason buzz by hiring Jim McElwain away from Alabama.
Upsets happen. And there are many kinds. The best kind are the worst kind. Your team just implodes in a flurry of turnovers and penalties. It plays its worst. Those are the best kind of upsets to suffer because you can correct mistakes.

The worst kind are simple: Your team gets physically whipped at the line of scrimmage by a team that wasn't supposed to do that. The underdog either proves superior or it just wants it more. Either is a terrible thing to entertain.
Nevada shouldn't outgain California 450 yards to 365 as a visiting team. It shouldn't outrush the Bears 220 yards to 110. What that simply means is the Wolf Pack won the battle up front. And that's the worst thing that can happen to a team.

Same goes for Colorado. It was outgained 298 yards to 245 but, most notably, outrushed 125 yards to 58.
Fifty-eight! The Buffs, trying to become a physical team as they were during the program's heyday, rushed for 2.0 yards per carry. Yuck.
Ergo, McElwain, taking over one of three teams the Buffs beat last year, became the first Colorado State coach to win his debut in 42 years.
So, yeah, Cougs, Bears and Buffs, you guys should feel bad. You didn't just lose. You lost ugly.
The only good news we have for you is a not surprising sports platitude: One game doesn't make a season, one way or another. Heck, the year Colorado won the national title, splitting it with Georgia Tech in 1990, the Buffaloes opened 1-1-1.
Florida State lost its 1988 opener 31-0 to Miami but finished 11-1 and won the Sugar Bowl. It lost its first two games in 1989, to Southern Miss and Clemson, but then won 10 in a row and beat Nebraska in the Fiesta Bowl.
Again, one game doesn't make a season.
That said, 107 FBS teams started their seasons with optimism last week. Half of them are now less optimistic, some significantly so.
And Cal, Colorado and Washington State fall in that latter group.
August, 31, 2012
8/31/12
5:30
PM ET
Colorado ended last season with a little bit of momentum, closing out the 2011 campaign by winning two out of three -- including a big-time upset of Utah in Salt Lake City. That momentum was halted a bit in the spring with the loss of wide receiver
Paul Richardson
, an A-list playmaker who surely would have been the go-to guy for Colorado's to-be-named-later quarterback.
But folks in Boulder feel the pendulum has swung back their way yet again with the arrival of
Jordan Webb
-- an experienced quarterback who brings some much-needed maturity to the position. The Buffs will look to carry that momentum into Saturday when they face in-state rival Colorado State in Denver.
It's a big game for the Buffs. After all, they've played Colorado State more than any other team in school history, boasting a robust 61-20-2 all-time record against the Rams. It's also a big game for second-year coach Jon Embree -- who went 2-1 against the Rams as a Colorado player back in the 80s, but remembers the loss his senior year.
[+] Enlarge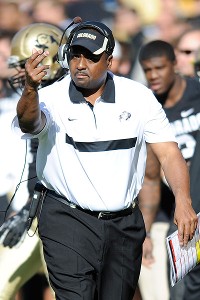 AP Photo/Jack DempseyNearly 40 percent of the players suiting up for Jon Embree in Week 1 haven't played in a collegiate game yet.
"My senior year, we had six turnovers in that game against CSU," Embree recalled. "It was 23-7 and we threw a pick-six late in the game. It was kind of rainy. You remember those things vividly. I remember the first time we played them in 1983, and they had some really good players. Keli McGregor, Jeff Champine, Kevin Call. I have been on both sides of the fence as a player and a coach. I think it is good for the state that we have this game and that we are playing."
Of course, there are the recruiting implications that go along with in-state games. While Colorado has a bit of an edge outright -- the fact that they play in a stronger conference than the Mountain West should be a draw for the state's top players -- a reputation for winning goes a lot further.
"We have to be better recruiting in state; Jim [McElwain] has gotten off to a good start in the state," Embree said. "I think some of it is kids choosing to play in certain programs. There are some of those allegiances, but also to the uniqueness to the state that there are a lot of kids who could care less about a certain program from a rooting standpoint because they moved here from Texas, Arizona or Florida. This rivalry isn't yet a rivalry where kids are raised where there is a line -- you are either a Ram or a Buff."
Colorado enters this game knowing it might be a rough season. Webb -- while not exactly a rookie -- is still learning the lay of the land, plus as many as 16 true freshmen could play this year for the Buffs. Of the 77 players Colorado is dressing for this game, 26 are freshmen (16 true, 10 redshirt). Of the 77, 65 percent are underclassmen and 39 percent haven't played a game beyond high school yet.
That means getting off to a quick start against an opponent they should beat is going to be fairly important for their confidence moving forward. The fact that it's a rivalry game to start the year adds that much more fuel to the fire.
"You know you have to play them at some point, because we are in different conferences playing them first makes sense -- playing them before you get going in your conference," Embree said. "It doesn't change anything from that standpoint. It makes the first game a little more exciting, you have a little more bounce in your step, knowing you're playing them in your first game. You know how important it is, both programs want to get off to a good start. It will be fun."
December, 2, 2010
12/02/10
2:30
PM ET
By
ESPN.com staff
| ESPN.com
History is merely gossip. But scandal is gossip made tedious by morality.
December, 2, 2010
12/02/10
2:29
PM ET
Colorado
might have picked the man
to lead it into the Pac-12.
Washington Redskins
tight ends coach Jon Embree has been offered the Buffaloes' head coaching job, according to a report in the
Denver Post
.
The newspaper named its source as former Colorado coach Bill McCartney, who has publicly stated he wanted to return to his old job.
Colorado spokesman Dave Plati denied the report to ESPN.com's David Ubben. "[Athletic director] Mike [Bohn] has not offered the job to anyone at this point. Rumors, everyone wanting to be first."
Reports earlier Thursday said that Embree, former Buffaloes running back Eric Bieniemy, and Alabama offensive coordinator Jim McElwain
topped the list of candidates
.
The Post reported that the school is hoping to hire Embree, who could then lure Bieniemy back to Boulder as his offensive coordinator.