February, 10, 2014
Feb 10
9:00
AM ET
Prior to
joining the Arizona State coaching staff
last week, Keith Patterson's credentials included stops at Tulsa, Pitt and West Virginia. He has coached in eight bowl games and, having previously worked with coach Todd Graham, has an intimate knowledge of Graham's schemes and philosophies.
Those are all great little factoids to include when pumping out a press release. But all you really need to know about Patterson is this: Graham trusts him.
That's saying a lot. Because when it comes to defense, Graham can be a bit of a, well, there's no right way sugar-coat it. He's a control freak. The defense is his baby. Defensive meetings wouldn't start until Graham got into the room. And when the defense falters -- and it did a few times last season -- he sits in front of that microphone and shoulders all of the blame.
But Patterson is a dear friend and Graham's former college roommate. There is a trust there that goes beyond hours and hours in a film room.
[+] Enlarge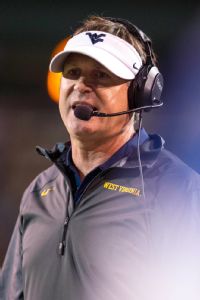 Jerome Miron/USA TODAY SportsArizona State's hire of Keith Patterson as defensive coordinator allows Todd Graham to branch out his responsibilities.
So the fact that Graham is relinquishing even a hummingbird's beak of control is an intriguing development, because it will allow him to take on more of a CEO role and oversee the entire team. And it allows him to put some focus on one area in particular -- special teams. But we'll get to that in a minute.
Graham will still be heavily involved in the defensive planning. Which is to say instead of being 100 percent involved like he was before, he'll be about 98.3 percent involved now. Just so we're clear, Graham is still going to call the defense. But he wants another set of trusted eyes coaching the linebackers and looking at the bigger picture.
When you look at the makeup of ASU's defensive staff, it's hard not to be impressed. Chris Ball will still serve as co-defensive coordinator along with Patterson and the ever-watchful eye of Graham. Paul Randolph, formerly co-defensive coordinator, will still work with the defensive ends. Jackie Shipp's contributions as defensive line coach have been invaluable. Patterson will work with the linebackers while Graham and Ball will work with the secondary.
That's three coordinators, a head coach and a longtime NFL player/Oklahoma assistant -- not too shabby.
It makes for a very intriguing defensive year for the Sun Devils, who will experience a massive talent drain on that side of the ball with nine of 11 starters having moved on. With youth and depth issues, it might take a season or two for this new defensive staff to show just how good it really is. Rather than judging progress strictly with Xs and Os in 2014, player development will likely take center stage.
Perhaps the most important element of this hire, however, is the re-shuffling of the special teams coaching staff. Aside from freshman kicker
Zane Gonzalez
, ASU's special teams were pretty abysmal in 2013. The Sun Devils were last in the league in punting and middling in the return game. This new coaching hierarchy addresses that, at least that's what Graham hopes.
Patterson will assume the role as defensive special teams coach while Chip Long will handle offensive special teams. Graham is also going to play a "major" role in special teams, which is something he wouldn't be able to do if he was running the defense all on his own. With the departure of special team's coordinator Joe Lorig, who moved to Utah State to be the linebackers coach, the Sun Devils have a chance to make major strides in the weakest aspect of their game last season.
Unprompted, Graham made a point to single out poor special teams play in his opening statement after the loss to Texas Tech in the Holiday Bowl.
"We have a lot of things to work on on special teams, that will be dealt with immediately and that will be something I take a personal interest in," Graham said. "That has killed our team. We've lost three ballgames this year because of that."
The Patterson hiring allows Graham to do just that -- if Graham is willing to relinquish the defense, even just a little bit.
February, 28, 2013
2/28/13
2:30
PM ET
You know nothing, Jon Snow.
May, 3, 2012
5/03/12
2:30
PM ET
And by the grace of God go I, into the great unknown;
Things are gonna change in our favor.
And if we gather if we fall, over the great unknown;
Things are gonna change in our favor.
.
February, 13, 2012
2/13/12
9:00
AM ET
Some weekend Arizona State news to start your day.
Over the weekend, new ASU head coach Todd Graham set his full-time coaching organizational chart.
Here's how Graham's coaching staff looks:
DEFENSE
Paul Randolph: Senior Associate Head Coach, Defensive Coordinator, Defensive Line
Ron West: Co-Defensive Coordinator, Inside Linebackers
Chris Ball: Defensive Backs, Defensive Passing Game Coordinator
Joe Lorig: Outside Linebackers, Defensive Special Teams Coordinator
OFFENSE
Mike Norvell: Offensive Coordinator, Quarterbacks
Bob Connelly: Assistant Head Coach, Offensive Line
Larry Porter: Running Backs
DelVaughn Alexander: Wide Receivers, Passing Game Coordinator
Chip Long: Tight Ends, Recruiting Coordinator
For bios on each coach,
you can check out the official release here
.
January, 10, 2012
1/10/12
3:15
PM ET
By
ESPN.com staff
| ESPN.com
Arizona State coach Todd Graham has hired Joe Lorig, Central Washington's defensive coordinator, for an as-of-yet undisclosed staff position, the school announced Tuesday.
Here's the news release:
Joe Lorig has been added to the Arizona State University football coaching staff, head coach Todd Graham has announced. Lorig recently completed his fourth season as the assistant head coach and defensive coordinator at Central Washington University.

During his time at Central Washington, the Wildcats posted a 34-12 record with three Great Northwest Athletic Conference championships and two appearances in the NCAA Division II playoffs. Lorig, whose Wildcat defense routinely placed among the top 10 in the nation in total defense, was named the 2010 American Football Coaches Association (AFCA) Division II Assistant Coach of the Year.

In 2009, his defense led the NCAA Division II in scoring defense (11.9 points/game), and ranked third nationally in rushing defense (58.6 yards/game) and fourth in total defense (249.3 yards/game), earning him a spot as a finalist for the FootballScoop Division II Coordinator of the Year. His efforts helped the Wildcats finish that year at 12-1, earn a No. 1 national ranking in the final poll of the regular season and advance to the NCAA Division II quarterfinals.

In 2007, Lorig served as the linebackers coach at the University of Texas at El Paso. He spent one season on head coach Mike Price's staff before moving back to the Pacific Northwest to join the CWU coaching staff. Prior to UTEP, Lorig spent eight seasons as a defensive assistant with Idaho State University. He coached the linebackers and safeties at ISU, and was the defensive coordinator for head coach Larry Lewis from 2003-06.

His coaching career began as an assistant at Western Oregon, where he helped guide his alma mater to the 1997 Columbia Football Association championship and a berth in the NAIA post-season. A two-time All-Northwest Athletic Association of Community Colleges (NWAACC) honoree at cornerback at Walla Walla Community College, Lorig played his final two years of collegiate football at Western Oregon State College (now Western Oregon University), where he was a team captain.

He has mentored a number of professional players, including Jared Allen, an All-Pro defensive end from Idaho State who plays with the Minnesota Vikings of the National Football League, Pago Togafau of the Arizona Cardinals, Jeff Charleston, the starting defensive end for the New Orleans Saints and Adam Bighill, a Division II All-American linebacker from CWU who was a rookie on the Grey Cup champion British Columbia Lions in 2011.

Lorig earned both his bachelor's degree in Law Enforcement (1995) and his master's in Correctional Administration (1997) from Western Oregon. A native of Edmonds, Wash., and an avid outdoorsman, his family includes his wife, Becky, and children: son, Tyler, and daughters, Jordan and Emma.