November, 18, 2011
11/18/11
11:00
AM ET
It might be a good thing that Washington quarterback
Keith Price
is going to miss Saturday's game at Oregon State. While that supposition hangs on the Huskies managing to beat the 2-8 Beavers with backup
Nick Montana
, Price has looked like he could use a break the past few weeks.
When the Huskies headed to Stanford on Oct. 22, they were 5-1 and ranked 22nd. Price, a sophomore, was fifth in the nation in passing efficiency (177.9) and had thrown 21 touchdown passes to just four interceptions.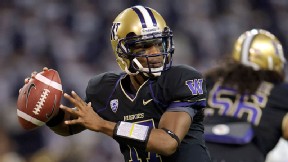 Steven Bisig/US Presswire"I don't think we've played very well around him," Washington coach Steve Sarkisian says of the struggles of sophomore quarterback Keith Price.
Price and Washington got crunched
65-21
that evening, and a downward slide started for him and the Huskies, who have lost three of four, including the drubbing by the Cardinal. Price has throw four touchdown passes in his past four games, with six interceptions, and his rating has fallen to 155.1.
That's hardly terrible -- it ranks 16th in the nation. And, to be fair, the competition level went up, considering those defeats came to Stanford, Oregon and USC. But Price also threw three picks at home against woeful Arizona (though one wasn't his fault, he was saved from another by a penalty).
And, yes, coach Steve Sarkisian has seen it, too. Price has been playing with multiple injuries much of the season -- ankle, both knees -- but there's more than just a physical element to Price's recent struggles.
"I think when you start to struggle a little bit and you're a young quarterback, you can have a tendency to press and to maybe try a little too hard," Sarkisian said. "I think that's been a part of it."
But it's not all on Price.
"I don't think we've played very well around him," Sarkisian said. "I don't think we've protected the quarterback great. We haven't run the football as well as I think we can to take some of the pressure off of him. We haven't made tough catches. All of those things added up, your quarterback goes from being one of the hottest in the country to struggling a couple of games."
That's all fair. Price's receivers have dropped way too many passes. His offensive line has yielded 29 sacks, including seven to USC. And running back
Chris Polk
, who is averaging 113.2 yards per game, has only 116 total rush yards in the past two games.
So Price perhaps could use the break before the Apple Cup and whatever bowl game the Huskies end up in. Get healthy. Rediscover
his kwan
.
Of course, again, they need to win in Corvallis. To make sure that happens, the Huskies need to regain, to use Sarkisian's term, their "real sense of purpose and attitude," which he said he didn't see at USC.
As for Montana, son of NFL Hall of Fame quarterback Joe Montana, he might not be asked to do too much if Polk can get back on track against the Pac-12's No. 11 run defense. But Sarkisian said he feels good about Montana running the entire offense.
"I feel great about Nick Montana because I have some experience with him now," Sarkisian said. "I understand what his demeanor is like on game day more so than the beginning of the season.''
The experience will be good for Montana. And the rest should be good for Price.
But none of it will feel good if it becomes the fourth loss in five games.
November, 17, 2011
11/17/11
6:29
PM ET
Nick Montana
, son of Joe, will make his first career start at Oregon State on Saturday,
coach Steve Sarkisian Tweeted
on Thursday.

Starter
Keith Price
suffered a knee injury against USC last weekend. While there is no structural damage, according to Sarkisian, Price was unable to practice this week.
Sarkisian's Tweet is a course reversal. He said after practice on Wednesday night that he wouldn't publicly announce the starter, but would let the team know.
Montana was 9 of 15 for 73 yards and threw a 20-yard touchdown pass to
Kasen Williams
in relief of Price last week against the Trojans. For the season, Montana is 13 of 20 for 147 yards with one touchdown and one interception.
Considering that Oregon State has the No. 11 run defense in the Pac-12, you can bet that Huskies running back
Chris Polk
will get plenty of touches, particularly if its cold and rainy in Corvallis, as expected.
November, 16, 2011
11/16/11
11:36
AM ET
Washington quarterback
Keith Price
remains highly questionable for Saturday's game at Oregon State.
Although coach Steve Sarkisian said Tuesday an MRI on Price's
left knee revealed no structural damage
, Price mostly sat out Tuesday's practice and walked with a noticable limp,
according to reporters on hand
.
If Price can't go,
Nick Montana
will get his first career start. Freshmen
Derrick Brown
and walk-on
Thomas Vincent
took the snaps with the second team.
Price hurt his knee in the loss at USC and Montana, son of NFL Hall of Fame quarterback Joe Montana, came off the bench and completed 9 of 15 passes for 73 yards with a touchdown.
The big test for Price will be Wednesday. If he shows significant improvement during today's practice, the chances he'll start go up significantly. He's already shown repeatedly this year that he can manage pain.
Whoever plays quarterback for the Huskies, he will be facing a struggling defense that is now down another starter, as Beavers defensive end Taylor Henry
quit the team this week
. Henry had three sacks this year. He will be replaced by true freshman Dylan Wynn, meaning both Beavers defensive ends will be freshman -- Scott Crichton is the other.
Of course, if Montana gets the call, Sarkisian likely will lean on running back
Chris Polk
. The Beavers rank 11th in the conference in run defense, giving up 183.7 yards per game.
November, 14, 2011
11/14/11
5:51
PM ET
Washington's backup quarterback
Nick Montana
-- son of Joe -- may get his first career start at Oregon State because starter
Keith Price
hurt his knee against USC,
according to coach Steve Sarkisian
.
Montana came off the bench for Price in the loss to the Trojans and completed 9 of 15 passes for 73 yards with a touchdown.
Price is having on MRI on his left knee, which he hurt after a third-quarter sack. Price has battled various injuries all season, including both knees and both ankles, but hasn't yet missed a start. Sarkisian told reporters results of the MRI will be available on Tuesday.
If Price can't go, it will be interesting to see what Montana can do with the Huskies' offense, which has scored 21 or fewer points in three of its last four games.
That said, the way to attack Oregon State is to run the ball. The Beavers rank 86th in the nation in run defense, surrendering 183.7 yards per game. Huskies running back
Chris Polk
is just the sort who can wear a defense down.
September, 29, 2011
9/29/11
12:59
PM ET
In 2008, USC and offensive coordinator Steve Sarkisian were wrapping up a 12-1 season and another -- yawn -- Rose Bowl victory while Washington was swirling down the toilet bowl of an 0-12 season. Sarkisian and head coach Pete Carroll were in the midst of signing another top-rated recruiting class, and they cherry-picked everybody's top-rated quarterback [cue angelic chorus]
Matt Barkley
.
[+] Enlarge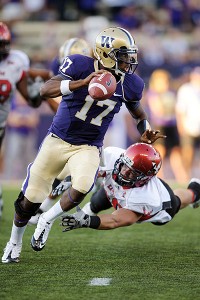 Steven Bisig/US PresswireWashington quarterback Keith Price has made many of his best plays throwing outside the pocket.
Meanwhile, dour, defeated Tyrone Willingham up at Washington got a commitment from... wait... [shuffling recruiting web pages] ... here it is... a fellow from Saint John Bosco High School whom ESPN recruiting identified as an "athlete," not a quarterback.
Keith Price
was the
No. 120 athlete in the nation
, in fact. Who knew there were that many athletes?
Ah, but Sarkisian had raised an old former quarterback's eyebrow at Price while scouting Barkley. When he was hired to replace Willingham, he made an inspired decision that went completely unheralded at the time.
"That was one of the key things we wanted to get done as soon as I took this job: Keep [Price] committed here," Sarkisian said.
Entering the season, Price, a 6-foot-1, 195-pound sophomore, was mostly viewed as the guy who would hand the ball to tailback
Chris Polk
. Be a game manager. Don't screw things up. Behave.
Instead, he presently ranks ninth in the nation in passing efficiency and is tied for the lead with 14 touchdown passes. He's completed 67 percent of his passes with just three interceptions, and the Huskies are 3-1 in large part because of his immediate success.
Barkley, while a likely NFL first-round draft pick this spring, ranks 34th in the nation in passing efficiency. Just saying.
Price's only previous significant action before this season was a start at Oregon last year when Jake Locker was hurt, and he turned in solid but unspectacular numbers: 14 of 28 for 127 yards with a TD and no interceptions in a blowout loss. Spring practice began with Price expected to be in a tight battle with
Nick Montana
-- yes, son of Joe -- to replace Locker. It ended with Price the clear starter.
Still, an impressive spring game and consistent playmaking in practice is one thing. What about when the lights go on and the action counts?
Question answered. Price, reputed to be cooler under pressure than a fall evening in Seattle, seems almost amused that folks are surprised.
"I knew how good I could play," Price said. "I knew my potential."
That's not just Price's personal confidence. That is a common theme among the Huskies players and coaches. While fans and media are agog with "Can you believe how good Keith Price is?" the Huskies coaches and players say they saw this coming.
"He's been doing this for us every day in practice," Sarkisian said. "Did I think he was going to be leading the country in touchdown passes after four games? Probably not. But I did think he'd play well."
Polk said this before the Huskies visited Nebraska on Sept. 17: "I'm not surprised at all. He's one hell of a player and he's not reached his full potential."
Price and Polk will face a big test at Utah on Saturday. The Utes are tough in Rice-Eccles Stadium, which old Pac-10 fans are about to learn is one of the loudest venues in the conference. They play sound, rugged defense. The Utes are fourth in the conference in rushing defense, No. 1 in pass efficiency defense and have forced 12 turnovers, four more than any other conference team.
But what Utah coach Kyle Whittingham, who also recruited Price, sees on film is a quarterback who can make a defense look bad even when it is sound.
"He makes so many non-rhythmic plays for them," Whittingham said. "When the play breaks down, when the pocket breaks down, he's able to escape and find a throwing window and makes something happen."
That has been Price's best skill thus far: His creativity. While he's a good athlete, he's more of a pure passer than a runner. He uses his athletic ability to extend plays, not to scramble for yards. He's hit a number of throws downfield when on the run outside the pocket.
Sarkisian calls this Price's "stinger." Sometimes coaches want to tamp it down because it's outside-the-playbook thinking. But not Sarkisian, even if it sometimes leads to an unhappy ending.
"Many of the good plays that he makes for us [involve] extending plays and buying time in the pocket," Sarkisian said. "He's going to make mistakes doing that stuff, but I just don't want to take that stinger from him. We're going to coach him. We're going to coach him on ball security -- the fumble there on the sack on the two-minute drill right before the end of the half [against California]. Those aren't great plays from him, but he'll learn. I definitely don't want to take that stinger from him because it's a unique asset to our offense right now."
That "stinger" has been around for a while. Price has played quarterback since he was eight years old. He never played any other position. While he doesn't have the polish or the "wow" arm strength Barkley has, it's already clear he has playmaking instincts and outstanding vision.
Further, he doesn't seem to cloud his thinking with the analysis of minutia. The best advice he's received about playing quarterback? "Just keep playing, no matter what the score is. Just keep playing and keep leading. That's the best advice. Forget about the score and just play."
It's also worth noting that Price has been putting up these numbers while not 100 percent physically. He engineered the win against Cal on two sprained knees.
"I still have a long way to go," he said. "Hopefully, my knees get better, back to 100 percent, so I can really showcase what I'm about."
So 14 touchdown passes in four games isn't even Price's best. Seems like a reason to stay tuned.
August, 9, 2011
8/09/11
1:00
PM ET
It's a day of considering Pac-12 quarterbacks, so here's "getting to know them" from a variety of angles.
[+] Enlarge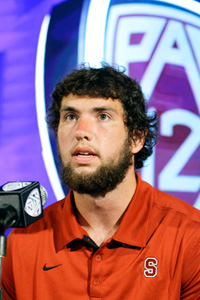 AP Photo/Reed SaxonBehold the Luck beard.
Most likely to become a benevolent world dictator who will save us from all the stupid people
: Stanford's
Andrew Luck
is the best quarterback in the country. He would have been the top overall pick in last spring's NFL draft. He will be the top overall pick in this spring's draft. Further, he's a smart, humble guy with great leadership skills. And his summer beard showed he has a whimsical side! Fathers across the globe: "Hey, Andrew. I'd like you to meet my daughter."
Best Tweeter
: Many athletes who tweet are boring.
Matt Barkley
is not.
Best Tweeter II
: Oregon State's
Ryan Katz
and Barkley might need to have a "tweet off." Does that exist?
Best arm
: Lots of Pac-12 quarterbacks can bring it. But if I had to bet who can throw it the farthest and hardest, I'd lay my $1 on Katz.
Thank you, sir, may I have another
: Washington State's
Jeff Tuel
was at his best at the end of the 2010 season, despite getting sacked 51 times. Fifty-one times! Ouch.
Headline madness!
No matter who won the starting quarterback job at Washington, a goldmine for headline writers was at hand.
Keith Price
? Bring on Bob Barker, because the "Price is right (or wrong)" headlines were coming.
Nick Montana
? How often do you think his sorta-super famous father, Joe, might come up?
Most likely to throw for 4,000 yards
: Arizona's
Nick Foles
has the skills and experience -- plus the deep, talented receiving corps and scheme -- to be among the national leaders in passing yards. The question is whether the O-line, with five new starters, can protect him well enough.
Tallest QB ... in the nation
? Seeing over his offensive line shouldn't be a problem for Arizona State's
Brock Osweiler
. As best as the Sun Devils' sports information department has been able to find out, the 6-foot-8 Osweiler will be the tallest quarterback in the nation this year.
Toughest encore
: As a sophomore first-year starter,
Darron Thomas
: 1) Threw for 30 touchdowns and just 9 interceptions; 2) Earned second-team All-Pac-10 honors behind Luck and ahead of Barkley and Foles; 3) And threw for 363 yards in the national title game. Golly. Just imagine what it means if Thomas is, say, 10 percent better in 2011.
No pressure
: If Cal's Zach Maynard is merely average this year -- say he has an efficiency rating of 130 -- the Bears will have a successful season and play in a quality bowl game.
No pressure II
: If UCLA's
Kevin Prince
is merely average this year -- say he has an efficiency rating of 130 -- the Bruins will have a successful season and play in a quality bowl game. And Rick Neuheisel will keep his job.
Pac-12 competition -- California? -- bah!
Utah's
Jordan Wynn
has started one game against a Pac-12 foe. As a true freshman, he completed 26 of 36 passes for 338 yards with three touchdowns in a 37-27 win over California in the 2009 Poinsettia Bowl and won game MVP honors.
Pac-12 competition -- California? -- eek!
Colorado's
Tyler Hansen
has started one game against a Pac-12 foe. Last fall, he completed 18 of 34 for 166 yards with three interceptions in a 52-7 defeat at California. One of his interceptions was returned 41 yards for a touchdown. One of his completions was fumbled and returned 81 yards for another TD.
Separated at birth?
Nick Foles
and
Ronnie "Sunshine" Bass
.
Brock Osweiler
and
Frodo Baggins
.
Tyler Hansen
and
Captain America
.
Darron Thomas
and
Usher
.
Ryan Katz
and
Ron Jeremy
.
Andrew Luck
and
Josh Grobin
.
Matt Barkley
and
William "Cobra Kai" Zabka
.
Jordan Wynn
and
Edward Norton
.
Jeff Tuel
and
Bill of "Bill and Ted's Excellent Adventure
."
Best name?
Best name? Well, quarterbacks ultimately are all about Wynn-ing, right? But it pays to be a cool Katz. That said, what Price is a quaretrback willing to pay to win? Of course, often a Prince becomes a king. But let's not forget how important it is to have all the Tuel-s. It's probably best, however, to be Luck-y and good.
February, 17, 2011
2/17/11
1:57
PM ET
Bruce Feldman ranked the
top-10 quarterback competitions
in the country, and four involve Pac-12 teams: No. 4 UCLA, No. 7 Washington, No. 9 Arizona State and No. 10 California.
He also predicts whom he believes will win the job.
Here are some of his thoughts. And, of course, mine.
UCLA Bruins
--
Kevin Prince
vs.
Richard Brehaut
vs.
Brett Hundley
Feldman: The offense has been Neuheisel's biggest issue, and if he can't get the passing game cranked up, he's probably not going to keep his job past 2011... The hope of most Bruins fans is that Hundley, the No. 5 QB in the 2011 class, will be mature enough to take this job. He is the most dangerous runner of the trio and might have the strongest arm. This is a program that desperately needs a spark, and perhaps Hundley has, as they say, "It." Folks around Westwood have already started calling him 'the savior.'
Feldman's prediction
: Hundley.
My take
: I promise I am not related to Kevin Prince, nor am I an investor in Kevin Prince. I may be the last one holding this position, but I think Prince is a pretty good QB, if healthy. That's a big "if," though. If I were a betting man, I'd take Hundley, too, but just don't count Prince out.
Washington Huskies
--
Keith Price
vs.
Nick Montana
Feldman: Sophomore Price, Locker's understudy this past fall, has the experience edge, having played in eight games in 2010. His athleticism also will help his cause. His challenger is redshirt freshman Montana... is said to be very poised, and he throws well on the run despite a decent but not powerful arm, which sounds a lot like his dad. Montana could be the type of guy who doesn't wow anyone in practice but would be very tough to unseat if he won the job.
Feldman's prediction
: Price.
My take
: I'd pick Price, too, but just based on experience. Guessing the competition will continue well into the fall, though.
Arizona State Sun Devils
--
Steven Threet
vs.
Brock Osweiler
vs.
Michael Bercovici
Feldman: It remains to be seen how much action Threet will see during the spring. Six-foot-8 Osweiler, a former Gonzaga hoops recruit, did a lot of good things when he was in the lineup last year. In his two starts at the end of the regular season, both wins, he threw for 647 yards, five touchdowns and zero picks, also running for 91 yards. His ability to be consistent is the real question with Osweiler.
Feldman's prediction
: Osweiler.
My take
: Ditto. The most important thing I saw from Osweiler was the proverbial "tale of two halves" he produced at Arizona. He was
awful
in the first half, which made his strong play in the second half even more impressive. You can't underestimate the value resiliency in QBs, particularly in a rivalry game on the road.
California Golden Bears
--
Brock Mansion
vs.
Allan Bridgford
vs.
Austin Hinder
vs.
Zach Maynard
vs.
Beau Sweeney
Feldman: In this quintet, there are guys with strong arms, great size, intelligence and athleticism, but is there one who is able to display several of those attributes on the field all at once? At the very least, the bloodlines here are noteworthy: Hinder's grandfather is former NFL coach Jim Hanifan; Sweeney's granddad is former Fresno State coach Jim Sweeney; and Maynard's half-brother is budding Cal wide receiver standout Keenan Allen. Maynard, the most athletic of the group, is also the most intriguing. He started 12 games at Buffalo, throwing for almost 2,700 yards with 18 TDs and 15 INTs. He is a playmaker, but the question will be whether he can avoid big mistakes and be a guy Tedford can count on
Feldman's prediction
: Maynard.
My take
: If I were going to be honest, I'd repeat what Tedford is saying publicly and told me on signing day in a casual telephone conversation: "I have no idea." If Tedford doesn't, then I certainly don't. Feldman is correct that many are intrigued by Maynard's experience and athleticism, but he doesn't fit in with the typical profile of a Tedford QB -- read: pro-style pocket passer.
I'm going off the grid here and tapping Bridgford. Why? Why not! If I'm right, I will hound Feldman about it. If I'm wrong, Feldman probably will be too busy writing a book to remember.
July, 7, 2010
7/07/10
2:30
PM ET
When the lambs is lost in the mountain, he said. They is cry. Sometime come the mother. Sometime the wolf.
May, 7, 2010
5/07/10
4:00
PM ET
Everyone loves "best of" lists. Here's one for the Pac-10 after spring practices concluded.
Best spring game performance, offense
: USC senior fullback
Stanley Havili
caught three long touchdown passes -- 28, 33 and 50 yards -- in the Trojans spring game.
Best spring game performance, offense II
: With Jacquizz Rodgers chilling on the sidelines, Oregon State's backup running backs made a statement. Sophomore
Jordan Jenkins
rushed for 112 yards on 26 carries, while junior
Ryan McCants
had 74 yards on 24 attempts.
Best spring game performance, defense
: UCLA's Datone Jones had two sacks, recovered a fumble and, according to the
LA Times
, "spent a good portion of the evening in the backfield."
Best spring game performance, defense II
: Washington State defensive tackle Brandon Rankin, a JC transfer, had two sacks and a tackle for a loss as the No. 1 defense dominated the No. 2 offense.
Best spring game performance by a kicker
: UCLA's Kai Forbath, the defending Lou Groza Award winner, was 4-for-4 on field goal attempts, making kicks of 44, 34, 51 and 57 yards.
Best competition heading into fall, offense
:
Nate Costa
vs.
Darron Thomas
to be Oregon's quarterback.
Best competition heading into the fall, defense
: Chris Galippo vs. Devon Kennard to be USC's middle linebacker.
Best "who's the best" competition
: Let the debate begin between Washington QB Jake Locker and Stanford QB Andrew Luck. Wait.
It already has
.
Best new marketing campaign
: Stanford's new "
What's your deal
?" ticket plan is a homage to the
prickly exchange
between Cardinal coach Jim Harbaugh and USC's Pete Carroll after Stanford
ran up the score
on the Trojans. Funny methinks.
Best new playmaker
: USC's true freshman running back Dillon Baxter became a YouTube sensation with
a spectacular run
during a scrimmage, but
other spectacular runs
made it clear he wasn't a one-hit wonder. The Reggie Bush comparisons have already begun.
Best impression of dear old dad
: Freshman quarterback Nick Montana capped an 80-yard drive with a
short touchdown pass
on the final play to give his team the win in Washington's spring game. You may recall that Nick's dad, Joe, was a fairly good NFL quarterback with a penchant for the dramatic -- and
noticing John Candy in the stands
.
Best position change
: Oregon switched Dion Jordan from tight end to defensive end, where his athleticism suggested he could become a dangerous pass rusher. Jordan was going no where at tight end. He may end up in the NFL as a defensive end.
Best performance by a backup quarterback
: Senior
Mitch Mustain
, the most written-about QB to never start a game for USC, passed for five touchdowns and 299 yards in the Trojans' spring game. Quarterback controversy? Naaaa. Might Mustain become the next
Matt Cassel
? Maybe.
Best comeback by a quarterback
: Many were ready to crown Michigan transfer
Steven Threet
as Arizona State's starting quarterback, but sophomore
Brock Osweiler
was
more consistent
much of the spring and could end up running the Sun Devils offense in the fall.
Best offensive threesome you've never heard of
: Here's a guess that receivers Gino Crump,
Travis Cobb
and fullback/H-back
Taimi Tutogi
make a lot of plays for Arizona next fall.
Best refusal to go away
: No player in the Pac-10 has been more analyzed -- criticized -- than California quarterback
Kevin Riley
. Well, Riley again held on to the starting job this spring and heads into his senior year trying to put a successful cap on a career that has featured
just a bit of everything
.
Best physical freak of nature
: Oregon State defensive tackle Stephen Paea is not only the strongest college football player, he may be the
strongest football player in the nation
.
Best new acquisition
: Arizona State adopted Kyle Oden, 3, who has a
pediatric brain tumor
and is nearly blind in one eye.
Best quote
: Lane Kiffin, who was an USC assistant from 2001-06, on Trojans he inherited, "It's not what it was when we left here."
Best quote II
: Norm Chow on whether the UCLA offense breaks through in 2010: "I have no idea, but we have to be better or you'll be talking to somebody else next year."
Best quote III
: Mike Riley on Oregon State's offense: "Athletically, it's as good as we've ever been."
Best quote IV
: Oregon quarterback Costa on redundant questions about suspended quarterback Jeremiah Masoli: "I'm not tired of answering the questions. If there is someone who should answer the questions, it should probably be me. The public has a right to know what we are thinking and our thoughts on this whole process. So I'm happy to answer those questions."
Best quote V
: Washington coach Steve Sarkisian on leading the Huskies to a 5-7 finish in his first season: "I've never been congratulated so much for a five-win season."
March, 24, 2010
3/24/10
5:58
PM ET
Washington and Joe Montana fans will enjoy these two stories.
The first, by ESPN Los Angeles' Arash Markazi, is about Joe and his
two quarterbacking sons
, one who's at Notre Dame and the second who's headed to Washington (and will participate in spring practices).
The second, by Bob Condotta of the Seattle Times,
is more Husky-centric
.
Nick Montana, the younger son, will compete with redshirt freshman
Keith Price
to backup
Jake Locker
.
February, 4, 2010
2/04/10
3:55
PM ET
Washington's
class of 30
ranked 20th in the country and featured one ESPNU 150 player.
It was another big step forward for the program and second-year coach Steve Sarkisian.
"It's a very complete class from front to back when you talk about 16 players on offense and 14 on defense," Sarkisian said. "It's one that can help us immediately and have an impact this fall for us in 2010 but also when we look at 2011, 12, 13 down the road.''
Top prospects
: Safety
Sean Parker
is likely to immediately work his way into the starting lineup.
Nick Montana
is the quarterback of the future. "The apple doesn't fall far from the tree," Sarkisian said of Montana in relation to his father, some guy named "Joe." Receiver
Jamaal Kearse
and running back
Deontae Cooper
may earn playing time, though likely as reserves.
Sione Potoa'e
should work his way into the rotation on the defensive line. At least a couple of the class' six linebackers will play next year.
Under the radar
: Sarkisian is very high on offensive tackle
James Atoe
. How high? He said Atoe "is a potential top-five NFL draft pick." Sarkisian called cornerback
Greg Ducre
a "tremendous man-to-man cover corner and that's what we want to get more to playing is man coverage.''
Issues?
When a team that went 0-12 a season ago signs a top-20 class, there really aren't many issues, particularly with a class this big that hits just about every position. The biggest disappointment might be losing kicker
Alejandro Maldonado
to Oregon.
Notes
: Cooper has already enrolled ... Montana, running back
Jesse Callier
and linebacker
Victor Burnett
are planning to enroll early and participate in spring practices. ... Two members of the class have older brothers on the current Husky team: Zach Fogerson's brother Johri is a running back and Jamaal Kearse's brother Jermaine is a wide receiver. ... Cooper Pelluer's father, Scott, is a former UW assistant coach and his uncle, Steve, was a standout quarterback for the Huskies in the 1980s.
October, 16, 2009
10/16/09
9:58
AM ET

Posted by ESPN.com's Ted Miller
The hype machine hummed with no small amount of justification this week about
Jimmy Clausen
and
Matt Barkley
. The thousands of words that have poured forth about these two quarterbacks, connected and divided by so many opinions and sentiments and measures and public and private moments apprehended and misapprehended, diligently aspired to describe the compelling contrasts and similarities that braid them together in a cardinal and green rope of rivalry and friendship.
| | |
| --- | --- |
| | |
| | Getty Images |
| | Examining the matchup between Matt Barkley and Jimmy Clausen is an exercise in comparisons and contrasts. |
It was an analytical circus that almost eclipsed the football game USC and Notre Dame will play Saturday.
Start with this.
When Clausen picked Notre Dame over USC in 2006, he was "the
most acclaimed
California prep quarterback since John Elway."
When Barkley, a lifelong USC fan, committed to the Trojans his junior year in 2008, he was "
a cross
between Joe Montana and [Tom] Brady."
Both southern California products were rated the No. 1 prep quarterback in the nation when they were high school seniors, Clausen at Oaks Christian and Barkley at Mater Dei. Both were longtime students of respected quarterbacks guru Steve Clarkson.
Two years separated them. As personalities, they were very different. But their innate awareness of comparable talent drew them together.
"Every time I go back home during the offseason, Matt is always around," Clausen said. "We're always throwing the ball, hanging out, stuff like that."
But very different.
Clausen committed to Notre Dame from inside the College Football Hall of Fame in front of about 300 people and a TV crew from ESPN. He arrived via a stretch Hummer limousine. He talked about winning multiple national titles. He wore a suit that looked expensive but didn't fit him well. His hair was spiked and gelled.
Barkley released a statement and talked to a handful of reporters when he quietly committed to USC. There was no pomp. There was no circumstance. There was no big, white Hummer. It remains unclear if Barkley actually combs his hair, which already hints at early recession.
A Barkley quote from shortly after he committed as it appeared in the
New York Times
: "Jesus Christ is No. 1 to me," said Barkley, who has a 3.9 grade point average. "That's who I play for."
Do a search on Google images of "Jimmy Clausen" and then "Matt Barkley." Who gets the unflattering, mocking photos? And who doesn't?
So, clearly we have a good guy -- a West Coast Tebow -- and a self-absorbed brat, right?
Great news. It's more complicated that that, more nuanced. To spoil the potential cliffhanger: The folks who actually know Clausen seem to like him. And, you know, maybe he got some bad advice on how to handle his commitment and that one moment shouldn't entirely define him as a person.
"I've grown a lot," Clausen said. "When I first walked into Notre Dame, I didn't really know and expect what it was to be the quarterback at Notre Dame. I've had to deal with some things on the field, off the field."
Clausen mostly stops there and redirects from any deeper introspective insights. He's become pretty jaded -- not without justification -- with this whole "talk about himself to reporters thing," though he seems pleased to learn that USC linebacker Chris Galippo spoke highly of him.
Is Clausen cocky? The question didn't irritate Galippo so much as arouse a linebackery defense.
"No, not at all," Galippo said. "If anything, he's an extreme competitor, which we all are. Regardless of the vibe he gives people, the guy is an awesome football player. He's a guy who goes out and works his tail off. He's easily the best quarterback in the nation right now.
That may be true. Clausen leads the nation in passing efficiency. He's completed 68 percent of his throws with 12 touchdowns and just two interceptions.
Moreover, he's played through pain -- he's been nursing a turf toe for weeks -- and has led the Irish to three dramatic comeback wins.
Perhaps he should be a leading Heisman Trophy candidate? All he has to do to legitimize his candidacy is end the Fighting Irish's seven-game losing streak against the Trojans.
"I think that he's had a heck of a year," Notre Dame coach Charlie Weis said. "I mean, you look at what he's done through these first five games. There couldn't be anyone in the country playing any better than him. But now he is going against the best defense that he's seen all year long. So I think these are the type of moments where you really get judged on how well you do when you go against the really, really good guys."
Speaking of really good guys: Matt Barkley!
Playing his first career away game in front of 100,000-plus at Ohio State, Barkley became a sensation when he led a 14-play, 86-yard, fourth-quarter drive to beat the Buckeyes.
He's seems completely unflappable. His arm is special. He smiles a lot. His teammates rave about him. Coach Pete Carroll calls him an "outlier," meaning he's
human but just barely
.
His numbers -- three touchdowns and two interceptions -- won't blow anyone away, but that doesn't stop Carroll from gushing.
"He really has everything you're looking for," he said.
There are many potential topics to ask Barkley about -- his maturation, Notre Dame's struggling defense, his decision to turn down an invitation to join the
X-Men
, etc. -- but one sticks out.
So is Clausen cocky?
"I think people might get the wrong image but I actually admire that about him," Barkley said. "He's confident in how he can play and his abilities and I think it's really coming out and showing this year. It might have come out wrong in a couple of instances, what people might take from what he's said or what he's done. And that's not who I am. I'm going to take a different route. That's how he is. That's how he plays. It's working out well for him this year."
Just a hint of compare-and-contrast there, eh?
There is an itty-bitty bit of entertaining tension present, bubbling just beneath the surface. After all, it's USC-Notre Dame.
For example, when asked about Barkley, Weis praised his supporting cast: "I think the one thing he does very well is he knows who his playmakers are and he gets the ball in their hands."
Asked about how Barkley is different from Clausen as a freshman, Weis said, "I think that Jimmy wasn't around as good a supporting cast. That might be the biggest understatement I might ever say."
Meanwhile, Carroll basically said that Clausen didn't come to USC because he was afraid of competing with Mark Sanchez.
"I felt like he was concerned about who else was around and was coming and all that," Carroll said. "He was trying to take a look at situating himself in the best position where he could play early ... He had a lot of respect for Mark and thought that in all likelihood Mark might have a chance to be ahead of him, which he would have been."
Countered Clausen, "No, that wasn't a factor at all."
Hmm. Clausen became Notre Dame's starter by the second game of his true freshman year. If he'd gone to USC, it's likely he would have competed with Barkley for the starting job this past spring and preseason after waiting for Sanchez to become a top-five NFL draft pick following his junior year.
Clausen vs. Barkley would have been interesting.
But their competition will have to be settled on the field Saturday in the high grass before Touchdown Jesus. These two hyped, golden-boy, southern California quarterback recruits -- and friends! -- will have at least one opportunity to win dominance over the other head-to-head.
Barkley isn't supposed to be the brash one, but he found it difficult to duck the notion that bragging rights are at stake.
"Possibly. Maybe after the game," he said. "I don't like to think about that stuff heading into a game. But there might be. I guess there will be a little individual battle between us two as well."
August, 9, 2008
8/09/08
12:14
PM ET
Posted by ESPN.com's Ted Miller
These links have a dislocated knee cap in tribute to USC QB Mark Sanchez.