December, 24, 2013
12/24/13
8:00
AM ET
Kevin went 1-1 over the weekend. Ted went a yucky 0-2.
Kevin now leads Ted by two games with seven bowls remaining, his record sitting at 76-18 while Morose Miller is 74-20.
Kevin Gemmell
: If I'm an Oregon State fan, Boise State's rushing attack scares me.
Jay Ajayi
has six 100-yard rushing games this year and four multi-touchdown games. Oregon State's rushing defense wasn't particularly stout, yielding 193.2 yards per game and 27 touchdowns – the second-highest total in the conference. Then again, quarterbacks complete 64 percent of their throws against the Broncos, who allow 248.4 yards in the air per game. The Boise State-Fresno State game might offer some comparable insight as
Derek Carr
threw for 460 yards and four touchdowns. The Broncos are opportunistic, however, with 15 interceptions this season. The question is whether
Sean Mannion
reverts back to the guy who was on fire the first half of the season, or if he's the guy who has thrown 11 interceptions in the last four games. I'm leaning toward
Brandin Cooks
and Mannion blowing up in a high-scoring affair.
Oregon State 38, Boise State 35
.
Ted Miller
: The Beavers and Broncos have two common opponents: Washington and San Diego State. The Huskies blew out both, while the Beavers nipped San Diego State on the road and Boise State lost in overtime, also on the road. While neither result is telling, it does suggest neither team seems clearly superior. Kevin noted the Beavers issues against the run, and that might be exacerbated by the absence of injured LB
D.J. Alexander
, who had neck surgery. Of course, the Broncos are without starting QB
Joe Southwick
, who was
suspended from the game
. His backup,
Grant Hedrick
, however, has mostly played well when Southwick was hurt in the last half of the season. Boise State is also playing the first game since Chris Petersen stepped down to take over at Washington. The Beavers do have one clear advantage -- the four words and two numbers that will follow.
Boise State 38, Oregon State 35
.
December, 12, 2013
12/12/13
9:00
AM ET
We continue our look at each of the Pac-12's opponents during the bowl season.
Sheraton Hawaii Bowl
Honolulu, Dec. 24, 5 p.m. PT, ESPN
Oregon State (6-6) vs. Boise State (8-4)

Boise State Broncos
Coach
: Bob Gregory (interim)
Record
: 8-4, 6-2 Mountain West
Combined opponent's record
: 71-75 (.486)
Common opponents
: Both teams lost to Washington and split their games against San Diego State. The Huskies beat Boise State 38-6 in the season opener and then thumped Oregon State 69-27 in late November. Boise State lost to San Diego State in overtime late in November while the Beavers pulled a miracle finish against the Aztecs back in September for a 34-30 win.
Leading passer
:
Joe Southwick
, 151-of-208 (72.6 percent) for 1,654 yards with 12 touchdowns and five interceptions.
Leading rusher
:
Jay Ajayi
, 226 carries for 1,328 with 17 touchdowns
Leading receiver
:
Matt Miller
, 77 receptions for 934 yards with 11 touchdowns
Leading tackler:
Ben Weaver
, 86 tackles
What to know
: We're not sure who is going to be quarterbacking this team yet. Joe Southwick has returned from an ankle injury, though
Grant Hedrick
picked up the slack in his absence. Gregory said there are still a lot of details to be worked out. They have identical touchdown-to-interception ratios (12-5), but Southwick has the slightly higher completion percentage. Though Hedrick's is a solid 68.2.
But the offense goes through Ajayi, an explosive redshirt sophomore, who averaged 5.9 yards per tote.
Eight wins is a disappointing season for the Broncos. After years of BCS busting and top 10 finishes, the Broncos regressed a bit. And then Chris Petersen left for Washington, which led to Wednesday's hiring of Arkansas State's Bryan Harsin.
All four of Boise State's losses came on the road this year (at Washington, Fresno State, BYU and San Diego State), so perhaps a trip to a different time zone won't be great for the Broncos. Worth noting, however, that their strongest win of the year was probably at Utah State against an Aggie team that went to the conference championship game.
Key matchup
: Oregon State's front seven is surely going to be tested by the Boise State running game, but you have to think the Broncos' secondary is equally challenged by the
Sean Mannion
-to-
Brandin Cooks
connection. Outside of maybe Fresno State's
Davante Adams
(122 catches, 1,645 yards, 23 touchdowns), the Broncos probably haven't seen a receiver like Cooks (120, 1,670, 15). A lot of it will come down to Mannion's decision making. After throwing just three interceptions in his first eight games, he has 11 in his last four.
August, 31, 2013
8/31/13
9:15
PM ET
SEATTLE -- The day is postcard perfect. Renovated Husky Stadium is spectacular. Now, what about the team that will call it home?
No. 19 Boise State isn't a team that gets intimidated by the big-time atmosphere in an AQ conference team's stadium, fancypants remodel or not. In fact, the Broncos thrive on encountering that very thing. The Huskies could have scheduled a patsy for their stadium opening, but they opted to challenge themselves. The payoff for a win could be substantial, starting with a national ranking. And a loss could have the same effect, only in a negative sense.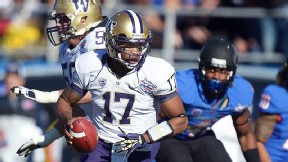 Kirby Lee/Image of Sport/USA TODAY SportsIf Washington is going to topple Boise State on Saturday night, Keith Price will have to be his 2011 self.
There should be some familiarity considering that Boise State beat the Huskies 28-26 in the Las Vegas Bowl last December, a back-and-forth affair that saw the Huskies fall behind early, mount a massive comeback to take the lead, then fold in the waning moments.
That familiarity will be more for Boise State, though. The Broncos only have 10 starters returning from last year's 11-2 team. The Huskies have 20 from a 7-6 squad that ended the season with a dreary two-game losing streak.
Of course, one of those returning starters, All-American tight end
Austin Seferian-Jenkins
-- the Huskies' best player -- won't play. He's been suspended due to an offseason DUI. That means quarterback
Keith Price
will be missing one of his most dangerous and reliable weapons.
Price may be where this game turns. If he's the efficient playmaker he was in 2011, the Huskies should be in good shape. If he's the guy who was inconsistent and turnover prone in 2012, they probably will struggle against a team that knows how to take advantage of bumbling AQ conference teams -- see a list of victims that includes powers such as Oklahoma, Georgia and Oregon, to name only a few.
Price's counterpart,
Joe Southwick
, is a second-year starter who played well over the latter third of the 2012 season. He doesn't, however, have a lot of experience playing in the sort of atmosphere he'll face tonight. The Broncos lost 17-13 at Michigan State to open their 2012 season with Southwick behind center for his first start, but that's his only experience in front of 70,000-plus fans.
So, in the end, Husky Stadium itself might have a role to play. With a hopeful and re-energized fan base packing the stands like the old days, this venue could again become one of the nation's loudest. The removal of the track that formally surrounded the field has moved the stands closer to the action, so the acoustics should be even better for making an opposing offense incapable of communcation.
Huskies coach Steve Sarkisian has tried to emphasize that one game doesn't a season make, win or lose. But Washington fans are impatient after three consecutive seven-win seasons. They want more, such as national rankings and Pac-12 titles.
Beating Boise State would be a big first step toward national relevance. And a loss would be a step in the opposite direction.
August, 29, 2013
8/29/13
1:00
PM ET
Washington coach Steve Sarkisian likes his team's maturity. He likes its depth. He's appreciative it emerged from preseason camp mostly healthy. He's pleased with the focus and willingness to work. And he really likes the spectacular remodel of Husky Stadium.
[+] Enlarge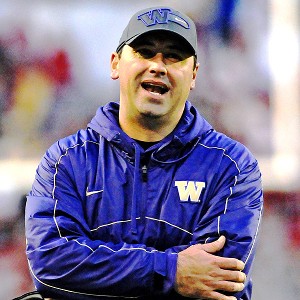 James Snook/US PresswireSteve Sarkisian and Washington hope to improve on a string of 7-6 seasons.
Sarkisian sees plenty of positives as he enters his fifth season at Washington, including 20 returning starters, a number that doesn't include a handful of former starters who missed the 2012 season due to injuries who are back on the 2013 depth chart.
Don't think Sarkisian isn't aware, however, of the "but" coming, the qualifier, the pause that allows skepticism to walk into the room to confront this optimism. The last three times his team was 0-0 in August, it finished 7-6 in December. This is a program with a dedicated fan base that can recall a time when three consecutive seasons capped by no final game in January was seen as a worrisome downturn.
Of course, part of the problem is that portion of the Huskies dedicated fan base needs to be at least in its mid-to-late 30s to recall the golden age under Don James.
So the excitement of No. 19 Boise State coming to Seattle to open Husky Stadium on Saturday is accompanied by a sense of full-on urgency for Sarkisian and his team. It's time to be relevant again, both in the Pac-12 and nationally. It's time to eyeball Rose Bowls, not just bowl eligibility.
Simply: If not now, then when?
"What's really going to make this place special is how we play, the product we put on the field. Our guys understand that," Sarkisian said.
Sarkisian says his players are eager to prove this is the team; this is the year.
No Husky is more eager to move on to a new season than quarterback
Keith Price
. He lets out a big laugh when a reporter jokes that both of them are surely pleased that Boise State's arrival means no more talk about 2012. It's now time.
[+] Enlarge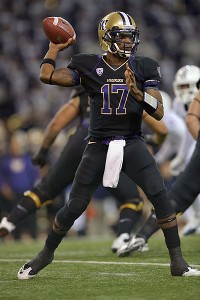 Steven Bisig/US PresswireKeith Price will need to make plays for Washington to compete against Boise State on Saturday.
"We understand that seven-win seasons are no longer acceptable," he said. "We're up for the challenge."
The Huskies know the Broncos will offer a challenge for a number of reasons, not the least of which is their having lost to them in last year's Las Vegas Bowl on a last-second field goal. In that game, the Huskies fell behind 18-3, rallied to take a fourth quarter lead but then yielded a 47-yard kickoff return and short drive for the winning kick.
It was emblematic of the season -- slow start, a positive swing in momentum but then an ultimate flop. The Huskies were floundering at 3-4 at the 2012 midpoint but then won four consecutive games as the schedule softened. With the Apple Cup against struggling Washington State and a bowl game ahead, they seemed poised for a potential six-game winning streak to close a nine-win season.
Instead, they epically collapsed in the Apple Cup -- surrendering an 18-point fourth-quarter lead to lose in overtime -- and then fell to Boise State.
You might have heard all this before, but -- apologies -- it's the prevailing narrative until the Huskies change that. Which is where Boise State comes in.
Sarkisian is as aware as anyone that putting too much on this game -- one way or the other -- could damage the season. Beating Boise State likely would push the Huskies into the national rankings, but they will only stay there by continuing to win when Pac-12 play begins. Conversely, allowing a loss to linger could prove catastrophic to the season. The latter could congeal random hotseat chatter into something legitimate for Sarkisian, even though he took over a program after it went 0-12 in 2008.
Another plot twist: The uncertain status of preseason All-American tight end
Austin Seferian-Jenkins
. He's not been cleared to play due to an injury to his pinkie, Sarkisian said, but the real issue is whether he will face any type of suspension after a spring DUI. Sark isn't saying, giving a reporter seeking clarity a, "Come on dude," during a Monday news conference. If Seferian-Jenkins is out, Price loses a big target, particularly in the red zone.
Price is probably where this game turns. It's likely that Boise State, after giving up 205 yards rushing to
Bishop Sankey
in the bowl game, is going to gang up on the run and try to force Price to make plays. He'll have a
much healthier and seasoned offensive line in front of him
, and he's seemed to be back to his old playmaking ways after strong performances in spring practices and fall camp.
Meanwhile, the Huskies defense took big strides last year and seems poised to do so again in year two under coordinator Justin Wilcox. Not only are eight starters back, but
Hau'oli Kikaha
-- who was brilliant as a true freshman in 2010 when his last name was Jamora -- has won the starting nod at one defensive end, displacing
Andrew Hudson
, who had 6.5 sacks last year.
"Man, I think he's better than ever, quite honestly," Sarkisian said. "He is flying around all over the field. You really notice him in practice. He's creating turnovers, he's moving all over the field at different positions for us."
Of course, the Broncos have starting QB
Joe Southwick
back. He was highly efficient over the latter part of the season, including the bowl win over the Huskies.
Price calls it "a good question" when asked if the Huskies should be concerned about being too fired up. They're eager to put last season's disappointment behind them. They're focused on becoming relevant again. And they will be goosed about their fancy new digs.
And those digs are really fancy.
"Aw man, it's awesome," Price said. "Going from our old facilities to our new facilities, it's night and day. But we understand those facilities don't mean anything if we don't win games in our home. That's what's going to make that place even more special."
August, 26, 2013
8/26/13
8:00
PM ET
Here's a quick look at Week 1 in the conference. All times are ET.
Thursday

Utah State at Utah, 8 p.m. Fox Sports 1
: Utah leads the series 77-29-4 but the Aggies won 27-20 in overtime last year in Logan. That ended the Utes 12-game winning streak in the series. The Aggies went 11-2 last year but lost coach Gary Andersen to Wisconsin. Former offensive coordinator Matt Wells takes over, and he has 15 starters back, including QB Chuckie Keeton, who put up big numbers last year. This will be the debut of Utes new co-offensive coordinator Dennis Erickson.
No. 21 USC at Hawaii, 11 p.m. CBS Sports Network
: USC leads the series 8-0. Hawaii is coached by Norm Chow, who went 3-9 in his first season. Trojans fans might have heard of him, and there isn't a warm relationship between Chow and USC coach Lane Kiffin. The Rainbow Warriors have 17 starters back. Chow made some news before the season when he
dismissed offensive coordinator Aaron Price
-- son of former Washington State coach Mike Price -- before he'd even coached a game. Chow now will run the offense.
Friday
Northern Arizona at Arizona, 10 p.m. Pac-12 Network
: Arizona leads the series 11-1, and that defeat occurred in 1932. The game likely will feature the debut of Wildcats QB
B.J. Denker
, though coach Rich Rodriguez has been coy about his starting QB, separating the top-three guys with an "Or" on his depth chart. The Wildcats beat the Lumberjacks 41-10 in 2011.
Saturday
Nicholls State at No. 3 Oregon, 4 p.m. Fox Sports 1
: These teams have never met, and it's unfortunate they will Saturday. Nicholls State went 0-7 in the Southland Conference last year, its lone 2012 win coming over NAIA Evangel. Oregon State beat Nicholls State 77-3 last year when the Beavers were legitimately trying not to score.
As The Oregonian has pointed out
, it's likely the Autzen Stadium points record (72, recorded against New Mexico in 2010 and Nevada in 1999) will be broken.
Eastern Washington at No. 25 Oregon State, 6 p.m. Pac-12 Network
: Oregon State leads the series against the FCS power 2-0, last winning 56-17 in 2006. It was announced Monday afternoon that
Sean Mannion
will start at QB for the Beavers over
Cody Vaz
, who still might see some playing time.
Washington State at Auburn, 7 p.m. ESPNU
: Auburn leads the series 1-0, beating the Cougars 40-14 in 2006. This will be the debut of Tigers coach Gus Malzahn, as well as his starting QB
Nick Marshall
. Two years removed from a national title -- won in a nailbiter over Oregon -- Auburn went 3-9 last fall and fired coach Gene Chizik. Malzahn was the Arkansas State coach last year, but he also was Chizik's offensive coordinator in 2010. The Tigers welcome back 17 starters.
[+] Enlarge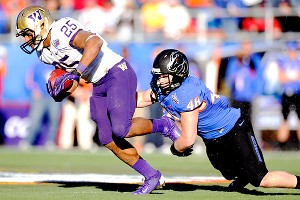 Josh Holmberg/USA TODAY SportsBoise State and Washington played in the Las Vegas Bowl last year, with the Broncos winning 28-26.
strong>Nevada at No. 21 UCLA, 10 p.m. Pac-12 Network: First meeting. After Chris Ault retired -- again -- Brian Polian became the Nevada coach. The Wolf Pack has 12 starters back from a 7-6 team, most notably QB Cody Fajardo, a dynamic pass-run threat. He rushed for 1,100 yards and passed for 2,786 yards last year, accounting for 32 total TDs.
No. 19 Boise State at Washington, 10 p.m. Fox Sports 1
: The series is tied 1-1. Boise State beat the Huskies 28-26 in the Las Vegas Bowl last year, while the Huskies prevailed in the 24-10 in 2007. The Broncos have only 10 starters back from their 11-2 team, while the Huskies welcome back 20. While Boise State QB
Joe Southwick
didn't put up big numbers last year, he was extremely efficient over the latter third of the season.
No. 22 Northwestern at California, 10:30 p.m., ESPN2
: Northwestern leads the series 1-0 -- a 20-14 win in 1949. The Wildcats welcome back 17 starters from a 10-3 team that beat Mississippi State in the Gator Bowl last year. That includes the outstanding combination of QB
Kain Colter
and RB
Venric Mark
. They combined for over 2,200 yards rushing last year. This is the debut of Cal coach Sonny Dykes, who replaced Jeff Tedford, as well as true freshman QB
Jared Goff
.
Sunday
Colorado vs. Colorado State (Denver), 6 p.m., CBS Sports Network
: Colorado leads the series 61-21-2 but the Rams won 22-17 last year. The game will be played on Sports Authority Field at Mile High, previously known as Invesco Field, home of the Denver Broncos. The Rams welcome back 18 starters from a 4-8 team in Jim McElwain's second season. Colorado coach Mike MacIntyre, who is making his debut leading the Buffaloes, announced this week that
Connor Wood
will start at quarterback.
July, 3, 2013
7/03/13
7:00
PM ET
We continue our series taking a closer look at each Pac-12 team's nonconference schedule.

Washington
Boise State, Aug. 31
Coach: Chris Petersen (84-8), eighth year
2012 record: 11-2, 7-1 Mountain West
Returning starters: five offense, four defense
Offensive headliner: Quarterback Joe Southwick returns after completing 66.8 percent of his throws last year with 19 touchdowns to seven interceptions. He threw for 2,730 yards and averaged 210 per game.
Defensive headliner: Defensive end Demarcus Lawrence earned first-team all-league honors after posting a team-high 13 tackles for a loss and 9.5 sacks to go with 48 tackles.
The skinny: The Broncos will probably start the year ranked -- and they've earned that right. They have consistently been a Top 25 program and the elite team among non-BCS conference schools. They've gone 5-0 against the league's teams (including Utah in the 2010 Las Vegas Bowl, prior to the Utes joining the conference) since 2008. Their last loss to a Pac-12 team was at Washington in 2007. And in case anyone needs reminding, this is a rematch of last year's Las Vegas Bowl, which the Broncos won 28-26 on a late field goal.
at Illinois (in Chicago), Sept. 14
Coach: Tim Beckman (2-10), second year
2012 record: 2-10, 0-8 Big Ten
Returning starters: eight offense, four defense
Offensive headliner: Quarterback Nathan Scheelhaase returns as a four-year starter after an injury-plagued 2012. A high ankle sprain limited him for the majority of the season and as a result, he had just four touchdowns to eight interceptions with a 60.6 completion percentage in 10 games.
Defensive headliner: Linebacker Jonathan Brown is an all-conference candidate after posting 59 tackles last year with 2.5 sacks and a team-high 9.5 tackles for a loss.
The skinny: Much of what Illinois wants to do on offense revolves around Scheelhaase's ability to move. And with an ankle injury limiting him last season, the offense suffered, averaging a minuscule 16.7 points per game. With him healthy, and a lot of returning players around him on offense, expect Illinois to be improved in that department.
Idaho State, Sept. 21
Coach: Mike Kramer
2012 record: 1-10, 0-8 Big Sky
Returning starters: eight offense, seven defense
Offensive headliner: Justin Arias, a redshirt junior, moves into the starting quarterback role. He has two capable receivers to throw to in Cameron Richmond and Luke Austin, who combined for 1,405 yards and 12 touchdowns last season.
Defensive headliner: Sophomore defensive back Taison Manu was a freshman All-American last season after posting 77 tackles (tied for second on the team) an d4.5 tackles for a loss.
The skinny: Give the Bengals credit. They've scheduled two FBS teams every year since 2008, including the likes of ASU, Oklahoma, Georgia, Nebraska and BYU. This season they go to Washington and again at Provo, Utah. Granted, they've lost all those games, usually by a wide margin, but they at least aren't afraid to be ambitious in their scheduling. Last year they set a conference record for most passing attempts and completions. Though they allowed almost 54 points per game in 2012.
Thoughts
: The big one here, obviously, is Boise State. Illinois should be better than last season, but so should the Huskies, and despite Washington's road woes, this should be categorized as a winnable game. The Boise State game means a heck of a lot to Washington's season. Obviously, it will be an electric atmosphere with the opening of remodeled Husky Stadium. As we've written a couple of times before, in the
Ultimate Road Trip
and
Most Important Game
series, what a victory could do for the Huskies on the national landscape. Accepting that Boise State will likely be a Top 25 team to start the season, a win likely puts Washington in the rankings -- where they'll stay, and likely climb as others around them lose -- heading into conference play. After Arizona, it's three straight against Stanford, Oregon and ASU. Heading into that stretch ranked and 3-0 would bring the fan base to a tizzy. A loss, however, stunts momentum, and victories over Illinois and Idaho State would be met with more of a "meh." If the Huskies want to be nationally relevant and show they are ready to take the next step, beating Boise would be a good place to start.
December, 22, 2012
12/22/12
7:04
PM ET
The
Washington Huskies
trailed Boise State for most of the MAACO Bowl Las Vegas -- falling behind 18-3 at one point. But they battled back and took the lead with four minutes left in the game. The Broncos didn't stay down for long, however. Here's how
it all went down
in Las Vegas.
It was over when
: Washington quarterback
Keith Price
was intercepted in the final 30 seconds by
Jeremy Ioane
, ending a potential game-winning drive.
Turning point
: After the Huskies took a 26-25 lead late in the game, Boise State's
Shane Williams-Rhodes
returned the ensuing kickoff 47 yards to the Washington 42. That set up
Michael Frisina
's 27-yard go-ahead field goal with about 1:30 left in the game.
Boise State game ball goes to
: Quarterback
Joe Southwick
was a poised 26 of 38 for 266 yards and a pair of touchdowns with no interceptions. But it was really his scrambling and 11 rushes for 39 yards that extended drives.
Washington game ball goes to
: Running back
Bishop Sankey
, who looked like the best player on the field. He rushed for 205 yards on 30 carries and also caught six balls for 74 yards.
Unsung hero
: Boise State's kicking game gets a bad rap. But aside from the blocked PAT, Frisina was solid, hitting on all three field goal attempts.
Stat of the game
: The layoff didn't impact either team's discipline. It was a very clean game with a combined five penalties for 33 yards.
What it means
: For the Broncos, it's another big victory over a BCS conference opponent, a fourth straight bowl victory and their third straight win in Las Vegas. For the Huskies, they again fail to reach the eight-win mark and haven't had an eight-win season since 2001. Coupled with the loss to Washington State in the Apple Cup, they end the year on a two-game skid.
December, 22, 2012
12/22/12
10:30
AM ET
Three things to watch in today's MAACO Bowl Las Vegas between Washington and Boise State:


1. Red zone production
: Once you get there, you better get points. That's been an issue for Washington and quarterback
Keith Price
this season. After ranking second in FBS last year with an 80.8 red zone touchdown percentage, the Huskies have dropped to 66 percent. Last year Price was among the nation's leaders in red zone completion percentage and touchdowns with 74.1 and 25, respectively. This year he's only completing 57.6 percent in the red zone with 14 touchdowns. The Broncos have allowed just three receiving touchdowns all year and rank in the top 10 nationally in pass defense and pass-efficiency defense. They also rank seventh in red zone defense. Both teams are in the bottom half of the country in red zone offense.
2. Bring the heat
: Boise State is one of the best teams in the country at protecting its quarterback. The Broncos rank seventh nationally, allowing less than a sack per game, which makes life a lot easier on quarterback
Joe Southwick
. The Huskies are middle of the road when it comes to creating pressure, averaging about two sacks per game. Washington's sophomore ends
Josh Shirley
and
Andrew Hudson
both check in with 6.5 sacks on the year.
3. Run, then gun
: Both teams boast 1,000-yard rushers this season:
Bishop Sankey
for Washington (1,234 yards 15 touchdowns) and
D.J. Harper
for Boise State (1,065 yards, 15 touchdowns). Both have similar compact frames and both possess home run potential. Look for each offense to get their guys established on the ground and then cut it loose to their marquee receivers. Price is actually at his best when he goes deep -- tossing six touchdowns with no interceptions on throws of 15 yards or more. He'll look to either Mackey Award finalist
Austin Seferian-Jenkins
or wide receiver
Kasen Williams
. Southwick's favorite target is
Matt Miller
, who has 60 catches and five touchdowns on the year.
December, 22, 2012
12/22/12
10:00
AM ET
Washington (7-5, 5-4 Pac-12) vs. Boise State (10-2, 7-1 Mountain West)


Who to watch
: After his "Hello, world" moment against Baylor in a 67-56 loss in the Valero Alamo Bowl last year, Washington quarterback
Keith Price
seems to have regressed this year. His completion percentage is down and he's thrown 18 touchdowns compared to 29 at this point last year. He has the same number of interceptions, 11. After some early struggles and inconsistencies, Boise State quarterback
Joe Southwick
seems to have finally settled into his role as "the guy after Kellen Moore." He's completing 66.7 percent of his throws with 17 touchdowns and seven interceptions. In the last three games he's completed 70 percent of his throws with seven touchdowns and no interceptions.
What to watch:
How does the Boise State defense defend Washington tight end
Austin Seferian-Jenkins
? The Mackey Award finalist has game-changing size and speed. Maybe more to the point -- how does Washington use him? If Seferian-Jenkins gets 7-10 touches, it could be the difference in the game. But Boise State is stingy against the pass, having allowed an FBS-leading three touchdown passes in 337 attempts this season. The Broncos rank in the top 10 in pass defense and pass-efficiency defense.
Why to watch
: Boise State has won its past three bowl games -- the last loss coming to TCU in the 2008 San Diego County Credit Union Poinsettia Bowl. If the right Washington team shows up -- the one that knocked off Stanford and Oregon State -- this could be one of the more entertaining games of the bowl season. If the Huskies still have a hangover from their Apple Cup loss, Boise could cruise.
Prediction
: Defensive coordinator Justin Wilcox has made a world of difference at Washington this season. He knows Chris Petersen and how he preps -- having served on his staff as defensive coordinator. Plus, Washington has played a far more vigorous schedule -- going 2-2 against top-10 teams. Boise State has seen just one Top 25 team and that was in the season-opening loss to Michigan State. Washington 24, Boise State 17.
PAC-12 SCOREBOARD
Saturday, 12/27
Saturday, 12/20
Monday, 12/22
Tuesday, 12/23
Wednesday, 12/24
Friday, 12/26
Monday, 12/29
Tuesday, 12/30
Wednesday, 12/31
Thursday, 1/1
Friday, 1/2
Saturday, 1/3
Sunday, 1/4
Monday, 1/12
Tweets from https://twitter.com/ESPNCFB/lists/pac12