February, 22, 2012
2/22/12
2:30
PM ET
By
ESPN.com staff
| ESPN.com
Success at sports is the province of the almost empty head.
February, 21, 2012
2/21/12
2:30
PM ET
What's the matter, Colonel Sandurz? CHICKEN?
August, 11, 2011
8/11/11
5:30
PM ET
By
ESPN.com staff
| ESPN.com
The eighth of 12 quick updates on offseason Pac-12 goings on.
UCLA in a sentence
Coach Rick Neuheisel is on the hot seat after a second 4-8 season in three years and a 8-19 mark in conference play, but while expectations are low among the pundits, there is enough talent on this team to reach a bowl game and even contend in the Pac-12 South Division if quarterback play is at least adequate.
The big issue
With intriguing talent on defense and talent and depth at running back, it all comes down to the passing game. If the Bruins can effectively throw the football -- and protect their quarterback -- the program will take a major step forward.
Quick hit news
Neuheisel cleaned house on his coaching staff, dispatching both coordinators -- Norm Chow on offense and Chuck Bullough on defense -- as well as defensive line coach Todd Howard, receivers coach Reggie Moore and special teams coach Frank Gansz. He hired Mike Johnson to run the offense (and coach receivers) and Joe Tresey to coach the defense. Neuheisel will oversee the quarterbacks. Inoke Breckterfield takes over the defensive line, while Jim Mastro -- hired away from Nevada for his knowledge of the pistol offense -- will coach tight ends/F-backs. Angus McClure takes over special teams.
The Bruins picked up a couple of transfers who could help immediately. Junior college transfer offensive lineman Albert Cid could work his way into a starting role, while cornerback Jamie Graham, a former starter at Vanderbilt, should bolster the secondary.
The biggest competition of preseason camp is at quarterback, where incumbent starter Kevin Prince is battling Richard Brehaut. Prince is the leader to start, but after sitting out spring practices due to a knee injury, he'll have to win over Johnson and Neuheisel again. True freshman Brett Hundley was in the mix until he tore his meniscus, which will sideline him for the opening weeks of preseason camp.
OG Stanley Hasiak left the program after being ruled academically ineligible.
Jeff Baca, who could play either guard or tackle, is out until late September with a broken foot. Cornerback cornerback Anthony Jefferson is going to be out at least six weeks after back surgery.
Tight end Morrell Presley, cornerback Courtney Viney and defensive end Derrick Bryant each decided to transfer. Presley and Viney are experienced players who were expected to contribute this fall.
July, 14, 2011
7/14/11
10:42
AM ET
By
ESPN.com staff
| ESPN.com
It cost UCLA $500,000 to make Norm Chow go away in January,
according to the Los Angeles Times
.
That was the buyout Chow collected from the Bruins when coach Rick Neuheisel dumped him as offensive coordinator. Chow immediately bolted for Utah, where he will coach against UCLA on Nov. 12.
The Times obtained the buyout amount with a Freedom of Information request.
Why did Chow get such a fat buyout? From the Times:
Chow and UCLA officials had agreed on a two-year, $1.1-million contract extension, the offshoot of USC's interest in Chow after the 2009 season. After more than a month of negotiations, UCLA and Chow agreed on a buyout.
So USC had a hand in this. Sure there will be a few grins over that at Heritage Hall today.
While Chow was reported by some as part of the package when Lane Kiffin was hired, that marriage was never going to happen. As a member of Pete Carroll's staff at USC, Kiffin was part of a coup d'état with now Washington coach Steve Sarkisian that wrested away control of the Trojans' offense from Chow in 2005. And, yes, there were hard feelings.
Further, Kiffin said immediately after he was hired he was going to call offensive plays. Chow wasn't going to go back to USC without being given control of the offense, and Kiffin's assertion immediately made the move a nonstarter. And I've got a $1 bill that says Kiffin knew that when he said it.
From a UCLA perspective, this is mostly old news. Everyone knew Neuheisel and Chow had soured on each other. There were signs of that even before Neuheisel pushed Chow to adopt a pistol offense, of which he had no familiarity.
The hefty buyout number does clearly demonstrate two things, though: 1. Neuheisel really, really wanted Chow to go; 2. Bruins athletic director Dan Guerrero really, really wants Neuheisel to succeed.
UCLA is hardly awash in cash, so dishing out $500,000 isn't just a flesh wound, though it's worth noting that there's substantial savings on the back end, seeing that Chow's replacement, Mike Johnson, has a $250,000 base salary, according to the Times.
Still, the removal of Chow -- one of the college game's most celebrated offensive coordinators -- from the equation was a bold move for Neuheisel. The publicity, as rumor turned to reality, certainly didn't favor Neuheisel. As
we've written before
, Neuheisel is on the hot seat. He needs to win. And he's decided to face that urgency on his own terms by hiring the coaches he wants as well as taking over quarterback coaching duties himself. If Neuheisel is going to fail in Westwood, he's going to go down swinging. Or, just maybe, he's taken a most difficult step toward success.
Both Chow and Neuheisel have told their versions of their parting -- on and off the record -- to reporters. It's fair to say that they didn't work well together, but the divorce,
considering how it went down
, wasn't terribly bitter.
That said, know that Chow would love to hang 40 on the Bruins in November, and Neuheisel will be buying new defensive coordinator Joe Tresey dinner if Chow and the Utes get stymied.
May, 11, 2011
5/11/11
4:50
PM ET
By
ESPN.com staff
| ESPN.com
The mailbag comes early this week.
Oh,
you should follow me on Twitter
. Not going to say why. But you should. It's important.
To the notes:
Micah from Northfield, Minn., writes
: Why did Cal drop from 8 to 10 in your
Post-spring rankings
? I am curious as to what has happened that
they've actually gotten worse
. Cal and UCLA have switched places since January. Why? Both have equally troubling QB issues and both seem to have good defenses (my personal bias gives the edge to Cal). Neuheisel has yet to prove he can win consistently while Tedford seems so be sliding backwards, but at least has a good track record. I'd like to hear more of your logic on switching these two teams.
Ted Miller
: First off, just a wee bit of this is the notion that the rankings shouldn't stay static -- for entertainment purposes. Otherwise, I wouldn't get notes from worried or angry fans. And that would make me cry.
Why did the Bears go down? Well, for one, a team that has closed practices sometimes falls for a simple reason: It doesn't get as much of a chance to impress me-- live or through the reporting of others (of course, that could work the other way, too).
While I watched UCLA practice, I thought this: These guys have plenty of players, particularly on defense. I also have a feeling that the quarterback situation will work itself out, particularly if
Kevin Prince
is healthy and stays that way. The Bruins have two experienced QBs in Prince and
Richard Brehaut
and true freshman Brett Hundley has plenty of talent. The biggest question is the offensive line, which should be fine if health issues are resolved.
When I left Westwood, my opinion of the Bruins went up (I also think the new coordinators, Mike Johnson and Joe Tresey, are going to do well).
Why did Cal move down? Well, I
didn't read anything
this spring that convinced me the Bears were going to solve their QB issues. Transfer Zach Maynard appears to have a clear lead heading into the offseason, but it seems that's mostly because he's mobile. Further, the questions at running back and on the O-line are noteworthy issues. As for the defense, we hear about young talent, but the Bears also lost three NFL draft choices: defensive end Cameron Jordan, linebacker Mike Mohamed and safety Chris Conte. When I went position-by-position with coordinator Clancy Pendergast, he kept noting incoming freshmen. And injuries.
When I left Berkeley, my opinion of the Bears didn't exactly crater. I just felt like the team was in a worrisome gray area.
Of course, we've still got the offseason and fall camp to shake things up (no need for an
actual
game to be played!). An injury here or there, or a player seeming to step up, that could again send a team -- or teams -- up or down in the power rankings. For example, reliable word that Maynard is slinging the rock like a champ could bolster the Bears standing.
It's also important to remember this: I could be wrong. Really. No, seriously. I kid you not.
---
Eric from Mountain View, Calif., writes
: Can you explain to me what the
TV schedule that was released
means. Are there more games that can be picked up by ABC/ESPN? Did Fox have first choice on any games? Will Fox be releasing their schedule soon? Mostly confused how ABC wouldn't snatch up the Stanford/Oregon game right away, so assuming it's either because Fox got first pick of it, or ABC will pick it up later on.
Ted Miller
: First, keep in mind this is all old TV contract stuff. The Pac-12's new blockbuster deal doesn't begin until 2012, when ABC/ESPN and Fox -- big show, network Fox -- will adopt equitable draft system for picking games.
As for the games
that were announced
Tuesday, those were only the priority picks by ABC/ESPN. Lots and lots of other games are going to be picked up later and televised. From the Pac-12 website:
Some of the games to be televised are selected prior to the season, others will be selected as the season progresses with picks made either six or 12 days prior to the games. Additional telecast selections by Fox Sports Net/Versus/FX will be announced in early June, 2011.
Many games that don't seem terribly important now will become so as the season progresses. The conference's TV partner leave themselves some room to pick up such games later in the season.
---
Tyler from Corvallis writes
: Not one Beaver game slated for the ESPN/ABC schedule? Are they waiting for the underdogs to rise up or are we just that bad of a market for them? Doesn't look like the Pac-12 media deal is working out in our favor much.
Ted Miller
: Not yet. But guess what? If you win and get ranked, the TV networks will come running to pick up your games.
The problem is going 5-7 in 2010 and not generating much preseason buzz, particularly compared to last year.
Further, here's the great news about the new TV contract, as opposed to the current one in place this season: It's equal revenue sharing, no matter how many times you're on TV. Oregon State gets the same as USC -- $21 million, plus or minus -- no matter how many times one or the other is on TV.
Pretty cool, huh?
---
Lawrence from Salt Lake City writes
: Just noticed that you said the USC-Arizona State was the Pac-12 opener for both teams in
your most recent video
. However, Utah plays at USC the 2nd week of the season.
Ted Miller
: You -- and many others -- are correct. No edit function on videos. Just the hazards of adding details while speaking without double-checking.
---
Chris from Phoenix writes
: Is California playing Colorado as a non-conference game?
Ted Miller
: Yes, California's visit to Colorado on Sept. 10, the second game of a home-and-home series, won't count in the conference standings.
April, 22, 2011
4/22/11
2:00
PM ET
LOS ANGELES -- Football coaches get paid big money for high-profile jobs, and fans and administrators expect consistently good results. The threat of getting fired for perceived failure is part of the deal, so hot seat lists for head coaches are part of the annual flow of offseason reports from the media.
UCLA coach Rick Neuheisel, after a second 4-8 finish in three years atop his alma mater, will be high on many of those hot seat lists heading into the 2011 campaign. Although deciding what would define a successful season that would cool his toasty stool is a purely speculative task -- a bowl game? eight wins? beating USC? -- it's not unfair to declare that the program needs an uptick. And Neuheisel knows this.
But the hot seat is a bit like "Fight Club." You don't talk about it. Not much, anyway. What good would it do?
"I don't feel it. I'm sure it's there," Neuheisel said. "I don't go up there and sit in [the athletic director's] office and ask every day, but I don't feel it."
What Neuheisel did feel this offseason was a need for change. So he dramatically reshaped his staff: five new coaches, including two new coordinators. He also gave himself the toughest job: quarterbacks coach. The success of the 2011 season may hinge on how consistent and productive the Bruins quarterback is, and considering the Bruins haven't been consistent or productive at the position since Drew Olson graduated in 2005, well, that's even more pressure.
"I'm putting it on me," Neuheisel said. "And I don't want it on anybody else's shoulders. It's been hard for me to watch that position coached by somebody else, and that's no knock on [former offensive coordinator Norm Chow]. Norm's got three Heisman Trophy quarterbacks. But it's what I do. It's what I enjoy doing. I'm excited about the challenge."
Ah, Chow.
[+] Enlarge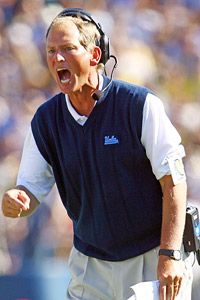 Jeff Gross/Getty ImagesUCLA coach Rick Neuheisel doesn't feel any "hot seat" pressure.
When Neuheisel was hired before the 2008 season, part of the deal was retaining Bruins defensive coordinator DeWayne Walker -- who was a candidate for the job Neuheisel got -- and hiring Chow to run the offense. It was sold as a coaching superteam. One suspects, though Neuheisel doesn't explicitly say so, that it was part of the conversation before he was hired as head coach.
The celebrated arrangement, however, proved a failure. Walker bolted after one year to become head coach at New Mexico State, which is like saying he ran off to Hades to relieve Sisyphus. Chow and Neuheisel divorced this offseason.
"It was a different way of putting a staff together than I'd done at either Washington or Colorado -- this was the first time I ever worked with people that I didn't know," Neuheisel said of the ill-fated troika. "No bad guys. Just philosophy. You can sit in one room and agree that we are all together, but when you splinter off, are you really?"
Enter Mike Johnson to run the Bruins' offense and Joe Tresey to run the defense. Johnson and Neuheisel go way back. They met when Johnson was a backup quarterback at Arizona State in the mid-1980s and Neuheisel was playing in the USFL. They also coached together with the Baltimore Ravens. Tresey and Neuheisel are new to each other, but at least he was Neuheisel's hire.
"I feel much better about the chemistry we have now, having put it together the way I used to put it together," Neuheisel said.
The big story last year was the Bruins' adopting the pistol offense, which was developed at Nevada. The idea was to bolster the sagging running game. Even then, many wondered if Chow would buy in after running a West Coast, pro-style offense his entire career. The pistol helped the running game, but the passing game swirled into the toilet.
If you are looking for potential issues now -- even with the new arrangement -- it could be the "too many cooks in the kitchen" theory.
Johnson is the coordinator and receivers coach and a longtime NFL assistant with no pistol, spread-option background. Neuheisel is coaching the quarterbacks. And Jim Mastro, hired away from Nevada, is the running game coordinator. How will they all mesh into their defined tasks on Saturdays, particularly when the screws tighten in critical conference games?
"It's defined," Johnson said. "My job as offensive coordinator is not to come up with all the ideas. It's to be the leader of the group."
The first order of business is finding a leader on the field at quarterback, but that remains unresolved this spring.
Kevin Prince
, the injury-prone starter for much of the past two seasons, hasn't been available thanks to a knee injury.
Richard Brehaut
would start if the Bruins were playing a real game and not their spring game on Saturday. Touted true freshman Brett Hundley has flashed potential at times but is still getting used to the speed of the college game.
The second issue is the offensive line, which has suffered injury woes this spring.
"We got to get lucky there," Neuheisel said.
As a program, the Bruins haven't experienced much luck since going 10-2 in 2005. While rival USC surged, there was only inconsistency and instability in Westwood. When Neuheisel was hired and USC fell afoul of the NCAA shortly thereafter, it seemed as though the Bruins' moment had arrived. Yet, so far, that hasn't proven the case, and a poor 2011 recruiting class while the Trojans ended up ranked in the top five didn't help the hot seat perception.
As Neuheisel said, he's putting it on himself to push the program forward. And if it doesn't work out?
"If it were to happen, that they were to replace me, I'm confident I would find another job," he said. "It wouldn't be the end of the world. I don't think my kids would starve. But I'm adamantly wanting to be here because this is my school and I believe we're closing in on where we want to go."
April, 21, 2011
4/21/11
4:39
PM ET
By
ESPN.com staff
| ESPN.com
LOS ANGELES -- Rick Neuheisel and Mike Johnson are on the same page this spring. We know this because the UCLA coach and his new offensive coordinator are both repeating two main ideas.
First, they both point out that the "pistol" offense, which the Bruins adopted last year with decidedly mixed results, ultimately is just a formation. It's a marriage of the traditional shotgun and single-back sets, with the quarterback lining up four yards behind center with the running back behind him.
Did we mention marriage? That might be because that's the second idea: Marrying the pistol running game, which new running game coordinator Jim Mastro was hired away from Nevada to implement, with the passing game that Johnson brings from his years in the NFL.
"Mike is learning the pistol running game from Jim, and Jim is learning passing concepts from Mike," Neuheisel said. "We're trying to marry the two together to create an offense."
Of course, scheme only goes so far. Players matter, too. The Bruins search for a quarterback won't be resolved this spring, while injuries have been an issue on the offensive line.
Some notes based on conversations this week with Neuheisel, Johnson and new defensive coordinator Joe Tresey.
[+] Enlarge

Gary A. Vasquez/US PresswireJohnathan Franklin leads a talented group of UCLA running backs.

At quarterback, Kevin Prince has been running around but he won't be ready to rejoin the competition until preseason camp because he's still recovering from a knee injury. Touted true freshman Brett Hundley has flashed ability but is adjusting to the speed and complexity of the college game. Richard Brehaut has played well at times but has yet to win over Neuheisel or Johnson. In other words, the quarterback competition is far from over. "It's to be continued," Johnson said.

Neuheisel called running back "Maybe our best position." Johnathan Franklin is a clear No. 1, but Jordan James has been a standout this spring. Derrick Coleman and Malcolm Jones also are in the mix. As for Franklin's fumbling issues, Neuheisel leaned forward to knock on the nearest piece of wood furniture: "Not one this spring," he said.

While the receivers dropped too many balls last season, Neuheisel called it "a position of strength," led by Nelson Rosario. Said Neuheisel, "Nelson has the ability to be a break-through performer."

Johnson coaches the receivers. Of the dropped balls in 2010, he said, "The main culprits lacked confidence." So he's rebuilding that confidence by drilling fundamentals. But he's also demanding more: "We have a rule with the backs and receivers: If you touch it, you catch it. There is no other way," he said.

Tight end is solid with Cory Harkey, a good blocker, and Joseph Fauria and Morrell Presley, who are both big targets. But Neuheisel said incoming freshman Raymond Nelson, brother of UCLA basketball player Reeves Nelson, could end up in the mix.

While the quarterback position has been getting the headlines, the questions on the offensive line may be just as critical to answer. Injuries have exposed uncertain depth. The big issue is tackle Jeff Baca, who broke his ankle, and it's unclear when he'll be ready to play again. Said Neuheisel, "His return is critical to us ... to not have him would be a bitter pill to swallow."

The top F-backs -- not unlike the old wingback position -- are Anthony Barr and Damien Thigpen. Barr, in particular, figures to have an expanded role next fall: "He's a great player who needs to have the ball in his arms more than he did a year ago," Neuheisel said.

Kicker Kai Forbath needs to be replaced, and that task falls to Kip Smith, whom Neuheisel said has had a "good, but not great, spring."

On defense, the players said that Tresey's scheme is simpler than what they've used the past few years. Tresey described it as "attack and react."

Neuheisel on the D-line: "That might be our biggest place of improvement from last year." Neuheisel and Tresey mentioned 10 linemen who are in the mix, topped by end Datone Jones, who's back from a foot injury that killed his 2010 season. Tackle Donovan Carter, of whom little was expected, has been "a surprise this spring," said Neuheisel.

At linebacker, Patrick Larimore is out with an injury but he flashed skills in 2010; he'll be the starter inside with Isaiah Bowns the backup. Jordan Zumwalt is playing Mike 'backer while Larimore is out, but he'll likely move to the strong side to compete with Glenn Love this fall. Sean Westgate is a returning starter on the weakside, but he'll be spelled by Eric Kendricks and Ryan Hofmeister. Of Westgate, Neuheisel said, "He's a real steady football player. He doesn't look the part because of his size but he makes more plays than almost anyone else on our defense."

Strong safety Tony Dye leads the charge in the secondary. Dietrich Riley, Tevin McDonald, Alex Mascarenas and Dalton Hillard, who's sitting out with injury, are competing at safety. Aaron Hester and Sheldon Price are returning starters at cornerback, with Anthony Jefferson, Courtney Viney and Andrew Abbott in the mix.

Asked to list young players who have stepped up, Neuheisel includes S McDonald, LB Kendricks, RB James and QB Hundley. His biggest concern? "The offensive line," he said. "We've got work to do."
April, 19, 2011
4/19/11
1:30
PM ET
By
ESPN.com staff
| ESPN.com
Or is that "City of Angles"?
I'm headed to Los Angeles to check in on the Bruins and Trojans.
I'll split the next three days between them. I'm going to UCLA practice tonight and USC practice Thursday morning. On Wednesday, each will get to soak in the thrills and chills that are always a part of a Pac-12 blog visit.
Will be checking in with the usual suspects -- Rick Neuheisel, Lane Kiffin,
Matt Barkley
, Jennifer Aniston, etc. -- as well as chatting with the Bruins' two new coordinators, Mike Johnson and Joe Tresey.
Should be interesting.
March, 8, 2011
3/08/11
12:03
PM ET
By
ESPN.com staff
| ESPN.com
Only Oregon and Washington
didn't experience any staff turnover
this offseason, so we're running through the staff changes for the other 10 Pac-12 teams.

Next up is UCLA , which went through considerable --
and highly public
-- staff upheaval this offseason.
Team in parenthesis is where the departing coach ended up.
Out

Norm Chow, offensive coordinator/QBs (Utah)
Reggie Moore, receivers
In

Mike Johnson, offensive coordinator/WRs
Head coach Rick Neuheisel will coach QBs
Out

Chuck Bullough, defensive coordinator (Cleveland Browns)
In

Joe Tresey, defensive coordinator
Out

Todd Howard, defensive line (Washington State)
In

Inoke Breckterfield, defensive line
In

Jim Mastro, tight ends/F-backs
(A GA worked with TEs in 2010)
Reaction
: Well, it was a messy offseason -- at least in terms of public perception -- as Neuheisel re-made his staff. He faces a make-or-break campaign in 2011. But at least you can say this: This is Neuheisel's staff. When he was hired before the 2008 season, his staff was in some ways forced upon him, particularly Chow and defensive coordinator DeWayne Walker. Further, the Bruins biggest question heading into spring practices is quarterback. And that's the position Neuheisel will coach. So, really -- pass or fail -- this season should provide a fair window to assess where the program is under Neuheisel. Johnson and Neuheisel know each other well from their days with the Baltimore Ravens, so they should be able to work together. The hiring of Mastro away from Nevada means that both get an expert in the Wolf Pack pistol offense who can help them incorporate however many elements they want to this season. Tresey wasn't the first choice on defense, but he's got a solid resume and likes to attack, which should be appealing to fans. Breckterfield, 33, was a star at Oregon State who might inject some fire into a unit that sometimes lacked it. Still, with this much turnover, there's a lot to get done before the Bruins visit Houston on Sept. 3.
February, 23, 2011
2/23/11
4:01
PM ET
By
ESPN.com staff
| ESPN.com
Coaches love talking about explosion plays. You want to get a lot of them and give up very few.
On Tuesday, we looked at offensive explosion plays -- plays of 20 or more yards --
which you can see here
. Tomorrow, we'll look at explosion plays in terms of rushing offense and rushing defense. On Friday, we'll look at explosion plays in terms of passing numbers.
So here's how the Pac-12 stacked up in 2010 (again, thanks to ESPN Stats & Information). The number to the left in national rank. The number to the right is the total number of explosion plays in 2010.
7. California... 34
13. Arizona State... 38
21. Arizona... 41
28. Stanford... 43
49. Oregon... 49
52. Colorado... 50
60. Utah... 52
63. Oregon State... 53
63. Washington... 53
84. UCLA... 59
95. Washington State...62
99. USC... 63
It's interesting that the defensive numbers are better than the offensive: average rank of 53 on defense versus 65 on offense. Isn't the Pac-12 supposed to be flashy on O and soft on D? The SEC's average rank on defense was 54, even with two top-10 teams (No. 2 Florida & No. 9 LSU).
Of course, Utah and Colorado weren't in the Pac-10 last year (average rank of Pac-10 was 52).
Wow. USC. That's terrible.
Some other thoughts.
In 2009, Oregon was No. 1 in the Pac-10 and tied for 18th in the nation with 41 explosion plays yielded. Oregon State was second with 43 (25th in nation).
Don't be too surprised by Oregon's middling number in 2010: The Ducks play an aggressive, attacking scheme that sometimes leaves them vulnerable. And they also see a lot of plays, which means more opportunities for an offense to break one.
USC tanked in 2010. It ranked second in the nation in 2008 with 22 and 28th in the nation in 2009 with 43. So in the first season under touted coordinator Monte Kiffin, the Trojans nearly tripled the number of explosion plays they surrendered in 2008.
Washington State ranked 95th in 2010 (62), 113th in 2009 (69) and 116th (75) in 2008. So that's improvement. Slow improvement.
Remember how it seemed like former Cal defensive coordinator Bob Gregory's defense was conservative, which would suggest not yielding a lot of explosion plays? Well, in 2009 the Bears ranked 89th (58), so that's significant improvement in year one under Clancy Pendergast. Of course, in 2008, the Bears ranked 14th (38).
Teams that ranked in the top-10 the past three years: Florida, TCU and Iowa. Ohio State and Penn State were also notably consistent.
But do limiting explosion plays on defense equate to winning? Short answer: Mostly, but not as much as the offensive numbers, at least this past season. Here's the top-10 in 2010 with the team's record in parenthesis to the right.
1. Pittsburgh... 30 (8-5)
2. Florida... 32 (8-5)
2. TCU... 32 (13-0)
4. West Virginia... 33 (9-4)
4. Iowa... 33 (8-5)
4. Temple... 33 (8-4)
7. Kent State... 34 (5-7)
7. California... 34 (5-7)
9. LSU... 36 (11-2)
10. Boston College.. 37 (7-6)
10. Ohio State... 37 (12-1)
Two teams have losing records, but three won 11 or more games. Still, it's a bit surprising that eight of 11 lost four or more games.
As for a correlation to defensive success: Every team here ranked in the top-42 in the nation in
scoring defense
and eight were ranked in the top-20. TCU, West Virginia, Ohio State, Iowa and LSU ranked in the top-11 in scoring defense.
PAC-12 SCOREBOARD
Wednesday, 12/24
Saturday, 12/20
Monday, 12/22
Tuesday, 12/23
Friday, 12/26
Saturday, 12/27
Monday, 12/29
Tuesday, 12/30
Wednesday, 12/31
Thursday, 1/1
Friday, 1/2
Saturday, 1/3
Sunday, 1/4
Monday, 1/12
Tweets from https://twitter.com/ESPNCFB/lists/pac12