September, 16, 2013
9/16/13
3:15
PM ET
The Pac-12
admitted Monday
what everyone already knew: The Pac-12 officials royally screwed up at the end of Arizona State's win over Wisconsin on Saturday.
Or should "win" be surrounded by mocking quotes? Or be accompanied by an asterisk?
"This was an unusual situation to end the game," Pac-12 commissioner Larry Scott said in a statement. "After a thorough review, we have determined that the officials fell short of the high standard in which Pac-12 games should be managed. We will continue to work with all our officials to ensure this type of situation never occurs again."
The news release said the officials have been reprimanded and will face "additional sanctions," which suggests some sort of suspension.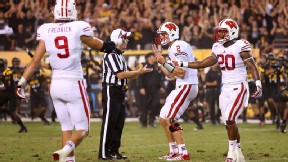 Christian Petersen/Getty ImagesJoel Stave pleads the Badgers' case after the clock ran out at Sun Devil Stadium on Saturday.
With 18 seconds remaining in the game, Wisconsin quarterback
Joel Stave
ran the ball toward the center of the field, quickly touched his knee to the ground and then placed the ball on the ground. There was initial uncertainty among the officials over whether the quarterback had taken a knee, given himself up or fumbled the ball. As a result, several Arizona State players considered the ball live and a fumble, and attempted to recover the ball.
The Pac-12 concluded, "Neither the referee nor anyone on his crew moved with
appropriate urgency
to clearly communicate that the ball was to be spotted so play could resume promptly."
Urgency is the issue. The officials shouldn't have allowed the clock to run out because of their lack of clarity. That lack of clarity, by the way, was understandable thanks to the way Stave executed his kneel -- pretty much not clearly discernible in real time -- but the officials' job was to decisively define the situation.
You know ... before the clock ran out and the game was over.
So, Wisky, you get an admission of guilt and your outrage is now officially justified. You still officially "lost" (those quotes again!), but you were wronged. Your record is 2-and-wronged!
And Arizona State, you got lucky because of the poor judgment of Pac-12 officials.
But let me tell you a little story from long, long ago. Sept. 18, 2010, to be exact.
We are in Camp Randall Stadium in Madison, Wis. On a third-and-3 play from the Wisconsin 18 in the third quarter, Arizona State QB Steven Threet sees T.J. Simpson open in the end zone. Wisconsin defensive back Niles Brinkley knows he's beat. So before the ball arrives,
he shoves Simpson out of the end zone
.
The side judge, a Big Ten official, is standing there staring at the play. It is textbook pass interference. No judgment is required. There is zero ambiguity. And there is no flag.
Wrote ESPN.com Big Ten blogger
Adam Rittenberg at the time, "Wisconsin cornerback Niles Brinkley seemed fortunate to avoid a pass-interference penalty on the play, as he never turned around for the ball."
Wisconsin went on to win 20-19 when it blocked the Sun Devils' game-tying PAT attempt.
After the game, Sun Devils fans were enraged by the Big Ten officiating. They also didn't like a dubious block-in-the-back call that negated Jamal Miles' 80-yard punt return for a touchdown. They hurled a box full of angry mail my way.
They cried conspiracy. They wanted blood. They were robbed because of home cooking from Big Ten officials!
They sounded exactly like Wisconsin fans do now, though they didn't get much attention outside the Phoenix/Tempe area.
Of course, the situations aren't exactly the same. There's a difference between officials erring in the execution of their jobs, as the Pac-12 crew did on Saturday, and a Big Ten official deciding to become momentarily blind. There's also always a difference between a play in the third quarter and a play at the very end of a game.
But Badgers fans need to understand -- when they calm down, of course -- that this situation isn't really that unique. Losing teams often feel wronged by officiating, and justifiably so. Yet this isn't as epic a blunder as
Colorado's fifth down at Missouri
.
As Stave admitted after the game, if he had taken a knee in a standard way and handed the ball to the officials instead of deciding to spot it himself, the Pac-12 officials wouldn't have been given an opportunity to become
Abbott & Costello
asking "Who's on first?"
Still, Wisky, please accept an apology from the Pac-12, its officials and No. 23 and 2-0 Arizona State.
September, 15, 2013
9/15/13
10:00
AM ET
A look at what we learned about the Pac-12 in Week 3.
[+] Enlarge

Bruce Thorson/USA TODAY SportsJim Mora's Bruins had an emotional come-from-behind win at Nebraska on Saturday.

UCLA ... simply awesome: It doesn't matter what team you cheer for, it's hard not to feel good for UCLA and what it did in Lincoln. Trailing 21-3, the Bruins looked like they had a lot on their minds in the first half -- and they did. But in the second half, they were nothing short of sensational in their 41-21 win over Nebraska, which snapped the Huskers' 14-game home winning streak against nonconference opponents. How's this for second-half adjustments? In two games against UCLA (2012 and 2013), Nebraska has put up a combined 558 yards and 45 points in the first half against the Bruins. In the second half of those games, a combined 225 yards and six total points. There were plenty of great moments, but the Pac-12 blog got a little choked up when Anthony Jefferson recovered Nebraska's red zone fumble in the fourth quarter and ran off the field and gave the ball to Jim Mora, followed by a hug that was pure emotion.

Challenge accepted: After rolling through a considerably easy slate of nonconference opponents in Week 2, the Pac-12 had a serious step up in competition on the Week 3 agenda ... including four head-to-head matchups with the Big Ten. The Pac-12 went 3-1 against its Rose Bowl partners with wins from UCLA, ASU and Washington. Ohio State was the Big Ten's lone winner after topping Cal. Overall, the league went 8-1, with USC, Washington State, Stanford, Oregon and Arizona all scoring victories. Plus, it likely knocked a pair of ranked Big Ten teams out of the Top 25, bringing ASU into the fold. Don't be shocked to see the Bruins sniffing the top 10, either.

Wake-up calls: In the eight nonconference games the Pac-12 won on Saturday, only three of them were wire-to-wire victories. The rest of the league had to overcome early deficits. Arizona, Oregon, Stanford and UCLA all gave up the first points of the game and ASU trailed 14-3 after going ahead 3-0. Of course, UCLA's comeback was the most emotional one of the day. But the strangest goes to the Sun Devils, who were bailed out by Wisconsin quarterback Joel Stave and his phantom kneel. USC, Washington and Washington State were the only teams to get an early lead and hold it. Washington led 31-10 at one point, before clinching a 10-point victory over Illinois. The Trojans were up 28-0 on Boston College, and the Cougs broke it open in the second half versus Southern Utah.

Offensive business is booming: The lowest scoring team in the Pac-12 this week was Arizona State -- yeah, the Sun Devils with their explosive, high-octane offense "managed" a measly 32 points. In total, the 11 Pac-12 teams combined for 454 points in Week 3, an average of 41.2 points per team. The most offensive state of the week award goes to Oregon -- which saw the Ducks and Beavers both crack 50 points (59 for Oregon, 51 for Oregon State). The shootout of the week award goes to the Beavers and Utes, who combined for 99 points and 1,030 yards of offense. Sean Mannion's five touchdowns matched a school record. Utah receiver Dres Anderson went for 101 yards, giving the Utes three straight games with a 100-yard receiver. And in case you were wondering, the latest update as of 3:20 a.m. PT, Storm Woods is doing well. Oh yeah, Oregon's offense is pretty awesome, also.

Next week could be fun, maybe: Week 2 was a bunch of yawners. Week 3 was exhilarating. Week 4 should be a mix of both. Arizona State and Stanford meet in what should be a marquee conference battle between two ranked teams. Both had their Week 3 issues. Stanford got off to a sluggish start against Army (time zone might have had something to do with that), and ASU avoided a disastrous meltdown when Stave failed to kneel before Zod. USC takes on a very talented Utah State squad, and the Utes try to rebound in the Holy War against BYU. The newly-invigorated Beavers travel to San Diego to face an Aztecs team that is off to a terrible start (they, too, lost to an FCS team in Week 1), while the state of Washington takes on the state of Idaho in a four-way showdown. Colorado, after having its game against Fresno State postponed, gets a much-needed bye to address needs much greater than football.
January, 1, 2013
1/01/13
10:14
AM ET
Three keys for Wisconsin in today's Rose Bowl Game presented by Vizio:
1. Open it up:
Wisconsin is Wisconsin, so of course the Badgers are going to do everything they can to run the ball. But even their offensive line is going to have trouble simply lining up and ramming the ball down Stanford's throat. The Cardinal are one of the most physical, fundamentally sound teams in the country and had the third-best run defense in the FBS. Wisconsin does not want to get into third-and-long situations in this game, because that's when Stanford -- which led the nation in sacks and tackles for loss -- can really wreak havoc. Offensive coordinator Matt Canada drew up a dynamic, diverse game plan for the Big Ten championship game and will need to do so again to keep the Cardinal guessing. Is there anything left in the playbook after that Nebraska game? "There's always more left," Canada said last week. "We can draw up plays for days and days." It's quite likely that quarterback
Curt Phillips
will have to make more plays and probably will have to throw more than the eight pass attempts he had against the Huskers. And
Joel Stave
, now healthy, could factor in as well. Wisconsin's bread and butter remains the running game, with
Montee Ball
,
James White
and X factor
Melvin Gordon
. But the Badgers will likely need more than that to solve the Stanford defense.
2. Stop Stepfan:
Stanford's offense is more than just running back
Stepfan Taylor
. The emergence of
Kevin Hogan
at quarterback late in the season made the Cardinal more multidimensional, and you have to always watch out for their tight ends, especially
Zach Ertz
. But Taylor is still the engine that drives the offense, and Wisconsin would much rather see Hogan throw the ball around than deal with Stanford's powerful running game all day. The good news: The Badgers were very good against the run this year as well, ranking 22nd in the nation in stopping the rush. They are stout in the middle of the defensive line, though star linebackers
Mike Taylor
and
Chris Borland
will have their hands full with those tight ends. Wisconsin also does a good job of making opponents earn every yard down the field; in Big Ten play, opponents had only four total plays of 30 or more yards versus Chris Ash's defense. In Stanford's two losses, Taylor averaged just 3.6 yards per carry, more than a yard below his average. If the Badgers can make him work that hard for yards today, they will have a great chance.
3. Finish:
Wisconsin knows all about coming up a play short in the Rose Bowl. A failed two-point conversion made the difference in a 21-19 loss to TCU two years ago, while last year's 45-38 setback against Oregon ended with
Russell Wilson
begging for another second on the Ducks' 25. But the Badgers don't even have to remember that far back to know close-game heartache. Of course, they lost four games by exactly three points, five by a total of 19 points and three in overtime. They probably would have lost every meaningful close game had Utah State made an easy field goal. It's highly unlikely that Wisconsin will blow out Stanford like it did against Nebraska, so any victory will probably have to include finishing off a close game for the first time since September. It doesn't help that the team's kicking game has been pretty bad; the Badgers were a Big Ten-worst 10-of-18 on field goals this year, and
Kyle French
missed key tries in the overtime losses to Ohio State and Penn State to end the regular season. But here is why Wisconsin fans have hope that a close game might finally go their way in Pasadena: Barry Alvarez will be making the late-game decisions.
June, 28, 2011
6/28/11
11:29
AM ET
The conventional wisdom is Oregon State's already formidable trip to Wisconsin on Sept. 10 became even more daunting Monday with the
Badgers' addition
of quarterback
Russell Wilson
, a transfer from NC State who passed for 8,545 yards and 76 touchdowns in his career with the Wolfpack.
Maybe. Makes sense. Wilson, who has one year of eligibility remaining and can play right away because he has already graduated, is a dual-threat quarterback who also has, by the way, played baseball in the Colorado Rockies' minor league system after being a fourth-round pick last year.
[+] Enlarge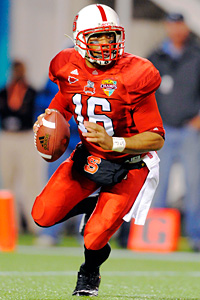 Scott A. Miller/US PresswireDoes the addition of Russell Wilson give Wisconsin a bigger advantage over Oregon State?
Further, the Badgers' play at quarterback was mediocre to bad this spring, with no one stepping to the fore to replace
Scott Tolzien
. Wilson, it would seem, is an instant upgrade, even over Tolzien. Wilson completed 58.4 percent of his passes for 3,563 yards with 28 touchdowns and 14 interceptions and rushed for 435 yards and nine touchdowns last season. Tolzien's 2010 numbers, though good enough to get the Badgers to the Rose Bowl, don't even compare.
The general feeling is this makes Wisconsin the Big Ten favorite. Which makes the Beavers look like road kill, right?
Again, maybe. But we live in a world of unintended consequences. There are no sure things, and the unexpected often happens.
For one, Wilson will be learning a new offense with new teammates with only a month or so this summer and fall practices to prepare. That's not easy. Sure, he's a veteran college QB. But he'll still be the new guy -- not unlike incoming freshmen.
His first order of business? Decisively beating out
Jon Budmayr
,
Joe Brennan
and Joel Stave. If Wilson is only marginally better, or if there's doubt within the team that he earned the starting job, then things could get prickly in the locker room.
The ideal situation for Oregon State would be for Wilson to not get a warm-up game before the Beavers come to town. That's not the case. Not only does Wisconsin open against UNLV, it also has a couple of extra days between that Thursday, Sept. 1 opener to iron out the kinks and get ready for the Beavers.
Oregon State opens its season against Sacramento State, giving it a preseason game in which to get in rhythm without revealing a lot. The Beavers certainly should be able to get more from the Badgers-Rebels game film than Wisconsin will from the Sac State film.
Wilson should make the Badgers better, but it's reasonable to believe he will be better as the season matures than he is early-on, when he's still figuring out the offense and his teammates. So Oregon State has that going for it.
With or without Wilson starting, the Badgers will be heavy favorites when Oregon State visits. The Beavers are coming off a 5-7 season with lots of questions and they do not own a distinguished record for starting fast. They've, in particular, suffered a few bad nonconference whippings on the road in the early-going -- see ill-fated trips to Louisville, Boise State, Cincinnati and Penn State.
The conventional wisdom will write this one into the Oregon State loss column before it's played, and the Badgers' addition of Wilson makes it less risky to do so in pen rather than pencil.
Right? Well, maybe. Let's just say lots more folks figure to tune into the Wisconsin-UNLV opener than before.