November, 30, 2012
11/30/12
2:30
PM ET
November, 20, 2012
11/20/12
6:30
PM ET
The Pac-12 conference has announced its 2012 All-Academic team. To be eligible, the player must have a minimum 3.0 overall grade-point average and be either a starter or significant contributor.
FIRST TEAM OFFENSE
QB
Connor Wood
, Colorado, So., 3.55, Finance
RB
Jared Baker
, Arizona, RS, Fr., 3.56, Undeclared
RB
Patrick Skov
, Stanford, So., 3.41, Undeclared
WR
Andrei Lintz
, Washington State, RS Sr., 3.72, Sport Management
WR
Luke Matthews
, Utah (2), Sr., 3.69, Mass Communication
TE
Koa Ka'ai
, Oregon, RS Fr., 3.94, History
OL
Chris Adcock
, California, So., 3.57, Business Administration
OL
Jake Brendel
, UCLA, RS Fr., 3.60, Math/Applied Science
OL
Khaled Holmes
, USC , Sr., 3.31, Communication
OL
Tevita Stevens
, Utah (2) , Sr., 3.54, Spanish
OL
Matt Summers-Gavin
, California, Sr., 3.27, Political Science
FIRST TEAM DEFENSE
DL
Henry Anderson
, Stanford, Jr., 3.43, Political Science
DL
Nate Bonsu
, Colorado, Jr., 3.42, International Affairs
DL
Will Pericak
, Colorado (2), RS Sr., 3.45, Accounting
DL
Danny Shelton
, Washington, So., 3.47, Anthropology
LB
Dave Fagergren
, Utah, Sr., 3.51, Business
LB
Jake Fischer
, Arizona (2) , Jr., 3.32, Marketing
LB
Brandon Johnson
, Arizona State, RS Jr., 3.44, Sociology
DB
Brian Blechen
, Utah, Jr., 3.18, Sociology
DB
Jordan Richards
, Stanford, So., 3.34, Undeclared
DB
Eric Rowe
, Utah, So., 3.54, Undeclared
DB
Jared Tevis
, Arizona, So., 3.25, Finance
PK
John Bonano
, Arizona (3), Sr., 3.93,Physiology
P
Jeff Locke
, UCLA (3), RS Sr., 3.70, Economics
ST
Justin Gorman
, Colorado RS So., 3.61, Finance
(2) Two-time first-team All-Academic selection; (3) Three-time first-team All-Academic selection
SECOND TEAM OFFENSE
QB
Matt Barkley
, USC, Sr., 3.21, Communication
RB
Kenny Bassett
, Oregon, So., 3.31, Business Administration
RB
Steven Manfro
, UCLA, RS Fr., 3.20, Undeclared
WR
Dustin Ebner
, Colorado, RS Sr., 3.47, Integrative Physiology
WR
Nelson Spruce
, Colorado , RS Fr., 3.73, Business
TE
Michael Cooper
, Arizona, So., 3.92, Pre-Business
OL
Trace Biskin
, Arizona, Sr., 3.29, Political Science
OL
Zach Brevick
, Washington State, RS Jr., 3.23, Entrepreneurship
OL
Brad Cotner
, Colorado, RS Fr., 3.34, Arts and Sciences
OL
Kevin Danser
, Stanford, Sr., 3.13, Biomechanical Engineering
OL
Stephane Nembot
, Colorado , RS Fr., 3.20, International Affairs
SECOND TEAM DEFENSE
DL
Nate Fakahafua
, Utah, So., 3.19, Undeclared
DL
Ben Gardner
, Stanford, Sr., 3.01, Science, Technology and Society
DL
Taylor Hart
, Oregon, Jr., 3.17, Sociology
DL
Andrew Seumalo
, Oregon State, Sr., 3.17, Finance
LB
Michael Clay
, Oregon, Sr., 3.10, Family and Human Services
LB
V.J. Fehoko
, Utah, So., 3.31, Economics
LB
Travis Long
, Washington State, Sr., 3.02, Management and Operations
DB
Isaac Archuleta
, Colorado, RS Fr., 3.09, Business
DB
Tyré Ellison
, California, Sr., 3.01, Social Welfare
DB
Ronnie Harris
, Stanford, So., 3.13, Undeclared
DB
Charles Henderson
, Utah, RS Fr., 3.47, Undeclared
PK
William Oliver
, Colorado , So., 3.66, Management
P
Sean Sellwood
, Utah, Sr., 3.70, Exercise and Sport Science
ST
Richard Yates
, Colorado, RS Fr., 3.60, Mechanical Engineering
For the list of all players who were named honorable mention, you can see
the complete release from the Pac-12 conference here.
November, 10, 2012
11/10/12
10:32
AM ET
Six Pac-12 players were named to the Capital One Academic All-District team, presented by CoSIDA, this week, representing District 8.
Here's the complete list.
Punter
Tony Epperson
, Weber State
Quarterback
Derek Carr
, Fresno State
Receiver
Alex Toureen
, Portland State
Receiver Luke Matthews, Utah
Tight end Colby Prince, Oregon State
Running back
Jordan Talley
, Eastern Washington
Running back
Jake Hess
, Northern Arizona
Offensive lineman Khaled Holmes, USC
Offensive lineman
Mitch Gaulke
, Portland State
Offensive lineman
Ashton Miller
, Eastern Washington
Offensive lineman
Dylan Fox
, Southern Utah
Offensive lineman
Matthew Peleti
, San Diego
Kicker John Bonano, Arizona
Defensive back
Robbie Beathard
, San Diego
Defensive back
McKade Brady
, Utah State
Defensive back
Jeff Minnerly
, Eastern Washington
Defensive back
Troy McClelland
, San Diego
Linebacker
Austin Hasquet
, Northern Arizona
Linebacker Jake Fischer, Arizona
Linebacker
Brandon Ogletree
, BYU
Defensive lineman
Brad Meyer
, Southern Utah
Defensive lineman
Travis Johnson
, San Jose State
Defensive lineman Henry Anderson, Stanford
Defensive lineman
Blake Oliaro
, San Diego
September, 10, 2012
9/10/12
5:30
PM ET
The Pac-12 named its players of the week for Week 2. UCLA's
Johnathan Franklin
was named offensive player of the week, OSU linebacker
D.J. Welch
was defensive and Arizona kicker
John Bonano
was special teams.
From the release:
Franklin, a senior from Los Angeles, Calif., rushed for a career-best 217 yards on 26 carries (8.3 average) and hauled in three passes for 59 yards (19.6 average) and a touchdown in a 36-30 win over No. 16 Nebraska to earn his second-straight Pac-12 Player of the Week honor. He became the seventh Bruin to eclipse the 3,000-yard rushing mark and moved into seventh place on UCLA's all-time rushing list. Through two games this season, Franklin is the NCAA's leading rusher, averaging 215.5 yards per game.

Welch, a sophomore from Palm Desert, Calif., tied for the team lead with seven tackles, including two tackles for loss (8 yards) in a 10-7 win over No. 13 Wisconsin. Oregon State's defense held the Badgers to 207 yards of total offense, including just 35 rushing yards, and kept Wisconsin running back Montee Ball out of the end zone, snapping a 21-game touchdown streak for the 2011 Heisman finalist.

Bonano, a senior from Salinas, Calif., was perfect in the kicking game and scored a career-high 15 points in a 59-38 win over No. 18 Oklahoma State. He converted field goals of 22 yards, 24 yards, and 46 yards and was 5-5 on PAT attempts. Bonano kicked off 11 times, logging 4 touchbacks and contributing Oklahoma State's average starting field position at their own 24 yard-line.
September, 2, 2012
9/02/12
2:56
AM ET
After a rough start to the day for the Pac-12, USC pounded Hawaii and the conference swept the night games. Here's the breakdown of the three 7:30 p.m. kickoffs:


Oregon 57, Arkansas State 34:
For 30 minutes Saturday night, Arkansas State outscored the No. 5
Oregon Ducks
24-7. That would have been great news for the Red Wolves, had the Ducks not dropped
50
on them halfway through the second quarter.
Marcus Mariota
impressed in his debut as Oregon's starting quarterback, completing 19 of 23 passes for 216 yards and three touchdowns. Twice he connected with
De'Anthony Thomas
and another went to
Josh Huff
.
Thomas -- who enters the season with some Heisman hype -- didn't disappoint. The versatile player who comes at you from all angles rushed for 64 yards and a touchdown on three carries to go with four catches for 55 yards and two touchdowns.
Kenjon Barner
also added a pair of rushing touchdowns, carrying the ball nine times for 66 yards.
Oregon coach Chip Kelly pulled a large portion of his starters halfway through the second quarter when the Ducks had built a 50-3 lead.
Byron Marshall
got plenty of work, carrying the ball 24 times for 65 yards and a score. In relief of Mariota,
Bryan Bennett
connected on 10 of 17 passes for 107 yards and a 7-yard touchdown pass to
Rahsaan Vaughn
.


Washington 21, San Diego State 12:
It was a mixed-bag performance for Washington, which topped San Diego State 21-12.
The defense showed significant signs of improvement -- at times -- and the offense looked explosive -- at times -- but both also faltered at times leaving the end result in doubt until the final minutes.
Quarterback
Keith Price
completed 25 of 35 passes for 222 yards and a touchdown and
Bishop Sankey
rushed for 66 yards on 22 carries with a score. Washington's third score came on a 44-yard fumble recovery from
Will Shamburger
. The Huskies defense -- revamped under new defensive coordinator Justin Wilcox -- forced three SDSU turnovers.
The Huskies jumped out to an early 14-0 lead, but gave one back when SDSU receiver
Tim Vizzi
pulled the old Pop Warner, sneak-on-the-field-near-the-sideline play. No one picked him up and
Ryan Katz
hit him for a 47-yard touchdown.
But despite giving up 327 total yards (199 on the ground), the Huskies kept the Aztecs out of the end zone again until the fourth quarter, when
Adam Muema
scored on a 1-yard run. Both of SDSU's two-point conversion attempts failed.
Washington is sure to get a tougher test on both sides of the ball when it travels to face LSU next week.


Arizona 24, Toledo 17, OT:
Matt Scott
connected with
Terrence Miller
for a 10-yard touchdown in overtime to give the Wildcats a 24-17, bailing out kicker
John Bonano
, who missed a 25-yard field goal as time expired that would have given the Wildcats a victory.
Rolling to his right, Scott found Miller just in front of the end zone and released a dart just before being pulled out of bounds. He finished 30-of-46 for 384 yards and two touchdowns and helped make Rich Rodriguez a winner in his first game as Arizona's head coach.
Scott's first touchdown was a 30-yarder to
Austin Hill
, who laid out and made a fingertip catch in the end zone to put Arizona ahead 10-7 in the second quarter after Bonano's 26-yard field goal Arizona a 3-0 lead early in the game. Hill finished with seven catches for 136 yards and
Dan Buckner
also broke 100 yards, catching a team-high nine balls for 118 yards.
Running back
Ka'Deem Carey
turned in a strong performance with 149 yards on 20 carries that included a 73-yard touchdown run.
Arizona piled on 623 yards of offense, but also committed three turnovers, including two fumbles lost. By contrast, Toledo had 347 yards of total offense.
August, 2, 2012
8/02/12
11:00
AM ET
Arizona might go to a bowl game.
Or
the Wildcats might not.
Or
they might win two games.
Or
more.
Or
less.
Or
,
or
,
or
.
Arizona's latest depth chart has 24"ors" on it.
Dan Buckner
at wide receiver, or
David Richards
.
Derrick Rainey
at cornerback, or
Jonathan McKnight
.
John Bonano
place-kicking, or
Jake Smith
.
Or ...
"I didn't help you with a lot of the 'ors,'" head coach Rich Rodriguez said in a news conference Wednesday. "It wasn't just a coach kind of deal, we really don't know for sure in a lot of positions. I think 15 practices in spring told us a little bit ... really, I think we'll get a better idea at the end of camp and at the end of the next 30 days. But I really won't know until we play a couple of games. There are a lot of 'ors.' I want our guys to compete for their jobs. If they've played in the past, that's good and that experience should help them. But we're starting all over again. A clean slate. Everyone has to earn their spots."
[+] Enlarge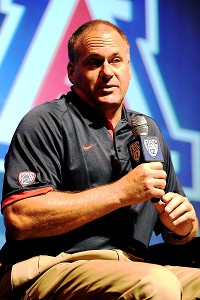 Jayne Kamin-Oncea/US Presswire"Everyone has to earn their spots," coach Rich Rodriguez said in explaining Arizona's uncertain depth chart.
Wildcats players reported Wednesday and will start practice today. And if the depth chart is any indication, Rodriguez has a lot of decisions to make over the next month.
Here are some more highlights from his news conference:
On the linebacking corps: "For us, that's certainly our thinnest position and it's an area of concern. There are probably some guys we're going to have to push to get ready [sooner] than they may be ready for or we may be ready for. In particular some freshmen. It's wide open. Jake Fischer is the only guy right now that we know has a lot of experience and we feel pretty comfortable with him at linebacker. Outside of Jake, it's kind of a wide-open deal. We have concerns, but what we have is what we have. Hopefully these freshmen will grow up in a hurry and coach [Jeff] Casteel will get them ready to play."

Rodriguez said staying healthy in camp is going to be crucial because the Wildcats aren't a particularly deep team yet. That's going to affect how they practice: "Where we're at right now with our depth -- or lack of it in some spots -- it's going to be critical. We've talked as coaches, you have to practice physically sometimes. You have to hit at times. We need to get tougher and more physical. Yet we don't want to beat ourselves up and have a lesser team come Sept. 1. How do you balance that? We will have some physical times and physical practices. But they won't be all day, every day. The message to our team will be when we have those moments when we go live, we need to really get after that and develop the mentality we want from a toughness standpoint. Because they will be few and far between. When we do it's got to be really, really intense and we have to make the most of it ... it's concerning and it limits you a little bit."

Offensive lineman Jack Baucus might have to retire because of injury.

Rodriguez said some of his coaching staff knew some players on Penn State's roster and that "a handful" reached out and talked with Arizona, but he said they are not actively pursuing anyone.

On how receptive his players have been to changing in coaching staffs: "I think they've been really receptive. I think our guys are hungry. At least I hope. When you're not going to a bowl game and you're sitting there at the bottom of the league, I think our guys were a little bit embarrassed and certainly they weren't happy because I met with all the guys in December. But how upset were they and how angry were they? I hope they are very angry and you use that anger and channel that in a positive [direction] with a chip on their shoulder to prove themselves ... I want them to be really mad. There was some of that and I think our players have a lot of pride. But we should be more upset and channel that in the right way."

Rodriguez called some of the NCAA's non-contact rules "silly," saying that two hours a week in the month of June would be beneficial -- especially for a new coaching staff trying to learn about their players: " It's really silly. It makes no sense. I think our guys -- college athletes in particular -- are better off with more guidance and more eyes."

The players will undergo a physical evaluation after the first practice. You'll recall that back in March, Rodriguez said his team was "weak, really weak." He'll see how much the summer conditioning has paid off: "The first practice will tell me a lot. Guys that struggle tells us they didn't do a whole lot this summer. We'll have a conditioning test at the end of the first practice. Those that worked out and are in shape shouldn't have any problems passing it. Those who didn't will have a big problem."
November, 16, 2010
11/16/10
6:02
PM ET
By
ESPN.com staff
| ESPN.com
Oregon running back
LaMichael James
is not only the Pac-10's leading Heisman Trophy candidate, he's pretty darn smart, too.
James earned a first-team spot on Pac-10 All-Academic Football Team. Stanford QB
Andrew Luck
, the conference's No. 2 Heisman candidate, is on the second-team.
Also on the team Stanford fullback/linebacker
Owen Marecic
and California linebacker Mike Mohamed, who previously were named National Football Foundation Scholar-Athlete Award winners and are among the finalists for the William V. Campbell Trophy, known as the academic Heisman.
Mohamed earned his third consecutive first-team academic honor. Also on the first-team for the third time are offensive lineman Micah Hannam and safety Chima Nwachukwu -- both of Washington State -- and Oregon State linebacker Cameron Collins.
Washington State led the Pac-10 with seven first-team members. Stanford had four, Oregon and Arizona three, Arizona State, Oregon State and UCLA two and Washington and California one. USC didn't have any.
Stanford had seven players on the second-team. Cal and Oregon State had four, Oregon three, Washington and Arizona two, UCLA, USC and Washington State one. Arizona State didn't have any players on the second-team.
To be eligible for selection to the academic team, a student-athlete must have a minimum 3.0 overall grade-point average and be either a starter or significant substitute.
You can read the
full release from the Pac-10 and see the second-team here
.
FIRST TEAM
Pos. Name, School Yr. GPA Major
Offense
QB
Steven Threet
, Arizona State Jr. 3.82 General Studies
RB LaMichael James, Oregon So. 3.01 Sociology
RB Owen Marecic, Stanford Sr. 3.47 Human Biology
WR
Jared Karstetter
, Washington State Jr. 3.55 Zoology
WR
Ryan Whalen
, Stanford Sr. 3.53 Science, Technology and Society
TE
David Paulson
, Oregon (2) Jr. 3.66 Business Administration
OL Chase Beeler, Stanford (2) Sr. 3.68 History
OL Micah Hannam, Washington State (3) Sr. 3.58 Civil Engineering
OL Brendan Lopez, Washington Jr. 3.68 Microbiology
OL Chris Prummer, Washington State (2) Sr. 3.90 Zoology
OL Carson York, Oregon (2) So. 3.70 Journalism-Advertising
DEFENSE
DL Dean DeLeone, Arizona State Sr. 3.41 Communication
DL Kevin Frahm, Oregon State (2) Jr. 3.25 Political Science
DL Kevin Kooyman, Washington State (2) Sr. 3.18 Management & Operations
DL Casey Hamlett, Washington State Sr. 3.77 Management & Operations
LB Cameron Collins, Oregon State (3) Jr. 3.48 Finance
LB Mike Mohamed, California (3) Sr. 3.43 Business Administration
LB Jake Fischer, Arizona So. 3.42 Pre-Business
DB Kyle McCartney, Washington State So. 3.87 Entrepreneurship
DB Chima Nwachukwu, Washington State (3) Sr. 3.85 Political Science
DB Taylor Skaufel, Stanford Sr. 3.43 Science, Technology and Society
DB Anthony Wilcox, Arizona Sr. 3.05 Religious Studies
PK John Bonano, Arizona Jr. 3.90 Pre-Physiology
P Jeff Locke, UCLA (2) So. 3.57 Economics
ST Danny Rees, UCLA Sr. 3.51 History
(2) Two-time first-team All-Academic selection
(3) Three-time first-team All-Academic selection