November, 11, 2010
11/11/10
4:55
PM ET
Oregon's
LaMichael James
and Oregon State's
Jacquizz Rodgers
are among the 10 semifinalists for the Doak Walker Award, given annually to the nation's best running back.
The semifinalists are (in alphabetical order):
John Clay
(Jr.) Wisconsin
Kendall Hunter
(Sr.) Oklahoma State
Mark Ingram
(Jr.) Alabama
LaMichael James (So.) Oregon

DeMarco Murray
(Sr.) Oklahoma
Bilal Powell
(Sr.) Louisville
Jacquizz Rodgers (Jr.) Oregon State

Vai Taua
(Sr.) Nevada
Daniel Thomas
(Sr.) Kansas State
Ed Wesley
(So.) TCU
The 175 members of the Doak Walker Award National Selection Committee will cast their votes to determine the 2010 finalists. On Nov. 22, three finalists will be named live on ESPNU, and a second vote by the Doak Walker Award National Selection Committee will determine the recipient. The 2010 Doak Walker Award recipient will be announced live on The Home Depot College Football Awards on Dec. 9 on ESPN.
The Award is named after three-time SMU All-America running back and 1948 Heisman Trophy winner Doak Walker.
September, 16, 2010
9/16/10
2:10
PM ET
A new Rose Bowl access rule could prevent the traditional Big Ten-Pac-10 matchup Jan. 1 in Pasadena, but at least the two leagues will get to know one another very well on Saturday. Three Big Ten-Pac-10 games are on the slate, as
No. 18 USC visits Minnesota
(ESPN, 3:30 p.m. ET),
Arizona State visits Wisconsin
(ABC, 3:30 p.m. ET) and
No. 9 Iowa visits No. 24 Arizona
(ESPN, 10:30 p.m. ET).
Bloggers Ted Miller (Pac-10) and Adam Rittenberg (Big Ten) break down the three matchups.
[+] Enlarge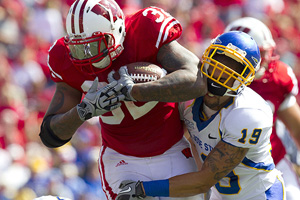 Jeff Hanisch/US PresswireCan Arizona State's defense stand up to Wisconsin running back John Clay?
Adam Rittenberg:
Ted, it's been too long, my friend. The Rose Bowl seems like decades ago, although they're still celebrating in Columbus. Given the likelihood of Boise State or TCU crashing the party in Pasadena this year, it's nice to have some Pac-10-Big Ten flavor this Saturday. Let's start off with
Arizona State-Wisconsin
. The name
Steven Threet
still makes people shudder in Madison after he led Michigan to a historic comeback against Wisconsin in 2008, triggering the beginning of the end for the Badgers that year. It also turned out to be the beginning of the end for Threet in a winged helmet. He seems to be settling in very nicely so far in Tempe. What should Wisconsin expect from Threet and the Sun Devils on Saturday?
Ted Miller:
An offense with extraordinary firepower! See an average of more than 500 yards and 47.5 ppg. Oh, wait. The Sun Devils played not one but two FCS foes. Hmm. And according to this box score, they rushed for just 56 yards on 29 carries against the hearty Lumberjacks of Northern Arizona. Double-hmm. Still, the early returns are fairly positive on Threet and new offensive coordinator Noel Mazzone's spread attack. The Sun Devils' offense was so bad last year that merely being mediocre would be a huge improvement. A bigger issue than Threet: the offensive line. It wasn't consistent against FCS foes, so you'd think the Badgers front-seven might pose a problem. But, to me, the more interesting matchup is a fast Sun Devils defense versus an experienced, physical Badgers offense. What's your take?
Rittenberg:
Totally agree that the game likely will come down to Arizona State's dynamic defense and Wisconsin's power run game, led by
John Clay
. He's the Big Ten's version of Toby Gerhart, except bigger. Clay has looked great this year, but Wisconsin needs to clean up some sloppy play on offense against the Sun Devils. The Badgers already failed on three red-zone scoring chances, matching their total from all of the previous season (53-for-56), and they've committed three turnovers inside the red zone. They have little trouble moving the ball and boast what I believe to be one of the nation's most balanced offenses, but they're not good enough to survive these mistakes much longer. Arizona State will have its hands full with Clay and a mammoth offensive line, but if the Sun Devils can use their speed and force turnovers, they'll have a shot in this one.
Let's move on to the other afternoon affair, USC at Minnesota. The Trojans haven't exactly been dominant this year, but at least they haven't lost to South Dakota. At home. Giving up 41 points and 444 yards. Yeesh. Your thoughts?
[+] Enlarge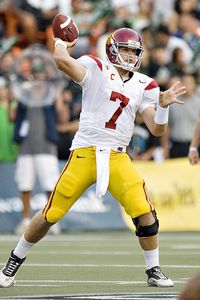 AP Photo/Eugene TannerMatt Barkley will try to exploit a Minnesota defense that gave up 258 yards to South Dakota
Miller:
Here are two teams that are muddling along, though the Trojans surely feel better about 2-0 -- no matter the way they got there -- than the Gophers do with 1-1, including the loss to a team from the Dakotas. Adam, I have no idea about the Trojans. They still look great getting off the bus. They still have NFL prospects at every position. In Week 1 at Hawaii, the offense looked great, the defense terrible. In Week 2 at home versus Virginia, it was mostly the opposite. Is it a question of fire and focus in the face of NCAA sanctions? I think we won't really be able to answer that question until the Pac-10 schedule starts. As for this one, I think the Trojans are going to roll. But I wrote that the previous two weeks and ended up being wrong. So what do I know?
What's your take?
Rittenberg:
This is an odd matchup. In some ways, USC is just asking to get beat. But how can Minnesota take down Troy if it can't keep South Dakota to fewer than 40 points? The Gophers defense obviously is a major question mark, and I fully expect
Matt Barkley
to attack downfield a lot on Saturday. Minnesota gets a boost as safety Kyle Theret returns from suspension, giving the defense one returning starter from 2009. The other thing here is if things go back for Minnesota at the start, any sort of home-field edge will disappear. They're not too pleased with coach Tim Brewster right now in the Twin Cities. Minnesota's only chance is to control the clock with
Duane Bennett
and its power run game, and keep Barkley and
Dillon Baxter
off the field. A huge challenge.
OK, we've saved the best for last: Iowa at Arizona. Both teams look great so far. Iowa won last year's game, but trips out West haven't been kind to the Hawkeyes lately. What happens in Tucson?
Miller:
First off, it's a great offense-defense matchup, with
Nick Foles
and an experienced UA offense taking on one of the best defenses in the nation. The cautionary tale for Wildcats fans is that also seemed like the case heading into the Holiday Bowl versus Nebraska, which became a complete disaster. Foles has a good offensive line, but the Hawkeyes have an NFL defensive front. If the Wildcats can get any sort of running game -- and
Nic Grigsby
is an explosive guy who can make a big play out of a small crack -- then things will be far easier for Foles and a quick-hit passing game. Foles is extremely accurate and he has a deep receiving corps. Yet to me the game turns on the Wildcats' rebuilt front seven. The unit replaced both tackles and all three linebackers and has played better than expected, but Iowa is a different sort of beast. If the Hawkeyes can run power effectively, then the Wildcats will be in trouble. If Iowa has to throw, I like the Wildcats secondary's chances versus
Ricky Stanzi
, who as you well know, Adam, hasn't always been the manzi.
What do you see from this one?
[+] Enlarge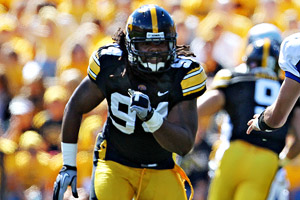 Icon SMICan Arizona's offensive line contain Adrian Clayborn?
Rittenberg:
Should be a great one in the desert. Iowa knows Arizona has come a long way since last year's meeting in Iowa City, when Foles hadn't yet emerged as the starter. The game could come down to whether Arizona can get Grigsby going and protect Foles against the Hawkeyes, who boast arguably the nation's best defensive line. Star defensive end Adrian Clayborn has been a bit quiet so far this season, but he usually plays his best in big games. Arizona typically has some outstanding defensive backs, but don't underestimate The Manzi, who has yet to throw an interception this year. So love it or leave it, pal! Iowa can stretch the field with receivers
Marvin McNutt
and
Derrell Johnson-Koulianos
, and the run game has looked good so far with
Adam Robinson
and
Jewel Hampton
. The Hawkeyes won in State College, Madison and East Lansing last year, but they haven't fared well historically in these trips out West. Arizona definitely has some built-in advantages.
OK, prediction time. Who wins in the three Pac-10-Big Ten matchups?
Miller:
Somehow I knew you were going to ask that.
I think USC will handle Minnesota fairly easily: Trojans 41, Gophers 20.
I think Arizona State will be competitive at Wisconsin but the Sun Devils will struggle to score -- and possess the ball -- and the defense will wear down: Wisconsin 27, Arizona State 17.
As for Arizona-Iowa: I go back and forth, but I'm going to risk the ire of the Wildcats faithful and pick Iowa 28, Arizona 24. I just don't think the Arizona defense will be able to hold up all night, and that will allow the Hawkeyes to take a lead at some point in the second half and then play keep-away with the run game.
So, for what REALLY is going to happen... Ladies and gentlemen, Adam Rittenberg.
Rittenberg:
Why thank you, good sir.
The Gophers save face a bit against USC and hang around for a while before Barkley and his receivers prove too much for a young defense. Trojans win 35-23.
Wisconsin controls the clock as always and cleans up some of its mistakes in the red zone. Threet leads two first-half scoring drives before the Badgers take control and win 30-20.
Iowa-Arizona should be a great one. The elements will be tough for the Hawkeyes, and they'll fall behind early. But I've got to go with the better defense and the more battle-tested team. Iowa wins 26-21.
So we agree. We'll have to fight over the Rose Bowl pick this year. I've got Boise State!
September, 16, 2010
9/16/10
10:15
AM ET
Ten issues to consider heading into the third week of games.
1.
Cal's defense will be tested at Nevada
: California presently ranks No. 1 in the nation in total defense, giving up a scant 160 yards per game. So kudos to new coordinator Clancy Pendergast. But Nevada ranks No. 1 in total offense, rolling up a monstrous 592 yards per game. So who wins: The irresistible force or the immovable object?
2.
Arizona's O-line vs. Iowa's D-line
: The Wildcats have a good offensive line, probably among the top three or four units in the Pac-10. But Iowa probably has the best defensive line in the country, led by end Adrian Clayborn. All four starters are back from 2009's stingy unit that combined for 27 sacks and allowed just 3.5 yards per rush. The first question is can the Wildcats line do enough to create any sort of run threat or occasional creases for
Nic Grigsby
? The second is, failing that, will the line give QB
Nick Foles
enough time to throw the ball?
[+] Enlarge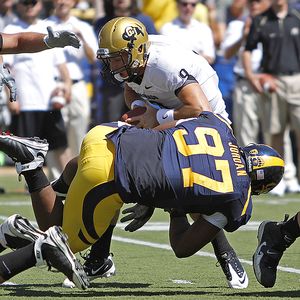 AP Photo/Ben MargotCal has the nation's No. 1 defense through two games, allowing just 160 yards per game.
3.
Locker on the big stage
: There is a bizarre crew that haunts the Pac-10 blog and constantly calls Washington QB
Jake Locker
"overrated," meaning they disagree with Mike Bellotti, Pete Carroll, every Pac-10 coach, every NFL scout, LSU's players (who called Locker the best player they saw in 2009) and just about everyone who makes a living around football. Of course, they have the right to call the world flat. But guess what? If Locker doesn't turn in an impressive performance vs. Nebraska, his Heisman Trophy candidacy will end before it gets started. So this is his big moment to either lead an upset or take a step back in national stature.
4.
Vontaze Burfict vs. John Clay
: Arizona State's 245-pound linebacker Vontaze Burfict is one of the most talented and aggressive LBs in the country. Wisconsin's 248-pound running back John Clay is one of the best power runners in the country. When these two meet, the violence of the impact should be dynamic. But who knocks the other backwards? Burfict and the ASU defense is looking to make a national statement. To do so, it needs to contain Clay.
5.
Can USC put it together
? USC's offense looked great in the opener at Hawaii. The defense looked terrible. The offense looked terrible vs. Virginia. The defense looked pretty good. The cumulative affect is we really don't know who these Trojans are. Will they put it all together at Minnesota's expense? Or will it be another piddling effort?
6.
Luck through the air
: Stanford QB
Andrew Luck
looked great running, but, despite two TD passes, didn't throw terribly well at UCLA. He completed just 11 of 24 passes for 151 yards. Wake Forest's secondary didn't look great while giving up 358 passing yards and four touchdowns to Duke in a wild 54-48 victory. You'd think Luck would feast on that at home and revert back to his accurate, playmaking self.
7.
How will UCLA's offense bounce back
? Stanford shut out the Bruins and held them to 233 total yards last weekend. That had many screaming for QB
Kevin Prince
's head. But Prince's biggest problem is he's barely seen practice time due to a back injury and then a shoulder injury. He's practiced all this week. Moreover, Houston's defense isn't anything like its offense. The Cougars are surrendering 26 points and 393 yards per game. Expect the Bruins to be much better on offense Saturday.
8.
Jacquizz should break out vs. Louisville
: Dating back to last season, Oregon State RB
Jacquizz Rodgers
hasn't eclipsed 100 yards rushing in three games. That's a
mini-slump for him
. Louisville gave up 230 yards rushing to a mediocre Kentucky team in week one. So expect for Rodgers to get his 100 yards. And also expect him to get some touches in the passing game, which he didn't vs. TCU.
9.
Cougs stepping forward
? Does the comeback win vs. Montana State turn a page for Washington State? Sure, it was just an FCS opponent, but showing some backbone feels meaningful. SMU has a high-powered, balanced offense and is one of the favorites in Conference USA. Moreover, the Mustangs will be plenty motivated after losing at Washington State last year. But if the Cougars pull the upset, the entire tenor of their season could change.
10.
How did the Pac-10 measure up
? It wasn't the most creative name or anything, but "
Measuring Stick Saturday
" is real. The Pac-10's place in the pecking order among BCS conferences largely will be based -- at least during the regular season -- on what happens Saturday. A winning weekend will earn it consideration with the Big Ten, SEC and Big 12. A losing one? It falls to the bottom half of the six. Considering the Pac-10 is an underdog in five of the nine games, the conference needs for all its favorites to prevail and at least one underdog to come through with an upset.
September, 14, 2010
9/14/10
6:23
PM ET
The bad joke provoked an eye-roll from Arizona State coach Dennis Erickson that was palpable even through the telephone line.
So, sounds like Wisconsin has a bit of a finesse offense, eh coach?
"Yeah, right," Erickson said. "They are physical. That is the best way to describe them. They are physical on the offensive front. We obviously haven't see that this year."
Nope. Arizona State is 2-0 after whipping a pair of FCS teams. Wisconsin is ranked 11th in the nation. Among FBS teams.
The Sun Devils defense ranks among the nation's leaders in most statistical categories. Erickson thought he had a good defense entering the season and he still thinks he has a good defense.
But thinking and knowing are two different things.
"We obviously don't know where we're at because of the competition in the first two football games," he said.
So let's just say Wisconsin will bring the knowledge. On paper, it has no offensive weaknesses. It welcomes back 10 starters from the Big Ten's highest scoring offense in 2009.
Quarterback?
Scott Tolzien
is a senior who led the Big Ten in passing efficiency last year. Running back? 250-pound
John Clay
is one of the nation's best, and the rotation behind him is deep and talented. Receiver?
Nick Toon
was preseason second-team All-Big Ten, according to Phil Steele, and
Lance Kendricks
might be the best tight end in the Big Ten.
But it's the offensive line that stands out. They average 6-foot-5, 320 pounds and have a combined 117 career starts between them. Steele ranked them the second-best unit in the nation.
If the Sun Devils shut down -- or just significantly slow down -- the Badgers, Erickson will know his defense is among the best in the nation.
Now, even if the Sun Devils shine on defense, that doesn't mean they'll notch the upset. Their new spread offense will make its debut against BCS conference competition in front of 80,000-plus fans who won't be terribly supportive. The Badgers defense will look nothing like Portland State or Northern Arizona, and the latter held the Sun Devils to 56 yards rushing on 29 carries (1.9 yards per carry).
ASU quarterback
Steven Threet
, a Michigan transfer, has some history with the Badgers. As a redshirt freshman in 2008, he led the Wolverines to the second biggest comeback in school history when he rallied them from a 19-0 third-quarter deficit to a 27-25 win over Wisconsin. In a Sun Devils uniform, he has looked good thus far, but it's unlikely he'll be able to just sit comfortably in the pocket without any support from a run game.
Wisconsin also has a big, physical defense that will challenge the Sun Devils inexperienced offensive line. It's going to be a long day if the Sun Devils are completely one-dimensional.
While Arizona State hasn't played anyone of note, there have been enough flashes of potential versus the FCS foes to suggest it might be better than ninth-place in the Pac-10, where it was dumped in the preseason media poll after finishing in that spot in 2009.
How the Sun Devils show at Wisconsin, however, should be mighty revealing.
Said Erickson, "They are ranked 11th in the country, so we will find a lot about ourselves in this game."
September, 13, 2010
9/13/10
3:04
PM ET
Here's a quick look at Week 3 in the Pac-10. All times are ET.
Friday
California (2-0) at Nevada (2-0) (ESPN2, 10 p.m.):
California feels pretty good about itself right now but it won't feel that way Friday night if it takes the Wolf Pack and its potent pistol offense lightly.
Up next
: at Arizona.
Saturday
Nebraska (2-0) at Washington (1-1) (ABC, 3:30 p.m.):
Top billing will be the Cornhuskers stout defense versus
Jake Locker
and the Huskies offense.
Up next
: bye.
Arizona State (2-0) at Wisconsin (2-0) (ABC, 3:30 p.m.):
After two FCS foes at home, the Sun Devils face a step up in competition and a challenging venue. The Sun Devils take a lot of pride in their defense, but can they stop 250-pound running back
John Clay
?
Up next
: Oregon.
USC (2-0) at Minnesota (1-1) (ESPN, 3:30 p.m.):
USC still hasn't found itself, but Minnesota might be worse off -- it found itself and it wasn't pretty during a home loss to South Dakota.
Up next
: at Washington State.
Washington State (1-1) at SMU (1-1) (CBS College Sports, 3:30 p.m.):
The Cougars shocked SMU in overtime last year. That's why the Mustangs might not overlook this game.
Up next
: USC.
Louisville (1-1) at Oregon State (0-1) (FSN, 5: 30 p.m.):
The Beavers should be able to handle a rebuilding Louisville team fairly easily. That is, unless they are looking ahead to Boise State.
Up next
: Boise State.
Iowa (2-0) at Arizona (2-0) (ESPN, 10:30 p.m.):
A big opportunity for a national breakthrough for Arizona. It's
Nick Foles
and his offensive cast versus one of the country's best defenses.
Up next
: California.
Houston (2-0) at UCLA (0-2) (FSN, 10:30 p.m.):
Quarterback questions hang over this one. Will Houston's
Case Keenum
(concussion) be healthy? And who is UCLA's quarterback after
Kevin Prince
got benched in the fourth quarter versus Stanford in favor of
Richard Brehaut
?
Up next
: at Texas.
Portland State (1-1) at Oregon (2-0) (CSN/OSN, 6:15 p.m.):
The Ducks will roll.
Up next
: at Arizona State.
Wake Forest (2-0) at Stanford (2-0) (ESPN2, 11:15 p.m.):
Stanford went to sleep in the second half and lost 24-17 last year. Revenge?
Up next
: at Notre Dame.
June, 30, 2010
6/30/10
1:49
PM ET
Most preseason rankings of the BCS conferences will dump the Pac-10 into fourth or fifth place. Even the Pac-10 blog did that
a month ago
.
How does the Pac-10 improve its position in this highly subjective pecking order? That's easy: 1. Win big nonconference games; 2. Earn two BCS bowl berths and win 'em both; 3. Or, failing that, just do well during the bowl season.
Obviously, we'll have plenty of time to look at the bowls. But let's start with the regular-season nonconference game. Here are six that could improve the Pac-10's national perception.
(Oh, and by the way, you are correct in guessing that no other BCS conference in the nation
plays five top-11 teams
in its nonconference schedule).
Oregon State vs. TCU, Sept. 4
: TCU welcomes back 18 starters from a team that went 12-1 in 2009, losing the Fiesta Bowl to Boise State. The Horned Frogs figure to be ranked in the preseason top 10, perhaps even the top five. Further, the game will be played in Cowboys Stadium, meaning it will seem like even more of a home game for TCU than if it were played at TCU (Amon G. Carter Stadium only seats 44,000). The Beavers, meanwhile, are notoriously slow starters -- see at least two losses each September since 2004. Moreover, they will be breaking in a new quarterback -- sophomore
Ryan Katz
-- on the road. Still, this is a veteran Oregon State team, and the Rodgers brothers will stress the Horned Frogs defense. An upset is not inconceivable, and it certainly would start the Pac-10's 2010 campaign on a high note.
Oregon at Tennessee, Sept. 11
: Oregon should -- needs to -- win this game. The Ducks are more talented and more experienced. The Volunteers are rebuilding. But style points matter. Sure, winning is winning, even more so when a team is on the road, particularly when it's crossing multiple time zones. But if the Oregon spread-option attack runs over, around and through an SEC defense, while shutting down an SEC "offense" (we use the term loosely), and wins big, it will send a statement, not the least of which is that this team can thrive without quarterback Jeremiah Masoli. And, of course, the Pac-10's decade-long pattern of success against the SEC then would continue for another season.
Iowa at Arizona, Sept. 18
: One gets the feeling that the Wildcats didn't earn Iowa's respect during a 27-17 loss last year. The Wildcats' offense was listless -- you might recall this is the game when quarterback
Nick Foles
came off the bench to take over the starting job -- and the defense was mostly mediocre. Heading into the fall, Arizona has significant questions on defense, while the Hawkeyes figure to rank in the top 15. Most of their fans are penciling this one in as a victory. But the Wildcats are a different team at home playing in front of the 'Zona Zoo. It figures to be a toasty evening, and if Foles and the offense get hot, it could be a chance for an upset.
Arizona State at Wisconsin, Sept. 18
: Wisconsin might be the top challenger to Ohio State in the Big Ten this year. It welcomes back 18 starters, including 10 on offense. Typically, the Badgers' offense is described as "physical," which might be construed as a code word for "plodding." No longer. They are, yes, physical, but now there are some athletes surrounding quarterback
Scott Tolzien
, most particularly running back
John Clay
. This will be a great test for an Arizona State defense that believes it will rank among the nation's best. Of course, the Sun Devils will have to score to win. For an upset to happen, a rejiggered offense and new starting QB will have to step up.
Nebraska at Washington, Sept. 18
: The Cornhuskers are another team that likely will be ranked in the preseason top 10. Most have already penciled them into the final Big 12 championship game opposite Texas or Oklahoma. They welcome back 18 starters, including eight from what could be the nation's best defense. If the Huskies manage to start 2-0, this could be a red-letter game for the program as well as for quarterback
Jake Locker
's Heisman hopes. Husky Stadium was once a fearsome place to play. Might Huskies fans, won over by coach Steve Sarkisian, be regaining their mojo? Some of us old timers remember a highly rated Miami team swaggering into Seattle in 2000 and getting manhandled by the Huskies, who went on to finish 11-1 and win the Rose Bowl.
UCLA at Texas, Sept. 25
: Fair to say the Bruins' chances at Texas are remote. The Longhorns, a certain top-five team, played for the national title last season and are looking to do so again in 2010. UCLA is taking baby steps forward under Rick Neuheisel, but the Bruins' offense is a huge question mark. Of course, an unheralded UCLA squad did once before play at Texas, and in 1997 the Bruins walked away 66-3 winners over the No. 11 Longhorns. (The following year Texas redeemed itself by only losing 49-31 to the Bruins in the Rose Bowl). Still, what seems most important here is for UCLA to put on a competitive show. That could provide some confidence heading into the meat of the Pac-10 schedule.
PAC-12 SCOREBOARD
Saturday, 12/21
Monday, 12/23
Tuesday, 12/24
Thursday, 12/26
Friday, 12/27
Saturday, 12/28
Monday, 12/30
Tuesday, 12/31
Wednesday, 1/1
Thursday, 1/2
Friday, 1/3
Saturday, 1/4
Sunday, 1/5
Monday, 1/6
Tweets from @ESPNCFB/pac-12