June, 12, 2014
6/12/14
2:30
PM ET
Wisdom cannot be imparted. Wisdom that a wise man attempts to impart always sounds like foolishness to someone else.
April, 21, 2014
4/21/14
11:00
AM ET
CORVALLIS, Ore. -- This spring we're catching up with several coordinators around the conference. We recently spoke with new
Oregon State
offensive coordinator John Garrett about his move back to college football, coaching with Mike Riley and what the Beavers offense will look like in 2014.
It's your first college spring ball since 2006, what's it like being back?
John Garrett:
Football is football. It's all the same plays that we ran in Virginia, Dallas, Tampa, it's the same plays, just different athletes. You teach it the same way, encourage them the same way, have the same demanding style.
But it's always neat to be around a college campus. You're surrounded by a lot of people in academia that are motivated by achievement, the kids are going to school, there are people in and out of the office. You really get to see and do the campus life rather than being in the NFL, when you're just at the facility and it's football all the time.
[+] Enlarge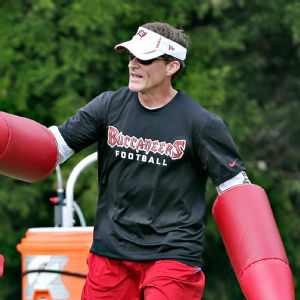 AP Photo/Chris O'MearaNew Oregon State offensive coordinator John Garrett returns to the college ranks after several years as an NFL assistant.
Football is football, but how much different are you as a coach -- running your practice, approaching the game plan, etc. -- at the college level than you were in the NFL?
JG:
There's a talent level difference. In college, not every guy is going to go on to pro football, so there are certain things they are capable of doing and certain things that they're not. You just have to make sure that the things you're asking [the college players] to do -- the scheme, the offense, the system -- that they're capable of doing. That's the biggest difference, just to make sure that we're not asking the impossible, or that you would if a Pro Bowl NFL player could do. You get those [NFL] starters in there and quarterbacks can throw every ball, receivers can run every route, tight ends can block, all that stuff.
You played for Oregon coach Mike Riley in 1991 for the San Antonio Riders (World League of American Football), now you're coaching with Riley. What's that transition like?
JG:
It was a joy to play for him. He just treats everyone with respect and he has immense football knowledge. He has been a head coach. He has coached on defense. He has coached on offense. I just learn from him every day. ... That has just continued now that I'm coaching with him. When I say, 'It's great to work for you,' he says, 'No, no, it's great to work
with
me.' That's the way he treats people. In his mind, the relationship is always first.
Now, to this team ... having quarterback Sean Mannion back this season, how much does that ease your transition since he's so experienced?
JG:
He's a fantastic player, and the quarterback position is the most important position in all of sports. If you don't have one, you're not going to win many games. And we have one and he did a remarkable job last year just with his play on the field and his leadership. He has continued to do that. He's a remarkable worker. He's really smart. We can give him anything scheme-wise, and he can handle and understand it. He picks it up quickly. He's really hard on himself. Despite throwing for 4,600 yards and 37 touchdowns, we've discovered that he can get better and he knows that. And he's always striving to improve. All the great ones have that trait.
His yards will only be as good as his receiving corps, though. How do you go about replacing a guy like Biletnikoff winner Brandin Cooks?
JG:
I have this on my board in my office: 128/1,700+. That was his production -- 128 catches, 1,700-plus yards. It has to come from somewhere else. The last time I checked, [NFL Hall of Famer) Paul Warfield isn't just going to walk on campus and we'll find a receiver. So, it has to come from these young receivers. We have talent at the position, and they just have to continue to get better and someone is going to emerge. It has to come from the tight ends. We have a good veteran group there. We can put four or five different guys in the game. It has to come from the running backs. We have two, three, hopefully four guys we can put in the game there. It's going to be a collective effort to recapture and replace that production that one guy did in Brandin because he was such a fine player.
Once you knew you were coming to Corvallis, how much game film vs. practice film did you watch of the Beavers?
JG:
I had to get up to speed on the system because we weren't going to change anything with a senior quarterback, so I had to learn the terminology and the way we call things. I started watching game tape because not only do you have to learn the system, you always have to learn the players and personnel. Again, the personnel side of it, you have to know what they can do so you tweak the system to their strengths rather than asking them something they can't do just because it was your favorite play. We're going to run an offense with Coach Riley's guidance and everyone all in that this is what we can do, everyone is going to have a role and we're going to put them in position to succeed.
March, 17, 2014
3/17/14
5:30
PM ET
Oregon State coach Mike Riley hired John Garrett away from the Tampa Bay Buccaneers to run his offense a month ago because he felt Garrett was a good fit for very specific parameters he envisioned for his next coordinator. Riley had an accomplished senior quarterback in
Sean Mannion
and a longstanding pro-style system and he wanted someone to ensure continuity, not an overhaul to player and scheme.
While most coordinators want to call plays and implement their personal systems and terminology, Garrett is not in Corvallis for that. In fact, you could say he has more to learn this spring than his six returning starters.

"Basically, I said it's your job to learn what we do and make it better," Riley said in an interview on
Oregon State's official website
.
Riley has called plays for the past two years after taking the duties away from Danny Langsdorf, who was hired in January as the New York Giants quarterbacks coach. While there's been no official statement from Riley about who will call plays in 2014, the good money is on Riley retaining those duties.
Riley praised Garrett, whose title includes QBs and tight ends coach, as a teacher -- a "well-versed technician" -- and he emphasized that he'll have latitude to tweak the scheme and make suggestions. In fact, he expects it. He said Garrett will have "total freedom to be honest."
Garrett last coached in college at Virginia from 2004-06. Riley said a mutual friend got him and Garrett together, and it doesn't appear that any other candidate got a very long look at the job.
Garrett's chief task this spring will be finding Mannion some help. For one, the Beavers need to replace the production of receiver
Brandin Cooks
in the passing game. But perhaps more important is healing a running game that has been struggling for going on five years.
The good news for Mannion is he's getting a new tutor with plenty of NFL knowledge while not having to learn a new system as a senior.
It will be interesting to see exactly where the "tweaks" come on offense under Garrett, and whether they help the Beavers crawl back into at least the middle of the Pac-12 in rushing.
February, 25, 2014
2/25/14
7:15
PM ET
Our look at position groups in the Pac-12 continues.
Arizona:
With
Ka'Deem Carey
off to the NFL, figuring out Arizona's running back situation requires a bit of guesswork. Backups
Daniel Jenkins
and
Kylan Butler
are out of eligibility and rising junior
Jared Baker
tore his ACL in the regular-season finale. That leaves no running backs who had a carry last season. Those competing for carries will be redshirt freshmen
Pierre Cormier
and
Zach Green
, and true freshmen
Jonathan Haden
, an early enrollee, and
Nick Wilson
.
[+] Enlarge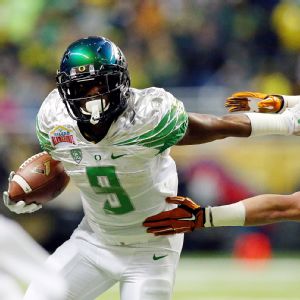 Ronald Martinez/Getty ImagesByron Marshall will be the Pac-12's leading returning rusher in 2014.
Arizona State
: The torch was passed from
Marion Grice
to
D.J. Foster
toward the end of last season, and Foster will have a full offseason to prepare to be the No. 1 guy. He showed impressive flashes in spot playing time in the past two seasons, and ran for 318 yards (6.2 yards per carry) in three starts after Grice was lost to injury.
California:
Much was made about
Brendan Bigelow
's talent during his career in Berkeley, but it never materialized the way many expected it would. He was beaten out by true freshman
Khalfani Muhammad
a year ago, then opted out of his final year of eligibility for a shot at the NFL -- and subsequently was not invited to the combine. Getting a feel for how coach Sonny Dykes would like to use his running backs is tough considering the lopsided nature of most of the games last year, but Muhammad showed all the signs that he would develop into a good Pac-12 running back.
Colorado:
Christian Powell
and
Michael Adkins II
will both be back after combining for 1,097 yards rushing in 2013. With receiver
Paul Richardson
off to the NFL, there's the need for added production on offense, and while coach Mike MacIntyre showed at San Jose State he'd prefer that to come through the air, it could add up to more opportunities for Powell and Adkins.
Oregon
: Does it even matter who the Ducks hand the ball to? Sometimes it doesn't seem like it, but, regardless, Oregon remains loaded with speed and talent at running back.
Byron Marshall
(1,038 yards rushing) and
Thomas Tyner
(711 yards) will both see plenty of carries when quarterback
Marcus Mariota
(715 yards) isn't running on his own. The team does lose
De'Anthony Thomas
, who opted to leave early for the NFL, but Thomas turned into a relative afterthought last season anyway.
Oregon State:
It shouldn't be hard to improve the Beavers' running game after they ranked 115th in the country in rushing yards per game last season. Their top two backs --
Terron Ward
and
Storm Woods
-- return and figure to see more use under new offensive coordinator John Garrett. There was a glimpse of what could be against Boise State in the Sheraton Hawai'i Bowl as the Beavers unleashed a more balanced approach. Woods ran for 107 yards on 16 carries and Ward added 54 yards on nine carries in a comfortable 38-23 victory.
Stanford:
The Cardinal's running back situation is
outlined here in more detail
, but it should be noted that the competition between
Remound Wright
,
Barry J. Sanders
and
Ricky Seale
-- competing to replace
Tyler Gaffney
-- will also include
Kelsey Young
. Young was recruited to Stanford to play running back, but was switched to receiver and is now back at running back. Sanders has the name recognition, but all signs point to Wright getting the first crack at being the primary back. However it plays out, it would be a complete shock if one back was used as much as Gaffney was in 2013 and Stepfan Taylor the two seasons before that.
UCLA
: If things play out the way UCLA coach Jim Mora hopes they will, linebacker
Myles Jack
will be just that … a linebacker. After winning Pac-12 Offensive and Defensive Freshman of the Year, the Bruins would ideally keep him on defense. For that to happen, someone needs to step up. That conversation still includes
Jordon James
and
Paul Perkins
, while
Craig Lee
, a four-star recruit who redshirted last year, also factors into the equation.
[+] Enlarge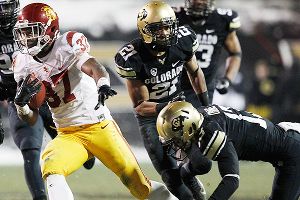 AP Photo/David ZalubowskiBuck Allen will likely head up USC's running back committee next season.
USC
: After watching Bishop Sankey turn into one of the nation's premier backs under the tutelage of new coach Steve Sarkisian, USC's deep stable of running backs has to be intrigued. The Trojans will return four of their top five leading rushers from a year ago --
Javorius "Buck" Allen
,
Tre Madden
,
Justin Davis
,
Ty Isaac
-- when they were predominantly a run-first team. Allen, who was named the team MVP in 2013, figures to get the first crack at being the starter, but that could be just in name only as a
running-back-by-committee scenario seems likely
.
Utah
: Another season, another new offensive coordinator for the Utes. This time it's
Dave Christensen's job
to invoke life in the Utah offense, which will return leading rusher
Bubba Poole
(607 yards) and
Lucky Radley
(284 yards). The Utes averaged just 4.1 yards a carry as a team last year, which is partially to blame for the change from Dennis Erickson to Christensen after just one year.
Washington:
The NFL combine taught us that
Bishop Sankey
might have been the most physically gifted running back in the country last year. It's not as simple as plugging in another guy to replace him, but the Huskies are still in good shape. Senior
Jesse Callier
(48 carries, 213 yards in 2013), who was slated to be the starter before an ACL tear in the season opener in 2012, is intriguing and will compete with fellow senior
Deontae Cooper
(43 carries, 270 yards) and sophomore
Dwayne Washington
(27 carries, 332 yards).
Washington State:
Considering quarterback
Connor Halliday
had three single-game passing totals that were more than leading rusher
Marcus Mason
ran for in entire season (429), any discussion about the Cougars' running game is tough to take seriously. Yes, there will still be running backs on the roster. No, they probably won't combine to run for 1,000 yards as a team.
Previous positions
Quarterback
February, 25, 2014
2/25/14
9:00
AM ET
We're taking a look at a player from each Pac-12 team who could step into the spotlight in 2014.
Spotlight:
WR
Richard Mullaney
, R-Jr. (6-3, 194)

2013 summary:
Mullaney caught 52 passes for 788 yards and three touchdowns.
The skinny:
In 2012,
Markus Wheaton
and
Brandin Cooks
were Oregon State's top two receivers and combined for 2,395 yards receiving. Last season, Mullaney replaced Wheaton, a 2013 third-round pick, in that equation and combined with Cooks for 2,518 yards. Yes, an overwhelming majority came from Cooks (1,730 yards), but with the Biletnikoff Award winner off to the NFL, that production needs to be replaced. No one is expecting him to be Cooks, but he should be the leading receiver on a team that likes to throw the ball. What remains to be seen is how the Beavers offense will change after Mike Riley hired John Garrett to be the team's new offensive coordinator. Presumably there won't be wholesale changes with Riley still overseeing things, but it's also doubtful returning quarterback
Sean Mannion
will chase the 603 passing attempts from last year either. With Mullaney taking on a bigger role, the same should be assumed for running backs
Terron Ward
and
Storm Woods
as the Beavers strive for more offensive balance.
Previous spotlights
February, 19, 2014
2/19/14
5:30
PM ET
So far, only three Pac-12 teams retained their 2013 offensive and defensive coordinators: Arizona, Colorado and Washington State.
Here's a look at who's in, who's out and what it means, starting in the North Division:
California

Out
: Defensive coordinator Andy Buh, who will be reassigned as a position coach, probably linebackers, if he remains in Berkeley. Coach Sonny Dykes also fired defensive tackles coach Barry Sacks and defensive backs coach Randy Stewart.
In
: Art Kaufman, whose defense at Cincinnati ranked ninth in the nation last season.
Thoughts:
Kaufman, 55, takes over perhaps the worst defense in Cal history, a unit that was injury-ravaged but also was often unsound and seemingly uninspired, allowing an eye-popping 46 points per game in 2013. The good news: If the injury issues resolve themselves with the healthy return of talented players such as defensive end
Brennan Scarlett
, safety
Avery Sebastian
, defensive tackle
Mustafa Jalil
and cornerback
Stefan McClure
, the improvement could be dramatic. Dykes also hired Greg Burns to coach the secondary. He was at USC from 2002-05 and Arizona State from 2008 -11. He spent last season at UMass.
Oregon

Out
: Longtime defensive coordinator Nick Aliotti retired.
In
: Don Pellum was promoted from linebackers coach.
Thoughts
: The promotion of the 51-year-0ld Pellum stuck with the "Oregon Way" of promoting from within, though there was mutual interest between coach Mark Helfrich and former USC coordinator Clancy Pendergast. Pellum won't have to rework much with the Ducks' hybrid 3-4 scheme.
As noted here
, since 2009, "the Ducks have finished no lower than third in the Pac-12 in yards-per-play allowed. That includes leading the conference in 2009, 2010 and, yes, 2013, when the Ducks finished seventh nationally by that metric." The Ducks did falter a few times last season, most notably against Stanford, Arizona and Oregon State, and often had trouble against physical running games as well as on third down. Helfrich did make a quasi-outside hire when he brought in Erik Chinander to take over the Ducks' outside linebackers, which Aliotti coached. Chinander, 34, is a former Oregon graduate assistant who worked under Chip Kelly with the Philadelphia Eagles last season.
Oregon State

Out
: Offensive coordinator Danny Langsdorf left to become the quarterbacks coach for the New York Giants.
In
: John Garrett, who was the wide receivers coach for the Tampa Bay Buccaneers last season. He was on the staff of the Dallas Cowboys from 2007-12, where his brother Jason Garrett is the head coach.
Thoughts
: Garrett, who last coached in college at Virginia from 2004-06, shows that coach Mike Riley remains married to a pro-style scheme. Garrett will also coach quarterbacks and tight ends, but it has not yet been determined who will call plays -- Riley has done so for the past two seasons. Garrett and Riley have known each other since 1991, when Garrett played receiver for Riley's San Antonio Riders of the World Football League. The good news for Garrett is the Beavers are strong at QB (
Sean Mannion
) and deep at tight end. The bigger questions are making the running game more consistent and replacing WR
Brandin Cooks
' production.
Stanford

Out
: Defensive coordinator Derek Mason, who became the head coach at Vanderbilt.
In
: Lance Anderson was promoted from outside linebackers coach, a position he will continue to coach.
Thoughts
: Another promotion from within that will ensure the Pac-12's best defense has schematic continuity. Anderson has been at Stanford for seven seasons. He coached DTs from 2007-09. He was also the recruiting coordinator from 2007-11. The Cardinal also hired Peter Hansen as inside linebackers coach. He replaces David Kotulski, who was named Vanderbilt's defensive coordinator under Mason. That was another move that maintains continuity, as Hansen spent the 2009 and 2010 seasons at Stanford as a defensive assistant before following Vic Fangio and Jim Harbaugh to the San Francisco 49ers.
Washington

Out
: Steve Sarkisian brought most of his staff from Washington to USC, including defensive coordinator Justin Wilcox, but not offensive coordinator Eric Kiesau, who was not retained by new Huskies coach Chris Petersen
In
: Offensive coordinator Jonathan Smith and defensive coordinator Pete Kwiatkowski
Thoughts
: Smith, the overachieving former Oregon State QB, is a real up-and-comer. Petersen trusts him enough to give him play-calling duties, even though he was not the offensive coordinator last year at Boise State. He'll also coach quarterbacks, so he'll play a central role in determining who wins the starting job this fall. Before joining Petersen at Boise State, Smith spent the 2010 and 2011 seasons as the offensive coordinator and quarterbacks coach at Montana. Kwiatkowski spent the previous four seasons coordinating the Boise State defense. He was the defensive line coach before being elevated to defensive coordinator in 2010, when he replaced Wilcox. The Broncos led the Western Athletic and Mountain West Conferences in total defense and scoring defense in each of his first three seasons and were third and second, respectively, in 2013.

Washington State
No change:
Head coach Mike Leach is his own offensive coordinator and Mike Breske is back to coordinate the Cougars defense, which was disappointing in 2013, slightly lagging behind its 2012 numbers.