August, 9, 2013
8/09/13
4:30
PM ET
This is the sixth in a series looking at potential dream and nightmare scenarios for all Pac-12 teams.
Understand:
These are not predictions.
They are extreme scenarios and pieces of fiction. You can read
last year's versions here
.
We're going in reverse order of my
post-spring power rankings
(which might not be identical to my preseason power rankings).
Up next
: USC
Best case
Lane Kiffin glowers at the ocean from his Manhattan Beach home. He is disquieted, even with his favorite Eric Clapton song playing in the background. The waves roar at him under an unusually cloudy August day in Southern California.
"Now is the season of our discontent, made glorious summer by this sun of Bruin," he says. "And all the clouds that Mora'd upon our house, in the deep bosom of the ocean buried."
Kiffin picks up a copy of the LA Times. He throws it onto a pile where ESPN Magazine, Sports Illustrated and the Orange County Register lay. "Hot seat, hot seat, hot seat!" he says. "I have been rudely stamp'd!"
He turns on the TV and with an exaggerated, irritated emphasis, he flips the channels until he arrives on ESPN.
"And therefore — since I cannot prove a media favorite -- to entertain these fair well-spoken days, I am determined to prove a villain," Kiffin says. "And hate the idle pleasures of these Pac-12 days!"
He watches interviews of UCLA coach Jim Mora, Stanford coach David Shaw and Oregon coach Mark Helfrich. He smirks.
He says, "Winning is the thing wherein I'll catch the catch the conscience of the Pac-12 kings! And keep my job."
A few days later, on Aug. 23, Kiffin stands before reporters.
"
Cody Kessler
is going to be our starting quarterback," Kiffin says. "He doesn't have the biggest arm and he's not built like an NFL quarterback, but he played this best during fall camp. I like his moxie. Sometimes even USC needs moxie."
USC rolls over Hawaii and Washington State, dominates Boston College and thrashes Utah State. Kessler throws just one interception against 10 touchdown passes, while the defense dominates, not yielding more than 20 points during the 4-0 start. The Trojans rise to No. 10 in the national rankings.
Kevin Gemmell: Boy, the Trojans drowned those first four teams in malmsey butt.

Ted Miller: What's malmsey butt?

Gemmell: It's ... I have no idea. I was just trying to stick to your Richard III deal.
Things, however, go off the tracks at Arizona State. The Trojans are flagged eight times for 85 yards and turn the ball over three times in the first half as they trail the Sun Devils 21-3.
"Have we eaten of the insane root that takes the reason prisoner?" Kiffin barks in the locker room. "Men, settle down. We only need to focus on one thing. Win the next play. Stop over thinking this. Win the next play. Beat the guy in front of you. Win the next play and then do it again. That is all."
Kessler throws three touchdown passes to
Marqise Lee
in the third quarter, and
Silas Redd
,
Justin Davis
and
Tre Madden
wear down the undersized Sun Devils defense in the fourth, as the Trojans roll to 42-24 win.
During the bye week, a column on the front of the LA Times sports page asks: "Is Kiffin becoming a good coach?"
Scoffs Kiffin, "Reputation is an idle and most false imposition; oft got without merit and lost without deserving."
The Trojans blow out Arizona and head to Notre Dame at 6-0. Lee turns South Bend into his own little play pen, catching four touchdown passes and going the distance on a kickoff return.
The fourth-ranked Trojans roll over Utah and then, with Lee on the cover of Sports Illustrated, head to Corvallis.
Gemmell: Just tapping some things into the "Uh Oh Calculator" here. We've got USC going to Corvallis and USC on the cover of Sports Illustrated.

Miller: And don't forget my 3,000-word story on the certainty that the Trojans would play for the national title this week!
The Trojans miss a 27-yard field goal with 20 seconds left and Oregon State prevails 28-27, which is USC's fourth consecutive loss in Corvallis.
USC bounces back with a win at California. Then No. 7 Stanford comes to town, fresh off a loss to No. 2 Oregon. The Cardinal have won four in a row in the series with USC and five of the last six matchups.
"Stanford has just dominated us," Kiffin says in his Tuesday news conference. "They are a more physical team than we are. So we're going to need to find ways to make this game less about the line of scrimmage."
On the first play after the kickoff, Kessler lines up behind center and hands off to Redd. On second and 6, he lines up in the shot gun. On third and 1, he rushes the Trojans to the line of scrimmage, takes the shotgun snap and connects with Lee for a 30 yard gain.
Announcer: It appears that Lane Kiffin is going to run an up-tempo, no-huddle offense. Basically his two-minute offense.

Color analyst: Of course, Stanford saw the nation's best up-tempo offense last week against Oregon, and it faces a lot of up-tempo schemes, but you have to think this is a bit of a curveball for defensive coordinator Derek Mason.
USC takes a 14-10 lead into halftime.
The Trojans get a stop on Stanford's first possession of the second half. They take over on their 31. Kessler is back under center. On first down, he pitches to Redd for six yards. On second down, he pitches to Redd for four yards. On first down, he pitches to Davis for three yards. On second down, he pitches to Davis for 10 yards.
Announcer: Well, cut off my legs and call me shorty. After running a no-huddle offense and throwing 29 times in the first half, Kiffin has pulled a page from John McKay's old playbook.

Color analyst: Student body right, student body left. An I-formation, a simple toss with big linemen and a fullback leading the way. It seems Kiffin, after calling Stanford physically dominant all week, might have been playing opossum.
The Trojans rush for 210 yards in the second half against the nation's No. 1 run defense and win 35-20.
Miller: That was genius, Lane! Like I've said all along, you should call your own plays. It's your team and I've always thought you were a great play caller.

Kiffin: That one may smile, and smile, and be a villain — At least I am sure it may be so with the Pac-12 blog.

Miller: Lane, you need to lighten up. That's the next step. Maybe you should read some Christopher Moore?

Kiffin: Knavery's plain face is never seen till us'd!
The Trojans, who climb to No. 4 in the national polls, batter Colorado and improve to 11-1. Up next: No. 10 UCLA, which is 9-2, having only lost to Oregon and Stanford. The battle for the Victory Bell also will decide the Pac-12 South Division title.
"Do I remember my non-block that allowed
Anthony Barr
to sack Barkley and end his USC career?" Trojans offensive tackle
Aundrey Walker
says, rephrasing a reporter's question. "The one in which Barr made fun of me at Pac-12 media day? The one that typified our 2012 season? The play that should haunt me until I redeem myself? No. I've not thought about that once."
The Trojans score on their first five possessions and blow out the Bruins, who turn the ball over five times. Barr doesn't even touch Kessler all day. With 2:30 left, Kiffin goes for 2 to make the final count 51-0.
Kiffin: Well, we beat them 50-zip in 2011, so I didn't want the same final number again.

Reporter: It will be construed that Lane Kiffin was running up the score, that he has no conscience.

Kiffin: Conscience is but a word that cowards use, devised at first to keep the strong in awe.
No. 2 Oregon beats the Trojans 33-31 in the Pac-12 championship game when
Alejandro Maldonado
kicks a 58-yard field goal with no time left on the clock.
Lee wins USC's eighth Heisman Trophy.
The Ducks whip Alabama 40-10 to win the national title. The Trojans dominate previously unbeaten Ohio State 42-17 in the Rose Bowl. The final polls rank Oregon No. 1 and USC No. 2.
UCLA, Stanford, Arizona State, Oregon State and Washington also win bowl games, with seven Pac-12 teams finishing ranked in the final polls.
"Good," says Kiffin. "We want Oregon and UCLA and the rest of the conference to be strong. It's no fun to rule the weak."
Worst case
On Aug. 23, Kiffin stands before reporters.
"
Max Wittek
is going to be our starting quarterback," Kiffin says. "He didn't play as well as Cody Kessler in the spring or in preseason camp, but he's big and tall and has a good arm. He looks the part. You media sorts don't understand that it's better to look good than to be good."
Wittek plays fairly well during a 4-0 start -- Marqise Lee leads the nation with 768 yards receiving -- and he needs to because the Trojans new defensive scheme is inconsistent, yielding an average of 30 points in the season's first third.
The Trojans rise to No. 13 in the rankings.
Kevin Gemmell: We'll get a better measure of USC at Arizona State, Wittek's first road start against an A-list defense.

Ted Miller: The Sun Devils will certainly test the Trojans play caller.
Arizona State leads USC 24-20 with one minute left, but a long Wittek pass to Lee gives the Trojans a first and goal at the Sun Devils 1-yard line.
Consecutive QB sneaks are stopped for no gain by
Will Sutton
, Kiffin perhaps thinking he could fool the Sun Devils by running his quarterback at the best defensive lineman in the Pac-12.
After the Trojans final time out, Silas Redd is stopped by Sutton for no gain on third down. The clock says: 5, 4, 3, 2, 1... baaaa! Game over. Arizona State wins.
Announcer: Three words: Clock freaking managment.

Color analyst: Just wow.

Kiffin: I'm still going to call plays.
After an off-week, the Trojans are flat in a 28-24 home loss to Arizona. They get buried 28-10 at Notre Dame, with Wittek throwing three interceptions.
USC athletic director Pat Haden release a statement saying he's "100 percent behind Lane Kiffin and there is no hot seat."
The Trojans slip Utah 20-17, go down at Oregon State but improve to 6-4 with a road win at California.
"Being bowl eligible while under NCAA sanctions is a good thing," Kiffin says. "USC fans are too greedy, always believing they can win championships."
Stanford runs over USC 30-10, but the Trojans pick up a seventh win at Colorado.
Up next: No. 10 UCLA, which has already clinched the Pac-12 South Division crown.
Miller: Did you know that when Richard III was whipped in the Battle of Bosworth Field it ended the Wars of the Roses and began the Tudor dynasty?

Gemmell: And for your purposes here, setting up an obvious connection, with Jim Mora/Richmond besting Lane Kiffin/Richard III and taking over the football dynasty in LA.

Miller: You want to do these best-case, worst-case stories next year?

Gemmell: No.
The Bruins batter USC 35-0, despite Mora clearing his bench in the fourth quarter and only calling running plays and no blitzes over the final five minutes. Anthony Barr has three of the Bruins five sacks, and Wittek is picked off twice.
"I know some Bruins fans want us to be merciless, but this program is about winning with class," Jim Mora says. "In Westwood, we hope to enrich this time to come with smooth-faced success, with smiling plenty and fair prosperous days!"
USC goes on to lose to Nevada in the New Mexico Bowl, thereby finishing 7-7.
Bruins QB
Brett Hundley
leads the Bruins to an upset of No. 2 Stanford in the Pac-12 title game. Hundley, after winning the Heisman Trophy, announces he will return for his redshirt junior season. He then leads the Bruins to a Rose Bowl win over Ohio State.
A news conference is called in Heritage Hall.
"It's been a tough year," Haden says. "But I continue to believe Lane Kiffin is the coach who will lead the Trojans back to greatness."
Previous "Best case-worst case" posts
California
Washington State
Colorado
Utah
Arizona
June, 4, 2013
6/04/13
11:00
AM ET
ESPN.com's Ivan Maisel looks at which conferences send head coaches to the NFL and
makes a conclusion
: "The shortest road for any FBS head coach to the NFL is through the Pac-12. In fact, no other conference even comes close."
He points out that Chip Kelly (Oregon to the Philadelphia Eagles) was the 15th Pac-12 coach to jump to the NFL since "Tommy Prothro moved crosstown from UCLA in 1971 to coach the Los Angeles Rams."
And during that span the SEC has sent three to the NFL. The Big Ten one.
Figuring out exactly why this is true is more of a challenge, particularly because folks in other regions will get mad hearing the real reason: Brains and sophistication.
[+] Enlarge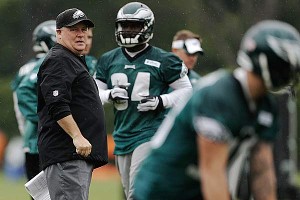 Matt Rourke/AP PhotoChip Kelly's offensive creativity helped him become the latest Pac-12 head coach to land an NFL head coaching gig.
Hey... take it easy. Just saying. And you Pac-12 folks need to behave.
Just look at the list: Dick Vermeil, Bill Walsh, John McKay, Mike Riley, Dennis Erickson and Chip Kelly. Those are some of the most innovative minds in football history, particularly offensive football.
Schematically, the Pac-12 -- historically and I think still at present -- is the nation's most sophisticated league. There's just more ... stuff. Playbooks are thicker. That, by the way, includes both sides of the football. The QBs are asked to do more. And that forces defenses to do more, too.
This, by the way, fits in with those who -- wrongly -- view the Pac-12 as a finesse league: A conference that is physically inferior has to use its wits to succeed.
But sophistication is about more than scheme. It's about psychology and managing people. There's more diversity on the West Coast. That complicates the job, so doing it well is meaningful. John McKay probably would have been successful coaching in Tuscaloosa. Not as sure the same could be said of Bear Bryant in Los Angeles.
Part of that is this: There's not as much "Yes, sir," "No, sir" on the West Coast as there is in other regions, particularly the Southeast and Texas, though that as a historical trend is likely narrowing. Going old school on an 18-to-23-year old from L.A. or Seattle probably won't work as well as it would on a kid from small town Alabama. The way a successful Pac-12 coach talks to and motivates his team is, in general, different. And, historically, it's probably closer to the NFL model, where the players are paid professionals and less willing to respond positively to a ranting coach.
Understand, there are plenty of exceptions to that. Frank Kush at Arizona State and Don James at Washington were as old school intimidating to their players as any of their contemporaries.
There's another level to that sophistication: Big cities. The NFL is a big-city league. So is the Pac-12. Maisel thinks this matters:
It could be that universities that share a market with NFL teams lose more coaches to the league. A school such as Boston College, clamoring for attention in a crowded market, might be more liable to hire a prominent NFL assistant coach such as Tom Coughlin, who left the Eagles for the Jacksonville Jaguars in 1994. That best explains why, even without counting Johnson or Erickson, the 22-year-old Big East has lost five head coaches to the NFL.
But there are other potential reasons:
Out of the box hires create fast-rising stars: Kelly, Jim Harbaugh and Pete Carroll each arrived in the Pac-12 in creative ways. Mike Bellotti made the inspired decision to hire Kelly away from New Hampshire. Harbaugh mostly generated head scratches when Stanford hired him away from San Diego. And Carroll was USC's 174th choice after a bumbling search. Heck, even Bill Walsh was a frustrated NFL assistant when he arrived at Stanford.

Previous NFL experience: Carroll had previous NFL coaching experience. So did Dick Vermeil, Bill Walsh and Dennis Erickson. Harbaugh was a longtime NFL QB. Several other guys on the list at least had a cup of coffee as an NFL assistant before taking over a Pac-8/10/12 team. You could conjecture that many of them viewed returning to the NFL as their ultimate ambition, unlike a college coaching lifer.

Recruiting rules in SEC: The most important skill for a head coach in the SEC is without question: Recruiting. The competition for recruits nationwide is brutal, but it's a blood sport in the Southeast. And that is not really a skill that translates in the NFL.

Money: Some conferences' pay scales are competitive with the NFL. The Pac-12's is not.
November, 16, 2012
11/16/12
1:00
PM ET
Stanford is 31-5 since the beginning of the 2010 season. The Cardinal have lost three games during that span by a combined 14 points, and two of those were in overtime.
And they lost the other two, both to Oregon, by a combined 44 points.
Stanford has an Oregon problem.
"I think the entire conference has an Oregon problem," Stanford coach David Shaw countered reasonably.
True that. Oregon is on track for its fourth consecutive outright Pac-12 title. As ESPN's Brad Edwards
noted this week

: "If [the Ducks] can win [the Pac-12 title game] again this season, they will join John McKay's USC teams from 1966 to 1969 as the only groups in the history of that conference to win four consecutive outright titles."
[+] Enlarge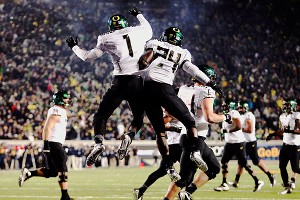 Kelley L Cox/US PresswireOpponents haven't been able to slow down the Ducks' potent offense for four quarters.
So Oregon is historically good.
And Stanford, though on a historically good run for its own program, has been Wile E. Coyote to Oregon's Road Runner.
Stanford (8-2) will get another chance to change that Saturday in Autzen Stadium, with ESPN's "College GameDay" on hand. The stakes, just like the previous two seasons, are big. The winner takes control of the Pac-12 North Division. The Ducks, of course, need to win to remain in the national title chase.
Shaw didn't hold back praising Oregon (10-0) this week. It could be gamesmanship, but Shaw also seems to genuinely appreciate what coach Chip Kelly has built at Oregon. As Shaw said: "Great athletes, great scheme in all three phases."
"They know how to adjust those schemes based on what you are doing, which to me is the biggest key," he said. "You don't see them stopped for long. If you're doing something that is slowing them down, they are going to make a tweak and make you pay for it."
Well-put. That about sums up Oregon.
And yet ... what about Oregon's injury-riddled defense?
"It doesn't matter," Shaw said. "They put young guys in there, they put new guys in there, and those guys go out there and play great."
Maybe. But maybe not.
There are cracks in the Oregon facade, mostly because a number of front-line players on the Ducks' defense -- once a nationally elite unit -- are questionable or out for Saturday.
Safety
Avery Patterson
is out for the year with a knee injury. You might recall Oregon previously lost All-America safety
John Boyett
to a knee injury. Defensive tackle
Wade Keliikipi
also is almost certainly out with a leg injury.
Also banged up and of questionable health on the defense: DE/DT
Taylor Hart
(foot), DE/OLB
Dion Jordan
(shoulder), DT
Isaac Remington
(ankle) and NT
Ricky Heimuli
(knee). And backup cornerbacks
Troy Hill
and
Dior Mathis
didn't play last weekend against California, which is why word coming out of practice this week was that
De'Anthony Thomas
was taking reps on defense.
That's a lot of banged up high-quality players, particularly on the defensive line. The past two weeks, Oregon has had to rely on three true freshman D-linemen --
Arik Armstead
,
DeForest Buckner
and
Alex Balducci
-- often playing them at the same time.
While Stanford's offensive line is not what it was last year with David DeCastro and Jonathan Martin, it still is an above-average unit, one that likes to go mano a mano in the trenches. It's certainly much better than the Cal unit that did a fairly good job against the Ducks last weekend.
So the Cardinal may be able to control the football with
Stepfan Taylor
running the ball, though you can expect Ducks "Stop the Run First" defensive coordinator Nick Aliotti to dare Stanford to throw the ball with redshirt freshman quarterback
Kevin Hogan
, who is making his first road start.
But the bigger issue, as usual, is slowing the Ducks' explosive offense, which has gashed Stanford the past two years with big plays -- seven TD plays of 25 or more yards, not including a 40-yard pick-six last season.
Stanford has the nation's No. 1 run defense, but few teams run the ball as well as Oregon. And Ducks redshirt freshman quarterback
Marcus Mariota
leads the nation in passing efficiency.
Oregon, particularly playing at home, seems fully capable of outscoring Stanford if the Ducks' defense is having a bad day. A few teams have been able to slow the Ducks for a quarter here or a quarter there. But even then -- boom! -- things go haywire. Stanford has experienced that itself. Twice in the past two years, in fact.
The question then becomes simple for Stanford: Can it somehow make Mariota and the Oregon offense have a bad day for four quarters?
It's the Oregon problem, and it's not easy to solve.
August, 20, 2012
8/20/12
3:34
PM ET
By
WeAreSC staff
| ESPN.com
Steve Bisheff writes
:

Steve Bisheff goes down memory lane and discusses his experiences with former USC coaching great John McKay on the week that the McKay Center is opening.
Blair Angulo writes:

Steven Mitchell will stop at nothing in the quest of perfection, even if it means not allowing himself to drop one pass.
Garry Paskwietz writes
: USC's second scrimmage of the fall saw the Trojans defense make several big plays at the offense's expense.
Paskwietz writes
: A look at where the Trojans' three-deep stands going into the final week of fall camp.
Video: Scrimmage recap

: Paskwietz and Greg Katz recap the USC Trojans scrimmage on Sunday at the Los Angeles Memorial Coliseum.
Video: Steven Mitchell

: Alemany (Mission Hills, Calif.) wide receiver Steven Mitchell, No. 116 in the ESPN 150, talks to Angulo about committing to the Trojans and a recent visit to USC.
July, 9, 2012
7/09/12
9:00
AM ET
Does a coach define your program? Think Alabama and Bear Bryant, Penn State and Joe Paterno and Florida State and Bobby Bowden.
Does he cast a shadow that's hard to escape? Or is your all-time winningest coach mostly incidental?
[+] Enlarge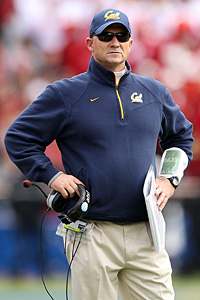 Ezra Shaw/Getty ImagesCoach Jeff Tedford is Cal's winningest coach of all time, but is he the face of the program?
ESPN.com is looking at the winningest coach for each FBS program today, and the results from the Pac-12 are interesting.
Some teams are trying to regain the past glory of a legendary coach (Arizona State and Frank Kush, Colorado and Bill McCartney, UCLA and Terry Donahue and Washington and Don James).
Some teams all-time wins leader paved the way for present glory (Oregon and Mike Bellotti and USC and John McKay).
Some are just names on a list, Hall of Famers or otherwise, men glaring at us from black and white photos (Pop Warner for Stanford, Lon Stiner for Oregon State, Ike Armstrong at Utah and Babe Hollingbery for Washington State).
And for some teams, well, things are complicated.
For one, Jeff Tedford, who has been hot-seated by many reporters and California fans, is the Bears all-time winningest coach. Then there's Oregon State's Mike Riley, who most feel is sitting on the second-warmest seat in the Pac-12. He needs just three victories to eclipse Stiner as the Beavers winningest coach.
A guy who might identify: Arizona's winningest coach Dick Tomey. Tomey went 12–1 in 1998 but was forced out in 2000.
Hey, look at this patch of grass. It's lovely. Not perfect, though. Is that a clover? Hmm. What about the grass ... over there?
The most interesting names, of course, are Kush, McCartney, Donahue and James. Each is the standard for his program. Even fans too young to have witnessed their tenures know who they are. While these coaches' programs have experienced varying degrees of success both before and after them, no one has been able to duplicate their consistency. And those who have tried over the past couple of decades seem as though they shriveled up under the shadow of the legends who preceded them.
While fans fervently cling to the "It happened before, so it can happen again" position, the truth is comparisons are sometimes unfair. College football is much different than it was before the BCS era, which none of these four experienced.
But that doesn't keep fans from hoping for a second-coming.
August, 15, 2011
8/15/11
11:00
AM ET
The ninth of 12 quick updates on offseason Pac-12 goings on.
USC in a sentence
The Trojans won't be eligible for the postseason because of NCAA sanctions, so the big question is how consistently motivated a team that is talented enough to win 10 games this season will be.

The big issue
USC is loaded at the skill positions, with quarterback Matt Barkley leading a young but talented supporting cast, but the season likely swings on the play of the offensive line and linebackers, positions that are both questionable and thin.
Quick hit news
Starting defensive tackle Armond Armstead, who missed spring practices due to an undisclosed medical condition, still hasn't been cleared to play but he told reporters he expect to be cleared before the season starts.
Starting running back Marc Tyler is on indefinite suspension -- he definitely will sit out the season opener. He was suspended after saying stupid things to a TMZ reporter with a video camera, but his status is even more precarious because he is awaiting a ruling from the school's disciplinary committee on a pair of alcohol-related incidents from last year.
Coach Lane Kiffin said over the weekend that junior Curtis McNeal, who was academically ineligible last season, leads the tailback competition.
USC's backup quarterback, redshirt freshman Jesse Scroggins, is out indefinitely after suffering a thumb injury. True freshmen Cody Kessler and Max Wittek are competing to be Barkley's backup.
USC has only one new assistant coach: receivers coach Ted Gilmore. He replaced John Morton, who left for the San Francisco 49ers.
While the Trojans have 13 starters back, only 39 players on the roster saw action in 2010. 70 players on the 109-man roster have never played a down of college football. Only 14 Trojans have started at least 10 games.
For the first time since 2000, USC plays seven home games, including the first three in the Coliseum.
There are 35 scholarship players now practicing who didn't participate in spring drills: 23 new recruits and 12 returning players who were out because of injuries. The Trojans presently have 79 scholarship players. They can only sign 15 players this recruiting season because of NCAA sanctions and can have no more than 75 total scholarship players in 2012.
USC outscored foes in each of the first three quarters last season but was outscored 118-72 in the fourth quarter.
USC is in the process of constructing the $70 million John McKay Center, a 110,000-square foot building that will house the football offices, an academic center, weight room, athletic training room and digital media production.
November, 27, 2009
11/27/09
5:54
PM ET
Interest anyone in a turkey sandwich?
To the notes.
Shawn from Denver writes
: If possible please let me know what you think of Oregon and Ohio St. in the Rose Bowl....there is no way the Beavs can take it in Autzen with such high stakes, although I will leave that for you to decide. Since you are correct 75% of the time I hope you feel the same way!!
Ted Miller
: Oh, Shawn, I would not take a victory for granted. You may need to apologize to the college football gods for looking ahead. Chip Kelly, one-game-at-a-time taskmaster that he is, might recommend 50 lashes.
Because you seem like a nice person, I will send them an e-mail telling them you were consumed with holiday cheer.
And, by the way, Beavers fans might tell you that I tend to have mixed results
picking their games
(see last item in that mailbag).
---
Ryan from New York writes
: To all those people proclaiming the end of 'SC, remember 1966? That year ND went to LA and buried the Trojans 51-0. The next year?John McKay won his second National Championship
Ted Miller
: Ah, a reasonable observation. That 1966 USC team lost three in a row to
end the season
-- including 14-13 to Purdue in the Rose Bowl -- but certainly got their act together the following season, though Oregon State fans might remember that year fondly, too.
---
Brad from Portland writes
: Arizona has done a remarkable job this year despite the RB injuries and the loss of
Rob Gronkowski
. How do you think the season would have differed if they had remained healthy? Rose Bowl?
Ted Miller
: Just about every team has injury what-ifs, so asking how a team might do without them is like asking how a team might have done if it had converted a key third down in a loss. Still, Brad, I hear you. Gronkowski is one of the top 5 or 10 difference-makers in the Pac-10, and before Arizona had injury issues at tailback it was one of the country's best running teams.
So if you're asking me how Arizona might have done with a healthy backfield and a healthy Gronkowski, my guess is Rose Bowl.
Does that make you feel better? Or does it sting?
---
Gordie from Pasadena writes
: In regards to ESPN.com's week 12 top 25
power rankings
: I am just curious why you ranked Cal at #23 and Stanford at #18 right after the Bears out-muscled the Cardinal at Stanford, beating them in nearly every statistical category (a 1-1 tie in turnovers being the notable exception).
Ted Miller
: I've always been a body-of-work guy. If you tried to rank teams based entirely on head-to-head results, you'd have a nutty poll.
Cal whipped Stanford, no doubt. But Stanford whipped Oregon and USC the two previous weekends, two teams that bludgeoned the Bears.
The
previous week
, I had Stanford ranked 12th. I thought losing by six in a rivalry game merited only a six-spot drop in the top 25. I also THINK Stanford is better than 18th -- I don't think there are 17 teams in the country that could beat Stanford.
I didn't rank Cal the week before. Twenty-third felt about right, based on their season's body of work.
Don't think I don't understand your issue, which is entirely reasonable. These are hard distinctions to make, but this is how college football operates. It's a beauty contest, and judging beauty is subjective.
---
Henry from Eugene writes
: I work in Athletics at Oregon and am disappointed with
your comments
regarding [the Oregon marketing department]. I'm not sure if you make human resource recommendations about other schools' departments, but I feel that it is very inappropriate. You do not understand the full story, and certainly not the inside story of what is going on. [The individual in question] works her rear end off, sixty-hours per week, and receives no grain of thanks for her hard work. Don't smear her name regarding a situation in which her due diligence was required and appropriate action was taken.
Ted Miller
: One, I didn't mention anyone's name. I wrote this:
Former Oregon coach Mike Bellotti
deserves some credit
for the Ducks' success this year, but he may want to make some changes in the marketing department, which has
failed to embrace
the best marketing effort for the program in years.
I still believe that. "Full story?" Hmm. What I do know is that video was a lot of fun. The university should have done EVERYTHING it could to embrace the video. Period. Problems? A resourceful marketing department would have said, "Our endgame is this video circulating virally. How do we get to that endgame? Don't tell me we can't find a way because that's how uncreative people think. As Chip Kelly would say, 'Win the day!' Ideas?"
My understanding is the university also didn't embrace the second-best marketing campaign this season: the fan-generated "blackout" plan for the Oregon-USC game. Again, mistake.
My job covering college football -- and all that goes with it -- often includes comments, positive and negative, on university business. Typically, it's about coaches. Sometimes its athletic directors. In this case, it was a marketing department.
It's not personal. It's just my perspective.
---
Matt from San Francisco writes
: I want to pass something along to you if you have not already been alerted by other readers. A group of Ducks fans heard the story about a little girl in Oklahoma with cerebral palsy who cheers up whenever she sees the Ducks on TV.
Ted Miller
: Here's
the link
.
Good job, Ducks.
---
Amber from Texas writes
: Hi,We posted an article that we thought you and your readers might be interested in having a look at, "100 Best Twitter Feeds for College Football Fanatics"
Ted Miller
: Here's
the link
.
October, 7, 2009
10/07/09
10:55
AM ET

Posted by ESPN.com's Ted Miller
The L.A. Times reported that USC is looking for a marquee BCS conference opponent for a future home-and-away series, and one discussion has been with Texas.
Help me out. When these two teams last played, was the game
sorta entertaining
?
From
the Times
:
Steve Lopes, a senior associate athletic director who handles scheduling, said playing nonconference opponents such as Ohio State and Notre Dame on the road in the same season was "not something you'd really like to do very often."
Lopes confirmed that he has "had conversations" with Texas and other teams from Bowl Championship Series conferences about possible home-and-home series.
USC is trying to fill dates in two-year cycles for 2015-2016, 2017-2018, 2019-2020 and 2020-2021.
The game I'd love to see would be USC-Alabama. Great history between the teams -- Bear Bryant, John McKay, USC running back Sam "Bam'' Cunningham in 1970, the split title in 1978 even though the Trojans whipped the Crimson Tide 24-14 in Birmingham, etc.
And, at present, most would agree that Pete Carroll and Nick Saban, despite being polar opposites as personalities, are two of the top coaches in the game.
Such a game contract certainly would inspire wide grins throughout the Pac-10.
February, 9, 2009
2/09/09
4:08
PM ET
Posted by ESPN.com's Ted Miller
Sure some of you folks already have seen this but it may have gotten lost in the recruiting hoopla for many of you: ESPN.com did a state-by-state "Mt. Rushmore" of sports.
You can vote for your favorite here. And here's the index.
It was notable to me that the only two Pac-10 football presences were Don James for Washington and Pat Tillman for Arizona. Pac-10 hoops produced John Wooden for California and Lute Olsen for Arizona.
By way of comparison, two of the four picks from Alabama and Florida emerged from college football.
Wonder how some of you might envision a Mt. Rushmore of Pac-10 football.
To me, the two certainties would be Don James and John McKay.
It would be hard not to include Pete Carroll. Tillman would be a good one -- good granite chin, too.
If it were still 1993, O.J. Simpson would be a possibility.
Who else?
Terry Baker? Terry Donahue?
Frank Kush? Howard Jones?
Marcus Allen? Pappy Waldorf? Carson Palmer? John Elway? Troy Aikman? Jim Plunkett? Gary Beban? Charles White?
Feel free to talk amongst yourselves.
December, 5, 2008
12/05/08
5:20
PM ET
Posted by ESPN.com's Ted Miller
More questions and comments to consider:
Ed from Lake Oswego, Ore., writes: Regarding Tyrone Willingham's comments that African Americans only get hired for downtrodden teams. I have never heard of a school looking for a new head coach following a 10-2 season except Ohio State when it fired Earl Bruce for John Cooper because they couldn't beat Michigan. I think most coaches would be thrilled with opportunities at ND or UW with their reputations, resources and history's. Having said that, there is an undeniable disparity between the number of white and African American head coaches among the BCS conference elite. By the way don't touch this subject with a 10 foot pole.
Ted Miller: Ed is referring to this article from the Chicago Tribune in which Willingham said:
"It has always been the downtrodden that [African-American coaches] had to take over," he said. "There are a lot of things not right with those situations. The degree of difficulty is enhanced in those programs. You do the best you can with the resources around you.

"Maybe Notre Dame got it right [retaining Charlie Weis]. But we have to change that mentality with [black] coaches. Nick Saban is making it work at Alabama in his second season. But in the majority of cases, it's going to take longer to get things right and up to speed."
First, Willingham is right. Too few black men have been given FBS coaching opportunities and when they do get them, it's often a huge challenge -- like Temple, Mississippi State or Louisiana-Lafayette.
Yet the timing of this makes it seem like Willingham is making an excuse for himself and his failure at Washington, which falls 100 percent on his shoulders.
Willingham fell short as a recruiter. He fell short as a coach. He fell short as an administrator. He fell short as the leader of the program. He fell short in public and media relations.
And, of course, as of Saturday, his record with be 11-37, the worst four-year stretch in program history.
---
Raymond from Tucson writes: Ted, Are you coming to Tucson to watch the Dual in the Desert and watch Wilbur tackle Sparky?
Ted Miller: Actually, I'm staying in Scottsdale -- present weather: 72 and sunny -- where I will be blogging from home. The Boss is very pregnant, and she will deliver a Screaming Thing into the world any moment. Our first! So if you guys notice a sudden decline in the number of posts, know that it will be due to orders from General Poopy Diapers.
---
Mike from Anaheim writes: Ted, is it bad, as a USC fan, that I'm glad to see Sarkisian leave?
Ted Miller: You certainly have a right to your opinion, and plenty of reasonable people have, at times, questioned Sarkisian's play-calling.
Of course, there's always the "be careful what you wish for." I liked this paragraph from USC gadfly Scott Wolf's story Friday about potential replacements from Sark:
"[Pete] Carroll said he would consider assistant coach John Morton and then added he would also consider [Carl] Smith. It's clear he no longer wants a Norm Chow-type who might come in and be considered an equal."
So don't expect Carroll to suddenly bring in a superstar play-caller. While he's mostly known for running the Trojans defense, Carroll has his fingers on all aspects of his team, including supervising the offense. Back when Norm Chow was the Trojans OC, Carroll always went out his way to call the offense "ours" instead of "Norm's" (and not without some justification, by the way).
---
Jeremy from Sun Valley, Ore., writes: With Oregon State's recent loss to Oregon and the loss of our Rose Bowl dreams, how can we say this was a successful year?
Brandon from Beaverton, Ore., writes: I know what Pete Carroll has done at USC is astounding (7 straight pac 10 titles). But is what Mike Riley doing at Oregon St more impressive? 3 straight top 3 finishes, Nation's longest bowl winning streak and Beating 1, 2 and 3 ranked teams in consecutive seasons with average recruiting classes. Our recruits don't get the hype of Oregon's let alone USC's but We continue to win.
Ted Miller: Jeremy meet Brandon.
But, Jeremy, did you believe it was Rose Bowl or bust this year?
The Beavers replaced their entire defensive front seven and, during the preseason, appeared to have some issues on offense. Yet here they are, a Sun Bowl victory away from a ninth win -- that would be 28 over the past three seasons -- and third consecutive top-25 ranking in the final polls.
Sure, the "what could have been" hurts. And it's never fun to lose to your rivals.
But doesn't this feel like a OSU golden age, with an outstanding coach who appears happy to stick around for the long-haul?
---
Bamfo from Brooklyn writes: Now that Mike Bellotti announced that he'll step away eventually for Chip Kelly to take the head coaching reigns, obviously everyone is trying to predict when that's actually going to happen. Any chance he waits until he is the Pacific Ten's winningest coach? I'm not sure the actual number, but I know he's knocking on that door.
Ted Miller: Maybe, but he has a little ways to go to catch UCLA's Terry Donahue.
Bellotti has 72 career Pac-10 victories, which ranks third on the all-time list. Bellotti passed the legendary John McKay(70) this season. Donahue is No. 1 with 98 and Washington's Dawgfather, Don James, is second with 97.
To hit No. 1, you'd figure Bellotti would need three more seasons.
[Edit note: I was trying to be cute here -- obviously, it would require three perfect Pac-10 campaigns. But it doesn't seem like everyone understood the quip.]
---
Chris from Mesa, Ariz., writes: Although USC has obviously had losses the last few years, they have always been favored to win. When was the last time that another team was favored over USC?
Ted Miller: Just last year: No. 5 Oregon was a 3-point favorite over ninth-ranked USC, and the Ducks covered in a 24-17 victory. Of course, the Trojans hadn't been an underdog in another conference game since 2001 (UCLA, three points).
No. 3 Michigan was favored over No. 8 USC before the 2006 Rose Bowl, according to USA Today, though my Phil Steele guide says the Trojans were giving a point. Of course, USC rolled the Wolverines 32-18.
The Trojans also were 3-point underdogs at No. 6 Auburn 2003, but the Trojans opened a can of whup-butt in a 23-0 humbling of a team that would dominate the SEC the following year.
And, of course, no team in the nation -- none -- would be favored against USC this year.
Pity that Florida/Alabama's or Texas/Oklahoma's [finger quotes] national championship [finger quotes] will be marred by the fact that objective, in-the-know folks won't consider any of them the best team in the nation.