June, 19, 2014
6/19/14
9:00
AM ET
Over the past few weeks we examined the Ducks, position-by-position, evaluating the talent. But since I was in Eugene last week for the NCAA Track & Field Championships, I figured I'd stop by the football offices to check in with one of the guys who knows that information best, offensive coordinator Scott Frost. Wednesday, we went through
quarterback and running back
highlights. Today, we're on to wide receiver, tight end and the offensive line.
WIDE RECEIVER
On Devon Allen: He was actually a late offer for the Ducks who was offered after Chip Kelly left for the NFL. There were a few spots open (initially there had only been one spot for a receiver). "It all kind of worked out that we offered him, and this is where he wanted to be. I knew he could be fast. I had no idea he could go 13.1 in the high hurdles."
Frost actually was at Allen's race last Saturday when Allen won the 110-meter hurdle national title. Frost said that he doesn't think Allen "looks like he'd be a track guy, he's built more like a football guy, he's thick."
On his mindset on the receivers: "We felt good about receiver even losing the guys we did, with Bralon [Addison] back and some young guys we think are really talented. We're just going to have to have some of those young guys step up quicker than they would've had to otherwise."
The first receiver that Frost brought up after Allen was redshirt freshman Darren Carrington. "He has to grow up quick, but he has it in him to be that guy." The next three receivers he mentioned were redshirt sophomore Dwayne Stanford, redshirt sophomore Chance Allen and early enrollee Jalen Brown. Frost said that he thought Brown was "in over his head a bit" from a conditioning standpoint this spring, which limited his reps, but he's up to speed now, and Frost could see him being a contributor in the fall. So it sounds like after Keanon Lowe and D. Allen, there's certainly a pecking order of things, but the competition is still very much open.
It's the youngest crop of receivers Frost has ever had, so I was curious if there were any way he could speed up the learning curve or provide a catalyst (other than just more and more live reps). "Sometimes there's just no replacing experience. But all those guys are competitors. … They're going to get their shots early. You see it all the time in sports, when people get their opportunities some of them reach out and take it with both hands and others struggle a little bit. We're just hoping we have a bunch of guys where the former happens."
Frost said something interesting about indicators regarding whether a young guy can play early -- it's typically more based on mental and emotional maturity than talent.
TIGHT ENDS
Look for these guys, like the running backs, to be more involved in the pass game. "We have three, which is more than we've had going into a year that I can remember. … We have three guys that we trust to go out there and do it, and there's probably going to be times that a couple of them -- if they're playing well -- deserve to be on the field, and we can play with two tight ends."
Pharaoh Brown's injury isn't going to limit him through the fall. Frost said it's just a matter of keeping him healthy through the season. "He's really talented."
Frost called John Mundt's freshman year a "roller coaster" but said that when he was on, "he did some exceptional things."
Frost thought Mundt and Evan Baylis' biggest areas of growth over the past year has just been confidence. No surprise there.
OFFENSIVE LINE
I asked Frost about senior Hroniss Grasu taking the blame (for the line as a whole) for the losses last season. Grasu had said in the spring that he thought the group lacked toughness and got outmuscled in those games, and that's why the Ducks lost. "I wouldn't necessarily agree with that. I think we had two losses against teams that played really good games against us." Frost though the turnovers were a bigger problem in the Stanford and Arizona games. "If you play a team that does things right and you give them the ball that many times, that's a recipe for losing."
He wasn't surprised that Grasu said that, because he's that kind of a guy. He said it speaks to Grasu's leadership that he's willing to shoulder that kind of blame.
The line returns all five starters and considering the weight gain, the general consensus with everyone is that the Ducks should be just fine. But, I wanted to make sure to ask about a few backups who were getting significant reps during the spring season. Frost's thoughts: Redshirt junior Andre Yruretagoyena had his best spring season yet. He said the staff has high hopes for redshirt freshman Jake Pisarcik. He was impressed with redshirt junior walk-on Matt Pierson at right tackle.
April, 15, 2014
4/15/14
11:00
AM ET
EUGENE, Ore. -- A team is only as good as its twos and threes -- or so says Oregon wide receiver coach Matt Lubick. If that's true, the Ducks are about to find out how good they are in the passing game.
While the addition of former Ducks basketball player
Johnathan Loyd
to the football team brought some excitement last week, it was quickly overshadowed by the news that wide receiver
Bralon Addison
had torn his ACL.
While there have been several success stories of players who've returned quickly from these types of injuries, considering the timing of Addison's injury, Lubick needs to count on his twos and threes for the brunt of the receiving duties in the 2014-15 season.
[+] Enlarge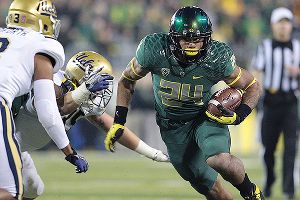 Scott Olmos/USA TODAY SportsOregon RB Thomas Tyner might need to make more plays in the passing game this season.
"They're very eager," Lubick said of his youthful players. "They're excited to learn. If there's a blessing in disguise about an injury happening at this time it's that it gives those guys reps now as opposed to right in the middle of the season when they wouldn't get as many reps."
And those guys need to take the reps considering the personnel situation in the wide receiver corps.
Of the Ducks' top 10 leaders in receptions last season, the top four will not be playing next season (that includes Addison, who was the No. 2 receiver last season). Those four players accounted for nearly 70 percent of the Ducks' receptions and 72 percent of the Ducks' receiving yardage. As a group, receivers 5-10 last season accounted for only slightly more catches than
Josh Huff
did on his own.
And of those six players who return, only two are pure receivers --
Keanon Lowe
and
Chance Allen
. The other four are tight ends (
John Mundt
and
Pharaoh Brown
) and running backs (
Thomas Tyner
and
Byron Marshall
).
"The neat thing about spring ball is you're trying to figure out about your team," Lubick said. "Is our best personnel group two tight ends? Is our best personnel group two running backs or is it still three wideouts? We still don't know that. We're still trying to find that out."
Over the past three seasons Oregon has had a running back in its top four receivers, including the 2012-13 season when running back
De'Anthony Thomas
led the team in receptions. However, for Tyner or Marshall to boost themselves into the top four, they'd have to nearly triple their receptions next season. It's certainly possible, but Oregon would still need receivers to step up because they're not going to be able to throw to backs or tight ends on every play.
The two returning receivers from last season's top-10 group -- Lowe and Allen -- only accounted for 23 catches, 331 yards and four touchdowns in 2013.
However, it's not ridiculous to believe that such inexperienced players could make a huge jump in just one season. From the 2011-12 season to the 2012-13 season Colt Lyerla and
Daryle Hawkins
went from just 12 combined catches to 50 catches. From the 2012-13 season to the 2013-14 season Addison went from 22 catches and 243 yards to 61 catches and 890 yards.
But when Lyerla, Hawkins and Addison made those jumps there were several other players making huge impacts from a receiving standpoint as well, guys like Thomas and Huff. This season, Lowe and Allen won't have that luxury because there aren't other experienced players around them in the passing game.
Another issue for the Ducks is that the young guys are going to need to play above their age from a consistency and blocking standpoint. Generally, blocking isn't one of the aspects emphasized for most high school wide receivers and so they get to college and need to learn that skill.
"At Oregon, it's not just about catching balls," Lubick said. "You have to be able to make plays without the ball. You have to be able to make plays with the ball. You can't do one without the other, you have to do both. That's sometimes the biggest adjustment for guys who weren't used to doing that in high school."
Lubick said that he, offensive coordinator Scott Frost and coach Mark Helfrich will be looking for the most consistent wide receivers through the spring and those will be the ones who get the starts in the spring game.
"The good thing about it is we have a lot of talent, a lot of resources and our offense gives us a lot of flexibility to have a whole bunch of personnel groupings," he said. "… To be in our offense, whether you're a tight end or running back, you have to know all the spots. It's an opportunity for other guys to step up."
But chances are, no matter who steps up, there will be at least a few completely new names catching balls during the spring game.
On one end will be a possible Heisman contender (assuming his receivers can help boost his passing yards) and one of the best-known quarterbacks in the nation. And on the other end will be a bunch of the Ducks' twos and threes. People know how good QB
Marcus Mariota
is. Now, according to Lubick's reasoning, they'll find out how good the passing offense is as a whole.
April, 4, 2014
4/04/14
11:00
AM ET
It might be a very different looking
Oregon
team that takes the field next fall … and not because of the uniform changes (though, those are sure to be something different). Instead, the guys wearing those uniforms might fill them out a bit differently.
[+] Enlarge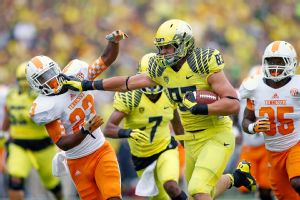 Jonathan Ferrey/Getty ImagesOregon is hoping the weight gained by player like Johnny Mundt will not affect the team's speed advantage.
Through this winter, several players went through some significant weight changes by making minor tweaks in the strength and conditioning program. But coach Mark Helfrich is hoping that the weight gains aren't just shown physically but in how the players take the field, as well.
"Hopefully a lot of that is confidence," Helfrich said. "Just that edge of you feeling a little better about yourself, you're moving a bit more, you're physically bigger. It's just you're coming into the play with more confidence and that's a big deal."
Defensive lineman
Sam Kamp
put on the most weight of any player, packing on another 29 pounds and fellow lineman
T.J. Daniel
added 22. Not to be outdone, the offensive linemen packed on more than 100 pounds as a unit, with guard
Doug Brenner
leading the way with 26 pounds and
Matt Pierson
,
Cameron Hunt
and
Elijah George
all bulking up at least 20 pounds.
"I think we've kept our speed and athleticism," center
Hroniss Grasu
said. "The added weight gain is just there to get us more physical and blowing the defensive line off the ball where we lacked that toward the end of the season."
But it wasn't just the big men making significant changes. Tight end
John Mundt
packed on 20 pounds and in the linebacker group, guys like
Tyson Coleman
,
Joe Walker
and
Tyrell Robinson
all put on at least 15 pounds.
Quarterback
Marcus Mariota
is up to 218 pounds and hopes to be at 220 for the start of the 2014 season, while both leading backs made some important changes --
Byron Marshall
lost six pounds (down to 201 pounds) while
Thomas Tyner
added 14 pounds and is up to 215.
With all of the weight gain the main concern would be that the high-powered offense the Ducks feature might be lacking some of that Oregon speed, but the players have tried to keep up their speed with the added weight. Mundt said that one of the focuses was finding that sweet spot for each player at which he stayed as fast as possible but got as big as possible.
"We were all pushing each other in the weight room and in conditioning," Mundt said. "We've all gotten better and stronger, so that's a good thing. … I think we have more strength and size across the board, but we're still moving fast."
Added bulk is certainly going to benefit this team,and as long as each guy can still move the same, the only teams struggling with the weight gain with be opponents. In May, if a player doesn't appear the same when he takes the field for the spring game, it's not the uniform, it's the guy in the uniform.
June, 19, 2012
6/19/12
1:00
PM ET
The past few days have seen a flurry of activity in Pac-12 recruiting with several players committing around the conference.
Here's a quick rundown on some of the new players coming in.
Oregon State finally got on the recruiting board with defensive specialist Terin Solomon (Murrieta, Calif). Per ESPN.com's Erik McKinney, he could go either direction at the next level. He's 5-foot-11, 183 pounds now, but could bulk up to linebacker or focus on being a safety.
There's going to be another Owusu on The Farm as Francis Owusu (Westlake Village, Calif.), brother of the recently graduated Chris Owusu, committed to the Cardinal. He's Stanford's fourth commit, and all four are ranked in the ESPN 300. Last season, Owusu caught 35 balls for 705 yards and eight scores.
Oregon landed tight end John Mundt (Modesto, Calif.), whose stock was trending up after earning a strong rating at last month's Northern California Nike weekend. He recorded the highest rating of any tight end nationally in Nike's SPARQ Combine Tour.
Colorado picked up commitments from wide receiver Elijah Dunston (West Hills, Calif.) and offensive lineman John Lisella (Littleton, Colo.).
Washington State picked up verbals from linebacker Peyton Pelluer (Sammamish, Wash.), wide receiver River Cracraft (Rancho Santa Margarita, Calif.) and defensive back Markell Sanders (Bellevue, Wash.). Pelluer had offers from Arizona State and Colorado.
Arizona got commitments from linebacker Philip Wright (Santa Rosa, Calif.), quarterback Thomas Woodson (Monroeville, Pa.) and Hutchinson (Kan) Community College athlete Prince Holloway. Wright told McKinney that Arizona was his first offer, and he jumped at the chance to give the Wildcats his commitment. He's the first linebacker commit to the 2013 class. Arizona was also the first to offer Woodson.
Finally, Cal picked up a verbal from kicker Matt Anderson (Danville, Calif.). Rivals.com reported that Anderson had drawn interest from Stanford, UCLA and USC. He's the sixth Cal commit, and was a teammate of current Cal quarterback Zach Kline.