August, 22, 2013
8/22/13
5:30
PM ET
Oregon State Beavers
coach Mike Riley's recent history with quarterbacks is interesting to say the least.
He's presently presiding over "The Great
Sean Mannion
versus
Cody Vaz
Competition," one that features two players with successful starting experience and few hints about whom Riley favors. Riley's most recent statement on the competition is both will play in the opener against Eastern Washington on Aug. 31. And then a new chapter will be written in this twisting drama.
This QB quandary was preceded by the surprising Ryan Katz to Mannion switcharoo in 2011, and everybody remembers the back-and-forth between Sean Canfield and Lyle Moevao previous to that.
Yet if Beavers fans are worried Mannion vs. Vaz has the potential to get truly weird, well, maybe they should be. Riley was ringmaster for one of the all-time odd QB carousels in Pac-10 history: USC in 1995.
Riley, then the Trojans offensive coordinator, was sitting in his office during the preseason when
John Robinson
stopped by to say he wanted to resolve their QB competition between Brad Otton and Kyle Wachholtz. His idea was to play both. Otten would start, Wachholtz would play the second quarter. The idea was to alternate by quarter.
[+] Enlarge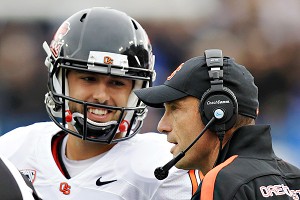 AP Photo/Rick BowmerMike Riley will eventually decided between QB Cody Vaz (pictured) or Sean Mannion. But both will likely play.
"That makes for an interesting dynamic in the QB room," Riley said.
USC was 8-2-1 that year. Successful season? The Trojans lost to both of their major rivals, Notre Dame and UCLA, so not really. On the plus side, in a game with major Rose Bowl implications, they came back from a 21-0 fourth-quarter deficit to tie Washington. The Huskies then lost the following week to Oregon, essentially giving the Trojans the conference title, even with the crushing 24-20 loss to the Bruins in the regular-season finale in Terry Donahue's final battle for the Victory Bell.
Northwestern was the Cinderella in the Rose Bowl, making its first appearance since 1949. USC was the Evil Stepmother. The Wildcats were on the cusp of something magical! And many of the folks relating that with flowery terms went to journalism school at Northwestern before becoming sportswriters.
As for the game itself, guess what one of the only coaches in the Pac-12 who doesn't presently run an up-tempo offense did to surprise Northwestern? Yep. He used no-huddle, two-minute offense on the first two series -- a pair of TD drives -- that was the cornerstone of what would become a 24-7 lead.
That fast start, however, presented a problem. Otton was in the zone.
"I went to John and said, 'I don't think we should change quarterbacks right now.' We didn't," Riley recalled. "Still to this day, I regret that."
That shows you two things about Riley you may already know: 1. He's willing to make tough decisions: 2. He's not the sort of hard case who can block out the human repercussions of those tough decisions.
Wachholtz had been every bit the match for Otton all season, seeing action in every game. In fact, entering the Rose Bowl, his numbers were slightly better. But on this grand stage -- The Granddaddy of Them All -- he stewed on the bench and didn't play.
Otton went on to complete 29 of 44 passes for 391 yards, much of that going to Keyshawn Johnson, who caught 12 balls for 216 yards and was named Player of the Game. The Trojans nearly blew it, as the Wildcats stormed back, but they ended up winning 41-32.
From the
LA Times game story
:
Robinson, too, saluted the 6-6 Otton, a junior, but also expressed sympathy for senior Kyle Wachholtz, the other half of USC's two-quarterback offense who never got in the game.

"It's unfortunate Kyle didn't get to play, but Brad was playing so well we just couldn't," Robinson said.

Otton appeared before the media with his right shoulder wrapped in ice. Wachholtz dressed quickly and left.

"I'm sure Kyle's terribly disappointed," offensive coordinator Mike Riley said after the first game this season when one quarterback went the distance when both were sound. "I felt Brad had a good grasp of the game, and I didn't want to make a change."
A few weeks ago, Riley admitted that Wachholtz didn't take the decision well -- "He shouldn't have," Riley said -- and that the emotions of that decision remain with him.
He repeated, "I personally have regrets about that game."
Otton would go to start in 1996 -- how many Weber State transfers start two years for USC? -- but the Trojans went a mediocre 6-6. Wachholtz,
who would sell his Rose Bowl ring
, admittedly due to his bitterness, would become a tight end in the NFL, though injuries cut his promising career short.
Riley has said he doesn't want to play two quarterbacks this fall, but he obviously isn't afraid to do so, or to make a change if he thinks it will help his team. It's also clear that he knows making a tough call has emotional consequences.
Nonetheless, there is a cold bottom line in all quarterback competitions.
Said Riley, "Who can we trust to be the most consistent player?"
June, 22, 2011
6/22/11
12:32
PM ET
Two interesting articles published Wednesday on USC, which touch on the larger controversies of college football that are barking at us from the headlines seemingly every other day.
The Los Angeles Times' Gary Klein tries to assess the
financial damage
from USC's Reggie Bush and O.J. Mayo scandals. One word: Millions.
This much is clear: The football price tag already runs well into the tens of millions in lost bowl appearances, sagging attendance, attorney fees and other direct and ancillary costs.
Then former LA Times writer and USC player Lonnie White writes about his experiences as a Trojan
receiving extra benefits
-- or bags of money, if you prefer -- in the 1980s under John Robinson and Ted Tollner.
Once back in his own car, the player smiles when he looks into a small brown bag filled with money. It's $5,000 cash and it could not have come at a better time.

Sounds like a bad movie. It isn't. It was life for me when I played college football at the University of Southern California in the 1980s. I wasn't old enough to drink legally, yet if I was caught, my actions would have had an impact on thousands connected with the program.

To this day, it's something I'm ashamed about. Rent was overdue and my household bills were delinquent. I needed the money to live. So accepting the $14,000 in different forms of "benefits" over my college years three decades ago was an act of survival.
White seems to believe that more happened in during his time at USC than today because technology makes it more difficult to get away with things.
With today's media in love with scandals, people would have a field day with some of the "unknown" things that happened within college football programs decades ago.
Everything from $100 handshakes (when players are slipped cash during meet-and-greet events) to sponsored party trips (often featuring women, sex, drugs and alcohol), would be exposed.
But he also writes that he has knowledge of violations going on at present.
I know at least five athletes, who are either a relative or close family friend, who played at the BCS level last season. And they all agree, there's more rule-breaking going on than people know.
It's the "dirty secret" of college football that will continue to grow as money and power are connected to the sport.
Obviously, these two stories are related, and they fit in with our present, scandal-ridden time in college football: USC, Ohio State and North Carolina, not to mention the strange situation with Oregon and Willie Lyles.
Big-money ventures are often high risk, high reward. College football is a big-money venture, and cheating to gain an advantage is high risk and high reward.
Further, big stakes often inspire rationalizations at every level that attempt to justify behavior. One thing I've noticed over the past few years: When someone is asked about NCAA rules violations, they reply, "I didn't do anything wrong."
A beautiful non-response.
Did you take money? "I didn't do anything wrong."
Did you provide extra benefits? "I didn't do anything wrong."
Did you steer a player to Program X? "I didn't do anything wrong."
It's not a denial of breaking the rules. And, in the respondent's mind, it's not a lie. Not
really
. The rules are bad, so breaking them isn't wrong, this thinking goes. Coaches, the NCAA and universities make millions off of sports and the athletes are unpaid. So taking some gifts or money under the table isn't wrong, even if it's against the rules.
And, in a sense, it's not a black act of moral turpitude. It's not like beating up an innocent person just for fun.
Do you always drive the speed limit? Now, think of your sputtering frustration when you get a ticket for going 67 mph in a 55 mph zone. You want to tell the police officer to go stop a real criminal or something, right?
Still, rules are rules, even if the system seems out of whack.
Is there a massive, systemic change that can end corruption and epidemic rules violations in college football? Probably. But it would require a redistribution of wealth, and we know how that goes over in this country. Folks who have it don't like to share it. And we also likely would have to change some laws (read: Title IX).
It's been the wildest offseason I can remember -- at least since last offseason -- and we're not even finished with June. The sport is as exciting and popular as it's ever been. But the enlarged spotlight has revealed the cockroaches scurrying around in the shadows, which is the unpleasant and unintended consequence of that increased popularity.
December, 3, 2010
12/03/10
9:04
AM ET
By
ESPN.com staff
| ESPN.com
Some quick notes to get you through the hours until Saturday. Many thanks to ESPN Stats & Information.
Warning, Oregon! Warning, Oregon! A team ranked in the BCS top two has lost its final game of the regular season 13 times in the previous 12 years. The last time neither of the top two teams lost on the first weekend of December was 2005.
That said: Oregon State definitely doesn't have history on its side in the Civil War. In the history of the AP poll, AP's No. 1 is 95-3-1 when playing a game in November or December against a team which entered the game with a losing record. The last time the AP No. 1 failed to win a game in November or December against a team with a losing record was Nov. 8, 1980, when 7-0 Notre Dame went to 1-7 Georgia Tech and tied the Yellow Jackets 3-3. Since that tie, AP No. 1 is 36-0 in this situation with only five games decided by a TD or less. The average score in those games: 44.3 to 9.9.
Oregon was the first top-ranked team in the BCS standings to drop in the final four weeks of the season without losing.
Oregon leads the nation with 50.5 points per game. The Ducks have scored a school-record 555 points and are on pace to score 656 points this season in 13 games, including their bowl game. The record for most points scored by a team in a 13-game season is 652 (2005 Texas Longhorns). The Horns averaged 50.2 PPG that season. In order to break that record, Oregon would need to score 98 points the rest of the way (49.0 PPG).
Oregon's 42 touchdown drives in under two minutes is more than 74 FBS teams have in total offensive touchdowns. The Ducks have 11 more drives that lasted less than two minutes than Oklahoma State, which ranks second in the nation.
The Ducks also have 23 TD "drives" that took three or fewer plays. Auburn is No. 2 in that category at 19.
Oregon also leads the nation with 30 TDs of 20-plus yards. Auburn in second with 26.
Oregon State QB Ryan Katz's downfield passing might be a key to the Beavers' success. In their five wins, Katz has completed 48.7 percent of his passes of 15-plus yards with four TDs and no interceptions. In the Beavers' six losses, he completed 34 percent of his downfield throws with five TDs and five INTs.
Oregon actually has a better winning percentage against the Beavers in Corvallis (.573) than at home (.519).
Oregon is trying to beat Oregon State for the third straight time. No team has won more than two straight in this series since Oregon won four in a row from 1994-97.
Oregon State has won five of the last six Civil Wars in Corvallis.
Beavers junior running back Jacquizz Rodgers has 3,793 career rushing yards. If he rushes for 129 yards against the Ducks, he will move past Arizona's Trung Canidate and former Beaver Yvenson Bernard into sixth place on the Pac-10's all-time list.
If the Ducks beat the Beavers, they will become the first Pac-10 team to go undefeated in a nine-game conference schedule.
Oregon State, which is trying to avoid its first losing season since going 5-6 in 2005, will be wearing Nike Pro Combat Uniforms. It will be a tribute to the Beavers "Giant Killers" team of 1967 that beat top-ranked USC, second-ranked Purdue and tied second-ranked UCLA. That team went 7-2-1 and finished seventh in the AP poll.
This is the 103rd edition of the Apple Cup. Washington leads the rivalry 65-31-6, including a 33-15 record since the Apple Cup trophy began being awarded in 1962. The series dates back to 1900.
Washington becomes bowl eligible with a win. The Huskies haven't been to a bowl game since the '02 Sun Bowl.
Washington State ranks 117th in rushing offense (89.3 YPG), 109th in scoring offense (18.8 PPG), 115th in both rushing (211.6 YPG) and total defense (457.6 YPG) and 111th in scoring defense (35.9 PPG).
The Cougars won their last game, three weeks ago against Oregon State and have not won two straight since the 2007 season (vs. San Diego State and Idaho). The Cougars have not won consecutive Pac-10 games since 2006 (vs Oregon and UCLA).
A win would be the Cougars' third this season. Over the 2008-09 seasons, Washington State went 3-22.
This is the 80th meeting between USC and UCLA, but the first since 2000 that neither is ranked for the game. USC has won 10 of the last 11 games (although they vacated the 2004 and 2005 wins). The Trojans' only "on-field" loss came in 2006, when they entered the game as No. 2 in the AP poll and were upset 13-9 by unranked UCLA.
Both teams will wear their home jerseys. These teams play for the Victory Bell and the winning school paints the bell with their school colors. The bell is painted cardinal red right now thanks to USC's 28-7 win last year.
Lane Kiffin is looking to win his eighth game in his first year as USC head coach. The last coach to win more in his first year with USC was John Robinson, who went 11-1 in 1976. Pete Carroll won six games his first year.
USC would be bowl-eligible this season were it not for the NCAA sanctions that prevent it from going to a bowl, so the Trojans will miss out on a bowl this season for the first time since 2000. That was the last year with Paul Hackett as head coach and the year before Pete Carroll arrived.
UCLA will miss out on a bowl for the second time in three years under Rick Neuheisel. UCLA went to a bowl every year in Karl Dorrell's five seasons.
April, 29, 2010
4/29/10
2:30
PM ET
By
ESPN.com staff
| ESPN.com
Be patient toward all that is unsolved in your heart and try to love the questions themselves.
April, 15, 2010
4/15/10
11:45
PM ET
By
ESPN.com staff
| ESPN.com
LOS ANGELES -- Watched USC practice Thursday, so here are some quick observations.
Lots has been written about how much better a slimmed-down Matt Barkley is moving. It was just one practice, but that also was my impression. Barkley seemed comfortable rolling out of the pocket and throwing downfield, which was not a big part of his game last fall.
USC will have the best defensive line in the Pac-10. That's an opinion that feels pretty close to a fact you can write down in ink. Why? Lots of talent and the return of Ed Orgeron, who will provide a huge coaching upgrade. There's simply no way for players to slack off around his mega-intensity. Ends Armond Armstead, Nick Perry, Wes Horton and Malik Jackson and tackles Jurrell Casey, Christian Tupou, DaJohn Harris, Hebron Fangupo and Derek Simmons give the Trojans a deep, big and athletic group of nine guys.
Hard to believe the Trojans won't be better on special teams this year. For one, John Baxter is widely considered one of the nation's best special teams coaches. Second, the first 20-30 minutes of practice are dedicated to special teams, which often includes some quirky drills Baxter brought from Fresno State.
Easy to see why folks are excited about Devon Kennard's move to middle linebacker, where he might displace Chris Galippo as the starter. He's got size and speed and apparently good instincts. A couple of his hits, including one in the backfield on running back Marc Tyler, inspired hoots of appreciation from his teammates.
Coach Lane Kiffin said Ronald Johnson is playing faster than any previous Trojans receiver, at least in recent memory.
What's not helping the offense: Only six offensive linemen are healthy.
Kiffin said there's no pecking order at running back, and he's not a fan of using the three-plus-man committee the Trojans used in the past. He wants one or two guys, but said he hasn't decided who's in and who's out. Here's a guess that one of the guys will be Allen Bradford, and fancy true freshman Dillon Baxter seems almost certain to get touches.
Quarterback competition with Barkley and Mitch Mustain? Not really. Barkley will be the starter. "Matt is playing really, really well," Kiffin said. "Mitch is playing good."
Two spots in the secondary appear set: Shareece Wright is by far the best cover cornerback, and coaches are raving about Jawanza Starling at safety.
There are still a lot of people watching practice, but the difference from the completely open practices of the Pete Carroll era is that USC officials know everybody who is on hand.
Among those at practice: Former USC coach John Robinson.
January, 28, 2010
1/28/10
8:27
PM ET
By
ESPN.com staff
| ESPN.com
Joe Barry is now, officially, USC's new linebackers coach, the school announced Thursday evening.
Barry, a former Trojan linebacker and assistant coach who spent the past 10 years coaching in the NFL,
announced his own hiring on Tuesday
, which coach Lane Kiffin wouldn't confirm.
Kiffin is now effusive about Barry in a school statement:
"When we were hired, we said we would put together the best coaching staff in the country," Kiffin said. "In Joe Barry, we've hit a home run. He was the only linebacker coach we went after and, although it took a while, we're excited to bring him back to the Trojan Family. He is an outstanding coach who has been part of Rose Bowl and Super Bowl championship teams, and he has produced some great linebackers during his terrific NFL career. One day, he'll be a great head coach as well."
You can see USC has an updated -- though incomplete --
coaching staff list here
.
Barry, 39, was the linebackers coach with the Tampa Bay Buccaneers in 2009. Before that, he was the defensive coordinator of the Detroit Lions for two seasons.
Barry's first NFL job was the defensive quality control coach with the San Francisco 49ers in 2000. He then spent six years as the linebackers coach of the Buccaneers, working under defensive coordinator Monte Kiffin (now on USC's staff). He was a member of the 2002 Super Bowl champions that led the league in total defense and scoring defense. The Buccaneers were ranked among the NFL's top five in total defense three others times during his tenure, including first in 2005 when they won the NFC South Division. His linebackers were named to the Pro Bowl seven times, including 2002 NFL Defensive Player of the Year Derrick Brooks.
Barry started his coaching career at USC as the video coordinator in 1994. He was then a graduate assistant working with the defensive line in 1995 when the Trojans won the Rose Bowl.
He spent three seasons (1996-98) as the linebackers and defensive ends coach at Northern Arizona. In 1999 he was the linebackers coach at UNLV, under John Robinson, who was Barry's coach at USC.
Barry lettered two years at USC, starting seven games at inside linebacker in 1993.
March, 3, 2009
3/03/09
4:31
PM ET
By
ESPN.com staff
| ESPN.com
Posted by ESPN.com's Ted Miller
The National Football Foundation announced Tuesday the 76 players and six coaches who comprise the 2009 Football Bowl Subdivision Ballot for induction into the College Football Hall of Fame, and the list includes 14 former Pac-10 players and three former coaches.
The Hall of Fame class will be announced live on ESPNEWS at a noon (EST) news conference on April 30. They will be inducted at The National Football Foundation's Annual Awards Dinner on December 8, 2009 at the landmark Waldorf-Astoria Hotel in New York.
To be eligible for the ballot, players must have been named a First Team All-America by a major/national selector as recognized and utilized by the NCAA for their consensus All-America teams; played their last year of intercollegiate football at least 10 years prior; played within the last 50 years and cannot be currently playing professional football.
Coaches must have coached a minimum of 10 years and 100 games as a head coach; won at least 60 percent of their games; and be retired from coaching for at least three years; be retired from coaching and over the age of 70 (no waiting period); or over the age of 75 (active coaches eligible).
In both cases, the candidate's post-football record as a citizen may also be weighed.
Of the 4.6 million individuals who have played college football, only 846 players have earned induction into the College Football Hall of Fame. From the coaching ranks, 182 have been elected.
For all 76 names, see this link.
The Pac-10 candidates are:
Steve Bartkowski, California, quarterback (1972-74)
Bob Berry, Oregon, quarterback (1962-64)
Bob Breunig*, Arizona State, linebacker (1972-74)
Chuck Cecil, Arizona, defensive back (1984-87)
Randy Cross, UCLA, offensive guard (1973-75)
Sam Cunningham, Southern California, running back (1970-72)
Bill Enyart, Oregon State, fullback (1966-68)
Ken Margerum*, Stanford, wide receiver (1977-80)
Marlin McKeever, Southern California, tight end (1958-60)
Ken Norton, Jr., UCLA, linebacker (1984-87)
Jonathan Ogden*, UCLA, offensive tackle (1992-95)
Ron Rivera, California, linebacker (1980-83)
Pat Tillman, Arizona State, linebacker (1994-97)
Clarence Williams, Washington State, running back (1962-64)
First-time ballot members are indicated with an asterisk.
Coaches
William "Lone Star" Dietz, Washington State (1915-17)
John Robinson, Southern California (1976-82, 1993-97)
Darryl Rogers, Arizona State (1980-84)