August, 21, 2013
8/21/13
10:30
AM ET
We conclude our day-by-day snapshots of each Pac-12 team heading into the 2013 season in reverse alphabetical order with the
Arizona Wildcats
.
Arizona
Coach
: Rich Rodriguez (83-53, 8-5 at Arizona)
[+] Enlarge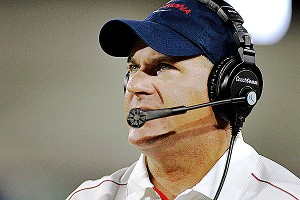 AP Photo/John MillerLast season Rich Rodriguez's offense scored 38 points per game, but his defense gave up 35.
2012 record
: 8-5 (4-5 Pac-12 South)
Key losses
: QB Matt Scott, WR Dan Buckner, C Kyle Quinn, DL Dominique Austin, OL Trace Biskin.
Key returnees
: RB
Ka'Deem Carey
, RB
Daniel Jenkins
, LB
Jake Fischer
, LB
Marquis Flowers
, WR
Terrence Miller
, OL
Fabbians Ebbele
, OL
Mickey Baucus
, OL
Chris Putton
.
Newcomer to watch
: The Wildcats have put an emphasis on building defensive depth, so look for linebacker Scooby Wright to contribute immediately. The all-state performer out of Cardinal Newman (Windsor, Calif.) has impressed so far in camp.
Biggest games in 2013
: With UCLA, USC and ASU getting the bulk of the hype in the Pac-12 South, the Wildcats will have to pull off some upsets if they want to be in contention. That makes all three (at USC Oct. 10, vs. UCLA Nov. 9, at ASU Nov. 30) critical. Of course, the ASU game is the biggest of all.
Biggest question mark
: Next week is game week, and the Wildcats are still in quarterback limbo. It was thought that
B.J. Denker
and
Jesse Scroggins
would be the front-runners, but neither has pulled away and
Javelle Allen
, Anu Solomon and
Nick Isham
have all kept pace. They've all shared close to equal reps in camp, so at least there is continuity with the receivers seeing all of the QBs (Denker is the only lefty). The fact that the Wildcats have a fairly easy nonconference schedule bodes well. Rodriguez has already said it's possible he could start three different quarterbacks the first three weeks before Arizona opens league play on the road at Washington on Sept. 28. There are a few more practices coming up before the Wildcats get into "game week" mode, so every rep will count.
Forecast
: It hasn't been the greatest offseason for the Wildcats. The opening of
the new facility
and a couple of awesome! videos (
Part I
and
Part II
) were overshadowed by Carey's
off-field indiscretions
, the loss of wide receiver
Austin Hill
to
injury
and the
departure
of receiver Tyler Slavin. Once thought to be their strongest position group, the Wildcats now find themselves struggling with some wide receiver depth.
Terrence Miller
,
Garic Wharton
and
Johnny Jackson
make up a solid starting three, and
David Richards
, though hampered by injuries, is a solid 3B. And Jenkins can be a do-it-all guy, but it's still an area of concern.
Matt Scott was obviously a huge part of the offense. And he and Carey complemented each other nicely. It will be interesting to see if Carey continues his outstanding pace with a new quarterback. The belief is that there will be just as much passing as last season, and given Arizona's scheme, it's unlikely Carey will be seeing many eight- and nine-man boxes.
The offensive line should also be solid. Quinn was an underappreciated center and he'll be missed, but Ebbele, Baucus and Putton (who will be plugged in as needed) make up a strong troika.
Defensively, the question is if this group, which returns virtually every starter from last year, got better. Fischer and Flowers are legit playmakers, and you'd think a second year in the 3-3-5 will help. As explosive as the Wildcats were offensively, the defense gave up more than 35 points a game -- ranking 102nd nationally. Fortunately, the offense averaged better than 38 points per game.
Arizona is an extremely intriguing team. If Rodriguez can make the quarterback spot plug-and-play, and Scott's production can be mostly replicated, that will take a lot of pressure off Carey, who could be in for another big season. And, if the defense is improved, the offense won't have to feel like it has to win every game.
But those are two big ifs.
May, 8, 2013
5/08/13
11:30
AM ET
ARIZONA WILDCATS
2012 record
: 8-5
2012 conference record
: 4-5 (fourth in South Division)
Returning starters
: Offense: 6; defense: 11; kicker/punter: 0
Top returners

RB
Ka'Deem Carey
, WR
David Richards
, LB
Jake Fischer
, LB
Marquis Flowers
, WR
Terrence Miller
, OL
Fabbians Ebbele
, OL
Mickey Baucus
.
Key losses
QB Matt Scott, WR
Dan Buckner
, C Kyle Quinn, DL
Dominique Austin
, OL
Trace Biskin
.
2012 statistical leaders (*returners)
Rushing
: Ka'Deem Carey* (1,929 yards)
Passing
: Matt Scott (3,620 yards)
Receiving
:
Austin Hill
* (1,364, suffered ACL tear in spring, out indefinitely)
Tackles
: Jake Fischer* (119)
Sacks
: Marquis Flowers* (5.5)
Interceptions
: Marquis Flowers* and
Jonathan McKnight
* (3)
Spring answers
1. Plenty of weapons:
Yes, Austin Hill's injury is brutal. Yes, it's a big blow to the Wildcats. Is it a game-changer? Maybe, maybe not. It's not like the Cats are strapped for receiving options.
Johnny Jackson
, David Richards,
Tyler Slavin
and
Garic Wharton
still make up an awfully formidable receiving corps. If a couple emerge, Arizona will be OK. If they all do, the Wildcats might not miss a beat.
2. The whole defense returns:
Great -- except that the defense struggled last season. Having a ton of starters back is a good thing -- but only if they get better. A second year in the 3-3-5 should naturally lend itself to less thinking and more playing. And it's not just the starting 11. There are 20 defensive players who notched at least one start last season -- so there is depth to go with the experience.
3. O-line rising:
It's no easy task replacing center Kyle Quinn. But the good thing about Arizona's line is that its members are versatile and can play multiple positions. Mickey Baucus (LT) and Fabbians Ebbele (RT) started every game last year and
Chris Putton
started multiple games at both guard spots and can also play center. The five isn't set -- but there is room and depth to mix and match.
Fall questions
1. QB roulette?
Unlike with some other Pac-12 teams with quarterback competitions, Arizona coach Rich Rodriguez doesn't want to name his starter and then stand by his man. He could name a different starter the next day. And then a different one the day after that. Rodriguez said he could have three different quarterbacks start the first three weeks of the season. Many feel
B.J. Denker
had the strongest spring with
Jesse Scroggins
slowed by injury. Stay tuned.
2. Ready to lead?
Did Matt Scott make Ka'Deem Carey look good? Or did Carey make Scott look good? Most think it was a bit of both. With Scott gone and Carey now a national name, the target will be squarely on the chest of last season's national leader in rushing. Carey isn't going to surprise anyone. Can he duplicate 2012's production with the increased attention and a new quarterback at the helm?
3. Injuries stink:
That's not so much a fall question as a statement on the olfactory unpleasantness of injuries. The Wildcats had as many as 20 injuries this spring, meaning a lot of players who might not start in the fall got to start in the spring. That's great for depth, but it leaves a lot of holes and a lot of questions still be to be answered when the bulk of those injured players return in the fall.
May, 6, 2013
5/06/13
12:00
PM ET
Optimism is an important part of the sporting experience. From fans to coaches to players, the vast majority espouse great hopes in advance of every season, even when bad things happen that seem to poleax those hopes.
A player or coach is never going to say, "We're doomed," when a star player gets hurt. It's "Next man in." As it should be. No one likes a whiner.
And woe to the sportswriter who, armed with a laptop, acts as the killjoy.
Take Arizona. It already was searching for a replacement for highly productive quarterback Matt Scott when, on the last week of spring practices, star receiver
Austin Hill
went down with a knee injury.
No worries, said fellow receiver
David Richards
.
"We have a lot of other weapons," Richards said. "I don't think we'll really lose a step. I don't think it will hurt us that bad even though he was a great receiver."
Richards added he plans to step up his game and help fill the void. That's good because he's now the Wildcats leading returning wide receiver after catching 29 passes for 298 yards with three TDs last year.
That, of course, is long way from the 81 passes for 1,364 yards with 11 scores Hill contributed as a sophomore. But we are not here to party poop. We are here to offer hope.
Hill's injury and the departure of second-leading receiver
Dan Buckner
leave a void without a doubt. Whoever wins the quarterback job won't have an obvious go-to option. On the positive side, he also won't be fixated on one guy, as, say, USC was last year with
Marqise Lee
.
The Wildcats have solid experience coming back at receiver. Richards is the leader of four wide outs who caught at least 19 passes last year, a crew that includes Tyler Slavin,
Johnny Jackson
and
Garic Wharton
. The imposing
Terrence Miller
also returns after receiving a medical hardship year from the NCAA. The 6-foot-4, 234 pounder had 13 receptions in the first four games before he got hurt.
Finally, there's a trio of promising redshirt freshmen -- Trey Griffey,
Clive Georges
and
Jarrell Bennett
-- who hinted this spring they are ready to help.
Let's just say there are plenty of teams in the country and even the Pac-12 that would trade their receivers for Arizona's, including rival Arizona State, which is essentially crossing its fingers over incoming players being ready to take over leading roles.
Hill's injury was a hit, but it didn't change the preeminent questions for the Wildcats: Quarterback and defense. Arizona has no idea who will be behind center, while the defensive question hangs on how much better 11 returning starters and some redshirt freshmen and newcomers can be compared to the overmatched group from 2012.
Richards, following the lead of his coaches, didn't reveal much about the QB competition, though
B.J. Denker
seemed to have the best spring, with USC transfer Jesse Scroggins sitting out and touted true freshman Anu Solomon arriving this summer.
"All the quarterbacks pretty much had a good spring," Richards said. "I think it will be a good camp with them all competing. The person that works the hardest and proves he wants to be the leader of this team will be the quarterback."
That same could be said of who will become that QB's top target.
April, 12, 2013
4/12/13
6:00
PM ET
Happy Friday. The mailbag is a bit longer this week because your questions are just so darn compelling. So snuggle up to the fireplace with your laptop, iPad or Kindle, put on a pot of chamomile (that's what the Pac-12 blog readers drink, right?) and settle in.
As always,
follow the blog on Twitter
.
Kote in Palo Alto writes (and writes, and writes, and writes)
: Hi Kevin, First off, I'm thrilled about Stanford football over the past four years. I don't think any Stanford fan isn't, and if they are, they're wrong to be. That said, I am concerned about the coaching staff's alleged conservatism, but it's not the general concern that most people have cited. Instead, I'm specifically concerned about conservatism in situations that call for more spontaneity. The Rose Bowl was a great example of what I mean. Stanford jumped out to a 14-0 lead on some terrific play-calling: the pitch to Terrell who tossed it to JRP, Hogan airing it out to Ertz, and the sweep to Young. Those were great plays, but they were ones that Shaw and Hamilton probably drew up and planned out weeks before. After those first two series, the playcalling got much more conservative, and we never saw the end zone again. Then I thought about the rest of this past year, and particularly Stanford's losses. In both cases, we had a lead, and in both cases the other team came from behind to win it. We can blame
Josh Nunes
and an anemic offense all we want, but it seemed like things got pretty uncreative at the ends of those games (just think about ND's goal line "stand"). For whatever reason, once Stanford gets beyond the initial game plan, things seem to tighten up a bit, and the result is less scoring. The defense also stops worrying about the long ball or the trick play as well, and that makes the vintage pound-it-up-the-middle strategy less effective, too. This was true in some other games as well -- we didn't score in the second half at all against Cal, and only 3 points in the second half against SJSU. That might be selection bias, but it seemed like a lot of the time this year the offense built a lead at the beginning of the game, and we either clung on for dear life or kicked a last minute field goal or two to get the win or pad the margin. Is it possible that Shaw and his staff are good at drawing up creative plays before the game starts, but that they need to work on the confidence/grit/toughness/whatever to call gutsy plays off the cuff?
Kevin Gemmell:
Let's check the scoreboard:
Pac-12 coach of the year honors for David Shaw: 2
Pac-12 coach of the year honors for Kote from Palo Alto: 0
I poke fun in jest. But hopefully the sentiment is well taken. David Shaw is not an exciting play-caller, nor are the Cardinal built to be the greatest show on turf. He's a very traditional West Coast offense-minded coach who plays to his strength: strong running backs and a strong offense line. Isn't that what good coaches do? Play to strengths?
That doesn't mean he can't mix it up with a fun play every so often. But he's extremely calculating. Don't think for a second that someone on their staff hasn't sabremetricized Stanford's success/failure ratio on certain plays in certain situations. You cite the Notre Dame game. With that offensive line and that running back, I'd go up the middle four times too. Because the odds of Stanford failing to go four yards on four plays have to be extremely long. (And depending who you ask, they did go 4 yards.)
Allow me to offer an example of gutsy play-calling. Down 23-21 with a little more than five minutes left in the game, Stanford was at the Oregon State 13-yard line. The play-calling brain trust dialed up a post route to
Zach Ertz
– knowing that he was going to draw man-to-man coverage from
Jordan Poyer
, arguably the best cover-corner in the league last year with a league high six interceptions. Ertz beat Poyer with a head fake to the corner and caught the 13-yard pass, leading to Stanford's 27-23 victory. This wasn't a trick or flashy play – but given the circumstances and the defender, it was a gutsy call. It was taking a chance. It just doesn't meet your definition of "gutsy."
And there is a purpose to those vintage "drive it up the middle" plays. It's demoralizing to a defense when they get dragged up and down the field. Stanford's approach last year was to get an early lead, and then grind teams down with long drives. It is a proven formula as old as football itself.
Shaw isn't totally against trickery, either. We've seen a couple of flea flickers. The Wildcat reverse of Andrew Luck to
Ty Montgomery
against USC in 2011 comes to mind, as does Luck's one-handed catch. But every risk Shaw takes offensively is extremely calculated and measured.
I appreciate where you are coming from. But the sooner you understand that Mike Martz isn't running the offense and start embracing the smashmouth culture your team has adopted, you'll be able to enjoy their success that much more.
April, 12, 2013
4/12/13
12:00
PM ET
We've been talking a lot about running backs this week. There was the
feature
on Washington running back
Bishop Sankey
. Some
chatter about Arizona
and looking ahead to
Ka'Deem Carey
in 2013 and the ESPN conference-call video segment featuring a dapper Pac-12 blogger talking about
the running back race at UCLA
.
But with some of the league's top backs from 2012 moving on, who is going to be the rushing king of 2013?
Ted Miller
: Why do I think Washington's Sankey will lead the Pac-12 in rushing in 2013? First of all, because I think Huskies quarterback
Keith Price
will play more like Arizona's
Matt Scott
in 2012 than Keith Price in 2012.
No, I don't think Price will put up spinning slot machine numbers, as Scott did. But I think the Huskies' improved passing game and more experienced offensive line will mean a more efficient Price. That will mean bigger holes for Sankey, who averaged 154.6 yards per game over the last five games of 2012, a per-game total that would have led the nation if extended over the entire season.
[+] Enlarge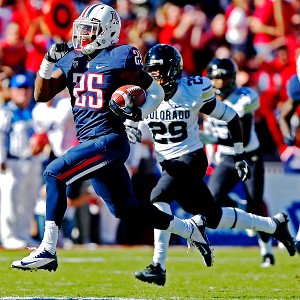 Rick Scuteri/US PresswireArizona's Ka'Deem Carey will be trying to put up big rushing numbers with a new QB under center.
Don't buy it? Well, consider what Sankey did last year with Price in the dumps and the Huskies' offensive line shuffling injured players in and out. He rushed for 1,436 yards and 16 touchdowns, and his 110.7 yards per game ranked fourth in the Pac-12 and 21st in the nation.
The three backs in front of Sankey -- Arizona's Carey, Oregon's
Kenjon Barner
and UCLA's
Johnathan Franklin
-- each played for an offense that ranked in the nation's top 25. The Huskies' offense ranked 97th in the nation.
Further, Carey, the only other returning Pac-12 back with more than 1,000 yards in 2012, won't have Scott. We don't know who he will have playing quarterback, but there's been little to suggest this spring that the Wildcats will approach Scott's production at the position in the fall.
So I expect Sankey's numbers to go up and Carey's to go down. When the smoke clears, they both likely will be first-team All-Pac-12. But this go-around, Sankey will be 1A and Carey 1B.
Kevin Gemmell
: Ted stole my choice! But only because as the guy going first this week, I just assumed he'd go with Carey and I'd slide right in and make all the same arguments in favor of Sankey that he just made. Sneaky, Ted. Very sneaky.
Oh well, I guess that leaves me talking about the guy who actually led all of FBS football last season -- the aforementioned Carey, who totaled 1,929 yards on the ground and a robust 6.4 yards per carry.
I don't think the offensive drop-off at Arizona is going to be as significant as Ted does. Carey certainly benefited from Scott -- but Scott also benefited from Carey. It works both ways.
Whoever wins the quarterback job at Arizona has a deep and talented wide receiver corps to throw to -- including Biletnikoff semifinalist
Austin Hill
and returners
Johnny Jackson
,
Terrence Miller
and
Tyler Slavin
, among others. This isn't an offense that is suddenly going to flatline because Scott is gone. In fact, by the very nature of the offense Arizona runs, it's likely that Sankey is going to see far more eight-man boxes than Carey. You don't sell out against the run with Hill running sluggos all day.
It's also worth noting that Sankey has to face Stanford, which had the nation's No. 5 rush defense last season, in Palo Alto. The Wildcats miss the Cardinal this season. Sankey had a big game against Stanford last season -- but when we're talking about rushing titles, one game could be the difference, and that's certainly worth considering.
Plus, Washington is hoping to have
Jesse Callier
back from the knee injury that initially thrust Sankey into the starting role. I'm not saying they'll be by-committee -- but a healthy Callier will certainly cut into Sankey's carries. Great for Washington. But when you're talking rushing titles, that could have a big impact.
I think the Arizona offense takes a natural step back with a new quarterback at the helm. But it's not going to be a giant leap. Carey will get his 300-plus carries again, and the Wildcats should continue to move up and down the field. And if you've got your calendars handy, the two square off Sept. 28 in Seattle. You might want to tune in for that one.
February, 22, 2013
2/22/13
9:00
AM ET
Here are some keys and storylines to watch this spring in the South Division. Yesterday Ted looked at
the North Division.
ARIZONA WILDCATS

Start date:
March 3
Spring game:
April 13
What to watch:
New battery: The Wildcats are looking to replace a top-notch quarterback-center combo in Matt Scott and Kyle Quinn. The rock-solid duo helped produce one of the top offenses in the league. Jesse Scroggins and B.J. Denker are among those in the mix to run the offense and several returning offensive linemen are versatile enough to move around. Chris Putton and redshirt freshman Beau Boyster could be in the mix at center.
Many happy return(er)s: Arizona returns a big chunk of its offensive production -- including running back Ka'Deem Carey and receiver Austin Hill. Both should be on all sorts of preseason teams and awards watch lists. But behind the big names, there's also David Richards, Johnny Jackson, Tyler Slavin and Garic Wharton back in the mix.
No learning curve: Last spring, the talk was about Rich Rodriguez calling out his team for its lack of physical conditioning. The fact that the majority of the team understands what is expected -- and they don't need to spend the whole spring learning new systems, should be a huge help. Consider that the Wildcats return their entire defense from a group that was, at times, shaky, but will certainly benefit from another full season of playing in the 3-3-5 scheme.
ARIZONA STATE SUN DEVILS

Start date
: March 19
Spring game:
April 13
What to watch:
Plugging the middle: One of the few losses to ASU's roster is middle linebacker Brandon Magee -- a leader on and off the field and an all-around heck of a player. Carlos Mendoza looks to be a good fit -- though he's likely to miss spring while continuing to recover from a shoulder injury suffered against Illinois. Folks might remember his two interceptions before going down for the year.
Catching on: Unlike last spring, the Sun Devils have their quarterback. And he's a good one. Now, they need to find folks he can throw to. JC transfers De'Marieya Nelson (H-back, 6-3, 230) and Jaelen Strong (WR, 6-4, 205) are both big bodies who could step in and contribute immediately.
Wait and see: The kicker here is a lot of these players who are expected to compete won't arrive until the fall. So in the meantime, a lot of the younger players and redshirts will get a ton of reps in the system. And speaking of kicker, don't underestimate how much of an impact Josh Hubner made at punter. Iowan Matt Haack, who arrives in the fall, is a rugby-style kicker who can kick with either foot. That's just cool.
COLORADO BUFFALOES

Start date:
March 7
Spring game
: April 13
What to watch:
Meet your QB: Whomever it will be. There are five on the roster and a sixth coming in. Safe to say, quarterback play was extremely inconsistent last season for the Buffs. With an entirely new coaching staff coming in and installing the pistol, this could be one of the more interesting and wide-open position battles in the league.
Curious defense: One needs only to review Colorado's national rankings last year to realize they struggled. As one Buffs insider mentioned to me, they were ranked No. 1 in a lot of categories. Unfortunately, that "1" was followed by two more numbers. Only three defensive ends have playing experience. However a secondary that lacked experience in 2012 has a lot more looking into 2013.
Receiver options: The Buffs welcome back Paul Richardson, who missed all of last season with a knee injury. Colorado's premier offensive playmaker will be a nice veteran presence to whomever wins the quarterback job. Grayshirt Jeff Thomas also is back. An improved passing attack should help give the quarterback some confidence and open up the running game.
UCLA BRUINS

Start date:
April 2
Spring game
: April 27
What to watch:
Life after Franklin: The Bruins say goodbye to the best statistical back in school history -- leaving a huge void in the backfield. Johnathan Franklin was a great presence for young quarterback Brett Hundley, but now someone has to step up to fill that role, either solo or along with a committee. Look for Jordon James, Steven Manfro and Damien Thigpen to all get looks.
New No. 1: The Y-receiver, aka hybrid tight end, was filled wonderfully by Joseph Fauria -- Hundley's favorite red zone target. Darius Bell and Ian Taubler both had looks last year, but Fauria too will be tough to replace. Shaq Evans, Devin Fuller, Jordan Payton and Devin Lucien round out a pretty good receiving corps.
Secondary solutions: The Bruins must replace two corners and a safety -- Sheldon Price, Aaron Hester, Andrew Abbott -- and there isn't a ton of starting experience. Randall Goforth has five starts, but veterans such as Brandon Sermons and Anthony Jefferson have more special-teams experience than actual secondary play. Keep an eye on the secondary too when the Bruins start fall camp to see if any freshmen jump into the mix immediately.
USC TROJANS

Start date
: TBD
Spring game
: April 13
New defensive scheme: The Trojans will move to a 5-2 defensive scheme under Clancy Pendergast, and the spring drills will be the first opportunity to see the defense in action. The Trojans will have an experienced front seven, but four new starters are expected in the secondary.
Replacing Barkley: Max Wittek got the first extended audition in the battle to take over for Matt Barkley, but he didn't do enough in two late-season starts to claim the job. Cody Kessler and freshman spring enrollee Max Browne also will be looking to take the reins at one of the glamour positions in college football.
Lane Kiffin on the hot seat: The Trojans are coming off a disappointing season, and the fans are howling in protest, but so far his boss Pat Haden has maintained full support for his coach. Now is the time for Kiffin to show why that support is warranted. -- Garry Paskwietz, WeAreSC
UTAH UTES

Start date
: March 19
Spring game:
April 20
What to watch:
Erickson impact: The biggest question was what sort of role Dennis Erickson would play in the offense once he arrived. We'll know sooner than later. He already has talked about putting an identity on the Utah offense. That starts in spring when routines are established and expectations are set. And with Erickson on board to give the offense a push, the expectations will be much higher.
Wilson maturing: That leads us to the presumptive starting quarterback -- Travis Wilson -- who jumped in midseason after Jordan Wynn got hurt and Jon Hays struggled to produce. Wilson went from OK to pretty good in just a few weeks. A nice jump considering his experience level. With an entire offseason knowing he'll be the starter -- and with Erickson and Brian Johnson molding him -- it will be interesting to see what progress he makes this spring.
D-line makeover: The Utes lose some talent on the defensive line -- specifically All-American defensive tackle Star Lotulelei. Look for DE/LB Trevor Reilly to spend more time with his hand down. Tenny Palepoi, LT Tuipulotu and JC transfer Sese Ianu could all see time in the mix at defensive tackle.