November, 22, 2011
11/22/11
6:24
PM ET
Notre Dame enters Saturday's regular-season finale at Stanford as an underdog for the first time this season. But Brian Kelly is not quite playing the us-against-the-world card this week.
"I don't know that I see ourselves as a spoiler, to be quite honest with you," Kelly said Tuesday. "We have a great deal of respect for Stanford, and they've earned everything. They're a darn good football team. We see this as just another opportunity to play our last regular-season game. I know our guys are excited. It's a relevant game in November and it's on national television. That gets 18-21-year-olds' attention more than being a spoiler so to speak."
[+] Enlarge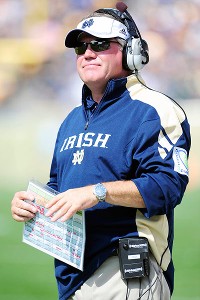 Jeanine Leech/Icon SMI"It's a relevant game in November and it's on national television," Brian Kelly said. "That gets 18-21-year-olds' attention more than being a spoiler so to speak."
The stakes are high, but they are also unclear. The No. 6 Cardinal (10-1) are likely playing for a spot in a BCS-bowl game. The No. 22 Irish? At 8-3, there is a very remote chance they could jump eight spots and become BCS-bowl eligible themselves with a win -- with an emphasis on the
very remote
part.
More pressing, however, is the validation that would come with a road win over a top-10 opponent in the second year of a new regime, which would also give the Irish a chance at a 10-win season.
They finished last season on a four-game winning streak to go 8-5.
"Well, it's still about, for us, you know, preparing the right way and then performing on Saturdays," Kelly said. "I've said this a number of times. I like the way we've prepared. We haven't performed on Saturdays the way we need to consistently. We're showing that at times.
"This is just another one of those — it's not a referendum on our season, but it's another step towards where we want to be in consistency in November. We have done very well in November, and we want to continue to build on that in this game against Stanford."
Notre Dame has won all six of its November games since Kelly took over. The second-year Irish coach has actually won 16 straight regular-season contests in November and December, dating back to 2007, when he coached Cincinnati.
He has already faced quarterback
Andrew Luck
, the likely top NFL draft pick and a strong Heisman Trophy contender.
Luck has completed more than 70 percent of his passes this season, throwing for 2,937 yards, 31 touchdowns and just eight interceptions, and he will likely be playing the final home game of his career.
In a 37-14 win at Notre Dame last season, Luck was 19-for-32 for 238 yards, with one touchdown and two interceptions.
"Boy's under pressure more than anything else," Kelly said. "Some of the throws that he made against us last year. We brought an allout blitz inside the 15-yard line, and we had a freeblitzer and he just kept back-pedalling and hit a tight end on a choice route in the end zone.
"That's poise under pressure. He has the ability to make the throws when he's under duress as well. And to have that, you've got to have the skill, but also the utmost confidence in your ability. He has all this intrinsic things necessary to be a great quarterback."
The onus on Notre Dame's quarterback,
Tommy Rees
, may be heavier this week. Starting running back
Jonas Gray
's season is over after tearing the anterior cruciate ligament in his right knee Saturday, and a pair of unproven freshmen —
George Atkinson III
and
Cam McDaniel
— will back-up junior
Cierre Wood
.
Freshman end Stephon Tuitt's status is uncertain after missing the last game with an illness as well.
"It's huge," Rees said after Saturday's game. "To go finish November strong, finish the season strong against a good opponent, and I think it would just give us some momentum heading into a bowl, and we look forward to it just like any other opponent. We can't focus too much on everything that's going around us. We're ready to play another football game."
November, 22, 2011
11/22/11
11:00
AM ET
A few questions kicking around my head as we look to the final regular-season game.
Can the Cardinal finish what they started? Anything less than a BCS bowl game at the end of the year would be a letdown -- based on the expectations this team had going into the season. We always knew the national championship would be a difficult achievement -- it's supposed to be hard, and it's supposed to separate the very elite teams. Whether Stanford is an elite team, several notches below or somewhere in the middle remains to be seen. But a win over a ranked Notre Dame team can restore a lot of the national confidence lost against Oregon.
Will the Tree Amigos reunite? It's questionable, at this point. Tight end Zach Ertz might return this week after going down with a knee injury on the opening kickoff of the USC game. Stanford's offense -- though getting by with the versatile Ryan Hewitt, is far more explosive with Ertz. If he can get a few snaps in and get some live work, Stanford's chances of moving the ball successfully against a pretty stingy Notre Dame defense (20.3 points per game) increase significantly.
Is the pressure on Stanford's equipment/grounds-keeping staff? I understand that when it rains, footing becomes less stable. But we're not talking about one or two slip-ups over the last two games. There have been a lot of Cardinal players struggling for traction when it seems to only have a minor impact on opposing teams. Longer cleats? Shorter grass? Longer grass? Had it not been for a penalty, one of those slips would have cost the Cardinal a pick-six (though Cal scored anyway). It's something to keep an eye on Saturday.
Is the kickoff situation set? Despite kicker Jordan Williamson's return after missing three games with an injury, it was Ben Rhyne who handled the kickoff duties last week against Cal. With 58 kicks on the year (66.3 average) Williamson has been the primary kicker. Though in his absence, Eric Whitaker (57.9 average) filled in. Rhyne has 13 kicks on the year for an average of 62.4 with one touchback. It will be interesting to see if Williamson returns to kickoffs or if this is a permanent change for the remainder of the season.
How much emotion can these teams handle? The loss of Notre Dame running back Jonas Gray hurts from a team morale standpoint. Though Cierre Wood is the primary back, Gray was an emotional leader for the Irish -- who barely squeaked by Boston College last week. The Irish could rally -- or the lack of running back depth could hurt them against an aggressive Stanford front seven. Stanford has its own emotional issues at work. Already coming off back-to-back games rife with emotion, Saturday will be senior day -- and more than likely (pending the outcome of Oregon-Oregon State) -- the final home game for Andrew Luck and a cast of fourth- and -fifth-year seniors who turned the program around.