October, 3, 2013
Oct 3
2:30
PM ET
There was madness in any direction, at any hour. You could strike sparks anywhere. There was a fantastic, universal sense that whatever we were doing was right, that we were winning.
July, 17, 2013
Jul 17
7:00
PM ET
Receiver is not as strong a position in the Pac-12 as it was last year, but it's still pretty darn good, with Belitnikof Award winner
Marqise Lee
back and Oregon State's
Brandin Cooks
being a potential All-American.
And if Arizona didn't lose
Austin Hill
to a knee injury this spring, three 1,000-yard receivers would be back.
So how do things stack up?
GREAT SHAPE
[+] Enlarge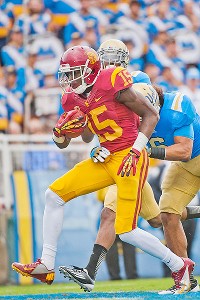 Jonathan Moore/Getty ImagesReceiver Nelson Agholor proved last season that he can be a deep threat for USC.
USC
: Lee is the nation's best receiver. Sophomore
Nelson Agholor
averaged 17.9 yards per catch last year. Just like last year when Lee was paired with
Robert Woods
, this might become the best combo in the country, though, of course, Woods was far more proven than Agholor. The depth is questionable but, at least based on recruiting rankings, it is talented.
Oregon
: While
De'Anthony Thomas
is officially a running back, you can't help but allow him to toss some fairy dust here. Further,
Josh Huff
seemed to take a step forward from being a pure athlete to a legit receiver last year, and up-and-comer Bralon Addison as well as
Daryle Hawkins
and
Keanon Lowe
are back. It's worth noting the top six pass-catchers overall are returning.
Washington
:
Kasen Williams
is the headliner after catching 77 passes last year. He's big and fast. The next two leading wideouts,
Jaydon Mickens
and
DiAndre Campbell
, also are back. Like the Ducks, the Huskies' top six pass-catchers, which includes a TE and RB you might have heard of, are back. Washington and Oregon fans will delight in knowing that I switched these two at the last minute, when I decided you couldn't completely ignore Thomas as a receiver.
Washington State:
While there's no Marquess Wilson among the returning guys, this is a deep crew:
Brett Bartolone
,
Gabe Marks
,
Dominique Williams
,
Isiah Myers
,
Bobby Ratliff
and
Kristoff Williams
caught between 53 and 22 passes last year. Phil Steele ranked the Cougars 28th in the nation at this position.
Oregon State
: The Beavers cling to "great shape" only because the speedy Cooks could be headed for a huge season after he caught 67 passes for 1,151 yards -- 17.2 yards per catch -- last year. There are some depth questions, though
Kevin Cummings
and
Richard Mullaney
combined for 31 receptions last year and
Obum Gwacham
and
Micah Hatfield
are back.
GOOD SHAPE
UCLA
:
Shaq Evans
caught 60 passes for 877 yards last year, but after him the leading returning receiver is
Devin Fuller
, who caught just 20 passes. Still, there's young talent here, topped by
Devin Lucien
,
Jordan Payton
and
Kenny Walker
.
California
: Sure, Keenan Allen is gone, but there's lots of young talent that saw action last year.
Chris Harper
was second on the 2012 Bears with 41 catches, while speedy
Bryce Treggs
had 21.
Darius Powe
and
Maurice Harris
also saw action, while redshirt freshman
Kenny Lawler
is promising. This might turn out to be a "Great shape" crew -- if there's a QB getting them the ball consistently.
Colorado
: Don't laugh -- the Buffaloes are solid at receiver, particularly with
Paul Richardson
back after missing 2012 with a knee injury. He's an All-Pac-12 type talent, and the top two receivers from 2012,
Nelson Spruce
and
Tyler McCulloch
, are also back. Further, converted running back
D.D. Goodson
is intriguing. Question for Buffs is QB, not WR.
Utah
: The Utes two leading wideouts in 2012 are back.
Dres Anderson
and
Kenneth Scott
combined for 69 catches last year. And they are probably better than folks think because the Utes' passing game problems started at QB, where true freshman
Travis Wilson
was taking his lumps most of the season. It hurts that projected starter Quinton Pedrosa was given the boot this summer for violating team rules.
Arizona
: The Wildcats would have been in "Great shape" if Hill hadn't blown out his knee and Tyler Slavin hadn't left the program. The issue isn't experience: Five guys return with at least 20-catch seasons. But there's a decided lack of a go-to guy. The leading returning receiver,
Dave Richards
, caught just 29 passes last year and ranked fourth on the team.
WE'LL SEE
Stanford
: Five of the top six receivers from 2012 are gone, though it's worth noting the top two didn't play receiver. While
Ty Montgomery
hinted at his potential in 2012, he only caught 26 passes for 213 yards with no TDs. After that, there are just names and potential based on strong spring performances:
Devon Cajuste
,
Michael Rector
,
Kodi Whitfield
and
Kelsey Young
.
Arizona State
: None of the Sun Devils' top five pass catchers from 2012 are back playing receiver this fall. The position was decidedly questionable last year -- see the top three receivers being a tight end and a pair of running backs -- and it is even more so this year, in large part because it's the team's only obvious hole. Yet, great hope hangs on incoming players, most notably the touted
Jaelen Strong
.
You can see previous previews here:
Quarterback
Running back
May, 8, 2013
May 8
8:00
AM ET
UCLA Bruins
2012 record
: 9-5

2012 conference record
: 6-3 (First in South Division)
Returning starters
: Offense: 6; Defense: 6; Kicker/punter: 1
Top returners
: QB
Brett Hundley
, OL
Xavier Su'a-Filo
, LB
Anthony Barr
, WR
Shaq Evans
, LB
Eric Kendricks
, LB
Jordan Zumwalt
.
Key losses
: RB Johnathan Franklin, OL Jeff Baca, TE Joseph Fauira, DE Datone Jones, LB
Damien Holmes
.
2012 statistical leaders (*returners)
Rushing
: Johnathan Fraklin (1,734)
Passing
: Brett Hundley* (3,745)
Receiving
: Shaq Evans* (877)
Tackles
: Eric Kendricks* (149)
Sacks
: Anthony Barr* (13.5)
Interceptions
:
Andrew Abbott
, Sheldon Price (4)
Spring answers
When in doubt, form a committee: There is no replacing Johnathan Franklin, UCLA's all-time leading rusher and a finalist for the Doak Walker award last season. But the hope is that a group of backs can combine to replicate his production. Jordon James looks like he might have a leg up as the leader of the committee, though Paul Perkins and Malcolm Jones had solid springs. Steven Manfro and Damien Thigpen shouldn't be counted out, either, heading into fall since the coaches have said they are fine with using five backs in a game.
The corps stepping up: The coaches were extremely pleased with the production of the wide receiver corps this spring. Devin Fuller might have had the strongest spring of the group -- though returning leader Shaq Evans (60 catches, 877 yards, three touchdowns) still figures to be the primary target. Jordan Payton, Kenneth Walker, Eldridge Massington and Devin Lucien round out what should be a solid group.
LB depth: Anthony Barr, Eric Kendricks and Jordan Zumwalt make up a fantastic linebacking unit. Barr and Kendricks were among the national leaders in production last year. But this spring the Bruins saw the emergence of players like Aaron Wallace, Kenny Orijoke and Taylor Lagace and Aaron Porter. Defensive depth was a big concern for the Bruins last year. And for now, at least, it looks like they have solidified the two-deep at all the linebacking spots.
Fall questions
Speaking of depth: The Bruins return the bulk of their offensive line -- but as we learned in the Baylor game when two linemen went down -- you can never have enough depth on the line. Finding backups will be key. And while players like Ben Wysocki stepped up this spring -- showing he can fill in at tackle or guard -- there will be plenty of competition with some good offensive linemen joining the team this fall. The starting five might be close to set -- but nothing is solidified.
Secondary issues: As in issues in the secondary, not secondary concerns. Ishmael Adams and Anthony Jefferson looked solid at cornerback and Brandon Sermons and Randall Goforth stepped up at safety. Though it's likely that several, if not all four spots, will still be up for grabs come August. A highly-rated group of recruits join the secondary in the fall and playing time in the secondary is expected to be highly contested.
Looking for leaders: Franklin, gone. Jeff Baca, gone. Datone Jones, gone. Damien Holmes, gone. These were leaders who rallied the troops when times were tough and, in their own ways, pulled their respective units together. Head coach Jim Mora talked about the importance of leadership and said it can't be forced. Rather, it has to happen organically. He said he started to see some guys develop this spring, but the next few months before they meet for fall camp will be very telling in regards to who takes this team on their shoulders.
February, 22, 2013
Feb 22
9:00
AM ET
Here are some keys and storylines to watch this spring in the South Division. Yesterday Ted looked at
the North Division.
ARIZONA WILDCATS

Start date:
March 3
Spring game:
April 13
What to watch:
New battery: The Wildcats are looking to replace a top-notch quarterback-center combo in Matt Scott and Kyle Quinn. The rock-solid duo helped produce one of the top offenses in the league. Jesse Scroggins and B.J. Denker are among those in the mix to run the offense and several returning offensive linemen are versatile enough to move around. Chris Putton and redshirt freshman Beau Boyster could be in the mix at center.
Many happy return(er)s: Arizona returns a big chunk of its offensive production -- including running back Ka'Deem Carey and receiver Austin Hill. Both should be on all sorts of preseason teams and awards watch lists. But behind the big names, there's also David Richards, Johnny Jackson, Tyler Slavin and Garic Wharton back in the mix.
No learning curve: Last spring, the talk was about Rich Rodriguez calling out his team for its lack of physical conditioning. The fact that the majority of the team understands what is expected -- and they don't need to spend the whole spring learning new systems, should be a huge help. Consider that the Wildcats return their entire defense from a group that was, at times, shaky, but will certainly benefit from another full season of playing in the 3-3-5 scheme.
ARIZONA STATE SUN DEVILS

Start date
: March 19
Spring game:
April 13
What to watch:
Plugging the middle: One of the few losses to ASU's roster is middle linebacker Brandon Magee -- a leader on and off the field and an all-around heck of a player. Carlos Mendoza looks to be a good fit -- though he's likely to miss spring while continuing to recover from a shoulder injury suffered against Illinois. Folks might remember his two interceptions before going down for the year.
Catching on: Unlike last spring, the Sun Devils have their quarterback. And he's a good one. Now, they need to find folks he can throw to. JC transfers De'Marieya Nelson (H-back, 6-3, 230) and Jaelen Strong (WR, 6-4, 205) are both big bodies who could step in and contribute immediately.
Wait and see: The kicker here is a lot of these players who are expected to compete won't arrive until the fall. So in the meantime, a lot of the younger players and redshirts will get a ton of reps in the system. And speaking of kicker, don't underestimate how much of an impact Josh Hubner made at punter. Iowan Matt Haack, who arrives in the fall, is a rugby-style kicker who can kick with either foot. That's just cool.
COLORADO BUFFALOES

Start date:
March 7
Spring game
: April 13
What to watch:
Meet your QB: Whomever it will be. There are five on the roster and a sixth coming in. Safe to say, quarterback play was extremely inconsistent last season for the Buffs. With an entirely new coaching staff coming in and installing the pistol, this could be one of the more interesting and wide-open position battles in the league.
Curious defense: One needs only to review Colorado's national rankings last year to realize they struggled. As one Buffs insider mentioned to me, they were ranked No. 1 in a lot of categories. Unfortunately, that "1" was followed by two more numbers. Only three defensive ends have playing experience. However a secondary that lacked experience in 2012 has a lot more looking into 2013.
Receiver options: The Buffs welcome back Paul Richardson, who missed all of last season with a knee injury. Colorado's premier offensive playmaker will be a nice veteran presence to whomever wins the quarterback job. Grayshirt Jeff Thomas also is back. An improved passing attack should help give the quarterback some confidence and open up the running game.
UCLA BRUINS

Start date:
April 2
Spring game
: April 27
What to watch:
Life after Franklin: The Bruins say goodbye to the best statistical back in school history -- leaving a huge void in the backfield. Johnathan Franklin was a great presence for young quarterback Brett Hundley, but now someone has to step up to fill that role, either solo or along with a committee. Look for Jordon James, Steven Manfro and Damien Thigpen to all get looks.
New No. 1: The Y-receiver, aka hybrid tight end, was filled wonderfully by Joseph Fauria -- Hundley's favorite red zone target. Darius Bell and Ian Taubler both had looks last year, but Fauria too will be tough to replace. Shaq Evans, Devin Fuller, Jordan Payton and Devin Lucien round out a pretty good receiving corps.
Secondary solutions: The Bruins must replace two corners and a safety -- Sheldon Price, Aaron Hester, Andrew Abbott -- and there isn't a ton of starting experience. Randall Goforth has five starts, but veterans such as Brandon Sermons and Anthony Jefferson have more special-teams experience than actual secondary play. Keep an eye on the secondary too when the Bruins start fall camp to see if any freshmen jump into the mix immediately.
USC TROJANS

Start date
: TBD
Spring game
: April 13
New defensive scheme: The Trojans will move to a 5-2 defensive scheme under Clancy Pendergast, and the spring drills will be the first opportunity to see the defense in action. The Trojans will have an experienced front seven, but four new starters are expected in the secondary.
Replacing Barkley: Max Wittek got the first extended audition in the battle to take over for Matt Barkley, but he didn't do enough in two late-season starts to claim the job. Cody Kessler and freshman spring enrollee Max Browne also will be looking to take the reins at one of the glamour positions in college football.
Lane Kiffin on the hot seat: The Trojans are coming off a disappointing season, and the fans are howling in protest, but so far his boss Pat Haden has maintained full support for his coach. Now is the time for Kiffin to show why that support is warranted. -- Garry Paskwietz, WeAreSC
UTAH UTES

Start date
: March 19
Spring game:
April 20
What to watch:
Erickson impact: The biggest question was what sort of role Dennis Erickson would play in the offense once he arrived. We'll know sooner than later. He already has talked about putting an identity on the Utah offense. That starts in spring when routines are established and expectations are set. And with Erickson on board to give the offense a push, the expectations will be much higher.
Wilson maturing: That leads us to the presumptive starting quarterback -- Travis Wilson -- who jumped in midseason after Jordan Wynn got hurt and Jon Hays struggled to produce. Wilson went from OK to pretty good in just a few weeks. A nice jump considering his experience level. With an entire offseason knowing he'll be the starter -- and with Erickson and Brian Johnson molding him -- it will be interesting to see what progress he makes this spring.
D-line makeover: The Utes lose some talent on the defensive line -- specifically All-American defensive tackle Star Lotulelei. Look for DE/LB Trevor Reilly to spend more time with his hand down. Tenny Palepoi, LT Tuipulotu and JC transfer Sese Ianu could all see time in the mix at defensive tackle.
May, 16, 2012
5/16/12
5:30
PM ET
California is the lifeblood of Pac-12 recruiting. Sure, coaches talk about putting up fences in their backyards and keeping their state's elite talent within. But the majority of the top-notch players from the conference hail from the Golden State -- Northern, Southern and everywhere in between.
So it was an interesting read in SI to see that the bulk of top-rated players in the state are
holding out before making a commitment
. Bravo. It would be nice to see players make their commitment after some careful consideration and then stick with it.
This trend of flip-flopping, while dramatic, gets old. There was the 11th-hour
Shaq Thompson
switch, for example (though Washington folks probably aren't complaining). And of course the tale of
Davonte Neal
, who left schools dangling (and 600 elementary school kids by the way) before finally settling on Notre Dame.
Remember the time when a player would simply call up the coach and say: "I'm coming to your school."
To which the coach would say: "OK, be ready to work in the fall."
That was it.
Of course, no California recruiting story would be complete without a Tosh Lupoi reference. Writes Steve Megargee from the SI article:
When Washington hired Tosh Lupoi away from California two weeks before National Signing Day, it sent shockwaves through the 2012 West Coast recruiting scene. The aftermath of that move is still making an impact.

"That whole thing that happened with coach Lupoi, I think it sent a message to everybody here in California that you have to wait until that point where everything's about to be finalized to make your decision," Atwater Buhach offensive tackle and Rivals100 recruit Aaron Cochran said. "Anything can happen."

Cochran should know. He's the younger brother of Matt Cochran, a 2012 three-star center who verbally committed to California two weeks before Lupoi's departure. Though he signed with California anyway, the Golden Bears lost several other coveted prospects. Among them: Sacramento Grant safety Shaq Thompson (Washington), Monrovia defensive tackle Ellis McCarthy (UCLA) and Westlake Village wide receiver Jordan Payton (UCLA). All three were Rivals100 recruits.
I was covering San Diego State when Cal defensive lineman
Mustafa Jalil
committed to the Aztecs, a "solid verbal" as they say, only to make his switch to the Bears. I distinctly remember someone at SDSU telling me off the record "we're going to have to work hard to keep that guy." Not hard enough, apparently. And after the switch, I remember that same person using a more explicit word.
Players are free to choose whatever school they want, but hopefully this will start a trend of giving their decision a little more thought, rather than just knee-jerking on their first commitment. And if that means waiting until signing day before making an announcement, great. That makes for better drama, anyway.
February, 2, 2012
2/02/12
2:30
PM ET
Your shower shoes have fungus on them. You'll never make it to the bigs with fungus on your shower shoes. Think classy, you'll be classy. If you win 20 in the show, you can let the fungus grow back and the press'll think you're colorful. Until you win 20 in the show, however, it means you are a slob.
January, 31, 2012
1/31/12
6:12
PM ET
California's tumultuous recruiting season continues to be just that, with good news and bad news arriving the day before national signing day.
The Bears lost receiver
Jordan Payton
(Westlake Village, Calif./Oaks Christian) to Washington -- the school which lured Cal's former ace recruiter Tosh Lupoi -- but salvaged the day a few hours later by getting a re-commitment from athlete
Cedric Dozier
.
Payton, also a one-time USC commit, admitted that Lupoi as well as Eric Kiesau -- who also left Cal for Washington -- played a
major role in his flip to the Huskies
.
"I was very close with Tosh Lupoi and Eric Kiesau at Cal," Payton told ESPN.com's Greg Biggins "When they left for Washington, I decided to take a look there. I really wasn't looking at Washington before, but I took a visit and was blown away."
In other recruiting news Tuesday: