September, 6, 2013
Sep 6
4:30
PM ET
Stanford kicks off its season tomorrow night against San Jose State, and offensive lineman
Kevin Danser
couldn't be more ready to start his fifth year. Danser, a 6-6, 295-pound guard who prepped at nearby Bellarmine, took some time to chat with the Pac-12 blog about the regional rivalry with the Spartans, the expectations for the Cardinal in 2013 and what the perfect offensive lineman would look like if he got to play Dr. Frankenstein.
The San Jose State game obviously isn't as big of a rivalry as Cal, but being from the Bay Area, do you get the sense that a rivalry exists?
Kevin Danser:
Of course. The San Jose State coach (Ron Caragher) is actually a former Bellarmine Bell, so we have that connection. There are a lot of local guys on the team. It's huge bragging rights as well. You want to beat every team in the Bay Area and this is a great game to kick it off. My brother played for San Jose State so there are also some in-house bragging rights.
Last year, there was so much talk about who is going to replace Andrew Luck, seemingly lost in that shuffle was the fact that you had to replace David DeCastro. Not easy. Did you feel that pressure and what was it like being the guy that had to follow David?
KD
: Obviously he was probably the best offensive lineman to ever come through this program. I never felt too much pressure. I came in and did my job. Listened to the coaches, they know what's best. I just came in everyday and put my blue collar shirt on, put my tunnel worker's hat on and came to work. I never really felt the pressure.
The line is obviously highly regarded -- some say it might be the best in the country. What are the goals you guys have set for yourselves on the line?
KD
: Our goal is to be the best offensive line in the country. We want zero sacks. We want at least four yards per every carry. And convert every situation, every third down. We have high expectations for the line. We like to say we're the forefront of the offense. It starts up front with us. We start it all off.
2011 was a fairly hyped year. A lot of that had to do with Luck coming back. This year you guys have a lot of expectations as well. How similar or different does this year feel going into the season versus 2011?
KD
: I like to say every year is a little different. Obviously that year we had a ton of talent with Andrew, David, Moose (
Jonathan Martin
), great receivers, great running backs like S.T. (Stepfan Taylor). This year also comes with expectations. Through our training camp, we've talked about that and we feel OK about the expectations.
You're going into your fifth year so you've really seen the evolution of this program. What's it been like to be a part of that and how have you seen the program change in the last half decade?
KD
: It's been unbelievable watching it change. The thing that sets us apart is competition. Every day you are out there competing. Whether it's competing for your job against Josh Garnett or competing against a defense that is one of the best in the country. No job, no spot is guaranteed. And that's what's really helped this program grow.
You're majoring in biomechanical engineering. If you were biomechanically engineering the perfect offensive lineman, would he look like David Yankey?
KD
: I don't want to throw Yank under the bus, but if I were biomechanically engineering the perfect offensive lineman he'd look like David DeCastro. That guy was a true specimen. He truly was a student of the game as well. The way he studied it and the way he approached it was unbelievable. In all aspects, he was one of the best linemen I've ever seen. But Yankey is up there. I don't want to sell him short. He's very good as well. He's not a guy to sleep on.
You were mentioned for the center job and then David Shaw said you were too good at guard and Khalil Wilkes ends up winning it. What does he bring that Chase (Beeler) and Sam (Schwartzstein) had. What's the common thread between Stanford centers?
KD
: The biggest thing is the experience he brings to the table. He played in 14 games last year. He knows the offense really well. He's a natural fit. Everyone feels good having him in there. We felt like Khalil brings to the party what we're looking for and he is of the mold of Chase Beeler or Sam Schwartzstein. We feel good about the way he communicates with us.
Finish this sentence for me. In 2013, Stanford football will be ….?
KD
: In 2013, Stanford football will have an epic year.
May, 8, 2013
May 8
8:30
AM ET
STANFORD CARDINAL
2012 record:
12-2
2012 conference record:
8-1
Returning starters
Offense: 7; defense: 8; kicker

Top returners:
QB
Kevin Hogan
, OT
David Yankey
, LB
Shayne Skov
, LB
Trent Murphy
, DE
Ben Gardner
, S
Ed Reynolds
Key losses:
RB Stepfan Taylor, TE Zach Ertz, TE Levine Toilolo, OLB Chase Thomas
2012 statistical leaders (*returners)
Rushing:
Stepfan Taylor (1,530 yards)
Passing:
Josh Nunes
(1,643 yards); Kevin Hogan* (1,096 yards)
Receiving:
Zach Ertz (898 yards)
Tackles:
Shayne Skov* (80)
Sacks
: Trent Murphy* (10)
Interceptions
: Ed Reynolds (6)
Spring answers
1.
Better to receive
: Stanford's passing offense has been notoriously tight end focused the past few years, but that was more pronounced last season. Expect that to change in the fall, and not just because of questions at the position. The Cardinal has improved depth and athleticism at receiver, starting with
Ty Montgomery
and
Devon Cajuste
. Heck, you might even see some four-wide formations!
2.
O-line? Oh, my
: To say that Stanford coaches are giddy about their offensive line's potential might undersell it. There are NFL teams that will have less talented combos on their left side than tackle
Andrus Peat
and All-American guard David Yankey, who are both future first-round NFL draft picks. The right side ain't bad either.
3.
No secondary issues
: Richard Sherman used to get peeved at the Pac-12 blog in the past for questioning the athleticism of Stanford's secondary, with the Pac-12 blog obviously just trying to help kick-start Sherman's NFL career. This Cardinal secondary, led by All-American Ed Reynolds, is experienced and talented, the best unit during the Cardinal's recent rise in the national pecking order.
Fall questions
1.
Who's the center
? The one question on the O-line is who will replace
Sam Schwartzstein
, and spring ended in a three-way tie between
Khalil Wilkes
,
Conor McFadden
and
Kevin Danser
. If Danser, a returning starter at guard, prevails, that will mean coaches believe touted, 317-pound sophomore
Josh Garnett
is ready to take over at right guard.
2.
Step back at tight end
?
Davis Dudchock
and
Luke Kaumatule
have a chance to give the Cardinal a better-than-average combo at tight end, but it remains to be seen if they can become weapons in the passing game. Kaumatule, a 6-foot-7, 260-pound sophomore, has star potential but his hands have been inconsistent.
3.
Ready for pressure, schedule?
This team looks like a national title contender. It will be ranked in the preseason top-five and there will be plenty of hype. But Stanford has gown accustomed to high expectations and high rankings. The real issue is the schedule from Oct. 19 until Nov. 30. No team in the country faces a tougher road to a potential title game.
April, 30, 2013
Apr 30
9:00
AM ET
Unlike last year, there is no quarterback competition at Stanford. But the recently released post-spring depth chart does reveal some potentially interesting developments to eye-ball heading into fall.
Starting on offense -- there are only two running backs listed --
Anthony Wilkerson
"or"
Tyler Gaffney
as the starter. Both are trying to replace three-time 1,000-yard rusher Stepfan Taylor, though it's widely believed the Cardinal will take more of a committee approach than they did last year, when Taylor led the Pac-12 with 322 carries. There is plenty of depth, albeit mostly inexperienced, behind Gaffney and Wilkerson.
Also of note offensively is the addition of
Kevin Danser
on the depth chart at center. He's slated to start at right guard, though there is also an "or" separating
Khalil Wilkes
,
Conor McFadden
and Danser at center. It will be interesting to watch in the fall if Danser continues to get work at center. And if he wins the job, it would allow the Cardinal to insert Josh Garnett into the starting rotation at guard. That would give the Cardinal a starting front of
Andrus Peat
(LT),
David Yankey
(LG), Danser (C), Garnett (RG) and Cam Fleming (RT).
With the news of
Josh Nunes
'
retirement
yesterday,
Evan Crower
is locked in as the backup to
Kevin Hogan
and, for now,
Devon Cajuste
looks like he'll start opposite
Ty Montgomery
at receiver.
Fullback
Geoff Meinken
also announced he'll retire after struggling to return from a knee injury that kept him out of 2012.
At tight end -- Stanford's go-to receiving position the last couple of years --
Luke Kaumatule
and
Davis Dudchock
are separated by an "or." However both will probably get a ton of work in Stanford's two-tight-end sets.
Defensively, there are only two "ors" on the depth chart.
Henry Anderson
and
Josh Mauro
have a good competition going at defensive and
Blake Lueders
and
James Vaughters
are undecided at the outside linebacker spot to release Chase Thomas. Though the Cardinal rotate backers and defensive linemen so frequently that "starter" is more of an honorary title.
Worth noting also that
Devon Carrington
, who has spent his career at safety, is also listed as a backup with
Usua Amanam
at right cornerback behind
Wayne Lyons
. Amanam is Stanford's go-to nickelback and Carrington is also backing up
Ed Reynolds
.
Looking at the specialists, up for grabs is the punter, which could go to either
Ben Rhyne
or
Conrad Ukropina
. Montgomery looks set at kick return while it's a four-way race between him,
Kodi Whitfield
,
Keanu Nelson
and
Barry Sanders
to return punts.
You can
see the complete depth chart here
and interpret it as you see fit.
December, 30, 2012
12/30/12
10:00
AM ET
LOS ANGELES -- Before a Stanford offensive lineman ever sees the field, he must first negotiate "The Room." And The Room can be tougher than any drill, any conditioning program or even any defensive end or linebacker he will face. Because it's in the The Room where line coach Mike Bloomgren not-so-silently passes judgment on who does or doesn't have the chops.
And it's not just Bloomgren. It's the veterans, too --
Sam Schwartzstein
,
David Yankey
,
Kevin Danser
– who will self-police and critique those who desire more playing time.
"Everything those guys get in that room is earned," said Stanford head coach David Shaw. "And it's a tough room. You walk in that room, you better have thick skin. Cause it's not just Mike that's going to get on you. Sammy's gonna get on you. David Yankey's gonna get on you. If you can handle that room and come out and perform, you deserve to play."
[+] Enlarge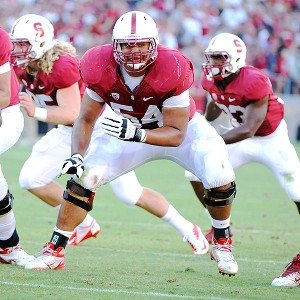 AP Photo/Rob HoltDavid Yankey and Stanford's offensive line have kept grinding down foes despite constant turnover.
For as much credit as Stanford gets for overcoming the losses of Toby Gerhart, Jim Harbaugh and Andrew Luck over the past few seasons, forgotten is that the offensive line has had to re-invent itself several times over with multiple standouts leaving for the NFL. The philosophy remains the same. But the personalities of each line have changed throughout the years.
"It starts in recruiting," said Bloomgren, who began his career as a graduate assistant at Alabama and cut his teeth for four seasons as an offensive assistant with the New York Jets. "We were fortunate to plug in the three new guys last year and have them grow (Schwartzstein, Yankey and
Cameron Fleming
). Then you lose David DeCastro and Jonathan Martin a year early and it's like, wow, now we have to do it again. David Yankey comes around and wins the Morris Trophy (given to the Pac-12's top lineman) and is a consensus All-American. It's a compliment to those guys and how they work and striving to get better. They call themselves the Tunnel Worker's Union. Those guys buy into that stuff."
Along with assistant Ron Crook -- who manages the tight ends and offensive tackles -- Bloomgren also coordinates Stanford's rushing attack, which has produced a three-time 1,000-yard rusher in
Stepfan Taylor
. And like any good running back, Taylor knows where his bread is buttered. He's rushed for 1,000 yards behind three very different offensive line units.
"They are a lot more goofy than last year," Taylor said. "They are great guys. I wouldn't want to be behind any other line. They are physical, tough, smart and athletic. That's the thing. They are really big athletic guys running around. It all starts with them and to win games, they have to do their job. And we are winning games so they are obviously doing their job."
Stanford's downhill, power-running approach is appealing to prospective offensive lineman. And the fact that they have offensive packages that involve as many as eight offensive linemen at a time is also attractive.
"For us, we've played one true freshman on the offensive line, up until this year, during the last five years," Shaw said. "This year we've played three. And those guys have earned that.
Andrus Peat
,
Kyle Murphy
,
Josh Garnett
. Those guys have earned that. And those guys have taken some beatings in that room. Some verbal assaults, if you will.
"… There are a lot of places that play five starters and the rest of the guys watch. They've had success and that's great. But we're going to play eight -- at least eight -- just in the Rose Bowl. And we've been that way all year. If we can play nine, we'll play nine. A young guy comes in and knows he's going to have a chance to play. That he won't sit on the bench for three years. If he does it right. If he can survive in our room, he'll get a chance to play."
Danser -- who became a full-time starter this year after seeing lots of time the last couple of years as a reserve -- has seen some great offensive linemen come and go. And he's witnessed each season how the line has rediscovered a new identity and how each group takes on a life of its own.
"It really comes down to the work we do in the winter, spring and summer," Danser said. "It really forms this unit. It takes leaders like Sam and leaders in the past like Chase Beeler, James McGillicuddy, David DeCastro, Jonathan Martin, Andrew Phillips. It's that leadership that makes this a great unit."
And the trio of freshmen who have made their debuts this year know they are getting their trial by fire on the field -- and in The Room.
"The coaches and the older guys won't let anything slide," Garnett said. "They always find something. Yankey tells me you have to find something. You never do it right. Always be nit-picky and find something you did wrong. That's what we're all about -- getting to that next level, never being content. You are always looking for the perfect block."
September, 12, 2012
9/12/12
12:00
PM ET
While so much attention has been given to the Stanford quarterback situation, it's worth noting that the offensive line is still a bit of a rebuilding project.
But so far, head coach David Shaw said he's been pleased with some of his true freshmen offensive linemen -- specifically how they performed in the Cardinal's 50-13 win over Duke.
"They played very well," Shaw said. "
Andrus Peat
had his best day as a
Stanford Cardinal
on game day. He was outstanding.
Kyle Murphy
, I thought was off the charts too. Josh [Garnett] played very well, but I think the two tackles played extremely well and we're looking forward to getting those guys even more acclimated to college football and giving them more opportunities."
Those freshmen up front will be indoctrinated into Stanford's rivalry with USC this weekend when the No. 2 Trojans come to town. And Shaw has zero hesitation about playing them against a USC rush defense that is third in the conference -- but still considerably untested.
"No hesitation. Those guys have earned the right," Shaw said. "They understand their roles and we're still spoon-feeding them to a certain degree because we do a lot. We let them do what they've shown us they can do and that's expanding every week. Those guys have shown nastiness and athletic ability and they've shown the aptitude to handle what we give them. They are difference-makers up front and the way we need to run the ball and pass protect, we need to have guys like that on the field."
Stanford's defense also got a boost with the return of middle linebacker
Shayne Skov
-- who played his first game against the Blue Devils since injuring his knee in Week 3 last season at Arizona. Skov, who also was suspended for Week 1 because of an offseason DUI arrest, had five tackles and broke up a pass in his first game back. How close was he to the old Skov?
"Very close," Shaw said. "He ran extremely well, which is what I was waiting to see -- if he was going to be favoring the leg a little bit ... We were wondering about his conditioning. His conditioning looked good. We still spelled him with other linebackers that have played extremely well, but he showed flashes of being that same Shayne Skov."
April, 3, 2012
4/03/12
3:30
PM ET
Max Browne
(Sammamish, Wash./Skyline), one of the nation's top quarterback recruits, will announce his commitment Wednesday at 7 p.m. PT, according to
ESPN Recruiting
, which reports, "Browne has narrowed his choices to Alabama, Oklahoma, USC and Washington, although with recent visits to see the Sooners and Trojans, most think it will come down to those two programs."
So USC or Oklahoma for the 6-foot-5, 205 pounder?
Browne leaving for the Sooners would be a blow for the hometown Huskies, who are struggling to build the proverbial "wall" around their home state. During the 2011-12 recruiting season, most of the elite, local prospects crossed state lines to play football. The state featured five elite recruits: Offensive linemen Zach Banner and Josh Garnett, running back KeiVarae Russell, receiver Cedric Dozier and QB Jeff Lindquist. Only Lindquist signed with the Huskies.
Of course, the Huskies did much better in 2011 when they signed TE Austin Seferian-Jenkins, WR Kasen Williams, DT Danny Shelton
--
three players who, by the way, lived up to their recruiting hype as true freshmen.
Still, in order to return to the nation's elite, Washington must win most of the recruiting battles for in-state prospects most years. That's part of the reason coach Steve Sarkisian was willing to pay top dollar to lure ace recruiter Tosh Lupoi away from California.
While some prospects go in search of a warmer, sunnier climate, and there's little coaches can do to charm them out of that thinking, part of getting the Huskies back into the nation's top 25 is making elite recruits want to stay home. For every Jake Locker who decides to play for the Huskies, there are too many guys like Jonathan Stewart (Oregon), Stephen Schilling (Michigan), Taylor Mays (USC), David DeCastro (Stanford), Deandre Coleman (California) and Jake Heaps (BYU).
As for Browne, the situation at Washington would seem ideal for him.
Keith Price
would be a senior his redshirt freshman year, giving him a year to acclimate himself before fighting for the job in 2014.
From ESPN Recruiting: "Browne completed 70 percent of his passes for 4,034 yards and 45 touchdowns as a junior. He plans to enroll early at his school of choice and has a good shot to be recognized as the top quarterback in the class of 2013."
It will be a big loss for the Huskies if he opts to cross state lines.
January, 24, 2012
1/24/12
2:30
PM ET
PAC-12 SCOREBOARD
Saturday, 12/21
Monday, 12/23
Tuesday, 12/24
Thursday, 12/26
Friday, 12/27
Saturday, 12/28
Monday, 12/30
Tuesday, 12/31
Wednesday, 1/1
Thursday, 1/2
Friday, 1/3
Saturday, 1/4
Sunday, 1/5
Monday, 1/6
Tweets from @ESPNCFB/pac-12