August, 8, 2010
8/08/10
9:00
AM ET
By
ESPN.com staff
| ESPN.com
Washington State opens preseason camp today. Here's a quick look.
Who's back
: Eight starters on offense, six starters on defense and both specialists.
Big names
: Quarterback
Jeff Tuel
, defensive end Travis Long, receiver
Jared Karstetter
and punter Reid Forrest.
What's new
: Coach Paul Wulff made two coaching changes. He hired veteran offensive line coach Steve Morton, who's coached five Pac-10 Morris Trophy winners, and special teams/running backs coach Dave Ungerer.
Key competition
: The only two "ORs" on the depth chart are on the offensive line between Wade Jacobson and Micah Hannam at left tackle, and David Gonzalez and Hannam at right tackle. The pecking order at running back probably still remains open, too.
Breaking out
: Long, a sophomore, and senior Kevin Kooyman should give the Cougars a solid tandem at defensive end. Junior college transfer Brandon Rankin was impressive during the spring. Cornerback Daniel Simmons has all-conference ability, and safety LeAndre Daniels and linebacker Alex Hoffman-Ellis also will lead the defense.
Quote
: Kooyman on the Cougars being picked 10th: "The last two season's have been really rough. You just kind of have to ignore it. We are going to shock some people ... this season. We don't really care about the rankings. It is more of a distraction."
Notes
:
James Montgomery
is back in position to start at running back after a harrowing battle with illness and injury. He required emergency surgery last year for acute compartment syndrome -- which can be life-threatening -- and then missed spring practice because of micro-fracture surgery on his right knee ... Speedy linebacker Louis Bland continues to struggle with a knee problem. He might end up redshirting ... Former Cougars star Chad Eaton is serving as a graduate assistant working with the defensive line ... Backup defensive tackle Dan Spitz will be ineligible for the first nine games because he violated NCAA policy on banned substances. The Cougars previously lost senior defensive tackles Toby Turpin and Josh Luapo because of academic issues ... Redshirt freshman linebacker Andre Barrington is academically ineligible.
June, 4, 2010
6/04/10
10:00
AM ET
By
ESPN.com staff
| ESPN.com
ESPN's "College Football Live" is running down its list of the most irreplaceable players for the 2010 season. So we thought we'd take a stab at it for every Pac-10 team, including a
different take
for USC.
Arizona
: C Colin Baxter. Centers are the quarterbacks of the offensive line, and Baxter is a good O-line QB. He earned second-team All-Pac-10 honors in 2009 and his backup, sophomore Kyle Quinn, has little experience. With Baxter, the Wildcats should be strong up front. Without him, the line would be a question.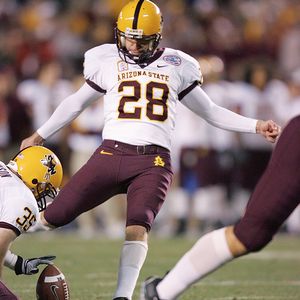 Icon SMIThomas Weber is 11-for-15 on field goals of 40 or more yards during his career.
Arizona State
: K Thomas Weber. Weber, the 2007 Lou Groza Award winner, is a weapon when healthy. While his backup, sophomore Bobby Wenzig, didn't do a terrible job filling in for a hurt Weber last year -- he made 3 of 4 field goals and 10 of 12 PATs -- he's no Weber, who's 11-for-15 from 40 or more yards during his career. The Sun Devils may struggle again on offense next fall, which means that Weber's range will be critical for getting points on the board.
California
: LB Mike Mohamed. Mohamed earned first-team All-Pac-10 honors in 2009 after leading the conference with 112 tackles, 16 more than any other defender. The Bears are replacing two of their four starting linebackers and, oh by the way, they didn't play the position terribly well last fall. It would be a big hit to lose both Mohamed's skill as well as his experience and leadership.
Oregon
: WR
Jeff Maehl
. With the demise of quarterback
Jeremiah Masoli
, the Ducks likely will be a little more pass-happy next fall. That makes Maehl, the Ducks' best receiver, critical. He caught 53 passes for 696 yards and six touchdowns in 2009 and steadily improved throughout the season. The Ducks' next two returning receivers,
D.J. Davis
and
Lavasier Tuinei
, combined to catch 47 passes for 450 yards and two TDs.
Oregon State
: RB
Jacquizz Rodgers
. It's not just that Rodgers is the conference's leading Heisman Trophy candidate. It's also about the Beavers' uncertain depth at the position.
Jovan Stevenson
and
Ryan McCants
combined for 164 yards rushing in 2009. Rodgers had 1,440. McCants turned in his best work yet this spring and the running game had its moments even without Rodgers, but let's just say the ground production likely would suffer -- big -- if Rodgers went down.
Stanford
: QB
Andrew Luck
. Pretty obvious, eh? The Cardinal's offense is already replacing Toby Gerhart. It can't afford to lose Luck also and expect to compete in the top half of the Pac-10. Backups
Josh Nunes
and
Robbie Picazo
are both redshirt freshmen, though if Luck went down, it's possible senior
Alex Loukas
could move from safety back to QB, where he started one game in 2008.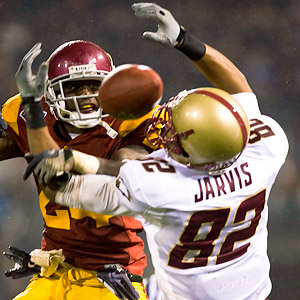 Jason O. Watson/US PresswireThe Trojans are already replacing four starters in the secondary and can't afford to lose their best corner, Shareece Wright.
UCLA
: LB Akeem Ayers. Ayers is an All-America candidate who has a knack for making big plays. If the Bruins' already-rebuilding defense lost him, it would then be replacing all three starting linebackers from 2009. His backup, Isaiah Bowens, is a redshirt freshman.
USC
: CB Shareece Wright. Michael Lev of The Orange County Register already beat me to this one in his
list of indispensable Trojans
. Wright's career has been riddled by injuries and he was academically ineligible last year, but he's long been considered the Trojans' best cover corner. USC is replacing all four starters in its secondary. Wright has four career starts and was a standout this spring. If he went down, the Trojans would have one career start returning in the secondary. That is not a good thing.
Washington
: QB
Jake Locker
. Locker is the Huskies' best player and their unquestioned leader. He's likely going to be a high first-round NFL draft pick next spring. But it's not just how important Locker is. Because last year's backup,
Ronnie Fouch
, opted to transfer, Locker's backup in 2010 will be either redshirt freshman
Keith Price
or true freshman Nick Montana. Neither, obviously, has any playing experience.
Washington State
: DE Travis Long. Long, though just a sophomore, is the Cougars' best pass-rusher and best overall defensive lineman. After a year of getting bigger and stronger, he's expected to be much better in 2010. The Cougars' defensive line already lost tackles Toby Turpin, who was kicked out of school for an academic incident, and Josh Luapo (academic ineligibility) and is waiting to find out the academic status of tackle Bernard Wolfgramm. They are not deep enough up front to recover from the loss of Long. His backup, sophomore Adam Coerper, has no experience.
May, 7, 2010
5/07/10
6:00
AM ET
By
ESPN.com staff
| ESPN.com

Washington State
2009 overall record
: 1-11
2009 conference record
: 0-9 (10th)
Returning starters
Offense: 8, Defense: 6, punter/kicker: 2
Top returners
: QB
Jeff Tuel
, WR
Jared Karstetter
, DE Travis Long, LB Alex Hoffman-Ellis, P Reid Forrest
Key losses
: C Kenny Alfred, RB
Dwight Tardy
, FS Xavier Hicks, LB Andy Mattingly
2009 statistical leaders (*returning starter)
Rushing
: Tardy (417)
Passing
: Tuel* (789)
Receiving
: Karstetter* (540)
Tackles
: Alex Hoffman-Ellis* (84)
Sacks
: Travis Long*, Toby Turpin, Casey Hamlett*, Anthony Laurenzi* (2)
Interceptions
: Xavier Hicks (3)
Spring Answers
1.
Solid at QB
: Both sophomore Tuel and junior
Marshall Lobbestael
played well this spring. Both are more skilled, more mature and better versed in the offense than when they were prematurely forced into action the previous two seasons. Tuel is the heavy frontrunner to start, but it's always nice to have two quarterbacks with starting experience.
2.
Offensive line improvement
: A big area of concern the past two seasons, the Cougars added a pair of JC recruits midyear and the additions greatly enhanced the competition and depth up front. Also, the addition of offensive line coach Steve Morton and his 35 years of experience, which includes five Morris Trophy winners, already has made a big impact. The line lost one starter from last season (center Kenny Alfred) but the return of four starters, along with the JC additions and return of Andrew Roxas, who missed 2009 due to illness, could make this one of the most improved units in the conference.
3.
There's some depth
: Everyone around the program insists this is by far the best spring for coach Paul Wulff since he took over a beleaguered program two years ago. Part of that success is legitimate competition for starting spots and playing time. Players who redshirted the past two seasons, in particular, made an impact during the 15 practices
Fall questions
1.
Confidence?
The Cougars have won just three games over the past two seasons -- just one Pac-10 game. Many of their defeats have been blowouts. While the talent looks better heading into 2010, the Cougars have to believe they can compete -- and win -- in the Pac-10. That belief will drive players to work out hard during the summer. That belief will keep games close into the fourth quarter. That belief might even help them steal a few games. But that belief has to be real, which means it will have to block out all the talk about another dreary 10th-place finish.
2.
Will the D-line step up?
Sophomore end Travis Long should take the next step. JC transfer Brandon Rankin lived up to his considerable hype at tackle. Senior end Kevin Kooyman is back from injury and had a good spring. That's the good news. The bad news is three of the top four or five tackles are either gone -- or close to going -- before their time. Toby Turpin was kicked out of school over an undisclosed academic incident, while tackles Bernard Wolfgramm and Josh Luapo are struggling to remain academically eligible (coaches are more hopeful about Wolfgramm getting back on track). That means youngsters such as Justin Clayton, Dan Spitz, Jordan Pu'u Robinson and Anthony Laurenzi will need to be ready -- and be better than they were in 2009.
3.
Receiver depth?
The Cougars went through spring with just four scholarship receivers (
Jeffrey Solomon
, Jared Karstetter,
Gino Simone
and
Daniel Blackledge
). The incoming recruiting class features five receivers. JC recruit Isiah Barton is probably the most ready, but at least a couple of freshmen will need to earn spots in the rotation.
May, 3, 2010
5/03/10
10:00
AM ET
By
ESPN.com staff
| ESPN.com
The post-spring power rankings do not match the
pre-spring power rankings
.
Why? After all, no games were played.
Well, it's an extremely complicated process that's difficult to explain unless you are familiar with the jargon of sportswriting and theoretical physics. In layman's terms, a supersymmetry exists between bosons and fermions as viewed through a prism of the spring football action principle -- the Nambu-Goto action or the Polyakov action or the Masolian action -- which describes how footballs move through space and time.
Or, I just changed my mind. For now. (Still think Nos. 4-8 are a toss-up).
1.
USC
: The Trojans move up to the top spot not just because Oregon moved down when the Ducks lost starting quarterback
Jeremiah Masoli
to a season-long suspension, though that's the biggest reason. USC will have the best defensive line in the Pac-10, the value of which can't be underestimated, and the hunch here is that Lane Kiffin and
Matt Barkley
are going to make beautiful music together. (Talked to a BIG Tennessee fan over the weekend who, while not a big fan of Kiffin -- surprise! -- acknowledged that his transforming quarterback Jonathan Crompton into a fifth-round NFL draft pick was a minor miracle).
2
. Oregon
: Oregon takes a step back without Masoli, but the Ducks weren't widely seen as national title contenders just because of him. Nine other starters are back on offense and eight on defense and if you watched the Ducks practice this spring, it was hard not to be impressed. These guys look like the fastest team in the conference.
3.
Oregon State
: The Beavers were rated No. 3 before two defensive starters quit the team: Linebacker David Pa'aluhi and end Matt LaGrone. Considering they are one of just three teams in the conference breaking in a new quarterback, they seemed ripe for a demotion. But sophomore QB
Ryan Katz
was so impressive this spring, the Beavers hold steady.
4.
Stanford
: The Cardinal make the big jump all the way from sixth. Why? We ranked them sixth because we obsessed over what was missing (namely Toby Gerhart) and what was questionable (the defense). They are now fourth because of what is there -- quarterback
Andrew Luck
, a good offensive line and solid receivers -- and the impression the defense will take a significant step forward with new coordinator Vic Fangio's new 3-4 look.
5.
California
: Considering the Bears were the only Pac-10 team with nearly all spring practices closed to the media, it's hard to form an impression other than one based on the pluses and minuses from the 2009 depth chart. And that impression remains: There are enough quality pieces here to believe a consistent senior season from quarterback
Kevin Riley
would make the Bears a top-25 team.
6.
Washington
: It's tempting to move the Huskies up just because of Year Two of the Steve Sarkisian-
Jake Locker
combinaton. But we're holding off until we hear reports that defensive ends Kalani Aldrich and Everette Thompson are back and running at 100 percent after sitting out spring with worrisome injuries.
7.
Arizona
: The Wildcats have plenty of talent on offense but the defense is replacing seven starters. Moreover, while reviews of the new four coordinator system -- co-coordinators on both sides of the ball -- were positive, it remains worthy of a raised eyebrow, at least until it is properly measured by actual game-day stress.
8.
UCLA
: The new revolver offense, a knockoff of Nevada's "pistol," got mixed reviews, but the rebuilding defense probably looked better than expected. Questions about the offensive line remain, and it's fair to believe that line will be the reason the Bruins either climb into the conference's top half or remain in the bottom five.
9.
Arizona State
: There were encouraging signs of offensive improvement, even though the quarterback competition between Michigan transfer
Steven Threet
and sophomore
Brock Osweiler
, who appeared to lead as spring ended, wasn't resolved. It didn't help, however, that guard Jon Hargis, a starter the previous two seasons, blew out his knee and won't be available in 2010.
10.
Washington State
: Coach Paul Wulff called it the Cougars' best spring since he arrived. Every account notes that the Cougars will be physically superior to the teams that won just three games over the previous two seasons. Depth is clearly better. On the downside, it wasn't good that Toby Turpin got kick out of school and that Bernard Wolfgramm and Josh Luapo are struggling to remain academically eligible. Those are three of the Cougars' top four defensive tackles.
April, 28, 2010
4/28/10
4:20
PM ET
By
ESPN.com staff
| ESPN.com
It's hard to say which Washington State Cougars defense was worse.
In 2008, the Cougars surrendered 44 points per game, ranking 118th in the nation. They again ranked 118th in in 2009, but they gave up "just" 38.5 points per game.
Of course, the 2009 unit ranked last in the nation in total defense, yielding an astounding 512 yards per game, which was 69 more than 2008.
Yes, those numbers will stress out a defensive coordinator.
Fact is the Cougars have been out manned the past two seasons on both sides of the ball but most glaringly on defense. They started out lacking talent and then suffered epidemic injuries. Not a good combination. That forced the Cougars to use young players before they were physically or mentally ready.
Thus the numbers.
Ah, but there is reason for hope heading into 2010. For one, those young players may have graduated the school of hard knocks and are ready to give back some of the rude treatment they received.
For the first time since Paul Wulff took over in 2008, there's legitimate competition for starting spots. Coaches are so bold to even use the term "depth."
While spring practices ended last weekend with some bad news -- defensive tackles Bernard Wolfgramm and Josh Luapo are both struggling to remain academically eligible -- Wulff called the 15 practices "by far the best spring we have had since we've been here."
So we decided to check in with Chris Ball, the Cougars assistant head coach who co-coordinates the defense with Jody Sears.
Give me a general assessment of spring practices: Where did you guys get better?
Chris Ball
: I think we got better up front. Our defensive line probably was the biggest improvement. We got some good competition going on there.
Give me some players who showed a lot of improvement?
CB
: End Kevin Kooyman, tackle Brandon Rankin, the kid we got in here in January. End Travis Long, tackle Justin Clayton. They all had a great spring.
How concerned are you about the academic status of tackles Bernard Wolfgramm and Josh Luapo? What's the pecking order behind them?
CB
: We've got Rankin and Anthony Laurenzi, who played quite a bit last year. We feel pretty good about Wolfgramm. Luapo we're waiting to see.
Tell me about tackle Brandon Rankin. Sounds like he may live up to high expectations.
CB
: He had a good spring. He's still got to get stronger. He needs to have a good three months here this summer to get stronger and continue to grow. But he ended up about what we expected him to be. He sat out last year so he was a little rusty at the beginning of spring. But he did a good job of coming on. He's got to keep working. He's got a lot of work to do in the weight room this summer.
What about sophomore end Travis Long. Is he a potential All-Conference player?
CB
: I'd like to think so. But it also goes back to him still being young, physically. He's got to have a good next three months. He did a good job through the winter lifting, but these next three months are big for him as far as his strength is concerned.
Tell me about the secondary: Who has stepped up back there?
CB
: Safety Tyree Toomer, who started as a freshman for us and then got hurt, he had a great spring. Safety Chima Nwachukwu had a great spring. Safety LeAndre Daniels had a great spring. We had two freshmen safeties who did really well: Casey Locker and Jamal Atofau. So at the safety position we've got a heck of a battle going on. At corner, Daniel Simmons has done a great job. And there's Anthony Carpenter and Aire Justin. We've got some good competition going on there, too. We're pretty pleased with the ways those guys are playing. We've got more speed back there right now than we've had in the past.
And at linebacker?
CB
: We got a few injuries late and pulled some guys out, but Alex Hoffman-Ellis was doing well before he sprained his ankle. Myron Beck did a great job at SAM [strongside linebacker]. We've got Andre Barrington. He's a redshirt freshman, who had a really good spring.
Arthur Burns
at WILL [weakside linebacker] had a really good spring also.
What's linebacker Louis Bland's status [he's trying to come back after microfracture surgery]?
CB
: He's getting better. He's ahead of schedule. Hopefully ... I'm sure he'll be ready to play come August.
The past two seasons have been a struggle for the entire program. What was it like for you in terms of trying to stop people?
CB
: It was tough. The last two years we've been bitten by the injury bug and haven't really been able to get into what you really want to do defensively. It's been tough. Our depth has been poor. We've not had much competition going on at positions. But we finally, for the first time in two years -- going into our third year -- we've got a lot of competition going on on the D-line and at the safety spot and linebacker spot, which makes everybody step up and makes everybody better. We had to play a lot of young players the last couple of years. That's almost a good thing right now because we've now got a lot of guys who have actually played. They weren't necessarily ready to play [the last two years] but they got some game experience. We're still going to be young but we're a young group that has played some snaps in the Pac-10.
What's the most important thing for you guys to improve on in 2010?
CB
: We've got to stay healthy. The boat feels like it's finally moving. The kids can feel it. They can feel they are getting better. But these next three months, we've got to keep the momentum we've gained in spring ball. The next three months are very, very crucial to how we start out. We've got to come into camp feeling really good about ourselves, with a little bit of swagger. The kids of done a great job with their enthusiasm in practice. Our chemistry is really good. We've worked hard. We've had good competition at numerous spots. We've got to keep this momentum the next three months. If we can keep it and stay healthy, we have a chance to make some big, big strides.
March, 22, 2010
3/22/10
7:28
PM ET
By
ESPN.com staff
| ESPN.com
Will have lots more from my visit to Washington State, which starts spring practices Thursday, but here are some notes from a conversation with coach Paul Wulff.
The Cougars are much healthier this spring than last: 24 players missed offseason workouts last year. This year, just four will sit out spring practices: running back James Montgomery (knee, calf), defensive tackle Josh Luapo (knee), linebacker Louis Bland (knee) and cornerback Anthony Houston (knee).
As for Montgomery, he had knee surgery in addition to his scary episode with "acute compartment syndrome" with his calf. Wulff said he won't be cleared to start full-speed running until June. As for the depth at running back Wulff listed Marcus Richmond, Chantz Staden, Logwone Mitz, Carl Winston and Leon Brooks, a walk-on who's made a positive impression.
Wulff said there's no hope for receiver Johnny Forzani returning to the program: "He's going to try to play in the CFL." The Cougars have four receivers back who caught at least 20 passes: Jared Karstetter, Gino Simone, Jeffrey Solomon and Daniel Blackledge. Wulff said he expects JC transfer Isiah Barton and perhaps a couple of the four incoming freshmen receivers to contribute, most particularly Marquess Wilson. "Most everybody in the Pac-10 was trying to go on him," Wulff said. "He's a big-time, big-time player."
Offensive lineman Brian Danaher, a 12-game starter over the past three seasons, won't be back because of recurrent concussions.
Starting defensive tackle Toby Turpin's status is questionable due to an academic dispute, which Wulff said should be resolved -- positively or negatively -- within the next week or two. Turpin will be allowed to practice until his case is resolved.
Wulff, perhaps surprisingly, said he believes the offensive line will be the strength off the offense. Andrew Roxas, who missed all of last season due to illness, will step in to fill the void at center due to the departure of stalwart Kenny Alfred. B.J. Guerra, Zack Williams and Steven Ayers will compete at guard. At tackle, two JC transfers will be in the mix this spring -- David Gonzales and Wade Jacobson -- along with Micah Hannam, Tyson Pencer and Alex Reitnouer. Wulff also said the he thinks incoming true freshman John Fullington might be ready to immediately contribute. "I think he was one of the best [high school] offensive linemen in the country," he said.
Tight end Zach Tatman was granted a sixth year of eligibility, which means the Cougs will have three experienced tight ends with Skylar Stormo and Andrei Lintz.
Redshirt freshman Sekope Kaufusi will see time as a hybrid outside linebacker-defensive end. Wulff said he's been impressed by redshirt freshman end Jordan Pu'u Robinson during the off-season.
Touted JC transfer Brandon Rankin -- he was offered a scholarship by Alabama -- will play both end and tackle.
Defensive tackle Bernard Wolfgramm continues to struggle with back problems, but Wulff said he was "moving around and participating in drills better since his back surgery. So that's promising." Still, it's likely his action will be limited this spring.
Depth at defensive tackle is a question, but sophomore Dan Spitz, who started five games at tackle and end last year, redshirt freshman Justin Clayton and sophomore Anthony Laurenzi are promising prospects.
Wulff said the defense will be much faster at linebacker. When he's healthy in the fall, Bland will move to middle linebacker. Mike Ledgerwood also is a top candidate in the middle, along with redshirt freshman Darren Markle. Alex Hoffman-Ellis will move from middle to weakside linebacker. Arthur Burns will move from running back to "Will" linebacker. Myron Beck and Andre Barrington will man the strongside. Incoming recruit C.J. Mizell also could be in the mix.
The secondary, hit hard by injuries a year ago, should be much improved with LeAndre Daniels, Tyree Toomer, Chima Nwachukwu, Jay Matthews and redshirt freshman Anthony Carpenter, Casey Locker -- Jake's cousin -- and Jamal Atofau competing at safety and Daniel Simmons, Aire Justin, Terrance Hayward and promising redshirt freshman Nolan Washington at corner.
September, 28, 2009
9/28/09
11:56
AM ET
By
ESPN.com staff
| ESPN.com

Posted by ESPN.com's Ted Miller
Updating the worst part about the game.
Arizona

Arizona is banged up but it has a chance to get much healthier during its bye week and before it visits Washington on Oct. 10. Receiver Bug Wright is out after knee surgery, but running back
Nic Grigsby
(shoulder), running back
Keola Antolin
(ankle), defensive end Brooks Reed (ankle), offensive tackle Mike Diaz (concussion), offensive guard Vaughn Dotsy (concussion) and receiver
Delashaun Dean
(thigh bruise) all could be ready to go after the bye.
Arizona State
The Sun Devils get defensive end James Brooks back from a three-game suspension, which means senior end Dexter Davis can move back to the weak side, where he has a better chance to get to the quarterback. On the downside, the struggling offensive line has issues. The top two centers, Garth Gerhart (toe) and Thomas Altieri (knee) are banged up, as are guards Jon Hargis (shoulder), Zach Schlink (knee) and Matt Hustad (knee). Hustad is doubtful for Oregon State's visit, while the others are questionable. Also, tight end
Jovon Williams
(knee) is questionable.
Oregon
Oregon cornerback Walter Thurmond is likely out for a few games with a knee injury. Coach Chip Kelly may provide more specifics during his news conference today, but he typically calls every player "day-to-day" and forces reporters to read between the lines. Kelly did say Saturday that he didn't believe Thurmond would be done for the season. Safety T.J. Ward (ankle) and receiver
Rory Cavaille
(shoulder) are both questionable.
Oregon State
Receiver
Darrell Catchings
, who just came back from a wrist injury, is now out for 2-3 weeks with an ankle sprain. Also, linebacker Keaton Kristick suffered a stinger against Arizona and probably won't practice much this week.
Stanford

Backup tailback
Jeremy Stewart
hurt is right knee against Washington. It's unclear how serious the injury is.
USC

Defensive tackle Hebron Fangupo (broken leg) and end Marshall Jones (neck) suffered season-ending injuries against Washington State. Linebackers Jordan Campbell and Nick Garratt sprained their ankles and are questionable for the Cal game as is linebacker Malcolm Smith (ankle), who sat out against the Cougars.
Washington

The Huskies might get receiver
Devin Aguilar
back for the visit to Notre Dame. Aguilar sat out the Stanford game with a sprained knee.
Washington State
The Cougars can't stay healthy. They probably lost a starting offensive and defensive lineman against USC: Steven Ayers (ankle) and defensive tackle Josh Luapo (knee). Starting guards B. J. Guerra (knee) and Zack Williams (ankle) aren't expected to be ready to play at Oregon. Defensive end Kevin Kooyman (knee) missed the USC game but might be ready for the trip to Eugene.
August, 26, 2009
8/26/09
10:44
PM ET
By
ESPN.com staff
| ESPN.com
Posted by ESPN.com's Ted Miller

Washington State linebacker Andy Mattingly is done with the frying pan and has regained his fire.

He's back at linebacker after an ill-fated move to defensive end, and he's eager to put a bad year -- on and off the field -- behind him.

"Last year was tough on me," he said. "It was tough on everybody."

Mattingly got into trouble in January of 2008 when, taking up for a friend, he wielded a frying pan in a fight. The incident was was among many off-field issues that ruined Paul Wulff's honeymoon as head coach, but the use of a frying pan was a colorful detail that, understandably, resonated on the Internet.

When the football season came, it didn't bring much relief. Mattingly found himself uncomfortable putting his hand on the ground and contending with offensive tackles who outweighed him by 50 or more pounds. After recording eight sacks and forcing four fumbles at linebacker as a sophomore, Mattingly was muted, recording only one sack.

He wasn't the only Cougar struggling on defense. Washington State ranked last in the nation in run defense (248 yards per game) and second-to-last in scoring defense (44 ppg).

"Last year, some guys didn't buy into what the coaches were saying," Mattingly said. "This year is completely different."

A big difference for Mattingly is moving back to linebacker, where the 6-foot-4, 255-pound senior can read-and-react and make plays.

So how did it go when co-defensive coordinator Chris Ball informed him he was moving back to linebacker?

"It was like opening up a Christmas present when you are five years old before you were supposed to," he said. "It was a great feeling."

Mattingly is one major component of what should be an improved defense -- if it can stay healthy.

"We're looking really good defensively," he said. "It's night and day between now and the defense last fall -- how we look and in the attitude right now. We know what the coaches want. This year we're taking coaching a lot better."

Mattingly said a strong off-season in the weight room should help the Cougars across the board. He notes that guys who didn't play last year, such as defensive tackle Bernard Wolfgramm, whose persistent back problem has been less persistent, 321-pound tackle Josh Luapo and freshman end Travis Long, not to mention a bigger, stronger Kevin Kooyman at the other end, should make the defensive line far saltier than the crew that got pushed around last year.

A better D-line should make life better for Mattingly and a young linebacking corps.

"I know we won't give up the points we did last year," he said. "The amount of yards rushing -- that's not going to happen."

Of course, Mattingly is aware that many aren't buying it. The defense is replacing six starters, including mainstay middle linebacker Greg Trent and both corners.

A questionable defense is a big reason why the Cougars are the consensus pick to finish last in the Pac-10.

Repeatedly reading and hearing about low expectations is the sort of thing that could beat a team down. Or inspire it.

Ultimately, preseason predictions should have zero affect on how the 2009 season goes for the Cougars.

"It's there. It's on paper. Once you read it, you're going to think about it a second or two," Mattingly said. "Personally, I don't get pissed off about it at all. We don't deserve to be up there. But very year we're picked last and we haven't finished last."
March, 18, 2009
3/18/09
10:00
AM ET
By
ESPN.com staff
| ESPN.com
Posted by ESPN.com's Ted Miller
Not everything went smoothly during Paul Wulff's first year as Washington State's head coach, starting with a 2-11 finish.
Moreover, he's going to miss the first three days of the Cougars' fall practices because of NCAA sanctions he incurred for violations that happened while he was head coach at Eastern Washington.
| | |
| --- | --- |
| | |
| | AP Photo/Ted S. Warren |
| | Paul Wulff was 2-11 in his first season at Washington State. |
But the Cougars also posted a comeback victory in the Apple Cup, dumping Washington into the basement of the Pac-10, and outdid the Huskies during recruiting.
So there is some positive momentum as he looks toward his second season.
It seemed like a good time to check in with Wulff as he and his staff prepare for spring practices, which start March 26.
First, what's the latest on quarterback Marshall Lobbestael, who's coming back from a knee injury [and a suspension for a February arrest for an underage alcohol offense]?
Paul Wulff: I think he's going to be do everything but the team segments. A lot of individual work and he'll be able to some 7-on-7 drills.
So he's been reinstated from suspension?
PW: Yes. He had a lot of things to do, but yeah.
Let's put a cap on the 2008 season: First, what went right?
PW: After we played USC [on Oct. 18] we had a bye week, and I think our team changed a lot from a personality standpoint. We grew a lot. I know we didn't play well next against Stanford for a number of reasons, but really after that our team just played better football. We grew a lot. We played much more competitively against Arizona State and then Washington and Hawaii. We just played better. We tried not to compare ourselves against anyone else, we just compared ourselves to ourselves. And we improved as a football team down the stretch.
And what was the root of the struggles?
PW: It was a combination of things. It really wasn't one thing. I think as coaches, we demanded and changed so much of what these players were asked to do, from what they were accustomed to doing, on and off the field. I think there was a natural -- not an intentional resistance -- but just a little bit of what you would say is a culture shock to the system. I think that was part of the issue, in addition to trying to replace some key parts. We lost a four-year starter at quarterback [Alex Brink], we lost a couple of receivers and a tight end who had opportunities in the NFL. It was tough to replace all that experience. And then the injuries on the offensive side of the ball -- the quarterback situation. On defense it was similar, losing both safeties, some defensive tackles, we just couldn't overcome that. Our offense then put even more pressure on our defense. I know before our offense at Washington State has always been very successful. A lot of times that goes hand-in-hand with your relieving your defense, and we weren't able to do that last year.