May, 5, 2014
5/05/14
9:00
AM ET
Spring ball is a lovely little dose of football that gets us all through the year, but it's a far stretch from what we know and see in the fall. For the most part, it gives the young guys solid snaps and lets the older guys tune their skills.
But the coach who put it best this spring was Oregon coach Mark Helfrich who said, "In spring ball, you're panning for gold a little bit. There's a bunch of crap and one fleck of gold. You grab it and build on that and try to fix the other parts."
So, here's a look at who or what those flecks of gold were for the Pac-12 North:

Cal:
If the Bears had been even adequate on defense a year ago, Andy Buh would still be in charge of the defense. Of course, that didn't happen, but as a result coach Sonny Dykes was able to bring in Art Kaufman -- a man with a much more extensive list of success coordinating defenses. With Kaufman on board, Cal got back to basics, upped the amount of hitting it did in practice and took steps toward getting back to respectability. And, oh yeah, it remained healthy throughout the process.

Oregon:
Offensively, if there's any kind of gold/silver lining to the fact the Ducks lost
Bralon Addison
, it's that they lost him early in the spring, which gave the younger, less experienced receivers more reps. Obviously, you never want to see a guy go down, but the timing of this injury gave other guys the time to step up and bring along the learning curve. Defensively, the silver lining is that the pass rush definitely improved. Between
Arik Armstead
and
DeForest Buckner
, Oregon is going to have two really solid defensive linemen on its hands.

Oregon State:
The Beavers lost Biletnikoff Award winner
Brandin Cooks
and with him about 1,700 yards of receiving. They spent the spring trying to figure out where they'd find it. The fleck of gold in this season for Oregon State is that it might be on the right trail with two young receivers -- sophomore
Victor Bolden
and redshirt freshman
Hunter Jarmon
. They're both players to keep track of next fall as quarterback
Sean Mannion
will certainly continue his gun-slinging ways.

Stanford:
The two-time defending Pac-12 champion's blueprint has long been in place. Now the program is in the rinse-and-repeat state among college football's elite -- and for Stanford that starts with the offensive line. With four new starters up front, the talented group needs time to mesh, but it showed enough throughout spring to encourage the coaching staff it can remain a strength of the team. Center
Graham Shuler
and left guard
Joshua Garnett
also displayed leadership traits.

Washington:
Whenever there's a coaching change before a spring season, the fleck of gold is always going to be the fact that for both the coaches' and players' benefit, there was a period of time to get acquainted with one another. For Chris Petersen, he was installing a new system, bringing UW an overhaul in the coaching staff and implementing new rules and ways of doing things. Hopefully the spring period moves this group from Petersen's program with Steve Sarkisian's players to more of Petersen's program.

Washington State:
Ask any WSU fan about the future at quarterback beyond
Connor Halliday
and there is no worry in the world. It has been that way since
Tyler Bruggman
signed his letter of intent as part of the Class of 2013. What few counted on was that a walk-on could end up challenging the heir apparent -- but that appears to be the case.
Luke Falk
, who at one time was committed to Cornell, split reps with Bruggman and outperformed him in the Cougars' spring game.
January, 14, 2014
1/14/14
9:05
PM ET
Stanford right tackle
Cam Fleming
became the school's third player in two days to declare for the NFL draft, the school announced Tuesday.
Like guard
David Yankey
, who
made himself eligible yesterday
, Fleming broke into the starting lineup as a redshirt freshman in 2011 to block for quarterback Andrew Luck. An Aeronautics and Astronautics major, Fleming was a fixture at right tackle the last three seasons and was named second-team All-Pac-12 this year.

With Fleming's departure, Stanford will have just one starter back on the offensive line next season -- rising junior left tackle
Andrus Peat
, who is considered a potential high first-round pick in the 2015 draft.
While replacing that many players would usually seem like a tall task, the situation at Stanford could be different.
Kyle Murphy
, a
highly-recruited player
from the Class of 2012, figures to have a leg up over
Brendon Austin
to replace Fleming. In fact, all five projected starters on the line are from the same class.
After the Cardinal
inked seven offensive linemen that year
, coach David Shaw made a bold prediction on national signing day.
"This could be one of the best offensive line classes in modern football history," he said.
How's that for high expectations?
Of course, there's still a lot of time between now and the season opener against U.C. Davis on Aug. 30, but there's a good chance the line, from left to right, will look like this: LT Peat, LG
Joshua Garnett
, C
Graham Shuler
, RG
Johnny Caspers
, RT Murphy.
Fleming's announcement comes just hours after teammate
Ed Reynolds
also announced
he would leave early for the NFL
.
January, 13, 2014
1/13/14
3:45
PM ET
Stanford left guard
David Yankey
's decision to forgo his final year of eligibility and
enter the NFL draft
ranks right up there with the least surprising declarations of the offseason.
Yankey could have easily justified a jump to the NFL after last season, when he was a consensus All-American and named the Pac-12's most outstanding offensive lineman. Instead, he returned for what most assumed would be one final season on the Farm.
[+] Enlarge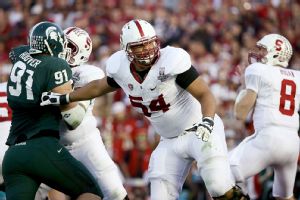 AP Photo/Ben LiebenbergAfter a 2013 season in which he was named a consensus All-American and the Pac-12's most outstanding offensive lineman, David Yankey is headed for the NFL.
It's a decision the Stanford coaching staff saw coming years in advance. If not for an injury in 2010 -- when he became the first Stanford offensive lineman in 10 years to play as a true freshman -- he'd already be out of eligibility, and it became clear early on in 2011 to offensive line coach Mike Bloomgren that Yankey was destined for the NFL.
There were times that season when Bloomgren, now the offensive coordinator, had trouble finding Yankey on film. It wasn't a bad thing, either. It was because Yankey, in his first year as a starter, played so similarly to junior right guard David DeCastro that it was easy to confuse the two. That's high praise considering DeCastro was a finalist for the Outland Trophy that season and the first offensive guard taken in the 2012 NFL draft (No. 24 overall to Pittsburgh).
How the Cardinal moves on without Yankey appears to be fairly clear cut.
Rising junior
Joshua Garnett
, who started in place of Yankey at left guard against Washington State and saw regular playing time this season in Stanford's formations that utilized extra linemen, should have an easy transition into the starting lineup. Whether that's at Yankey's left guard spot or at right guard, where Stanford loses
Kevin Danser
to graduation, remains to be seen.
Johnny Caspers
was listed as Danser's primary backup this season and will likely enter spring practice as the favorite to replace him.
The Cardinal will also have to find a new starter at center with
Khalil Wilkes
out of eligibility and potentially at right tackle as
Cam Fleming
has yet to announce publicly whether he'll return for his final season of eligibility or enter the NFL draft. The deadline to declare is Wednesday.
Kyle Murphy
would likely have the edge over
Brendon Austin
at right tackle if Fleming leaves, and the center competition will start with
Graham Shuler
and
Kevin Reihner
.
Left tackle
Andrus Peat
, a second-team All-Pac-12 selection this season, is the only starter guaranteed to return from an offensive line that ranked seventh nationally in fewest tackles for loss allowed per game (4.14).
February, 1, 2012
2/01/12
5:19
PM ET
And now, the cherry on the big man sundae.
Kyle Murphy
(San Clemente, Calif.), the No. 4 offensive tackle in the country committed to Stanford, giving the Cardinal three elite offensive linemen in this class. The 6-6, 270-pound tackle is the seventh offensive linemen in the class.
Murphy joins
Andrus Peat
(No. 2 OT) and
Joshua Garnett
(No. 3 OG) on an offensive line group that now has to be considered the nation's best.
Murphy was also considering USC. Peat announced earlier today and Garnett announced last week he was picking Stanford over Michigan.
February, 1, 2012
2/01/12
2:00
PM ET
Stanford's offensive line is looking better and better by the hour.
Andrus Peat
(Tempe, Ariz.), the No. 2 offensive tackle in the country, announced he's headed to Stanford. He's the fifth ESPNU 150 player to commit to the Cardinal.
"It's an offensive lineman's dream," Peat said during his announcement.
The five-star tackle, who stands 6-7, 300-pounds, joins an offensive line class that includes highly-regarded linemen
Joshua Garnett
and
Nick Davidson
, among others.
Peat was also considering USC, Florida State and Nebraska. Wearing a red tie (giveaway?), he pulled out the Stanford hat, giving the Cardinal, arguably, the strongest offensive line recruiting class in the country.
January, 26, 2012
1/26/12
6:25
PM ET
Stanford wants to be a physical football team with a rugged running game. It just
picked up a piece that can make that happen
.
Offensive lineman
Joshua Garnett
(Puyallup, Wash./Puyallup) has picked Stanford over Michigan.
"I love the strength and conditioning program and I've seen firsthand how much bigger and stronger the Stanford players get," he told ESPN Recruiting's Greg Biggins. "I knew David DeCastro in high school and he was always strong but now he's benching over 500 pounds and is an absolute beast, that's how I want to be."
The 6-foot-5, 285 pounder is consider the top prospect in the state of Washington. He's ranked No. 44 overall on the ESPNU 150.
Garnett is the 5th offensive line commitment for the Cardinal and they're in the running for two more elite linemen:
Kyle Murphy
(San Clemente, Calif./San Clemente) and
Andrus Peat
(Tempe, Ariz./Corona del Sol), who will both announce on signing day. Murphy is ranked 27th on the ESPNU 150 and Peat ninth.
And, yes, signing three of the nation's top-45 offensive linemen would be impressive — and would raise an eyebrow or two among 2013 QB and RB recruits.
October, 20, 2011
10/20/11
12:00
PM ET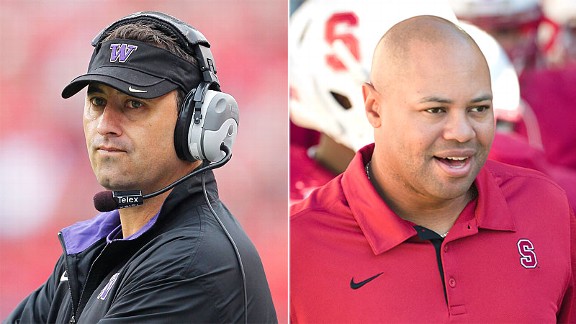 Getty ImagesWashington coach Steve Sarkisian, left, and Stanford's David Shaw both bring a physical brand of football into Saturday night's matchup.
Football folks often talk about a team being "physical." Or playing "physically." Yet those are general terms that don't tell us much, other than suggesting a team can run the ball and stop the run because it's solid up front.
You, of course, want specifics. What does it really mean?
"What's your deal?" That's what it means.
Harken back to the scene of beleaguered former USC coach Pete Carroll -- Carroll beleaguered! -- sharing an unhappy handshake in 2009 with former Stanford coach Jim Harbaugh, who had just aggressively run up the score on the Trojans in a 55-21 win. That was physical football writ loud and large and in your face with no apologies. The Cardinal rushed for 325 yards -- 178 yards and three touchdowns from Toby Gerhart -- and scored four fourth-quarter touchdowns. And on the third one, Harbaugh had opted to go for two.
"What's your deal?" Carroll asked Harbaugh.
His deal, Pete, was physical football, which is about a team mercilessly imposing its will at the expense of its opponent. New Stanford coach David Shaw was the Cardinal's offensive coordinator that day when USC's homecoming was ruined by its worst home loss since 1966, a beatdown that required only 144 passing yards from
Andrew Luck
.
Stanford is always called "physical" these days, and Shaw immediately cited the 2009 USC bludgeoning as his favorite example of that well-deserved reputation.
"It was 55 to whatever and we probably ran the same play 12 or 13 times in a row," he said. "And about 25-30 times in the game."
That play was Gerhart up the middle.
Washington also knows about Stanford playing physical football. The 25th-ranked Huskies visit No. 8 Stanford on Saturday with a 41-0 beatdown delivered in Seattle last year still fresh in their collective noggins. Stanford, which led 28-0 with 8 1/2 minutes left in the second quarter, outgained Washington 470 yards to 107, the lowest total for the Huskies under coach Steve Sarkisian.
"They just out-physicaled us," Washington linebacker Cort Dennison said. "Just beat us down. Plain and simple."
Harbaugh shared that take, gleefully gloating to his players afterward in the locker room, according to Bud Withers of
the Seattle Times
:
"Dominating!" Harbaugh hooted at his players. "We kicked their ass every which way! One hell of a job on both sides of the line! Dominant, dominant!"

Then Harbaugh referenced Pete Carroll, Lane Kiffin, Steve Sarkisian and the UW head coach's defensive coordinator, Nick Holt, and said, "What are you guys, 5-1, 6-1 against that group [in his four-year tenure]? That's the highest-paid coaching staff around!"
No one wants to hear that sort of talk from an opponent. But what could the Huskies say in return?
"You want to bring it to them, but they're bringing it to us," Dennison said. "It was hard."
Thing about that game, though, is the Huskies haven't been the same since. Sure, they got ripped the next week at Oregon, with some obscure quarterback named
Keith Price
recording his first career start for an injured Jake Locker. But they are 9-1 since the Oregon game, and clearly playing more physical football.
How did Stanford build a physical football team?
"It's really pretty simple," Shaw said. "You have really, really physical practices and the cream rises to the top. The guys who are physical and tough by nature, they stand out. And the guys that aren't, they start to wilt."
How did Washington take the same course?
"I think you have to practice it and you have to coach to it," Sarkisian said. "It has to be talked to and you have to give living examples of it. And you have to play the game that way, and I think you need to call the game that way. We've tried to dedicate ourselves to that."
And the Stanford game was a turning point, in large part because Sarkisian decided it would be, even if that didn't go over well with some of his players at the time. That included a fairly embarrassing film session showing guys getting pushed around. That included more hitting -- and yelling -- in practices.
"The coaches after that week definitely tested our will as a team," Dennison said. "But we didn't ever want to see that happen again. It was pretty embarrassing. We took it to heart."
It appears that is true. Stanford ranks third in the Pac-12 in rushing offense (181.7 yards per game). Washington ranks fourth (173.7 ypg). Stanford ranks first -- and second in the nation -- in run defense (59.5 ypg). Washington ranks third -- 17th in the nation -- (97 ypg).
Of course, being physical doesn't mean you don't throw the ball; these teams have combined for 40 touchdown passes -- it just means balance creates efficiency: Stanford is No. 1 and Washington No. 2 in the conference in passing efficiency.
Further, Washington isn't there yet. It's improved on both lines but it's not yet grading roads like the Stanford does. It starts in recruiting with an emphasis on linemen. Sarkisian surely looks enviously at the Cardinal's line, which includes guard David DeCastro, who is not only the nation's best run-blocker, but also a product of Bellevue (Wash.) High School, which is a short drive from Husky Stadium.
It just so happens that the two most talked about recruits in the state of Washington this year are a pair of offensive linemen:
Joshua Garnett
and
Zach Banner
. Both have offers from just about everyone, and Sarkisian needs to sign at least one. If he gets both, well, that would be quite a deal.
But that's the future. The present is the Huskies trying to win a "hello, world" game at Stanford, and the Cardinal trying to record a quality win that boosts its national-title contender Q-rating among those ranking teams in the national polls.
Both coaches will talk about turnovers and mistakes and execution and all of that. But the first question for the Huskies is if they can match Stanford's physical play.
Said Sarkisian: "They've done a nice job of that and they've dedicated themselves to being a physical football team. I think we have as well. We'll find out how far away we are on Saturday."
August, 24, 2011
8/24/11
7:45
PM ET
By
ESPN.com staff
| ESPN.com
Seventh in a series looking at potential dream and nightmare scenarios for all Pac-12 teams.
Understand: These are not predictions. They are extreme scenarios and pieces of fiction. You can read
last season's versions here
.
We're going in reverse order of my
post-spring power rankings
(which might not be identical to my preseason power rankings).

Up next
: Washington
Best case
It wasn't an impressive 2-0 start, but the hope among Huskies fans was that Washington had kept a lot of scheme under wraps during wins over Eastern Washington and Hawaii. Most believe the Huskies will need to open up a bag of tricks to put on a respectable show against a motivated Nebraska team in Lincoln.
"I'm not taking anything away from Washington," Cornhuskers All-American defensive tackle Jared Crick said. "They beat us in the Holiday Bowl. But we weren't there emotionally. That's out fault, though. We'll be 100 percent focused when in Memorial Stadium. We expect to make a statement."
On the Huskies first play of the game, they try a flea flicker.
Keith Price
just misses the a wide-open
Jermaine Kearse
, who'd slipped behind the Cornhuskers coverage.
On second down,
Chris Polk
rushes for four yards. On third down, Polk rushes for six yards. On first down, Polk rushes for six yards. On second down, Polk rushes for six yards. On first down, Polk rushes for eight yards. On second down, he rushes for two yards. On first down, he rushes for one yard. On second down, he rushes for 16 yards. On first down, he rushes for four yards. On second down, he rushes for four yards. On third down, he rushes for four yards.
On first down, Polk rushes ... no, it's play action: 19-yard touchdown strike from Price to true freshman
Kasen Williams
.
"That was a physically dominant showing that I don't think many saw coming," ESPN GameDay's Chris Fowler says of the Huskies 28-10 victory. "Polk rushing for 194 yards and two touchdowns. Price taking advantage with a couple of touchdown passes. And a bruising defensive showing on the road for a Pac-12 team."
"Did Alameda Ta'amu really eat
Taylor Martinez
?" Kirk Herbstreit replies. "I know that start out as just a silly rumor, but I'm hearing no one has seen Martinez since that third-quarter sack."
Martinez is later found safe in an airport bathroom in Lincoln.
The Huskies nip California 24-21 and rise to No. 12 in the rankings. But Price turns in his first poor performance at Utah in a 21-17 defeat, despite 140 yards and a touchdown from Polk. The Huskies bounce back with a home win over Colorado. Up next, a visit to No. 3 Stanford.
"Obviously,
Andrew Luck
is the leading Heisman Trophy candidate," says Fowler. "But what if Polk puts up a big number in a Huskies victory?"
Polk strikes an early blow, with first-half touchdown runs of seven and 28 yards, and the Huskies lead 14-10 at the break. Luck answers with two touchdowns in the third -- one running and one throwing -- and the score is knotted 24-24 with two minutes left in the game.
On a third-and-five from the Huskies 28, Luck scrambles away from pressure and finds tight end
Coby Fleener
wide-open in the endzone for a 31-24 lead. The Huskies have 40 seconds and one time out.
On third and 5 from the Washington 40, Price finds Polk on a hot route. Polk breaks a tackle and breaks away, sprinting all the way to the Stanford 17. Price lines up and spikes the ball.
There are eight seconds left. Price evades pressure, then shovels it again to Polk.
"Polk across the 10, to the five, breaks a tackle... dives... tttt... nooo," says Huskies play-by-play man Bob Rondeau. "He's ruled down inside the 1-yard line. Wow. The clock has expired. Unless the officials rule Polk got in, the game is over and Stanford wins."
Play stands.
"Chris Polk is the best player in college football," Luck says.
The Huskies take out their frustrations in a 35-20 win over Arizona, sacking
Nick Foles
five times. Up next, No. 1 Oregon.
"Yeah, I'm aware Oregon has won seven in a row against us, all by at least 20 points," Polk tells reporters. "I know this because Coach Sark has that factoid typed up and taped in all of our lockers."
Headline in the Eugene Register-Guard: "Will the Ducks overlook the Huskies?"
"We don't overlook anybody," Ducks coach Chip Kelly says. "We play a faceless opponent every week. Every game is a Super Bowl for us. We are not concerned with any outside influences. We have a vision for what this football program is supposed to be about and we prepare against that vision. We compete against that vision every Saturday and that's how we measure ourselves. Win the day."
Coach Steve Sarkisian gathers his team in the locker room. Above, Husky Stadium is throbbing.
"I don't need to tell you guys to play your hardest. I know you're going to do that. I don't need to tell you about this rivalry, or what that team over there has done against the Huskies for the past seven years. Sure you all know that. That's not what this is about. That's not why we're about to shock the nation. This is about us. What I want from you guys is to live in the moment tonight. I want you soak up every bit of joy from every moment of this game tonight. And I want you to take it from them. We have the players. We have the plan. We have prepared perfectly. It's going to be a lot of fun celebrating this victory, but our celebration won't be nearly as fun what will happen between the white lines, as we take this game from them, one play at a time. Go out there and take it, one play at time."
Oregon leads 28-24 with nine minutes left. A Jackson Rice punt rolls out of bounds on the Huskies 1-yard line.
On first down, Polk rushes for three yards. On second down, Polk rushes for eight yards. On first down, Polk rushes for four yards...
"Wow, this is tough to watch," Oregon play-by-play man Jerry Allen says. "16 plays, all Chris Polk runs. He's over 200 yards for the day, and the Huskies have first down on the Ducks 8-yard line with 40 seconds left."
Polk rushes for three yards. Polk rushes for two yards. Polk rushes for 2 yards. Polk scores the winning touchdown as time expires.
"Wow, Chris Polk just ripped the hearts out of Oregon fans everywhere!" says Allen.
The Huskies suffer a classic letdown the following weekend at USC, but roll over Oregon State and Washington State to finish the regular season 9-3 and earn a berth in the Alamo Bowl against Oklahoma State.
Polk finishes second to Luck in the Heisman vote, and wins the Doak Walker Award. The Huskies bury the Cowboys 38-20 and earn a final No. 10 ranking, their first top-25 ranking since 2001.
Oregon is blown out in the national title game by Alabama. Kelly bolts for the Oakland Raiders. The Ducks hire Joe Avezzano to replace him.
Polk opts to return for his senior season. Washington signs the nation's No. 5 recruiting class.
"Gee, I really like this team," says Bill Gates. "Is there anything I can do to help?"
"Maybe," replies athletic director Scott Woodward.
Worst case
And in the rubber match, Nebraska was plenty motivated.
The Cornhuskers humble Washington 41-10, making Price's day a miserable one with five sacks. It doesn't help that Polk's status remains unclear after arthroscopic knee surgery during preseason camp.
"Things aren't going as fast as we would like," coach Steve Sarkisian says. "He could sure help us but we're not going to rush him back."
The Huskies fall at home to California 21-17, again without Polk, and drop to 2-2 on the year. They lose at Utah in overtime but, with Polk back in the lineup, beat Colorado 27-24.
Things get ugly -- again -- at Stanford, which blasts the Huskies 42-17. The Huskies even their record at 4-4 with a win over Arizona. Up next: No. 1 Oregon.
"Did Chip Kelly run up the score?" a reporter asks after the Ducks whip the Huskies 55-14 in Husky Stadium, their eighth victory in a row in the series, each by at least 20 points.
Sarkisian pauses, "Well, it's our job to stop them. And I guess he thought getting
LaMichael James
rushing for 300 yards would help his Heisman Trophy chances."
With Polk limited to just 10 carries, USC whips Washington 33-20, intercepting Price three times. Polk sits out, and the Huskies bow out at Oregon State, 28-17.
"No, beating Washington State won't make up for a tough season for us," Sarkisian said. "But there's always a lot to play for in rivalry games. And they're trying to get bowl eligible, so we can ruin their season."
With five seconds left, Cougars quarterback
Jeff Tuel
takes on knee on the Huskies 5-yard line instead of added to a 35-24 victory. Huskies fans at CenturyLink Field bombard the Cougars with bottles and sundry trash as they leave the field.
"That's not who we are," Cougars coach Paul Wulff said. "We have classy fans. I guess the Huskies fans were frustrated. But we're excited about the postseason. What bowl is Washington going to? Kidding! I'm kidding."
Oregon wins the national championship. Washington State wins the Kraft Fight Hunger Bowl.
Joshua Garnett
,
Zach Banner
,
Jeff Lindquist
and
Cedric Dozier
sign with Washington State, giving the Cougars their first top-25 class.
"Gee, I really like the Cougars," says Bill Gates. "Is there anything I can do to help?"
"Maybe," replies athletic director Bill Moos.