October, 1, 2014
Oct 1
12:00
PM ET
"Catastrophic" is the word Arizona State coach Todd Graham used to describe when his team gives up a non-offensive touchdown -- be it defensive or special teams. After last week's catastrophe against UCLA, he seems qualified to weigh in on the subject. His Sun Devils gave up a 95-yard interception return and a 100-yard kickoff return against the Bruins in last week's 62-27 loss.
[+] Enlarge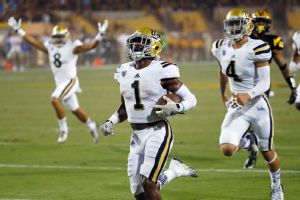 AP Photo/Matt YorkIshmael Adams scored two of his three return touchdowns last week against Arizona State.
That brings up one of the more interesting sidebars to this week's South Division showdown between the Bruins and the
Utah Utes
. Both teams have benefited greatly from getting non-offensive points. The Utes are headlined by return man
Kaelin Clay
, who leads the conference in punt return average (26.1 yards per return) and has scored four special teams touchdowns -- three punts and one kickoff.
The Bruins aren't too shabby themselves in the special teams department.
Ishmael Adams
leads the conference in kickoff return average (28.2 yards per return) and has returned one for a touchdown. He also has a pair of interceptions returned for a touchdown. He provided both non-offensive touchdowns for the Bruins last week.
"You look at our league, it's scary each week," Graham said. "You look at the punt returners and kick returners, every week you've got dynamic guys. It's a challenge. Those are momentum shifts that are catastrophic. When you have them, they are great momentum changes. They are immeasurable."
The Bruins have scored five non-offensive touchdowns this season. Three have come by way of interception, one was a fumble return and the last was the Adams kick return. Utah also has five -- four on special teams and one defensive.
So the chore facing UCLA coach Jim Mora and Utah coach Kyle Whittingham this week is to find ways to neutralize Clay and Adams in the kicking game. Whether that's directional kicking, kicking away from them all together or simply putting faith in their coverage units, both coaches recognize the explosive potential of the other's return man.
"We kickoff to whoever," Mora said. "We have one of the best kickoff coverage units in college football. We have not given up a single yard yet in four games in punt return.
"Now, [Clay] is special. I don't know if we'll be able to say that after this game. We don't really change what we do. We have tremendous respect for him. But we don't want to go too far away from what our core principles and foundation are."
The odds of winning go up dramatically when scoring a non-offensive touchdown. But that doesn't always mean victory is assured. Like the Bruins last week, the Utes also scored a defensive touchdown and a special teams touchdown. Yet despite the 58-yard punt return from Clay and an 11-yard pick-six from
Eric Rowe
, they still fell 28-27 at home to Washington State, which erased a 21-0 first-quarter deficit.
"It's a major impact in the momentum and flow of a game," Whittingham said. "For whatever reason, it's a bigger boost and a bigger lift when you score a non-offensive touchdown. It has more of an impact on your team. It seems like more of a momentum type play than a touchdown from your offense. It can really turn a game and help you out. But we obviously came up short last week."
Turnovers should be on both coaches' minds this week. Recall last year the Bruins narrowly escaped Rice-Eccles with a 34-27 victory after
Travis Wilson
threw six interceptions. Granted, not all of them were his fault. There were drops and tips and missed routes. But "interceptions" aren't a receiving category.
And whether it's on special teams or defense, Whittingham is well-aware of what Adams is capable of.
"You try to not to get the ball in his hands," Whittingham said. "We have a directional punter in
Tom Hackett
; he's able to put the ball in various locations on the field. We hope to keep it out of his hands. We don't know if we can do that all the time, but we hope to minimize it. He's a dangerous player. He's very explosive. You'd be crazy to just kick right to him. That doesn't make sense."
September, 21, 2014
Sep 21
12:37
PM ET
Each Sunday the Pac-12 blog is going to pick what we think are the best plays from the weekend.

And because we know you crave polls, we're letting you pick which play you think is the best and we'll crown it Pac-12 blog Play of the Week. All four nominees will receive
this certificate of achievement
after they print it out and fill in their name.
If you see something you think deserves to be nominated in the future,
tweet it at the Pac-12 blog
with the hashtag #PlayOfTheWeek.
Later in the week, we'll visit the results of this poll with some insight from your Pac-12 bloggers.
This week, I'm going to go out on a limb and say we have a pretty obvious winner. But that shouldn't take away from the other performances. Here are your nominees this week:
1. The Spruce is Loose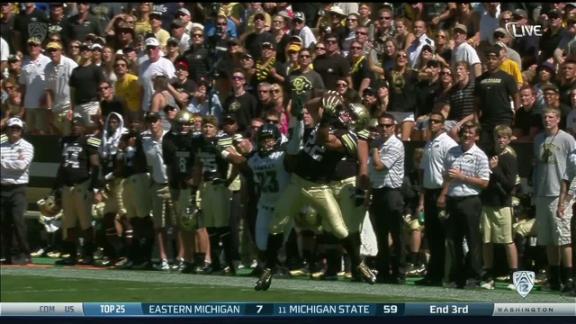 With the Buffs trailing 3-0 late in the first quarter,
Sefo Liufau
looked to his favorite target,
Nelson Spruce
, to make something happen. Seeing Spruce with one-on-one coverage on the outside, Liufau let it fly. Spruce took a little stutter step and then cruised in for a 71-yard score.
2. The Talented Mr. Clay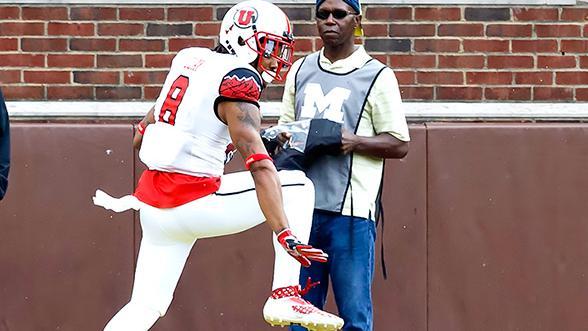 Kaelin Clay
talked to the Pac-12 blog about his 66-yard punt return for a touchdown and subsequent Heisman pose: "In pregame we saw [they were] kind of out-kicking his coverage so I knew we'd have a chance to return the ball and we set up great blocks. The rest is history … [Striking the Heisman pose] was one of those things that just happened. I didn't plan it or anything. It was the right time. I didn't want it to make it seem like it was a one-person show. It just happened. Take nothing away from my punt return team because without them that wouldn't have happened."
3. Hill Mary, Full of Grace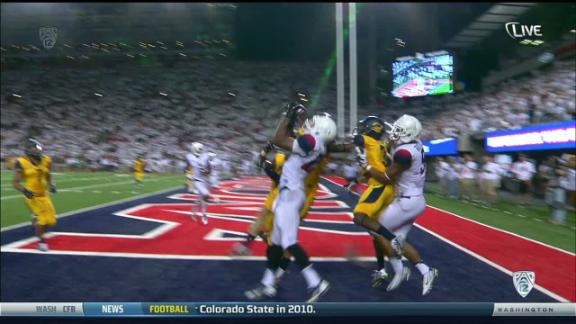 So, that was awesome. Feel free to watch it a couple of fifty times. Trailing 28-6 at the half, the Wildcats slowly clawed their way back into the game before finally erupting for 36 points in the fourth quarter. A lot has to go into this kind of a comeback. But when it all culminates with a 47-yard Hail Mary from
Anu Solomon
to
Austin Hill
, it simply becomes immortal.
4. Look What I Found!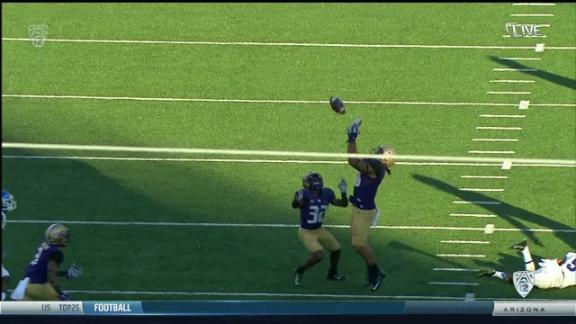 Things weren't going so well for Washington early on. And then, in the second half, the Huskies could do no wrong. Already leading 35-14 in the fourth quarter, linebacker
John Timu
played the tip-drill game to perfection and returned an interception 35 yards for a touchdown to put UW ahead 42-14.
September, 1, 2014
Sep 1
6:30
PM ET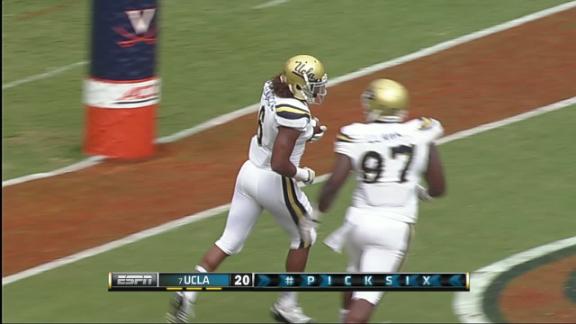 USC quarterback
Cody Kessler
, UCLA linebacker
Eric Kendricks
and Utah wide receiver
Kaelin Clay
have been named the Pac-12's players of the week.
Kessler is the offensive player for posting a career-high 394 passing yards in USC's 52-13 win over Fresno State. He tossed four touchdown passes and also rushed for one.
Kendricks was named defensive player of the week for a 16-tackle effort in UCLA's 28-20 road win over Virgnia. The Bruins turned in three defensive touchdowns in the second quarter, including an interception that Kendricks returned 37 yards for a touchdown. Kendricks, who was named the Walter Camp national defensive player of the week, also forced a fumble that led to another touchdown.
Clay took home this week's special-teams honors for returning a pair of kicks for touchdowns in Utah's 56-14 win over Idaho State. The first was a 46-yard punt return late in the first half. Later in the game he returned a kickoff 100 yards for a score. He became the league's first player since Cal's Deltha O'Neal in 1999 to score off a punt and a kicker return in the same game.
August, 31, 2014
Aug 31
8:00
AM ET
Football is back. That means helmet stickers are back! Here's who gets one of college football's most coveted honors for Week 1.
Kaelin Clay, KR, Utah
: The Pac-12 blog is always hesitant to dole out too much praise for victories in FCS games. But Clay went above and beyond in Utah's
56-14 win
over Idaho State. He returned a punt 46 yards for a touchdown in the second quarter and a kickoff 100 yards for a touchdown.

Anu Solomon, QB, Arizona
: Not a bad night for the new guy. He threw for 425 yards and four touchdowns in his first career start (also adding 50 yards on the ground) as the Wildcats totaled a school record 787 total yards in their
58-13 win
over UNLV.
Connor Halliday, QB, Washington State
: This is getting to be a troubling trend. Halliday has a monster game, but the Cougs lose in the fourth quarter. Sort of how we ended last year. Still, he threw for 532 yards and five touchdowns against a Big Ten team, a
41-38 loss
to Rutgers. That has to count for something.
UCLA's defense:
While the offense significantly underwhelmed, the defense kept the Bruins alive with three defensive touchdowns in the second quarter, which was ultimately the difference in their
28-20 win
at Virginia. Interception returns by
Ishmael Adams
and
Eric Kendricks
, with a
Randall Goforth
fumble return in between, gave the Bruins a big enough lead.
Jalen Jefferson, LB, Cal:
Been a while since we tapped a Cal defensive player for a helmet sticker. Feels weird. Feels good. Jefferson led all players with 16 tackles, including 1.5 for a loss and a critical 11-yard sack on Northwestern's penultimate offensive play of the game. On the final play, it was Jefferson who snagged an interception, sealing a
31-24 win
. He was Eh-vre-where.
Cody Kessler, QB, USC:
I know, I know. We could do three or four quarterbacks every week. And just an FYI, we probably will, because they're that good this year. Kessler picked up where he left off against Fresno State last year and posted a career high 394 yards on 25-of-37 passing with four touchdowns and no interceptions in the
52-13 win
over the Bulldogs.
May, 2, 2014
May 2
6:30
AM ET
Three things we learned in the spring
O-line depth: While no coach is ever satisfied with depth on the offensive line, the Utes staff is feeling pretty good about the current setup. The left side has solid experience with Jeremiah Poutasi and Junior Salt and junior Siaosi Aiono, a former tackle, brings some experience in the middle. There are multiple options on the right side.
Ground control: Right now it looks like Bubba Poole survived a push from Devontae Booker and is still the "starting" running back. But Booker impressed the coaching staff, and there's depth behind him with Troy McCormick. Some good options for Utah to build on last year's 160.3 rushing yards per game.
Improved secondary: The Utes had the second to worst turnover ratio in the league last year, which included a league-low three interceptions. But the staff feels good with Brian Blechen back at strong safety and some competition at the corner spots with Davion Orphey and Eric Rowe on one side and Justin Thomas at nickel.
Three questions for the fall
LB depth: The Utes had a run of injuries to starters and key reserves, which signals an alarm that depth could be an issue heading into the fall and beyond. For now, it looks like Uaea Masina, Jason Whittingham and Jared Norris hold down the top three spots.
WR questions: Dres Anderson, the leading receiver last year with 53 catches for 1,002 yards and seven touchdowns, is back at one spot. But there's some competition continuing for the other two spots between Delshawn McClellon and Kaelin Clay at one position and Kenneth Scott and Dominique Hatfield at the other.
Many happy returns: While it looks like Geoff Norwood is slated to handle the punt returns, he might have to split some time with Poole. Norwood is also in the mix with Hatfield for kickoff return duties, but that probably won't get worked out until practice resumes in the fall.
One way-too-early prediction
:
Travis Wilson
will play and the Utes will make it to the postseason. Craziness, right? The big nonconference game this year is at Michigan, a program with a big name but not very big results the last couple of years. Kyle Whittingham had the upper hand on Brady Hoke when he was in the Mountain West. The Utes broke through with a win over Stanford and almost knocked off UCLA and ASU. It's not out of the question to imagine them winning six games and getting back to the postseason -- especially with a healthy Wilson at QB.
August, 17, 2010
8/17/10
6:33
PM ET
By
ESPN.com staff
| ESPN.com
The ink dries on the national letters of intent and the recruiting class rankings are handed out, then the real business begins: Which true freshmen are ready to play right now?
Here's an early list for every Pac-10 team.
A caveat: This is hardly a scientific survey, evaluations are still in their early stages and I've only personally seen a handful of these guys play. These names are here because of news reports and comments from coaches and other observers (sports information directors also chipped in).
Further, some schools will start or play a lot of freshmen -- USC and UCLA for example -- while that doesn't appear likely for other schools (Oregon State may only use freshmen on special teams).
So here we go.
Arizona

CB
Shaquille Richardson
, S
Marquis Flowers
Note:
Frosh will bolster the Wildcats secondary. Richardson was kicked off UCLA's team for being one of three freshmen who allegedly tried to steal a purse. Coach Mike Stoops told the Arizona Daily Star that Richardson is "as good a corner as I've coached at this young stage."
Arizona State

RB
Deantre Lewis
, WR
Kyle Middlebrooks
Note
: Lewis turned in a good scrimmage over the weekend for an offense that needs playmakers. Middlebrooks should at least get into the rotation and may return punts.
California
WR
Keenan Allen
, WR
Kaelin Clay
, WR
Tevin Carter
, LB
David Wilkerson
Note
: Receiver is a need position for the Bears -- not all of the passing game struggles can be hung on QB
Kevin Riley
. All three likely will be in the rotation, with Allen a candidate to start. Wilkerson is pushing for time at OLB.
Oregon
DT
Ricky Heimuli
, K
Alejandro Maldonado
Note
: The 320-pound Heimuli offers a big body in the middle of the D-line. Maldonado is in the thick of the race to start at kicker. (The two touted frosh RBs could get into the mix, but No. 3 is deeper than we want to go).
Oregon State

WR
Kevin Cummings
, LB
Michael Doctor
Notes
: No true freshman has cracked the Beavers two-deep and both of these guys are grayshirts. Cummings could get into the rotation at flanker behind
James Rodgers
. Both are expected to play special teams.
Stanford
CB
Barry Browning
, S
Devon Carrington
Note
: Browning is the highest true freshman on the depth chart at present, though he's not with the first-team, according to Jim Harbaugh. He and Carrington could provide help in a questionable secondary.
UCLA

SS
Dietrich Riley
, F
Anthony Barr
, OG
Chris Ward
, DT
Cassius Marsh
, DE
Owa Odighizuwa
Notes
: This list, by the way, could have been much longer. The Bruins signed a strong recruiting class last February and a lot of those guys will play this fall. Riley, Barr and Ward are in the mix to start.
USC

WR
Robert Woods
, RB
Dillon Baxter
, WR
Markeith Ambles
, CB
Nickell Robey
Notes
: Woods may end up starting, and Baxter has been a spectacular playmaker since he showed up during spring drills, though he's suspended for the opener. Robey is the leading candidate to be the nickelback.
Washington
RB
Jesse Callier
, S
Sean Parker
, DE
Hau'oli Jamora
, TE
Michael Hartvigson
Note
: It doesn't appear at this point that any of these four will start, but they each are expected to play. Callier steps to the fore with
Deontae Cooper
out with a knee injury. Jamora and Hartvigson provide depth at need positions.
Washington State

WR Marquiss Wilson, WR
Kristoff Williams
, OT
John Fullington
, LB
C.J. Mizell
, DT
Kalafitoni Pole
Notes
: All five of these guys will play. Fullington has seen some action with the first-team. Mizell might be the Cougars fastest LB.
May, 13, 2010
5/13/10
10:00
AM ET
By
ESPN.com staff
| ESPN.com
Third in a series taking a look at top position competitions this fall.
California
: Receiver
Why the competition
? Though the Bears lost
Verran Tucker
and Nyan Boateng, they have fairly good experience at the position returning. The problem is that, other than junior
Marvin Jones
, they lack playmakers, which was abundantly clear this spring. Starting spots are wide open.
Candidates
: Jones, Jeremy Ross, Alex Lagemann and Michael Calvin are returning players with game experience. The touted 2010 class includes five receivers: Keenan Allen, Coleman Edmond, Tevin Carter, Kaelin Clay and Terrance Montgomery.
The skinny
: Lagemann got most of the first-team action opposite Jones this spring. The junior has 12 career receptions. Ross, a senior, has caught only two touchdown passes. Calvin's promising career has been hurt by injuries. He caught just one pass for the Bears in 2009. So, suffice it to say, that there are opportunities here for the freshmen to play, particularly Allen, a dynamic athlete who was No. 33 on the
ESPNU 150
. In fact, the guess here is at least two freshman get into the regular rotation.