April, 18, 2012
4/18/12
11:35
AM ET
Want to see many of the names that will be featured on Colorado's defensive depth chart next fall?
Go here
.
The Buffaloes are going to be young next fall on both sides of the ball, but particularly on defense. Lots of freshmen will play -- guaranteed. And that is by design. Defensive coordinator Greg Brown and head coach Jon Embree made something clear during spring practices to the returning players: "Impress us now, or get replaced by incoming freshmen."
[+] Enlarge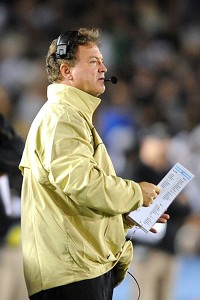 Chris Williams/Icon SMIDefensive coordinator Greg Brown will be working with a lot of freshmen this fall, including eight on the defensive line.
There's a reason for the likely youth movement: The Buffs were lousy on defense in 2011, ranking last in the Pac-12 in scoring (36.5 points per game) and 10th in total defense (439.3 yards per game). Further, Pac-12 quarterbacks feasted on the secondary, which yielded not only the most touchdown passes (34) -- six more than anyone else -- but also grabbed the fewest interceptions (seven) in the conference.
If Colorado is going to move up in the South Division pecking order during the program's second year in the conference, those numbers need to improve.
Colorado finished spring drills last weekend, so it seemed like a good time to check in with Brown to look back and look ahead to the fall.
First off, last year your official depth chart was a 3-4 scheme. This spring, you guys started out with a 4-3. Can you give me a Cliffs Notes version of your base scheme?
Greg Brown
: It's really still the same. We're like last year but like most teams can play either, kind of multiple up front.
When you went over film from last year, what stood out to you as issues with the defense?
GB
: Too many big plays were given up. Too many points were scored. We had a laundry list of a lot of things. Too many injuries. The roster was thin. It was one of those years we'd like to see not repeated.
The Big 12 is hardly an offense-poor conference. You've coached there and the Pac-12. Were there any adjustments for your players moving from the Big 12 to Pac-12?
GB
: Absolutely. Not to take anything away from the Big 12. That's a terrific league that stands on its own merits, that's for sure. But you just have some unique offensive minds in the Pac-12, different styles of attack that we had not seen in the Big 12. There's nobody in the Big 12 that plays the same style as Oregon. Nobody plays the same style as Stanford or Washington. They are all unique and were tough styles to contend with. We've got a lot of offensive-minded head coaches and very innovated offensive coordinators.
You guys were heavy on D-linemen in the recruiting class. How many first-year players do you anticipate playing next fall?
GB
: We brought eight (defensive linemen) in. We're thinking at least half that amount, probably higher. Between the defensive line, which is eight-slash-nine because we've got a guy who could go either way, and we've got five cornerbacks, and the great majority of those guys are going to play. They won't redshirt. We're not counting on anybody redshirting. We'll see if they can't do it yet, then they'll have to. But other than that, we have no numbers. Spring ball was a feat to get accomplished. Because of our lack of numbers, we ended up doing so much seven-on-seven because we didn't have the D-line to do it [full scrimmage]. We really didn't have the secondary to do much seven-on-seven,either. It was largely a battle of walk-ons this spring at Colorado. We're welcoming with open arms all the incoming troops because they are going to play.
Give me a couple of names of standouts this spring? Who impressed you?
[+] Enlarge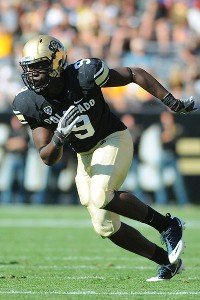 Dustin Bradford/Icon SMI Defensive end Chidera Uzo-Diribe has made an impression on coaches this spring.
GB
: [Defensive end]
Chidera Uzo-Diribe
, he had a very good spring. He's got skill. He's got speed. He's got size. And he's tenacious. He's a good player. He played last year for us and was fine but he stepped up this spring and filled a void -- we had two defensive ends graduate. He stepped up and really became a guy. He would be the top dog in the D-line. If there is one other defensive lineman who can play, it's
Will Pericak
. He's a good player -- steady, consistent. He's been around the block. Has size. He's played for a long time here. Good player. You've got those two up front. After that, there's really nobody to write about [on the defensive line]. We're just waiting on the young kids to get here.
How about linebacker?
GB
: Linebacker-wise, our best player is
Doug Rippy
. He's our captain, a team leader. He ended up missing, from the Washington game on last year, missing the season. He tore his ACL in that game and he was held out of spring ball and can't do anything yet. But we're looking to get him back.
Jon Major
is another 'backer who is back, has a lot of experience. He's a jack of all trades for us, can do a lot of things. Smart, can rush the passer, cover. He makes plays. He's good. Linebacker is where the most numbers are back. After that, you've got some guys who have played.
Derrick Webb
has played. He can run and hit. Then there's a smattering of younger kids who have some ability. They just haven't proven anything yet. They're up and coming.
And then the secondary?
GB
: We've got one returning guy. That's
Ray Polk
; he's a safety. Good player. Big kid who can run and hit. Been starting here a long time. Good future in front of him. Ray's issue was he could only do non-contact stuff during spring. He had surgery on a torn ligament in his wrist. So he did seven-on-seven and that was probably it. The next one to talk about back there would be [cornerback]
Greg Henderson
. He came in as a true freshman and won a starting job. He took advantage of the opportunity and won a job and he kept it all year. He continually progressed every week. This spring, he got better as you'd expect. They come in as freshmen and just look to survive, which he did more than ably. But we're looking for improvement this year and looking for him to be a guy. He's athletic. He can run, he's smart. And he's tough. And as much as anything, he stayed healthy. After him, a guy who is a good player for us, is
Parker Orms
. He plays nickel, safety and corner. He plays all three. Good athlete, tough kid. He missed quite a bit of the year. He only played five games for us. And he got hurt this spring, which is unfortunate. He tore his hamstring. He played three days of spring then tore that thing. In the five games he played for us last year, we either won or had a chance to win because he allowed us to do things on defense we could not do when he was not in there.
So the freshmen will be in the mix pretty quickly in the secondary, too?
GB
: Oh, no question. We told all the kids on defense this spring, particularly on the D-line and in the secondary, "OK, all you guys, here is your chance. This is your chance. We don't want to hear anything in the fall about, 'Hey, I'm not getting any reps.' Here is your chance now! Because believe it or not, in the fall with those kids coming in, they are going to get all those reps. We'll see what you guys can do now.' And here come the new kids. We know who has helped us in the past. For the rest of the spots? Hey, we're plugging in brand new kids and let's go.
How much can this defense improve in 2012?
GB
: You can. All these 15 defensive players who are coming in that we're looking to help us, you wish you could snap your fingers and be two years in the future, matured and bigger, strong, faster, eating on the training table, learning how to play. That would be nice. But the reality of it is there are going to be growing pains. These guys have some talent, but they also are going to be true freshmen and will make their share of mistakes. But, sure, we can improve. We have to manage what we're doing. We have an outstanding coaching staff on that side of the ball with Kanavis McGhee and Mike Tuiasosopo. They are great tacticians. As is linebackers coach Brian Cabral. We're looking for improvement.
March, 3, 2011
3/03/11
12:45
PM ET
By
ESPN.com staff
| ESPN.com
Only Oregon and Washington
didn't experience any staff turnover
this offseason, so we're running through the staff changes for the other 10 Pac-12 teams.
Next up is Colorado, which fired head coach Dan Hawkins and hired Jon Embree. So there was plenty of turnover.
Team in parenthesis is where the departing coach ended up.
Out

Dan Hawkins, head coach
In

Jon Embree, head coach
Holdovers from Hawkins' staff

Brian Cabral, linebackers
Darian Hagan, recruiting coordinator (was running backs coach for Hawkins)
Out

Eric Kiesau, offensive coordinator/QBs (California)
Darian Hagan, running backs (retained as recruiting coordinator)
In

Eric Bieniemy, offensive coordinator/RBs
Rip Scherer, quarterbacks/assistant head coach
Out

Romeo Bandison, defensive line
In

Kanavis McGhee, defensive line
Mike Tuiasosopo, defensive line
Out

Robert Prince, receivers (Boise State)
In

Bobby Kennedy, receivers
Out

Ron Collins, defensive coordinator (Ohio)
Ashley Ambrose, secondary (California)
In

Greg Brown, defensive coordinator/secondary
Out

Denver Johnson, offensive line (Tulsa)
In

Steve Marshall, offensive line
Out

Kent Riddle, tight ends/special teams (North Texas)
In

J.D. Brookhart, tight ends/special teams/passing game coordinator
Reaction
: There's a lot to like about Embree's first staff if you're a Buffaloes fan. It's still not clear if the defense will run a 4-3 or 3-4 -- or a little of both; the base in 2010 was a nickel (3-3-5) -- so McGhee's and Tuiasosopo's responsibilities haven't been defined. Brown and Tuiasosopo were hired away from Arizona and Marshall from California, and Kennedy coached at Washington before spending his last seven seasons at Texas, so there's plenty of Pac-12 knowledge on staff. Cabral has spent the past 23 years at Colorado, so he provides local continuity, as do Hagan, Bieniemy, McGhee and Embree, who all played at Colorado. Brookhart (Akron) and Scherer (James Madison and Memphis) have head coaching experience, while Embree, Bieniemy, Scherer, Marshall and Brown have significant NFL coaching experience.
February, 18, 2011
2/18/11
12:39
PM ET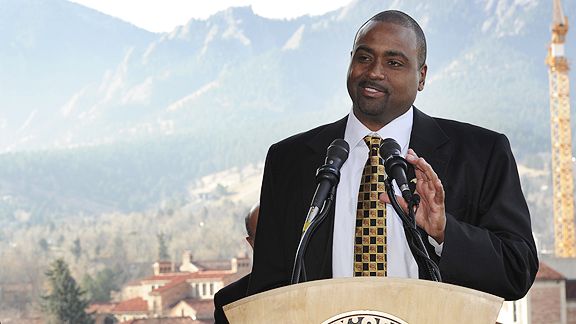 AP Photo/Jack DempseyNew Colorado coach Jon Embree is hoping to return the program to the prominence he remembers.
When you talk to new Colorado coach Jon Embree, two things stand out. First, as a former player and coach, his connection to the Buffaloes runs deep. Second, not unlike Colorado fans who feel a powerful affinity for the program -- those who remember the glory years under Bill McCartney -- the malaise of recent seasons eats at him on a visceral level.
Embree didn't negotiate the tricky coaching ladder just to become a head coach. He climbed it to become Colorado's head coach. As a competitor, he's always wanted to win, of course, whether he was at UCLA or the Kansas City Chiefs or the Washington Redskins. But Buffs fans should know this: Winning at Colorado is personal for Embree. Whatever he lacks in head-coaching experience, he may well make up for with a singular commitment to restoring football in Boulder.
"The plan was always to be back here," he said. "That was always the plan. This is the only job I've ever wanted."
There also may be an additional edge to Embree's drive to rebuild Colorado. Consider his résumé.
As a touted local recruit in 1983, he bought into what McCartney was selling and became an impact player as a true freshman tight end. In his final season, 1986, the Buffaloes overcame a 0-4 start to finish 6-6. Then it was off to a brief NFL career.
In 1991, he joined McCartney's staff as a volunteer assistant. In 1993, after a year as a high school assistant, he came back to Boulder with a full-time job, coaching tight ends, and he remained with the Buffaloes until 2002, sticking around to work for both Rick Neuheisel (1995-98) and Gary Barnett (1999-2002).
OK. This is boring. What's the point? Ah, glad you asked. Embree was in Boulder for 15 years as a player and coach from 1983-2002. What key years are missing? Correct: 1989 and 1990, when the Buffs won back-to-back Big Eight championships, went 22-2-1 and split the 1990 national title with Georgia Tech.
Embree signed with Colorado in 1983 because "I believed in the vision that Bill McCartney had for the program and where this place could go and how it could be special. It was really all Bill McCartney." And he experienced the highs and lows of a rebuilding program, including a 1-10 finish in 1984. But he wasn't there when Colorado reached the pinnacle, as a player or coach. Perhaps that's an itch that he'd like to scratch.
"I felt like we were always close," he said. "We were always right there. We were close. But we just couldn't get over the hump."
December, 29, 2010
12/29/10
9:26
AM ET
By
ESPN.com staff
| ESPN.com
Colorado has hired Texas receivers coach Bobby Kennedy to oversee the same position for the Buffaloes, the
Boulder Daily Camera
and
Denver Post
reported.
This seems like an inspired hire by new head coach Jon Embree for a variety of reasons.
First, Kennedy is a Boulder native who went to Northern Colorado, so he knows the state and the university. Second, he's been Texas' assistant recruiting coordinator since 2005. He'll bring extensive knowledge of recruiting that talent-rich state. Third, he knows the Pac-10. He coached two years at Washington and one at Arizona, so he knows Pac-10 recruiting -- read: California -- too.
Kennedy is the eighth assistant Embree has hired. The Daily Camera also reported that a quarterbacks coach from an NFL team is expected to be named next week.
Kennedy joins a staff that includes offensive coordinator Eric Bieniemy (running backs), defensive coordinator Greg Brown (secondary), offensive line coach Steve Marshall, tight ends coach and special teams J.D. Brookhart, inside linebackers and defensive running game coordinator Brian Cabral, outside linebackers and defensive ends Kanavis McGhee and defensive tackles Mike Tuiasosopo.
December, 10, 2010
12/10/10
10:36
AM ET
By
ESPN.com staff
| ESPN.com
New Colorado coach Jon Embree is not wasting any time introducing himself to the Pac-12.
After hiring
two assistants
away from Arizona earlier this week, it appears he found his new
offensive line coach
at California, hiring Steve Marshall away from the Bears.
The story was first reported by Rivals.com.
Marshall is a former Colorado assistant under Gary Barnett, so he knows Boulder as well as the conference formerly known as the Pac-10.
California coach Jeff Tedford only hired Marshall in 2009 after the highly respected Jim Michalczik bolted for a brief -- he never coached a practice -- stint at Washington before heading to the Oakland Raiders.
Embree also has hired former Buffaloes linebacker Kanavis McGhee to serve as
defensive ends and outside linebackers
coach. That's another tie-in to the Colorado team that split the national title with Georgia Tech in 1990, but McGhee also was in the news of late for another reason -- you might have seen this Sports Illustrated article:
Confessions of a agent
.
Of course, that was 20 years ago. Bygones?
Embree appears to have a clear plan on what he wants out of his staff, going for Colorado, NFL and Pac-10 ties. That's sound in terms of knowing a program, knowing future foes and recruiting.
And you have got to love how Embree trashed-talked his son, UCLA receiver Taylor Embree,
here to the Denver Post
:
"Taylor is excited," Embree said. "He hasn't beaten me at anything yet, whether it's basketball, pool, PlayStation. . . . He probably thinks this is the time he can get me. He's happy for me. He's a great kid. One of the things is, he grew up wanting to play here, but the opportunity didn't present himself."
PAC-12 SCOREBOARD
Saturday, 12/20
Monday, 12/22
Tuesday, 12/23
Wednesday, 12/24
Friday, 12/26
Saturday, 12/27
Monday, 12/29
Tuesday, 12/30
Wednesday, 12/31
Thursday, 1/1
Friday, 1/2
Saturday, 1/3
Sunday, 1/4
Saturday, 1/10
Monday, 1/12
Tweets from https://twitter.com/ESPNCFB/lists/pac12