Pac-12:

Kansas City Chiefs
May, 1, 2011
5/01/11
12:10
PM ET
The Pac-12 provided 37 players to the NFL draft over the weekend, one fewer than the SEC, which led all conferences.
If the six combined picks from Colorado and Utah are taken away from the conference, the old Pac-10 provided NFL teams 3.1 draft picks per team, also just behind the SEC at 3.17.
Here's where the Pac-12 players went:
First round
No. 8
Jake Locker
, QB, Washington: Tennessee
No. 9
Tyron Smith
., OT, USC: Dallas
No. 17
Nate Solder
, OT, Colorado: New England
No. 24
Cameron Jordan
, DE, California: New Orleans
No. 27
Jimmy Smith
, CB, Colorado: Baltimore
Second round

7.
Akeem Ayers
, LB, UCLA: Tennessee
10.
Brooks Reed
, DE, Arizona: Houston
13.
Rahim Moore
, FS, UCLA: Denver
21.
Stephen Paea
, DT, Oregon State: Chicago
24.
Shane Vereen
, RB, California: New England
Third round

13.
Jurrell Casey
, DT, USC: Tennessee
20.
Mason Foster
, LB, Washington: Tampa Bay
25.
Shareece Wright
, CB, USC: San Diego
29.
Christopher Conte
, S, California: Chicago
33.
Sione Fua
, DT, Stanford: Carolina
Fourth round

5.
Jordan Cameron
, TE, USC: Cleveland
19.
Casey Matthews
, LB, Oregon: Philadelphia
21.
Jalil Brown
, CB, Colorado: Kansas City
27.
Owen Marecic
, FB, Stanford: Cleveland
Fifth round

8.
Brandon Burton
, CB, Utah: Minnesota
9.
Gabe Miller
, DE, Oregon State: Kansas City
14.
Jacquizz Rodgers
, RB, Oregon State: Atlanta
23.
Richard Sherman
, CB, Stanford: Seattle
Sixth round

2.
Ryan Whalen
, WR, Stanford: Cincinnati
14.
Caleb Schlauderaff
, OG, Utah: Green Bay
17.
Ronald Johnson
, WR, USC: San Francisco
19.
David Carter
, DT, UCLA: Arizona
22.
Allen Bradford
, RB, USC: Tampa Bay
24.
Mike Mohamed
, LB, California: Denver
32. Ricky Elmore, DE, Arizona: Green Bay
38. Zach Williams, C, Washington State: Carolina
Seventh round

12.
D'Aundre Reed
, DE, Arizona: Minnesota
24.
Scotty McKnight
, WR, Colorado:
New York Jets
30.
Lawrence Guy
, DT, Arizona State: Green Bay
37.
Stanley Havili
, FB, USC: Philadelphia
38.
David Ausberry
, WR, USC: Oakland
39.
Malcolm Smith
, LB, USC: Seattle
By Pac-12 school:

Arizona (3)
Arizona State (1)
California (4)
Colorado (4)
Oregon (1)
Oregon State (3)
Stanford (4)
UCLA (3)
USC (9)
Utah (2)
Washington (2)
Washington State (1)
The final tally by automatic qualifying conferences
:
SEC... 38
Pac-12... 37
Big Ten... 36
ACC... 35
Big East 22
Big 12...19
Nebraska was a big swing to the Big Ten from the Big 12 with seven picks. With Colorado and Nebraska, the Big 12 provided 30 selections.
This was the tally through three rounds
:
SEC: 20
ACC: 19
Pac-12: 15
Big Ten: 13
Big 12: 9
Big East: 4
April, 27, 2011
4/27/11
3:00
PM ET
By
ESPN.com staff
| ESPN.com
ESPN draft guru has released his final
'Big Board'
before the NFL draft begins Thursday.
So where did your favorite former Pac-12 players end up? Well, truth be told, all the conference players listed ended up in the same place they were on the last Big Board.
Here's where they rank and what Kiper has to say about each.
No. 13 Cameron Jordan, DE, California
Analysis
: Frame and skills capable of handling 3-4 or 4-3 defensive end duty. Has top athleticism, smarts and speed for defensive end position.
No. 16 Jimmy Smith, CB, Colorado
Analysis
: Excellent size and speed combination, Smith quietly shut down receivers all season. Character issue overstated in eyes of many personnel folks.
No. 17 Tyron Smith, OT, USC
Analysis
: A future blindside tackle. Fallen some after a quick rise. Good frame, athleticism and quickness. Has added bulk.
No. 22 Nate Solder, OT, Colorado
Analysis
: A physical specimen, has great length and has added bulk to his long frame. Could be moved along offensive line to provide help early in NFL career.
No. 25 Jake Locker, QB, Washington
Analysis
: In eyes of evaluators, rebounded some with good workouts, interviews after combine. Arm, attitude, athleticism all there. Accuracy the question.
In Todd McShay's
latest mock draft from April 20
, he projected six Pac-12 players being picked in the first round, but not Locker.
Here's how he ordered the players and where he sees them going.
No. 9 Tyron Smith (Dallas)
No. 12 Jordan (Minnesota)
No. 21
Brooks Reed
, DE, Arizona (Kansas City)
No. 22 Solder (Indianapolis)
No. 23 Jimmy Smith (Philadelphia)
No. 32.
Akeem Ayers
, LB, UCLA (Green Bay)
February, 18, 2011
2/18/11
12:39
PM ET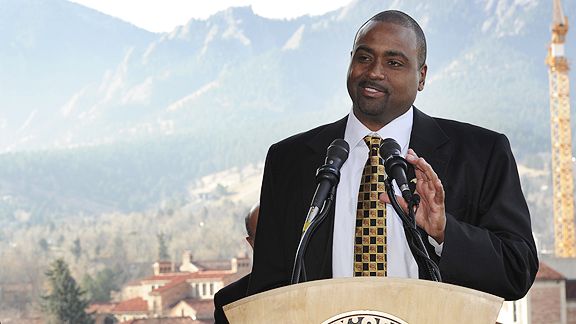 AP Photo/Jack DempseyNew Colorado coach Jon Embree is hoping to return the program to the prominence he remembers.
When you talk to new Colorado coach Jon Embree, two things stand out. First, as a former player and coach, his connection to the Buffaloes runs deep. Second, not unlike Colorado fans who feel a powerful affinity for the program -- those who remember the glory years under Bill McCartney -- the malaise of recent seasons eats at him on a visceral level.
Embree didn't negotiate the tricky coaching ladder just to become a head coach. He climbed it to become Colorado's head coach. As a competitor, he's always wanted to win, of course, whether he was at UCLA or the Kansas City Chiefs or the Washington Redskins. But Buffs fans should know this: Winning at Colorado is personal for Embree. Whatever he lacks in head-coaching experience, he may well make up for with a singular commitment to restoring football in Boulder.
"The plan was always to be back here," he said. "That was always the plan. This is the only job I've ever wanted."
There also may be an additional edge to Embree's drive to rebuild Colorado. Consider his résumé.
As a touted local recruit in 1983, he bought into what McCartney was selling and became an impact player as a true freshman tight end. In his final season, 1986, the Buffaloes overcame a 0-4 start to finish 6-6. Then it was off to a brief NFL career.
In 1991, he joined McCartney's staff as a volunteer assistant. In 1993, after a year as a high school assistant, he came back to Boulder with a full-time job, coaching tight ends, and he remained with the Buffaloes until 2002, sticking around to work for both Rick Neuheisel (1995-98) and Gary Barnett (1999-2002).
OK. This is boring. What's the point? Ah, glad you asked. Embree was in Boulder for 15 years as a player and coach from 1983-2002. What key years are missing? Correct: 1989 and 1990, when the Buffs won back-to-back Big Eight championships, went 22-2-1 and split the 1990 national title with Georgia Tech.
Embree signed with Colorado in 1983 because "I believed in the vision that Bill McCartney had for the program and where this place could go and how it could be special. It was really all Bill McCartney." And he experienced the highs and lows of a rebuilding program, including a 1-10 finish in 1984. But he wasn't there when Colorado reached the pinnacle, as a player or coach. Perhaps that's an itch that he'd like to scratch.
"I felt like we were always close," he said. "We were always right there. We were close. But we just couldn't get over the hump."
February, 16, 2011
2/16/11
3:39
PM ET
By
ESPN.com staff
| ESPN.com
Mel Kiper has done his second
mock draft
for this spring's NFL draft, and it features six Pac-12 players.
While no conference player is projected to be among the first 10 picks, there's a strong presence over the first round's second half.
The Pac-12 players Kiper projects ending up in the first round are:
No. 13:
Jimmy Smith
, CB, Colorado (Detroit)
No. 17:
Cameron Jordan
, DE, California (New England)
No. 18:
Tyron Smith
, OT, USC (San Diego)
No. 19:
Nate Solder
, OT, Colorado (
New York Giants
)
No. 21:
Akeem Ayers
, DE, UCLA (Kansas City)
No. 30:
Rahim Moore
, S, UCLA (
New York Jets
)
June, 4, 2010
6/04/10
9:00
AM ET
By
ESPN.com staff
| ESPN.com
USC got a look at what its offense might look like without starting quarterback
Matt Barkley
during the spring game. The verdict? Not too shabby.
[+] Enlarge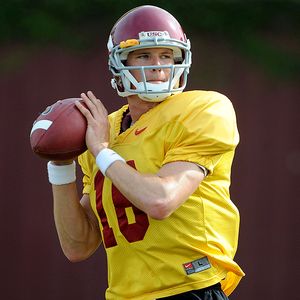 Kirby Lee/Image of Sport-US PRESSWIREIf Matt Barkley were to get injured or falter, the USC coaching staff would "be very comfortable" turning to Mitch Mustain, above.
With Barkley sidelined by a bruised hand,
Mitch Mustain
threw five touchdown passes while completing 19 of 29 for 299 yards to lead his team to victory.
While ESPN's College Football Live rates Barkley as "irreplaceable," the Trojans coaches doesn't seem too worried about the prospect of potentially turning to Mustain, a fifth-year senior.
"We'd be very comfortable," quarterbacks coach Clay Helton said.
Mustain is probably the nation's best known backup quarterback. He went 61-2 at Springdale (Ark.) High School and was named the 2005 Gatorade, USA Today and Parade Magazine National Player of the Year before becoming the biggest recruit in Arkansas history. He went 8-0 as a true freshman starter, yet things turned sour between Mustain and Razorbacks coach Houston Nutt -- let's just say it was complicated -- and Mustain opted to transfer to USC.
The Trojans offered a new start, but Mustain couldn't manage to win the starting job after sitting out a season, per transfer rules. He first served as Mark Sanchez's backup in 2008 and then failed to beat out Barkley last fall. He saw limited action in 2008 -- he passed for 157 yards with two TDs and two interceptions -- but didn't throw a pass last year and was a mostly a forgotten man under coach Pete Carroll and offensive coordinator Jeremy Bates.
With the arrival of new coach Lane Kiffin, however, the message was no job was safe. Even Barkley's.
"Mustain really wanted to come and compete and show that he's a big-time quarterback who can help the team in any way," Helton said. "We were very proud of the way Mitch responded during the spring."
While few expected Mustain to beat out Barkley, who emerged as a clear No. 1 when spring practices ended, he impressed the coaching staff, Helton said.
"I thought he really put in the extra effort and the extra time of really understanding the system," he said. "We're extremely pleased with him."
The good news is that Mustain's game experience likely means he won't be too wide-eyed if he's needed to step in for an injured Barkley. The bad news is that he's the last line of defense -- or offense. This spring, after
Aaron Corp
opted to transfer to Richmond, he and Barkley were the only two scholarship QBs on the roster, though
James Boyd
was moved from defensive end to fortify depth. In the fall, touted freshman
Jesse Scroggins
arrives, but turning to a true freshman quarterback is rarely a good thing in the Pac-10.
If Barkley is lights out and doesn't get hurt, it seems unlikely that Mustain will see much playing time. His future hope, of course, is to copy the path of Matt Cassel, Matt Leinart's backup at USC, who signed a six-year, $63 million contract in July 2009 with the Kansas City Chiefs.
But Helton isn't writing off Mustain.
"I think he is going to be a guy who definitely helps us in his last year," he said.
April, 20, 2010
4/20/10
7:30
PM ET
By
ESPN.com staff
| ESPN.com
Damon Huard wants your money, Washington fans.
The former Huskies and NFL quarterback has been hired as a "major gifts officer" for his former school's booster club, the "Tyee Club."
A 1995 UW graduate, Huard was a three-year starter for the Huskies. He amassed 5,692 passing yards, a mark that ranks third on the program's all-time list. He retired last year after a 13-year run in the NFL, most notably with the Kansas City Chiefs and New England Patriots, where he earned a pair of Super Bowl rings.
Prior to his professional career taking off in the NFL in 1997, the Puyallup, Wash., native worked for Vulcan Inc. -- billionaire Paul Allen's company -- for nine months. He helped raise awareness for the Seattle Seahawks' new stadium initiative. Now he'll continue in a similar line of work, assisting the development team's external relations within the Puget Sound community. According to assistant athletic director Jennifer Cohen, this will provide the department with a stronger presence in the region.
"He gives our efforts a lot of credibility," Cohen said in a statement. "People know him. They believe in him. They relate to him. They understand that he's one of them. He's a very respected person."
The program's biggest fundraising need: Raising money for a major renovation of dilapidated Husky Stadium.
For more information,
click here
.
April, 16, 2010
4/16/10
7:12
PM ET
By
ESPN.com staff
| ESPN.com
California expected to be good on defense last year. It wasn't. The Bears gave up 28 points per game vs. Pac-10 foes, which ranked ninth in the conference.
While the official word is long-time coordinator Bob Gregory voluntarily left for Boise State -- and there's been no indication that coach Jeff Tedford or Gregory himself have been spinning for public consumption a forced separation -- it was clear at season's end that some things had to change. Tedford, in fact, repeatedly said as much, emphasizing a need to better pressure opposing quarterbacks in 2010.
After Gregory bolted, Tedford brought longtime NFL coach
Clancy Pendergast
, former coordinator for the Arizona Cardinals and Kansas City Chiefs, aboard to rejuvenate a crew that often seemed to underachieve in 2009.
With the Bears well into spring practices, it seemed like a good time to check in and see how the defense had responded to their new coach.
So, you're a long-time NFL coach: Why jump to the college ranks now?
Clancy Pendergast
: It was an opportunity to be a coordinator again. That was very intriguing to me. And to get an opportunity to work in the Pac-10. There's a lot of NFL influence in the Pac-10 with some of the schemes and coaches coming from NFL backgrounds. I looked at is as a challenge.
You're most of the way through spring practices, what's your first impression of what the differences are between coaching in college and the NFL?
CP
: There needs to be teaching done at every level of football. I find myself teaching here just as much as I did in the NFL. The players are very receptive and have been real attentive. The more you give them the more they sort of thrive on it. It's been great.
What about recruiting, that's got to be a new skill set.
CP
: It's just a matter of evaluating talent and how they are going to fit into the system that you run and really just building relationships. In football in general you have to have relationships with your players. You create that relationship early on in the process. In the NFL, we spend a lot of time preparing for the draft and combines, visiting with players at schools. You end up drafting some guys and some guys you don't draft but you build a relationship through that process that leads up into the draft before you actually get them into your building. I look at that as very similar to recruiting, trying to build relationship and finding guys who not only have the skill set to play at the level of competition you play in but also the type of person they are and how they fit into your program. It's a lot of the same things we do in the NFL in terms of identifying players that fit within your organization.
When you watched Cal's defense from 2009 on film, what seemed to go wrong?
CP
: To be honest with you, I didn't watch a whole lot to see what they were doing. There were a few players that I wanted to look at from a skill set standpoint and wanted to see what they were asked to do and how they responded in certain schemes. That's all I really looked at. I didn't look at what they did or how they did it or what the score was or what their record was. We're starting out with a clean slate in a brand new system. I didn't pay any attention to what they did scheme-wise [last year].
March, 9, 2010
3/09/10
4:16
PM ET
By
ESPN.com staff
| ESPN.com
Pac-10 expansion? It's already happening -- at least on the administrative side.
The conference announced the hiring of Woodie H. Dixon Jr. Tuesday as general counsel and vice president of business affairs. Dixon, who will start April 15, is currently general counsel for the Kansas City Chiefs.
Dixon is the conference's fifth new hire in the past six weeks, joining deputy commissioner/chief operating officer Kevin Weiberg, the former Big 12 commissioner, chief financial officer Ron McQuate, chief marketing officer Danette Leighton and senior associate commissioner/SWA Gloria Nevarez.
"Woodie's extensive legal and business affairs experience with the NFL and as a general counsel make him an ideal choice for our new leadership team," Pac-10 commissioner Larry Scott said in a statement. "His passion for collegiate athletics and his relevant experience will be instrumental in driving the transformation of the Pac-10. We are thrilled to welcome him to the college ranks."
Dixon will be responsible for all of the conference's legal and business affairs. He also will share leadership responsibilities for football operations. He will be based at conference headquarters in Walnut Creek, Calif., and will report directly to Scott.
Over the past six years, Dixon has overseen the Chiefs' legal matters, including player, marketing, sponsorship, stadium operations, special event and sales contracts, litigation and licensing. Previously he practiced law with the NFL, Sidley, Austin, Brown & Wood LLP in Chicago, and Dorsey & Whitney LLP in Minneapolis, Minn.
He is a graduate of Harvard Law School, the University of Massachusetts' graduate program in sports management and Amherst College.
"I've always been a huge fan of college sports," Dixon said in the statement. "It is an honor and a privilege to join an outstanding new leadership team at the premier conference in the country. Commissioner Scott has assembled a world-class team that is poised to take the Pac-10 to the next level of performance."