August, 8, 2012
8/08/12
12:30
PM ET
Fooling around in public with a pellet gun that looks real is never a good idea. And it's really not a good idea these days in the state of Colorado.
But that's why two Colorado receivers have been
suspended for the team's first two games of the season
, and part of the reason a third, linebacker
Jermane Clark
, is leaving the program. (That link, by the way, includes video of coach Jon Embree talking about the incident).
The receivers, Jeffrey Thomas and
DaVaughn Thornton
, are suspended from playing against Colorado State and Sacramento State. The threesome were among eight players in two cars early Saturday morning that apparently were playing around with an Airsoft pellet gun.
From the Boulder Daily Camera:
According to a police report, CU football players Clark, 21, Thomas, 18, Thornton, 21, Jered Bell, 20, Keenan Canty, 19, Joshua Moten, 20, Paul Vigo, 22, and Derrick Webb, 20, were in the two cars. Paul Vigo's brother Moses Vigo, 18, also was in one of the cars but is not a CU football player.

No arrests were made nor any tickets given, but Boulder police, according to the report, planned to raise concerns with CU's athletic department about the athletes and the "impact their behavior had on police services throughout the entire city at the time of the incident."
Canty, Moten, Thornton and Webb all played in games for CU last season. Only Webb, a linebacker, and Moten, a cornerback, are listed as a starter on the post-spring depth chart, and Colorado officials view them as just passengers in the cars.
These suspensions won't likely damage the Buffaloes chances in their first two games. And there's certainly a "boys will be boys" quality to this. But there's also a clear lack of judgment -- including an antagonistic reaction to police -- that surely bothers Embree.
He's got enough to worry about without his players freaking people out around Boulder with a pellet gun.
June, 8, 2012
6/08/12
12:00
PM ET
We've looked at the potential
3,000-yard passers
and the
1,000-yard rushers
in the Pac-12 over the last few days. But this is the conference of wide receivers -- a place for Biletnikoff's boys to run free and unabated up and down the field. So who's going to be in 2012's 1K club?
First, here's last year's 1,000-yard receivers:
Gerell Robinson, Arizona State, 1,397

Marquess Wilson, Washington State, 1,388 (returning)

Keenan Allen, Cal, 1,343 (returning)

Robert Woods, USC, 1,292 (returning)

Nelson Rosario, UCLA, 1,161

Marqise Lee, USC, 1,143 (returning)
With only four returning 1K receivers coming back from last season -- and two of them are on the same team -- how does that bode for the rest of the teams in the conference?
Arizona
: The Wildcats lose their top three receivers from last year -- including headliner Juron Criner and his 956 receiving yards. Big boy
Dan Buckner
(6-foot-4, 214) returns after 42 catches and 606 yards last year, when he averaged 14.4 yards per catch. But the Wildcats will run the ball more this year. Buckner will likely improve on his numbers, but reaching 1K will be tough.
Arizona State
: Another team shifting its mentality from pass first to run first, and they lose their top receiver in Robinson.
Jamal Miles
had 60 catches and six touchdowns last year, but only 361 yards. His yard total should go up as the No. 1 guy, but with more focus on the run game, 1,000 yards might be a stretch.
[+] Enlarge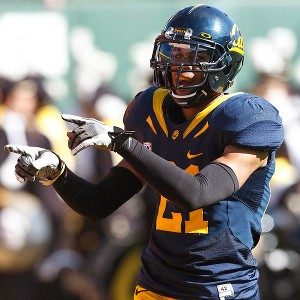 Jason O. Watson/US PresswireWith quarterback (and half-brother) Zach Maynard more comfortable, Keenan Allen could put on a show for Cal during his junior season.
Cal
: Keenan Allen. Yes. Quarterback
Zach Maynard
reportedly had a great spring and looks more comfortable in the offense -- and Allen might be the best all-around receiver in the conference (that phrase will be written a couple of times throughout this post). The Bears will lean heavily on Allen and he'll reward them with another 1,000 yard season.
Colorado
: Prior to
Paul Richardson
's injury, it still would have been 50-50 with a new quarterback. But without their top receiving threat it leaves relatively inexperienced players like
Tyler McCulloch
and
Nelson Spruce
in the mix. The quarterback position is still in flux and with a pretty good offensive line and a talented running back in
Tony Jones
, the Buffs' focus will probably be more ground-based.
Oregon
: Whether
De'Anthony Thomas
reaches 1,000-1,000 is a debate for another day. But I like his chances of 1,000 yards receiving. He caught 46 balls for 605 yards and nine touchdowns last season. Coach Chip Kelly finds creative ways to get Thomas the ball in space and then he just takes off. He'll make the new quarterback look good and suck up receiving yards in the process. My crisp $1 bill says yes to 1K.
Oregon State
:
Markus Wheaton
returns after catching 73 balls for 986 yards. He's an extremely gifted wide receiver who is often forgotten among the Pac-12's A-list of pass catchers. But he shouldn't be.
Sean Mannion
should be more steady in his second year and as
Brandin Cooks
develops opposite Wheaton, it should open up more opportunities. He'll break 1K this season.
Stanford
: Run-first team. The top three receivers (which includes tight end Coby Fleener) are gone and the leading, returning receiver is fullback
Ryan Hewitt
. Even if Andrew Luck were back it would be tough. The Cardinal spread the ball around so much that it's unlikely one guy would get all the catches. Wide receiver
Ty Montgomery
, however, is a rising star in the conference and should have a very good season. He's Stanford's best chance at 1K.
UCLA
: If the Bruins can get the quarterback spot situated and if they take to the new pass-happy offense relatively quickly, there is a good chance someone could emerge as a 1K receiver.
Joseph Fauria
is the strongest pass catcher, but
Shaq Evans
and
Ricky Marvray
will have plenty of chances to emerge.
USC
: Yes and yes. Robert Woods and Marqise Lee are two of the best wide receivers in the country and with the quarterback they have throwing the ball, there is no reason to think both won't return as 1,000-yard receivers. This one is a no-brainer.
Utah
: The Utes were dead last in the conference last year in passing offense. That's expected to change with new offensive coordinator Brian Johnson taking a more aggressive approach and quarterback
Jordan Wynn
staying healthy, they hope. When
DeVonte Christopher
did catch the ball (42 times) he made the most of it with one of the league's highest averages per catch (15.8). But running the ball is still going to be Utah's bread and butter. The numbers will improve, but a 1K receiver will be tough.
Washington
: This is a tough call. Quarterback
Keith Price
has another year of experience, but there is so much distribution in the Huskies offense -- which includes a tight end who should see the ball at least five to seven times per game -- that there might not be a chance for one guy to separate himself.
Kasen Williams
and
James Johnson
both have big-play potential -- which might be part of the problem because they could take yards away from each other. And without Chris Polk running the ball, teams might not be as quick to send safeties down to defend the run.
Washington State
: Not if, but when. Marquess Wilson, last year's yardage runner up is in a system that's tailor-made for him. Of the league's top receivers -- Allen, Woods, Lee, Wheaton -- Wilson might be the best of them all (doesn't that make for a fun debate?). There are plenty of other good receivers at Washington State. But Wilson is the guy. He'll clear 1K about the time you're recovering from your Halloween candy hangover.
April, 10, 2012
4/10/12
4:45
PM ET
Year one was rough for Jon Embree and Colorado. Year two might be worse.
The Buffaloes learned that wide receiver
Paul Richardson
would be lost for the year with a torn knee ligament
-- an injury that occurred during a non-contact special teams drill.
[+] Enlarge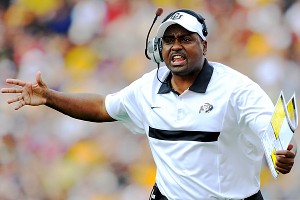 Ron Chenoy/US PresswireJon Embree's Buffaloes will need receivers to step up in 2012 in the wake of news that starting wideout Paul Richardson has a torn knee ligament.
Richardson is hands-down Colorado's best offensive weapon. And he will be again if/when he returns for the 2013 season as expected. He has a redshirt year to burn, which helps, but it doesn't change the fact the Buffaloes will be scrambling for playmakers this season.
"I told him that when I played, a torn ACL was doomsday for a skill position player," Embree said in statement. "Now, he'll be able to come back stronger and faster. He's obviously disappointed, but he is in great spirits about what happened and will make the most of his redshirt year available to him."
Last year's leading receiver, running back Rodney Stewart, is gone. The leading receiver who actually played receiver,
Toney Clemons
is gone. Richardson was third, he's gone. Tight end
Ryan Deehan
, gone. Wide receiver
Logan Gray
, gone.
Starting to get the picture? And hanging over all of this is, of course, a question mark at quarterback. Texas transfer
Connor Wood
is getting all of the work with the first team, though that will change when
Nick Hirschman
returns from a broken foot in the fall.
So with Richardson out who are these guys going to be throwing to?
Keenan Canty
probably has the most speed of anyone in the group. He caught 14 balls for 161 yards last season.
Tyler McCulloch
has pretty good size at 6-5, 210, but he's not as fast as Canty. McCulloch had 10 catches for 96 yards and a score last season.
Nelson Spruce
is coming off a redshirt year and there are a handful of walk-ons that could get into the mix.
Maybe that anonymity is a good thing and someone could emerge from that pack as a viable receiving option. But Richardson has the type of speed that defenses have to game-plan for. He could be counted on to draw extra attention which would have opened up more for the rest of the receivers.
Last year he set a school record with 284 receiving yards in Colorado's overtime loss to Cal. In that game he caught 11 balls -- matching a school record. In two years, he's climbed to 21st on Colorado's all-time list of receiving yards (1,069), 25th in receptions (73) and tied for ninth in touchdown receptions (9).
His loss is a significant one, and yet another challenge Embree must face in year two.
PAC-12 SCOREBOARD
Saturday, 12/27
Saturday, 12/20
Monday, 12/22
Tuesday, 12/23
Wednesday, 12/24
Friday, 12/26
Monday, 12/29
Tuesday, 12/30
Wednesday, 12/31
Thursday, 1/1
Friday, 1/2
Saturday, 1/3
Sunday, 1/4
Monday, 1/12
Tweets from https://twitter.com/ESPNCFB/lists/pac12