March, 11, 2014
3/11/14
12:00
PM ET
Our look at position groups in the Pac-12 concludes with punters.

Arizona
:
Drew Riggleman
is back after handling all of the punting responsibilities last season. He averaged 40.1 yards per kick, pinned 18 inside the 20 and had 12 kicks of 50-plus yards. He ranked eighth in the conference -- though the difference between first (Utah's
Tom Hackett
) and Riggleman was an average of 3.4 yards.

Arizona State
: Punting was one of ASU's biggest issues last season.
Matt Haack
started to come on strong at the end of the season and will likely challenge
Alex Garoutte
, who averaged 38.8 yards per kick last season. Should Haack win the job, Garoutte is always an option with his rollout style. Quarterback
Taylor Kelly
has also been known to offer the occasional boot. He punted six times last season, once for 50-plus, and had three downed inside the 20.

California
:
Cole Leininger
is back after a very solid season for the Golden Bears, where he was tied for second in the conference with an average of 42.9 yards per kick. Cal has four punters on the roster in addition to Leininger. And while he's mostly unchallenged, there are plenty of backup options.

Colorado
: Third-team all-conference punter
Darragh O'Neill
returns and was a midseason Ray Guy candidate last season. He averaged 40.5 yards per punt last year and pinned 22 inside the 20.

Oregon
:
Alejandro Maldonado
handled the punting duties last season and made a couple of appearances as a kicker before the job went to
Matt Wogan
. Expect Wogan to handle all kicking responsibilities, though some walk-ons will also get looks.

Oregon State
:
Keith Kostol
is back as a third-year starter. He finished last season tied for fifth in the conference with an average of 40.5 yards per punt. He also put 23 kicks inside the 20.

Stanford
:
Ben Rhyne
returns to handle the punting duties for the Cardinal. He was one of the best in the conference last season with an average of 42.9 yards per kick -- just half a yard behind Hackett. He had 12 kicks of 50-plus yards and put 15 inside the 20.

UCLA
:
Sean Covington
is back after having a very solid season, where he posted an average of 42.6 yards per punt. Do-it-all quarterback
Brett Hundley
punted once last season, but it's safe to assume that Convington's job is secure.

USC
:
Kris Albarado
didn't post an impressive yards-per-punt average (37.1), but he was very good at pinning opponents, with 27 kicks inside the 20. And of his 64 kicks, almost half were fair-caught.

Utah
: Hackett was last season's first-team all-conference punter, so expect some preseason All-American hype for him. As noted earlier, he led the conference with an average of 43.4 yards per punt and buried 27 kicks inside the 20.

Washington
:
Travis Coons
pulled double-duty last season. In addition to nailing 15 of 16 field goal attempts, he also averaged 40.4 yards per punt and had eight kicks of 50-plus yards to go with 23 inside the 20.
Korey Durkee
did some punting in 2012 before Coons won the job, so he'll get the first look in 2014. Newcomer
Tristan Vizcaino
could also get looks at kicker and/or punter.

Washington State
:
Wes Concepcion
was the starter in the final two games as punter last season. With
Mike Bowlin
gone, he should be the favorite to handle punting duties full time. Concepcion punted 12 times last season for an average of 36.2 yards. Eight of those 12 were fair catches and three were inside the 20.
Previous positions
Kicker
Safety
Cornerback
Linebacker
Defensive end
Tight end
Quarterback
Running back
Receiver
Offensive line

Defensive tackle
September, 23, 2013
9/23/13
6:00
PM ET
The Pac-12 has announced its players of the week. Utah quarterback
Travis Wilson
got the offensive honors, Oregon State cornerback
Steven Nelson
was named defensive player of the week and USC punter
Kris Albarado
got the special teams honors.

Some more details on the winners, per the Pac-12's release:
Wilson, a sophomore from San Clemente, Calif., completed 24 of 35 passes for 273 yards and no interceptions in leading Utah to a 20-13 victory over BYU, the fourth-straight win over their in-state rival. His 74-yard second-quarter pass to Dres Anderson was his fifth pass play of more than 50 yards this season and set up a touchdown that put Utah up 13-0 just before halftime. Clinging to a 13-6 fourth-quarter lead, Wilson engineered a 12-play, 79-yard drive that concluded with a 2-yard touchdown pass and extended the Utes' lead to 20-6.

Nelson, a junior from Atlanta, Ga., stepped in front of a San Diego State pass and returned it 16 yards for the game-winning touchdown in the Beaver's come-from-behind 34-30 win over the Aztecs on Saturday night. The interception came with 2:31 left in the game with Oregon State down by three after they had faced deficits of 13 and nine points earlier in the second half. Nelson co-leads the nation with four picks on the year and is the first player in team history to have four interceptions in his first four career games.

Albarado, a sophomore punter from Lake Charles, La., helped stymie the Utah State offense with his precision punting in the Trojan's 17-14 victory on Saturday at the Coliseum. Five of his seven punts pinned the Aggies within the 20-yard line, including two inside the five, leading to an average starting field position for Utah State on their own 21-yard line. The first-year punter is averaging 40.3 yards on 23 boots, with more than half (12) of those backing opponents within their own 20. He has a pair of 50-yard punts on the season, including a best of 64 yards.

Also nominated for offensive player of the week honors were quarterbacks Sean Mannion of Oregon State and Keith Price of Washington; running back Jordon James of UCLA; and wide receivers Jaelen Strong of Arizona State, Ty Montgomery of Stanford and Gabe Marks of Washington State. Also nominated for defensive player of the week honors were defensive ends Cassius Marsh of UCLA, Leonard Williams of USC and Hau'oli Kikaha of Washington; defensive back Michael Walker of Utah; and linebacker Darryl Monroe of Washington State. Also nominated for special teams player of the week honors were punters Keith Kostol of Oregon State and Tom Hackett of Utah and UCLA kicker Ka'imi Fairbairn.
September, 9, 2013
9/09/13
5:00
PM ET
Oregon running back
De'Anthony Thomas
, Washington State cornerback
Damante Horton
and Arizona kicker
Jake Smith
have been named the Pac-12's players of the week.

Here are some more details on the trio, per the Pac-12's release:
Thomas, a junior from Los Angeles, Calif., had 11 carries for a game-high 124 yards rushing and three touchdowns in the Ducks' 59-10 road win over Virginia on Saturday. He had touchdown runs of 1, 40 and 8 yards and reeled in one catch for another 28 yards. Thomas is averaging 8.7 yards per carry and is tied for 20th in the nation in rushing yards per game (126.0 ypg).

Horton, a senior from Oakland, Calif., led a spirited defensive effort by Washington State in the Cougars 10-7 win over No.22/25 USC Trojans in the first conference game of season. The cornerback stepped in front of a USC pass and returned it 70 yards for a touchdown to even the score at 7-7 just before halftime. Horton collected his second interception with less than a minute remaining to seal the victory for Washington State, ending the game with two interceptions for 75 return yards and a career-best two tackles for a loss for 12 yards. He was also tasked with covering USC All-American receiver Marqise Lee, who was limited to 27 yards on seven catches.

Smith, a senior place-kicker Philadelphia, Pa., set a school record with 16 points by kicking to help lead Arizona past UNLV 58-13 on Saturday night in Las Vegas. The first-year kicker collected his first made field goal from 41 yards to put Arizona up 3-0 and went on to convert three of four on the night in addition to making all seven extra points he attempted. Smith also kicked off 11 times in the game with five touchbacks and a 63.3-yard average.

Also nominated for offensive player of the week honors were quarterbacks Travis Wilson of Utah, Taylor Kelly of Arizona State, Sean Mannion of Oregon State, and Jared Goff of Californa; running backs Ka'Deem Carey of Arizona, Tre Madden of USC and Tyler Gaffney of Stanford; and wide receiver Paul Richardson of Colorado. Also nominated for defensive player of the week honors were linebackers Jake Fischer of Arizona, Grandville Taylor of Arizona State, and Hardy Nickerson of California, safeties Jered Bell of Colorado, Ed Reynolds of Stanford and Dion Bailey of USC; defensive end Tony Washington of Oregon and defensive tackle Tenny Palepoi of Utah. Also nominated for special teams player of the week honors were kickers Vincenzo D'Amato of California and Andrew Furney of Washington State and Oregon State punter Keith Kostol.
July, 10, 2013
7/10/13
4:00
PM ET
More preseason watch list news. Today we turn to the kickers and punters with the announcements of the Lou Groza watch list for the nation's top placekicker, and the Ray Guy watch list for the nation's top punter.
Here's the Pac-12 guys:
Lou Groza
Ray Guy
Romaine was the Pac-12's most accurate kicker last season, converting 88.9 percent of his kicks, and he enters 2013 having hit 12 straight. Furney, a Groza semifinalist in 2011, had the nation's longest field goal last season (60 yards).
Last year O'Neill averaged 43.5 yards per punt, and Bowlin and Kostol each averaged 41.9
You can see the full lists here:
Lou Groza
and
Ray Guy
.
November, 4, 2012
11/04/12
1:16
AM ET
In the battle of teams needing to bounce back, it was the No. 11
Oregon State Beavers
who proved to be the springier team with a
36-26 victory
over the
Arizona State Sun Devils
.


The new-look OSU backfield of
Cody Vaz
and
Terron Ward
helped the Beavers overcome an early 14-3 deficit. Filling in for the injured
Storm Woods
, Ward rushed for 146 yards and a touchdown on 19 carries. Vaz, who was named the starter following
Sean Mannion
's four-interception performance in the loss to Washington last week, completed 14 of 33 passes for 267 yards and three touchdowns with an interception.
Markus Wheaton
and
Brandin Cooks
each eclipsed the 100-yard receiving mark. Wheaton had four catches for 108 yards and two touchdowns. Cooks led the Beavers (7-1, 5-1 Pac-12) with six catches for 116 yards and a score.
For the Sun Devils (5-4, 3-3), who have now dropped three straight following a 5-1 start, it was the second consecutive week they had jumped out to an early double-digit lead but were unable to hold it. On Oct. 27 they were up 14-0 on UCLA before losing a back-and-forth contest on a last-second field goal.
Quarterback
Taylor Kelly
was held to just 153 yards passing, completing 22 of 41 attempts with a touchdown and an interception.
ASU jumped ahead in the first minute when
Junior Onyeali
recovered a Vaz fumble deep in Oregon State territory and returned it 1 yard for the touchdown. A
Trevor Romaine
field goal cut the lead to 7-3 before a 1-yard
Cameron Marshall
touchdown put the Sun Devils ahead 14-3.
But that was ASU's only offensive touchdown until the very end of the game. The rest of its points came on a
Keith Kostol
blocked punt for a safety and a 31-yard
Jon Mora
field goal. A 2-yard touchdown pass from Kelly to
Marion Grice
prevented the second-half shutout.
The Sun Devils are back on the road again next week when they travel to USC in search of that crucial sixth victory.
Oregon State's win sets up an interesting showdown next week at Stanford.
October, 22, 2012
10/22/12
4:30
PM ET
USC quarterback
Matt Barkley
, Stanford linebacker
Chase Thomas
and Arizona returner
Richard Morrison
were named the Pac-12 players of the week.
Here's the release from the conference:
Barkley, a senior from Newport Beach, Calif., led USC to a 50-6 victory over Colorado as he threw for a USC single game record-tying six touchdown passes, including a school record-tying five in the first half, to become the Pac-12's career record holder. He passed former Trojan Matt Leinart's Pac-12 record of 99 career touchdown passes and now has 102 for his career. Barkley completed 95.0% of his passes (19-of-20) to set both the Pac-12 game mark for highest completion percentage (minimum 15 completions) and the Pac-12 game passing efficiency rating record (319.2). He threw for 298 yards overall with no interceptions and was 16-of-17 for 269 yards in the first half to earn College Football Performance Awards National Performer of the Week and National Quarterback of the Week.

Thomas, a senior from Marietta, Ga, led an impressive Stanford defensive performance that held the Pac-12's No. 3 rushing offense to three yards rushing in a 21-3 victory over Cal in the 115th Big Game. The three yards rushing (0.1 yards/carry) was the fewest allowed by a Stanford defense since 2003 (vs. BYU, minus-five) and tied for the seventh best in school history. Thomas had seven tackles, which included 4.0 tackles for loss in the game. He registered one sack for a seven-yard loss, a forced fumble and another fumble recovery. Stanford's dominating defense recorded 11 tackles for loss, four sacks and allowed only three points, the lowest since the 2011 season opener versus San Jose State and lowest in a Big Game since 1998. Stanford's defense held Cal, which entered the game averaging 5.0 yards per carry, to 3.86 inches per carry.

Morrison, a junior from Royse City, Texas, delivered the back-breaker in the third quarter of last Saturday's 52-17 victory over Washington. With Arizona leading 38-17, the Wildcats forced the Huskies into a punting situation. Morrison fielded the punt and raced 63 yards, aided by a key block from Mark Watley to spring him for the final yards, for a touchdown to put the game out of reach. The return was the longest of Morrison's career and was also his first touchdown on a return. Arizona's last punt return for a touchdown was turned in by Bug Wright, who had an 86-yard scoot against Washington State on Nov. 7, 2009, at Arizona Stadium.

Also nominated for offensive player of the week honors were quarterback Marcus Mariota of Oregon, and running backs Ka'Deem Carey of Arizona, Storm Woods of Oregon State and Stepfan Taylor of Stanford. Also nominated on defense were linebackers Jake Fischer of Arizona and Michael Doctor of Oregon State and defensive end Kevin Greene of USC. Also nominated on special teams were punters Josh Hubner of Arizona State, Jackson Rice of Oregon, and Keith Kostol of Oregon State.
October, 22, 2012
10/22/12
10:00
AM ET
Taking stock of the eighth week of games in the Pac-12.
Team of the week
: Oregon fumbled on its first possession at Arizona State and immediately yielded a touchdown. Ah, here's that road test we were talking about! Then the Ducks opened up a can of whup-butt and throttled the Sun Devils in one of the most dominating halves of football this season. Sure, the final was only 43-21. But it was 43-7 at the break, which allowed the Ducks to rest many of their starters much of the second half. Some test.
Best game
: There were no close games this week, but Oregon State's 21-7 win over Utah certainly provided some tension for Beavers fans. With the Oregon State offense muted in Week 2 with backup QB
Cody Vaz
, the defense won the day, forcing four turnovers. Yes, it was a two-touchdown win, but things were in doubt well into the fourth quarter.
[+] Enlarge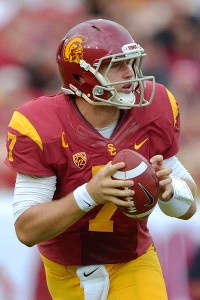 Kirby Lee/US PresswireFollowing a big win over Colorado, USC QB Matt Barkley is still in the running for the Heisman Trophy.
Biggest play
: On Utah's first possession of the second half, with Oregon State up 14-7, it drove to the Beavers' 3-yard line. On third-and-goal, the Utes tried an inside reverse to
DeVonte Christopher
, but the ball got loose on the exchange and DE
Scott Crichton
recovered. The Utes had several blown opportunities, but this was the most glaring.
Offensive standout
:
Matt Barkley
threw six touchdown passes against Colorado, and he now has 102 for his career, best in Pac-12 history. You know, there have been some really good QBs to come through this conference. And by the way, Barkley was nearly perfect against the woeful Buffaloes, completing 19 of 20 passes -- the only incompletion was a drop -- for 298 yards with no interceptions. Barkley has some tough games ahead in which a similar performance could re-establish his Heisman Trophy candidacy.
Defensive standout
: Stanford outside linebacker
Chase Thomas
brutalized California with a team-high seven tackles, with four coming for a loss in a 21-3 Cardinal Big Game victory. He has a sack, a forced fumble, a fumble recovery and a pass breakup.
Special teams standout
: Oregon State punter
Keith Kostol
made sure the Beavers dominated field position against Utah. He punted eight times and averaged only 38.1 yards per boot, but five of his punts were downed inside the Utes' 20-yard line -- four inside the 15.
Smiley face
: Arizona opted not to go quietly into the night by whipping Washington 52-17. The Wildcats rolled up 533 total yards but the best news was a second-half shutout. While the team upstate received a lot of attention for its fast start, the Wildcats also look like a crew that could make some noise in the Pac-12 South. QB
Matt Scott
continues his strong play, but the running game was king against the Huskies. USC comes to town on Saturday. Could be interesting.
Frowny face
: As American poet and philosopher Ric Flair often noted, "To be the man, you've got to beat the man." California and Arizona State had shots at ranked foes that could have transformed their seasons, but both were overmatched. For the Sun Devils, no worries -- theirs was a long-shot bid for a special season in Year 1 under coach Todd Graham. For the Bears, things are more serious for coach Jeff Tedford, who could have cooled his seat substantially with a Big Game victory.
Thought of the week
: We now know Oregon State is for real. You can't fake 6-0. But the schedule starts to ramp up considerably for the Beavers over the next month: at Washington on Saturday, Arizona State, at Stanford, California and Oregon. So can they maintain a high level of play and keep winning? Is it realistic to speculate about a Civil War game between unbeaten teams on Nov. 24? Not yet, probably, but it's like someone saying, "Don't think about a purple elephant." You, of course, immediately do.
Questions for the week
: Where and when will we get a big upset? The schedule lays out several potential red-letter games among its highest-ranked teams: Oregon at USC, Oregon State at Stanford, Stanford at Oregon, Oregon at Oregon State and Notre Dame at USC. But where might be the pratfalls? You know: The games we don't see coming that inevitably come every year -- like Stanford over USC and Washington over Stanford. Is it USC at Arizona on Saturday? Is Oregon State at risk at Washington this weekend? Arizona State and UCLA continue to be teams that could give some of the front-runners some trouble. You can count on at least one major stumble. The question is where?
September, 24, 2012
9/24/12
4:30
PM ET
The Pac-12 Conference announced its players of the week from this past weekend. Colorado quarterback
Jordan Webb
won offensive honors, Oregon linebacker
Michael Clay
earned defensive honors and Oregon State punter
Keith Kostol
was special teams player of the week.
From the release via the Pac-12:
Webb, a junior from Union, Mo., completed 29 of 42 passes for 345 yards and two touchdowns and added a pair of rushing scores in a 35-34 come-from-behind victory over Washington State. Colorado trailed 31-14 midway through the fourth quarter, but Webb and the offense racked up 255 yards of offense and three touchdowns in the final frame to complete the comeback. Webb picked up 19 first downs (3 rushing, 16 passing) and compiled a 149.0 passer rating on the afternoon. He called his own number and scored the deciding touchdown on a four-yard plunge on fourth and goal with nine seconds left in the game to help the Buffaloes to their first win of the season.

Clay, a senior from San Jose, Calif., posted 13 total tackles (10 solo), including two tackles for loss and a sack, and forced a fumble in a 49-0 victory over No. 22 Arizona. He was instrumental in limiting a potent Arizona offense to just 332 yards of total offense (the Wildcats had averaged 604.7 yards of total offense in their three previous games) and just 89 yards on the ground as the Ducks notched their first shutout since 2003.

Kostol, a sophomore from Tigard, Ore., who played in his second career game, averaged 43.9 per punt and placed four balls inside the 20-yard line in Oregon State's victory over No. 19 UCLA. He punted seven times, including a 61-yarder late in the first half, and none of his punts were returned.
July, 20, 2012
7/20/12
4:30
PM ET
Punters are often overlooked, at least until they mess up badly and shank one. But punters play a major role in field position, which often proves crucial in a tight game.
So how do things stack up at punter in the Pac-12?
By the way, if you want to review previous position reviews,
go here
.
Great shape
Oregon
:
Jackson Rice
was a finalist for the Ray Guy Award. The Ducks were No. 1 in the nation in net punting last year. Really not much else to say.
[+] Enlarge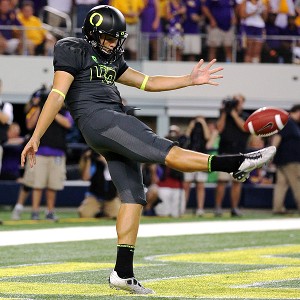 Matthew Emmons/US PresswireAs a Ray Guy finalist last season, Jackson Rice had Oregon tops in the NCAA in net punting.
Arizona
:
Kyle Dugandzic
led the Pac-12 with an average of 46 yards per punt.
Utah
:
Sean Sellwood
was fourth in the Pac-12 with an average of 45 yards per boot. And the Utes were 12th in the nation in net punting.
UCLA
: UCLA's
Jeff Locke
averaged 44.3 yards per punt, which ranked fifth in the conference. The Bruins were 22nd in the nation in net punting. Locke is also good on kickoffs.
Good shape
Colorado
:
Darragh O'Neill
was solid last year with a 42.6-yard average, but he's being challenged by
Zach Grossnickle
.
Arizona State:
While
Josh Hubner
only averaged 41.3 yards per punt, the Sun Devils were fifth in the conference in opponent punt returns.
USC:
Kyle Negrete
averaged a modest 40.1 yards per punt in 2011. The Trojans were 43rd in the nation in net punting.
We'll see
Stanford
:
Daniel Zychlinski
was Stanford's starting punter for the first 10 games in 2010 before
David Green
took over. He averaged 41.7 yards in 2010.
Washington State
: JC transfer Mike Bowlin will take care of punting and kickoffs. He looked good this spring.
Oregon State:
Australian
Tim McMullen
was No. 1 on the post-spring depth chart. Hopefully he is as colorful as the departed Johnny Hekker.
Keith Kostol
is another possibility.
Washington
: The Huskies are counting on touted incoming freshman
Korey Durkee
to replace
Kiel Rasp
.
California
: The Bears are only replacing Bryan Anger, perhaps the best punter in school history. On the post-spring depth chart, incoming freshman
Cole Leininger
was the only punter listed.