April, 4, 2014
Apr 4
1:15
PM ET
TEMPE, Ariz. -- The Arizona State offense is cruising along, owning the line of scrimmage and making plays.
Taylor Kelly
and company are efficient and dominant, even with a couple of negative outcomes here and there. Hard-to-satisify Sun Devils coach Todd Graham says later, "Our offense should score every time it has the ball."
But who are these guys getting gashed? This isn't the Arizona State defense, is it? Where's
Will Sutton
? Where's
Carl Bradford
? Where's
Alden Darby
and
Chris Young
?
Here's a guess that unless you're a regular on Sun Devils football message boards, you can't name a single guy who will be starting on defense for Arizona State next year.
Not only did Arizona State lose nine starters, it lost all of its defensive stars. Six of those guys were first-team or second-team All-Pac-12. Two others were honorable mention.
"Every year you've got to hit the restart button," defensive coordinator Keith Patterson said. "Some years more than others."
That's for sure. Not only are just about all the players new -- several top backups also finished their eligibility -- so is Patterson, who was hired away from West Virginia to coach with Graham, his college roommate.
Yet things aren't dire. Only uncertain. Of course, the Sun Devils probably will play some barn burners next fall, particularly with 10 starting quarterbacks returning in the Pac-12. The measure of whether they can repeat as South Division champions, however, probably will come down to how quickly folks stop calling the defense inexperienced and start calling it surprisingly good.
The two returning starters are linebacker
Salamo Fiso
and safety
Damarious Randall
. Nose guard
Jaxon Hood
and DB/LB
Laiu Moeakiola
, part-time starters in 2013, also are back. You can pencil in
Lloyd Carrington
at one corner.
Marcus Hardison
will take on a spot on the defensive line. After that, things are pretty fluid and figure to remain that way until a bevy of first-year players arrive in the fall, including several juco transfers who are expected to immediately be in the starting mix, such as linebacker
Darrius Caldwell
.
[+] Enlarge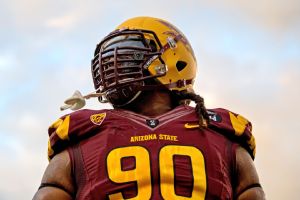 Mark J. Rebilas/USA TODAY SportsAll-conference DT Will Sutton is one of nine starters the Sun Devils must replace on defense.
That, in fact, is one of the challenges this spring. While the focus is on the present, there is some forward thinking in terms of what an eventual pecking order and rotation might be.
"No doubt. We spend an enormous amount of time talking about personnel, people who aren't even here," Patterson said. "But the focus right now, in the middle of spring ball, is more to the people on campus."
It's clear the coaches are excited about several young players. Safeties
James Johnson
and
Marcus Ball
, both redshirt freshmen, have been impressive. True freshman linebacker
D.J. Calhoun
, an early enrollee, seems certain to earn playing time, if not a starting role.
Still, there are a lot of questions, particularly with the front seven. It's pretty clear that the production of individual players won't match the past two seasons.
"We are not going to replace Carl Bradford and his production," Patterson said. "I don't think we'll have that type of individual player. We're not going to replace those guys. We'll play more as a unit, play more team defense."
Last season, the Sun Devils ranked 18th in the nation and second in the Pac-12 with 7.21 tackles for a loss per game. They ranked 18th in the nation and third in the Pac-12 with 2.86 sacks per game. They were sixth in the nation and first in the conference with 1.5 interceptions per game.
Graham's defense, which Patterson will run, is predicated on negative plays. It doesn't matter if no one on the 2014 defense picks up 19 tackles for a loss, as Bradford did, or grabs six interceptions, as
Robert Nelson
did, but it does matter if the Sun Devils are close to their 2013 team averages next fall.
Even though the Sun Devils will be young, they will continue to use an aggressive scheme. Said Patterson, "That's the core of who we are. We're not going to change that."
That also means taking chances. Another issue beyond piling up negative plays will be how often aggression ends up yielding an explosion play by the opposing offense.
The good news is Arizona State's defense might not face a better offense than the one it scrimmages against in practice. If the defense starts forcing a few three-and-outs against Kelly & Co., then it would be perfectly reasonable to imagine the Sun Devils again making a run in the South Division.
March, 21, 2014
Mar 21
2:30
PM ET
February, 28, 2014
Feb 28
9:00
AM ET
On Thursday,
we looked at the Pac-12 North Division
. Today, we turn to the South:
ARIZONA

Spring start:
March 3
Spring game:
April 20
What to watch:
QB competition: Coach Rich Rodriguez has used first-year starters in his first two seasons at Arizona and will make it three-for-three in 2014. For the most part, things worked with both Matt Scott and more recently B.J. Denker, which should make Wildcats fans optimistic about what should be a wide-open competition.
Replacing Carey: As intriguing as the quarterback competition will be, the battle to replace all-time great Ka'Deem Carey at running back could be more important. None of the returning running backs had a carry last year, which led to this comment from Rodriguez: "Now it's a mystery. That's going to be one of the positions, like quarterback, that will be kind of open to see if we can get guys to get better."
Keep Austin healthy: After tearing his ACL last spring following a breakout season in which he caught 81 passes for 1,364 yards and 11 touchdowns, receiver Austin Hill has been given a clean bill of health. Said Rodriguez: "He is still wearing the knee brace but I think it is a little bit more precautionary. He is 100 percent doing everything. He's even a bit bigger and stronger so he should have a big spring. I know he's hungry to get out there, too."
ARIZONA STATE

Spring start:
March 18
Spring game:
April 19
What to watch:
OL changes: Auburn transfer Christian Westerman, a prototypical guard, could be the Sun Devils' best offensive lineman, which makes things interesting considering both starting guards -- Jamil Douglas and Vi Teofilo -- will be back next year. Douglas, a second-team All-Pac-12 selection, has worked at tackle in the past and could shift outside to replace first-team All-Pac-12 left tackle Evan Finkenberg.
Getting defensive: Coach Todd Graham's college roommate, Keith Patterson, has arrived as the defensive coordinator, but Graham will remain the play-caller and Chris Ball's title will still read co-defensive coordinator. Got all that? New coaching dynamics get sorted out in the spring, too.
Looking for replacements: On defense, ASU needs to replace seven starters, highlighted by DT Will Sutton, LB Carl Bradford and CBs Robert Nelson and Alden Darby. If ASU is to build off its impressive 2013 season, those holes need to be filled quickly. They'll benefit from a schedule that starts with Weber State, New Mexico, Colorado and a bye, but after that the Sun Devils have UCLA, USC and Stanford in a span of four weeks.
COLORADO

Spring start:
March 7
Spring game:
April 12
What to watch:
QB development: Sefo Liufau's development will be interesting if for nothing else than because the jump from Year 1 starter to Year 2 starter is always intriguing with quarterbacks. It's tempting to assume a big statistical jump is coming, but it's not always that simple (see: Hogan, Kevin; Mannion, Sean; Hundley, Brett). Liufau will need to get on the same page with his receivers as they combine to …
… Replace Paul Richardson: Look for Nelson Spruce, D.D Goodson and Tyler McCulloch to lead what will be a much more balanced receiving corps following Richardson's early departure for the NFL. Spruce was the Buffs' second-leading receiver last year, but Goodson, going into his second season at receiver, figures to make the biggest jump.
Rising expectations: It took MacIntyre three years to turn San Jose State into a winner, but there was a four-win improvement in the second year. He won't match that with the Buffs, but a two-win improvement gets Colorado bowl eligible. Colorado has a chance to match last year's win total (4) in the first five games next year: vs. Colorado State, at Massachusetts, Arizona State, Hawaii, at Cal. In fact, it's probably the internal expectation.
UCLA

Spring start:
April 1
Spring game:
April 26
What to watch:
Manage expectations: The Bruins are in new territory this offseason with expectations through the roof. They'll likely be a preseason top-10 team, which will drum up chatter about a potential national championship run. Likely message from coach Jim Mora: "Tune out the noise."
The #Hundley4Heisman campaign: It's a real thing and Mora threw his weight behind it when he tweeted the hashtag on Jan. 26 with a picture of the Heisman Trophy. Get used to reading "Heisman candidate" next to "Brett Hundley" a lot between now and September. At times, it might feel unavoidable.
Leading rusher? They're set at quarterback and bring a lot of talent back at both receiver and on the offensive line, but the running back situation isn't as clear. Hundley was the team's leading rusher in 2013, but someone needs to step up to take pressure off him and LB/RB Myles Jack. It's an important spring for both Jordan James and Paul Perkins, who had varying degrees of success last year.
USC

Spring start:
March 11
Spring game:
April 19
What to watch:
Under center? Cody Kessler is back, but coach Steve Sarkisian immediately made it known there would be an open competition for the quarterback job. Max Wittek is no longer around, but Kessler should get a serious challenge from redshirt freshman Max Browne. With a new offense to learn, spring will essentially serve as preparation period for the real competition during fall camp.
Catch your breath: The most noticeable change in USC during the first game will be how much faster it's playing offensively. Sarkisian installed a high-tempo offense at Washington last year and, pleased with the results, will continue to press the tempo with the Trojans. Goodbye, huddles.
Change it up: As is the case when new coaching staffs arrive, there will likely be a higher percentage of position changes than usual and a more fluid depth chart. It's hard to peg exactly where that'll occur with USC, but it'll be worth monitoring throughout the spring.
UTAH

Spring start:
March 18
Spring game:
April 26
What to watch:
Wilson's road back: Travis Wilson is expected to be the Utes' starting quarterback next season, but he'll be limited to non-contact drills during the spring. That's about the best news Wilson could have received following an early November discovery that he had an undiagnosed injury to an intracranial artery -- a condition that threatened his career. Oklahoma transfer Kendal Thompson will not join the team until after he graduates in May, but he'll be immediately eligible to play.
Revolving OC door: Dave Christensen moves in, Dennis Erickson moves over and Brian Johnson moves out. Kyle Whittingham introduced the Utes' seventh offensive coordinator is seven years in early January. Christensen believes in similar philosophies to what the Utes had under Erickson/Johnson, but the terminology will change and the tempo will increase.
Pressure building? Utah was used to winning big before it got to the Pac-12 in 2011. Whittingham lost just 20 games in his six full seasons as the school's head coach while a member of the Mountain West Conference. In the three years since, Utah's dropped 19 and qualified for just one bowl. No one should doubt Whittingham's ability as a coach -- he's a good one -- but the jump in competition has been difficult.
February, 20, 2014
Feb 20
11:00
AM ET
So far, only three Pac-12 teams retained their 2013 offensive and defensive coordinators: Arizona, Colorado and Washington State.
Here's a look at who's in, who's out and what it means in the South Division. You can review the
North Division here
.

Arizona Wildcats
No change
: Rich Rodriguez has proven coordinators on both sides of the ball, with the offensive humming under co-coordinators Calvin Magee and Rod Smith and the 2013 defense being the Pac-12's most improved unit under Jeff Casteel.

Arizona State Sun Devils
Out
: Cornerbacks coach and special teams coordinator Joe Lorig left for Utah State, which allowed coach Todd Graham to rejigger his defensive coaching staff. Paul Randolph, a co-defensive coordinator the past two seasons, will serve as senior associate head coach and defensive ends coach.
In
: Keith Patterson left West Virginia to co-coordinate the defense with Chris Ball. Patterson will coach linebackers and be the Sun Devils' defensive special teams coach. Ball will continue to serve as the safeties and defensive passing game coach.
Thoughts
: A lot of these moves emerged from Graham's concern about special teams, as well as his wish to reunite with an old friend. He and Patterson, according to the press release announcing the hiring, "have a professional and personal relationship that goes back to East Central University where they were college roommates." That same press release noted that "Patterson will oversee the defense, but Graham will be heavily involved in the planning." Graham also will have a "major" role with the special teams coaching and will assist Ball with the cornerbacks. It was also announced that Chip Long, the Sun Devils tight ends coach and recruiting coordinator, will become the offensive special teams coach. As for Patterson's track record, it was a lot better at Pittsburgh than at West Virginia, where the Mountaineers allowed 33.3 and 38.0 points per game over the past two seasons.

Colorado Buffaloes
No change
: Colorado's second-year coach Mike MacIntyre retained both defensive coordinator Kent Baer and offensive coordinator Brian Lindgren. Compared to 2012, the Buffaloes scored 7.6 more points per game and allowed 7.8 points fewer per game last season. The overall numbers weren't good, but it was clearly a step in the right direction on both sides of the ball.

UCLA Bruins
Out
: Defensive coordinator Lou Spanos left to become the LBs coach for the Tennessee Titans
In
: Jeff Ulbrich was promoted from LBs coach and special teams coordinator.
Thoughts
: Ulbrich has coached perhaps the Bruins most improved position over the past two years -- linebackers -- and he deserves credit for players like
Anthony Barr
,
Jordan Zumwalt
,
Myles Jack
and
Eric Kendricks
developing into stars. He also ensures the Bruins improved defense retains schematic continuity. Named the 2013 FootballScoop Special Teams Coordinator of the Year, Ulbrich has guided the Bruins special teams unit to one of the top rankings in the country in each of the last two seasons. Ulbrich also won't have to work too hard to have credibility with his players as he was a LB San Francisco 49ers from 2000-2009.

USC Trojans
Out
: Defensive coordinator Clancy Pendergast
In
: Justin Wilcox, who followed new Trojans coach Steve Sarkisian from Washington to USC
Thoughts
: Sarkisian decided to retain USC offensive coordinator Clay Helton, though like his predecessor, Lane Kiffin, Sarkisian will call offensive plays. Pendergast did a great job last year with his hybrid 3-4, which he termed a 5-2. Wilcox is widely seen as one of the nation's top defensive coordinators and a future head coaching candidate. His scheme won't be too much different than what the Trojans ran last year, though the Huskies officially ran a 4-3.

Utah Utes
Out
: Co-offensive coordinators Dennis Erickson and Brian Johnson were demoted to running backs and quarterbacks coaches, respectively. Johnson then left Utah to become Mississippi State's quarterbacks coach.
In
: Former Wyoming head coach Dave Christensen was hired to be the Utes' single offensive coordinator
Thoughts
: Will Christensen bring the Utes offense stability?
He's their sixth different play caller in six years
. The good news is he's highly regarded, getting hired at Wyoming because of the work he did with Missouri's offense. Johnson's departure probably helps reduce the feeling that there are too many cooks in the kitchen, seeing that he, Erickson and Aaron Roderick, now the Utes QBs coach after coaching receivers since 2005, have each been in the coordinator carousel at Utah. Head coach Kyle Whittingham also hired former Purdue All-American Taylor Stubblefield to coach receivers. Christensen, an offensive line specialist, will oversee tight ends.
February, 14, 2014
Feb 14
1:00
PM ET
The
shuffling of defensive coordinators
appears to be over. We think. And as previously noted, all five of the top scoring defenses in the Pac-12 last year have seen changes at the top of the defensive coaching hierarchy. Three of the hires were internal promotions and two were coordinators who stayed with their head coach while switching schools.
This is how the top five scoring defenses played out last year:
Stanford (19.0 points per game)
Oregon (20.5)
USC (21.2)
Washington (22.8)
UCLA (23.2)
Who got the better end of the deal? Sounds like a poll question for you to ponder all weekend long.
Which team will lead the Pac-12 in scoring defense in 2014?
Your options:

Stanford
: Derek Mason departed to become head coach at Vanderbilt and Lance Anderson was promoted from within. The Cardinal lose some marquee players but have others such as safety
Jordan Richards
and linebacker
A.J. Tarpley
returning.
Oregon
: Out is longtime coordinator Nick Aliotti, who retired. In is longtime position coach Don Pellum. The Ducks lose some talent but return standout cornerback
Ifo Ekpre-Olomu
, who gives the Ducks' secondary instant credibility.
USC
: Clancy Pendergast was not retained by new head coach Steve Sarkisian. So Justin Wilcox is in after working his magic at Washington. The Trojans lost a lot of players to the draft, but a couple key players are back and there is a pretty good crop of young, talented players.
Washington
: New head coach Chris Petersen brought his guy, Pete Kwiatkowski, with him from Boise State. The Huskies made tremendous strides in two seasons under Wilcox and have some pretty solid personnel returning.
Other
: UCLA's Lou Spanos returned to the NFL and Jeff Ulbrich was promoted from within. Head coach Jim Mora will still oversee a lot of the defense. Though impact players like
Anthony Barr
and
Cassius Marsh
are gone, the Bruins have plenty of talent coming back. ... Arizona was sixth in the conference last year and made huge strides from 2012 to 2013. Can it keep the momentum going? ... Arizona State (seventh) also shuffled its defensive staff around with
the hiring of Keith Patterson
, though Todd Graham will still be heavily involved in the defense. ... Utah (eighth) is just two seasons removed from leading the conference in scoring defense. Can the Utes get back to the top?
February, 10, 2014
Feb 10
9:00
AM ET
Prior to
joining the Arizona State coaching staff
last week, Keith Patterson's credentials included stops at Tulsa, Pitt and West Virginia. He has coached in eight bowl games and, having previously worked with coach Todd Graham, has an intimate knowledge of Graham's schemes and philosophies.
Those are all great little factoids to include when pumping out a press release. But all you really need to know about Patterson is this: Graham trusts him.
That's saying a lot. Because when it comes to defense, Graham can be a bit of a, well, there's no right way sugar-coat it. He's a control freak. The defense is his baby. Defensive meetings wouldn't start until Graham got into the room. And when the defense falters -- and it did a few times last season -- he sits in front of that microphone and shoulders all of the blame.
But Patterson is a dear friend and Graham's former college roommate. There is a trust there that goes beyond hours and hours in a film room.
[+] Enlarge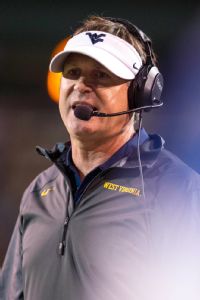 Jerome Miron/USA TODAY SportsArizona State's hire of Keith Patterson as defensive coordinator allows Todd Graham to branch out his responsibilities.
So the fact that Graham is relinquishing even a hummingbird's beak of control is an intriguing development, because it will allow him to take on more of a CEO role and oversee the entire team. And it allows him to put some focus on one area in particular -- special teams. But we'll get to that in a minute.
Graham will still be heavily involved in the defensive planning. Which is to say instead of being 100 percent involved like he was before, he'll be about 98.3 percent involved now. Just so we're clear, Graham is still going to call the defense. But he wants another set of trusted eyes coaching the linebackers and looking at the bigger picture.
When you look at the makeup of ASU's defensive staff, it's hard not to be impressed. Chris Ball will still serve as co-defensive coordinator along with Patterson and the ever-watchful eye of Graham. Paul Randolph, formerly co-defensive coordinator, will still work with the defensive ends. Jackie Shipp's contributions as defensive line coach have been invaluable. Patterson will work with the linebackers while Graham and Ball will work with the secondary.
That's three coordinators, a head coach and a longtime NFL player/Oklahoma assistant -- not too shabby.
It makes for a very intriguing defensive year for the Sun Devils, who will experience a massive talent drain on that side of the ball with nine of 11 starters having moved on. With youth and depth issues, it might take a season or two for this new defensive staff to show just how good it really is. Rather than judging progress strictly with Xs and Os in 2014, player development will likely take center stage.
Perhaps the most important element of this hire, however, is the re-shuffling of the special teams coaching staff. Aside from freshman kicker
Zane Gonzalez
, ASU's special teams were pretty abysmal in 2013. The Sun Devils were last in the league in punting and middling in the return game. This new coaching hierarchy addresses that, at least that's what Graham hopes.
Patterson will assume the role as defensive special teams coach while Chip Long will handle offensive special teams. Graham is also going to play a "major" role in special teams, which is something he wouldn't be able to do if he was running the defense all on his own. With the departure of special team's coordinator Joe Lorig, who moved to Utah State to be the linebackers coach, the Sun Devils have a chance to make major strides in the weakest aspect of their game last season.
Unprompted, Graham made a point to single out poor special teams play in his opening statement after the loss to Texas Tech in the Holiday Bowl.
"We have a lot of things to work on on special teams, that will be dealt with immediately and that will be something I take a personal interest in," Graham said. "That has killed our team. We've lost three ballgames this year because of that."
The Patterson hiring allows Graham to do just that -- if Graham is willing to relinquish the defense, even just a little bit.
July, 12, 2013
7/12/13
12:00
PM ET
Todd Graham had a plan. He'd go to a coaching clinic, give his spiel and shake a few hands. Afterwards the recruiting would start. Afterwards he'd extend an invitation. Anyone who wants to go get a beer and talk football, follow me.
"That's when you'd find out who is passionate," said Graham, now in his second season as ASU's head coach. "If you want to have a beer, I'll have a beer with you. But be ready to talk some football. The guys that came out afterwards and wanted to learn and wanted to talk, those are the guys I that I knew had a passion for this game. Those are the guys I kept my eyes on."
And it's pretty clear that Graham has an eye for coaching talent. In just his eighth year as a head coach, he's given rise to an impressive coaching tree that includes several of college football's most well-known coaches and coordinators.
For example:
Gus Malzahn: The head coach at Auburn (formerly the head coach at Arkansas State) won a national championship with the Tigers as their offensive coordinator. Before that, he was Graham's coordinator at Tulsa.

Chad Morris: The offensive coordinator at Clemson had zero college experience before Graham hired him.

Bill Blankenship: The head coach at Tulsa had zero college experience when Graham hired him at Tulsa to be a receivers coach.

Keith Patterson: West Virginia's defensive coordinator was a graduate assistant for one year but worked with Graham at Allen High School in Texas before Graham brought him to Tulsa.

David Beaty: Texas A&M's receivers coach had zero college experience when Graham hired him at Rice.

Major Applewhite: The Texas co-offensive coordinator had one season as a quarterbacks coach at Syracuse when Graham hired him at Rice.
[+] Enlarge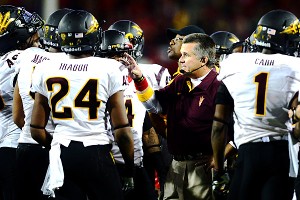 Mark J. Rebilas/USA TODAY SportsTodd Graham has unearthed several successful assistants who had little to no prior college experience.
There's a trend here. And it should be obvious.
"Teachers," Graham said. "All of them are outstanding teachers who just needed the opportunity. Chad turned me down three times because he didn't think he could do it. Now he's the highest paid offensive coordinator in the country after four years. I got hammered in the media when I hired Chad Morris. They said 'How can you hire someone without any college experience.' Same with Bill. Same with David at Rice."
And Graham already has his eye on the next up-and-comer. It's his current offensive coordinator, Mike Norvell, who reportedly passed on the same job at Auburn to stay with Graham. It's not every day a guy turns down a coordinator gig in the SEC. Norvell has his reasons.
"He's someone you want to believe in," Norvell said of working for Graham. "He's been a great mentor and someone I've learned a ton from. When you look at his coaching tree, the guys he's helped in such a short amount of time is really impressive."
Graham said Norvell might be the brightest of the bunch, and it's going to be a struggle to keep him around.
That's the fun thing about coaching trees. You could actually trace Graham's origins to the coach of ASU's biggest rival -- Arizona's Rich Rodriguez. It was RichRod who gave Graham his first Division I college coaching job at West Virginia. Other trees have multiple branches. Stanford's David Shaw comes from the Jim Harbaugh coaching tree -- but his roots are inspired by Bill Walsh, Jon Gruden and Bill Callahan. Sonny Dykes comes from the Mike Leach coaching tree. Others have bounced around and taken bits and pieces from various coaches.
But one thing they all have in common is that someone gave them their first opportunity. And so far Graham has been pretty good at spotting guys ready for their opportunity.
"I've been fortunate to identify some great teachers," he said. "I get credit when things go well and I take heat when things go wrong. But the most important thing is those nine guys I hire. I spend more time with those nine guys. I want the best pay and the best contracts for them. We want to be conference champions and Rose Bowl champions and national champions. To do that, we have to keep a staff together and that's a challenge."
In his first year at ASU, the fruits of his teachings were obvious. The Sun Devils went 8-5 and many have them as the favorites to win the Pac-12 South this season. One particular point of pride for Graham was ASU's reduction in penalties. They went from being one of the most penalized teams in the country to the least penalized team in the league.
"People think it's because I'm a hardcore disciplinarian," Graham said. "It's because we are teachers. We taught them the rules."
It is obviously a transition to go from being a high school coach to a college coach. The schemes are more complex. There are different social issues with the players -- many of whom are away from home for the first time. But if you can teach, Graham will give you a look.
"We're adaptive," he said. "When you coach in high school you have to learn how to teach fundamentals and develop fundamentals. But you have to be adaptive to the skills and talents of the players that you have year in and year out. That's what's served me and those guys well."