October, 12, 2012
10/12/12
12:00
PM ET
It's Oregon's bye week. What else are we going to talk about? Which Ducks back has the better shot at winning the Heisman?
[+] Enlarge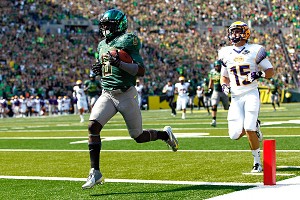 Jonathan Ferrey/Getty ImagesDe'Anthony Thomas is averaging 9.2 yards per carry and 10.3 yards per catch.
Ted Miller:
With
De'Anthony Thomas
and
Kenjon Barner
, it's pick your poison. Both are players who tax a defense. But the Heisman Trophy has always been about more than being good and posting good numbers. Barner very well could win the Pac-12 rushing title, but that's sort of what Oregon running backs do. The Ducks have been the best rushing team in the conference since Chip Kelly first showed up in 2007.
What Thomas has is pizzazz. When he gets the ball, everyone holds their breath. It's the Reggie Bush effect. At any moment, not only could Thomas go yard, he could go yard in a way that makes folks go, "Are you kidding me? I've got to see that again!"
Truth is, Thomas has been fairly quiet of late. He has solid numbers as a receiver, runner and return man, but they certainly aren't going to wow you. His numbers must get better for him to be considered a legitimate Heisman Trophy candidate.
I believe they will. And I believe they will when he posts spectacular, Are-You-Kidding-Me? plays in big games, such as he did in the Rose Bowl against Wisconsin. I believe the Black Mamba is about to provide a series of deadly strikes as the Pac-12 race heats up. He's going to get Arizona State. Then he's going to get Colorado. Then, with the entire nation watching, he's going to -- snap! -- get USC.
Those plays will pile up on "SportsCenter." Those plays will form a portfolio of spectacularness. Those plays will offset a lot of other guys' fancy-pants numbers.
Thomas will get himself invited to New York for the Heisman Trophy ceremony not because of numbers. He will get there due to his highlight reel.
Kevin Gemmell:
When we decided on this topic, the first thing that popped into my head was that it smacked of an old "Saturday Night Live" sketch -- the old Bob Swerski's Superfans. In one sketch, a question was posed: "Da' Bears versus Da' Bulls?" And the answer was this (imagine the Chicago Southside accent): "The senseless waste of pitting these two mighty forces of nature against each other, like matter versus anti-matter, will be a tragedy, not only for the teams involved, but for our planet. All nations must band together, to ensure that such a conflagration never takes place."
Obviously when you are comparing Thomas and Barner, you are comparing two phenomenal football players.
[+] Enlarge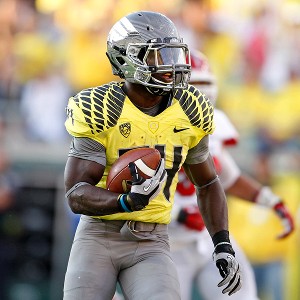 Kevin Casey/Getty ImagesKenjon Barner has 127 touches on offense and 10 TDs to De'Anthony Thomas' 61 and 9.
First off, there is nothing fancy-pants about the way Barner does his work. He grinds when he has to, but he also has the big-play potential. For the record, Thomas' longest rushing play this year is a 59-yard touchdown. Barner's is an 80-yard touchdown. You don't go 80 yards without a little pizzazz of your own.
I love a good DAT highlight as much as the next guy. And I still have him in the top five on my ESPN.com Heisman ballot. But I have Barner higher, for the simple reason that I think, right now, Barner is the more valuable player for the Ducks and therefore a better Heisman candidate.
And as he continues to get about three carries for every one that Thomas gets, he's only going to distance himself. I'm totally on board with the idea that every time Thomas touches the ball, your heart skips a beat. But the longer he goes without those jaw-droppers -- and the more Barner keeps piling up 100-yard games -- the tougher it's going to be for Thomas to close the gap.
Anyone concerned that Barner couldn't fill the deep crevasse left by LaMichael James (by the way, that never should have been a concern) should rest easy knowing that in six games, Barner has 727 yards, is averaging 6.3 yards per carry and has nine rushing touchdowns. Some Thomas highlights might end up on "SportsCenter," but it's a good bet that they will be preceded by two Barner touchdowns as part of a 150-yard performance.
The Heisman isn't all about numbers. But that's a huge part of it. And the fact that Barner has them and Thomas doesn't simply can't be ignored.
October, 1, 2012
10/01/12
11:00
AM ET
As we inch closer toward the second half of the college football season (I know, crazy, right?) it's time to look back fondly (and not-so-fondly) at the first five weeks. Across the blog network we're taking a look at three good things so far, three bad things so far and three things to keep an eye on this month.
Good things so far
Still perfect: The Pac-12 still has two undefeated teams as we flip the calendar. And both of those undefeated teams have scored victories over ranked opponents -- Oregon over Arizona and Oregon State over Wisconsin and UCLA. It's one thing to jump out to a perfect start, and another to do it with wins over Top 25 teams from BCS conferences. Oregon has the best shot of any team in the conference of making a run at the national title game, and so far, they have kept to the script. Oregon State's resurgence has been a welcome addition to the dense fog that hangs over the North.
Speaking of risers: UCLA and Arizona State have been pleasant surprises in the South. Like Oregon and Oregon State, both schools are getting good quarterback play (more about that below). But their ascension brings some intrigue to the South Division -- once thought to be the exclusive property of USC (more about that below, as well). The ranked Bruins have a signature win over a ranked Nebraska squad and their only loss was to Oregon State -- which in hindsight doesn't look all that damning. The Sun Devils are about one solid win away from cracking the Top 25.
Quarterbacks: There's a reason we're talking about these four schools. All four are finding success with young quarterbacks -- three of which are first-year starters. Oregon's Marcus Mariota has shown poise and efficiency since winning the high-profile job. Taylor Kelly is playing mistake-free, efficient ball for the Sun Devils and UCLA's Brett Hundley is one of the most dynamic young quarterbacks the conference has seen in quite some time. And then there is second-year starter Sean Mannion at Oregon State, who is playing with the maturity of a third- or fourth-year guy.
Bad things so far
USC's downturn: All is not lost for the Trojans -- the nation's preseason No. 1 team. But with their road loss to Stanford, the path to finished business is a lot tougher than it was before. That Nov. 3 date with Oregon becomes that much more crucial now for the Trojans, who can't afford another loss if they hope to reach the national championship game. Inconsistent play on both sides of the ball has so far left a cloud over what was expected to be a special year for USC.
Heisman candidates underperforming: The Pac-12 once had three players in the top four of the ESPN.com Heisman poll. That number has slid. Matt Barkley's play over the past couple of weeks has completely knocked him off of everyone's ballots, De'Anthony Thomas isn't getting enough touches to leave a lasting impression and Johnathan Franklin -- after his hot start -- has come back to earth. He has failed to score a rushing touchdown since the season opener. The results of the weekly poll come out tomorrow, and I'll say that Kenjon Barner is now No. 2 on my ballot.
Conference perception: Stanford beats USC -- well, USC was overrated. Washington beats Stanford -- well, Stanford was overrated. Oregon struggles in the first half against Washington State -- well, Oregon must be overrated. This is the national perception of the Pac-12. But here's a thought from someone who lives and breathes the conference: Maybe the Pac-12 is just a good, deep conference. I think the blog zealots would agree with that statement. That maybe Stanford just matched up very well with USC. That maybe the Cardinal buckled against a Washington team that's pretty good. That maybe Washington State had a really good game plan against the Ducks. And that Oregon didn't struggle -- but that Washington State played really well in the first half. So long as there is a nine-game conference schedule, good Pac-12 teams will continue to knock off good Pac-12 teams. It might hurt the national perception, but it also makes for great football. I'll take that.
Oct. Storylines
Separation games: There are quite a few good ones, starting with Thursday night's matchup of USC-Utah. Both teams are coming off a bye. Considering the issues Utah has had early (you could certainly lump them in with USC as one of the season's disappointments so far), this game doesn't have as much luster as we once thought -- but it's still worth tuning in for. And how about the Trojans the following week? Stanford beat USC. Washington beat Stanford. You know the math. As flawed as that statement is, Oct. 13 should be a pretty good showdown in Seattle. And there are a couple of nonconference games to eyeball this month, including Oregon State at BYU and Stanford at Notre Dame. And I can't wait for Oct. 27th's UCLA at Arizona State South Division showdown.
Civil War momentum: We've already talked about Oregon and Oregon State being the undefeated teams. Can they stay that way? And will the Civil War actually end up being the must-see game in the Pac-12 this year? After this week's game with Washington, the Ducks have a bye and then are at ASU and home to Colorado to close out the month. The Nov. 3 game still looms. The Beavers have an unpredictable WSU team this weekend, followed up by a trip to Provo, a home game to Utah and then a trip to Seattle. The Beavers appear to have the more intriguing October docket.
October rivalry: The Big Game in October -- still sounds weird. But the Bears and Cardinal will renew their rivalry in just three weeks when Stanford crosses the bridge on Oct. 20. The Bears are off to the worst start of the Jeff Tedford era, which might be rapidly coming to an end. They host a hot UCLA squad this week and then travel to Pullman on Oct. 13. The Oct. 20 showdown with the Cardinal (who may or may not be ranked pending the outcome of Arizona this week and Notre Dame the next) could be the deciding temperature gauge on Tedford's seat.
September, 14, 2009
9/14/09
6:49
PM ET
By
ESPN.com staff
| ESPN.com

Posted by ESPN.com's Ted Miller
Last year, Oregon ranked seventh in the nation in total offense with 485 yards per game.
Two games in 2009, Oregon ranks 107th in the nation in total offense with 254 yards per game.
It's been the sort of start that makes a former offense coordinator who
enjoyed talking numbers
transform into a head coach who is only about the bottom line.
Said Oregon coach Chip Kelly on Monday, "We don't talk about yardage, statistics, any of those things. Our goal as an offense is very simple. Win is No. 1. And score points is No. 2."
The Ducks did the former and mostly took care of the latter against Purdue, though a pair of defensive touchdowns came in handy in the 38-36 victory.
Oregon gained only 152 total yards -- 31 rushing -- with six first downs in the opener at Boise State. Against the Boilermakers, the Ducks rolled up 356 yards -- 193 rushing -- with 17 first downs.
So will the trend continue on the uptick when the Ducks play host to No. 18 Utah on Saturday?
The Ducks might not again double-up their previous production against a tough Utes defense, but the improvement from game one to game two was significant.
It started with quarterback
Jeremiah Masoli
, who was terrible against Boise State, barely recognizable to those who witnessed his incredible production over the final three games on 2008.
Masoli completed 11 of 21 passes for 163 yards and rushed 14 times for 84 yards, a total that led the Ducks. He was inconsistent throwing, but so were his receivers, particularly speedster
Jamere Holland
, who for the second straight game dropped what should have been a long TD pass.
"[Masoli] became more of a factor in the running game," Kelly said. "When he's running and making defenses defend the entire field, that obviously opens up holes in the running game for us. And he was more consistent throwing the ball."
And with Masoli seeming to find his rhythm, the Ducks young running backs in the post-
LeGarrette Blount
era -- redshirt freshmen
LaMichael James
and Kejon Barner -- seemed to get more comfortable.
Both started slowly until Kelly told them to "run like you do in practice."
"They kind of got their first-game jitters out of their system," Kelly said. "They are both special players when they have the ball in their hands."
The Ducks developing offense -- the line is still struggling -- and opportunistic defense will be tested by a Utah team that is a bit of a mystery.
The Utes, though they own the nation's longest winning streak at 16 games, have hardly looked impressive during a wins over Utah State and San Jose State.
It's likely, however, that they have only partially cracked open their playbook.
Still, injuries to offensive lineman Caleb Schlauderaff (knee) and running back
Matt Asiata
(shoulder) cloud the issue for a Utes offense that already was rebuilding.
Not that Kelly thinks inexperience or the environment in Autzen Stadium will make the Utes wide-eyed, even if they are untested in 2009.
"Utah played in the Sugar Bowl, so I think they've played in some big games," Kelly said. "I don't think this is going to be their first rodeo."
Nor for the Ducks, who after being bucked by the Broncos, are still trying to get back on their horse.