May, 22, 2013
5/22/13
1:00
PM ET
You may have noticed
this story
Monday from Mackenzie Kraemer of ESPN Stats & Info. It's a nice breakdown of how the 2013 class of quarterbacks across college football might be one of the best ever. Kraemer offers five reasons why:
The best teams of 2012 return their quarterbacks
The best passers are returning
A diverse array of NFL talent
Little QB turnover in SEC
Award winners back on campus
We're going to take this and, point-by-point, give it a Pac-12 rinse.
[+] Enlarge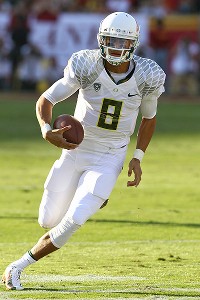 AP Photo/Bruce SchwartzmanOregon QB Marcus Mariota showed that he was more than just a strong runner last season.
The best teams of 2012 (in the Pac-12) return their quarterbacks
: Yep. Stanford (12-2), yes. Oregon (12-1), yes. Oregon State (9-4), yes (and yes). UCLA (9-5), yes. Arizona State (8-5), yes. It should come as no surprise that the top six teams in
our post-spring power rankings
all have their quarterback coming back. In fact, there were only four teams last year that started the same quarterback in every game (Arizona State, Oregon, UCLA, Washington) and those are four of our top five teams in the rankings.
Thus, it's not by chance that the five of the bottom six in the power rankings have an ongoing quarterback competition. That's not to say that a school like USC, which has too much talent to be sitting in the bottom half of the rankings, can't quickly make a jump to the top once their quarterback situation is resolved.
And the same goes for No. 6 Oregon State -- which is fortunate to have two capable starters competing. I don't know who first opined that if you have two quarterbacks, you don't have one. I don't buy it. Ask any coach in the bottom half of the power rankings if they'd prefer zero quarterbacks who have won games or two. I think we all know the answer.
The best passers are returning
: Yep.
Marcus Mariota
led the Pac-12 in efficiency and
Taylor Kelly
wasn't far behind. Matt Barkley was third,
Brett Hundley
was fourth and
Sean Mannion
was fifth. However, it's worth noting that
Kevin Hogan
's efficiency would have ranked him slightly above Hundley had he appeared in more games in 2012 (the cutoff was appearing in 75 percent of the games, Hogan was at 71). That means five of the top six quarterbacks in efficiency are back.
A diverse array of NFL talent:
Yep. Anyone who thinks Mariota is just a running quarterback failed to witness his 32 touchdown passes and league-best 68.5 completion percentage. He will fit nicely into any NFL offense.
Same for Kelly (29 touchdowns, 67.1 completion percentage) and Hundley (29, 66.5). Hogan should be well-versed in the pro-style attack (and NFL scouts love quarterbacks who know the pro-style/West Coast coming out of college) and if Mannion (if he wins the job) bounces back, he's got the prototypical NFL pro-style frame.
And let's not forget
Keith Price
, who we're expecting to have a nice bounce-back year. He was extremely efficient in 2011 (33, 66.9) so the potential and athleticism is obviously there.
Little QB turnover in the league:
Well, the Pac-12 can't make that claim with six starting jobs still in doubt and potentially five schools starting a fresh-faced QB.
Award winners back on campus:
Yep. Pac-12 Freshman Offensive Player of the Year (Mariota). First-team quarterback (Mariota). Kelly, Hogan and Hundley were honorable mention.
While it's true that this might shape up as one of the greatest years in college football history for quarterbacks, it's equally true that the Pac-12 might have its best crop of quarterbacks in league history.
The Pac-12 has sent at least one quarterback to the NFL since 1995 and at least one has gone in the first round in nine of the past 16 drafts. There was 2003 when Carson Palmer (USC) and Kyle Boller (Cal) both went in the first round. 1999 was a strong year with Akili Smith (Oregon) and Cade McNown (UCLA) going in the first round and Brock Huard (Washington) going in the third. Three times the Pac-12 has had four quarterbacks go in the draft (2005, 1991 and 1989).
2004 comes to mind as a pretty darn good collection with Aaron Rodgers (Cal), Matt Leinart (USC), Derek Anderson (Oregon State), Andrew Walter (ASU), Kellen Clemens (Oregon), Trent Edwards (Stanford), Drew Olson (UCLA) and Alex Brink (Washington State).
It's a little too early to start speculating about who is going to go and who is going to stay. But based on what we've seen from this crop in the past nine months, it's possible the 2013 class will be right up there in the conversation as one of the best collection of quarterbacks ever in the league.
November, 21, 2009
11/21/09
7:47
PM ET
By
ESPN.com staff
| ESPN.com
TUCSON, Ariz. -- We've seen white-outs and black-outs this year.
This one's going to be a red-out.
Arizona is in all-red. So are their fans in Arizona Stadium.
Before the Wildcats did their pre-game stretch, their Samoan players led them in "haka" dance, a staple of Polynesian rugby teams, particularly the New Zealand All-Blacks.
Oregon is in white jerseys and black pants, the same colors they wore, by the way, here in 2007 when quarterback Dennis Dixon went down with a knee injury. The Ducks national title hopes followed him with an upset defeat.
This place hasn't been kind to Oregon quarterbacks. Kellen Clemens broke his ankle here in 2005, but the Ducks managed to win that one 28-21.
The first thing to look for: How much will Arizona get out of running back
Nic Grigsby
, who's trying to come back from a shoulder injury?
June, 12, 2009
6/12/09
2:30
PM ET
By
ESPN.com staff
| ESPN.com
Posted by ESPN.com's Ted Miller
Our freedom of speech is freedom or death
We got to fight the powers that be
Lemme hear you say
Fight the power!
November, 11, 2008
11/11/08
11:21
AM ET
By
ESPN.com staff
| ESPN.com
Posted by ESPN.com's Ted Miller
A lesser known Simon & Garfunkel ditty:
Where have you gone, Pac-10 quarterbacks,
The West Coast turns its lonely eyes to you.
What's that you say, College GameDay.
The QBs have left and gone away,
Hey hey hey.
Every season since 2002, at least four Pac-10 quarterbacks averaged more than 240 yards passing per game.
This year? Zero.
Every season since 2002, at least two Pac-10 quarterbacks passed for more than 3,000 yards
Heck, in 2002, nine Pac-10 quarterbacks passed for more than 2,750 yards.
This year? Only USC's Mark Sanchez is on pace to eclipse that total.
In only one other season since 2002 has the Pac-10 not produced a quarterback ranked in the top-10 in the nation in passing yards -- 2006 -- and that season four Pac-10 quarterbacks ranked among the top 30.
This year? Just two in the top 30, with Sanchez at No. 23 and Arizona State's Rudy Carpenter at 29.
What in the name of Carson Palmer, Aaron Rodgers and Derek Anderson is going on with the Conference of Quarterbacks?
The best QBs apparently migrated to fly-over states of the Big 12.
Quick: Name the starting quarterback for every Pac-10 team.
Of course, you can't do that because, even if you are tuned in enough to know who Ronnie Fouch and Kevin Lopina are, there's uncertainty who will start for a couple of teams Saturday.
Here's the starting list in 2004: Matt Leinart, Aaron Rodgers, Kellen Clemens, Derek Anderson, Trent Edwards, Andrew Walter, Drew Olson and Alex Brink.
All of them are presently on NFL rosters, other than Olson, who was waived by the San Francisco 49ers in July.
Only four conference teams this year have started in every game the guy who led the first-team offense during spring practices, and one of them, Stanford's Tavita Pritchard, has been clawing to hold onto his perch every day since.
The mediocrity (and worse) is so prevalent at the position that USC coach Pete Carroll admitted last week that his outstanding defense might look other-worldly at times because of the lack of talent and experience running the offenses opposing the Trojans.
"There's no question that it's helped us play better defense," Carroll said. "Our numbers and the things we put up here at this point is a benefit of teams that have been banged up. And, of course, good play. I don't want to take anything away from it. It's still seizing the opportunity. But sometimes when players aren't there for you, the big-time guys, it makes an enormous difference."
Yes it has, see the national perception of a down Pac-10.
Here's grounds for measured optimism.
Only two (full-time) starting quarterbacks are seniors: Arizona's Willie Tuitama and Arizona State's Rudy Carpenter. California's Nate Longshore is also a senior, but he's closer to sophomore Kevin Riley's backup than the reverse.
Conventional wisdom is that experience is critical for quarterbacks and even more so in the Pac-10 where offenses are far more complicated than in the cavemen conferences.
So that means eight teams should be stronger at the position in 2009.
Otherwise, Pac-10 fans will sing another obscure Simon & Garfunkel song:
Hello darkness, my old friend,
I've come to talk with you again,
Because a QB terribly passing,
Threw more picks and left me weeping,
And the losing that was planted in my brain
Still remains
Within the sound of booing.

September, 23, 2008
9/23/08
8:23
PM ET
By
ESPN.com staff
| ESPN.com
Posted by ESPN.com's Ted Miller
The mailbag wasn't a happy place this week.
Greg from Medford, Ore., writes: I told you about that Bad Karma suffered by the Oregon Quarterbacks. The Curse is real.
Ted Miller: I don't want the Pac-10 blog to be a place of superstition. I want it to be a place of ideas and analysis and pithy commentary -- a mixture that goes down particularly good with a cold beverage.
But I'm in. The Ducks are just cursed. How many more games would the Ducks have won in recent years if Kellen Clemens, Dennis Dixon and Nate Costa never got hurt? Or their backups? Oregon may have won its first national title last year if Dixon didn't get hurt.
That said, I want to pause and tip my hat to Boise State and their fans. I've never made a prediction against a team that was so wrong (QB Kellen Moore will be OVERWHELMED by Autzen Stadium) and received so few gloating, sarcastic emails.
I include that because the Ducks didn't lose that game because of QB issues. Moore completed 24 of 36 for 386 yards with three TDs and was sacked only once. The defense didn't step up.
---
Israel from El Paso, Tx., writes
: So, the Pac-10's lackluster performances over the last couple of weeks has got me wondering, is USC at fault for the league's lack of inter-conference competitiveness? I've heard people speculating that USC's recruiting has been sapping the West Coast of talent, is there any credence to this at all?
Ted Miller: I would have written this notion completely off a few weeks ago, but it's not entirely ridiculous to say USC's recruit stockpiling has hurt the rest of the Pac-10. I think you could make a particular case for USC vs. UCLA. But I don't think this is among the main reasons the Pac-10 has been so lame thus far this season. USC can only sign a maximum of 25 players a year, and usually a handful of those guys are cherry-picked outside of Pac-10 country (11 starters or key contributors are from outside of Pac-10 states).
Would Arizona or Arizona State benefit if center Kristofer O'Dowd or DE Everson Griffen had stayed home to play? Absolutely. And watching Washington's play in the secondary in recent years, I think it's safe to say Taylor Mays could have helped.
But there are so many elite players on the West Coast that a team that works hard and evaluates well shouldn't be quashed by Pete Carroll's recruiting juggernaut.
---
Chris from Tucson, Ariz., writes
: If the Wildcats wind up starting 5-1 should they be in the conversation of cracking the top 25? Also not that this stat means too much, but Stoops is undefeated at homecoming, and this year USC comes to Tucson. Any chance?
Ted Miller: I'd think 5-1 would get Arizona some top 25 votes -- in large part because it's tough for voters to fill out the bottom of their ballots as teams start to get multiple defeats. But your adding wins against Washington and Stanford and those won't exactly be games that will announce the Wildcats presence with authority. I'd say toss in California and at 6-1 Arizona would be a sure top 25 team.
As for USC visiting Arizona on Oct. 25, I've heard more than a few folks suggest that's a potential "trap" game for the Trojans. We've learned there's always a chance -- see Stanford at USC last year. But if you're asking me what the odds are I'd say just slightly north of Jennifer Garner showing up at my door, crying, and saying that she'd dumped Ben and that she knew I was happily married but that she'd just not be able to live with herself if she didn't stop by and tell me that Pac-10 blog is the greatest thing that's ever happened to her and it's made her see how great life can be and that she's really frustrated by how people keep dumping on the Pac-10 and that, well, that was it and she just wanted to say again how great the Pac-10 blog was.
So, you know, there's about a 20 percent chance.
---
Lamar from Dallas, Ga., writes
: I know one damn thing if USC"S win over Virginia was good enough to allow the voters to jump them to #1, then when GA beats Alabama this week & Bama being ranked #8 and they don't jump GA back to #1 then the damn congress should get involved! Hell the next 5 games GA will play 4 ranked teams & 3 of these teams are in the top 8 of the polls & if GA beats them all THEY SHOULD BE #1 BY A HUGE MARGIN! USC want play another ranked team all year, because all of their conference teams are so pethetic, THEY ARE NOT RANKED!! Am I wrong or right? People are sick of USC getting a free ride for nothing. Damn the Rose bowl for not letting us shut their mouth for good!.
Ted Miller: I'm just going to deal with the final point about the Rose Bowl because Georgia fans seem confused about that. The Rose Bowl is pretty darn stubborn about the Big Ten-Pac-10 matchup, though I'd think folks down South would appreciate things like tradition. But the Rose Bowl wasn't the only problem as far as matching Georgia and USC last year. For the Rose Bowl to have made the dream matchup -- which might have split the national title -- the Sugar Bowl would have had to release Georgia as its replacement team for LSU, which would have made for a lame Sugar Bowl matchup without an SEC anchor team. The odds of that happening were about as high as Jennifer Garner... well, you know what I mean.
---
Spencer from Tucson writes
: Ya, USC is the only ranked team in the Pac-10, but is it already fair to say we are as bad as everyone else says? I understand that the presumed middle of the Pac (Oregon, Cal, ASU, dare I say Arizona?) has faltered, but how much can you really but down a team after one unexpected loss? Yes, the SEC is great, but since nobody other than Georgia has the guts to play a legit team, doesn't that just give them a free excuse for labeling themselves as the best conference. I am not that impressed from any of these SEC teams thus far, and yet I know that the last two weeks has put the Pac-10 runner up out of contention of a BCS at-large, is this really fair?
Ted Miller: Spencer, you may be forgetting Alabama's dominant performance in a 34-10 neutral-field victory over then-No. 9 Clemson. That game has HUGE credibility, as does Georgia traveling across the country and demonstrating clear superiority against Arizona State. And I give credit to Florida for scheduling both Miami and Florida State, even though those two programs aren't what they used to be. And Auburn's got a trip to West Virginia on Oct. 23, and Tennessee deserves kudos for its willingness to travel to marquee nonconference opponents. The SEC, for the most part, stepped up its typically weak nonconference scheduling this year.
As for the Pac-10, I've always believed in playing fair, even when tweaking other conferences in support of the Pac-10. So the Pac-10's current 12-12 record in nonconference play -- including 0-5 vs. the Mountain West, Boise State winning at Oregon, California getting dumped at Maryland and Oregon State getting drubbed at Penn State -- is hard to defend.
If you have a way to make it look good, please advise.
---
Chad from Atlanta writes:
Why the USC hype? I don't want to take anything away from them, but what have they done that anyone else in the top couldn't have? I admit I don't follow the PAC-10, but as best I can see, USC should go undefeated. California, Oregon, and ASU really aren't special this year. Virginia and OSU were solid wins over good programs but when USC ends up 12-0 what will make them different from Hawaii of last year? Would they go 12-0 if they had to play in the Big 12 or or obscenely tough SEC? I feel there are a lot of teams from those two conferences that will end the season with loses--maybe even multiple loses--that could compet
e with USC. I know it's too early to start complaining about they system, but what are people seeing in this team that generates the number one vote? Looking for a better understanding.
Ted Miller: Here's why USC is hyped.
The Trojans have six running backs who will play in the NFL. Their QB, Mark Sanchez, could be a first-round draft pick. USC lists 10 WRs on its depth chart. I'd bet at least six get drafted. When Kristofer O'Dowd is a senior -- if he sticks around -- he might be the No. 1 center in the nation. I have a hard time believing at least two of the Trojans' other four offensive linemen won't stick on NFL teams.
ESPN.com's Mel Kiper ranks Fili Moala the No. 2 senior DT. He ranks Rey Maualuga the No. 1 ILB. He ranks Brian Cushing the No. 1 OLB. He ranks Taylor Mays the No. 1 junior safety.
And I'd bet you $1 that SS Kevin Ellison and CB Shareece Wright become first-day draft picks.
And sophomore end Everson Griffen and those three freshmen on the DL depth chart? Holy cow.
That's my guess why people are voting USC No. 1: They look at USC and they see the nation's best team, however the schedule ahead will play out.