August, 23, 2011
8/23/11
1:00
PM ET
CBSSports.com's Brett McMurphy looks at the biggest
AP preseason poll busts
since 2001, and three Pac-12 teams make the list.
2002: No. 9 Washington (finished 7-6)
2001: No. 11 Oregon State (finished 5-6)
2009: No. 12 Cal (finished 8-5)
Easy to remember each of those teams.
The 2002 Huskies featured quarterback Cody Pickett, who passed for 4,458 yards that season, and wide receiver Reggie Williams. The season began with a last-second loss at Michigan due to a
massive coaching blunder
that cost the Huskies the game. Said then-coach Rick Neuheisel: "We switched substitution groups, which we're going to kick ourselves about for a thousand years."
The Huskies seemed to lose their mojo, but they then rallied for three consecutive wins to finish the regular season -- Neuheisel memorably created the "Northwest Championship" -- over Oregon, Oregon State and Washington State to earn bowl eligibility.
That Oregon State team was touted -- Sports Illustrated ranked the Beavers preseason No. 1 -- after an 11-1 finish in 2000, with quarterback Jonathan Smith and running back Ken Simonton returning. Things immediately fell apart with a blowout loss at Fresno State. A 1-3 start, in fact, featured a 38-7 home loss to UCLA.
As for Cal, at least one writer [insert uncomfortable cough] celebrated the 2009 Bears as a potential national title contender. (They
were
stacked with talent: backs Jahvid Best and Shane Vereen, defensive ends Cameron Jordan and Tyson Alualu, linebackers Mike Mohamed and Devin Bishop, cornerback Syd'Quan Thompson, etc.) After a 3-0 start, the Bears headed to Oregon ranked sixth.
SPLAT! Cal goes down 42-3. The next weekend, just in case we didn't get the message, USC ripped the Bears 30-3 in Berkeley. Suffice it to say, there was nothing subtle about Cal's unmasking.
Here's this year's preseason top 10. So who becomes the bust this year?
1. Oklahoma
2. Alabama
3. Oregon
4. LSU
5. Boise State
6. Florida State
7. Stanford
8. Texas A&M
9. Oklahoma State
10. Nebraska
June, 30, 2011
6/30/11
12:00
PM ET
On Friday, the Pac-10 becomes the Pac-12, and life as we all have known it ends.
But before we move on as a 12-team league, let's look back at the best of a 10-team league.
On Wednesday, we looked at the
best players
. Thursday, it's the best teams.
We've listed 12 teams because that's the new magic number (Arizona fans, see if you can guess who came in 13th).
Again, no team before 1978 -- when Arizona and Arizona State joined the Pac-8 -- was considered.

1. 1991 Washington
: The Huskies finished 12-0 and split the national title with Miami.
Best player
: Defensive tackle Steve Emtman won the Outland Trophy and Lombardi Award.
Point differential
: Washington outscored its foes 495-115.
Best win
: Whipped Michigan 34-14 in Rose Bowl. Wolverines finished ranked sixth.
Comment
: Four wins over teams that finished ranked in the final top 25, including road victories at No. 15 Nebraska and at No. 8 California. Featured one of the great defenses in college football history, yielding just 9.2 points and 67.1 rushing yards per game. Eight Huskies earned first-team All-Pac-10 honors.

2. 2004 USC
: While the NCAA and BCS have nixed it in their own ways, the Trojans finished 13-0 and won the national title on the field.
Best player
: Quarterback Matt Leinart won the Heisman Trophy.
Point differential
: USC outscored its foes 496-169.
Best win
: Crushed Oklahoma 55-19 in the national title game.
Comment
: Basically a push for dominance with 1991 Washington. Beat four teams that finished ranked in the top 25, including the bludgeoning of Oklahoma. Eight Trojans earned first-team All-Pac-10 honors.

3. 2003 USC
: The Trojans finished 12-1 and split the national title with LSU. Their only loss came in triple overtime at California.
Best player
: Receiver Mike Williams was a consensus All-American.
Point differential
: 534-239.
Best win
: The completely dominant 23-0 victory at then-No. 6 Auburn in the opener set the tone for the season -- and caused many Pac-10 fans to question how good these highly rated SEC teams really are.
Comment
: The Trojans finished the regular season ranked No. 1 in both polls but lost out playing in the BCS title game because of the computer polls. LSU fans have been thanking the computers for that glitch ever since.

4. 2005 USC
: A 34-game winning streak came to an end with a nail-biting loss to Texas in the national title game. The Trojans finished 12-1.
Best player
: Reggie Bush won the Heisman Trophy.
Point differential
: 638-297.
Best win
: The 34-31 win at Notre Dame -- the "Bush Push" game -- was one of the all-time greats.
Comment
: Perhaps the best collection of offensive players in the history of college football: Matt Leinart, Reggie Bush, Dwayne Jarrett, Ryan Kalil, Sam Baker and Taitusi Lutui earned first-team All-Pac-10 honors. And don't forget LenDale White, Winston Justice, Steve Smith and Dominique Byrd.

5. 1978 USC
: Finished 12-1 and split national title with Alabama. Lost to Arizona State, 20-7.
Best player
: Charles White was a unanimous All-American.
Point differential
: 318-153
Best win
: A 24-14 win over the team that "claimed" the other half of the national title.
Comment
: Split national title -- coaches liked the Trojans; AP the Crimson Tide -- despite a decisive 24-14 USC at Alabama. So much for head to head.

6. 1979 USC:
Finished 11-0-1 and No. 2 behind Alabama. Tied Stanford 21-21.
Best player
: Charles White won the Heisman Trophy.
Point differential
: 389-171
Best win
: The 17-16 win over Ohio State in the Rose Bowl, in which White ran for a record 247 yards, including the game-winning touchdown with just more than a minute remaining.
Comment
: Team featured four future College Football Hall of Famers in White, Marcus Allen, Ronnie Lot and Brad Budde. By the way, THAT undefeated, untied Alabama team was really, really good: Outscored foes 383-67. So no sour grapes on that one.

7. 2001 Oregon
: The Ducks finished 11-1 and ranked No. 2 in both polls. The only loss was 49-42 versus Stanford (a really, really weird game, if you recall).
Best player
: Quarterback Joey Harrington finished fourth in the Heisman Trophy voting.
Point differential
: 412-256.
Best win
: A 38-16 win over Colorado in the Fiesta Bowl.
Comment
: The Fiesta Bowl victory caused plenty of folks to bemoan the Nebraska-Miami matchup in the BCS title game, considering Colorado had blown out Nebraska the final weekend of the regular season. As for the Stanford loss, the typically straightforward AP noted the game had "
everything but aliens landing on the Autzen Stadium turf
."

8. 1984 Washington:
Finished 11-1 and ranked No. 2 behind BYU. Lost to USC ,16-7.
Best player
: Defensive tackle Ron Holmes was a consensus All-American.
Point differential
: 352-145
Best win
: Shocked Oklahoma 28-17 in the Orange Bowl. Sooners finished ranked sixth.
Comment
: A controversial season. Before the Orange Bowl, Sooners coach Barry Switzer lobbied hard for the winner to be declared the national champion. As it was, BYU won the national title after beating a bad Michigan team in the Holiday Bowl. Does anyone believe BYU was better than the Huskies? No.

9. 2010 Oregon
: The Ducks finished 12-1 and No. 3 in both polls, losing the national title game to Auburn.
Best player
: Running back
LaMichael James
finished third in the Heisman Trophy voting.
Point differential
: 611-243
Best win
: The Ducks handed Stanford its only loss, 52-31, after trailing 21-3 early. Cardinal finished ranked No. 4.
Comment
: An innovative, exciting team to watch, one that played faster than perhaps any big-time college team in history.

10. 1996 Arizona State:
Finished 11-1 and ranked No. 4 in both polls. Lost Rose Bowl -- and potential national championship -- to Ohio State, 20-17.
Best player
: Quarterback Jake Plummer finished third in the Heisman Trophy voting.
Point differential
: 488-216
Best win:
The Sun Devils trounced top-ranked, two-time defending national champion Nebraska, 19-0.
Comment:
The Sun Devils lost one of the most dramatic Rose Bowls, when the swashbuckling Plummer was out-swashbuckled by Joe Germaine, who was raised in Arizona as an ASU fan.

11. 2000 Washington:
The Huskies finished 11-1 and ranked No. 3, their only loss coming at No. 7 Oregon. They beat Purdue 34-24 in the Rose Bowl.
Best player:
Marques Tuiasosopo finished eighth in the Heisman Trophy voting.
Point differential:
387-270
Best win
: Beat Miami, 34-29. Hurricanes finished ranked No. 2.
Comment:
This is not the most talented team on the list. In fact, some have
rated the 2000 Oregon State team
-- see below -- ahead of the Huskies. And based on NFL results, the Beavers were more talented than the Huskies. But head to head matters, and the win over Miami is better than anything Oregon State did.

12. 2000 Oregon State:
The Beavers finished 11-1 and ranked No. 4, their only loss a 33-30 decision at Washington, which finished ranked No. 3.
Best player:
Running back Ken Simonton was first-team All-Pac-10.
Best win:
Beat Oregon 23-13 in Civil War. Oregon finished ranked seventh in the coaches poll.
Comment
: One or two more plays at Washington, and the Beavers would have played for the national title. And they, by the way, were more talented than the Oklahoma team that did win the title. Notable Beavers: Ken Simonton, Chad Ochocinco (the Chad Johnson), T.J. Houshmandzadeh, Chris Gibson, DeLawrence Grant, LaDairis Jackson, Dennis Weathersby and Eric Manning. They spanked Notre Dame 41-9 in the Fiesta Bowl.
March, 9, 2011
3/09/11
9:00
AM ET
By
ESPN.com staff
| ESPN.com
We continue our countdown of the Pac-10's 25 best players from 2010.
Note: Because we are ranking players based on this past season, it's Pac-10, not Pac-12.
Here are the
preseason rankings
(click each name to read the blurb).
[+] Enlarge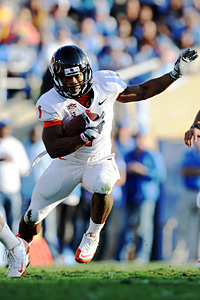 Harry How/Getty ImagesOregon State's Jacquizz Rodgers finished sixth on the Pac-10's career rushing list.
No. 9. Jacquizz Rodgers, RB, Oregon State
2010 numbers
: Rodgers, a first-team All-Pac-10 selection, rushed for 1,184 yards with 14 touchdowns and caught 44 passes for 287 yards and three TDs.
Preseason ranking
: No. 1
Making the case for Rodgers
: It was a disappointing season for Rodgers and a disappointing season for Oregon State, while Oregon's
LaMichael James
produced a body of work that left little doubt who was the best running back in the Pac-10 -- and the state -- in 2010. Still, Rodgers put up good numbers by any measure, and his numbers are even better when you consider this detail: His offensive line failed him. The Beavers not only ranked ninth in the conference in rushing -- they got a total of 21 yards rushing per game from anyone other than Rodgers -- but they also yielded 35 sacks, which also ranked ninth in the conference. When brother James went down with a knee injury in game five at Arizona, the offense largely became "Jacquizz versus the world": He scored 17 of the Beavers 37 total TDs. Rodgers, typically a mellow sort, showed a lot of fire during the Beavers struggles -- he admitted his frustration multiple times -- but he also (at least from what we can gather) did it in a positive way, which is admirable. As it is, he turned in his third consecutive season with more than 1,000 yards rushing and pushed up to sixth on the Pac-10's career rushing list (3,877 yards), which is second on the Beavers all-time list behind Ken Simonton. Instead of returning next fall to make a run at the record, he opted to enter the NFL draft. It will be interesting to see where the diminutive but productive, multi-purpose runner is selected.
No. 10. Chase Beeler, C, Stanford
No. 11. Omar Bolden, CB, Arizona State
No. 12. Jeff Maehl, WR, Oregon
No. 13 Vontaze Burfict, LB, Arizona State
No. 14. Matt Barkley, QB, USC
No. 15. Brooks Reed, DE, Arizona
No. 16. Tyron Smith, OT, USC
No. 17. Kenny Rowe, DE, Oregon
No. 18. Nick Foles, QB, Arizona
No. 19. Casey Matthews, LB, Oregon
No. 20. Talmadge Jackson, CB, Oregon
No. 21. Akeem Ayers, LB, UCLA
No. 22. Cliff Harris, CB, Oregon
No. 23. Jermaine Kearse, WR, Washington
No. 24. Jurrell Casey, DT, USC
No. 25. Shane Vereen, RB, California
October, 1, 2010
10/01/10
9:31
AM ET
By
ESPN.com staff
| ESPN.com
Some quick notes to get you through the hours until Saturday. Many thanks to ESPN Stats & Information.
This is the first time since the Pac-10's inception in 1959 (formerly called AAWU) that the conference has had four 4-0 teams ranked this highly in the AP poll at this point in the season. Oregon, Stanford, Arizona and USC are all 4-0 and ranked among the top 18 teams in the poll.
This is the 74th meeting between Stanford and Oregon, but Saturday will mark the first time both have been ranked at game time.
Oregon has its highest AP ranking since the 2007 season, when the Ducks reached No. 2 in the November 11th poll before losing three straight games.
Of Oregon's 24 scoring drives that ended in touchdowns, 11 of them lasted less than one minute. The average time of those 11 drives is 33 seconds. Oregon ranks 91st nationally in time of possession.
Oregon has yet to allow a point at home this season, outscoring opponents 141-0 in two games. But that was against New Mexico and Portland State.
Oregon has won 12 straight home games since losing to Boise State in 2008. The Ducks have also won nine straight home Pac-10 games, last losing to Oregon State in the 2007 Civil War.
The Ducks already have 14 rushing touchdowns this season. There are 64 current FBS teams that don't have 14 TOTAL touchdowns yet.
Stanford won last year's shootout 51-42 snapping a seven-game losing streak to the Ducks. Oregon has won the last four meetings in Eugene, outscoring the Cardinal 159-52.
Stanford is enjoying its best AP ranking since finishing the 1992 season also ranked 9th. This is also the first time that Stanford has faced an opponent when BOTH teams are ranked in the AP top 10 since Sept. 12, 1970 when 10th ranked Stanford beat 4th ranked Arkansas 34-28.
The last time Stanford was ranked in the top 5 was the Sept. 28, 1970 poll (3rd). That year was also the last time Stanford was this highly ranked entering October (3rd).
Since 2000, Stanford is 4-3 when facing top 5 teams. That includes a stunning upset at No. 2 USC in 2007. Last season, Stanford went 3-0 when facing a ranked opponent.
If the Cardinal can win on Saturday, it will be their first 5-0 start since the 1951 team started the season 9-0.
The Oregon-Stanford game will be the fourth consecutive top-10 Pac-10 matchup in Eugene, and Oregon is 3-0 in the previous games: Oct. 27, 2007 -- No. 5 Oregon defeated No. 9 USC, 24-17, at Eugene;Nov. 3, 2007 -- No. 4 Oregon defeated No. 6 Arizona State, 35-23, at Eugene; Oct. 31, 2009 -- No. 10 Oregon defeated No. 4 USC, 47-20, at Eugene (factoid courtesy of Arizona State).
Stanford has scored 192 points through its first four games this season. That's the school's most points over a four-game stretch since the first four games of the 1923 season (206 points). Oregon's 231 points scored are the most in school history over any four-game stretch. Oregon and Stanford rank first and fourth respectively in scoring offense this season.
USC was No. 3 when it got upset by Washington last season, and it was held to just 13 points and a 110 pass yards -- a low in the Pete Carroll era. Prior to last year's loss, the Trojans had won seven straight meetings with Washington by an average score of 40-16 (includes vacated win in 2005).
USC's Lane Kiffin will attempt to become the third USC coach to start 5-0. Harvey Holmes (started 5-0 in 1904) and Jess Hill (started 7-0 in 1951) are the only two to do it.
USC has won 32 straight home night games, but three of those wins were vacated by the NCAA.
Washington LB Mason Foster leads the Pac-10 and is third in the nation with 12.7 tackles per game.
Arizona State leads its series with Oregon State 24-11-1, but the Beavers have won three of the last four.
Arizona State QB Steven Threet leads the Pac-10 and is fourth in the nation in passing with 307 yards per game.
Sun Devils punter Trevor Hankins is No. 1 in the nation with an average of 51.1 yards per boot.
ASU freshman RB Deantre Lewis rushed for 127 yards on just 11 carries vs. Oregon (11.5 yards per carry). He's expected to start at Oregon State.
With 100 all-purpose yards vs. Boise State, James Rodgers moved to No. 1 on Oregon State's all-time list with 5,630 total yards, passing Ken Simonton.
The Beavers are road warriors this early season. This is just their second home game and they won't be home again until Oct. 30 vs. California, but that begins a string of four home games over the final six games.
UCLA leads its series with Washington State 37-18-1, but the Cougars have won six of the last 10.
The Bruins win at No. 7 Texas was their first road victory over a ranked team since beating No. 19 Oregon State 38-7 in 2001.
UCLA is 20th in the nation in rushing with 218.75 yards per game. Last year, the Bruins finished 97th in rushing (114.62).
Washington State QB Jeff Tuel has thrown for more than 200 yards in all four games. The only other Pac-10 quarterbacks to do that are Arizona's Nick Foles and Arizona State's Steven Threet.
The Cougars rank last in the Pac-10 in scoring offense, scoring defense, total defense, rushing offense, pass defense, pass efficiency defense, sacks against and red zone offense.
September, 24, 2010
9/24/10
9:00
AM ET
By
ESPN.com staff
| ESPN.com
Some quick notes to get you through the hours until Saturday. Many thanks to ESPN Stats & Information.
Arizona is 3-0 for the first time since 2001 and is looking for its first 4-0 start since 1998 when it won its first five games. At No. 14, this is Arizona's highest ranking since 1999.
California is 6-2 in Pac-10 openers under Jeff Tedford (since 2002). After winning six straight (2003-08), the Bears lost last year's conference opener 42-3 at Oregon.
Cal has won five of the past seven meetings with the Wildcats. However, Arizona has won the past two meetings in Tucson.
Last week at Wisconsin, Arizona State had 261 kick return yards (including a 97-yarder and 95-yarder), more than either their rushing total or passing total in the game. For the season, ASU has almost as many kick return yards (443) as rush yards (467). The Sun Devils are second nationally in kick return average (behind Indiana).
Though Arizona State leads the overall series 16-14, Oregon has won five straight meetings and scored 42.4 points per game over those five meetings. The five-game win streak is Oregon's longest ever against Arizona State.
Oregon has scored 114 unanswered points (finished Week 2 against Tennessee with 45 straight plus a 69-0 win last week) and has managed 189 points in 180 minutes of football this season. Of the three games in which a team has scored more than 65 points this season, Oregon has two.
The Ducks haven't allowed a point in their last 104 minutes and 21 seconds (almost seven straight quarters). They've allowed only one touchdown all season, something that only Alabama can also claim.
Oregon State leads the all-time series with Boise State 4-2, but the series is tied 2-2 since Boise State moved to FBS (then I-A) in 1996. Since then, the home team has won all four meetings.
The Beavers have won each of their past three games against AP top-3 teams, beating USC in 2008, California in 2007 and USC in 2006.
Boise State is 5-1 vs BCS AQ-conference teams over the past four seasons, starting with their 2006 win vs Oregon State. Prior to that, they were 2-16
Boise State's 63-2 home record since the start of the 2000 season is best in FBS.
James Rodgers needs 61 all-purpose yards to set the Oregon State career record, passing Ken Simonton. Rodgers leads FBS with 226.5 yards per game this season and is second among active players in career yards to Tulsa's Damaris Johnson (209 yards behind).
Oregon State has yet to turn the ball over. The Beavers had the second-fewest turnovers in the nation last season (11).
Notre Dame has dominated the series with Stanford, holding a 17-7 series edge. Stanford, however, snapped a seven-game losing streak against the Fighting Irish with last year's 45-38 comeback victory in Charlie Weis' last game as the Fighting Irish's head coach.
Notre Dame has dominated Stanford at home, winning 10 of the 12 matchups in South Bend. The Cardinal's two wins at Notre Dame were very memorable, however. In 1990, unranked Stanford edged the top-ranked Irish 36-31. Two years later, in the first season of Bill Walsh's second stint as coach, the 18th-ranked Cardinal scored 33 unanswered points to turn a 16-0 halftime deficit into a shocking 33-16 win over No. 6 Notre Dame. It was the Irish's only loss that season and Stanford's last win in South Bend.
Notre Dame has lost its past 10 games against opponents ranked in the AP Top 25, including four straight at home. The Irish's last win over a ranked team came Sept. 9, 2006 against No. 19 Penn State (41-17) at South Bend. The Notre Dame defense has been torched in those games, allowing 35-plus points in five of those matchups and 40-plus points in three of them.
Stanford is looking for its first 4-0 start since 1986. That season, the Cardinal finished 8-4 and lost the Gator Bowl (27-21 to Clemson).
This is Stanford's highest AP ranking three games into the season since 1972, when the Cardinal were ranked 15th.
UCLA and Texas are meeting for the first time since 1998 and have split four meetings. The last time Texas faced a Pac-10 team outside of a bowl game was 2000, when they lost at Stanford.
UCLA's last visit to Austin was a 66-3 win in 1997 that became the beginning of the end for Texas head coach John Mackovic. Mack Brown was hired to take his place a few months later.
Texas plays Oklahoma in the Red River Shootout on Oct. 2. Since 2000, Texas has lost the game before the Shootout only once. That happened in 2007, when they lost to Kansas State.
Texas leads FBS in rush defense this year, allowing 44.0 rush yards per game (almost 10 full yards ahead of second-place Boise State). UCLA is rushing for more than 200 yards per game.
UCLA is playing a ranked team for the third straight week (L vs 25 Stanford, W vs 23 Houston). Later in the season it also plays three straight games against (currently) ranked teams – at No. 5 Oregon, vs. No. 14 Arizona, vs. No. 24 Oregon State.
USC head coach Lane Kiffin is trying to become the first USC coach since Jess Hill in 1951 to begin his Trojan career 4-0. Hill's Trojans started 7-0, before finishing 7-3.
USC is looking to start 4-0 for the first time since 2007. Prior to the last two seasons (3-1 starts), the Trojans started at least 4-0 in every season from 2004-07.
USC has won the past seven meetings with Washington State, averaging 44.4 points per game. The Trojans' average win margin in those seven games is 32.6 points.
The Trojans have committed 31 penalties through three games (third most in FBS) and have racked up 321 penalty yards, most in FBS.
Washington State true freshman Marquess Wilson has posted two 100-yard plus receiving games, only the second true freshman to do that for the Cougars. He ranks fourth in the Pac-10 with 93.7 yards receiving per game.
August, 5, 2010
8/05/10
11:00
AM ET
By
ESPN.com staff
| ESPN.com
Here's our take on the most painful losses for each Pac-10 team.
Feel free to disagree.
Arizona
Oregon 44, Arizona 41, 2OT, 2009

With "College GameDay" on campus for the first time, Arizona fans stormed the field in celebration. Prematurely. And that set up a red ring of disappointment around the field at packed Arizona Stadium, when Jeremiah Masoli rallied the Ducks late for a tie in regulation and then a win in double-overtime. As it turned out, if the Wildcats had won, they would have gone to the school's first Rose Bowl. Masoli tied the game at 31-31 with an 8-yard touchdown pass to Ed Dickson with six seconds left, capping a 15-play, 80-yard drive. Two plays before, he had converted an 8-yard pass on fourth-and-5. Masoli scored the game winner from 1-yard out in the second overtime. It was his sixth touchdown of the night -- three passing and three running. It may have been the best game of 2009.
Arizona State
Ohio State 20, Arizona State 17, Rose Bowl, 1997

So close to a national championship. The Sun Devils' 11-0 regular season included a 19-0 victory over defending national champion Nebraska, and they looked poised to win in Pasadena when Jake Plummer, on third-and-11, scrambled for a touchdown and 17-14 lead with 1:40 to play. But the Buckeyes weren't done. They drove 65 yards for the winning score, with David Boston hauling in a touchdown pass from five yards out with 19 seconds left. That pass was thrown by Ohio State's backup quarterback, Joe Germaine, who came off the bench to earn game MVP honors. Germaine was born and raised in Arizona and grew up rooting for ASU but opted to go to Ohio State because the Sun Devils coaches wanted him to play defensive back.
California
USC 23, California 17, 2004

Cal dominated the best USC team of the Pete Carroll era -- the Bears outgained the Trojans 424 yards to 205 -- but a comeback attempt fell short at the end. It was the Bears only regular season loss, despite quarterback Aaron Rodgers tying an NCAA record by completing 23 consecutive passes. Rodgers was nearly perfect until three throws missed from the USC 14-yard line in the final minute. Cal was undone by poor special teams play and three turnovers (versus one from USC). Making the defeat even more bitter: After a lobbying effort from Texas coach Mack Brown, the Longhorns eclipsed the Bears in the BCS standings and played in the Rose Bowl, which relegated Cal, which hadn't played in the Rose Bowl since 1959, to the Holiday Bowl, where they played without passion in an upset lost to Texas Tech.
Oregon
Arizona 34, Oregon 24, 2007

It's hard to decide between the 49-42 loss to Stanford in 2001 -- the Ducks lone defeat that season -- or this one (the 2000 Civil War defeat also deserves note). The Stanford loss -- after leading 42-28 -- ended a 23-game winning streak and was the Ducks first home loss in four years. It also cost the Ducks a shot at the national title against Miami. At Arizona in 2007 on Thursday night on ESPN, the 8-1 Ducks were ranked No. 2 and quarterback Dennis Dixon was the Heisman Trophy frontrunner. They led 8-7 and were driving when Dixon blew out his knee (he'd first hurt it 12 days before versus Arizona State). Things mostly fell apart from there, in the game and over the final two games of the regular season. Here's the distinction: 2001 and its final No. 2 ranking still rate as the best season in program history. If Oregon had beaten Stanford, however, it would have played Miami in the Rose Bowl, the BCS title game, and that Hurricanes team was, well, awesome (in the real sense of the word). If the 2007 Ducks had won out and played LSU or Ohio State for the national title, their chances would have been very good to win the program's first national title. Instead, the season ended in major disappointment -- the Sun Bowl -- and an overwhelming sense of what might have been.
January, 20, 2010
1/20/10
11:47
AM ET
By
ESPN.com staff
| ESPN.com
Lots of extraordinary games to choose from, as well as many ways to ascribe greatness: the size of the stage, the competitiveness of the game and the overall strangeness.

And we made the executive decision not to make this a list of USC upset losses -- other than the biggest one of those.

10. Oregon 56, Arizona State 55 (2 OT), 2000: Many of you are drawing a blank, but the ones who saw this one are jumping out of their chairs and going, "Oh man. That one was nuts." Both teams scored 21 points in the fourth quarter. The teams combined for 1,228 yards, 663 of those for the Sun Devils. Ducks quarterback Joey Harrington threw six -- SIX! -- touchdown passes, including three in the fourth quarter, the last of which tied the score with 27 seconds left after the Sun Devils gave away a critical fumble. Arizona State freshman QB Jeff Krohn threw five TD passes, by the way. ASU lost the game when coach Bruce Snyder decided to fake the extra point and go for the two-point conversion in the second overtime. It failed, leaving fans in Tempe stunned.

9. Washington State 30, USC 27 (OT), 2002: Any of you Cougars fans able to muster the memory of kicker Drew Dunning's slide on his knees at Martin Stadium? Dunning sent the game into overtime with a 35-yard field goal and then made the game-winner from the same distance in a victory that was critical to the Cougars' run to the Rose Bowl. The game featured a brilliant quarterback duel between Carson Palmer and Jason Gesser -- Gesser passed for 315 yards, Palmer for 381 -- and a dominant performance from Cougars defensive tackle Rien Long, who went on to win the Outland Trophy. Between this game and the 2006 Rose Bowl, USC lost just once.

8. Oregon 44, Arizona 41 (2 OT), 2009: If Arizona had won this game, we now know the Wildcats would have played in their first Rose Bowl. The Wildcats led 24-14 early in the fourth quarter, but then the game went crazy. With red-clad Arizona fans encircling the field, Ducks quarterback Jeremiah Masoli tied the game in regulation with six seconds left with a touchdown pass to Ed Dickson. Masoli then won it in the second overtime with a 1-yard run. Masoli ran for three TDs and passed for three more.

7. Stanford 24, USC 23, 2007: Greatest upset in Pac-10 history? Maybe. Stanford was a 41-point underdog playing its backup quarterback at No. 2 USC, which had won 35 in a row at home. But Trojans quarterback John David Booty, who foolishly played -- and was allowed to play -- with an injured throwing hand, threw four interceptions, while Stanford's Tavita Pritchard led a clutch, game-winning drive, throwing a 10-yard touchdown pass to Mark Bradford on fourth-and-goal with 49 seconds remaining.

6. Oregon 37, Oregon State 33, 2009: It was the Civil War for the Roses, with the Ducks earning a berth in the Rose Bowl after slipping a game crew of Beavers. While the return of Ducks running back LeGarrette Blount was significant -- he scored a critical touchdown -- the game belonged to redshirt freshman running back LaMichael James, who scored three touchdowns and rushed for 166 yards, and quarterback Jeremiah Masoli, who ran over Beavers safety Lance Mitchell to convert a fourth-and-3 play from the Beavers' 33 with 3:41 left as Oregon ran out the final six minutes with its final drive.

5. California 31, Oregon 24, 2007: Sixth-ranked California, featuring a stellar performance from receiver DeSean Jackson, outlasted No. 11 Oregon in a game between two teams that each would at one point rise to No. 2 during the season, though both ultimately crumbled. The game turned on a strange play as the Ducks were on the cusp of tying the score. With 22 seconds to go, Dennis Dixon found Cameron Colvin near the goal line, but Colvin fumbled trying to reach the ball into the end zone when he was hit by Marcus Ezeff. The loose ball went through the end zone and was ruled a touchback and possession for Cal.

4. Washington 33, Oregon State 30, 2000: It was the greatest game no one saw because of the late, West Coast kickoff at Husky Stadium. And at the time its magnitude wasn't clear. The critical play of the back-and-forth affair happened when Washington defensive tackle Larry Tripplett caught Ken Simonton for a three-yard loss on second-and-1 from the Huskies 26-yard line with 42 seconds left. The Beavers panicked and mistakenly spiked the ball -- they had a time out left -- and then Ryan Cesca missed a 46-yard field goal to tie. It was the Beavers only loss of the season; they crushed Notre Dame in the Fiesta Bowl. They would have played Oklahoma for the national title if they had prevailed. And the win helped the Huskies win the Rose Bowl tiebreaker.

3. USC 23, California 17, 2004: No. 7 California had a first-and-goal on top-ranked USC's 9-yard line with under two minutes left. At that point, Cal quarterback Aaron Rodgers had completed 29 of 31 for 267 yards and a touchdown. But the Bears couldn't punch it in, with USC registering a sack and forcing three incompletions. It was the closest call of the season for the best team of the USC dynasty.

2. USC 34, Notre Dame 31, 2005: The infamous "Bush Push" game. No. 9 Notre Dame was about to knock off top-ranked rival USC and make Irish coach Charlie Weis a national sensation, but Matt Leinart led a drive for the ages in the waning moments as the Trojans prevailed, scoring the winning points when Leinart got a little extra help from Bush on his second effort on a quarterback sneak.

1. Texas 41, USC 38, 2006 Rose Bowl: Perhaps the great game in college football history, particularly considering that the stakes were a national title for two unbeaten teams and the field was packed with talent and future high draft choices. Vince Young almost single-handedly willed his team to the victory -- he ran for 200 yards and passed for 267 more -- and denied the Trojans a third consecutive national title. USC walked away with a laundry list of "what ifs," but the ultimate result was a 34-game winning streak coming to an end.
January, 20, 2010
1/20/10
9:00
AM ET
By
ESPN.com staff
| ESPN.com
Yes, there are lots of USC teams in our list of the "best Pac-10 teams of the decade."
Not sure how you get around that. From 2002 to 2008, the Trojans finished ranked in the nation's top four. During that span, no other conference team topped the Trojans in the national rankings.
One team not listed, however, merits special mention: Oregon in 2007.
That team was 8-1, ranked No. 2 in the BCS standings and appeared to be headed for a showdown with LSU for the national championship. Then quarterback Dennis Dixon blew out his knee at Arizona -- he'd actually hurt it the week before vs. Arizona State -- and the Ducks subsequently lost to the Wildcats, the first of three consecutive losses before a blowout victory over South Florida in the Sun Bowl.
More than a few people -- not just Ducks fans -- believe that team would have won the national title if Dixon had remained healthy.
Of course, if wishes were fishes then cows would fly.
10.
USC, 2007
: A toss-up between this squad and the Trojans 2006 team. The '07 team finished ranked third in the AP and second in the coaches poll, while '06 finished fourth in both. '07 lost to 41-point underdog Stanford and at Oregon, see above about the Ducks. '06 lost at Oregon State and at UCLA, a 13-9 defeat that cost it a spot in the national title game. That last detail iced it for '07.
9.
USC, 2002
: More than a few pundits watching Carson Palmer and company pound Iowa in the Orange Bowl opined that, by season's end, this might be the nation's best team in 2002. After a 3-2 start in Year Two of the Pete Carroll Era, the Trojans won eight in a row to finish 11-2 and ranked No. 4.
[+] Enlarge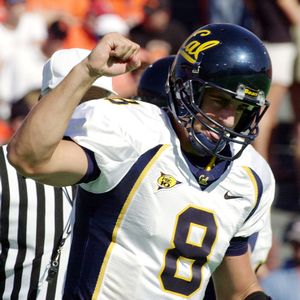 AP Photo/Don RyanAaron Rodgers and the Golden Bears only had one regular-season loss in 2004.
8.
California, 2004
: Sure, the Bears laid an egg vs. Texas Tech in the Holiday Bowl -- quick Cal fans: how many receivers were missing due to injury? And what do you think of Mack Brown? -- but Aaron Rodgers and company put on quite a show. The only regular-season defeat came in a thriller at USC -- see below -- 23-17, when the Trojans held strong after the Bears had a first-and-goal from the 9-yard line with less than two minutes left.
7.
Oregon State, 2000
: If not for a crazy finish at Washington in a 33-30 defeat, the Beavers might have played Oklahoma for the national championship. They went on to blister Notre Dame 41-9 in the Fiesta Bowl and finished ranked fourth in the nation. Go back and look at the roster: Chad Johnson, T.J. Houshmandzadeh, DeLawrence Grant, Dennis Weathersby, LeDarius Jackson, Ken Simonton, etc. This was hardly a scrappy, little team.
6.
Washington, 2000
: This crew of Huskies was hardly dominant but they just found a way to win week after week, led by quarterback Marques Tuiasosopo. The 11-1 season included a victory over Miami, which finished ranked No. 2, a loss at No. 7 Oregon, and a Rose Bowl win over Drew Brees and Purdue.
5.
USC, 2008
: This crew paired one of the best defenses in college football history with a quarterback who's playing in the AFC championship this weekend. Yes, it's fair to ask how the horsepucky this team didn't win the national championship. Oregon State fans care to explain?
4.
Oregon, 2001:
How strange was the Ducks 49-42 loss vs Stanford, their only defeat of the season? The normally staid AP said this in the game story, it was "a game that had everything but aliens landing on the Autzen Stadium turf." The Ducks led by 14 in the fourth quarter before a blocked punt and interception from Joey Harrington allowed the Cardinal to take the lead. While Oregon fans mostly remember getting BCSed out of the national title game by Nebraska, the Stanford game prevented them from playing Miami in the Rose Bowl. The Ducks blasted Colorado in the Fiesta Bowl and finished No. 2, still the program's best final ranking.
3.
USC, 2003
: A dominant team that lost only in triple-overtime at California. Only a BCS computer glitch forced the Trojans, ranked No. 1 in every poll, to share a portion of the national title with another squad.
2.
USC, 2005
: The offense was a thing of beauty -- 580 yards, 49 points per game -- but a young defense, which featured a true freshman and four sophomore starters, cost the Trojans in the thrilling BCS title loss to the University of Vince Young.
1.
USC, 2004
: Unbeaten, undisputed. Dominant. Best team of the decade in all of college football? Perhaps, though folks could make a strong argument for Miami in 2001. An extraordinary array of talent on both sides of the ball. And defense was the difference vs. 2005. It ranked sixth in the nation in total defense and third in scoring. The Trojans battered Oklahoma 55-19 for the national title.
August, 17, 2009
8/17/09
9:00
AM ET
By
ESPN.com staff
| ESPN.com
Posted by ESPN.com's Ted Miller
My guess is this will be a heck of a conversation starter.
Thou art a villain!
Now and forever!
Who is Public Enemy No. 1 of your program? Who beat you, ruined you, annoyed you?
Here's a list.
But know that we are completely aware of this unavoidable fact: We only observe and speculate. You feel.
If you have additions, gripes or different takes, feel free to respond. We want to know who really gets your goat.
Arizona
Current villain: John Mackovic. Mackovic went 10-19 before getting canned midway through the 2003 season after a player revolt. His prickly and pompous personality didn't go over well in Tucson and he left the program bereft of talent.
All-time villain: Frank Kush. Kush led Arizona State to national prominence and was 16-6 vs. the Wildcats, winning 13 of his final 15 matchups.
Arizona State
Current villain: Joe Germaine. The Ohio State quarterback, who played high school football in Mesa, Ariz., led a last-minute touchdown drive in the 1997 Rose Bowl, denying the previously unbeaten Sun Devils a share of the national title.
All-time villain: Kevin Rutledge. The former Sun Devils punter accused legendary coach Frank Kush of punching and harassing him and in 1979 sued the school for $1.1 million, which directly led to Kush's midseason termination.
California
Current villain: Mack Brown. The Texas coach vociferously -- and with little justification -- lobbied to be promoted in the national polls past California so the Longhorns could earn a BCS bowl berth. A number of voters listened, changed their voting patterns and denied the Bears their first Rose Bowl invitation since 1959. Dispirited, Cal sleepwalked through a Holiday Bowl loss to Texas Tech.
All-time villain: Tyrone Willingham. Willingham? Well, while Stanford's coach from 1995-2001, Willingham went 7-0 in Big Games. How can that not be incredibly annoying to Cal fans, even more so today, considering the trajectory of Willingham's coaching career?
Oregon
Current villain: Dennis Dixon's ACL. Dixon looked like he was on his way to the Heisman Trophy and his Ducks to the national title game when his knee gave way with four games remaining in the 2007 season.
All-time villain: Washington. The hate between the schools started in 1948 when Washington broke ranks with the Northwest schools and voted California into the Rose Bowl instead of Oregon -- and convinced Montana to do the same -- after the Bears and Ducks tied for the best record in the conference.
Oregon State
Current villain: Larry Tripplett. In the 2000 game at Husky Stadium, the Washington defensive tackle caught Ken Simonton for a three-yard loss on second-and-1 from the Huskies 26-yard line with 42 seconds left and Washington leading 33-30. The Beavers mistakenly spiked the ball -- they had a time out left -- and then Ryan Cesca missed a 46-yard field goal to tie. It was the Beavers only loss of the season; they crushed Notre Dame in the Fiesta Bowl. They would have played Oklahoma for the national title if they had prevailed.
All-time villain: 1971-1998. During that 28-year span, the Beavers never posted a winning record. What's more, they averaged just 2.32 wins a season. It's one of the great streaks of consistent losing in college football history.
Stanford
Current villain: Jeff Tedford. Since Tedford took over at California, the Bears have won six of the past seven Big Games.
All-time villain: Kevin Moen. Moen is the Cal player who ran through the Stanford band and knocked over trombone player Gary Tyrrell in the endzone to complete "The Play" in the 1982 Big Game.
UCLA
Current villain: Pete Carroll. Honestly, does this need explanation? He's 7-1 vs. the Bruins since starting USC on its unprecedented run.
All-time villain: Bill Hayhoe. Though the Bruins' classic 1967 showdown with USC is most remembered for O.J. Simpson's 64-yard touchdown run, UCLA fans surely recall that kicker Zenon Andrusyshyn missed three field-goal attempts and an extra point in the 21-20 defeat. The 6-foot-8 Hayhoe blocked two of those field goals and the PAT. The Bruins entered the game ranked No. 1 and the defeat cost them a shot at the Rose Bowl and the national championship. USC went on the win both.
USC
Current villain: The BCS. Who knows how many national titles USC would have won during Pete Carroll's tenure had a playoff been in place. Certainly more than two. Maybe as many as five. Moreover, the BCS has kept the Trojans out of the "national title" game a number of times, which has been a great boon to the SEC, which hasn't had to prove itself vs. the Trojans.
All-time villain: Lou Holtz. Holtz went 9-2 vs. USC while Notre Dame's coach, including the 1988 game when the unbeaten and No. 1-ranked Fighting Irish whipped unbeaten No. 2-ranked USC 27-10 in the Coliseum. The Trojans then lost the Rose Bowl to Michigan, while Notre Dame went on to win the national title. Ouch.
Washington
Current villain: Tyrone Willingham. Tough call here between Willingham and Rick Neuheisel as to who Huskies fans blame the most for the program's current state. But our guess is memories of Neuheisel's victory in the 2001 Rose Bowl earns him a break, while the Willingham-led 0-12 disaster is still very, very fresh.
All-time villain: William Gerberding. While school president, he alienated highly respected and successful athletic director Mike Lude and then -- the whopper -- enraged revered football coach Don James, who resigned in 1993 because he felt Gerberding mishandled an NCAA and Pac-10 investigation into the football program. Gerberding also hired Barbara Hedges, whose leadership is often cited as the point A for the football program's downturn as well as the current sorry state of Husky Stadium.
Washington State
Current villain: Bill Doba. Nicest guy in the world. Did a great job as Mike Price's defensive coordinator. Led a winning effort against Texas in the 2003 Holiday Bowl. But the lack of talent on the Washington State roster in 2008 and at present falls almost entirely on him.
All-time villain: Rick Neuheisel. While Don James led a period of Washington dominance in the Apple Cup rivalry -- he was 13-5 vs. the Cougars -- there was always a grudging respect for James. Not so for Neuheisel, who went 4-0 vs. the Cougars and was reviled in Pullman. The unranked Huskies triple-overtime victory over the then-third-ranked Cougars in 2002 ended with Washington State fans littering the field with bottles and other trash.