March, 27, 2012
3/27/12
11:00
AM ET
Utah is heading into its second week of spring ball. Here's some news and roster notes on the Utes.
David Rolf (calf) has the latest in a series of tight end injuries. He joins Kendrick Moeai (shoulder) and Dallin Rogers (knee) on the sidelines. Moeai and Rogers have already been declared out for the entire spring, but Rolf could return in a week or two. Last season Rogers caught 22 balls for 160 yards and two scores. Moeai had 15 catches for 84 yards and a score while Rolf caught three for 48. To compensate for the lack of depth due to the injuries, Jake Murphy will take the reps with the first team while former tight end-turned-defensive end Westlee Tonga will work as the No. 2 tight end until Rolf returns. Murphy had five catches for 64 yards -- including a 30-yard touchdown -- last season.
The Utes are building depth in the secondary with a couple of different position battles. Keith McGill, a converted safety, and Tyler White have worked their way on to the depth chart in backup roles at both cornerback spots behind projected starters Mo Lee (left) and Ryan Lacy (right). Reggie Topps is battling with McGill for the No. 2 spot on the left while White and Wykie Freeman are fighting for the No. 2 spot on the opposite side.
In more secondary position battles, Topps appears to still have a hold as the first cornerback off the bench when the Utes go into nickel, but Lewis Walker and Joseph Smith are contending for the No. 2 position.
One position change on the defensive side of the ball: Jared Norris has moved from middle linebacker to rover linebacker -- where he's co-starting this week with Dave Fagergren and Victor Spikes.
Grab your hard hat. Demolition will be begin Tuesdasy (in about three hours) on the Dee Glen Smith Athletics Center. Coach Kyle Whittingham will make the first dent by plowing some heavy equipment into the facility. The demolition paves the way for construction of a new $30 million football facility, which is expected to open in time for the 2013 season. The new facility will include practice fields.
October, 6, 2011
10/06/11
5:03
PM ET
Utah fans, please gather. Yes, you, Chicken Little, Henny Penny and, most particularly, you, Utesy Losey.
Your coach, Kyle Whittingham, has a message for you.
"The sky is not falling," he said. "We are 2-2 and have done some good things this season."
[+] Enlarge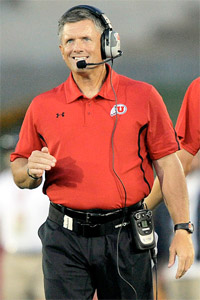 AP Photo/Mark J. Terrill"There is little margin for error in this conference," Utah coach Kyle Whittingham said.
Yes, the Utes have lost QB
Jordan Wynn
for at least two or three weeks. But backup
Jon Hays
can get it done, says your coach.
"He's the guy," Whittingham said. "He's a hard worker. He's competitive. About 6-feet tall, 195-200 pounds. He's got a strong arm and is a very capable runner. We've got to tweak things a little bit offensively to take advantage of his skill set."
Or as Arizona State coach Dennis Erickson said, "They're still a good football team."
That reassurance now expressed, yes, there will be a strong sense of urgency inside Rice-Eccles Stadium on Saturday with the Sun Devils visit.
In the preseason, this looked like a critical matchup in the Pac-12 South Division pecking order. With USC ineligible to play in the Pac-12 championship game due to NCAA sanctions, the Sun Devils and Utes were popular choices as the next two favorites. But the No. 22 Sun Devils rolled to a 4-1 start -- 2-0 in conference play -- while the Utes are 0-2 in the conference.
That means if the Utes lose, their hopes of winning the division are close to nil. So, with Wynn out, the Utes are need Hays, a summer transfer from Nebraska-Omaha, to come up big.
Or at least manage the game and not make a bunch of costly mistakes, as inexperienced QBs often do.
"This is a situation where we find out who we really are and what we're made of, when adversity strikes," Whittingham said.
There is good news for Utah, even on the injury front. Other than Wynn, it's pretty healthy, as OT Tony Bergstrom, the Utes best offensive lineman, and tight ends
Kendrick Moeai
and
Jake Murphy
are each expected back after missing the Washington game.
Utah still has a good defense and a good running game. Playing at home, it's perfectly capable of playing conservatively and stealing a victory, which would move it back into the thick of the division race, particularly with no Oregon or Stanford on the schedule (ASU only plays Oregon).
In fact, the Sun Devils are the
truly banged up team
. The latest injuries hit the offensive line: Two starters, center Garth Gerhart and tackle Evan Finkenberg, are both out.
So while this might seem like a potential walk-over for the Sun Devils, don't be so sure.
"Obviously, if you lose your quarterback, it'll hurt you a little bit," Erickson said. "They have really good players, though. They're really physical on defense. They're a really good defensive football team. To me, going up there is going to be difficult, so we have to find a way to play on the road and win some football games on the road."
Also obvious: The Sun Devils figure to gang up on the run and force Hays to throw. While ASU isn't a blitz-happy team, it's sure to challenge Hays with a few jailbreak stunts to see how he handles the pressure.
On offense, the Sun Devils probably won't get too fancy. Run the ball with
Cameron Marshall
, though his ankle is still bothering him, and use a controlled passing game. They don't want to put pressure on the two new offensive linemen in pass protection. They want to protect the ball, win field position and try to get a few easy scores on a short field.
Still, as bad as the injuries have been for Arizona State, Utah losing Wynn appears to be a huge hit. Perhaps Hays will write his own Cinderella story, but the reality of Pac-12 play also might be setting in for the Utes. Namely: You've got to have depth, and things are particularly grim if you don't have depth at QB.
"There is little margin for error in this conference," Whittingham said. "We knew it would be competitive, and every week is going to be like this. I don't know if people thought we would walk through it, but that's not reality. Our recruiting classes continue to build our roster, but it's a process."
And the process at present means the Utes are forced to rely on a QB who a year ago never expected to play in an FBS, much less a Pac-12, game.
October, 3, 2011
10/03/11
5:39
PM ET
Utah's standing in the Pac-12 South Division is even more precarious after the school announced Monday that quarterback
Jordan Wynn
will be out at least two to three weeks with the injury to his left, non-throwing shoulder he suffered over the weekend in a loss to Washington.

The Utes (2-2 overall, 0-2 Pac-12) play host to Arizona State ( 4-1, 2-0) on Saturday in a key South Division game. They play at Pittsburgh on Oct. 15 and at California on Oct. 22.
It's not even certain Wynn
will be back at that point
. Said a statement from the school: "He will be re-evaluated at that time to determine if he is ready to return."
The statement didn't identify the nature of the shoulder injury.
Wynn will be replaced by junior
Jon Hays
. He transferred to Utah this summer after the team he initially signed with out of Butte College -- Nebraska-Omaha -- dropped its football program.
He has played in two games this season, playing out the fourth quarter of Utah's rout of Brigham Young on Sept. 17 and playing the entire second half of last week's loss to Washington. He's completed 10 of 17 passes for 156 yards with a TD and an interception. His backup will be true freshman
Tyler Shreve
.
"[Hays] showed a lot of poise on a lot of plays," coach Kyle Whittingham said. "I saw a lot of positives in the half that he played. He has a strong arm and runs fairly effectively."
Whittingham added that the offense might get some tweaks. "We have to change some things in our offense to play to our quarterback's strengths," he said. "It will necessitate that we do some different things. We'll play more shotgun and more spread. We're working through that as we speak. Jon is a better runner than Jordan."
On the plus side, Whittingham also said he expects to get offensive tackle Tony Bergstrom, tight end
Kendrick Moeai
and tight end
Jake Murphy
back this week.
PAC-12 SCOREBOARD
Saturday, 12/20
Monday, 12/22
Tuesday, 12/23
Wednesday, 12/24
Friday, 12/26
Saturday, 12/27
Monday, 12/29
Tuesday, 12/30
Wednesday, 12/31
Thursday, 1/1
Friday, 1/2
Saturday, 1/3
Sunday, 1/4
Monday, 1/12
Tweets from https://twitter.com/ESPNCFB/lists/pac12