January, 24, 2014
Jan 24
9:00
AM ET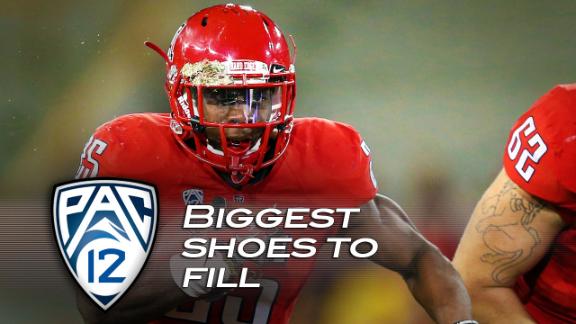 The Pac-12 has 26 of the 98 early entrants in the NFL draft. That's impressive. Some players are locks to get drafted. Others might have jumped the gun a bit and find themselves on practice squads or brushing up on their Canadian. We'll see.
What we're more concerned about here is who is going to replace them. Some answers are clearer than others. Some teams might have to alter their schemes just to account for a departed player.
Here's a look at the possible replacement players in the Pac-12 South. We'll look at the North later this morning.
Leaving:
Ka'Deem Carey
, RB, Arizona.
The replacement:
Jared Baker
should be in the mix, though an injury will keep him out of spring ball. He's expected to return in time for fall camp.
Pierre Cormier
and
Zach Green
will also get looks. Speaking with folks at Arizona, the word right now is that it's wide open. One player could emerge, or it could end up being a by-committee approach. Nothing is off the table at this point.
Leaving:
Carl Bradford
, LB, Arizona State
The replacement:
There really isn't anyone who has Bradford's skill set in the program yet, so the position is wide open.
Viliami Latu
has potential. So does
Chans Cox
, who was hurt a lot last season. They are also excited about incoming freshman
Ismael Murphy-Richardson
. He might not be ready to jump in immediately, but he could be the Devil backer by 2015.
[+] Enlarge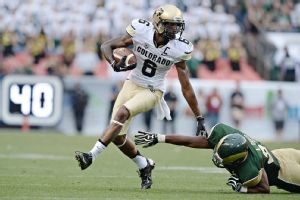 Ron Chenoy/USA TODAY SportsColorado will have a hard time replacing the explosive plays that Paul Richardson provided.
Leaving:
Paul Richardson
, WR, Colorado
The replacement:
It was probably going to be
Jeff Thomas
before he transferred. Now it's probably going to be a rotation of
D.D. Goodson
,
Devin Ross
, or redshirt freshmen
Bryce Bobo
or
Elijah Dunston
.
Nelson Spruce
has been solid, but he's not the breakaway threat Richardson was. This will be a key spring battle to watch.
Leaving:
Xavier Su'a-Filo
, OL, UCLA
The replacement:
Simon Goines
should be back after starting six games at left tackle before an injury forced him out.
Scott Quessenberry
stepped in and played five games at left guard, which is where he'll likely be next season with Goines back at tackle.
Leaving:
Dion Bailey
, LB, USC
The replacement:
Leon McQuay III
saw some playing time and is very highly regarded by the coaching staff. His contributions last season were mostly on special teams, but he'll take on a larger role with Bailey's departure.
Leaving:
Marqise Lee
, WR, USC
The replacement:
Remember
George Farmer
? He's still around and could be in for a big season if healthy.
Darreus Rogers
and
Steven Mitchell
both are promising, but both have missed time with injury. You never truly replace a Biletnikoff winner, but playing opposite a surging
Nelson Agholor
could help boost the production of whoever gets in the regular rotation.
Leaving:
George Uko
, DT, USC
The replacement:
Transfer
Delvon Simmons
is coming off a redshirt season, as is freshman
Kenny Bigelow
. Both should get some serious looks, as this will be one of the hot position battles this spring. Someone will ultimately win the job, but expect a rotation with both next season.
Leaving:
Marcus Martin
, C, USC
The replacement:
Lots of ifs here. It could be
Max Tuerk
moving over from guard, but he'll also be in the mix for right tackle to replace
Kevin Graf
.
Khaliel Rodgers
redshirted and is an option at guard or center.
Giovanni Di Poalo
could also get a look.
Leaving:
Xavier Grimble
, TE, USC
The replacement:
Grimble and
Randall Telfer
were basically co-starters, so all this probably means is Telfer's workload increases as he becomes the clear No. 1.
Jalen Cope-Fitzpatrick
is the only other scholarship tight end on the roster.
Leaving:
Jake Murphy
, TE, Utah
The replacement:
Westlee Tonga
seems like the logical fit. He has been around for a few years and has some experience, but was injured most of last year. He'll get another opportunity to be the lead tight end in the newest installment of Utah's offense.
March, 18, 2013
3/18/13
11:00
AM ET
Catching you up on some of the spring action from late Friday and over the weekend.

CALIFORNIA
The quarterback competition continued at Cal with the Bears holding another scrimmage Saturday at Memorial Stadium.
The team ran approximately 55 plays, scoring three touchdowns and a field goal in nine possessions.
Zach Kline
, Jared Goff and
Austin Hinder
all shared the work, with
Kyle Boehm
getting one series on offense.
Kline went 5 of 6 for 88 yards with a 16-yard touchdown pass to
Darius Powe
. Goff went 5 of 11 for 90 yards with a 36-yard touchdown to
Bryce Treggs
. Hinder was 4 of 8 for 54 yards and a rushing touchdown. But coach Sonny Dykes said he hasn't seen any separation yet.
"I don't think so, not based on what I saw," Dykes said. "We'll doublecheck our work, but it looked like to me they all did some good things, kind of more of the same. They just keep working harder and getting more comfortable. It seems like every day they're starting to get a little bit of a better sense of timing and more comfortable with their receivers."
Treggs, who caught three balls for 39 yards, also weighed in on the competition.
"I see it's pretty even right now," he said. "All of them are doing a great job. One hasn't really emerged yet. All of them are doing great, and right now I'm comfortable with any of them if they were to be named the starter."

COLORADO
The Buffs held their first full scrimmage under new coach Mike MacIntyre on Friday afternoon, running 116 plays (91 from scrimmage, 25 special teams) in about 80 minutes.
Jordan Webb
(5 of 11, 98 yards) and
Nick Hirschman
(4 of 7, 61 yards) had the two lone touchdown passes with
Josh Ford
(4 carries, 42 yards) scoring the lone touchdown on the ground.
Shane Dillon
, who worked four drives -- the most of any of the quarterbacks -- was 4 of 9 for 56 yards with an interception.
"Our quarterbacks made some plays," MacIntyre said. "We have a very quarterback friendly offense. We had a couple of picks, but overall, we made a lot of plays. They played well. [Receivers] D.D. [Goodson] and Gerald [Thomas] made some big plays. Gerald did a good job, he has a lot of talent, he just has to do it every day."
Colorado will be back at it Tuesday and Thursday before another scrimmage Friday afternoon heading into spring break.

USC
You may have already heard the news that running back
Silas Redd
will
miss the rest of spring practice
with a torn meniscus that will require surgery this week. The good news is he's expected to be back for spring ball.
At Saturday's scrimmage, the defensive front impressed Lane Kiffin the most,
who told Garry Paskwietz
he "couldn't imagine being more pleased" with the progress of the unit as they transition to an odd front.
"I really thought the front seven on the first-unit defense played well," USC coach Lane Kiffin said. "Hayes Pullard played great at linebacker while George Uko and Leonard Williams were dominant up front. The defense is really picking things up with the new scheme. I can't imagine being more pleased."
Pullard tallied six tackles, one for a loss, and Kenny Bigelow had a pair of sacks.
The quarterback competition continues -- likely without end this spring. And with
Max Wittek
sidelined with a knee injury,
Cody Kessler
and Max Browne have been getting in all of the work. Kessler went 13 of 19 for 161 yards, including a 75-yard touchdown pass to
Nelson Agholor
. Browne went 6 of 9 for 69 yards with a 52-yard touchdown to Darreus Rogers.

Washington
Per the all-knowing Bob Condotta,
Cyler Miles
and Troy Williams got the bulk of the backup quarterback work behind
Keith Price
-- who
Condotta characterizes as "clearly the No. 1 guy."
So those of you hoping for a quarterback controversy, you're out of luck.
Here's what Steve Sarkisian said about the backups:
"I thought Troy Williams had two really good practices here the last two practices for a true freshman from day one and then working his way up to practices five and six, I thought he was impressive. I thought Cyler has flashed at some times. But for all of them, like any young quarterback, is finding the consistency and doing things right consistently at a high level, and that's where those guys get themselves in trouble so that's what we will continue to work on."
February, 7, 2013
2/07/13
9:00
AM ET
We're reviewing hits and misses in Pac-12 recruiting, starting with the South Divison.
ARIZONA

Needs filled
: The Wildcats have two incoming quarterbacks -- USC transfer
Jesse Scroggins
, who's already in school, and
Anu Solomon
-- who will be in competition to replace the departing
Matt Scott
. The class includes five linebackers, a need position. Don't be surprised if running back
Pierre Cormier
gets touches behind
Ka'Deem Carey
. It seems that coach Rich Rodriguez stocked up on athletes -- receivers and defensive backs.
Holes remaining
: The Wildcats' biggest weakness in 2012 was the defensive line -- they ranked last in the Pac-12 in sacks and gave up more than 200 yards rushing per game -- and this class of 23 includes just two defensive linemen. Who's going to rush the passer in 2013?
ARIZONA STATE

Needs filled
: The Sun Devils needed receivers and defensive backs. They signed five receivers and and five defensive backs -- and one athlete, who could play either. Defensive tackle
Marcus Hardison
, the nation's No. 5 junior college player, should help bolster a poor run defense.
Holes remaining
: The Sun Devils lost QB
Joshua Dobbs
to Tennessee on signing day, which means they haven't signed a quarterback in two consecutive classes. Nine JC transfers means the Sun Devils are counting on immediate impact rather than long-term development. That approach can be a gamble, though four of the juco recruits have three years of eligibility instead of two.
COLORADO

Needs filled
: The Buffs have a lot of needs, as they were last in the Pac-12 in scoring offense and scoring defense in 2012. The class includes six offensive linemen, and quarterback
Sefo Liufau
, 6-foot-4, 215-pound product of Bellarmine Prep in Tacoma, Wash., is a guy Buffs fans should be excited about. Considering the poor production at the position last season and the fact that there's a new scheme, he might get into the mix this fall.
Holes remaining
: This is a fairly balanced class but there isn't a single interior defensive lineman. The Buffs gave up 226 yards rushing per game last season. The Buffs did, however, sign nine defensive linemen last year. While Liufau is the star of the class, this crew is lacking pizzazz and will rank last in the Pac-12, which is not surprising for a 1-11 team that fired its coach.
UCLA

Needs filled
: Jim Mora said his top needs were offensive line, defensive back and linebacker. He signed seven offensive linemen, four defensive backs -- highly rated safety
Priest Willis
is still pending -- and three linebackers. As for the offensive line, two are ESPN 300 prospects and a third is a four-star lineman. Including Willis, who is expected to sign with the Bruins, two defensive backs are ESPN 150 players, a third is an ESPN 300 recruit and the fourth is rated with four stars. As for linebacker, two are ESPN 150 players.
Holes remaining
: The Bruins signed the Pac-12's top-rated class and had a great final week. There is little not to celebrate, other than defensive tackle
Eddie Vanderdoes
picking Notre Dame. The most obvious hole is running back, where there's no obvious replacement for
Johnathan Franklin
.
Craig Lee
had committed to the Bruins but hasn't signed, so there's no true RB in this class.
USC

Needs filled
: USC lost three of four starters from a secondary that underperformed last year, so signing two of the top three safeties in the nation --
Su'a Cravens
and
Leon McQuay
-- as well as the No. 11 cornerback in
Chris Hawkins
is a pretty nice haul. The Trojans also added a pair of elite running backs in
Ty Isaac
and
Justin Davis
, the nation's No. 3 DT in
Kenny Bigelow
and the No. 2 quarterback in
Max Browne
. All three spots were need areas.
Holes remaining
: The story of this class, as good as it is, is the handful of decommitments. In November, this was the No. 1 class but fell out of the top 10. Bigelow is the only defensive lineman; there are only two offensive linemen. In November, the question was how was USC going to finagle its way to just 75 scholarships, per NCAA sanctions. That's no longer an issue.
UTAH

Needs filled
: With the graduation of RB
John White
and three voids on the defensive line, those were two need spots addressed by this class of 23. The Utes signed five defensive linemen, including three defensive tackles. They also signed four running backs, including JC transfer
Devontae Booker
.
Holes remaining
: One bit of bad news for the defensive line is that DT
Lowell Lotulelei
, younger brother of Star and the Utes' highest-rated player, didn't sign because he's going on a Mormon mission right out of high school. This is a balanced class but it includes just two offensive linemen. The Utes also didn't get great linebacker play last season and this class only includes one,
Uaea Masina
.
July, 26, 2012
7/26/12
3:30
PM ET
Recruiting is out of control.
Surely you heard the big news today. Kevin Gemmell, who is supposed to be sharing the Pac-12 blog with me going forward, has committed to Oregon -- for the class of 2017, reportedly because joining the Ducks seemed like a cool way to celebrate his 40th birthday.
And that paragraph is only slightly more fantastical and fatuous and phony than this recent uptick in middle schoolers committing to big-time programs.
The latest is this
: Rising eighth grade quarterback Tate Martell of San Diego has "committed" to Washington.
And by "committed," we mean an exchange took place with all the depth and meaning of a pronouncement of affection from a Kardashian.
This really has nothing to do with a recent trend in recruiting. It has to do with a recent trend of attention grabs and a belief in the awesomeness of any sort of publicity.
Martell might end up at Washington. And he might end up at Eastern Washington. Or he might end up playing baseball. Or deciding he prefers theater. Or he may join the circus. Nothing he does in football this year matters. And, really, nothing he does until his junior season of high school matters.
The only way he gets a scholarship to play football at Washington is if he proves to be good enough when he is a mature high school player. And, along the way, he might decide he'd rather play for Michigan, Texas, Oregon State or Florida.
My point: Nothing in the universe of college football changed today. Martell is no closer to a football scholarship to Washington than he was yesterday, nor is he bound in any way to go to Washington.
I wrote the same when
David Sills
committed to USC as a 13-year-old in 2010. Utterly meaningless. I continue to believe the odds are remote that Sills will ever play quarterback at USC.
So why does this happen? The best answer is also the worst: Why not? Just because a gesture is meaningless doesn't mean it won't produce a momentary media tempest in a teapot.
The other answer is this: Steve Clarkson, prep quarterbacks guru, loves publicity. And he's the common denominator here. From the ESPN.com story:
While the early commitment certainly caught most of the college football world off guard, Clarkson said plenty of thought went into it from Martell and his family. The 14-year-old is close with Sills, who made a commitment to USC as he was entering the eighth grade.

"The family followed that situation," Clarkson said. "He's seen how that unfolded. But that's kind of the trend. The landscape has changed."
No, it hasn't. It matters not a whit what these guys look like now.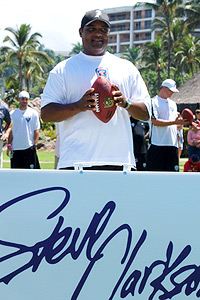 Kevin ShepardHigh school QB guru Steve Clarkson has tutored Tate Martell and David Sills, very early commitments both.
Clarkson has the respect of many folks in football. His track record is strong tutoring quarterbacks. He's a proven commodity. But he's also a businessman. He knows this story sells him more than anything else. And, well, feel free to read into what Clarkson
calls himself on his website
: "Dream maker."
While many folks slap their foreheads over 13- and 14-year-olds "committing" to big-time college sports teams, there also are a number of, er,
highly involved
daddies and mommies who are looking at their cherished little sprout as he tosses a Nerf ball around the living room thinking, "I got to get me some Steve Clarkson!"
From
Mitch Sherman's story
:
According to Clarkson, it's the wave of the future. Athletes are more specialized today, often spending three times as many hours per year on football than the players of a generation ago. They ought to be ready to make such decisions much earlier, he said.

"The next time a sixth- or seventh-grader commits," Clarkson said, "you've already been doused with the frozen water, so the shock is gone."

Clarkson said programs like his, which identify and groom quarterbacks barely into their teens, are growing in prominence as high school football loses some of its power in recruiting.
Let me tell you something without an iota of doubt: No, this is not the wave of the future. An annual blip? Sure. A trickle? OK. No wave here, though. Mostly because it makes no sense to conduct business this way. For one, so much can change in five years. For example, one of the reasons Martell liked Washington was that former quarterback Jake Locker was his favorite player. Well, what happens is Locker never pans out in the NFL? Will that thinking still hold for Martell?
So, you say, what do Lane Kiffin and Steve Sarkisian get out of this? Ah, glad you asked. For one, they have nothing to lose. But recruiting is a spiderweb of intrigue. The public looks at one spot getting touched and don't take note of more notable vibrations elsewhere.
Kiffin, you might already have deduced, is crazy-smart like a fox in recruiting.
Guess who Sills just happens to be
teammates and good buddies

with?
Kenny Bigelow
,
the No. 2 defensive tackle in the country, who is committed to USC for the 2013 class, and
Khaliel Rodgers
,
a four-star offensive guard who also is committed to USC in 2013. Now those are two meaningful commitments.
How connected are these three guys? When Red Lion Christian Academy in Bear, Del., decided to to become more of a school with a football team than a football team with a school,
all three transferred

to Elkton (Md.) Eastern Christian Academy.
Some might counter that Kiffin didn't know about these two in 2010 when Sills committed. Fine. My response: Kiffin is crazy-smart like a fox in recruiting. Funny how this is working out so well for him, eh?
Yes, recruiting is out of control. It has been for some time. But the next wave isn't 13-year-olds committing. Something irrelevant can be quirky or even interesting and inspire some media rubbernecking, but it ultimately will fail to hold sway in a high-stakes game based on a real-live bottom line.
May, 18, 2012
5/18/12
2:46
PM ET
Greg Katz writes

: Any sort of May malaise USC fans might have been in was eradicated with two four-star RB commits, a Hall of Fame inductee, a goodwill mission and long-awaited control of their home stadium.
WeAreSC Mailbag

: In this weekly feature, Erik McKinney answers reader questions on the strength of Kenny Bigelow's recruitment, out-of-state recruits and the presence of negative recruiting in sales pitches.
May, 13, 2012
5/13/12
3:22
PM ET
By
ESPN.com staff
| ESPN.com
Erik McKinney writes

: His awkward departure from Tennessee hasn't prevented Lane Kiffin from trying to recruit the state, with Memphis offensive lineman Christian Morris being his latest target.
McKinney writes

: USC defensive tackle Kenny Bigelow became the third Trojans commit to get an invite to The Opening, earning one Saturday at the Baltimore NFTC.
Garry Paskwietz writes
: A group of USC players led by Matt Barkley is taking a humanitarian trip to Haiti to help build houses in the Caribbean country.
April, 18, 2012
4/18/12
4:29
PM ET
Erik McKinney writes

: Elkton, Md., teammates Kenny Bigelow and David Sills attended Saturday's spring game and were able to get a glimpse at their futures with USC.
Garry Paskwietz writes
: Spring football is over at USC. Here are a few lessons learned from the Trojans.
Paskwietz writes

: USC is being very selective in its WR offers, as multiple in-state wideouts in the ESPN 150 haven't been offered yet.
Paskwietz writes

: USC defensive line coach/recruiting coordinator Ed Orgeron is eager to reload the Trojans defensive line in the 2013 recruiting class.
Paskwietz writes

: With running back numbers down, USC is looking everywhere it can for tailbacks.
March, 20, 2012
3/20/12
2:04
PM ET
By
ESPN.com staff
| ESPN.com
Erik McKinney writes

: Several big recruiting events are about to turn up the heat in California, and USC will be keeping a close eye on its commits and targets.
Garry Paskwietz writes
: After taking a week off for spring break, the USC football team will resume its spring ball practice sessions Tuesday afternoon.
Erik McKinney writes

: 2013 commit Kenny Bigelow and 2015 commit David Sills have moved from Bear (Del.) Red Lion Christian Academy to Elkton (Md.) Eastern Christian Academy after the Red Lion coaching staff was removed.
Erik McKinney writes

: Scottsdale, Ariz., guard Larry Lewis decommitted from the Trojans on Monday, becoming the second commit from Arizona to back away from their commitment to USC.
December, 1, 2011
12/01/11
6:00
PM ET
By
ESPN.com staff
| ESPN.com
We Are SC provides more coverage on the Trojans:
Postseason awards
: This week's Roundtable is all about the hardware, as the WeAreSC panel hands out its postseason awards.
Erik McKinney writes

: The Mission Viejo-Santa Margarita matchup should prove to be an enticing one for Trojans fans to keep an eye on.
Steve Bisheff writes

: Bisheff will hold onto his Heisman ballot till the last minute, and Matt Barkley could make his list.
Kyle Williams writes

: Evaluating USC junior prospect Su'a Cravens, who already shows an ability to excel at the major-college level.
Erik McKinney writes

: Junior defensive lineman Kenny Bigelow committed to the Trojans late Wednesday night
WeAreSC Podcast
: Season Review
WeAreSC Podcast
: Recruiting
WeAreSC chat wrap