May, 2, 2014
May 2
10:00
AM ET
A recap of what we learned about
Cal
as it heads into its second season under coach Sonny Dykes.
Three things we learned in the spring:

1. Staying healthy.
Without question the biggest contributing factor in Cal's 2013 disaster was the relentless rash of injuries that left an already young team without a puncher's chance. This was such a problem that just the fact that Cal survived spring practice without any significant injuries was arguably its most important accomplishment.
2. Depth at receiver.
Chris Harper
,
Bryce Treggs
and
Kenny Lawler
figure to make a dangerous trio of receivers for the Golden Bears, but there is depth in the receiving corps beyond them.
Trevor Davis
, a transfer from Hawaii, is expected to make an immediate impact on the outside, along with
Maurice Harris
. Treggs spent the spring learning the inside position and will present a more versatile option this season.
3. Jared Goff ready to take next step.
With no one to seriously challenge Goff for playing time --
Zach Kline
is headed to Butte College -- he has settled into more of a leadership role. The rising sophomore has all the talent to eventually be among the conference's best quarterbacks, but that could be dependent on the offensive line and running game.
Three questions for the fall:
1. Can they run the ball?
Getting an accurate gauge of how improved the run game is won't be an easy task until the season begins.
Khalfani Muhammad
, the team's leading rusher from a season ago (74 carries, 445 yards), split his time between football and track during spring and will see competition from a pair of incoming freshmen --
Tre Watson
and
Vic Enwere
.
2. Will the Bears stay healthy?
If they don't, there won't be much reason for optimism. Cal isn't in a place where it will have much success in the conference with less than its full compliment of weapons. The Bears have a lot of talented players, but their depth is lacking compared to others in what should be a loaded Pac-12 in 2014.
3. What is considered success?
After going 0-for-FBS last season, it's fair to say a four-win season should be looked at as a considerable improvement. The nonconference schedule includes a trip to Northwestern, home games with BYU and Sacramento State, and they miss Utah and Arizona State during conference play.
One way-too-early prediction:
Goff will finish in the top five in the county in passing yards. He has the receivers, is in the right system and has the talent. If this happens, there's still the potential he finishes No. 3 in the conference behind Oregon State's
Sean Mannion
and Washington State's
Connor Halliday
, who finished No. 2 and No. 3 in the country last season.
April, 28, 2014
Apr 28
9:00
AM ET
Here's a quick look at some of the highlights of the three spring games in the Pac-12 this past weekend.
California

Quarterback
Jared Goff
completed 14 of 23 passes for 170 yards and a touchdown as the Bears wrapped their spring session in front of approximately 2,500 fans at Memorial Stadium.
Daniel Lasco
and
Jeffrey Coprich
each made 1-yard touchdown runs and Goff connected with
Kenny Lawler
on an 8-yard touchdown strike. Lawler finished with four catches for 30 yards and the score.
Bryce Treggs
had two catches for 47 yards.
Goff said the Bears are looking to move beyond last season's horrific 1-11 showing, in which they failed to beat an FBS team.
"We're done with last year," Goff said. "We're done with everything that had to do with last year. We're a brand new team now and we're ready to go. …
"We're two or three deep at every [wide receiver] position that I think honestly have NFL potential. I'm just so fortunate to have that receiving corps out there willing to make plays. They all want the ball and they all want to make plays. It's really, really lucky for me."
Austin Hinder
, who is competing with
Kyle Boehm
to be Goff's backup, was 6-of-12 for 46 yards and interception. Boehm was 1-of-2 for three yards.
You can see the full stats
here
.
UCLA

Offensive coordinator Noel Mazzone guided his Blue team to a 28-0 victory over defensive coordinator Jeff Ulbrich's White team behind two rushing touchdowns from
Jordon James
at the StubHub Center in Carson, Calif.
Paul Perkins
and
Steven Manfro
also scored rushing touchdowns.
Quarterback
Brett Hundley
only played in one offensive series and was 4-of-5 for 30 yards.
Jerry Neuheisel
completed 14 of 22 passes for 180 yards, but threw interceptions to
Ishmael Adams
and
Adarius Pickett
.
Asiantii Woulard
was 4-of-13 for 42 yards and
Mike Fafaul
was 7-of-16 for 116 yards.
"I like the way they competed," head coach Jim Mora
told the Pac-12 Network
. "I like the fact that nobody got seriously injured. I'm sure there's some nicks. I thought they came out and competed well. I thought we protected the ball fairly well. It's good to be in a game environment. It will help us going down the road."
Three defensive players each recorded two sacks -- linemen
Owamagbe Odighizuwa
and
Zach Vinci
and linebacker
Deon Hollins
.
You can see the full stats
here
.
Washington State

Quarterback
Connor Halliday
completed 25 of 41 passes for 326 yards and three touchdowns and the Crimson team topped the Gray squad 23-19 in front of 6,233 fans at Joe Albi Stadium in Spokane, Wash.
Vince Mayle
caught six balls for 92 yards and a touchdown to lead the Crimson group, while freshman
Calvin Green
led all players with eight catches for 101 yards.
"Spring went well," Halliday
told the Pac-12 Network
. "Spring games are always a little frustrating. We've got the team split in half and we have some O-linemen that haven't played together and the receivers are split in half. We had a real good spring before today. Today was a little sloppy here and there. But it went well."
DaQuawn Brown
hauled in two of the five interceptions. Redshirt freshman
Jamal Morrow
rushed for 44 yards on five carries and
Gerard Wicks
added two scores on the ground.
Drew Loftus
had a pair of touchdown receptions.
You can see the full stats
here
.
April, 17, 2014
Apr 17
12:00
PM ET
BERKELEY, Calif. -- Headed into his second season at Cal, there's still a lot coach Sonny Dykes needs to learn about his team. Seemingly left with more questions than answers at the end of Year 1, it was clear the spring would be a fact-finding mission as much as anything.
Except at receiver.
There has been some minor tweaking going on during the first two-thirds of spring practice, but it's clear that the coaching staff is confident in the receivers -- perhaps more than any other group on the team.
[+] Enlarge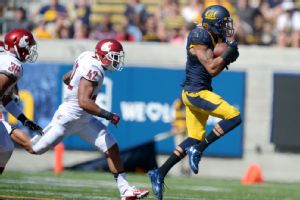 Kirby Lee/USA TODAY SportsChris Harper had 70 catches for 852 yards and five touchdowns in 2013.
'There's some [Pac-12 teams that] probably return, maybe more productive guys than we did, but we've got a lot of guys who can play," Dykes said. "I think our depth has got to be probably as good as anybody's in terms of guys who have played and guys who are starting to to come into their own."
It starts with the duo of
Chris Harper
and
Bryce Treggs
, who combined for 147 catches for 1,603 yards a year ago, but
Kenny Lawler
also was productive (37 catches, 347 yards, 5 TD) -- especially late in the season -- and several others are fighting for playing time.
Assistant head coach Rob Likens, who is responsible for the outside receivers, doesn't hesitate to call the receivers the team's strongest unit -- and that he tells them that every day.
"They have to put it on their shoulders," Likens said of the group's importance to the team. "Experience breeds confidence, and that's the thing we were lacking last year.
"Obviously, when you're running a new offense, that first year they don't know what to expect in a game, how its all going to work out. So we've gone through that process already, so they know coming into the spring how [the rest of the conference] is going to play."
The most notable change has been Treggs' move from outside to inside receiver. The move was done as part of an effort to get him the ball more often and engineer more matchups against safeties and linebackers. Making the same position change is 6-foot-6
Drake Whitehurst
, who provides the closest look to what the Bears had from
Richard Rodgers
a year ago.
On the right side,
Stephen Anderson
and
Darius Powe
are battling at the inside spot, but Likens said both struggled with too many drops last fall. With Treggs inside, the left outside receiver spot is a competition between Hawaii transfer
Trevor Davis
and junior
Maurice Harris
. They are splitting time with the first team.
With such a talented group of receivers and a promising young quarterback in
Jared Goff
, Cal certainly has the potential to evolve into a dangerous Pac-12 offense, but other deficiencies need to get cleaned up. Namely the running game.
"And we know that. We stressed that this spring," Likens said. "[Last year,] we got into games and we realized that everybody realized that we couldn't run the ball, so it is a lot of pressure on some very young skill guys."
Likens said Cal will "rely heavily on" a pair of incoming freshman running backs,
Tre Watson
and
Vic Enwere
.
Cal will plays its spring game on April 26, at which point the coaching staff will turn the responsibility over to the players to get better. Most, if not all, are expected to be around for a majority of the summer.
"In this offense, that's crucial," Likens said. "If you don't do that, you don't have a chance."
It's an expectation Lawler said the players have bought into, and only partially because of the 1-11 season.
Lawler doesn't believe the lack of success had anything to do with last offseason's effort -- "We actually worked out really hard," he said -- but admitted he's willing to work harder and give more things up this time around.
March, 25, 2014
Mar 25
7:00
PM ET
You remember the three-headed monster, right? It's about returning production that will scare -- terrify! --opponents. Or not.
On offense, it's elite combinations at quarterback, running back and receiver.
On defense, it's elite combinations of a leading tackler, a leader in sacks and leader in interceptions.
This year, we're breaking things down by division.
We looked at the South Division
offensive three-headed monsters on Monday. On Tuesday, we'll take a look at the North Division offense.
Only Cal and Washington State return their three-headed leaders from last season. The other four teams have all had a change of some kind. And there are some big question marks surrounding a couple of schools -- especially the one in Seattle.
Let's take a look:

1. Oregon
QB
Marcus Mariota
, RB
Byron Marshall
, WR,
Bralon Addison
The skinny
: Heisman candidate + rising star + explosive playmaker = nasty. Though losing Josh Huff and De'Anthony Thomas, the Oregon offense should be explosive once again. Mariota led the nation in adjusted QBR last season to go with 31 passing touchdowns to just four interceptions. Marshall is a returning 1,000-yard rusher with 14 touchdowns last season, and Addison hauled in nine scores.

2. Stanford
QB
Kevin Hogan
, RB ?, WR
Ty Montgomery
The skinny:
The Cardinal get the No. 2 spot here based on experience at quarterback and the fact Montgomery is returning after a second-team all-league year. And whoever the "regular" running back is, be it
Kelsey Young
(the leading returner in yards),
Ricky Seale
,
Barry Sanders
or
Remound Wright
, he will be running behind a stellar offensive line. Worth noting that Hogan and Montgomery had more rushing yards last year than any of the listed running backs. But Stanford's success running the football leads the Pac-12 blog to give it the benefit of the doubt.

3. Oregon State
QB
Sean Mannion
, RB
Terron Ward
, WR
Richard Mullaney
The skinny:
Though the Beavers lose
Brandin Cooks
, Mannion has the potential to be one of the top quarterbacks in the country after throwing 37 touchdowns last year.
Storm Woods
had more carries and touchdowns, but Ward had more yards, so they'll likely work in unison, again. Mullaney had 52 catches last season.

4. Washington State
QB
Connor Halliday
, RB
Marcus Mason
, WR
Gabe Marks
The skinny:
WSU gets the edge in the rankings over Washington (for now) because there are still a lot of question marks around the Huskies. Halliday tossed 34 touchdowns last year and threw for nearly 4,600 yards. Marks has blossomed into a bona fide playmaker and should be in the mix for all-conference honors. The Cougars don't do much in the way of running the football. But when they did last year, Mason totaled 429 yards on 87 carries.

5. Washington
QB?, RB
Jesse Callier
, WR,
Jaydon Mickens
The skinny:
Washington is one of those programs that could end up in one of the top two spots by the end of the season. But for now, there is too much unknown. The status of QB
Cyler Miles
is still up in the air. Callier has the most returning attempts (one more than
Dwayne Washington
and five more than
Deontae Cooper
) and the Huskies expect
Kasen Williams
back by the fall at receiver. Mickens caught 65 balls and five touchdowns last year and the aforementioned RB trio combined for 10 touchdowns.

6. California
QB
Jared Goff
, RB
Khalfani Muhammad
, WR
Bryce Treggs
The skinny:
There is a lot of potential in this group. The Bears just need that potential to translate into points on the field. Goff threw for 3,508 yards in his debut season, and Treggs caught 77 of his passes. Though just one for a touchdown (
Chris Harper
and
Kenny Lawler
each caught five). Though the departed
Brendan Bigelow
had more carries, Muhammad outperformed him with more yards and touchdowns.
November, 4, 2013
11/04/13
5:00
PM ET
Arizona State quarterback
Taylor Kelly
has been named the Pac-12 offensive player of the week. The defensive player of the week is
Josh Shaw
of USC , and the special teams honor went to
Jayon Brown
of UCLA.
Here's some more on the trio, per the Pac-12's release:
Kelly, a junior from Eagle, Idaho, had a career day, accounting for seven touchdowns in a 55-21 win on the road in Pullman on Thursday night. He completed 22 of 31 passes for 275 yards and five touchdowns in addition to rushing for 66 yards on 13 carries for two additional touchdowns. It marked the third time Kelly has thrown for five touchdowns in a game in his career and the second time he has done it this season. He has been responsible for 66 points the last two games, ranking fourth in the nation in points responsible for per game (21.5 ppg). Kelly also ranks in the top-12 in the nation in completions per game (eighth, 24.38 cpg), passing yards per game (12th, 313.90 ypg) and total offense (seventh, 353.30 ypg).

Shaw, a junior from Palmdale, Calif., recorded a team-best 8 tackles as the Trojans took down Oregon State 31-14 in Corvallis on Friday night. Shaw added an end zone interception and helped USC limit an Oregon State offense that was averaging 40.1 points per game, 487.4 totals yards and leading the nation in passing offense to 14 points and 277 passing yards. Shaw led a Trojan defense that forced three interceptions and held the Beavers to 2-of-11 on third down. USC is 12th in the nation in total defense, limiting opponents to 323.6 yards per game.

Brown, a linebacker from Tampa, Fla., had an outstanding day on the Bruins' kick coverage team as UCLA beat Colorado 45-23 at home on Saturday. He was credited with two tackles, a forced fumble and a fumble recovery in kick off coverage against the Buffs. His fumble recovery on the 14-yard line late in the second quarter set up a touchdown that extended the Bruins' lead to 21-10 before the half while his forced fumble on a fourth-quarter kick-off pinned the Buffs at their own 21-yard.

Also nominated for offensive player of the week honors were wide receivers Kenny Lawler of California and Devin Fuller of UCLA; and tailback Javorius Allen of USC. Also nominated for defensive player of the week honors were linebackers Scooby Wright of Arizona, Carl Bradford of Arizona State and Myles Jack of UCLA. Also nominated for special teams player of the week honors was punter Drew Riggleman of Arizona, place-kicker Zane Gonzalez of Arizona State and defensive end George Uko of USC.
November, 4, 2013
11/04/13
11:00
AM ET
Taking stock of Week 10 in the Pac-12.
Team of the week:
USC, injury-riddled, coach-less and written off just more than a month ago, has won three of four games since Ed Orgeron took over for Lane Kiffin as interim coach, including a
31-14 win at Oregon State
on Friday. And it just missed at Notre Dame (literally -- see two missed field goals). The Trojans might end up making some noise in the Pac-12's South Division after all.
[+] Enlarge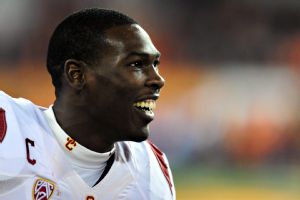 Steve Dykes/Getty ImagesUSC wideout Marqise Lee caught five passes for 105 yards and a touchdown versus Oregon State.
Best game:
California pushed Arizona to the brink in the
Wildcats' 33-28 victory
. The Bears pulled within a touchdown with 1:42 remaining on a 19-yard scoring toss for
Jared Goff
to
Kenny Lawler
, but Arizona recovered the ensuing onside kick and burned the clock down to zero after a 17-yard
Ka'Deem Carey
run gave the Wildcats a first down.
Biggest play:
USC QB
Cody Kessler
hit
Marqise Lee
for a 71-yard touchdown on the Trojans' first offensive play, which seemed to ignite the Trojans at Oregon State, a place where they had lost three consecutive games.
Offensive standout:
Arizona State QB Taylor Kelly accounted for seven touchdowns in the
Sun Devils' 55-21 blowout win at Washington State
, earning a 95.4 QBR for the performance. He completed 22 of 31 passes for 275 yards with five TDs and one interception. He also rushed for 66 yards on 13 carries with two TDs.
Defensive standout:
USC turned in another scintillating defensive performance at Oregon State, holding the Beavers to 14 points and 361 yards. The Beavers had been averaging 40.1 points and 487.4 yards. The Trojans had three interceptions, which matched Oregon State QB
Sean Mannion
's total through the first eight games. USC also got two sacks from outside linebacker
Devon Kennard
.
Special-teams standout:
Oregon State might have lost to USC, but it wasn't punter
Keith Kostol
's fault. He averaged 45.8 yards on five punts, killing three inside the Trojans' 20-yard line with no touchbacks. His long was 49 yards.
Smiley face:
While the North Division -- Oregon & Stanford -- gets much of the attention, the South Division also features two ranked teams: UCLA and Arizona State. They could play a critical game on Nov. 23 that will garner national attention, but they have to take care of business beforehand. Both did just that as favorites this week, with Arizona State rolling at Washington State 55-21 on Thursday, and the Bruins taking down the pesky Buffaloes
45-23
on Saturday. There have been plenty of years in the Pac-12 when ranked teams went rear-end-over-tea-kettle against seemingly overmatched foes, killing chances for a marquee matchup between ranked foes a few weeks down the road.
Frowny face:
Oregon State's chances of returning to the national ranking are probably done for the season. In fact, the blowout loss to USC at home opens up the question whether the Beavers will win again against a troika of tough foes down the stretch: at Arizona State, Washington and at Oregon.
Thought of the week:
It's Oregon-Stanford time. While Stanford's loss at Utah watered down this matchup a bit, it still remains the Pac-12 game of the season, the one that determines the North Division and conference front-runner. Oregon is aiming for an unbeaten season and a berth in the national title game. Stanford is aiming at a second consecutive upset of the Ducks, Pac-12 championship and Rose Bowl victory. Buckle up.
Questions for the week:
Who's going to rule the South and try to stop the Ducks or Cardinal from achieving their BCS bowl goals? The plot thickens Saturday with UCLA's visit to Arizona and Arizona State's trip to Utah. The Wildcats could throw themselves thickly into the race with a win over the Bruins, while the typically road-adverse Sun Devils need to win a second consecutive game away from Sun Devil Stadium. And, by the way, USC, which visits California on Saturday, is lurking.
November, 3, 2013
11/03/13
10:15
AM ET
Five things we learned in the Pac-12 from Week 10:
When consistent, ASU is really good: The Sun Devils picked up their first road win of the season with an extremely impressive 55-21 win over Washington State on Thursday night. Here's the kicker ... running back Marion Grice didn't get in the end zone! Quarterback Taylor Kelly was dominant, completing 22 of 31 passes for 275 yards and five touchdowns. He also ran for 66 yards and two scores, giving him seven on the day. Since dropping a 37-34 game to Notre Dame, the Sun Devils have outscored Colorado, Washington and Washington State 162-58. If the Sun Devils can maintain this consistent, high level of play, the rest of the Pac-12 South will be hard-pressed to keep pace. As for the Cougs, after a 4-2 start, they have dropped three straight, and the defense has given up at least 52 points in all three losses.

[+] Enlarge

Kirby Lee/USA TODAY SportsUSC is 3-1 under interim coach Ed Orgeron, who celebrated Friday's win in Corvallis with the band.

The Trojans aren't done yet; the Beavers might be: Despite everything that has happened to USC, the Trojans are a factor in the South Division. They need to win out and probably get a little help along the way, but after a fairly convincing 31-14 road win over Oregon State, the Trojans look like a team to be reckoned with down the stretch. Since the Lane Kiffin firing, USC is 3-1 under Ed Orgeron. Conversely, Oregon State suffered a big setback and is now an even longer shot to win the North Division. There is still hope, but the Beavers also need to win out and hope for some help.

Colorado is gritty: Say what you want about the wins and losses, but Colorado is a tougher team than it was last season. UCLA won 45-23, and the final score isn't particularly shocking. But the Buffs led midway through the second quarter, and true freshman quarterback Sefo Liufau looked very poised on the road, going 25-of-36 for a touchdown and zero interceptions. They matched UCLA's physicality and even showed a bit of swagger -- be it from receiver Paul Richardson or Liufau. Culture change takes a long time. But we are starting to see the makings of a team that isn't satisfied with being pushed around. On the flip side, good performance from UCLA to get back on track. Brett Hundley looked like he was still a little uncomfortable with his young offensive line, but he looked stronger. If the Bruins can survive a trip to Arizona and home date with Washington, Nov. 23 is high noon with ASU coming to town.

About those Cats: Arizona has won three in a row, including back-to-back road games to become bowl-eligible for the second straight year under Rich Rodriguez. A fine accomplishment, considering everyone they lost in the offseason through injury, graduation or attrition. Quarterback B.J. Denker turned in another steady performance, completing 24 of 38 passes for 261 yards with a touchdown and no interceptions. But he's also emerged the past couple of weeks as a solid complementary runner to Ka'Deem Carey. Denker rushed for 44 yards and three touchdowns in the win over Cal. Carey, meanwhile, continues to shred defenses. Although he didn't reach the end zone against the Bears, he rushed for 152 yards, giving him 1,072 for the year. A big date with UCLA awaits next week. Can't overlook the performance of Cal, either, which sold out to stop the run early and showed a lot of life. Kenny Lawler finally had that breakout game with three touchdown catches, two of them spectacular.

South rising? The early disparity between the North and South seems to be shrinking. The South scored two major victories this week with USC's win at Oregon State and ASU's win at Washington State. Arizona's win over Cal was expected, but again, we give the Bears credit for the strong showing. As it stands, the North still holds a two-game edge over the South with an 8-6 record. Oregon is the only team to be perfect in inter-division play. Stanford, ASU and Oregon State are all 2-1. It stands to reason that the North is still probably considered the stronger division with Oregon and Stanford ranked in the top five. But the South has made a strong play of late with its depth, which includes five of six teams at .500 or better.
November, 3, 2013
11/03/13
9:00
AM ET
So who deserves a helmet sticker for a job well done?

Taylor Kelly, QB, Arizona State
: Kelly accounted for seven touchdowns in the Sun Devils' 55-21 blowout win at Washington State. He completed 22 of 31 passes for 275 yards with five TDs and one interception. He also rushed for 66 yards on 13 carries with two TDs.
Javorius "Buck" Allen, RB, USC
: A forgotten man under former coach Lane Kiffin, Allen rushed for 133 yards on just 16 carries -- 8.3 yards per rush -- in the Trojans' upset 31-14 win at Oregon State. He scored three TDs -- 52, 18 and nine yards. He also caught four passes for 41 yards.
B.J. Denker, QB, Arizona
: Another strong performance from Denker, who accounted for four touchdowns in the 33-28 win over Califonria. He completed 24 of 38 passes for 261 yards and a TD and rushed for 44 yards and three scores.
Kenny Lawler, WR, California
: Lawler only caught eight passes for 72 yards in the Bears loss to Arizona, but he accounted for three touchdowns, one of which was an absolutely spectacular one-handed grab.
Brett Hundley, QB, UCLA
: After struggling against Stanford and Oregon, Hundley bounced back with a strong performance in the 45-23 win over Colorado. He completed 19 of 24 for 273 yards with two touchdowns and no interceptions. He also led all Bruins rushers with 72 yards on 11 carries -- 6.5 yards per rush -- with two TDs.
August, 19, 2013
8/19/13
10:30
AM ET
We continue our day-by-day snapshots of each Pac-12 team heading into the 2013 season in reverse alphabetical order with the
California Golden Bears
.
California
Coach
: Sonny Dykes 22-15 (First season at Cal)
2012 record
: 3-9 (2-5 Pac-12 North)
Key losses
: WR
Keenan Allen
, C
Brian Schwenke
, CB
Steve Williams
, DE Kendrick Payne, RB
C.J. Anderson
, RB Isi Sofele
[+] Enlarge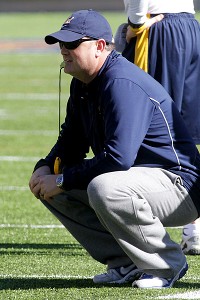 Norbert von der Groeben/GoldenBearSports.comSonny Dykes will look to true freshman Jared Goff to lead a revamped Bears offense.
Key returnees
: DE
Deandre Coleman
, RB
Brendan Bigelow
, LB
Nick Forbes
, K
Vince D'Amato
, WR
Chris Harper
Newcomer to watch
: We've been
hearing some buzz
around this true freshman quarterback named
Jared Goff
.
Biggest games in 2013
: Take your pick. The Big Game (Nov. 23) is always the biggest, but there are plenty more with Northwestern coming for the opener (Aug. 31), No. 2 Ohio State a couple of weeks later (Sept. 14) and then Oregon two weeks after that (Sept. 28).
Biggest question mark
: Regardless of who was going to take over at quarterback, he was going to be a rookie. But Dykes went with the youngest of the young in tapping Goff to be his guy. Considered the jewel of the 2012 recruiting class, Goff now becomes the face of the new-look Bears and their "Bear Raid" offense. And with youth and inexperience come questions. How will he handle Cal's brutal schedule? How does he handle the highs and lows of the position? Can a true freshman be a leader? Perhaps the biggest question of them all: Did Dykes make the right call? Wins and/or competitive performances against some top-notch teams will go a long way to answering that. This decision will likely define Dykes' first season as Cal's head coach.
Forecast
: A look at the schedule shows a potentially gloomy forecast. Northwestern and Ohio State paired with a Pac-12 North docket and USC and UCLA from the South seems daunting even if they had a veteran-heavy team, which they don't.
But bear in mind it took Dykes some time to get things moving at Louisiana Tech. In his first season, the Bulldogs were 5-7 and ranked 59th nationally with 29.1 points per game. In 2011, they improved to 8-5 and jumped to 42nd in scoring offense (30 points per game). Last season, they were 9-3 and led the country with 51.5 points per game, and they were two points shy of knocking off Texas A&M.
And this is a team loaded with potential -- especially at the wide receiver spot, at which Goff will have a host of talented young playmakers at his disposal. From Harper and
Kenny Lawler
to
Darius Powe
and big-bodied
Richard Rodgers
(and about four or five others), there is no shortage of talented pass-catchers for Goff to target. And many are excited to see what Bigelow can do at running back with more opportunities and touches.
Defensively, the Bears are going against the trend in the conference and switching to an even-front defense under Andy Buh. Coleman is an A-list defensive linemen, though his contributions often get lost in the shuffle in a league with other A-list defensive linemen. The return of
Stefan McClure
-- a highly touted cornerback who missed last season with an injury -- quietly boosts what could be a sneaky good defense.
A new coaching staff brings hope and excitement, and that's a good thing for a program that could use a little of both. But expectations are best tempered as the Bears undergo a complete overhaul on both sides of the ball and grow with their true freshman quarterback.
May, 9, 2013
5/09/13
12:00
PM ET
On the low end of the bell curve, California's wide receivers will probably be productive. But youth, packaged with a new offensive system, might mean they'll need another year to get up to speed.
On the high end of the bell curve, California might have one of the most explosive wide receiving corps in the Pac-12.
It's that wide open when you measure the depth and potential of the youngsters.
Chances are, they'll probably fall somewhere in the middle. But there is no disputing that new coach Sonny Dykes has some very good talent at the position that can't wait to break out in the new "Bear Raid" system.
[+] Enlarge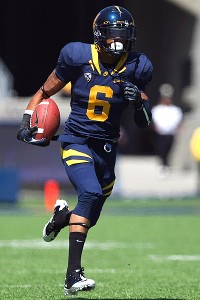 Kelley L Cox/USA TODAY SportsChris Harper is expected to be part of a deep Cal receiving corps.
"It's an interesting group," Dykes said. "We've got a lot of different kinds of guys. We've got longer guys with great ball skills. We've got big guys. Fast guys. A lot of range."
In the pro-style attack of former head coach Jeff Tedford, Keenan Allen was
the
guy -- totaling 205 catches, 2,570 yards and 17 touchdowns in a three-year career. It didn't hurt that his brother was the quarterback. But relations aside, Allen was the kind of talent that it didn't matter who was throwing the football, he was going to be the primary receiver.
In the new system, there is room to spread the wealth. Sophomore
Bryce Treggs
(5-foot-11, 175 pounds) is fast, shifty and good in space. Redshirt freshman
Kenny Lawler
might be the most complete of the bunch at 6-3, 185, with the ability to stretch the field.
"We didn't know at first what we were getting with him," Dykes said. "But he came in and had as productive a spring as anybody. He was really good at going to get the football and he has some outstanding ball skills. He still needs to learn to play the position. But he's been a pleasant surprise."
Sophomore
Chris Harper
(6-0, 165) was second only to Allen last year, catching 41 balls for 544 yards and two touchdowns. Injury, however, limited him this spring.
"We didn't get a great chance to evaluate him," Dykes said. "But we're starting to get a sense now for how he moves and we're pleased. Athletic, quick guy.
Then there is sophomore
Darius Powe
(6-3, 212), sophomore
Maurice Harris
(6-3, 205), sophomore
Maximo Espitia
(6-2, 215), former tight end, sophomore
Richard Rodgers
and about five or six other players who could be impact guys.
It's a unit loaded with youth -- which also means it will grow up together and might eventually emerge as one of the top receiving corps in the league.
But first things first.
"We still need a quarterback," Dykes said.
Oh yeah, details.
"From a talent standpoint, the ingredients are all there," Dykes said. "Maurice Harris has a chance to do some good things. Richard Rodgers has lost about 25 pounds. If he's good at inline blocking, we'll stick him out there and let him block. But that's not really his strength. His strength is being able to run routes and cover people up with his body."
There is room for cautious optimism that personnel is a silky fit for what Dykes wants to bring to the Bears.
"I think we have the makings of having a pretty good offense," he said. "There are question marks at spots. We have to stay healthy at running back. We probably need to get some depth from a true freshman, which is never a good thing. But there are reasons to be optimistic."
PAC-12 SCOREBOARD
Saturday, 12/20
Monday, 12/22
Tuesday, 12/23
Wednesday, 12/24
Friday, 12/26
Saturday, 12/27
Monday, 12/29
Tuesday, 12/30
Wednesday, 12/31
Thursday, 1/1
Friday, 1/2
Saturday, 1/3
Sunday, 1/4
Saturday, 1/10
Monday, 1/12
Tweets from https://twitter.com/ESPNCFB/lists/pac12