September, 26, 2013
9/26/13
2:30
PM ET
Dr. Stone, would you give the court your impression of Mr. Striker?
I'm sorry, I don't do impressions. My training is in psychiatry.
August, 28, 2013
8/28/13
10:00
AM ET
Across the ESPN blogosphere on Wednesday, we're looking at players/coaches/position groups with something to prove in each conference. In the Pac-12, the answers should be fairly obvious. Here are 10 from the league in no particular order.
1. Lane Kiffin
: OK, maybe this one is in particular order. USC's head coach is on the hottest seat in America after a disastrous 2012. There were embarrassments for the program on and off the field. That has led to plenty of speculation about what he needs to do to keep his job. Win 10 games? Nine? Win nine and beat UCLA or Notre Dame? Or both? This is a storyline that will no doubt carry deep into the season.
[+] Enlarge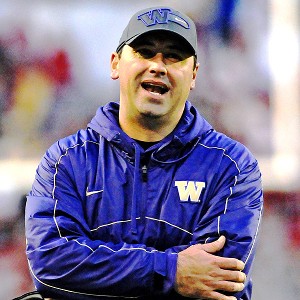 James Snook/US PresswireLane Kiffin isn't the only Pac-12 coach feeling growing pressure for a successful season.
2. Steve Sarkisian:
His seat isn't as hot as Kiffin's. But the heat index has certainly risen in the wake of another seven-win season. The Huskies have a lot of returning talent – including a quarterback with potential, a healthy offensive line, an outstanding running back and receivers (including TE), and a fairly veteran defensive core. The pieces are in place for Washington to, at the very least, get over the seven-win hump. Seven wins or fewer will be met with harsh criticism and questions about whether Sarkisian is the right guy for the job.
3. Oregon's linebackers
: This appears to be the only question mark for the Ducks, at least on paper, because they have a solid front and an outstanding secondary. Losing Michael Clay, Kiko Alonso and Dion Jordan is a big hit in terms of production, talent and leadership.
Boseko Lokombo
is a veteran presence, and
Tony Washington
,
Derrick Malone
and
Rodney Hardrick
have all been in the system for a few years. If they can match the production of their predecessors, the Ducks should be fine defensively.
4. Stanford's wide receivers:
Ty Montgomery
headlines this list. At the end of 2011, he showed explosive playmaking ability and his future looked sparkling. But injuries slowed him in 2012. With the Cardinal doing some overhauling after losing their top two tight ends, the receiver spot will likely take on more emphasis in 2013. Players such as
Devon Cajuste
,
Michael Rector
and
Kelsey Young
will need to be productive as well.
5. Paul Richardson
: The Colorado receiver missed all of last season with a knee injury and had to sit and watch his team fall apart around him. The Buffaloes went 1-11 and their coach was fired. A new coach, a new offense and a new enthusiasm in Boulder is motivating Richardson
to make up for lost time.
He is Colorado's most explosive player and knows he has the potential, and responsibility, to carry the offense. Now he just has to go out and prove he can do it.
6. Oregon State's receivers
: We know what we're getting with
Brandin Cooks
. He proved last season that he's an outstanding player. How much of that, however, was a product of the guy across the field, Markus Wheaton? With Wheaton gone, either
Richard Mullaney
or
Obum Gwacham
will have to step up as a complementary threat to Cooks -- along with
Kevin Cummings
in the slot.
7. QBs, old and new
: Not all the quarterback competitions are completed. But whoever wins the job at Arizona and USC will likely be looking over his shoulder for the bulk of the season.
Connor Wood
is back in the starting role for Colorado, true freshman
Jared Goff
gets the start for Cal, and
Sean Mannion
finally won Oregon State's job after a grueling seven-month competition with
Cody Vaz
. Nothing is set in stone at Washington State, so
Connor Halliday
will need consistent play to hold the job (we're assuming, for now, that it's Halliday). Expect these players to be under the microscope all season.
8. UCLA's running backs:
There are big shoes to fill with the departure of running back Johnathan Franklin, the school's all-time leading rusher and a Doak Walker finalist last year. Jim Mora has said that he'll likely use five backs throughout the season.
Jordon James
is the front-runner of the committee and has the best opportunity to distance himself. But expect
Paul Perkins
,
Malcolm Jones
,
Steven Manfro
and
Damien Thigpen
(health pending) to all fight for time and carries.
9. Utah's secondary
: It's not necessarily young. Just inexperienced. And in a pass-happy league, that could spell trouble. Free safety
Eric Rowe
has the most playing time among the group. Cornerback
Davion Orphey
is a juco transfer and opposite him is
Keith McGill
, a former safety and juco transfer who appeared in five games in 2011 but suffered a season-ending injury and then missed all of 2012. There is talent there. It's just mostly untested.
10. Arizona State:
Yep, the whole team. This is what you wanted, ASU fans … for the sleeping giant to be awoken. The alarm clock just went off. Now it's time to prove all the hype is worth it. A challenging schedule early -- including Wisconsin, Stanford, USC and Notre Dame in consecutive weeks -- will be a good measuring stick. Though the USC game is really the one that has South title implications. Still, the other three will go a long way toward determining how ASU is viewed nationally. Going 1-3 and beating USC wouldn't be disastrous. Going 0-4 will draw the requisite "same old ASU" criticisms.
August, 14, 2013
8/14/13
10:30
AM ET
We continue our day-by-day snapshots of each Pac-12 team heading into the 2013 season, in reverse alphabetical order, with the
Oregon State Beavers
.
Oregon State
Coach
: Mike Riley (81-67, 13th year)
2012 record
: 9-4 (6-3 Pac-12 North)
Key losses
: WR Markus Wheaton, CB Jordan Poyer, DT Castro Masaniai, RT Colin Kelly, TE Colby Prince, DT Andrew Seumalo.
Key returnees
: WR
Brandin Cooks
, RB
Storm Woods
, DE
Scott Crichton
, LB
D.J. Alexander
, CB
Rashaad Reynolds
,
Michael Doctor
, S
Ryan Murphy
, DE
Dylan Wynn
.
Newcomer to watch
: With the departure of Poyer, the coaching staff will look to replace him with a rotation of
Sean Martin
-- who saw some time last season -- and newcomer
Steven Nelson
, rated by one service as the No. 2 junior college cornerback in the country. Nelson, once a Georgia commit, comes from the College of Sequoias and, by all accounts, has had a solid spring and fall camp thus far.
Biggest games in 2013
: The Civil War at Oregon (Nov. 29) is always huge. But Stanford (Oct. 26) and Washington (Nov. 23) -- both home games -- will be big for establishing the pecking order in the Pac-12 North.
[+] Enlarge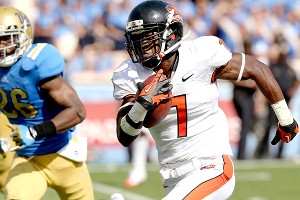 Stephen Dunn/Getty ImagesReceiver Brandin Cooks will surely be the top target for the winner of Oregon State's QB race.
Biggest question mark heading into 2013
: On the surface, the outcome of the quarterback competition seems like the biggest question. And it's an important one. Yet
Sean Mannion
and
Cody Vaz
have both shown they can win big games. Who they'll be throwing to, however, might be the more important question. Without a doubt, Cooks is an explosive playmaker. But we're still waiting to see who steps up opposite him. Much of Cooks' success last season (67 catches, 1,151 yards, five touchdowns) was because of Wheaton playing on the other side. Double-teaming either one was a nightmare because the other would break out.
Kevin Cummings
is a solid slot receiver. But the Beavers will need someone like
Obum Gwacham
or
Richard Mullaney
to provide a threat that opens things up for Cooks, or vice versa.
Forecast
: The Beavers are a really interesting team this season because of the way their schedule shapes up. You have to think they'll be favorites in their first seven games (though at Utah, at San Diego State and at California probably won't be walkovers). Just before Halloween, it starts to get nasty, with five straight against teams that will likely be in or hovering around the Top 25: Stanford, USC, ASU, Washington and Oregon.
It's not hard to believe the Beavers could replicate last year's 6-0 start, and possibly even press it to 7-0 before the schedule ramps up. There are a couple of ways to look at it; it's a good thing because it will give Riley more time to settle on either Mannion or Vaz, and it allows ample time for the receiving corps to come together. There are also some plug-and-play JC defensive linemen who could also use a few warm-up games.
The flip side is that outside of San Diego State, the Beavers won't be facing an FBS team that had a winning record last year until Stanford comes to town. How much will we really know about this team? Unlike last season -- when the Beavers scored quality wins at home against No. 13 Wisconsin and on the road at No. 19 UCLA and BYU in the first half of the season -- the Beavers will probably achieve a high ranking, though the résumé won't be there to support it.
But as they say, you can only play the teams on your schedule, and Oregon State should come out of the gates blazing.
Aside from Cooks, the Beavers have an explosive running back, Storm Woods. The ground game took a big step forward in 2012, and Woods is on the verge of becoming a 1,000-yard rusher (940 yards last year, 13 touchdowns). The offensive line continues to improve and returns four of five starters across the front -- headlined by center
Isaac Seumalo
, who was phenomenal as a freshman and has emerged as one of the top anchors in the country.
The secondary should also be one of the best in the league with the Martin/Nelson duo playing alongside Ryan Murphy,
Tyrequek Zimmerman
and Reynolds.
No doubt excitement will bubble over if the Beavers start 7-0. But what they do after those first seven will go a long way toward determining the program's success in 2013.
July, 10, 2013
7/10/13
12:00
PM ET
Some players come in with plenty of hype, but never quite seem to match it. Others have a great season, then slip the following one, leaving many to wonder if they were one-year wonders. Still others have to bounce back from injury and show they aren't shells of what they used to be.
Either way, there are plenty of players in the Pac-12 with something to prove in 2013. Here are six players with something to prove from the Pac-12 North.
This is last year's Proving Grounds post
. Tomorrow we'll take a look at the South.
Khairi Fortt, OLB, California:
He's yet to play a down for the Bears since transferring from Penn State -- a move that had less to do with the NCAA sanctions facing the Nittany Lions and more to do with his desire for a larger role in the defense. He appeared in every game for Penn State his sophomore year and is well-versed in the 4-3 -- the new base defensive alignment for the Bears this year under Andy Buh. New head coach Sonny Dykes called Fortt a potentially impactful player
who needs to be more consistent
. The Bears have some defensive stability with guys like
Nick Forbes
and
Deandre Coleman
. If Fortt can elevate his play and prove to be an upper-level linebacker, the Bears could have a sneaky-good defense.
De'Anthony Thomas, RB/WR/KR/PR/AP, Oregon
: When it comes to delivering "SportsCenter" highlights, Thomas has nothing to prove. No question, he's one of the most explosive players in the country and certainly one of the most exciting to watch. But his burden of proof comes from a different place. During his tenure in Eugene, the Ducks relied on LaMichael James in 2011 and Kenjon Barner in 2012 to carry the bulk of the running game, with Thomas providing a change-of-OMG-did-you-see-that? But with two of the most prolific runners in school history departed, it's finally Thomas' turn to shoulder more of the workload. True,
Byron Marshall
will get his carries, and we're all excited to see what
Thomas Tyner
brings to the table. But Thomas
was the workhorse this spring
, and if Marshall and Tyner are slow to develop, the burden of carrying the running game falls on Thomas' frame. Like many, I'm eager to see what he does while consistently getting 15-plus carries per game. He's only had five double-digit-carry games in his career and three 100-yard rushing games -- two of which came on a combined nine carries (Wisconsin in the Rose Bowl after the 2011 season and Fresno State in 2012).
[+] Enlarge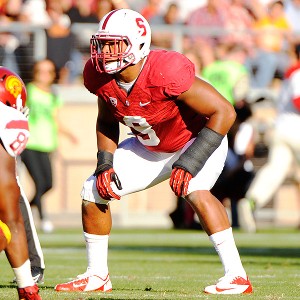 AP Photo/Rob HoltJunior linebacker James Vaughters gets his chance to live up to the recruiting hype at Stanford.
Obum Gwacham or Richard Mullaney, WRs, Oregon State
: Someone at Oregon State earlier in the week told me this: One of these guys has to step up for the Beavers' offense to function properly. So, by definition, if one of them doesn't step up, the offense will function improperly. Not what you want when you have a quarterback competition going on. At 6-foot-5, 227 pounds, Gwacham has tantalizing measurables. But he's had also had a case of the dropsies. Mullaney has the hands, but not the same speed as the last guy to occupy this position, Markus Wheaton.
Brandin Cooks
was the benefactor of Wheaton's success last year. And while a case can be made that it's Cooks who has something to prove -- to show he can be a legitimate No. 1 without Wheaton -- there is only so much he can do on his own. He needs someone else to step up opposite him.
Kevin Cummings
will continue to work in the slot and underneath, but the Beavers must have a second outside threat if Cooks is going to improve upon his already-impressive numbers from last season.
James Vaughters, OLB, Stanford
: Vaughters was used judiciously in his freshman year in 2011. Even when
Shayne Skov
went down for the season -- and many thought it would be Vaughter's chance to step up -- he was still used on a limited basis while
Jarek Lancaster
and
A.J. Tarpley
filled that void. Last year Vaughters moved to the inside, but Tarpley proved to be more productive alongside Skov. With Chase Thomas gone, Vaughters figures to be the primary guy filling that spot. Outside is a more natural position for him, and with
Trent Murphy
on the other side, it should provide Vaughters plenty of opportunity to showcase his skills. He has all the tools to be an elite player and was considered the jewel of the 2011 recruiting class. He's in a position to excel. And if he can, he makes one of the nation's best defenses that much better.
Keith Price, QB, Washington
: Obvious? Yeah. But so much of Washington's success rides on the play of its once-budding slinger. If you read the intro, Price certainly qualifies as a guy with something to prove. His 2011 season was spectacular. In a year when Andrew Luck shined and Matt Barkley appeared to be a sure-fire first-round pick, Price looked like he was on pace to have that sort of collegiate career. But he regressed in 2012. It wasn't all his fault. There were injuries across the offensive line that certainly were major contributing factors. But at the same time, Price is the quarterback, and part of his job is taking the praise and the heat. As a result, he forced way too many plays and didn't trust the offense. He needs to rely more on his playmakers instead of
"trying to play hero."
His words, not mine. The pieces appear to be in place for him to succeed in 2013. He's got a 1,000-yard rusher, an elite tight end, good receivers and a healthy line. Time to step up and put the seven-win jokes to bed.
Logan Mayes, LB, Washington State:
Maybe it's too much to ask of Mayes ... to step in and fill the void of the departed
Travis Long
, who was quietly one of the Pac-12's elite defensive players the past couple of seasons. Maybe it's not. Maybe Mayes is good enough to be the team's premier defensive player in the "buck" linebacker spot. To be fair, it probably won't be all Mayes. Expect a healthy rotation of
Ivan McLennan
and
Kache Palacio
as well. But no doubt, that position is of great importance to what coordinator Mike Breske wants to do on defense -- and filling the hole vacated by Long is a top priority. Mayes played pretty well in the Apple Cup in Long's absence, posting five tackles and a pair of hits on the aforementioned Price. People forget that Washington State was one of the best teams in the nation last season at generating sacks and tackles for loss (11th nationally in sacks, seventh in TFLs), so maintaining that high level will be a priority.
May, 9, 2013
5/09/13
7:00
PM ET
All players are equal, but some players are more equal than others. That's the basis of our Most Important Player series.
First off, quarterbacks are excluded to make things more interesting. It goes without saying, for example, that Oregon's
Marcus Mariota
is the Ducks' most important player.

And most important doesn't necessarily have to be "best." An All-American's backup can be pretty darn good, too.
Our most important guys are players who could swing a win total one way or the other, based on their living up to expectations. Or their absence.
Oregon State
: WR
Brandin Cooks
2012 production
: Caught 67 balls for 1,151 yards (one of only four Pac-12 receivers to break 1,000 yards) with five touchdowns.
Why Cooks is so important
: My initial thought here was
Michael Doctor
-- an extremely underrated linebacker who always seems to be near the ball and is highly productive. One of the best plays from 2012 that sticks out in my mind is him chasing down
Brett Hundley
from behind. Very impressive.
Then I thought about
Storm Woods
-- an up-and-coming running back with just the right balance of humility and swagger. No doubt, both of these players will be key in 2013.
But speaking with someone close to the program, they convinced me to go with Cooks. Not only because he's one of the most explosive wide receivers in the country -- but simply because there isn't a ton of game experience behind him.
For Oregon State to continue building on the momentum of 2012, the Beavers need him to be great.
Here's the caveat with Cooks, however. He was one of the nation's greatest benefactors of being a No. 2 receiver. Defenses were split last season because of Markus Wheaton lining up on the opposite side. Double Wheaton? Cooks will burn you. Double Cooks? It's Wheaton for miles.
That's not going to be the case in 2013. Behind Cooks is talent, but also inexperience.
Obum Gwacham
(two catches, 12 yards, one touchdown) and
Richard Mullaney
(13-156-1) missed the spring with injuries, and
Malik Gilmore
(RS) and
Kevin Cummings
(18-208-1) round out the top of the corps behind Cooks. Each has their own talents -- Gwacham is a big target. Mullaney catches everything and is a move-the-chains kind of receiver. Cummings is a veteran and a good slot receiver, but only has four starts in his career. Gilmore is also a big target, but inexperienced.
Worth noting too that the Beavers will probably lean more on tight end
Connor Hamlett
(32, 403-3), who had a nice breakout year last season.
It's possible the Beavers might look at some freshmen coming in to immediately contribute. So while Cooks is one of the top receivers in the league, those behind him are mostly untested. Meaning Cooks is going to have to be better than he was last season and show that he can be a true No. 1 receiver.
I have little doubt he can. He's blazes and has Velcro fingers. Plus, if the offensive line is improved as advertised, that will also mean the quarterback-to-be will have more time to allow deeper routes to Cooks to develop.
Naturally, the outcome of the quarterback competition is of great interest. Cooks had success with both
Sean Mannion
and
Cody Vaz
. With Mannion, he caught 40 balls for 716 yards and four touchdowns. With Vaz, 27 balls for 435 yards and one touchdown. He had four 100-yard receiving games in 2012 -- two from Mannion and two from Vaz. So it bodes well that he can be productive with either guy throwing him the ball.
Coach Mike Riley has also stressed the greater need for balance. The running game showed solid progress in 2012, and with the improved line play and the continued maturation of Woods -- that should take some of the pressure off the receivers and allow the Beavers to get bang for their buck when they go down field. It will allow Cooks to show he's capable of being a bona fide No. 1.
December, 1, 2012
12/01/12
6:05
PM ET
If you were looking for drama, best to re-watch last night's Pac-12 championship game on DVR, because the
Oregon State Beavers
made sure their long-delayed showdown with FCS Nicholls State was anything but dramatic.


The No. 15 Beavers (9-3) scored touchdowns on their first 11 offensive drives and held the Colonels (1-10) to just a second-half field goal. On the 12th offensive drive (following an interception), the Beavers ran out the clock to close out the
77-3 victory
. Not entirely unexpected against an FCS program that had just one win this season.
It was a day for a pair of Oregon State's favorite sons to shine in their final games at Reser Stadium. Wide receiver
Markus Wheaton
became the school's career receptions leader. He hauled in 12 balls for 123 yards and a touchdown. He also ran for a 10-yard touchdown on a fly sweep.
Jordan Poyer
picked up his seventh interception of the season.
Originally scheduled for Sept. 1, this game was rescheduled because of Hurricane Isaac -- giving the Beavers one of the more unusual starts to the season. They practiced 35 times before finally opening the season with a win against Wisconsin.
Both quarterbacks --
Sean Mannion
and
Cody Vaz
-- got a lot of work. Mannion completed 20 of 23 passes for 231 yards and two touchdowns. Vaz was 14 of 17 with 190 yards and three scores. That leaves Oregon State head coach Mike Riley with a decision to make regarding who his starter will be heading into the bowl game. The Beavers will either be in the Valero Alamo Bowl or the Bridgepoint Education Holiday Bowl.
"I'm not thinking about it right now," Riley told the Pac-12 Network after the game. "I knew that would come up. I really like both of these guys. I think they can both play, and I wanted to play them both into the game regardless of circumstances today. We'll just start practicing and we'll figure it out as we go."
There was plenty of scoring to go around for the Beavers.
Storm Woods
rushed for a pair of touchdowns and
Malcolm Agnew
,
Terron Ward
and
Michael Balfour
all scored on the ground.
Kevin Cummings
,
Richard Mullaney
,
Jordan Jenkins
and
Obum Gwacham
all had receiving touchdowns.
August, 17, 2010
8/17/10
6:33
PM ET
By
ESPN.com staff
| ESPN.com
The ink dries on the national letters of intent and the recruiting class rankings are handed out, then the real business begins: Which true freshmen are ready to play right now?
Here's an early list for every Pac-10 team.
A caveat: This is hardly a scientific survey, evaluations are still in their early stages and I've only personally seen a handful of these guys play. These names are here because of news reports and comments from coaches and other observers (sports information directors also chipped in).
Further, some schools will start or play a lot of freshmen -- USC and UCLA for example -- while that doesn't appear likely for other schools (Oregon State may only use freshmen on special teams).
So here we go.
Arizona

CB
Shaquille Richardson
, S
Marquis Flowers
Note:
Frosh will bolster the Wildcats secondary. Richardson was kicked off UCLA's team for being one of three freshmen who allegedly tried to steal a purse. Coach Mike Stoops told the Arizona Daily Star that Richardson is "as good a corner as I've coached at this young stage."
Arizona State

RB
Deantre Lewis
, WR
Kyle Middlebrooks
Note
: Lewis turned in a good scrimmage over the weekend for an offense that needs playmakers. Middlebrooks should at least get into the rotation and may return punts.
California
WR
Keenan Allen
, WR
Kaelin Clay
, WR
Tevin Carter
, LB
David Wilkerson
Note
: Receiver is a need position for the Bears -- not all of the passing game struggles can be hung on QB
Kevin Riley
. All three likely will be in the rotation, with Allen a candidate to start. Wilkerson is pushing for time at OLB.
Oregon
DT
Ricky Heimuli
, K
Alejandro Maldonado
Note
: The 320-pound Heimuli offers a big body in the middle of the D-line. Maldonado is in the thick of the race to start at kicker. (The two touted frosh RBs could get into the mix, but No. 3 is deeper than we want to go).
Oregon State

WR
Kevin Cummings
, LB
Michael Doctor
Notes
: No true freshman has cracked the Beavers two-deep and both of these guys are grayshirts. Cummings could get into the rotation at flanker behind
James Rodgers
. Both are expected to play special teams.
Stanford
CB
Barry Browning
, S
Devon Carrington
Note
: Browning is the highest true freshman on the depth chart at present, though he's not with the first-team, according to Jim Harbaugh. He and Carrington could provide help in a questionable secondary.
UCLA

SS
Dietrich Riley
, F
Anthony Barr
, OG
Chris Ward
, DT
Cassius Marsh
, DE
Owa Odighizuwa
Notes
: This list, by the way, could have been much longer. The Bruins signed a strong recruiting class last February and a lot of those guys will play this fall. Riley, Barr and Ward are in the mix to start.
USC

WR
Robert Woods
, RB
Dillon Baxter
, WR
Markeith Ambles
, CB
Nickell Robey
Notes
: Woods may end up starting, and Baxter has been a spectacular playmaker since he showed up during spring drills, though he's suspended for the opener. Robey is the leading candidate to be the nickelback.
Washington
RB
Jesse Callier
, S
Sean Parker
, DE
Hau'oli Jamora
, TE
Michael Hartvigson
Note
: It doesn't appear at this point that any of these four will start, but they each are expected to play. Callier steps to the fore with
Deontae Cooper
out with a knee injury. Jamora and Hartvigson provide depth at need positions.
Washington State

WR Marquiss Wilson, WR
Kristoff Williams
, OT
John Fullington
, LB
C.J. Mizell
, DT
Kalafitoni Pole
Notes
: All five of these guys will play. Fullington has seen some action with the first-team. Mizell might be the Cougars fastest LB.
April, 14, 2009
4/14/09
1:03
PM ET
By
ESPN.com staff
| ESPN.com
Posted by ESPN.com's Ted Miller
Two future Oregon State Beavers are going to take on the world in football this summer.
The kind the U.S. is good at -- the one played with the oblong spheroid.
Kevin Cummings, a receiver from Culver City, Calif., and Jordan Poyer, a cornerback from Astoria, Ore., are among the 36 graduating high school seniors selected to play in the inaugural Junior World Championship from June 27-July 5 in Canton Ohio.
The event will feature eight teams from four continents competing to see which country harbors the best football, the press release said. National football teams from Canada, France, Germany, Japan, Mexico, New Zealand and Sweden have qualified to join the United States to pursue the sport's first world championship on the international junior level.
Anyone got a hunch who's going to win this thing? Or at least should.
The teams are made up of athletes 19-and-under. The U.S. team features players headed into 27 different college programs. USA Football's Junior National Team roster will ultimately consist of 45 student-athletes.
USA Football's Junior National Team is led by Chuck Kyle, head coach of Cleveland St. Ignatius High School, who has led his Wildcats to 10 of Ohio's past 21 large-school state titles, including two USA TODAY "national championships."
For more information and the complete roster, click here.