June, 2, 2010
6/02/10
5:40
PM ET
By
ESPN.com staff
| ESPN.com
At what position is the Pac-10 deep? At what position in the Pac-10 thin? Here's the second of three parts taking a look at just that.
(By the way, some of you wondered about QB. The Pac-10 is, without question, the nation's deepest conference in terms of quarterbacks -- and it would have been deeper if not for
a certain Duck
making a very, very poor decision. But that's so obvious and been
written about so much
that we're not including it in this three-part package).
Deep: Running back
[+] Enlarge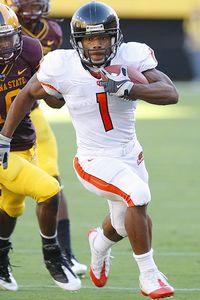 Rick Scuteri/US PresswireJacquizz Rodgers is one of several talented running backs returning to the Pac-10 this season.
Why is it deep
? Six of the top-10 running backs from 2009 are back, and four of them rushed for more than 950 yards. Eight teams welcome back a player who qualifies as a starter or at least an experienced veteran. Only Arizona State and Stanford, which is replacing Heisman Trophy runnerup Toby Gerhart, are uncertain at the position. But it's not just about starters. There's depth. Most teams can point to one or more solid backups, not to mention there are a number of elite incoming freshmen recruits expected to immediately contribute.
The big names
: Start with Oregon State's
Jacquizz Rodgers
, the conference's top Heisman Trophy candidate, and Oregon's
LaMichael James
, who has All-American potential. They combined for just under 3,000 yards and 35 TDs in 2009. Then there's Washington's
Chris Polk
(1,113 yards rushing), California's
Shane Vereen
(952 yards, 12 TDs) and Arizona's
Nic Grigsby
, who rushed for 1,153 yards in 2008. The Wildcats, in fact, have their top four rushers back, including
Keola Antolin
, who's rushed for over 1,100 yards and 14 TDs over the past two seasons. USC and UCLA are both experienced in the backfield and have highly rated freshmen recruits who figure to be in the mix, particularly USC's
Dillon Baxter
, who was spectacular this spring. Washington State has three of its top four rushers back.
Thin: Cornerback
Why is it thin?
Three of the four All-Pac-10 cornerbacks are gone: UCLA's Alterraun Verner, California's Syd'Quan Thompson and USC's Kevin Thomas. Each of them were NFL draft picks. Only second-teamer Trevin Wade of Arizona returns. In fact, only one returning CB even earned honorable mention all-conference recognition (Washington's Desmond Trufant). Only Oregon, Stanford and Washington welcome back both starting CBs from 2009, and each of them is hardly settled at the position after spring practices. Arizona State and USC are replacing both corners, though the return of Omar Bolden from injury and Shareece Wright from academic ineligibility should bolster the Sun Devils and Trojans, respectively.
Fill the void
? Wright might turn out to be the conference's best cover corner and a top NFL draft pick. Wade had five interceptions last year and could earn national attention. Bolden had a great spring after missing last season with an injury and suffering through a disappointing sophomore year. Trufant, UCLA's Sheldon Price, USC's Torin Harris and Oregon's Cliff Harris are youngsters who might break through. Oregon's Talmadge Jackson and Oregon State's James Dockery are veterans who could take the next step.
April, 24, 2010
4/24/10
11:19
AM ET
By
ESPN.com staff
| ESPN.com
The NFL draft teaches hard lessons. Two USC players are learning that now:
Taylor Mays
and
Everson Griffen
.
Mays would have been a first-round pick last year. I know folks believe his perceived weaknesses would have
revealed themselves on film

then just as they did this season. But the 2008 USC
pass defense
was simply extraordinary in large part because of Mays playing an intimidating and impenetrable center field.
So Mays blew it by coming back for his senior season. And
he now knows this
.
As for you,
San Francisco 49ers
fans: Didn't you guys do fairly well a few years back with another
hard-hitting former USC safety
? I got a $5 bill right here that says Mays is going to become an outstanding NFL safety.
Griffen is another story: First-round talent with questions about his attitude and work ethic. (Keep this in mind about Mays: his work ethic couldn't be any better).
Who would have thought that Washington's
Daniel Te'o-Nesheim
would go before Griffen? Te'o-Nesheim is superior to Griffen in only one way but its a critical one: motor. Griffen's is questionable, Te'o-Nesheim's is not.
The lesson here is that being good isn't enough. The NFL cares about the entire package. And NFL teams don't want players who aren't self-starters, who don't motivate themselves.
Take note incoming five-star recruits.
Here are the Pac-10 picks to this point (11:15 a.m. ET ).
First round
DE
Tyson Alualu
, California, Jacksonville (10)
RB
Jahvid Best
, California, Detroit (30)
Second round
DT
Brian Price
, UCLA, Tampa (35)
S
T.J. Ward
, Oregon, Cleveland (38)
TE
Rob Gronkowski
, Arizona, New England (42)
S Taylor Mays, USC, San Francisco (49)
RB
Toby Gerhart
, Stanford, Minnesota (51)
OT
Charles Brown
, USC, New Orleans (64)
Third round
TE
Ed Dickson
, Oregon, Baltimore (70)
WR
Damian Williams
, USC, Tennessee (77)
LB
Donald Butler
, Washington, San Diego (79)
DT
Earl Mitchell
, Arizona, Houston (81)
DE Daniel Te'o-Nesheim, Washington, Philadelphia (86)
OG
Shawn Lauvao
, Arizona State, Cleveland (92)
CB
Kevin Thomas
, USC, Indianapolis (94)
Fourth round

DE Everson Griffin, USC, Minnesota (100)
CB
Alterraun Verner
, UCLA, Tennessee (104)
CB
Walter Thurmond
, Oregon, Seattle (111)
RB
Joe McKnight
, USC,
New York Jets
(112)
January, 12, 2010
1/12/10
4:53
PM ET
By
ESPN.com staff
| ESPN.com
Here's a list of the Pac-10 players invited to the NFL combine, courtesy of
The Sporting News
.
First of all, it's incomplete. Underclassmen will be added later, such as USC receiver
Damian Williams
and UCLA DT Brian Price. And a number of seniors also will get invitations.
My immediate guess is that Washington linebacker Donald Butler and Oregon defensive end Will Tukuafu will end up receiving invitations, among others.
Arizona
: DT Earl Mitchell, CB Devin Ross
Arizona State
: DE Dexter Davis, LB Travis Goethel, OT Shawn Lauvao, WR
Chris McGaha
, WR
Kyle Williams
California
: DE Tyson Alualu, WR
Nyan Boateng
, CB Syd'Quan Thompson, WR
Verran Tucker
.
Oregon
: RB
LeGarrette Blount
, TE
Ed Dickson
, CB Walter Thurmond, S T.J. Ward.
Oregon State
: QB
Sean Canfield
, OLB Keaton Kristick.
Stanford
: TE
Jim Dray
, RB
Toby Gerhart
, OT Matt Kopa, DE Erik Lorig.
UCLA
: OLB Kyle Bosworth, CB Alterraun Verner.
USC
: OT Charles Brown, C Jeff Byers, RB
Stafon Johnson
, S Taylor Mays, TE
Anthony McCoy
, G Alex Parsons, CB Josh Pinkard, CB Kevin Thomas.
Washington
: DE Daniel Te'o-Nesheim.
October, 30, 2009
10/30/09
12:30
PM ET
By
ESPN.com staff
| ESPN.com
Posted by ESPN.com's Ted Miller
USC's defense ranks 16th in the nation in scoring and total defense. That's pretty good. But two weeks ago, it ranked fourth in scoring and sixth in total defense and hadn't surrendered a touchdown pass.
| | |
| --- | --- |
| | |
| | Kirby Lee/Image of Sport-US PRESSWIRE |
| | Defensive coordinator Rocky Seto said mental lapses were to blame for the big plays the Trojans have given up recently. |
Over the past two weeks, in wins over Notre Dame and Oregon State, the Trojans have surrendered five touchdown passes. And 849 yards and 63 points.
That's not so good.
The No. 5 Trojans visit No. 10 Oregon on Saturday in the Pac-10 game of the year. The Ducks' offense ranks 16th in the nation with 34 points a game, despite scoring just eight in their season-opening loss at Boise State.
So it seemed like a good time to check in with Trojans first-year defensive coordinator Rocky Seto.
So give me your general impression of how the defense has played so far?
Rocky Seto
: Pretty well, considering all the new faces we've got in there. But we need to continue to get better. But I've been pleased and I just thank God for the type of coaches and players we have. The coaches have done an awesome job of teaching and the players have done an awesome job of learning. There have been a lot of new experiences for a lot of players, so it's been really neat to see.
You guys have given up some yards the past two weeks, particularly in the passing game. Is that a concern and what's going wrong?
RS:
Certainly, we'd like to improve in that way. We've really examined it. We've played two really good quarterbacks in [Jimmy] Clausen, a really experienced guy, and [Sean] Canfield, with two excellent coaching staffs. The big thing about it is usually when the breakdowns have happened, we've made a few mental errors. We've talked to them about focusing on not giving those things up. It's been a big emphasis for us.
Who's playing particularly well right now?
RS
: You know who's doing a really good job is the defensive line. It's putting pressure on the quarterback. In the linebacking corps, Mike Morgan is doing a really good job. It's been neat to see. Taylor [Mays] has done a really nice job of staying on top and taking care of the deep ball.
Kevin Thomas
, our left cornerback, has really come around the last couple of weeks.
Has anything surprised you about the defense, or your personnel this season?
RS
: I don't know if it's a surprise or shock because we base our performance on how we practice, how we play in practice. Our offense is really talented, so we feel if we can practice really well against them we should expect to play well. In spring practice and fall camp, these guys really performed well. So I don't know if it's a surprise or not, but it's been neat to see the young guys, the new starters, perform and fit into their new roles.
How does it work between you and Pete Carroll on game days? What role do you play in terms of calling the defense?
RS
: Coach [Carroll] calls the defenses and basically I add as much input as I can when he asks me. We have a conversation that keeps going on. Really, it's been pretty neat. Ever since I've been a graduate assistant with him, eight or nine years ago, he's been a mentor for me and has taken time to have conversations with me. It hasn't changed much really since we've gotten together. It's been such a blessing to me. It's a constant conversation throughout the game and throughout the week.
What's he like during a game: Is he all business or does he joke around and act like the Pete Carroll most of us see on a day-to-day basis?
RS
: He's pretty much on business. However, he'll slip in his personality. He's very poised. He doesn't change too much. But he is very serious on game day, but not to the point he doesn't do much. His personality certainly shows up.
He seems to be enjoying himself during games -- a lot of coaches adopt the stone face.
RS
: No doubt. He gets fired up when the offense or defense makes a nice play. It's something he demands from our players -- that they have a good time. If you watch our sidelines, our guys are pretty in tune to what's going on and get pretty fired up. It's just how we conduct ourselves -- our meetings, our practices. It's based on coach's personality.
Give me a scouting report on Oregon.
RS
: These guys are an excellent running team, a spread-option team. [Quarterback Jeremiah] Masoli has done a really nice job of running the offense. He looks really poised and composed in there. And he's a fiery guy. He's really impressive. He does some really nice play-action passes where he's been able to hit his targets well, particularly the tight end and [receiver Jeff] Maehl. They do a nice job of running the ball really well and throwing the ball, all of it. A bunch of screens. They get you spread out and try the wide-receiver screen, the tight end screen to
Ed Dickson
. They've mixed all those concepts really well together.
September, 8, 2009
9/08/09
4:40
PM ET
By
ESPN.com staff
| ESPN.com

Posted by ESPN.com's Ted Miller

LOS ANGELES -- Two USC defensive starters are expected to miss practice Tuesday due to illness.

Coach Pete Carroll said at his weekly press conference they he expects defensive tackle Jurrell Casey and cornerback Kevin Thomas to "hopefully" be ready by Wednesday, which might be necessary for them to play at Ohio State on Saturday.

The Trojans fly to Columbus Thursday night.
July, 10, 2009
7/10/09
3:00
PM ET
By
ESPN.com staff
| ESPN.com
Posted by ESPN.com's Ted Miller
You are all notable to me.
To the mail.
Vizzle from Eugene, Ore., writes: Give me your top five games to watch this season in the PAC which ones you are going to attend, and where you will be dining before and after you watch them? Another thought... your Eugene dining experience really needs to be enriched by somebody who actually knows how to eat in Eugene.
Ted Miller: My boss, Keyser Söze, keeps it a secret where he's going to send me until the Sunday before the game, so I don't know where I'm going yet.
But my top-five Pac-10 games?
How about: 1. USC at Cal; 2. USC at Oregon; 3. Cal at Oregon; 4. Oregon State at Oregon; 5. Oregon State at USC.
As for restaurant recommendations, feel free to give me suggestions.
---
Jerome from Oakland writes: My question is in regards to the USC defense. How come sports writers say that USC only has 2 returning starters on defense? Correct me if I am wrong, but E. Griffen, C. Tupou, A. Spicer M. Morgan, T. Mays, J. Pinkard, S. Wright, W. Harris and K. Thomas all started 1 game or more or saw significant playing time (That's 9 players). So why the huge concern over losing the talent, when technically the talent is still there on defense just as much as it is on offense
Ted Miller: It's three starters back: Taylor Mays, Christian Tupou and Josh Pinkard. Those three started at least six games, the general definition of a returning starter.
Everson Griffen started three games -- he lost his job after the Oregon State game; as did Averell Spicer. Feel free to connect the dots there. Michael Morgan has one career start. Shareece Wright started the first two games last year before getting hurt. Nick Holt told me last fall he was the Trojans' best cover corner, so feel free to upgrade his status. Safety Will Harris started five games last year, but he'll likely back Pinkard at strong safety. Cornerback Kevin Thomas started two games last year and two games in 2006.
I get your drift, though. USC is not going to send out a bunch of clueless guys on defense. But when you look at the list of guys who are gone, it's hard to imagine a completely seamless transition.
---
Matt from Missoula, Mont., writes: You've said that you think Oregon would have been 2nd in the SEC last year (a claim that, as an Oregon fan, I find dubious unless you're only looking at the last third of the season), and the Pac-10 went 5-0 in bowl games last year. Yet your colleague ACC blogger Heather Dinich posted that the Pac-10 was the fourth best conference in the nation last year--after the ACC, and presumably the SEC and Big-12. I'm hoping to start a fight a between you and Heather. Can I count on you to avenge this outrageous case of east coast bias?
Ted Miller: Good point about the final third of the season. Did you, however, watch the SEC's official No. 2 team in the Sugar Bowl?
As for Heather: She runs marathons. She doesn't ramble on TV like I do. She has a margarita machine in her home. I will not mess with Heather.
Debating conference rankings is mostly an exercise in PR, selective statistics and trash talk. It's not an exact science. I'd rank the Pac-10 No. 3 in 2008, but I think ACC football also is underrated -- see the NFL draft numbers -- in large part because of this peculiar period when both Miami and Florida State are still working to regain their traction.
But please don't tell Heather I ranked the Pac-10 ahead of the ACC in 2008. She might make me ... go jogging or something.
---
Michael from Los Angeles writes: After reading the article about USC not winning it all last year, you must admit that this is said year in and year out. Recently history suggests USC will lose 1 game. That is rather a safe assumption - even coming from a USC alum like me. However, there is a rather intriguing factor that I believe USC will be the 8th in a row Pac-10 champions of 2009: Other teams cannot follow through in the Pac-10
Ted Miller: First, I didn't say USC won't win its eighth consecutive Pac-10 title this year. In fact, I admitted that I'd picked USC to win the title again.
What I did say -- and believe -- is that USC is more vulnerable than past years, based on a number of factors, including player and coach turnover and scheduling.
---
Marcus from Eugene, Ore., writes: I was watching SportsNation today, and I was completely blown away when they ranked the conferences according to strength. The Nation put the PAC 10 4th, behind the Big 10, Big 12, and SEC respectively. Correct me if I'm wrong, but the two powerhouses of the Big 10 last year (OSU, Penn State) met up with USC and got destroyed, the PAC 10 went 5-0 in their bowl games and finished with 3 teams in the top 25 (USC, Oregon, Oregon State) and two others received votes (Cal, Arizona). The Big 10 went 1-5 in bowls I believe, and finished with 4 teams in the top 25 (PSU OSU Iowa and MSU) and no one else EVEN CLOSE. What are your thoughts on this topic?
Ted Miller: I'd rank the Pac-10 third behind the SEC and the Big 12, but I think the Pac-10, Big Ten and ACC are comparable and really not that far behind the SEC and Big 12.
May, 28, 2009
5/28/09
10:00
AM ET
By
ESPN.com staff
| ESPN.com
Posted by ESPN.com's Ted Miller
We've discussed positions of concern a lot. But where are teams (almost) worry-free?
Here are some spots.
USC's offensive line: The Trojans welcome back all five starters, including the nation's best center, Kristofer O'Dowd. And, oh by the way, super-sophomore Tyron Smith might displace returning starter Butch Lewis at tackle. The Trojans averaged 195 yards rushing per game last year and surrendered only 18 sacks, fewest in the conference.
California's secondary: All four starters are back, including first-team All-Pac-10 cornerback Syd'Quan Thompson, from a unit that finished third in the nation with 24 interceptions and ranked sixth in pass efficiency defense. And the backups are so good that a couple of returning starters are hearing footsteps.
USC's secondary: Start with Taylor Mays and Josh Pinkard, the best safety combination in the nation -- though Pinkard played corner last year. Sure, two starters -- Kevin Ellison and Cary Harris -- are gone. But three players -- safety Will Harris and corners Shareece Wright and Kevin Thomas -- have starting experience. And a couple of the youngsters turned in impressive springs.
Oregon State's quarterbacks: The Beavers have two successful starting quarterbacks in Sean Canfield and Lyle Moevao, though Moevao is coming back from shoulder surgery. They also have an impressive No. 3 in redshirt freshman Ryan Katz, and Virginia transfer Peter Lalich is a wildcard who had disappeared before coming up big in the spring game. His questionable attitude won't help him climb the depth chart, though.
UCLA's tight ends: Ryan Moya earned second-team All-Pac-10 honors last year, and he was Logan Paulsen's backup until Paulsen's season ended with a foot injury in the opener against Tennessee. The Bruins also like sophomore Cory Harkey, and then there's touted freshman Morrell Presley, who's more a hybrid receiver-tight end. Lots of options here. Just got to get them the ball.
April, 22, 2009
4/22/09
10:25
AM ET
By
ESPN.com staff
| ESPN.com
Posted by ESPN.com's Ted Miller
Ever wonder what a coach might say about a quarterback competition the day before he announces a pecking order?
You're in luck!
USC coach Pete Carroll stopped by for a chat with the Pac-10 blog on Monday, the day before he announced on his Web site that Aaron Corp would emerge from spring practices No. 1 on the quarterback depth chart, ahead of true freshman Matt Barkley and Mitch Mustain.
| | |
| --- | --- |
| | |
| | Jed Jacobsohn/Getty Images |
| | Pete Carroll boasts an 88-15 record since arriving at USC. |
That bit of stolen thunder aside -- and the announcement was mostly a foregone conclusion -- it's never a bad time to talk with a coach who's 88-15 in eight years at USC and has finished ranked in the top four of the AP poll seven consecutive seasons.
After all, he's got a new book deal to benefit his charity, A Better LA, and a new Web site for kids.
And he's got a football team that likely will be favored to win its eighth consecutive Pac-10 championship and again compete for a national title.
Word on the street is you guys have an intense quarterback competition going on over there: Where does that stand?
Pete Carroll: Guys have really battled hard and done well. We're pleased with the play at the quarterback position. The competition is going to continue. We'll name a guy who's going to start the spring game for us and then the competition will just continue. We've got to call something here after a month of playing. We'll find out what happens when we get back to camp in the fall.
You've told me in the past you prefer to anoint a quarterback as early as possible to allow him to develop into a clear leader: How will that be a part of the decision in the fall?
PC: We'd like to do that [name a starter], but you've got to do the right thing and let the competition play itself out. What that means is, in the past when we named Matt Leinart over Matt Cassel, it meant that Leinart was going first and Cassel was battling him. The competition remained on. It will be the same situation. It's a very hard-fought, close competition and in fairness it's going to take longer to know exactly what we are going to do for the long haul.
It seems like running backs Curtis McNeal and Marc Tyler have asserted themselves this spring: Have they done enough to eclipse the established guys?
PC: I don't think there's any question Curtis McNeal has. Marc Tyler has been hurt most of the spring -- he's only had a couple of days when he's full speed. He's done well. But McNeal has taken advantage of the opportunity to be out there every day and he's really been effective.
October, 26, 2008
10/26/08
12:49
AM ET
By
ESPN.com staff
| ESPN.com
Posted by ESPN.com's Ted Miller
TUCSON, Ariz. -- You know how coaches often refer to doing the "little things" right? Sure, it's an annoying coaching cliché, but here's an example of doing the little things.
See Arizona safety Nate Ness charging on a safety blitz about to decapitate USC quarterback Mark Sanchez. See Trojans running back Stafon Johnson racing around Sanchez and upending Ness with a perfect cut block.
See Sanchez find an uncovered Stanley Havili for a 30-yard touchdown, which gave USC a 17-10 lead on the ensuing possession after Arizona had tied the count.
Both teams had a turnover in the third quarter. Arizona used Mark Sanchez's fumble on the USC 15 to tie the game -- four running plays right up the middle.
USC used Kevin Thomas' interception of Willie Tuitama -- the Wildcats' first turnover -- to drain three minutes off the clock and put a damper on the home crowd.
Unless it picks up the pace in the fourth quarter, USC probably won't pick up many style points with this effort.
But with how inconsistent the offense has been, particularly Sanchez, it's unlikely that coach Pete Carroll will get too wild with the play calling.
The Trojans just want to hold on.
October, 13, 2008
10/13/08
3:19
PM ET
By
ESPN.com staff
| ESPN.com
Posted by ESPN.com's Ted Miller
Stanford running back Toby Gerhart, Oregon cornerback Jairus Byrd and USC defensive tackle Fili Moala were named Pac-10 Players of the Week on Monday.

Gerhart, a junior from Norco, Calif., rushed 24 times for 116 yards in the Cardinal's 24-23 win over Arizona, scoring the game winning touchdown with 25 seconds remaining in the game. Considering Stanford piled up 286 yards rushing against the Wildcats, Gerhart's backfield mate Anthony Kimble, who contributed 110 yards, also deserves note.

Byrd, a junior from Clayton, Mo., recorded nine tackles, an interception and three pass breakups in the Ducks 31-24 win over UCLA. The Oregon defense limited UCLA to 53 yards rushing and 351 total yards and posted six sacks.

Moala, a senior from Buena Park, Calif., blocked two field goal attempts in the third quarter of USC's 28-0 win against Arizona State. The two blocks ties the NCAA record for most blocked field goal attempts in a quarter.

Also nominated for offensive player of the week were Oregon quarterback Jeremiah Masoli, running backs Joe McKnight of USC and Jacquizz Rodgers of Oregon State, UCLA tight end Ryan Moya and Arizona wide receiver Terrell Turner. Also nominated on defense were defensive backs Kevin Thomas of USC, Kris Evans of Stanford and Nate Ness of Arizona, Oregon State end Slade Norris and Arizona State linebacker Mike Nixon. Arizona Kicker Jason Bondzio was nominated for special teams play.
October, 11, 2008
10/11/08
5:13
PM ET
By
ESPN.com staff
| ESPN.com
Posted by ESPN.com's Ted Miller
It doesn't feel like USC played all that well or Arizona State all that badly, but the Trojans are up big, 21-0, at the break.
Obvious bottom line: You can't make mistakes and hang with USC.
Critical moment of the half: A play after the Sun Devils got lucky, winning a wild scramble and getting a first down following a Dimitri Nance fumble, Rudy Carpenter felt heat from a blitz and tried to use an outside route for his hot read. But he floated the ball -- perhaps his velocity was hurt by his bum ankle -- and Kevin Thomas broke on the ball and got a 46-yard pick-six.
Of course, the Trojans wasted the Sun Devils fumbled shotgun snap, failing to score after getting a first down on the ASU 15. But still those were plays when the Sun Devils should have been trying to chip into a 21-zip lead, not making a defensive stand.
The margin for error against USC is small, and losing the turnover battle makes it microscopic.
The biggest surprise is Arizona State is running fairly well: Nance has 49 yards on 11 carries. But how much can a team that trails USC by 21 at half continue to run the ball?
September, 23, 2008
9/23/08
10:28
AM ET
By
ESPN.com staff
| ESPN.com
Posted by ESPN.com's Ted Miller
USC cornerback Shareece Wright, who's been in the news of late because he was charged with resisting arrest just before the Ohio State game, has a fractured vertebra and could miss up to six weeks of action.
Defense coordinator Nick Holt told me two weeks ago that Wright was the most underrated player on the Trojans defense, so this is a big loss as USC gets ready for a Thursday date with Oregon State on ESPN.
That said, USC is probably the nation's deepest team. Wright will be replaced by a player very familiar to USC fans -- Josh Pinkard -- an outstanding athlete who has suffered two serious knee injuries during his career. Pinkard has not started a game since the 2006 season opener at Arkansas.
A fifth-year senior, Pinkard has seen considerable action during the first two games in a rotation with Wright and starter Cary Harris and backup Kevin Thomas, who also has starting experience.
USC coach Pete Carroll previously told the LA Times that Wright would be disciplined internally for his arrest but -- before the extent of his injury was known -- that Wright would start at Oregon State.
PAC-12 SCOREBOARD
Saturday, 12/20
Monday, 12/22
Tuesday, 12/23
Wednesday, 12/24
Friday, 12/26
Saturday, 12/27
Monday, 12/29
Tuesday, 12/30
Wednesday, 12/31
Thursday, 1/1
Friday, 1/2
Saturday, 1/3
Sunday, 1/4
Monday, 1/12
Tweets from https://twitter.com/ESPNCFB/lists/pac12