August, 22, 2013
8/22/13
5:30
PM ET
Oregon State Beavers
coach Mike Riley's recent history with quarterbacks is interesting to say the least.
He's presently presiding over "The Great
Sean Mannion
versus
Cody Vaz
Competition," one that features two players with successful starting experience and few hints about whom Riley favors. Riley's most recent statement on the competition is both will play in the opener against Eastern Washington on Aug. 31. And then a new chapter will be written in this twisting drama.
This QB quandary was preceded by the surprising Ryan Katz to Mannion switcharoo in 2011, and everybody remembers the back-and-forth between Sean Canfield and Lyle Moevao previous to that.
Yet if Beavers fans are worried Mannion vs. Vaz has the potential to get truly weird, well, maybe they should be. Riley was ringmaster for one of the all-time odd QB carousels in Pac-10 history: USC in 1995.
Riley, then the Trojans offensive coordinator, was sitting in his office during the preseason when
John Robinson
stopped by to say he wanted to resolve their QB competition between Brad Otton and Kyle Wachholtz. His idea was to play both. Otten would start, Wachholtz would play the second quarter. The idea was to alternate by quarter.
[+] Enlarge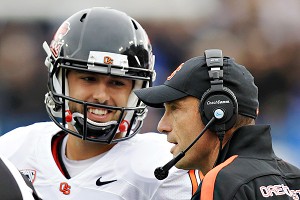 AP Photo/Rick BowmerMike Riley will eventually decided between QB Cody Vaz (pictured) or Sean Mannion. But both will likely play.
"That makes for an interesting dynamic in the QB room," Riley said.
USC was 8-2-1 that year. Successful season? The Trojans lost to both of their major rivals, Notre Dame and UCLA, so not really. On the plus side, in a game with major Rose Bowl implications, they came back from a 21-0 fourth-quarter deficit to tie Washington. The Huskies then lost the following week to Oregon, essentially giving the Trojans the conference title, even with the crushing 24-20 loss to the Bruins in the regular-season finale in Terry Donahue's final battle for the Victory Bell.
Northwestern was the Cinderella in the Rose Bowl, making its first appearance since 1949. USC was the Evil Stepmother. The Wildcats were on the cusp of something magical! And many of the folks relating that with flowery terms went to journalism school at Northwestern before becoming sportswriters.
As for the game itself, guess what one of the only coaches in the Pac-12 who doesn't presently run an up-tempo offense did to surprise Northwestern? Yep. He used no-huddle, two-minute offense on the first two series -- a pair of TD drives -- that was the cornerstone of what would become a 24-7 lead.
That fast start, however, presented a problem. Otton was in the zone.
"I went to John and said, 'I don't think we should change quarterbacks right now.' We didn't," Riley recalled. "Still to this day, I regret that."
That shows you two things about Riley you may already know: 1. He's willing to make tough decisions: 2. He's not the sort of hard case who can block out the human repercussions of those tough decisions.
Wachholtz had been every bit the match for Otton all season, seeing action in every game. In fact, entering the Rose Bowl, his numbers were slightly better. But on this grand stage -- The Granddaddy of Them All -- he stewed on the bench and didn't play.
Otton went on to complete 29 of 44 passes for 391 yards, much of that going to Keyshawn Johnson, who caught 12 balls for 216 yards and was named Player of the Game. The Trojans nearly blew it, as the Wildcats stormed back, but they ended up winning 41-32.
From the
LA Times game story
:
Robinson, too, saluted the 6-6 Otton, a junior, but also expressed sympathy for senior Kyle Wachholtz, the other half of USC's two-quarterback offense who never got in the game.

"It's unfortunate Kyle didn't get to play, but Brad was playing so well we just couldn't," Robinson said.

Otton appeared before the media with his right shoulder wrapped in ice. Wachholtz dressed quickly and left.

"I'm sure Kyle's terribly disappointed," offensive coordinator Mike Riley said after the first game this season when one quarterback went the distance when both were sound. "I felt Brad had a good grasp of the game, and I didn't want to make a change."
A few weeks ago, Riley admitted that Wachholtz didn't take the decision well -- "He shouldn't have," Riley said -- and that the emotions of that decision remain with him.
He repeated, "I personally have regrets about that game."
Otton would go to start in 1996 -- how many Weber State transfers start two years for USC? -- but the Trojans went a mediocre 6-6. Wachholtz,
who would sell his Rose Bowl ring
, admittedly due to his bitterness, would become a tight end in the NFL, though injuries cut his promising career short.
Riley has said he doesn't want to play two quarterbacks this fall, but he obviously isn't afraid to do so, or to make a change if he thinks it will help his team. It's also clear that he knows making a tough call has emotional consequences.
Nonetheless, there is a cold bottom line in all quarterback competitions.
Said Riley, "Who can we trust to be the most consistent player?"
July, 12, 2013
7/12/13
7:00
PM ET
Ted's back next week. I'll be off. And then we'll both be in Los Angeles for Pac-12 media day. Start thinking of some questions.
As always, follow us on
Twitter
.
To the notes!
Terry in West Linn, Ore. writes
: Where would
Marqise Lee
be in a list of Trojan greats if you could only pick one football season in each player's career? Who is your ''Greatest Trojan ever?" I've never seen a better receiver.
Kevin Gemmell
: We're looking at one season only? Yikes. Hard to overlook Marcus Allen and his 2,427 yards and 22 touchdowns in 1981. He had 433 carries in 12 games. That's a crazy amount. Consider last year's league leader in carries was Stanford's Stepfan Taylor who had 322 in 14 games. Allen set or tied 16 NCAA records during his time at USC and was the first player to ever break 2000 yards (2,342, technically bowl games didn't count back then).
In 2005, Reggie Bush averaged 8-point-freaking-7 yards per carry. That's a pretty good season, also.
If you're talking just wide receivers, then yes, Lee is at the top of the conversation with his 2012 numbers (118 catches, 1,721 yards, 14 touchdowns). There have only been two other USC receivers to have at least 100 catches in a season, Keyshawn Johnson in 1995 and Robert Woods in 2011. Lee was prolific last season and he should have been -- at the very least -- a Heisman finalist if not the winner.
Something I've previously railed about
.
But if I were drafting No. 1 overall,
like the WeAreSC folks did earlier this week
, I'd probably go with Allen.
---
Denny in Seattle writes:
On several occasions over the last few months, I've seen you use the phrase "non-traditional rivalries" when referring to Oregon-Washington. What does that mean?
Kevin Gemmell
: You're not the first to ask, and I'm a little surprised by all of the blowback that comment gets. It's one of those things that you write and don't really think it's a big deal, but I guess to a lot of people it is.
Let me say, first off, that I'm in no way trying to downgrade the rivalry between Oregon and Washington or Stanford and USC or USC and Notre Dame by using the phrase non-traditional rivalries. I just think of "traditional" rivalries as the ones that are traditionally played at the end of the season: Cal-Stanford, USC-UCLA, Arizona-Arizona State, Oregon-Oregon State, Washington-Washington State.
Ask most Stanford fans would you rather beat USC or Cal, they'd say Cal. Or, let me re-phrase that: Who would they rather lose to? USC or Cal?
Ask Washington fans who they'd rather lose to, Oregon or Washington State? I'm sure the Oregon loss hurt last year. Since you're writing from Seattle, I assume you're a Washington fan -- you can't tell me the Oregon loss tasted worse than the Washington State loss.
All of those games are great rivalries -- and it's OK to have more than one rival. Oregon-Stanford is certainly a rivalry game these days and I think UCLA and ASU is blossoming into one. The Utah-Colorado "rivalry" seems forced. Maybe it will develop into one. Maybe not.
I'm just using the term "traditional" in regards to the teams that typically play at the end of the season. I guess from now on I could get into semantics and say "regional" rivalries. But I think those games I mentioned mean just a little bit more than that.
By the way, I love that people get passionate over semantics. That's what makes college football so great.
May, 10, 2012
5/10/12
4:00
PM ET
By
ESPN.com staff
| ESPN.com
Jeremy Hogue writes

: Jeremy Hogue recalls former teammate Keyshawn Johnson as a player whose confidence permeated the Trojans.
Jeremy Hogue writes

: Jeremy Hogue recalls former linemate Tony Boselli as a gifted player whose desire to dominate opponents was unmatched.
WeAreSC roundtable

: WeAreSC's panel of writers discuss their top memories of the latest USC Athletic Hall of Fame class, which will be inducted on Saturday.
Garry Paskwietz writes
: Longtime USC band director Arthur C. Bartner, who will be inducted into the USC Athletic Hall of Fame on Saturday, sits down to discuss his time directing "The Spirit of Troy."
November, 22, 2011
11/22/11
12:00
PM ET
By
ESPN.com staff
| ESPN.com
Here's a quick look at Week 13 in the Pac-12.
All times are ET.
Friday
Colorado (2-10, 1-7) at Utah (7-4, 4-4) 3:30 p.m., FSN
: No word -- yet -- on the fate of
Jon Embree's daughter's bike
. The newest bitter rivalry in the Pac-12 is actually not that new. Colorado leads the series 30-24-3, though the last meeting was in 1962, a 37-21 Buffaloes win. Buffs RB
Rodney Stewart
needs 41 receiving yards to become the 27th player in FBS history to have 3,000 rushing and 1,000 receiving yards in his career.
John White
's 42 carries against Washington State was the second-highest total in school history. White's 14 rushing TDs has tied a Utah record. The Utes are 7-0 when White rushes for 100 yards.
California (6-5, 3-5) at Arizona State (6-5, 4-4) 10:15 p.m., ESPN
: California leads the series 16-14. The Bears won 50-17 last year. Arizona State must win in order to keep its Pac-12 South Division hopes alive. The Sun Devils have lost three in a row and four of five. Sun Devils QB
Brock Osweiler
has 3,377 passing yards. He is the fifth QB in program history to eclipse 3,000 yards passing. California is No. 1 in the Pac-12 in total defense.
Saturday
Oregon State (3-8, 3-5) at No. 10 Oregon (9-2, 7-1) 3:30, ABC/ESPN2
: Oregon leads the series 58-46-10. The Ducks won 37-20 last year. The Ducks need to win to clinch the Pac-12 North Division title. If they lose, Stanford is the North champion. Beavers QB
Sean Mannion
has 3,033 yards passing. He is the fifth QB in program history to eclipse 3,000 yards passing. RB
LaMichael James
is now the Ducks' leader in career all-purpose yards with 5,310. Ducks QB
Darron Thomas
has thrown a TD pass in 23 consecutive games.
Louisiana-Lafayette (8-3) at Arizona (3-8) 4 p.m
.: This is the first meeting between these teams. The Ragin' Cajuns started 6-1, losing only to Oklahoma State, but they've lost two of their past four games to Western Kentucky and Arkansas State. Wildcats QB
Nick Foles
set a school record with 3,982 passing yards, which ranks third all-time in the Pac-12. He needs 77 passing yards to move passed Oregon State's Derek Anderson (4,058) to move into second place. But Foles is questionable for the game with a back injury.
Washington State (4-7, 2-6) at Washington (6-5, 4-4) 7:30 p.m., Versus
: Washington leads the series 66-31-6. The Huskies won 35-28 in Pullman last year. This year's game will be played in CenturyLink Field, the Seattle Seahawks' home stadium because Husky Stadium is undergoing renovations. This is the first time since 1980 the Apple Cup has not been played on either campus. Senior
Marshall Lobbestael
will start at QB for the Cougars after freshman
Connor Halliday
was hospitalized after the Utah game with a lacerated liver.
Keith Price
will start for the Huskies at QB. He needs two TD passes to tie Cody Pickett's season record of 28 set in 2001.
No. 22 Notre Dame (8-3) at No. 6 Stanford (10-1, 8-1) 8 p.m., ABC
: Notre Dame leads the series 17-8. Stanford won 37-14 last year in South Bend. Stanford RB
Stepfan Taylor
has rushed for 1,036 yards this season, making him the third Cardinal back to produce multiple 1,000-yard seasons, joining Darrin Nelson (three times) and Toby Gerhart (twice). Cardinal QB
Andrew Luck
has 31 TD passes, one short of his own school record set last year. He has 76 career TD passes, one short of John Elway's school record of 77. The Cardinal missed a field goal against California last weekend. That's important because it was the first time this season Stanford failed to score in the red zone. They are 61 of 62 this season.
UCLA (6-5, 5-3) at No. 10 (AP) USC (9-2, 6-2) 9 p.m., FSN
: USC leads the series 45-28-7. The Trojans won 28-14 last year. UCLA is 4-0 in Pac-12 home games this year, but the Bruins' only road conference win came at Oregon State. The Bruins beat Colorado 45-6 last weekend. It was the most points they've scored since Sept. 1, 2007., when they also had 45 in a win over Stanford. UCLA is 14-0 under coach Rick Neuheisel when holding an opponent under 20 points. USC is looking to post a 10-win season for the eighth time in 10 years and for the 25th time in school history. Trojans WR
Robert Woods
needs four catches to break Keyshawn Johnson's Pac-12 single-season receptions record (102). Trojans RB
Curtis McNeal
need 119 yards to hit the 1,000-yard mark. Trojans QB
Matt Barkley
has 33 TD passes, fourth most in the nation.
August, 17, 2011
8/17/11
5:00
PM ET
By
ESPN.com staff
| ESPN.com
The
stars were out
at UCLA's practice Wednesday, but the biggest news came from a Prince.
With rapper/designer/businessman Sean "P. Diddy" Combs watching with his son, Justin -- a Bruins recruit -- quarterback
Kevin Prince
turned in his best work since, well, since the win over Texas on Sept. 25.
Prince completed 11 of 17 passes in 11-on-11 work, with two of his incompletions due to drops, per the
Los Angeles Times
.
"I thought it was maybe as good a practice as he has had," coach Rick Neuheisel told reporters afterwards.
Combs wasn't the only star on hand. As reported by ESPN LA, "Former UCLA basketball players
Kevin Love
,
Russell Westbrook
and
Baron Davis
were there, along with Olympic sprint champion Maurice Green and former NFL star
Keyshawn Johnson
, turning UCLA's sideline into an ESPY-like red carpet."
Wait ... where did Johnson play college ball? Oh, never mind.
Prince missed spring practices after knee surgery and has been consistently outplayed by
Richard Brehaut
up to this point. But with Brehaut sidelined with a foot injury, Prince turned in his best work.
The Bruins will hold a scrimmage on Saturday's that likely will be critical toward Neuheisel naming a No. 1 quarterback. It's unclear whether Brehaut will be ready to go by then.
Before preseason practices, the job seemed Prince's to lose. Then Brehaut surged and Prince struggled.
Now it's Brehaut who needs to get healthy to rejoin the competition.
June, 11, 2009
6/11/09
4:18
PM ET
By
ESPN.com staff
| ESPN.com
Posted by ESPN.com's Ted Miller
And, the winner of the Press Release of the week is....
A&E PREMIERES NEW ORIGINAL SERIES
"KEYSHAWN JOHNSON: TACKLING DESIGN"
FORMER PRO ATHLETE MAKES SERIOUS PLAY AT INTERIOR DESIGN
SATURDAY, JULY 11 AT 12PM ET/PT
Since this was forwarded to me by USC, my guess is that former Trojans wide receiver Keyshawn Johnson really is going to tackle interior design.
More from the release:
Former NFL star and current TV personality Keyshawn Johnson is looking to score big in a new field on the A&E original series "Keyshawn Johnson: Tackling Design" premiering Saturday, July 11 at 12:00pm ET/PT. As part of A&E's Saturday line-up, The Big Fix, the series will follow the day-to-day drama as Johnson rewrites the playbook on interior design.

... Johnson's "wide receiving" now has more to do with fitting furniture through the front door of a house. Will clients take this former pro athlete seriously as an interior designer? The eleven episode half-hour series follows Johnson as he tries to negotiate exacting clients and a cast of disparate assistants all the while tackling a variety of interior design dilemmas with an eye for subtle sophistication. Given the pressures and personalities, Johnson's famous temper is sure to be put to the test.
You know what comes next, right? Keyshawn's next book, "Just give me the damn fabric!"
December, 4, 2008
12/04/08
11:15
AM ET
By
ESPN.com staff
| ESPN.com
Posted by ESPN.com's Ted Miller
Former USC receiver Keyshawn Johnson, Virgil "Virg" Lubberden and Chuck Ortmann will be inducted into the Rose Bowl Hall of Fame on Dec. 31 during a ceremony at the Rose Bowl Game Kickoff Luncheon.
Johnson, a two-time All-American, was the MVP of the 1996 Rose Bowl. In USC's 41-32 win over Northwestern, he caught 12 passes for 216 yards, which still stands as a Rose Bowl record.
Chuck Ortmann led the Michigan Wolverines to a 1951 Rose Bowl Game victory over California, 14-6.
Virgil Lubberden, a long-time athletic administrator at USC, worked with the Rose Bowl for nearly a half-century. He became first permanent Game Manager in 1972, and he served in that capacity until his retirement in 1985.
Over the past 20 years, a total of 92 inductees have been added to the Rose Bowl Hall of Fame. They are honored by a permanent plaque with their name and year of induction at The Court of Champions at the Rose Bowl Stadium.
PAC-12 SCOREBOARD
Saturday, 12/20
Monday, 12/22
Tuesday, 12/23
Wednesday, 12/24
Friday, 12/26
Saturday, 12/27
Monday, 12/29
Tuesday, 12/30
Wednesday, 12/31
Thursday, 1/1
Friday, 1/2
Saturday, 1/3
Sunday, 1/4
Monday, 1/12
Tweets from https://twitter.com/ESPNCFB/lists/pac12