July, 6, 2011
7/06/11
6:00
PM ET
By
ESPN.com staff
| ESPN.com
Punters often don't get much respect, but if you understand the value of field position, you understand the value of a good punter.
California and UCLA might be offensively challenged this fall, but if their defenses step up, they might be able to steal a few games by being opportunistic after their punter creates a field-position headache for their opponents.
So how does the entire conference stack up? Read on.
Great shape
California
: Bryan Anger, first-team All-Pac-10, is on the short list for the Ray Guy Award. Huge foot. Averaged 45.6 yards per boot in 2010, which ranked sixth in the nation. Twenty one of 62 punts downed inside 20-yard line.
UCLA
: Jeff Locke is also a leading Ray Guy candidate. He led the conference in punting last fall at 45.8 yards per punt and earned second-team All-Pac-10 honors. Twenty four of 64 punts went for 50-plus yards.
Washington
: The Huskies actually have two good punters. Will Mahan averaged 40.6 yards per punt in 2009 and got off to a good start in the 2010 opener at BYU -- 45.2 yards per boot -- before getting hurt. Then Kiel Rasp stepped in and averaged 43.8 yards per punt. An "or" was between the two on the post-spring depth chart.
Good shape
Oregon
: Jackson Rice averaged a solid 42.3 yards per punt in 2010, with 18 of 40 punts downed inside the 20.
Stanford
: Dan Zychlinski didn't punt much last season -- see a conference-low 27 punts -- but he averaged a decent 41.8 yards per attempt.
Oregon State
: Johnny Hekker averaged 41.7 yards per punt, which ranked eighth in the conference.
Utah
: Sean Sellwood, a South Africa native, was solid last season with a 41-yard average. Ten of his 33 punts were downed inside the 20. On the worrisome side, three of his punts were blocked.
We'll see
Colorado
: Zach Grossnickle is back. That's good. His 35.7 yards per boot average from 2010 is not. Potentially more good news: Mark Brundage, a transfer from Rice, averaged 44.2 yards for 26 punts in 2009. They will compete for the starting job.
Washington State
: Dan Wagner averaged 51 yards per punt last season. On one punt. Of course, he backed up one of the nation's best punters in Reid Forrest and had a solid spring.
Arizona State
: Josh Hubner is a touted junior college transfer. At 6-foot-4, 230, he looks like a tight end.
USC
: Kyle Negrete was No. 1 on the depth chart after spring practices. Incoming freshman Kristopher Albarado was one of nation's top recruits at the position.
Arizona
: Kyle Dugandzic takes over for Keenyn Crier, which might be a good thing because Crier was the worst punter in the conference last season.
December, 6, 2010
12/06/10
5:01
PM ET
By
ESPN.com staff
| ESPN.com
Washington running back
Chris Polk
, Arizona State defensive end James Brooks and Arizona State kicker Thomas Weber have been named Pac-10 Players of the Week.
Polk, a sophomore from Redlands, Calif., rushed for 285 yards on 29 carries -- setting career highs in both categories -- in the 35-28 win at Washington State in the 103rd Apple Cup. His rushing total was second best in Washington history, trailing only the 296 yards that Pro Football Hall of Famer Hugh McElhenny ran for versus Washington State in 1950. Polk also scored two touchdowns from two and 57 yards and caught two passes for 18 yards. He finished the regular season with 1,238 yards, giving him his second 1,000-yard season. He joins Napoleon Kaufman and Greg Lewis as the only Huskies to rush for 1,000 yards in a season twice.
Brooks, a junior from Flagstaff, Ariz., registered three tackles, a sack for minus 11 yards, and two blocked extra points in Arizona States 30-29 win over Arizona in double-overtime of the Territorial Cup. With the score tied at 20-20 and the Wildcats attempting an extra point to go ahead with :27 left, Brooks blocked the extra point attempt that sent the game into overtime. After the teams traded field foals in the first overtime with the score tied at 23, ASU scored a touchdown to make it 30-23 Sun Devils. Arizona scored a touchdown to make it 30-29, but Brooks blocked the extra point kick giving Arizona State the victory.
Weber, a senior from Downey, Calif., was perfect in Arizona State's 30-29 win over Arizona in the annual Territorial Cup game in Tucson. He booted four field goals in regulation and one in overtime, including a 52-yard field to put ASU on the scoreboard first. That kick was the fourth-longest field goal in ASU school history and the second-longest of his career. He added field goals of 36, 38, and 40-yards, the last that gave ASU a 20-14 lead. In overtime, Weber connected on a 40-yard field goal, tying the game at 23 and sending it to a second overtime period. He was perfect on the afternoon on extra points, including the eventual game-winner in the second overtime. On the day Weber was perfect on five-for-five field goals and two-for-two extra points.
Also nominated for offensive player of the week honors were quarterbacks Brook Osweiler of Arizona State, running backs
Kenjon Barner
and
LaMichael James
of Oregon, and running back
Allen Bradford
of USC. Also nominated on defense were linebacker Casey Matthews of Oregon, linebacker Malcolm Smith of USC, and linebacker Mason Foster of Washington. Also nominated on special teams were place linebacker Michael Clay of Oregon, and Kiel Rasp of Washington.
November, 29, 2010
11/29/10
5:07
PM ET
By
ESPN.com staff
| ESPN.com
Arizona State quarterback
Brock Osweiler
, Stanford outside linebacker Chase Thomas and Arizona State kick returner
Jamal Miles
have been named Pac-10 Players of the Week.
Osweiler, a sophomore from Kalispell, Mont., came off the bench when starter
Steven Threet
suffered a head injury in the first quarter and completed 27 of 38 passes for 380 yards with four touchdowns and no interceptions in Arizona State's come-from-behind 55-34 win against UCLA. Osweiler also rushed six times for 35 yards, including a 15-yard TD run, and avoided being sacked.
Thomas, a junior from Marietta, Ga., recorded nine tackles, including 3.5 for loss and 2.5 sacks in the 38-0 win against Oregon State. He also forced a fumble and added a pass breakup, leading the Cardinal to its third shutout of the season. It's the first time Stanford has had three shutouts in the same season since 1969.
Miles, a sophomore from Peoria, Ariz., returned a kickoff 99 yards for a touchdown in Arizona State's win against UCLA. Miles became the third different Sun Devil player who has returned a kickoff for a touchdown in 2010. The three kickoff returns for touchdowns set an ASU school record -- and tied a Pac-10 record -- for the most in a single season.
Also nominated for offensive player of the week honors were quarterbacks
Nick Foles
of Arizona,
Darron Thomas
of Oregon,
Andrew Luck
of Stanford,
Richard Brehaut
of UCLA and running back
Chris Polk
of Washington. Also nominated on defense were safety Eddie Elder of Arizona State, linebacker Casey Matthews of Oregon, safety Tony Burnett of USC and linebacker Mason Foster of Washington. Also nominated on special teams were place kickers Nate Whitaker of Stanford, Kai Forbath of UCLA, Joe Houston of USC and punter Kiel Rasp of Washington.
October, 18, 2010
10/18/10
2:09
PM ET
A look back on the week that was.
Team of the week
: While Washington deserves recognition for its double-overtime win against Oregon State, it's hard to ignore what USC did to California. A week ago, many were questioning USC's fire, focus and motivation after consecutive last-second defeats in which the defense failed to stop game-winning drives. But the
48-14
win against Cal showed plenty of fire, focus and motivation. It might be premature to announce the Trojans are back, but that conclusion is more valid than at any time this season.
[+] Enlarge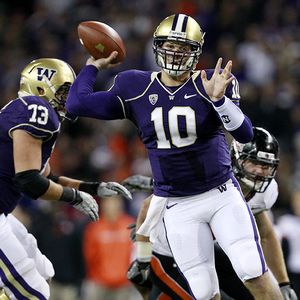 AP Photo/Elaine ThompsonWashington's Jake Locker threw five touchdown passes against Oregon State.
Best game
: The Huskies
35-34
double-overtime win against the Beavers was exciting. And strange. Washington jumped ahead 21-0. The rout is on! Oregon State ties the game at 21-21. The Beavers are going to roll! Then neither team could score -- only one second-half TD -- as the defenses stepped up. Then both teams scored two TDs in OT. Huskies quarterback
Jake Locker
and Beavers running back
Jacquizz Rodgers
turned in star performances. Great finish, though a bit happier for the home fans.
Biggest play
: No game is about one play, but a dropped 2-point conversion undid the Beavers when they made an aggressive move for the win in the second overtime. While H-back
Joe Halahuni
was covered tightly by Huskies linebacker Cort Dennison, the
Ryan Katz
pass was on the money and it would have won the game.
Offensive standout
: There were three Pac-10 games this weekend, and two featured quarterbacks throwing five TD passes in Locker and USC's
Matt Barkley
. But Barkley gets the nod for completing 25 of 37 for 352 yards against what was supposed to be a good Cal defense.
Defensive standout
: USC. You
can review the numbers here
-- no one player stands out -- but the Trojans held Cal to just 245 yards and 10 first downs. That's worthy of note, particularly for a unit that has struggled all season.
Special teams standout
: Kiel Rasp averaged 48 yards on four punts vs. Oregon State. You might recall that Rasp, a junior, only became the Huskies punter when Will Mahan was lost for the year to a knee injury. Rasp is presently 7th in the nation with a 45.91 yards per punt average.
Smiley face
: USC bounced back from consecutive last-second losses to announce that it will not be folding up its tent in Pac-10 play. And Washington, in desperate need for a win to keep its bowl hopes alive, outlasted Oregon State in Husky Stadium a week after a lackluster effort at home against Arizona State.
Frowny face
: There is no excuse, Cal. Even if USC's blowout win was about the Trojans playing great, the Bears shouldn't have rolled over that easily. 42-zip at halftime? That's just embarrassing.
Thought of the week
: With Arizona quarterback
Nick Foles
going down with a knee injury, the battle for first-team All-Pac-10 at quarterback looks like it will be between Barkley and Stanford's
Andrew Luck
. Or might Locker make a late run? Or might a darkhorse candidate -- Oregon's
Darron Thomas
-- still stake a claim?
Questions for the week
: The Pac-10 again has a muddled middle. Who will emerge from the gaggle of Arizona State, California, Oregon State, UCLA and Washington?
October, 5, 2010
10/05/10
7:18
PM ET
By
ESPN.com staff
| ESPN.com
Some numbers that might interest you.
In four games last weekend, Pac-10 teams averaged 487 yards and 34.4 points per game. No conference team scored fewer than 28 points.
Three conference running backs rushed for more than 200 yards: Oregon's LaMichael James (257 yards vs. Stanford), USC's Allen Bradford (223 vs. Washington) and UCLA's Johnathan Franklin (216 yards vs. Washington State).
A conference of QBs? Four Pac-10 teams rank among the nation's top-25 in rushing: No. 2 Oregon, No. 10 UCLA, No. 15 USC and No. 24 Stanford. But only two are among the top-25 in passing: No. 9 Arizona State and No. 11 Arizona.
Arizona is the only conference team that ranks in the top-25 in rushing and pass defense. The Wildcats are No. 2 in the nation in total defense (230.75 yards per game). The Wildcats have not allowed a TD in three of four games. They've surrendered zero rushing TDs.
USC QB Matt Barkley is No. 1 in the Pac-10 and 14th in the nation in passing efficiency.
Three Pac-10 kickers have yet to miss a field goal attempt: Stanford's Nate Whitaker (9 for 9, long of 46 yards), Washington's Erik Folk (7 for 7, long of 54 yards) and Oregon's Rob Beard (5 for 5, long of 42 yards). The longest field goal so far this year came from Washington State's Nico Grasu, who connected from 56 yards (vs. Oklahoma State).
Washington LB Mason Foster leads the conference with 48 total tackles and 12 tackles per game.
Oregon DT Brandon Bair leads the conference with 8.5 tackles for a loss.
Oregon CB Cliff Harris leads the conference with four interceptions and eight pass breakups.
Four Pac-10 teams rank among the top-15 in the nation in turnover margin. Oregon is No. 1 (2.20), Oregon State is No. 2 (2.0), California is No. 12 (1.0) and Stanford is 15th (0.80). The Beavers are the only team in the country that hasn't turned the ball over.
Four Pac-10 punters rank among the top-14 in the country. Arizona State's Trevor Hankins is No. 1, UCLA's Jeff Locke is No. 10, Washington's Kiel Rasp is No. 12 and Washington State's Reid Forrest is 14th.
On the downside for punters, five conference punt returners also rank among the top-14 in the country: Oregon's Harris is No. 1, Oregon State's James Rodgers is No. 4, USC's Ronald Johnson is No. 6, Oregon's Kenjon Barner is No. 11 and Cal's Jeremy Ross is 14th.
September, 9, 2010
9/09/10
10:31
AM ET
By
ESPN.com staff
| ESPN.com
Washington's senior punter Will Mahan, who averaged 40.6 yards last year, suffered a knee injury in practice Tuesday and
will be out for the season
.
Mahan tore both his ACL and MCL when his knee got rolled during a drill.
The punting job now falls to walk-on Kiel Rasp, a 6-foot-3, 215-pound junior who has never punted in a game.
"He's got a great leg. He's been terrific all training camp," coach Steve Sarkisian told the Seattle Times. "The key is, you've just got to go into a game and catch the ball and punt it, which he hasn't had to do. Sooner or later, we all have to experience (performing under pressure). He's given us all the confidence he can do that."
This could become a big deal or not. If not, Huskies fans won't even notice who's punting as long as the ball is getting out and averaging at least 40 yards per boot.
The big issue, though, is when fans know who is punting -- as in the punter becomes news when a snap is mishandled, a punt is blocked, or a punt from deep in Huskies territory is shanked for just seven yards.
Rasp will make his debut against Syracuse on Saturday at Husky Stadium. Expect the Orange to challenge him with pressure.