October, 29, 2012
10/29/12
5:00
PM ET
The Pac-12 conference announced its players of the week and USC wide receiver
Marqise Lee
is the offensive player of the week, Arizona's
Marquis Flowers
is defensive player of the week and Utah kick returner
Reggie Dunn
is special teams player of the week.
From the Pac-12's release:
Lee, a sophomore from Inglewood, Calif., set a Pac-12 record with 345 receiving yards while hauling in 16 catches -- one shy of the USC single-game record, and the third-highest total in Pac-12 annals -- and a pair [of] touchdowns in a 39-36 loss to Arizona. His 345-yard receiving effort represents the fifth-highest single-game mark in NCAA history. He accounted for 469 all-purpose yards, a total that ranks second in NCAA history, as he added 123 yards on three kickoff returns and a one-yard rush. Lee, who racked up 255 receiving yards in the first half, caught six passes of 28 yards or longer on the afternoon. In 2012, he has 76 receptions for 1,129 yards (14.9 average) with 10 touchdowns and has returned 15 kickoffs for 426 yards (28.4 average). He leads the Pac-12 in receiving yards per game (141.1, second in the FBS), receptions per game (9.5, third in the FBS), all-purpose running (199.9 avg., fourth in the FBS) and kickoff returns (28.4 avg., 12th in the FBS).

Flowers, a junior from Phoenix, Ariz., accounted for three takeaways and seven total tackles in Arizona's 39-35 win over USC. On the game's opening possession, he halted a 13-play USC drive with an interception at the UA 26-yard line to set up a 7-play, 60-yard touchdown drive for the Wildcats. In the second quarter, Flowers quelled another USC attack deep in Arizona territory with a strip of running back Silas Redd, and later in the frame, he preserved a three-point Wildcat lead with with his second interception of the afternoon. His three takeaways were part of a five turnover day for the Arizona defense, its highest single-game total since 2008. Flowers and the UA defense, which allowed just one third-down conversion in five second-half attempts, held USC scoreless on six of the final seven possessions of the game.

Dunn, a senior from Compton, Calif., returned two kickoffs for touchdowns, tying the NCAA record for kick return touchdowns in a game, in a 49-27 victory over California. Dunn set the NCAA record for kick return average in a game (74.0), returning three kicks for 222 yards. He tied the school record for 100-yard kickoff returns in a season (2) and set school records for kickoff return touchdowns in a game and 100-yard kick returns in a career (3). As a sophomore in 2010, he became the first Ute in 25 years to return a kickoff 100 yards for a touchdown, accomplishing the feat against Iowa State.

Also nominated for offensive player of the week honors were quarterbacks Matt Scott of Arizona and Brett Hundley of UCLA and running backs Marion Grice of Arizona State and Christian Powell of Colorado. Also nominated on defense were defensive backs Usua Amanam of Stanford, T.J. McDonald of USC and Desmond Trufant of Washington and linebackers Carl Bradford of ASU and Eric Kendricks of UCLA. Also nominated on special teams were punters Kyle Dugandzic of Arizona, Josh Hubner of ASU and Kyle Negrete of USC, placekicker Ka'imi Fairbairn of UCLA and running back/punt returner De'Anthony Thomas of Oregon.
October, 1, 2012
10/01/12
5:00
PM ET
The Pac-12 conference has announced its players of the week. Oregon State quarterback
Sean Mannion
earned offensive honors, Arizona State defensive tackle
Will Sutton
was named defensive player of the week and Arizona punter
Kyle Dugandzic
earned special teams honors.
From the Pac-12's release:

Mannion, a sophomore from Pleasanton, Calif., completed 29-45 passes for a career-high 433 yards and three touchdowns in a 38-35 win over Arizona. He engineered a 10-play, 75-yard game-winning drive in which he went 6-6 (connecting with five different receivers) for 52 yards, including a nine-yard touchdown strike with 1:09 remaining that provided the winning margin. His 433-yard passing performance represents the fifth-highest single-game total in school history. Mannion, who is the first sophomore team captain in the history of the program, has now thrown for career-highs in back-to-back games after racking up 379 passing yards against UCLA on Sept. 22.

Sutton, a junior from Corona, Calif., was a force on the defensive front, collecting a career-high eight tackles (six solo), including three sacks, and forced a fumble in a 27-12 victory over California. He wreaked havoc in the Cal backfield, notching four tackles for loss (27 yds.) and a quarterback hurry, and was instrumental in ASU's defense holding the Bears to just 285 yards of total offense. Sutton's 1.30 sacks per game average is tied for second in the Pac-12 and ranks eighth in the FBS. His 2.0 tackles for loss per game average (10 total) ranks second in the Conference and ninth nationally.

Dugandzic, a senior from Agoura, Calif., punted five times for 234 yards (46.8 average), including a career-long 70-yarder late in the third quarter that pinned the Beavers at their own five-yard line, in a 38-35 loss to Oregon State. He placed a single-game career-high four punts inside OSU's 20-yard line and served as the holder on all five of the Wildcats' PATs. His 44.9 gross punting average ranks third in the Pac-12 and 18th in the FBS.
July, 20, 2012
7/20/12
4:30
PM ET
Punters are often overlooked, at least until they mess up badly and shank one. But punters play a major role in field position, which often proves crucial in a tight game.
So how do things stack up at punter in the Pac-12?
By the way, if you want to review previous position reviews,
go here
.
Great shape
Oregon
:
Jackson Rice
was a finalist for the Ray Guy Award. The Ducks were No. 1 in the nation in net punting last year. Really not much else to say.
[+] Enlarge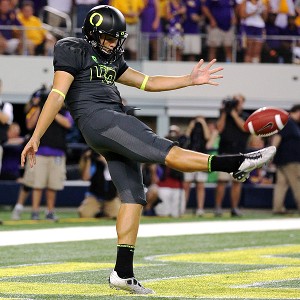 Matthew Emmons/US PresswireAs a Ray Guy finalist last season, Jackson Rice had Oregon tops in the NCAA in net punting.
Arizona
:
Kyle Dugandzic
led the Pac-12 with an average of 46 yards per punt.
Utah
:
Sean Sellwood
was fourth in the Pac-12 with an average of 45 yards per boot. And the Utes were 12th in the nation in net punting.
UCLA
: UCLA's
Jeff Locke
averaged 44.3 yards per punt, which ranked fifth in the conference. The Bruins were 22nd in the nation in net punting. Locke is also good on kickoffs.
Good shape
Colorado
:
Darragh O'Neill
was solid last year with a 42.6-yard average, but he's being challenged by
Zach Grossnickle
.
Arizona State:
While
Josh Hubner
only averaged 41.3 yards per punt, the Sun Devils were fifth in the conference in opponent punt returns.
USC:
Kyle Negrete
averaged a modest 40.1 yards per punt in 2011. The Trojans were 43rd in the nation in net punting.
We'll see
Stanford
:
Daniel Zychlinski
was Stanford's starting punter for the first 10 games in 2010 before
David Green
took over. He averaged 41.7 yards in 2010.
Washington State
: JC transfer Mike Bowlin will take care of punting and kickoffs. He looked good this spring.
Oregon State:
Australian
Tim McMullen
was No. 1 on the post-spring depth chart. Hopefully he is as colorful as the departed Johnny Hekker.
Keith Kostol
is another possibility.
Washington
: The Huskies are counting on touted incoming freshman
Korey Durkee
to replace
Kiel Rasp
.
California
: The Bears are only replacing Bryan Anger, perhaps the best punter in school history. On the post-spring depth chart, incoming freshman
Cole Leininger
was the only punter listed.
July, 6, 2011
7/06/11
6:00
PM ET
By
ESPN.com staff
| ESPN.com
Punters often don't get much respect, but if you understand the value of field position, you understand the value of a good punter.
California and UCLA might be offensively challenged this fall, but if their defenses step up, they might be able to steal a few games by being opportunistic after their punter creates a field-position headache for their opponents.
So how does the entire conference stack up? Read on.
Great shape
California
: Bryan Anger, first-team All-Pac-10, is on the short list for the Ray Guy Award. Huge foot. Averaged 45.6 yards per boot in 2010, which ranked sixth in the nation. Twenty one of 62 punts downed inside 20-yard line.
UCLA
: Jeff Locke is also a leading Ray Guy candidate. He led the conference in punting last fall at 45.8 yards per punt and earned second-team All-Pac-10 honors. Twenty four of 64 punts went for 50-plus yards.
Washington
: The Huskies actually have two good punters. Will Mahan averaged 40.6 yards per punt in 2009 and got off to a good start in the 2010 opener at BYU -- 45.2 yards per boot -- before getting hurt. Then Kiel Rasp stepped in and averaged 43.8 yards per punt. An "or" was between the two on the post-spring depth chart.
Good shape
Oregon
: Jackson Rice averaged a solid 42.3 yards per punt in 2010, with 18 of 40 punts downed inside the 20.
Stanford
: Dan Zychlinski didn't punt much last season -- see a conference-low 27 punts -- but he averaged a decent 41.8 yards per attempt.
Oregon State
: Johnny Hekker averaged 41.7 yards per punt, which ranked eighth in the conference.
Utah
: Sean Sellwood, a South Africa native, was solid last season with a 41-yard average. Ten of his 33 punts were downed inside the 20. On the worrisome side, three of his punts were blocked.
We'll see
Colorado
: Zach Grossnickle is back. That's good. His 35.7 yards per boot average from 2010 is not. Potentially more good news: Mark Brundage, a transfer from Rice, averaged 44.2 yards for 26 punts in 2009. They will compete for the starting job.
Washington State
: Dan Wagner averaged 51 yards per punt last season. On one punt. Of course, he backed up one of the nation's best punters in Reid Forrest and had a solid spring.
Arizona State
: Josh Hubner is a touted junior college transfer. At 6-foot-4, 230, he looks like a tight end.
USC
: Kyle Negrete was No. 1 on the depth chart after spring practices. Incoming freshman Kristopher Albarado was one of nation's top recruits at the position.
Arizona
: Kyle Dugandzic takes over for Keenyn Crier, which might be a good thing because Crier was the worst punter in the conference last season.
April, 13, 2011
4/13/11
2:30
PM ET
By
ESPN.com staff
| ESPN.com
What about the night
Makes you change
From sweet to deranged?